FIND
NEW CUSTOMERS

AUTOMATICALLY
SOLO
For those focused more on account based sales and marketing and don't need as many leads.
Per user. Billed monthly.
TEAM
For those who are responsible for lead generation and need to have data sync'd with their CRM across their team.
$297/mo*
*Billed monthly, with a 12 month commitment
Promo
Lifetime
Everything LeadFuze has to offer, with LIFETIME access. This plan is only available for a limited time.
$1,997/one-time*
*Per user. Billed one-time. Lifetime access.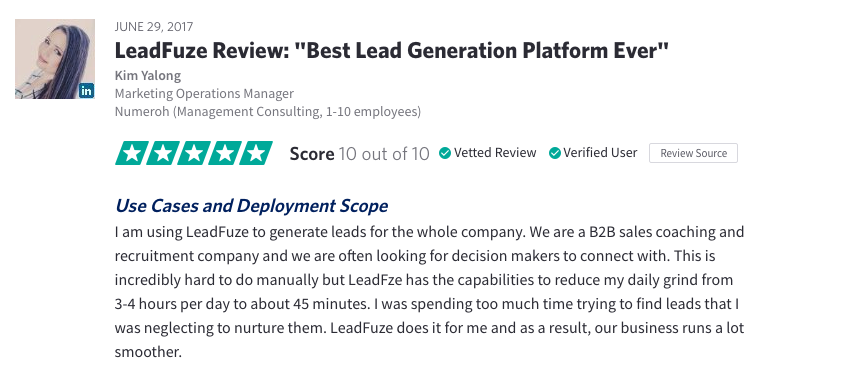 Frequently Asked Questions
Do you offer a trial?
While not a typical "Trial", we do allow you to sample the LeadFuze product by giving you 25 lead credits to use for free!
Sign up and get information and contact details on 25 leads in your target market!
Do you have MY target leads?
If you are targeting companies based in the United States, there's a very good chance we have who you are looking for. You can always, start a chat with our team or contact us to confirm before purchasing.
We do not focus on data for companies outside of the United States.
Do lead credits roll over if I don't use them?
Yep!
As long as your account remains active, you'll have access to your lead credits.
What's the difference between the plans?
The "plans" are exactly the same. The only difference is the payment terms.
"Commitment" is for our customers that are willing to commit to their success over 12 months. Because of this, we also reward you with the ability to still pay in monthly installments. Unlike other tools that ask you to pay annually for savings, you do NOT have to pay it all upfront… Yes, that means we allow you to still pay monthly (for at least 12 months).
"Quarterly" you are paying in quarterly installments, upfront.
Do you work for MY industry/niche?
Simply put, we work for any B2B company.
If you are targeting consumers, this is NOT the solution you are looking for.
Do you help me have success with this?
Of course! Aside from reviewing your email copy that you send, we have a robust knowledge base, and offer in-app support as well.