Find new customers
automatically
LeadFuze is like a search engine for business professionals. Find leads in your target market with all their contact information and more.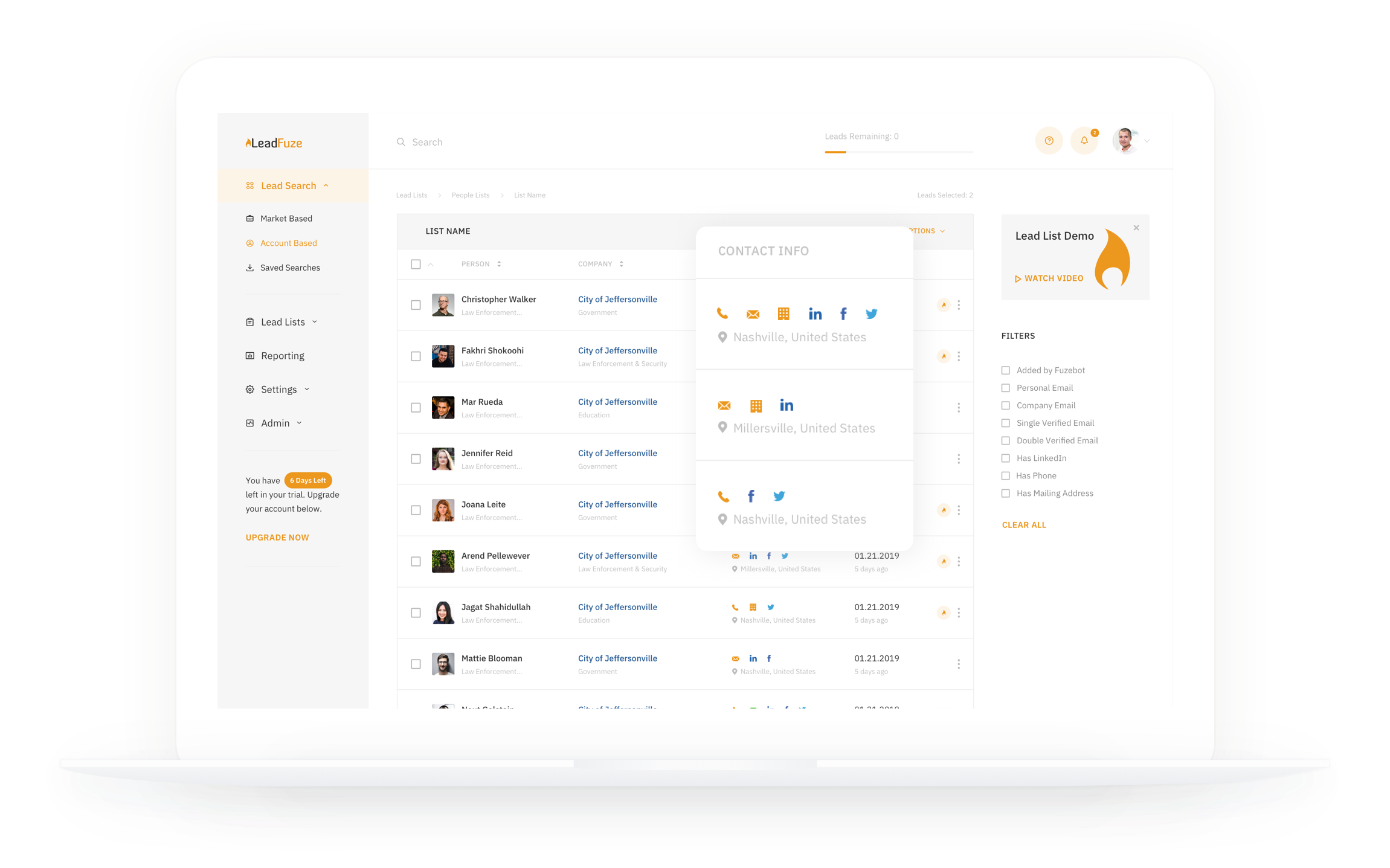 How many leads you need?
Drag the slider below to your desired number of lead credits
Monthly
$
257
per month
Enjoy fresh professional lead data with month-to-month billing.
1000 Lead Credits per Month
Get 25 Leads Free
Commitment
$
231.30
per month
Lock in a 10% discount and get 20% more leads over the Monthly plan. Annual commitment, billed monthly.
1200 Lead Credits per Month
Get 25 Leads Free
Annual
$
2,467.20
per year
Save 20% while getting a massive 50% bump in lead credits over the Monthly plan.
1500 Lead Credits per Month
Get 25 Leads Free
Testimonials
G2 names us a leader in the lead intelligence software category. Here's what others have to say:
Shehryar Shaukat B
CMO
Mid-Market, 51-200 employees
Used the software for: 6-12 months
May 01, 2019
Prospecting Just got Easier :)
I dont have to hire VA's anymore for the cumbersome task of creating lists through scraping various channels. The problem with VA's can be that it's difficult to gauge the quality of their leads. Whereas with Leadfuze. Lead Generation is now like a breeze.
Specially love the ultra targeting ability where i can play around with various filters to reach a specific market segment or a company account.
The most wonderful feature though is the unlimited Leads feature, simply love it. Coupled with integrations with Mailshake and Pipedrive, i can now automate a number of manual processes.
A great tool for making drip campaigns work through the supply of unlimited leads to Mailshake.
Jonathan R.
Founder/Owner
Marketing and Advertising, 1-10 employees
Used the software for: Less than 6 months
Mar 23, 2019
Super Simple | Super Powerfu
I'm a small operation, and the ability to completely automate my prospecting for B2B leads (my main target customers) allows my to focus on sales and fulfillment... This is game changing for me!
I really like the 'no nonsense' interface and simplicity of LeadFuse. As a digital marketing agency, I also really like the AdWords budget filter... This is great! I can target prospects who are already spending at least 'X' amount of money on paid ads, so I have a basic idea of their budget before I even approach them. This avoids the 'what's your budget' question evasiveness that prospects often give. I can tell them I already know how much they are spending on PPC and cut through the BS. I also like the 'technology used' filter. Since we work primarily with Wordpress, I can target prospects NOT using Wordpress and pitch web design in a more meaningful way. Or, conversely, I can target ONLY companies using Wordpress. Finally, I like the semi-automation feature. I can have FuseBot pull down 100 new leads based on my criteria every Monday and, before I dump them into my automated email outreach/nurture campaign, I can glance over them and make sure the all look ok (admittedly, sometimes there are some weird strays in the results that are not in the geography or industry I'm looking for, so I can skip those).

Stephanie Curtin
Business Outreach Specialist
B2B Data Guy, 51-200 employees
Used the software for: 1-10 months
Jun 26, 2019
Leadfuze - Our Go-To For Business Outreach
Doing business outreach, Leadfuze has become my go-to on almost on a daily basis. Its ability to provide a wide spectrum of results and more importantly, reliable and accurate - makes it a must-have. Working in the B2B space, clients come from a large variety of industries and each has different business needs which need fulfilling and I'm happy knowing that I have Leadfuze as the power-horse to help to make it possible.
Leadfuze is well suited for anyone doing business outreach. It might be less appropriate for occasional use as the price for getting most out if it can become quite steep.
Frequently Asked Questions
You bet – the "Trial" gives you 25 free lead credits to sample the product.
Sign up and get information and contact details on 25 leads in your target market!
If you are targeting companies based in the United States, there's a very good chance we have who you are looking for. You can always start a trial and test it out for yourself.
We do not focus on data for companies outside of the United States, but this will be changing in Q4 2019.
Yep!
As long as your account remains active, you'll have access to your lead credits.
First, you choose how many new leads you want each month.
Then, the "plans" are really the terms you want. You can pay monthly, or agree to pay monthly for 12 months and receive a discount + 20% more leads. Lastly, you can pay annually upfront for a 20% discount and 50% bump in lead credits.
Simply put, we work for any B2B company.
If you are targeting consumers, this is NOT the solution you are looking for.
Of course! We have a robust knowledge base, and offer in-app support via chat as well.
Additionally, you can book a demo with our team.
Your Secret Weapon for Scalable Prospecting
Spend less time researching prospects and have more time for quality sales conversations
Find new customers