Table of Contents
I'm often asked how to get the most out of LeadFuze. So, I figured I would put together an entire guide for using LeadFuze based on the three types of use cases that we see.
This guide will walk you through maximizing LeadFuze to get the data you need. Then, work through example integrations to give you an outreach system to leverage the contact information we provide you.
If you already have an outreach system in place, I'm sure you will find new ways to think about the process and tweak things accordingly. 
Everything is broken down by use case. 
Before we get started with our use cases, let's take a step back and explain exactly what LeadFuze is and where it fits into your technology stack.
What is LeadFuze?
What exactly does LeadFuze do? How does it help you?
It's important to understand, every deal starts with a lead.
Or here's one I was particular proud of; You can't spell "deal" without l-e-a-d. 
Catch phrases aside, this is at the core of what LeadFuze is all about…leads.
They might be sales leads, they might be job placement leads, it might be for advertising audiences… whatever your use case, the contact data we provide you is to help you generate more leads.
LeadFuze is the starting point.
LeadFuze aggregates the world's professional data to give you insights into people and companies you target.
Simply put, you get email, phone, mailing address, and social profiles and a host of other data (technologies, jobs, news, ad spend, estimated salaries, and more) for people you are targeting.
No more spending time trying to track down contact info.
No more hoping they connect with you on LinkedIn so you can get to them.
No more contact forms.
No more info@ emails.
No more data silos.
Once you have your list of leads – you can use our integrations to put your outreach on autopilot.
A Few Notes About Our Data
Quite simply, our data is now best-in-class. 
We spend in the high six figures on data partnerships, crawling, validating, and updating of our data. If you have used any data provider, you will know just how badly outdated a lot of the data is. 
I know… this is the industry norm, and it was for us as well.
But we've spent years refining our infrastructure to handle hundreds of millions of records every 90 days, coupled with battle tested email validation technology that runs billions of queries per quarter.
We even validate emails again in real-time when you add leads to a list to ensure no known bounces are added.  Please note, it's not always possible to prevent bounces as about half the world's domains report back a "deliverable" message when, in fact, emails can still be undeliverable. However, any known undeliverables are immediately removed before they ever hit your list to ensure your email reputation remains in good standing.
Even cooler? Things like news, hiring, and technologies used are now updated in real-time as we crawl them! It's no longer a quarterly update process. 🤘
Defining Your Target Market
A quick exercise to identify exactly who to target with your prospecting.
There are entire books written on this subject, but I'm going to make this realllllly simple.
If you're using LeadFuze for recruiting, think of your best current employee.
Where did they come from?
What roles have they had?
What skills do they have?
If you're using LeadFuze for sales or marketing, think of your favorite customer. 
Don't have a customer? Think of who you want as a customer. 
If you say "everyone" you've already lost. Even if you think you can serve everyone, your messages are going to be so completely off the mark that you'll never convert anyone. 
I literally once had a customer who was selling web development services tell me, "I can do anything, for anyone." 
What industry are they in?
What role do they have?
How many employees do they have? 
What other traits do they have? Maybe they spend on Adwords, maybe they use certain technologies, or they're hiring for salespeople. 
Now that you know who you want to target, jump to the relevant use case section to see how to find them!
LeadFuze for Salespeople
Here is how salespeople use LeadFuze to find new potential customers. 
Here's a high level of what you'll see in the video:
Walk through Market Based search to identify an entire segment of a potential target market
Dive deeper into specific accounts to identify multiple decision makers
Add various people to a list to uncover their contact information
Setup LeadFuze's AI list builder named Fuzebot to automatically add new leads every day to my list that match my criteria
Configure integrations with a CRM and cold email tools to automate outreach efforts
LeadFuze for Recruiters
Here is how recruiters use LeadFuze to find new hire candidates. 
Here's a high level of what you'll see in the video:
Walk through Market Based search to identify an entire segment of potential candidates
Dive deeper into specific accounts to identify those with the job title levels you are looking for within companies you respect
Search currently unemployed folks who have the prior experience you are looking for
Add various people to a list to uncover their contact information
Setup LeadFuze's AI list builder named Fuzebot to automatically add new people every day to my list that match my criteria
Configure integrations with an ATS and cold email tools to automate outreach efforts
LeadFuze for Marketers
Here is how marketers use LeadFuze to find new leads for their sales team, build custom audience lists for ad targeting, amd find potential partners. 
Here's a high level of what you'll see in the video:
Walk through Market Based search to identify an entire market segment for building lists of leads for a sales team (or yourself)
Filter leads by personal email addresses and Facebook profiles to build a dream custom audience list
Dive deeper into specific accounts for account based marketing
Add various people to a list to uncover their contact information
Setup LeadFuze's AI list builder named Fuzebot to automatically add new people every day to my list that match my criteria
Configure integrations with a CRM and cold email tools to automate outreach efforts
Configuring Your Multi-Channel Process
Use LeadFuze integrations to trigger automated workflows.
So, you have leads… now what?
You need to do something with them! This is where the power of our integrations comes into play. 
You can now integrate with different types of tools to trigger an entire sequence of actions in order to make contact with your leads.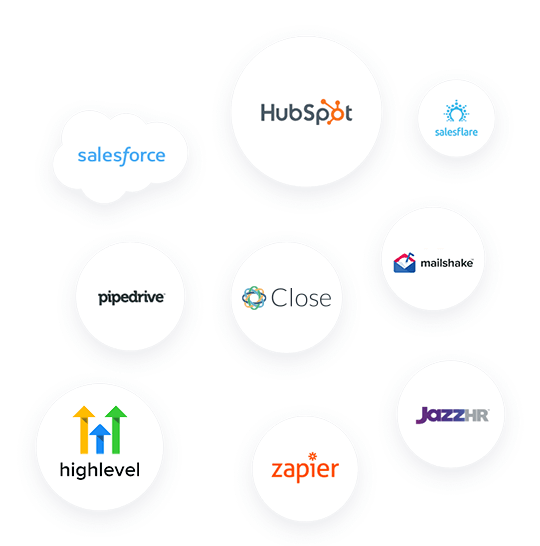 CRM or ATS
The first order of business is your CRM (sales/marketing) or ATS (recruiting). 
If you don't see your system listed, you can use our Zapier integration to send LeadFuze data to the tool of your choice. 
Zapier will come in handy for other reasons, which I'll share later as well. 
Your CRM/ATS is where you're going to track the progress of your leads, manage the workflow for people that show interest or engagement with your offer, etc. 
Automated Multi-Channel Workflow
In order to trigger an automated multi-channel workflow, you need to connect to a LinkedIn automation tool, an email outreach tool, and/or a dialer.
For LinkedIn, you can integrate with a tool like Dux-Soup.
For cold email outreach, you can use Mailshake, Lemlist, or Woodpecker. All of which are amazing and one's I have personally used. 
For a dialer, you can use our new integration with Reply to accomplish this.
Further Reading:
---
---
Here's an example multi-channel outreach automation process you can send your leads through using Dux-Soup and Woodpecker: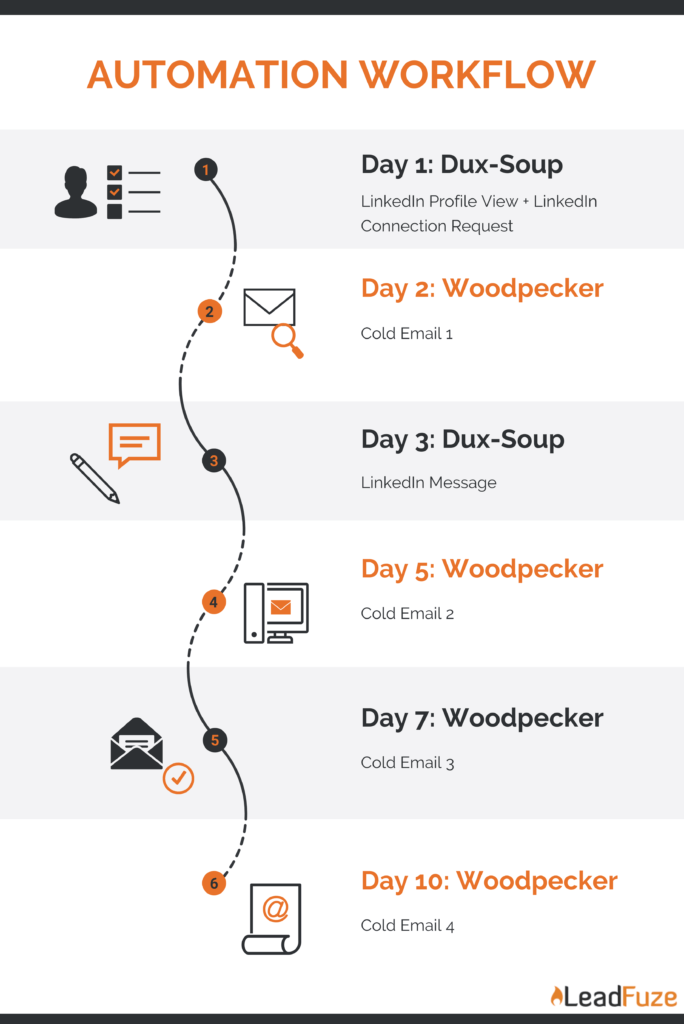 Since you want to space this out over several days, what I recommend is using the Dux-Soup integration and syncing that to your LeadFuze list.
This way new leads that get added will automatically be sent into Dux-Soup. 
You'll also configure Zapier to connect to Mailshake, Woodpecker, or Lemlist. However, you'll want to add a 1 day delay: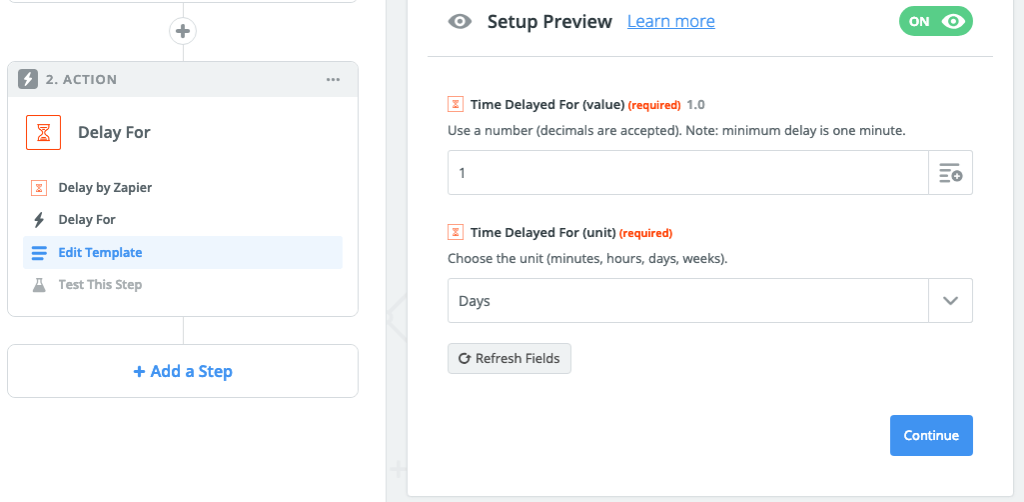 This way your cold emails aren't going out the same day as your LinkedIn connection requests.
Of course, if you wanted to have it all happen the same day – you can do that too 🙂
There's not really any downside in being on their radar via multiple channels and it will increase the chances of a response since you'll pop-up twice in a short amount of time.
Just keep in mind what you have happening in your LinkedIn sequence and the days of those happening.
Mind you, this is just ONE example of how you can build a multi-channel workflow. We're going to be greatly expanding our native integrations to give you even more options as well.
Another way to use your data is to literally just export your lists (to CSV or to Google Sheets) and now you have your hit list to import the data in another tool or to use in a workflow that best suits you. For example, maybe you just want to use the file as your "CRM" and add some columns to leave notes and know where you left off. 
Please note: You should never use an email marketing tool to perform cold email. For starters, it is against their terms of service. Secondly, you will get a much lower open rate than if you were sending a personal email from your account (which is what the cold email tools automate). Thirdly, the emails will look like newsletters and not encourage any sort of response.
Deeply Personalizing Cold Emails
However, what I also recommend taking an extra step when doing this is to add a column labeled "Personalized". Then, instead of having leads sync automatically to an integration… you can instead wait to export them to a CSV or Sheet. Then, you, or another person will go and insert a personalized sentence into the "Personalized" column. 
When you do this, you can then import that column into your email outreach tool and use the merge token for your email outreach tool to bring in that sentence in the email you send.
This is a more manual approach, but you will see a higher response rate this way.
I go into more messaging detail in the next section and share some resources with you as well..
How to Craft Your Outreach Messages
Understanding what to say and how to say it, is critical to get positive responses.
If you don't get results, don't come crying to me saying, "this doesn't work." 
Your success in outreach boils down to your solution, the offer, fitness for target market, timing, and your message.
Click To Tweet
Your success in outreach is entirely up to you. It really boils down to:
Your solution
Your offer
Is it the right fit for your target market?
Timing
Your message
Some things you can't do anything about. But, assuming you have things like the right solution for the right market… then the biggest thing that will determine your success (or lack thereof) is your messaging. 
I have covered the topic of cold email ad nauseam.
I was one of the first people to talk strategy around cold email. Because of that, we have a number of pieces of content ranked near the top of Google on the topic. 
I am going to keep this straight forward and share some of the most important pieces of content on the topic for you to absorb:
"Warm" Calling
Here's how to make your dialing efforts more effective.
I'm a believer in NOT cold calling. Simply put, I don't think it's the best use of time for anyone.
BUT, I am a big believer in calling someone that you've never talked to… IF they have shown some level of interest in your offer.
A rule of thumb I have my team live by is, "Call the Clicks!"
Meaning someone that has clicked a link in an email, clicked to accept your LinkedIn invite, etc. 
A rule of thumb I have my team live by is, 'Call the Clicks!'
Click To Tweet
So it's important to have systems in place which are constantly driving those clicks. Meaning you have lead lists being built with messages flowing so that you can generate the clicks. 
 
Voicemails
Most of the time you're going to be leaving voicemails. This is a great opportunity. You get an uninterrupted chance to shine. 
In fact, voicemails can be so powerful I prefer leaving voicemail drops with something like SlyBroadcast before doing an actual cold call. 
The dream scenario is that the lead is contacting ME with interest. So I try exhausting all avenues to get them to get in contact with me, before trying to cold call them directly. 
Scaling Up
Once you've dialed in your processes, it's time to scale up your efforts!
Once you have the process down and your outreach flowing, the only thing left to do is scale up your efforts!
Want larger list sizes? Or how about an increase into how many leads Fuzebot adds per day?
This is pretty easy to do for free just by leaving us reviews online. 😀 Here's more information on how to do that.
Otherwise, if you want to add more team members, add more lead credits to your account, etc – it's pretty easy. Just head over to your Billing page.
Each user is $49/mo and they'll be able to build their own list, integrate their own tools, etc. Just keep in mind that users share the account's lead credits and so you may want to establish limits for each user.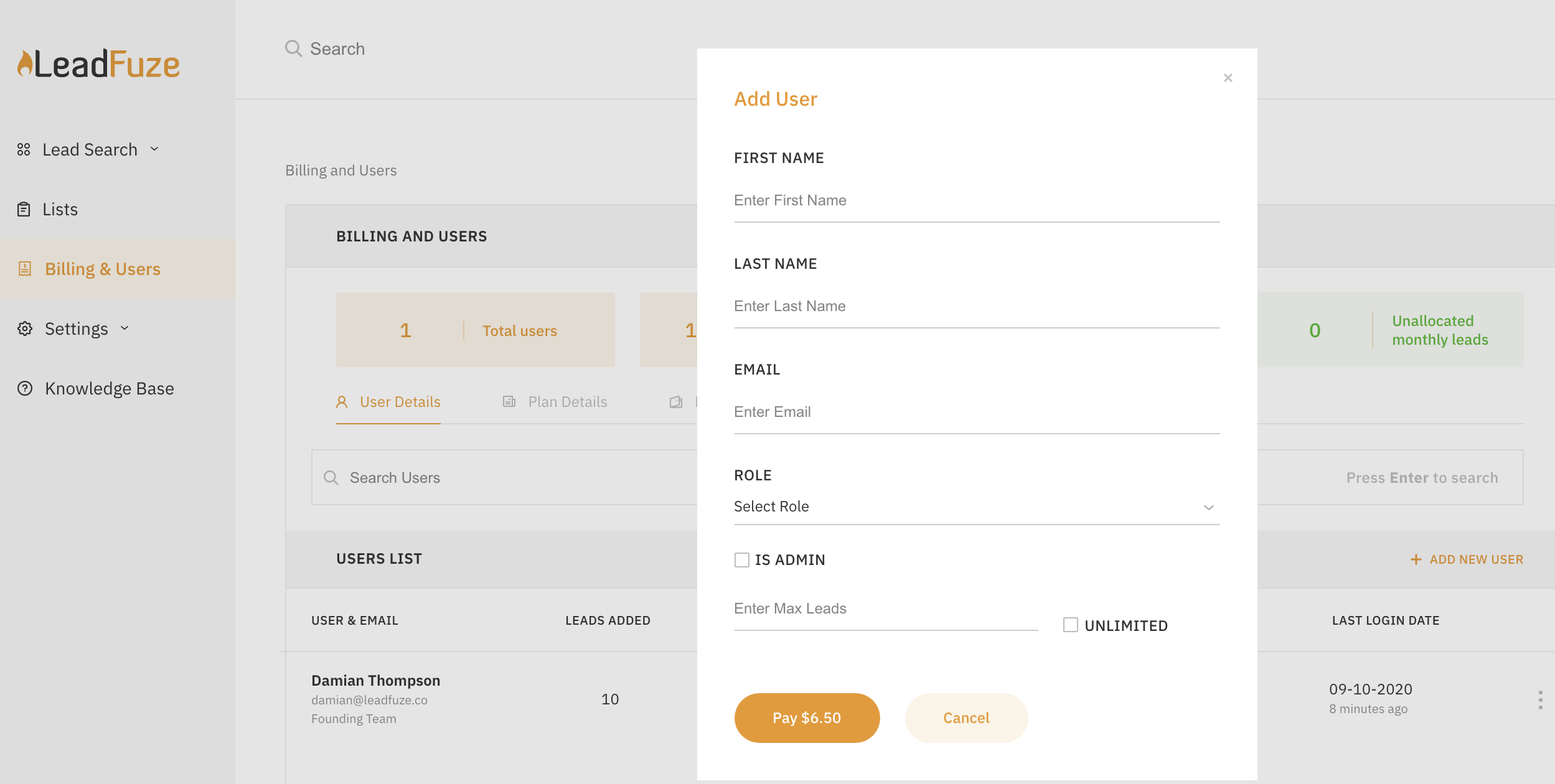 So if you're adding several team members, you'll want to increase the amount of lead credits.
Generally, a decent rule of thumb is for a salesperson or recruiter that is doing more manual personalization with their outreach will need anywhere from 250 to 500 lead credits each. 
Here's a guide on rolling LeadFuze (or any software project really) out to your team and have them excited to adopt this technology (even though it's new!).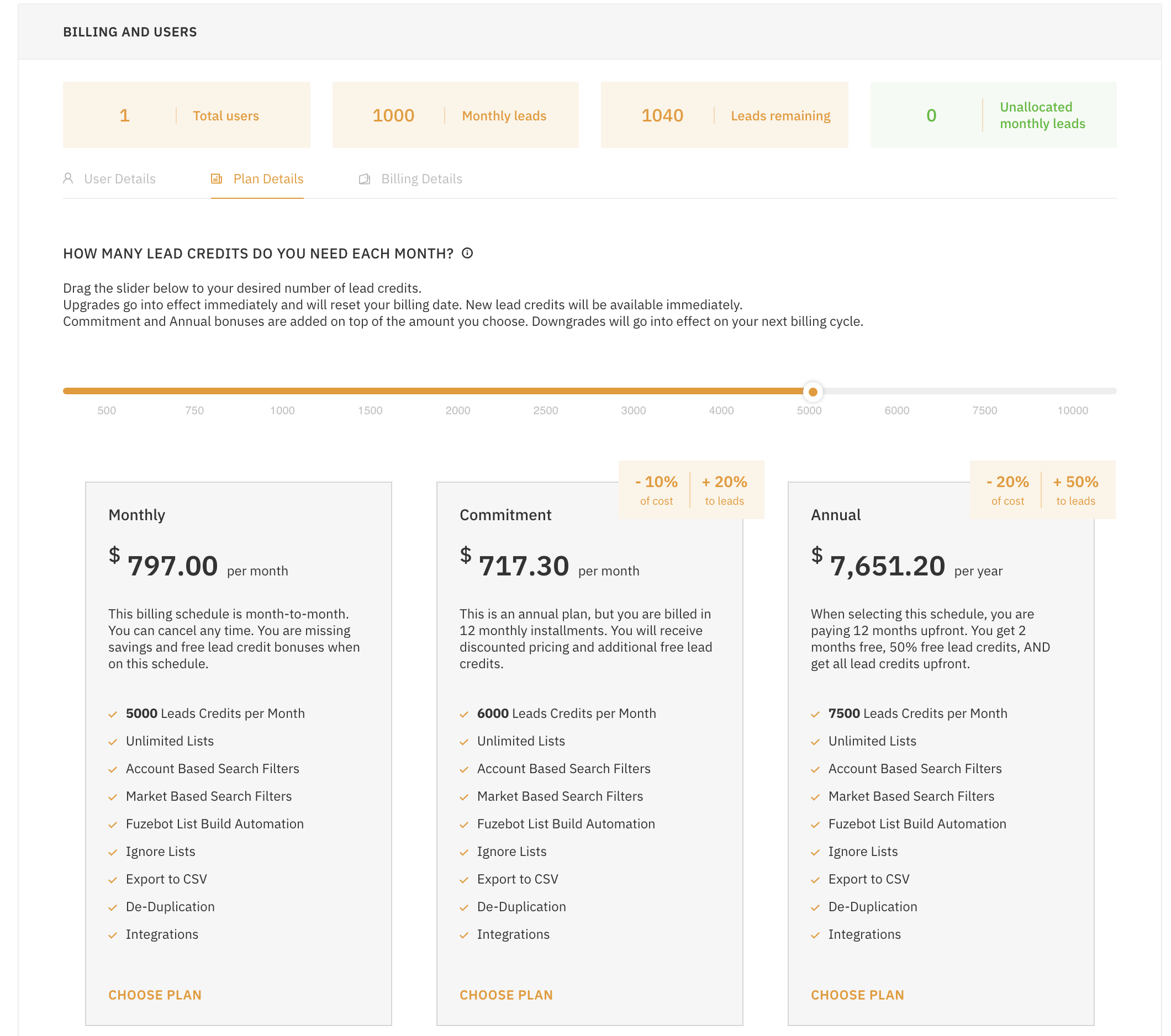 Have a large team? Just reach out and we'll configure a custom plan that suits your needs. 
There you have it. Everything you need to know to be successful with LeadFuze sitting at the top of your growth stack. 
Editors Note:
Want to help contribute to future articles? Have data-backed and tactical advice to share? I'd love to hear from you!
We have over 60,000 monthly readers that would love to see it! Connect with me on LinkedIn and let's discuss.