How to Find an Email Address by Name
Knowing how to find an email address by name is one of the most important skills every salesperson must have. 
In the early days of my first company, I was spending 6 hours per day looking up email addresses and sending cold emails. Though it worked, it was hard because I had to service clients and didn't have 6 hours to spend every day just doing email address lookups and cold emailing. 
It doesn't have to be that hard, though, if I had the right tools I do now. Now finding a sales contact's email address takes a fraction of the time it used to. All I need is the person's name. 
So you have a name, how do you go about finding a lead's email address? Which tools do you use?
1 The LeadFuze email finder
The LeadFuze email finder tool isn't actually a standalone email lookup tool. It's in fact a feature of the LeadFuze lead generation software – the market-leading solution for building lead lists. It automates the process so you can get more time for cold calling and lead nurturing.
To find someone's email address by name, the LeadFuze email finder tool is all you need. Here's how it works: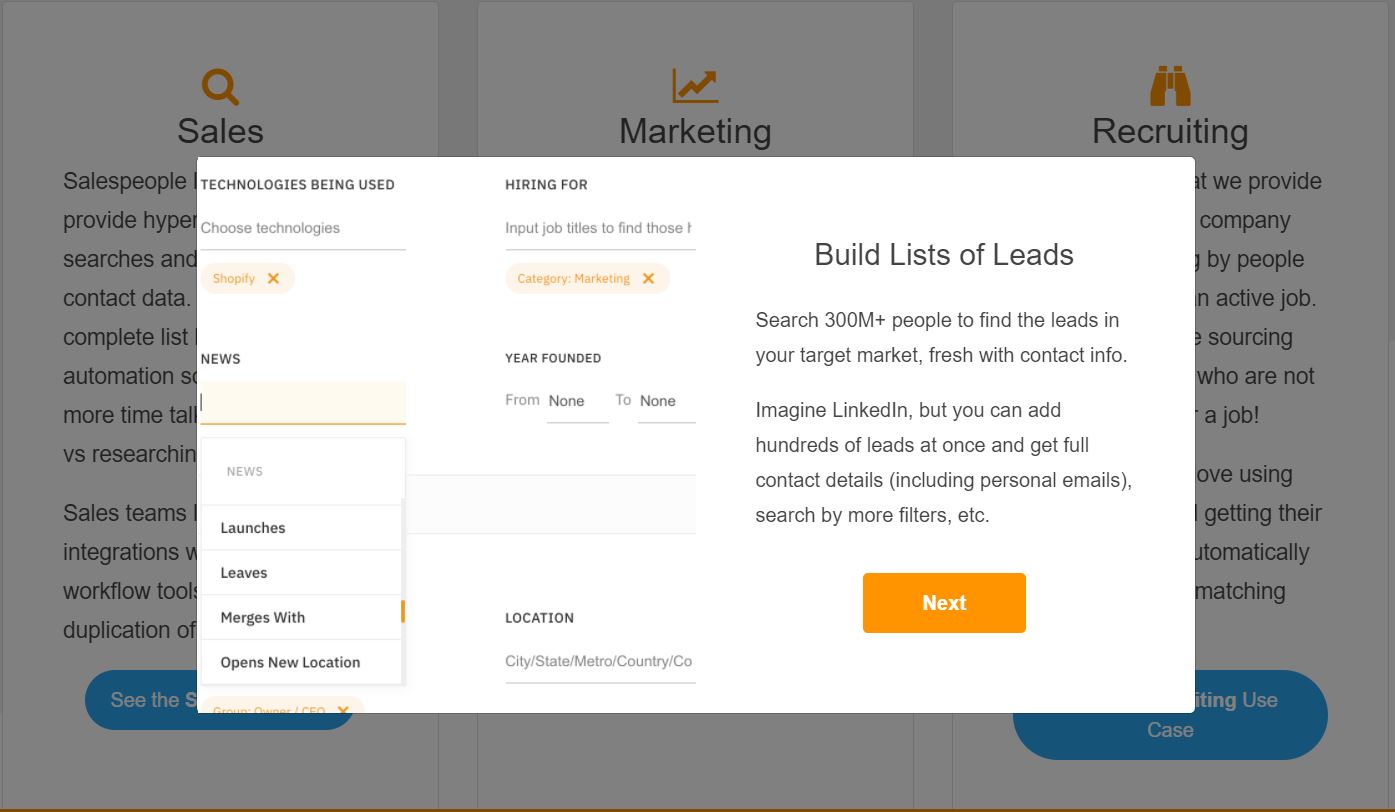 Imagine taking everyone on LinkedIn, but getting their email address also?
Almost every business professional has a LinkedIn profile these days, but you can't get contact info if you are not connected with them. 
What if there was a way you can get contact information for just about anyone on LinkedIn without being connected with them?
Well, that's where LeadFuze comes into play. 
You Can Find Leads Segmented by:
Job Title: I want only people who are VP of Marketing

Location: I want only people in Phoenix

Industry: I want only people in the Automotive industry

Business Size: I want only people who work for a company with 50+ employees

Technologies used: I want people who use Hubspot

Ad Budget: I want companies spending more than $1,000 per month on Adwords

Hiring: I want organizations that are hiring for marketing people

Skills: I want people with specific skills in python development

News: I only want organizations that have recently launched a new product
LeadFuze is an email hunter and gatherer that helps you build lists of accurate leads automatically while integrating with sales outreach tools to allow you to contact those freshly verified leads.
LeadFuze in action. Sign up to get 25 leads for FREE.
You can get super targeting when combining filters.
Imagine wanting to target:
The CEO of companies that use Hubspot, hiring for marketing help, spends more than $1k/mo on Adwords, across the U.S., with 50+ employees, who just recently launched a new product.
One way to find the email addresses is using account-based search to find someone at a specific company. 
You can look up a specific person's name…
OR, you can upload an entire list of companies or domain names and then target specific roles at those organizations and in one click, get all the right contacts, and find the email for all of them.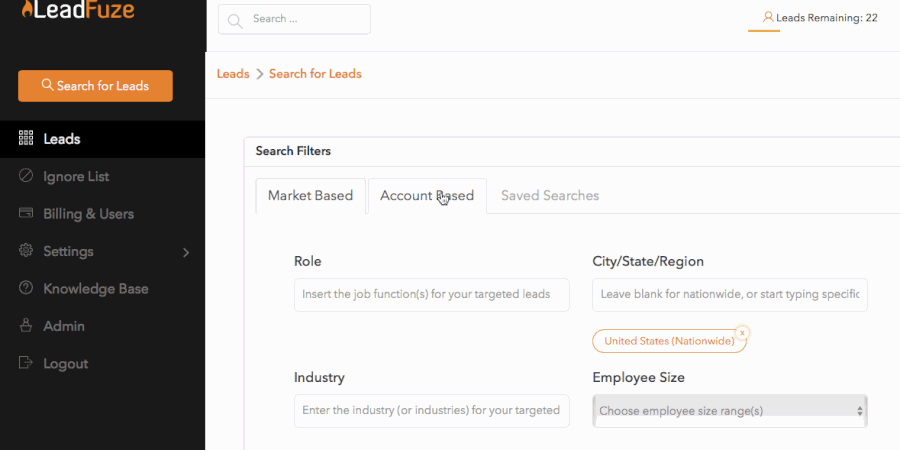 I
Imagine being able to find anyone's email address! From VPs of marketing, HR directors, biotechnology startup founders. The sales possibilities are endless!
Pretty cool, right? You should try it. Just sign up and immediately get 25 Leads for free!
REMEMBER: The selection of the list you are going to use is by far the most important decision you are going to make in this entire equation. It doesn't matter how well you do everything else.
Using Email Lookup Tools to Find Anyone's Email Address
Email lookup tools are used to find the email addresses of known persons or business partners. It is possible to use a public search engine to search for an address, but these would normally yield several results and may return outdated information.
So, below are the best email lookup tools you could use when you're not sure how to find an email address by name. 
First, you will learn how to find corporate email addresses:
2

Datanyze
Datanyze is an intuitive,  simple-to-use, Google Chrome Extension that allows B2B sales and marketing professionals to pull B2B contact information, including email addresses, direct dial phone numbers and company details directly from LinkedIn.
Using a proprietary, automated machine learning process that scans every conceivable online source alongside human research and development teams and trusted third-party sources, Datanyze offers the most accurate, robust B2B database on the market.
Datanyze also offers Directory pages, where users can also tap into featured icebreakers related to what's happening in a prospect's world— curated from personal social media feeds, local news publications, and more! Datanyze helps you start meaningful conversations that lead to sales.
By helping B2B professionals prospect and export contact details directly from their web browser, Datanyze helps bolster your sales pipeline and increase productivity.
3

Hunter.io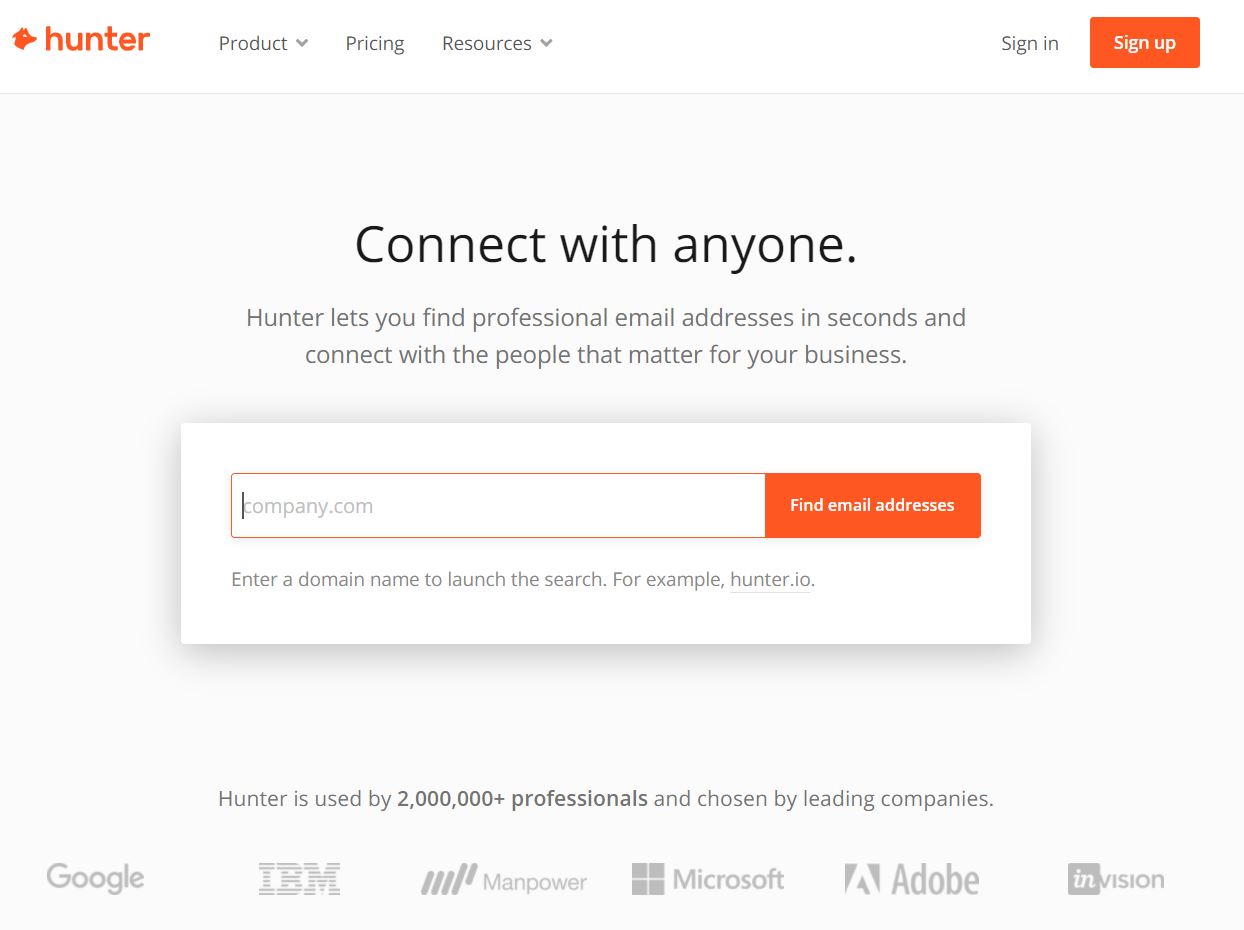 Hunter.io works by searching for a person's name on several popular social networking sites. If it isn't found on those, Hunter will try to find the user's profile on other websites that use an email address as a username, including Twitter and LinkedIn.
You simply enter the first name, last name or username of the person you're trying to contact.
Hunter.io is simple to use. What makes this email lookup tool so unique are its bulk features. These considerably expedite the outreach process.
Knowing how to find an email address through the bulk process is useful if you have a large number of names and corporations but no email addresses, which should be an extremely rare occurrence.
Unlike many of its competitors, Hunter includes additional data with the email to assist you in making a more informed decision while conducting your outreach.
Those of you attempting to push the boundaries of your outreach processes may find this additional data highly beneficial.
Why?
Because the data assists you in determining which emails are most likely to respond to a marketing request. By understanding the position of the person you're contacting, you gain some sense of their ability to accomplish the thing you need them to do.
The majority of other scraping solutions do not include this data element, which makes your outreach less targeted and conversion-oriented.
4

RocketReach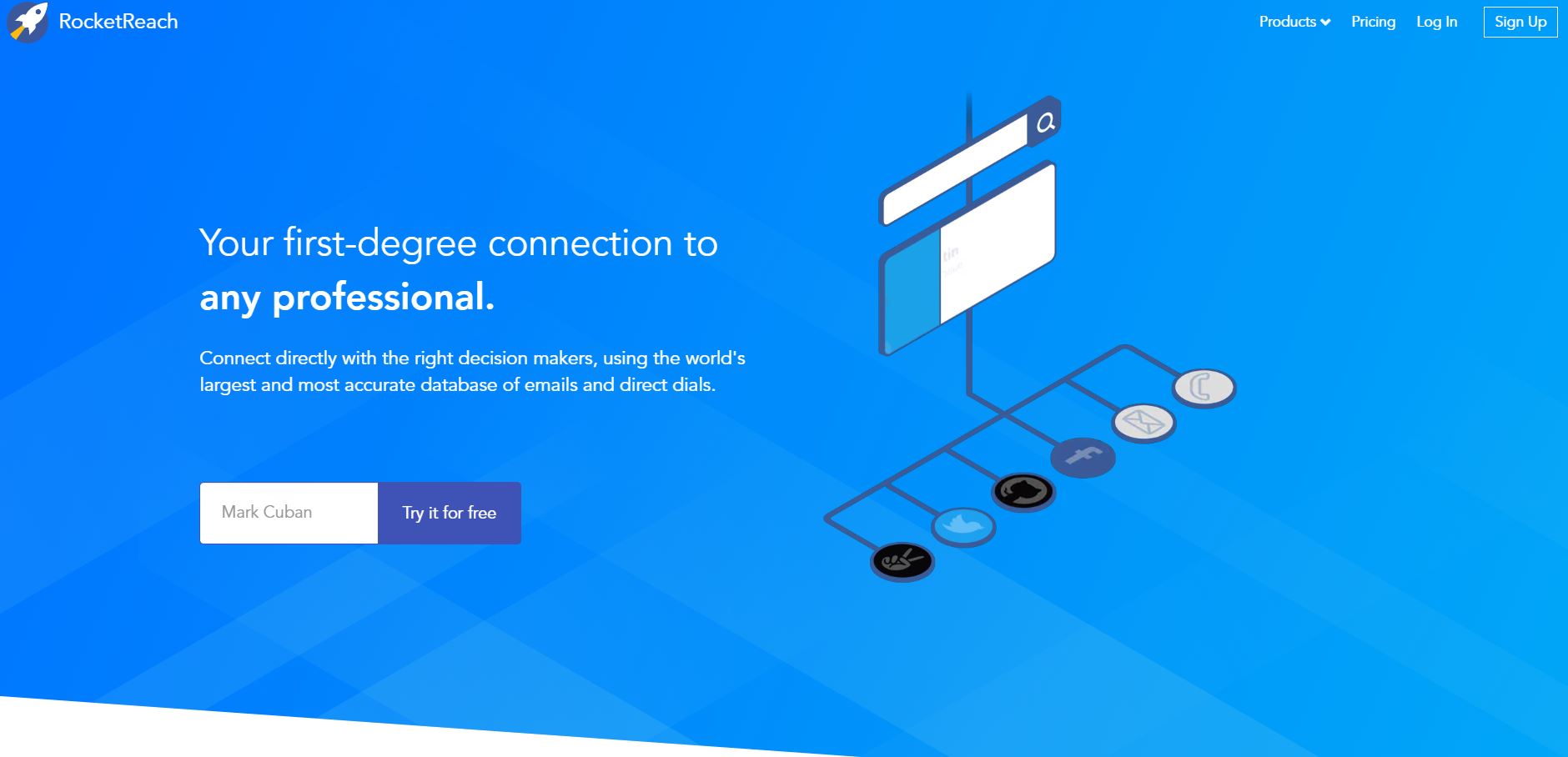 RocketReach enables you to search their database of 250 million professionals for email addresses, phone numbers, and social media accounts.
After completing the sign-up process, enter the name of your target or their LinkedIn profile to find the email address of the person you wish to pitch.
The advanced search option enables you to target prospects based on their region, industry, job title, and business. 
The tool displays their email address search result along with their relative levels of confidence (of how accurate the email probably is). After that, you can save these contacts for future use.
Rocket Reach offers an unlimited free trial period during which just three queries per month are permitted. Its premium subscriptions start at $49 per month (for 170 email lookups) and go up to $299 per month (1150 email lookups).
5

Voila Norbert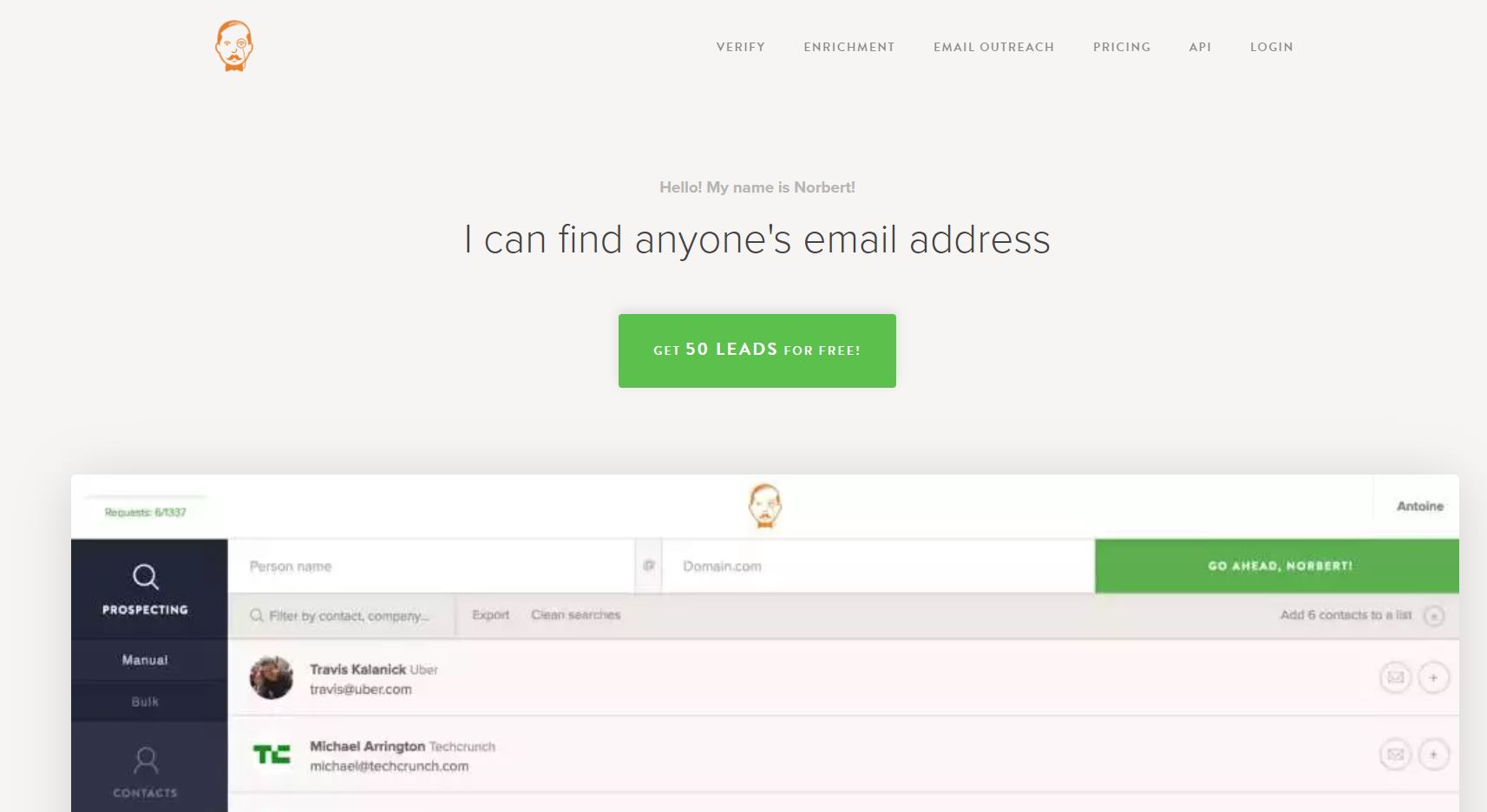 Voila Norbert was created for agencies and business owners who require the identification of hundreds or even thousands of email addresses. It's a useful tool for solopreneurs and small firms who require the verification of a dozen or more emails per month.
What's cool about this email finder tool is that while you type, Voila Norbert will try to guess the correct URL. This is useful in situations where you are not sure the information you have is accurate.
Finding the appropriate email address normally takes a few seconds. Hovering your cursor over the name displays a confidence rating.
If you click on the email address, you can obtain extra information on your prospect. Additionally, there are two hotkey buttons: one for sending an email message and another for adding the email address to a list.
Free Resources for Finding Someone's Email Address By Name
There are other tools that aren't specially designed for finding email addresses but which quite useful all the same. Best of all, these tools are free. Here are a few that you should try:
6

Use LinkedIn
LinkedIn has revolutionized the networking process and satisfies all of a person's and business's needs! LinkedIn is a top choice for B2B marketers looking to find emails due to its high conversion rates and low cost per lead when compared to Instagram, Facebook, and other popular social platforms.
Thus, knowing how to find an email address by name from LinkedIn and targeting them is a great way to maximize the effectiveness of your email marketing campaign. 
Whether you use it for email marketing or recruiting candidates, LinkedIn extractor tools enable you to quickly create a list of emails from LinkedIn.
To obtain the emails from LinkedIn, send the individual a connection request. It has been observed that individuals accept connection requests even if they are unfamiliar with you! If the person is already connected to you, it's already a win-win situation.
Simply access his/her LinkedIn profile and click on "Contact Info," as seen below.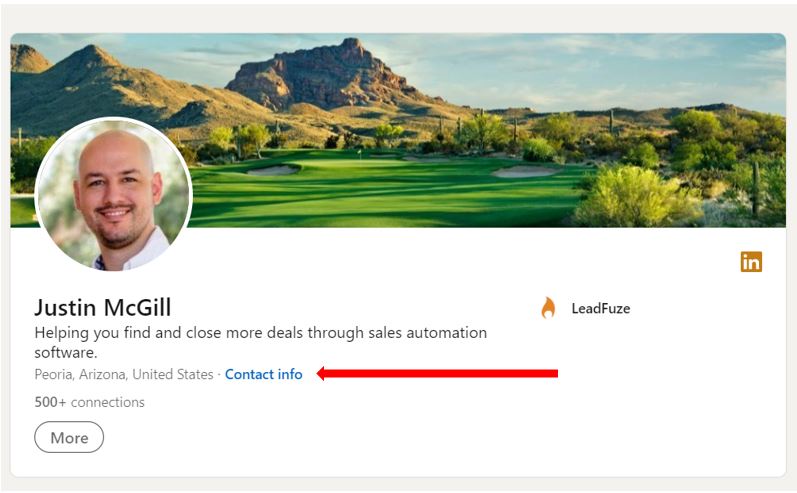 When you click on it, it will display all of the information that an individual has entered.
Frequently, you will find these emails full of information, since people frequently post such facts. Bear in mind that the primary goal of LinkedIn is to connect professionals from various industries. This is the most often used approach for locating LinkedIn emails.
7

Ask for the Email Address on Twitter
Using social media is another great way to find an email address by name.
Twitter in particular is quite useful, because people will often share their email addresses in their tweets. However, in order to avoid spam bots, they won't always list their entire email address.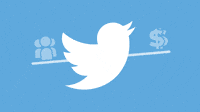 In most cases, they'll replace the @ symbol with "at", and the dots with the actual word "dot". You can take advantage of this by using Twitter's advanced search.
Go to the advanced search section on Twitter and search for "email" and "at" in tweets from your target account.
You can also reach out to the person on Twitter and ask them for their email address. Most people will be happy to give it to you, assuming you have something legitimate to offer.
Now, let's talk about how to find an email address through other means. 
8

Subscribing to Prospects' Contact Form
If you can't seem to find the email address of the person you'd like to reach but you have access to a general email address on their domain name (e.g., info@website.com), shoot an email to that address and ask to be connected with the person you need to contact.
Those types of email addresses are often managed by support teams and VA's, most of which will be happy to connect you with the right person.
9

Dig In with Advanced Google Search
Enter your prospect's name and "email address" on google search and you may strike gold.
However, if the individual you're looking for has a popular name, this may prove challenging. Even if they have an unusual name, you may not make much progress.
You can narrow the search by using a few Google search operators. These are quite simple to use. Simply enter the operator into Google and begin your search.
Like this:
name + "email" 

name + "contact information"

name+ "home address"

name + "company where they work"
10

Make a Guess and Look for a pattern
Most businesses follow a pattern with their corporate email addresses. This means if you know the name of the person you'd like to reach, it's fairly easy to guess their email address.
Most email addresses consist of a combination of the prospects' first name, last name, or initials. (e.g. firstname@domain.com or firstname.lastname@domain.com).
You can also use a Email Permutator tool that lists all possible combinations for a particular email address.
Simply enter the first name and last name of the prospect and the website's domain name, and the tool will generate every possible list of email addresses out there.
This will usually result in 30+ different people's email combinations, which you can then test out until you find the right one.
For example, here's what you'd see if you input my name and domain name: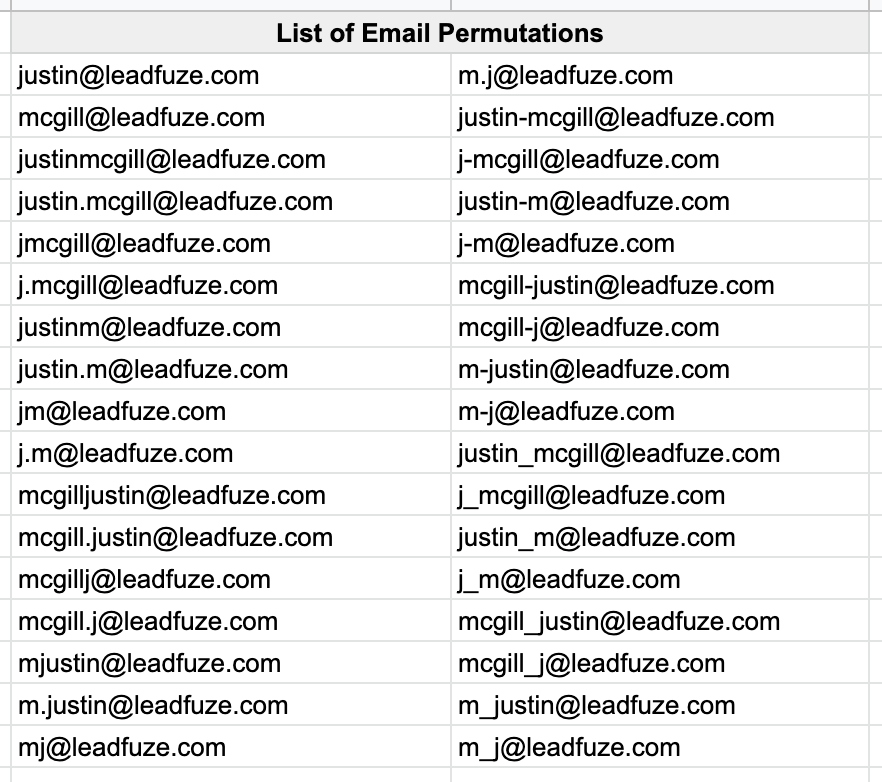 Find Anyone's Email Address and Supercharge Your Email Outreach Campaigns
Finding a prospect's email address is not that hard if you have their name. There are many email lookup tools you can use as well as free-to-use platforms you probably already use, like LinkedIn, Twitter, and the Google Chrome web browser.
As you have seen, the specialist email finder tools are designed to be easy to use, giving you a list of possible email addresses in mere seconds.
Did this article help you learn how to find an email address by name? Tell us in the comments!
Have other tips you want me to add? Connect with me on LinkedIn and let me know.
Editors Note:
Want to help contribute to future articles? Have data-backed and tactical advice to share? I'd love to hear from you!
We have over 60,000 monthly readers that would love to see it! Contact us and let's discuss your ideas!