In our modern world, everything is now digital. Lead generation that was done mostly through calls, personal meetings, and meetups, can now be done online. With the use of certain tools and software, lead generation is possible without meeting actual leads.
As a marketer, you know for a fact that quality leads are hard to come by. It definitely is not the easiest task. Especially if you have to find them yourself.
But with the right lead generation software, you will be able to generate more leads and convert those leads to valuable paying customers.
What is a Lead Generation Software?
A lead generation software is a platform or application that helps you generate and collect leads from specific channels. It will route the collected leads to sales or marketing teams for conversion.
There are many different types of lead generation software.
Some are designed for different specific channels and others are designed for providing all-in-one lead generation and marketing automation solutions.
What is a Lead Generation Software Used For
A lead generation software automates the process of attracting leads online and collecting information about them so that you can stay in contact.
Some lead generation software integrates with an existing CRM program, while others incorporate their own lead building tools.
Lead generation software is useful for both B2B and B2C companies.
In a GetApp survey for both B2B and B2C companies, more than half (57%) of survey respondents claimed to use lead generation software.
more than half (57%) of survey respondents claimed to use lead generation software
Click To Tweet
Benefits Of Using Lead Generation Software
By using the right lead generation software, you will be able to generate and convert more quality leads from multiple channels.
You will also be able to achieve higher conversion rates, expand your customer base, and in the long run boost your sales and revenue.
When you adopt Lead generation software, it will help you achieve the following:
· Generate Better Quality Leads: Lead generation software helps you target your ideal customers. Bringing more of your leads closer to making a purchase.
· Generate More Leads: A good lead gen software will help you attract more users to your website. This can be achieved by using organic search engine optimization and paid search advertising.
· Close Sale Faster: When you automate the process of generating, segmenting and following up with leads by using lead generation software, the entire sales process is accelerated.
· Better Lead Management: Lead generation software helps to reduce lead management mistakes.
It also notifies you when you get new leads or automates emails to leads. And it reminds you when it is time to reach out to leads in person.
· Increase Accuracy: Lead generation software helps you update changes made in your customers' emails, phone numbers, contact addresses and lots of other information. It helps you keep accurate information about your leads.
Our Top Lead Generation Software
Lead Generation and Email Marketing
LeadFuze is the best for lead generation and email marketing. There are tons tools for generating specific leads. What goes with that is a great cold email builder that's great for marketing.
If you're looking to find the best leads for your budget, then LeadFuze is the one you need.
Finding Specific Accounts or Leads
LeadFuze allows you to find contact information for specific individuals or even find contact information for all employees at a company.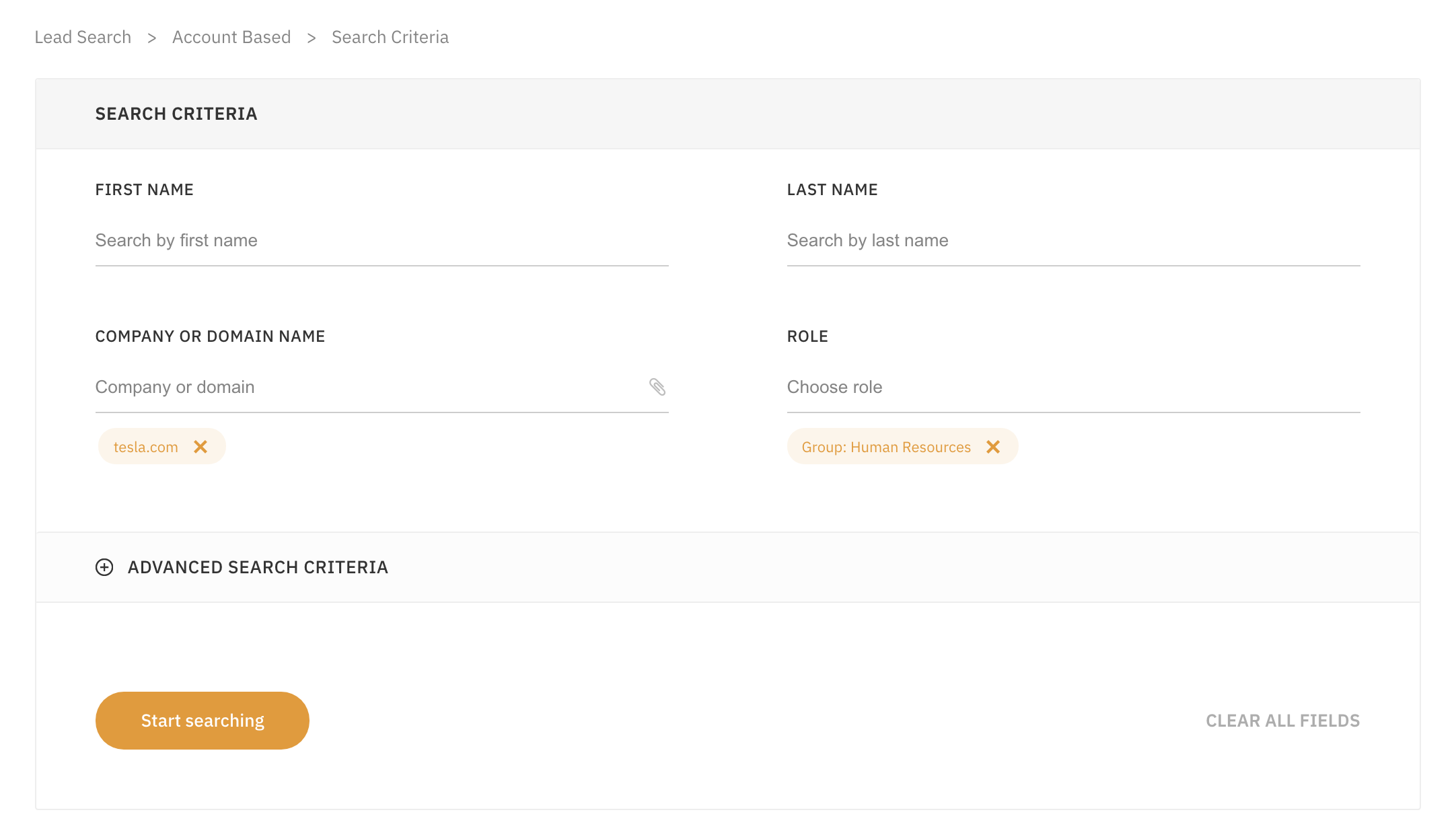 You can even upload an entire list of companies and find everyone within specific departments at those companies.
(Image Source: OptinMonster)
OptinMonster is one of the best lead generation tools because it lets you convert more of your website visitors into subscribers and even into paying customers.
It comes with a drag and drop builder with which you can create eye-catching pop-ups and other lead generation forms optimized to deliver the highest conversion rates.
This software comes with over 50 beautiful pre-built templates. With OptinMonster, you can show your perfect offer to the right people at the exact right time.
With its lead generation marketing features, all you need do is to add the most engaged site visitors to your email list. Those are the subscribers who are more likely to become paying customers.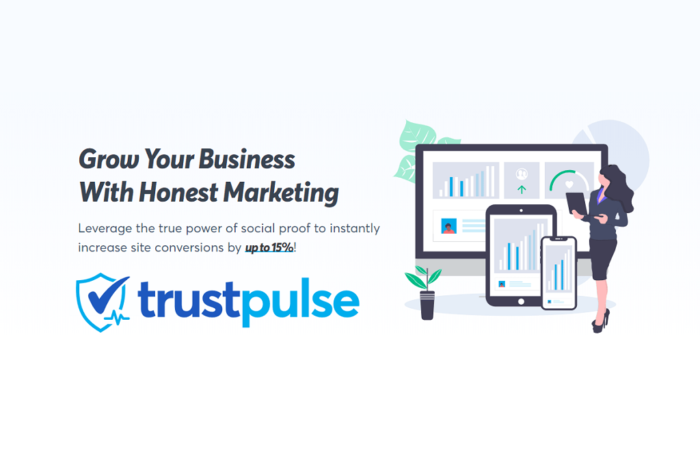 (Image Source: TrustPulse)
When it comes to social proof notification, TrustPulse is the best plugin. This method is one of the easiest, most effective lead generation marketing tactics.
TrustPulse software is programmed to show a notification each time someone takes an action on your site.
It displays recent purchases and is known to increase conversion tremendously.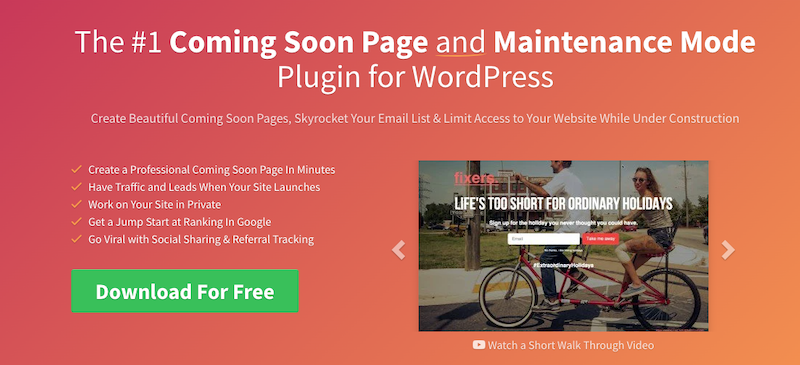 (Image Source: SeedProd)
SeedProd is one of the best WordPress landing page creation plugins. It's Drag & Drop Page Builder lets you create great-looking pages fast. So, you can get your landing page up in minutes.
It comes with a Landing Page-Specific Blocks creator that helps you build the highest converting pages in WordPress.
With this plugin, you can track every subscriber with or without a 3rd party email provider. Not to mention get clear visual data on page subscriber counts and new subscribers over time.
It helps to create professionally designed pre-built sections like headers, calls to action.
It can also be used to create a variety of landing pages. This includes sales, coming soons, maintenance mode, webinar and thank you pages.
The pages created with SeedProd is responsive to any device. Making your message always clear no matter which size screen your audience uses to browse.
It integrates effortlessly with other third-party platforms. This enables it to collect emails with your favorite 3rd party email marketing service providers. Like MailChimp, ActiveCampaign, ConvertKit, Constant Contact and more.
It comes with powerful spam protection which protects your landing pages from spam, bots and fraudulent submissions with ReCaptcha.
This makes sure that you only get more highly qualified leads and prospects for your business.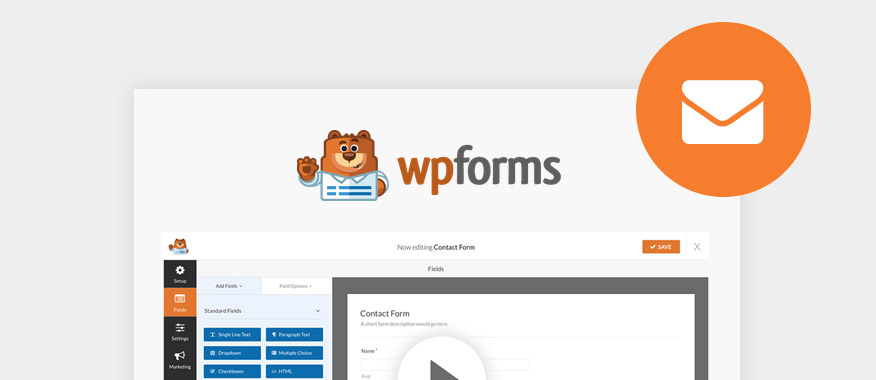 (Image Source: WpForms)
WPForms can be easily used to add simple lead generation forms to your website. It has some other fascinating lead generation features that include survey forms, quizzes, and polls.
It is equipped with a Drag & Drop Form Builder which can be used to easily create an amazing form in a few minutes without writing any code. 
Or you could use any of the pre-built form templates to save even more time.
WPForms is also responsive and displays perfectly on mobile, tablets & desktops. It helps you respond to leads quickly with the instant form notification feature.
You can view all your leads in one place to streamline your workflow too.
This platform enables you to collect payments, donations, and online orders without hiring a developer.
It also makes it possible for the creation of subscription forms and connection with your email marketing software.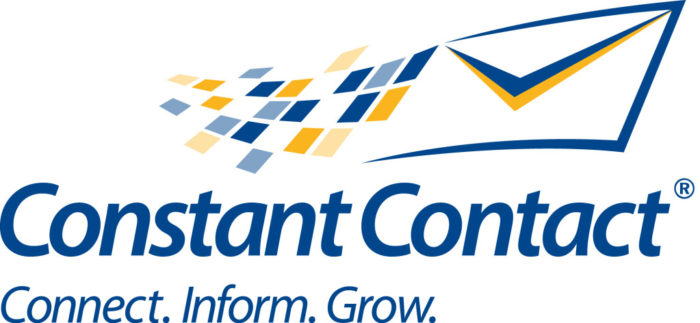 (Image Source: Constant Contact)
This is best for handling a bigger list, or if you prefer a MailChimp alternative then Constant Contact is your best bet.
You will also get lots of support to use this lead generation tool.
Constant Contact is rated highly for world-class support, extensive online training, and webinars to help you achieve success.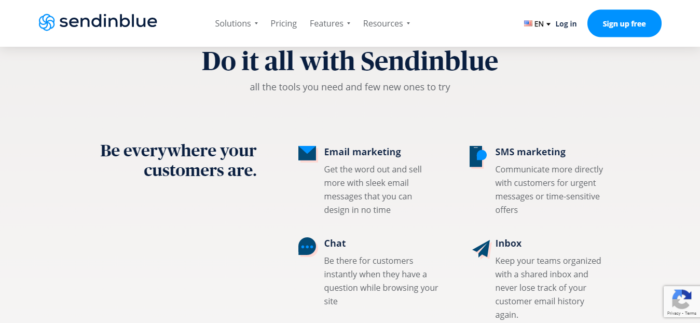 (Image Source: Sendinblue)
This is a complete marketing automation software designed to combine both email marketing services as well as SMS messages.
Sendinblue offers a drag & drop builder that you can use to create highly-engaging emails, build automated workflows, and segment users.
Email Address Finders
It is very important in lead generation for you to connect with people who aren't on your email list. You need to find their email address and contact details.
Below are examples of software that you can use find email addresses.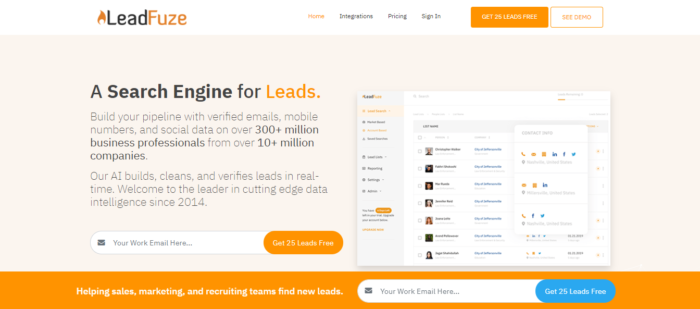 LeadFuze is a great lead generation website where it's not just sourcing for emails but contact information as well. 
It has market based search which will help you locate specified leads with its customizable filters. 
Finding Passive Candidates
LeadFuze gives you all the data you need to find ideal, passive job candidates.
Go through a variety of filters to zero in on the leads you want to reach. This is crazy specific, but you could find all the people that match the following: 
People who have worked in Computer Software
Who held a title of Lead Developer OR Lead Engineer OR Head of Engineering
That have NOT been a CTO or Chief Technical Officer
And currently make $85,000 to $100,000 in salary
While having javascript skills
Who are currently unemployed
Who are likely to fit culturally due to liking Back to Future OR Fast and the Furious
Just to give you an idea. 😀

Voila, Norbert is a lead generation software designed to help you find and verify email addresses.
With this software, you can search in bulk for prospects with a CSV file.
This tool also integrates with a wide range of CRM software making it easy to keep track of your lead generation efforts.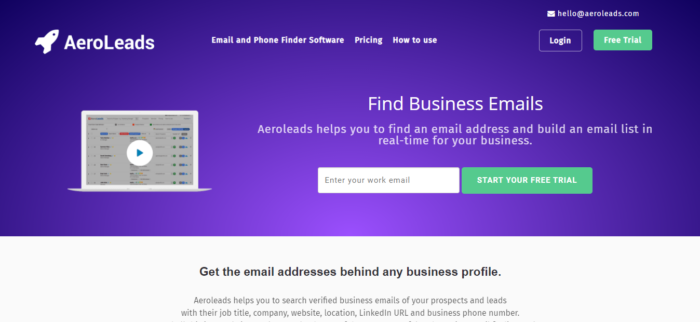 AeroLeads is a Google Chrome extension that helps you search for sales leads on LinkedIn, AngelList, and other networks.
Once added to your AeroLeads account, this lead generation tool will find their business email addresses and other contact details.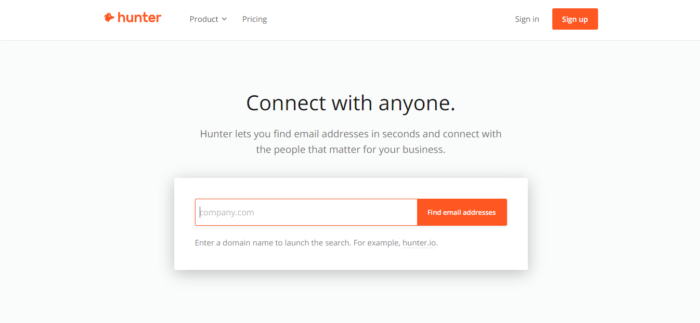 This is a wonderful software specially designed for a quick email search. With Hunter's powerful search tool, all you need to do is type in the domain, and it will find the email address pattern.
Prospecting and Outreach Tools
The following automated lead generation tools will help you carry out your prospecting and outreach process effectively.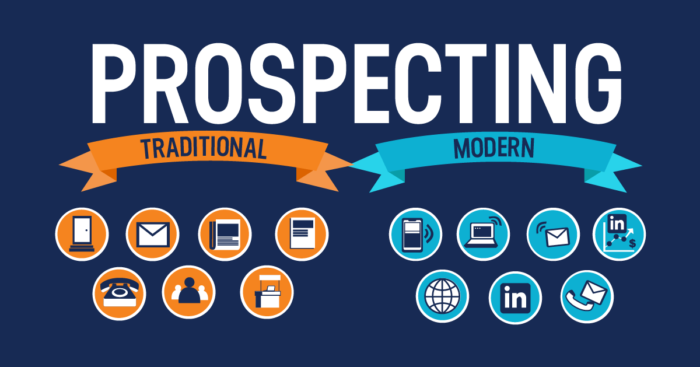 (Image Source: SOCO Selling)
OutreachPlus is a powerful software that lets you create and send personalized emails while still benefiting from automation.
This software also helps you find your best sales leads for future outreach based on responses to your past or current campaigns.
Hoovers is one of the world's largest commercial database which you can use to build targeted lists of new prospects.
It includes company information to help you get more relevant conversations with those prospects.
This in turn helps you turn more prospects into leads and sales.
This software helps you find sales leads based on data about the technology your target customers are already using.
Datanyze comes with a prospecting tool designed to help you find contact details fast.
Afterward, you can export those to your CRM software for management and follow-up.
Lead Forensics to solve the problem of missing valuable leads by getting contact details for anonymous website visitors.
Growbots boasts of their ability to help users choose their best prospects from a database of more than 200 million contacts.
It also includes testing so you can check which approach is most effective.
Prospect.io is designed to handle both prospecting and outreach effectively. It helps you find and verify emails for your prospects. After which you can reach out to them via a range of templates.
You can also easily track data on all interactions. It integrates with a range of services to get contact information automatically.
CRM Tools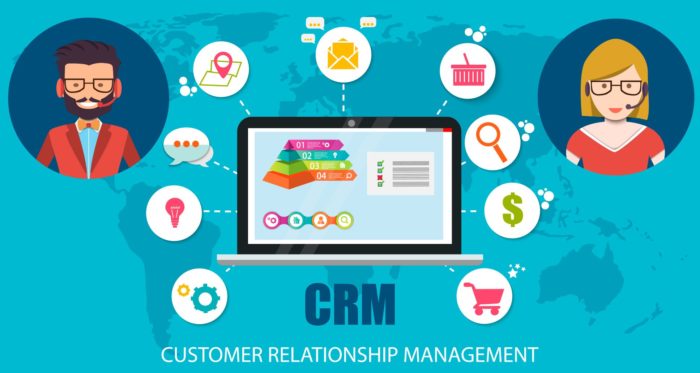 (Image Source: Really Simple Systems)
Customer relationship management (CRM) is designed to help you connect and keep track of prospects and sales leads throughout the sales pipeline.
HubSpot is a great way to organize, track and nurture leads.
It tracks interactions automatically and helps you and your sales team to keep on top of what's happening.
Pardot is an amazing lead generation tool that helps you manage and qualify sales leads. Making sure that you're always talking to the best leads.
This software is equipped with fine-grained segmentation and marketing automation for better communication with your future customers.
SharpSpring integrates with all the top CRM lead management tools. Allowing you to manage lead data across multiple platforms.
SharpSpring also includes custom deal stages and a useful pipeline overview, as well as other marketing tools.
This software only requires that you make a click in order to start managing your Google or Office365 contacts with Contactually.
Once connected, it will easily organize and segment contacts for you.
You can also optimize workflow and schedule communication with Contactually's AI tools.
Keap helps you store customer information in one location.  And lets you track interactions and responsiveness to guide future campaigns. It's a multi-functional lead generation tool that's definitely worth exploring.
This lead management solution helps businesses form relationships with prospective customers before they talk to sales reps.
It helps you attract leads via inbound and outbound marketing. And it also improves the quality of sales leads you will get.
Nimble helps to pull in information from a number of online sources. So that you always have the latest data on potential leads.
It also makes it easy to identify and nurture key contacts without having to do any data entry.
Nimble is available for major browsers, email programs, and mobile platforms.
The OnePageCRM helps to grab leads from G-mail, social media sites and business networking sites. It then integrates them into your CRM.
Sales Lead Generation Tools
We all know that the goal of using lead generation tools is turning those leads into sales.
It is best to use tools that both make sales and nurture your customers.
Here are some tools to help with sales lead generation.
Salesforce is a tool that helps you manage sales leads, customers, sales teams, and more.
It can integrate with a wide range of sales and marketing software to help businesses sell more and deliver better customer service.
HubSpot Sales helps you save time on generating new sales leads. 
It has tools and templates for email outreach and follow-up. So you can interact more efficiently with prospective customers.
LinkedIn is a business networking site with huge amounts of company information in its databases.
This information can be assessed via the LinkedIn Sales Navigator.
The LinkedIn Sales Navigator lead generation tool is equipped to provide advanced lead searches and recommendations.
It also includes CRM integrations and sales updates.
This piece of automatic lead generation software will track all interactions with leads easily.
Afterward, you can see all the data in one unified dashboard whenever you check-in. Pipedrive also makes it easy to know what action to take next.
Communication Tools
Drift software helps you deliver helpful and personal service to customers, by establishing and having a conversation with them.
Intercom is one of the best lead capture tools around. Intercom can help with handling customer support and on-boarding process.
This lead generation app is designed to bring all your messaging under one roof.
It is also designed to give you and your customers a unified but cross-platform experience.
According to their page, CallPage promises a 5-minute setup. After which you can immediately start talking to visitors.
Once visitors enter their phone number in the onscreen widget, they can be connected to you within seconds irrespective of where they're located.
Advertising Tools
To get leads by promoting your business, you will need some lead generation tools to advertise your products and services.
Below are a few of them:
Google Ads service displays ads for people when they search for related terms.
This makes the ads relevant and increases the chances that searchers will visit your website or even call your business.
It also enables you to set up campaigns for free.
AdRoll helps you in displaying ads, social ads and email work together to promote your business.
It includes automation and rich insights which makes it possible for you to tweak campaigns for more growth.
This is an optimization tool for Facebook, Instagram, and Google ads.
It lets enables you to create and test multiple ad variants with only a few clicks.
It also makes it possible to run ads with various audiences and measure what's most effective with in-depth analytics.
Conclusion
Many lead generation software are designed for different specific marketing channels and there are some that are multipurpose.
You don't have to use them all. Rather, focus on where most of your potential customers are. Then pick the right software that can effectively help you generate more leads.
You should only choose the software that can help you achieve a higher conversion rate, and boost your sales and revenue.
Editors Note:
Want to help contribute to future articles? Have data-backed and tactical advice to share? I'd love to hear from you!
We have over 60,000 monthly readers that would love to see it! Contact us and let's discuss your ideas!