In fact, most businesses work hard to turn their leads into potential customers this might include practices like Lead:
Capture: Consists of collecting information from lead, whether it's its contact information, demographic or psychographic data.
Magnets: These are all the techniques and tools used to convert prospects into qualified leads
Qualification: most businesses are looking for highly qualified leads who are in short leads who are willing to make a purchase
Segmentation: It consists of categorizing leads according to their information, activities, lead magnet that attracted them… 
In general, all these components are very important for the sales and marketing team. Therefore, they need to figure out which types of lead generation will work best to increase conversion rates and sales revenue.
What are the types of lead generation?



Types of lead generation: Offline or Face-to-Face
1

Word of mouth 

Organic Word of mouth:

One-on-one settings, for example in a meeting, are more personal and allow people to share their interactions with the salesperson.

In fact, Word of Mouth is a great technique for degeneration since it's considered to be more authentic. In order to succeed at triggering word of mouth, you need to start with a talk trigger.

Some of the best practices that can trigger organic offline World of mouth:
One on one professional or personal meeting
canvassing or door to door
Friends and family gathering
The most important thing is to keep the conversation around your business or project and always try to attract the listener's attention.
Amplified Word of Mouth:
When we are talking about Amplified Word of Mouth, it means all the efforts and strategies to make the people talk more about searching business. 
We noticed, in recent years, that tech companies choose presentations as a way to amplify their Word of Mouth. It might be Steve Jobs' thing, but this technique is more than enough to amplify WOM.
Many well-established brands try to always amplify their Word of Mouth by choosing the right representatives to start the talk trigger.
It can be in the form of recommendations or endorsements, but they choose in the end someone that has the same image as the brand.
However, we are not only talking about celebrities but also influencers and anyone with a great story, background image and followers.
2

Public Relations

Even though many marketing experts said that offline PR for businesses is being replaced by online PR practices. However, we cannot deny how big of attention it still gets from people all around the world.

Since traditional marketing still matters, people still want to connect with you directly to know your business values. That is why you need to create an environment for public relations.

Whether it's you or your employees representing the company PR is something that you will support your brand story. In addition, it will also help you to authentically connect with your targeted audience.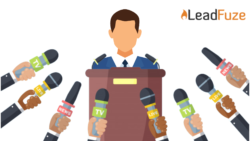 PR is about building those relationships based on trust and human connection with the people you meet. 
The only way you're going to succeed at doing this is to put yourself out there and talk directly with your targeted audience.
Not to mention that PR is going to boost your word of mouth, making you highly valuable two customers.
Here are some techniques to boost your public relations:
This is the most common PR practice that effectively helps companies with lead generation.
Most companies realize that their sales increase whenever they are featured in magazines, newspapers, TV or radio programs. 
The editorial coverage boosts the business credibility and reputation among its audience. This is why it is considered super helpful to increase conversion rates and improve lead generation.
If editorials are not that important, then why most brands become so proud whenever they are featured in a very well-known magazine. Not to mention the hype they get if the brand is mentioned on Forbes, or the New York Times, or Vogue and so on.
Pitching a press release to your local or national newspaper or even International magazines will definitely help with PR.
Moreover, press releases are still an effective way to generate leads directly from a targeted audience. 
They are the quickest way to get information to your targeted audience. This is why you need to carefully choose what you'll be talking about.
In the end, always try to narrow down your press coverage to a niche of audience who interests them knowing about your business.
What's an evergreen content? One thing for sure Evergreen content is the type of content that never expires. 
We're still talking about the offline types of lead generation which means tangible content like prints, PDFs, presentations, and so on.
Most companies, especially in the B2B industry, want to produce content that will last for long. This is why they intend to create the few key pieces of content customized to their targeted audience. We can mention:
original research
statistics and data
how to guide
List of guide
And as we can see, this type of new generation content lead generation content gets constantly promoted and updated by copywriters.
3
Branding: 
Offline branding can be very expensive, but it's surely the most effective type of lead generation. 
In fact, whenever a business gives something to the community, they always get something in return. Especially when it comes to generating more leads.
4
Sponsorship
For a company to have a social responsibility towards its community, builds a valuable image to the potential clients.
Whenever you show you care about matters like health, education and the environment, it means that you share the same concerns as the community.
Therefore, by finding ways to help develop the society and treat their issues and crisis, you create a strong brand reputation.
5
Partnership
Partnerships are highly appreciated amongst many industries.  
Whether you are operating in the B2B or b2c domains, partnership makes everything much easier for your lead generation efforts.
Many people confuse between partnership and sponsorship, but the difference is huge. Sponsorships require investing a defined budget for a certain event. Whereas partnership is about finding someone sharing the losses and profits with you on the long-term.
Among the strategies for Partnerships we mention:
Joint products
Joint venture
Distribution partnership
Equity Alliance/ Non-equity alliance
Supply chain partnership
Marketing partnership
6
Offline Ads
Offline advertisement is plausible by people more than any other type of advertisement. You can actually see even online how people are reacting to certain Billboard advertisements.
Take a look at this innavative billboard advertisement: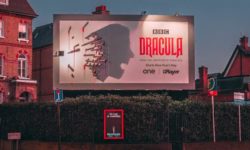 Source Daily uk
Of course, for you to have an effective advertisement plan, you need to figure out an authentic way to reach your target audience.
Otherwise, you will be wasting a lot of resources and especially money since printed offline ads are way more expensive than online ads.
If you know that your audience, for example, likes to read magazines, then you should probably publish a printed ad on that magazine.
Among the most common and popular printed advertisements are:
Press
Niche or local magazines
Billboard advertising
Leaflets and flyers 
Posters
In addition to printed advertisements, mass media is another way to advertise your company's products or services.
Television for lead generation: A TV commercial is more Compelling interesting and motivating and shows to increase profits for a lot of companies especially food and beverages companies. Who can forget their favorite Super Bowl TV commercial?
Radio for lead generation: Most radio programs have a high rate of listeners or followers. Choose the program that suits your company the most with its values and the topics treated in the podcast. Accordingly, you can offer certain incentives for your targeted audience following that podcast.
7

Direct Mail
Direct mailing has been around for a very long time. Even though it's considered as a universal offline approach, more and more businesses are avoiding this approach.
However, Direct Mail has a higher response rate than online email marketing and paid advertisements.
And this goes to the fact that many people check their mailboxes and carefully read whatever it's sent to them.
This practice is commonly used by B2B companies to increase their conversion rates and help raise awareness to their business.
Among the forms of Direct Mails we can find:
Self mailer
Promotional mail
Postcards 
Personal letters
Dimensional mail
This type of lead generation, as it is considered traditional, still works and proves its effectiveness by the high quality of Leads.
8

Cold Calling
Cold calling is another type of lead generation offline. Businesses don't waste time when it comes to sharing their contact information.
Displaying phone numbers on business cards, printed content, paid offline and online advertisements is always an opportunity to land on more leads. 
Even online CTAs in websites and click-through buttons in social media ads tend to feature the company's phone number. 
Local businesses, especially, make sure that their phone numbers are acceptable to everyone in need of their products or services.
However, this is not the only way to capture more leads. In fact, 51% of company owners are more willing to hear from a salesperson via phone then email, drop-in visits, or any other media.
Surely cold calling has a bad reputation among many people because of the increase in the number of fraudulent calls. But many businesses still need this type of lead generation to boost their sales. 
The first challenge with cold calling is to create a list of people to call. And the second being, hiring skilled salespeople to capture and convert leads.
9

Customer Incentives
People love incentive programs, and customer offers since it represents an opportunity for them. This is also a type of lead generation that it certainly has positive outcomes when it comes to increasing sales.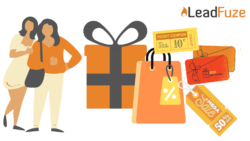 Explore together what type of lead generation incentives you can offer to your targeted audience:
Coupons: there is still a huge fan base for coupons! This is the quickest and easiest way to increase your sales. Many people buy magazines and newspapers just so that they can collect the coupons. You can also find so many contests with coupon prizes. All what the business needs to do is to decide the amount of discount, where to promote it and for how long?
Offers: Another type of lead generation consisting of offering products or services for free or at a discount. Most businesses also make use of their partnership and offer a conjunction with another product to increase both of their leads.

Gifts: Well now we're not talking about the small discount for their purchases but rather about a big prize. Like winning a car or a huge check. In general, gift certificates get the most of Leads in quantity more than in quality. So you probably need to ask your audience who do more than subscribing for the contest. For example, some businesses suggest that if you buy a certain product, you will enter automatically in the Lottery.
Loyalty or points programs: These programs are awesome in generating more leads and nurturing them. What's more important is the fact that they shared their information with the business. 
Referral programs: You will find countless strategies for referral programs, but the most effective ones depend on the incentives. Make sure to understand what your customer is expecting in return of referring a highly qualified lead. 
10

Events: 
Even though in those times most offline events are canceled, we can never deny how much events are a great source for lead generation.
We already mentioned the importance of human contact and building relationships and Trust between the business and its Leads. 
However, it's not only about attending the events you can also participate by booking a business stand in your niche event or even hosting one.
Types of events that the business or its employees can attend:
Trade show
Conferences
Festivals
Summit
Workshops
Seminars
Important components:
Brand Assets and content: 
Businesses, prior to their launch, always make sure that they have consistent and attractive brand assets. We are talking about:
Business name, logo…
Packaging
Printed design (posters, flyers, brochures…)
Therefore, the brand image is as valuable as the brand assets. 
Businesses paying more attention to their brand assets tend to have a kind of uniqueness among their competitors and attractiveness to their customers.
Another important component to offline types of lead generation is having a great relationship and contact with mass media. 
After all, not everyone can advertise their business and the most famous TV channels, newspapers, radio stations.
Types of lead generation: Online
11
Website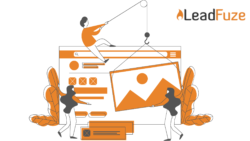 With the advance of Technologies and the one growing use of websites for lead generation, the landing page became an essential part. 
It became a very important part of the types of lead generation!
The messaging and design choices for the landing page have a tremendous impact on visitors. Therefore, most businesses are keen to make the best results in lead generation by capturing the online user attention.
They should be able to identify what the business is offering right away, feel motivated to register and move in your funnel.
Expert designers and marketers always make their design choices based on the best scenario for the user experience.
The design and style should always be consistent with the brand identity and image. 
Using a fresh and clean design with the right text, images, videos, CTA buttons will give your landing page an advantage in lead generation.
Therefore, adding contact information whether it's phone number, email, social media,  scheduler will also make it easier for the visitor to reach you.
In addition, make sure your lead magnet can easily be identified by website users.
Also, you can design on-site funnels which segment your audience and drive them most likely to align with their needs and interests towards the lead magnet.
By promoting lead magnets around your website, you can successfully accomplish this.
Here are some of the most helpful tips to make your landing page stand out and generate more leads:
According to statistics, limited-time offers have a great impact on visitors. Whenever an offer has a deadline, the user might feel the urgency to apply or buy from your business before they miss the chance to.
EXAMPLE
Website registration forms:
Create a compelling offer or type of content like a guide, ebook, statistics, consultation… Then use the sign up form to capture leads (don't forget to integrate your website to the best CRM systems)
Call to action buttons are a must for every website. After all, you need to specify what you want your user to do next.
These might include examples like:
– Start a free trial
– Subscribe to the newsletter 
– Schedule a consultation
– Reserve
– Download
– Buy 
– Get your offer now 
To sum up CTAs incite visitors to email registrations, receive educational content and promotional offers, and participate in events. Which is why it is considered as an essential contribution to the types of lead generation.
The messages included in the landing page should be compelling, intriguing and pre-defined according to the targeted audience. Besides, the whole point of developing a website is to answer the online users' questions. 
Business has successfully done that with their website content, CTAs, and more importantly with blogs.
Blogs became one of the most used types of lead generation, especially when it has a big effect on optimizing the website and ranking on search engines.
Now, copywriting is not only about creativity and relevant topics but also involves SEO expertise.
This means, before starting to type and produce an article, there is the need for keywords research, and headline and topic research.
The most common blog titles start with a question or suggestions like "the top 5…" or "benefits of…".
This is because most of the researchers made by visitors are usually in the form of questions. So it's important to realize that you need to emphasize on the benefits the visitor will get from executing a certain action.
Reviews are a very important integration in every distribution channel. It represents the social proof that would be very crucial in decision-making for every visitor.
Especially since the purchase decision is based on other people's experience and influenced by other people's behavior.
Therefore, you will find plenty of integrating systems and gadgets for websites to add this feature and display your customer reviews.
Not only are previews but also testimonials case studies from previous clients, and they can be in video form, images, text…
A well-known type of lead generation that allows customers to bring in Leads in exchange for some benefits. Big retail companies like Amazon, eBay, and more have integrated those kinds of systems.
In addition, we can see a lot of B2B companies using this method to get leads from their previous clients.
And the only reason this method works is that customers trust their friends and close connection's recommendations.
Most customers have always questions and concerns that need to be addressed instantly. Businesses, however, do not find the time to allocate to lead generation. 
Therefore, chatbots are available 24/7 to interact with clients and give more information about the business.
It is a very effective tool to set up meetings and provide the visitors with value that can turn them into leads. Also, most chatbots require visitors to sign up with their contact information.
Gated content is private content not in the way that it's not accessible, but surely users cannot access it without filling out a form.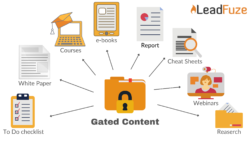 Whether it's paid or for free, you cannot have it without actually subscribing, registering, or paying for it.
This falls into the category of lead capturing forms to access high-quality contents specifically created to attract high-quality leads. For this reason, many companies choose this type of lead generation for their business.
Make sure the Gated content you're creating is reliable, valuable, and most importantly related to your business. Some content assets may include: 
White papers
Ebooks
Courses
Trials
Reports/ Research
Guides
To do checklists
Worksheets/ Cheat sheets
Demos
Podcasts
Interviews
Online tools (Integrations, apps, systems,…)
Presentations 
Cheatsheet
Newsletters -special offers/ upcoming events/ New blog/ recommendations-
Many online companies nowadays have gated content. HubSpot is one of the most reliable platforms that offers dozens of gated content. 
We already discussed how successful it is to host or attend offline events. It is also applicable for online events, especially after the pandemic where everything is closed and all the events are canceled.
Moreover, hosting an online event can present an opportunity to connect with your clients in person and showcase your abilities and solutions.
The options that you can consider:
Webinars
LinkedIn events
Meetups and consultations
Workshops
This pandemic affected small businesses more than ever. However, many of them saw significant results from hosting workshops. Even attending online events can form alliances and connections to help out with their businesses.
We all know, appearing among the top websites in the search engine is very effective in lead generation.
This is what PPC is for! It is a marketing channel where you have to pay for every click, whether it converts visitors into leads or not.
The benefits of pay per click channel is that it attracts visitors to your website, analyze what people are searching for to perfect your message, track ROI, and possibly grow your database of leads.
SEO (Search Engine Optimization):
Well, 62% of online users click on the first website they see on the first page in the search engine. This indicates how important SEO is for every business. 
In fact, SEO is the best targeting technique using only keywords and phrases the potential customers will use to search for your offer.
Nowadays, no online business can survive without an AdWords account to search for keywords or an SEO expert.
Also optimize your website, you will find other techniques like backlinks, meta title, meta description, Alt image, on-page links…
You can even integrate your social media accounts to drive more traffic and optimize your ranking. Especially since social media platforms are great for generating engagement, conversions, and lead capture.
12
Social media
Social media is a very successful type of lead generation, all companies tend to use it no matter the size.
According to the company goals, when it comes to lead generation, there is always room for content distribution and optimization to drive engagements and conversions.
 Here are some of the tips to successfully generate leads from social media platforms:
Choose the platform used by your targeted audience for content distribution .
Build a social media community that interacts with your audience.
Run contests, marketing campaigns, ad campaigns, and referral campaigns on social media.
Work with influencers to get more leads.
Use automation tools and integrate chatbots in social media business pages.
Add CTAs, keywords and organically optimized content.
Diversify the forms of content – videos, images, infographics, gifs, memes, articles, case studies-
Respond, comment, share and take action to properly engage with your audience. 
Facebook for social media lead generation:
With 60 million active business pages on Facebook, this platform is popular for lead generation.
The practices on Facebook that were successful in generating more leads:
Set up your business page

that aligns with the brand identity and regularly share content on that page.
Promote your content on Facebook groups and other pages where you can find the targeted audience.
Paid advertisements always bring instant results, especially with Facebook's sophisticated targeting system
 Instagram for lead generation your line
Among millennials, Instagram is the most used platform and more and more businesses are using it to generate highly qualified leads.
Tips on how to effectively generate leads with Instagram:
Collaborate with influencers to promote products or services.
Add action buttons to your profile – email, phone number, business address-
Use stories to showcase your offers and clients' testimonials. The "swipe up" feature is also highly recommended.
LinkedIn for social media lead generation:
For B2B companies, LinkedIn is very much appreciated and used and lead generation. Especially with its tools created to target highly qualified leads. 
Here are some of the features that you can use to generate more leads through LinkedIn:
Connections: The search bar on LinkedIn has so many filters that can be useful to find relevant contact easily. And once you connect with them, you can access their contact information.
Sales Navigator: With integrating your LinkedIn profile to sales Navigator, you can access many lead generation tools
Events: Whenever you want to host professional webinars or search for workshops, LinkedIn is the place to go.
Twitter for social media lead generation:
Very well known among politicians and top business leaders, Twitter is the platform for connection and engagement. 
In addition, Twitter ads have High rates of conversion, especially since you have the choice to add keywords, handles and interest.
12

Email marketing
Another type of lead generation with the most direct and effective results in capturing your leads, nurturing them and converting them into customers.
This digital marketing strategy requires:
Owing and growing your email list
Choosing the most adequate email service
Segmenting and sequences your email list
Analyzing and improving email open rates
Using the best automated email marketing tools
Depending on the size and resources allocated to email marketing, businesses determine the system used for their campaign.
However, the most common systems are CRM and automated marketing tools.  
Moreover, businesses can be more creative with their email marketing strategies, sending newsletters that are visually attractive. In addition, they tend to use call to actions to encourage the receivers to convert.
Other types of lead generation: PAID 3rd PARTIES 
The lead generation industry is growing rapidly and technological developments, as well as new processes, provide more complex ways of creating, selling and purchasing sales leads.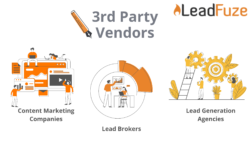 Any company depends on sales, and sales depend on leads. To receive leads, there are many approaches you can take. 
There are advantages to exporting a source of lead generation. For any company owner, one of the most difficult challenges is acquiring new clients. Without prior experience, it is hard for a company to generate leads. Here is a list of 3rd party vendors or tools providers of lead generation:
Lead brokers:
Instead of generating leads, lead brokers will provide you with multiple focused, high-quality leads while allowing you to concentrate on closing deals.  
Not all lead brokers are, however, provided equal results for leads. This is why you should probably assess their ability and prior performance in previous projects.
Content Marketing Companies:
Every business needs to promote and distribute their content on a broader level. This is where those companies get their role.
Content distribution partners are also referred to as marketing partners or co-marketers that allows your content to be distributed on more channels. For this purpose, you can find:
Blog Distribution Companies
Press Release Companies
Brand Partnership Companies
Social Media Ad Companies
Influencer Matching Companies
Content Syndication Companies
Lead generation agency:
With so many tasks involved in running a company, adding lead generation to the long list is difficult to imagine. 
Therefore, to help you develop your business, we suggest hiring a committed, competent lead generation company.
LeadFuze is a lead generation agency helping thousands of companies generate highly qualified leads with its sophisticated system.
IMAGE
How do you choose the best type of your generation?
First of all, figure out where your targeted audiences are and how you can successfully retrieve their information.  
Second, assess your budget and how much you're willing to pay per lead. After all, this is considered a type of investment.
Third, don't forget that you need to diversify your channels and types of lead generation, which requires more study and work on the reinforcing synchronization.
Finally, you should always stay relevant to your messaging and work on building a great reputation for the business.
Editors Note:
Want to help contribute to future articles? Have data-backed and tactical advice to share? I'd love to hear from you!
We have over 60,000 monthly readers that would love to see it! Contact us and let's discuss your ideas!