Planning to start a lead generation business? Here's what you need to know.
There are 528 million entrepreneurs around the world looking to grow their businesses.
There are 7.8 billion people all over the world. 4.13 billion are using the internet which is more than half of the world's population.
4.13 billion users on the internet which is more than half of the world's population
Click To Tweet
Which only means one thing, billions of potential clients and customers.
Well, you can't have them all since it's an enormous population.
Millions of business owners and entrepreneurs are looking to reel in millions of customers. 
They will need extra sets of hands to handle them all.
We are now living in a digital world where industries are fast-paced and we need to keep up.
No more door-to-door marketing, face-to-face product introductions.
Nowadays, everyone prefers digital communication such as instant messaging, emailing, video calling…
If there's something that's vital to a business is getting clients and customers.
That's where you come in.
Lead generation has been at the top of the list of most companies.
It's responsible for approaching and attracting customers. According to our statistics, there's a lot of them out there.
So we're going to need all hands on deck.
Companies heavily rely on lead generation as a way of acquiring customers that lead to sales.
Successful leads show how effective your marketing strategies and campaigns are.
Leads help determine how strong of a presence you've established within their respective industries.
Leads are also potential paying customers, which businesses will need to stay in the game.
Lead generation is such an important part of growing a business.
More and more entrepreneurs are definitely on the look for experts to do it.
Lead generation falls under the digital marketing industry, whose estimated value is to reach a whopping $120 billion by 2021.
The most popular methods that lead generation takes on are:
Search engine optimization (SEO)
There is high demand for lead generation, which will turn it as a business might be the best choice.
Within the process of lead generation, there are hundreds of methods and it's not always a one-man job. 
It can be very complex, but with the help of the right people and the right tools, it's gotten a bit easier.
With the use of recent advancements in technology, lead generation has grown.
Lead generation businesses use automated tools, meaning that you won't need to do much manually.
Because of the high demand for lead generation, businesses majoring in lead generation have come about.
Starting your own lead generation business can be at times challenging and rewarding.
Like any other business in the market, it has competitors too.
So let's lay the groundwork.
What does a Lead Generation Businesses do?
Lead generation businesses' definition relies on many things.
It's about acquiring leads for companies that are selling their goods or services to a specific market.
Leads can be just about anyone who has expressed interest or need for a certain product or service.
So, how do they bring leads in?
They start with researching and collecting data.
The first task lead businesses will do is to collect information from people who might show an interest in a certain product or service.
This in return will be valuable to the companies and businesses that offer what they're looking for.
Information and data can come from:
Interviews and conversation
Social media monitoring and engagement
Forms, surveys, and questionnaires
There are more steps after collecting data which you can read in this article.
What a lead generation does is almost the same as what a lead generation specialist does.
The only difference lies in the business setting and dimensions. 
As a lead generation specialist, your responsibility is to gather leads for your client according to their standards.
This responsibility applies to experts working in teams or as individuals.
How To Start a Lead Generation Business
Lead generation itself requires meticulous work.
Having it a business will need more attention as you will not only be offering lead generation but other related services as well.
How do you generate leads? 
What method or methods you used to convert these leads into paying customers for your clients?
How much do you charge your client for the services you've provided?
In what way do you even get clients in the first place?
We've put together a little guide on how to build a successful lead generation business.
1Choose Your Niche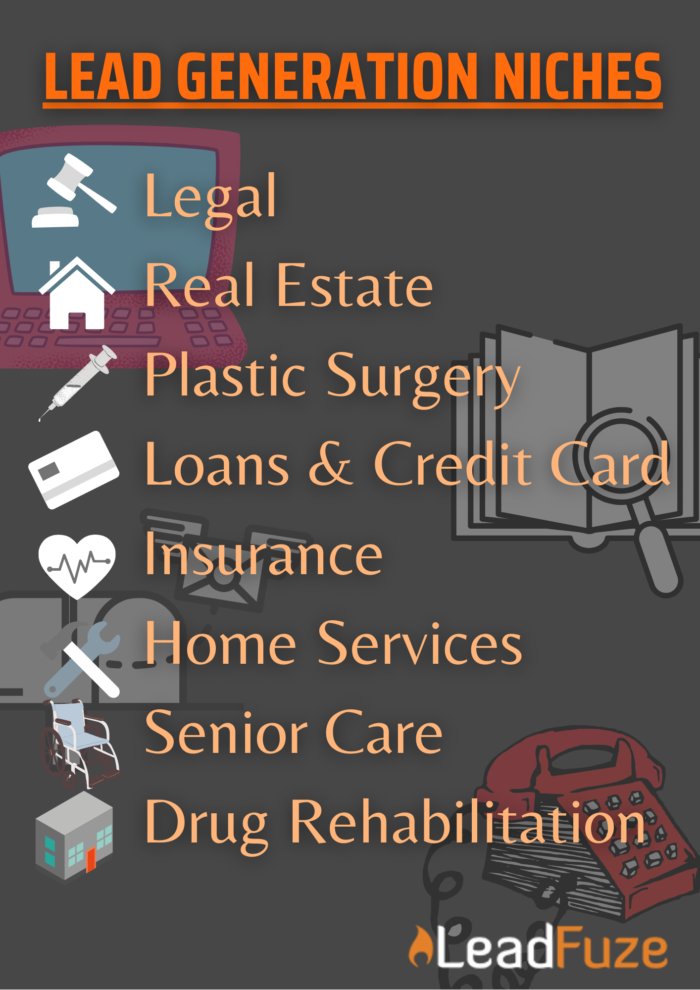 Lead generation niches represent what experts call verticals or vertical markets.
Those niches target specific markets with specific needs and interests.
This helps in identifying a certain market's needs, and in return vendors rely on leads to conduct business.
Not all businesses in a certain niche will need lead generation.
But there are more businesses that rely on lead generation activities to have an edge in the market, which are usually competitive.
They usually have resources allocated for lead generation alone, which means they will pay for leads.
Choosing the right vertical or niche means being confident that you'll be able to market your client's product or service.
You must have ample knowledge about the market you're planning on taking on. Thus, do your research.
New niches sprout with the rapid advances in technology and lifestyle.
There are hundreds, even thousands of niches for you to choose from. What we've stated above are only samples of popular niches.
Certain niches can be more appealing than others, which makes them a lot more competitive.
Highly saturated Markets that are usually of value. This value can reach and potentially exceed a higher price point.
Other verticals include:
Student Loans
Debt
Auto Finance
Auto Insurance
Health Insurance
Life Insurance
Home Improvement
Mortgages
Final Expense
Business to Business
Some verticals are easier to find leads for than others.
Other verticals may also have a higher revenue per lead, as the value of leads differs per industry.
Weigh out your options and different client markets. Look for a profitable market that offers you a sea of clientele.
Consider demographics such as age and income brackets. Ideally, industries with higher demand will be the best choice to go for.
Lead buyers with big budgets that will invest more into lead generation services fit into this category. They will also have higher conversion rates, meaning a higher value and revenue.
Verticals need leads on a constant level. So make sure that the ones you choose have a firm foundation of lead generation buyers.
Lead generation business models and techniques are flexible, and you can use them for different niches and verticals.
Hence being able to work with different companies in different industries and offering them almost the same services. 
As a lead generation business, you're probably going to deal with clients from different verticals.
We, at LeadFuze, work with different companies coming from different backgrounds.
We offer services and tools that will cater to specific needs that will definitely benefit your business.
A tool that would be excellent in this segment is the account based search. It has more specific options that will filter out your leads.
Finding Specific Accounts or Leads
LeadFuze allows you to find contact information for specific individuals or even find contact information for all employees at a company.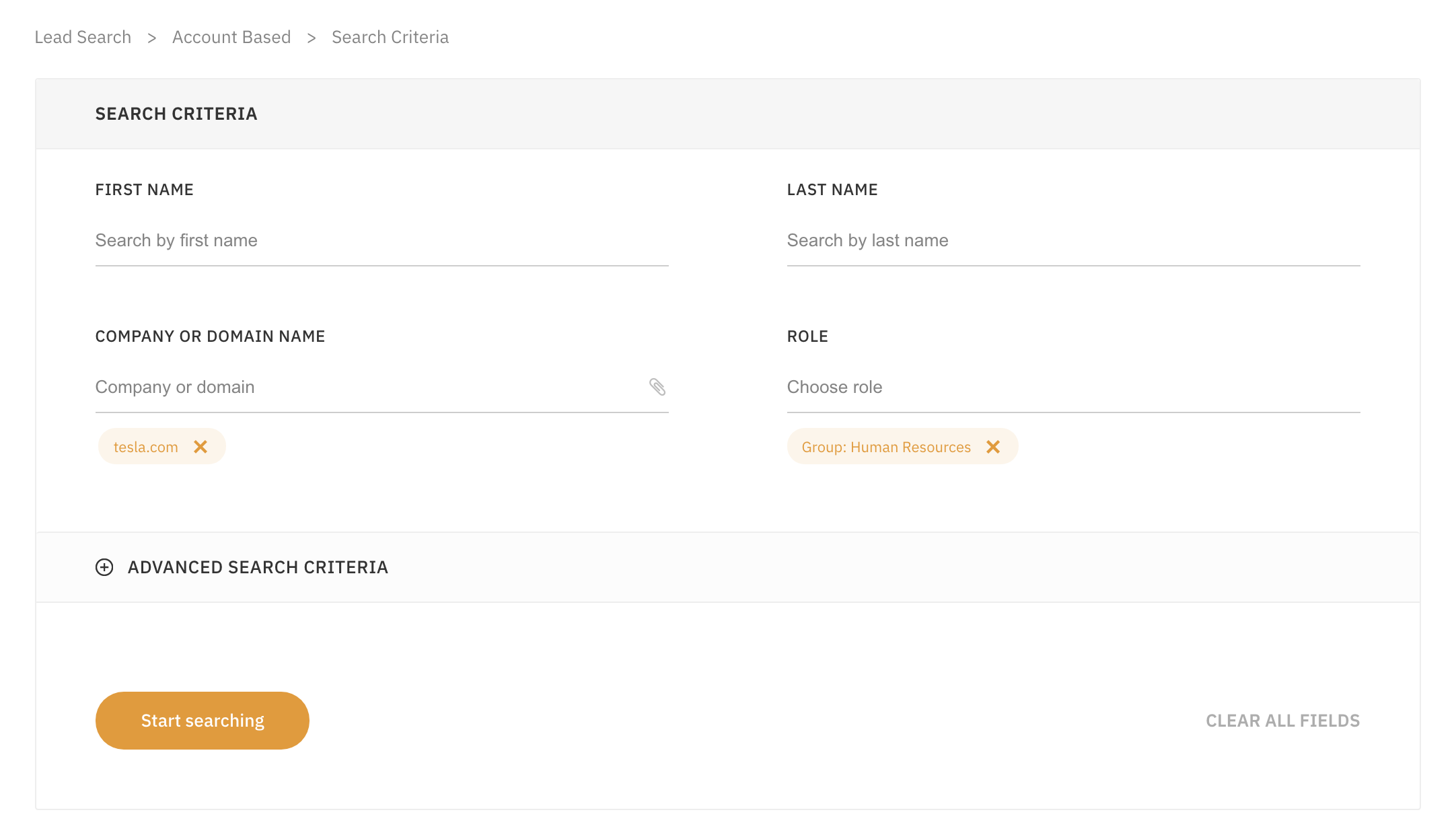 You can even upload an entire list of companies and find everyone within specific departments at those companies.
Micro Niches or Sub Niches are smaller segments of niche markets.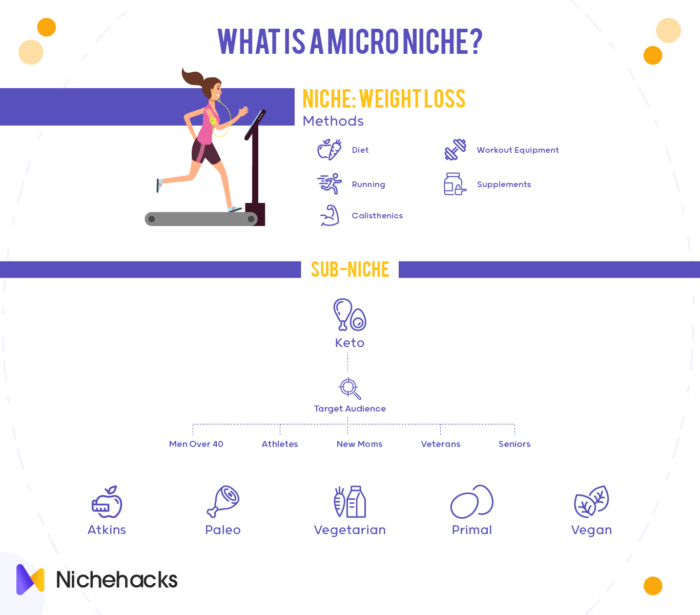 (Image Source: Nichehacks)
Other niches can be quite broad and vague because their structure can compose of sub niches. They cover bigger areas, so sub niches will help you focus on different parts of your niche.
Take the insurance niche, for example.
It contains specific kinds of insurance like health insurance, life insurance, car insurance and other like.
Breaking niches down into smaller parts makes for a market with less competition and more focus.
If you get down to the specifics, it makes it easier to establish a place since there are fewer competitors.
It is also important to put yourself in the place of your potential clients, think what actions would they take and what they need?
This makes identifying your micro niche even easier.
Brainstorm with your clients what they want specifically and go from there.
While this lessens the number of potential customers, it definitely helps to create a higher demand for what you're trying to sell.
The more narrow and specific the niche is, the bigger the opportunity.
2Choosing your Geographic Audience
When you've decided on what niche to go for, an important consideration is your target market's location.
Populations vary per state within the US.
This means that states with denser populations have more business opportunities and options.
Strikingly, global markets are easier to grow than local ones.
This is most likely because you didn't limit your reach to one specific area, instead it encompasses people from all over the world.
A wider reach makes for a bigger chance of finding qualified leads.
Going international will need resources to limit the effect of cultural differences.
3Establish a Marketing Strategy/Lead Generation Business Model
(Image Source: TREW Marketing)
Lead generation businesses have to choose a specific marketing channel first.
Among these channels, Facebook is the most popular and affordable way to generate leads.
This is because a huge number of users are on Facebook. 
There are over 1.4 billion daily users of Facebook, and that's why it's the perfect place for lead generation.
There are over 1.4 billion daily users of Facebook
Click To Tweet
Their algorithm also makes it possible to target specific audiences. Take for example their ads .
Ever wonder why our ads are so personalized, sometimes too personal. 
Especially those times where you were only thinking of a product and suddenly it appears on your timeline?
Targeted Advertising conception comes from the data we put out onto the internet, such as
Pages and pictures we like

Videos we watch

What we search for.
And it's not just on Facebook. What we search for, watch, or use outside of Facebook can still appear on Facebook.
Your marketing assets should include blog posts, landing pages, newsletters, eBooks, etc.
This reels in leads who are looking for products or services like what you are offering.
You need to make sure that the content you created has a strong marketable front that is both informative and attractive.
Then you must plan how to make that content visible everywhere.
Leads will only come streaming in once they see your content.
This is only possible by parading your content on relevant platforms like forums, communities and groups.
Make sure the platforms you choose is where your leads might be active on.
Another thing that's widely talked about his search engine optimization or SEO.
This helps your content land a spot on the first page search engines like Google, which will bring in leads naturally.
You can start with just one channel, master it, and then add more to it.
4Build Your Own Lead Generation Business Website
Social media marketing is extremely popular, but it is still vital for your business to have a website.
Building your own website also helps you land on Google much easier.
Make sure you've established your own brand and have your own domain.
Since it is your own website, it's fully customizable and easily tailored to cater to your needs.
Keep in mind that user experience is an important factor you have to focus on when building your website.
Make your platform appealing and also easy to navigate.
A good amount of website builders offer templates for you to base your website on.
Having your own platform also accounts for a lot of your credibility.
It serves as another channel your prospects can contact you through.
Check out our tips on how to build a killer website here.
(Image Source: India MART)
5Develop a Good Relationship with your Clients
Having a website serves as a sign of credibility and legitimacy, especially if you're starting out.
This will allow you to connect with prospective clients that need lead generation services.
In return it will help kick-start your business in the right direction.
Developing strong bonds with prospects will really dictate the success of every business. Especially those in the lead generation industry.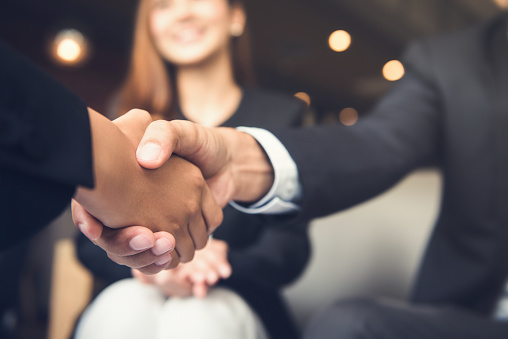 (Image Source: iStock)
Start by creating lists of companies that belong to your chosen niche and those that you are looking to work with.
Getting yourself acquainted with companies will help you climb to the top.
Whether they decide to buy from you or they don't, a good relationship with prospects or customers will get you an excellent reputation.
Show how good you are, even if they don't buy your services.
When they see how good you are, they might refer you to their friends or to someone who will need your services. 
That's the best way to get customers through referrals.
Referrals give a better chance of sales because of trust from those referring you.
How your business is managing its word-of-mouth marketing will also shape their trust.
6Build a Network For Your Lead Generation Business
This is a crucial process for every lead generation business.
Every step before this one is essential to building a beneficial and powerful network.
You must set up a network of buyers that will show interest in purchasing your leads.
A lot of effort will go to this, because this is what will keep your business going.
There are a couple of different buyers with different personas you'll want to add to your network.
Lead Aggregators / Wholesale Buyers
They are those who purchase leads to resell to their own networks of buyers.
This helps your business by also keeping you in the loop among other networks which are their proponents.
But because these leads are bought in bulk, they pay smaller amounts.
The upside is its wider reach, which makes marketing easier. 
Lead aggregators make it possible to sell to pretty much any field, niche or vertical.
It increases the amount of people you reach and the deals you close.
End Service / Retail Lead Buyers 
These are buyers who intend to reach out personally and propose their sales pitches to the leads themselves.
They are undoubtedly the highest paying lead buyers on the market.
But do not have as wide a reach as lead aggregators do.
Creating your own buyer networks helps you with sales and with connections as well, which is important for your business to grow.
7Monetize Your Leads
To monetize your leads, you need to establish a list of buyers.
We say list because you're more likely to sell leads when you have many buyers rather than just one.
This gives you plenty of options to choose from and companies to assign certain leads to.
Your buyers should also be able to account for the volume of leads you produce.
You don't want to get stuck with leads that you cannot sell.
Quality over quantity is true in the lead generation industry. You're more interested in finding the right leads instead of many unqualified ones.
If you sell leads between different niches, make sure you do not sell the same lead many times.
Leads can become overwhelmed and buyers will have a harder time closing deals.
8Nurture Your Leads
Once you've captured enough leads, you'll want to nurture them so they are ready to convert into profitable sales.
You can fulfill nurturing programs by sending more information to your leads and helping your clients close deals with them.
You can try nurturing leads in a couple of different ways, but most of them happen through email sequences.
These can have the form of cold calls and outbound emails. 
This helps assure your clients that your leads are highly qualified and ready to convert.
Focus on nurturing high-value leads, as they are sometimes scarce and you wouldn't want to pass on them.
9Optimize a Referral System
Again, the best way to bring in clients and customers are through referrals.
We already established that they make up the trust insurance for potential customers.
Clients and repeat customers can bring in leads that are looking for similar products or services.
Referred customers are 25% more valuable to the business and have a higher chance of converting into sales.
Digital referral systems are 25% more valuable to the business
Click To Tweet
10Secure Your Licenses For Lead Generation Business
Let's not forget the most important thing that every business needs their own permits and licenses.
If your business is physical, you'll still need it to be legal. Otherwise, no one will work with you.
If they recognize you as a registered business, both leads and clients will more likely want to work with you.
Your state's website can secure these permits by filling out all the proper forms.
You will also need to log on to the IRS website to secure a tax identification number.
A Look into Lead Generation Business Pricing Models 
Since lead generation companies are in high demand, you need to make predictions on how much you would make. 
Monthly Billing lead generation businesses sometimes charge between $2000 to $20,000 per month for their services. 
What justifies the higher price tag is the fact that they provide companies with:
Quality leads

Generic leads 

Cold contacts
Most lead buyers prefer this method because they get to allocate a budget for it every month.
Of course, businesses will still have to reassure the buyers that leads will also stream in. 
Per Appointment Billing services have a price at somewhere between $50 to 400. 
Appointments are on a personal level because you get to speak to clients and leads as opposed to just relying on campaigns or pitches. 
The downside to this is the time it takes up and the fact that it will probably cost you more than monthly billing will.
Key Takeaway
Starting a business in the lead generation industry can be challenging, but it most definitely is fulfilling.
A lot of work goes into the framework of a lead generation business, which will take some time and effort to work on.
The result is a lucrative business in the long run.
Having a lead generation business can improve your social and communication skills.
Since you will build an enormous amount of connections.
There are billions of people in the world. Imagine the number of conversations you'll be having with people you don't know.
Lead generation is something that's been around for decades and looks like it will be around for the next hundred years.
Start now while it's growing.
Lead generation is vital to most of the businesses around the world.
Here, having a lead generation business is already an excellent choice. 
Be an expert in the field first before turning it into a business. Take one step at a time.
Editors Note:
Want to help contribute to future articles? Have data-backed and tactical advice to share? I'd love to hear from you!
We have over 60,000 monthly readers that would love to see it! Contact us and let's discuss your ideas!