What is a Lead Generation Business
A lead generation business is one that helps other businesses to generate leads.
The lead generation company will offer many services, but the most common is email marketing campaigns and SEO optimization for websites.

Planning to start a lead generation business? Here's what you need to know.
There are 528 million entrepreneurs around the world looking to grow their businesses.
There are 7.8 billion people all over the world. 4.13 billion are using the internet which is more than half of the world's population.
4.13 billion users on the internet which is more than half of the world's population
Click To Tweet
Which only means one thing, billions of potential clients and customers.
Well, you can't have them all since it's an enormous population.
Millions of business owners and entrepreneurs are looking to reel in millions of customers. 
They will need extra sets of hands to handle them all.
We are now living in a digital world where industries are fast-paced and we need to keep up.
No more door-to-door marketing, face-to-face product introductions.
Nowadays, everyone prefers digital communication such as instant messaging, emailing, video calling…
If there's something that's vital to a business is getting clients and customers.
That's where you come in.
Lead generation has been at the top of the list of most companies.
It's responsible for approaching and attracting customers. According to our statistics, there's a lot of them out there.
So we're going to need all hands on deck.
Who are the Best Fit Clients for a Lead Gen Business
There are lots of different industries that can benefit from lead gen services, but not all clients fit well.
The best clients for a lead gen business are ones who have relatively low customer acquisition costs, so they can profit off of higher volume.
An example company that would be well-suited to this type of marketing is the local coffee shop down the street from your house – it doesn't cost them much to acquire new customers and they can sell a lot of coffee.
LeadFuze is one of the best lead generation business out there, and it can help the following:
Recruiting agencies and head hunters
Sales and marketing teams
Marketers who want to create custom audiences on Facebook
B2B businesses
Call centers
How to Start a Lead Generation Business in 6 Steps
Lead generation itself requires meticulous work.
Having it a business will need more attention as you will not only be offering lead generation but other related services as well.
How do you generate leads? 
What method or methods you used to convert these leads into paying customers for your clients?
How much do you charge your client for the services you've provided?
In what way do you even get clients in the first place?
We've put together a little guide on how to build a successful lead generation business.
1

Choose an industry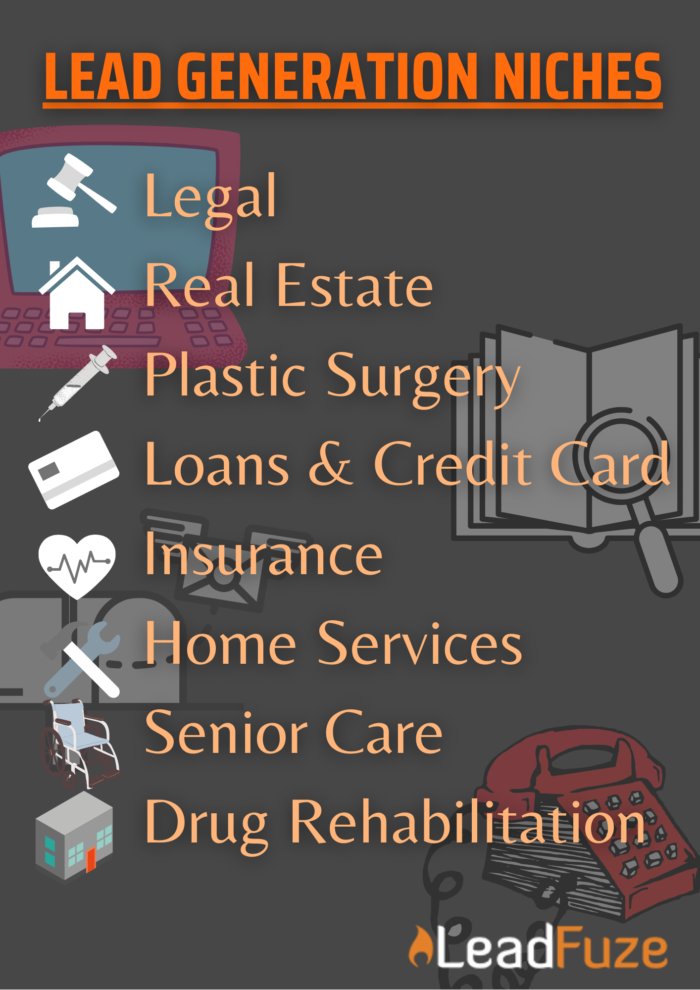 Before you do anything, it's important that you choose a certain industry first.
When you have chosen an industry, you can focus on the niches within that industry. For example, if you want to focus on the fitness industry, you might choose to target gyms and trainers instead of spas or yoga studios.
Or you can also target trainers and gyms for a specific type of fitness like running or triathlons.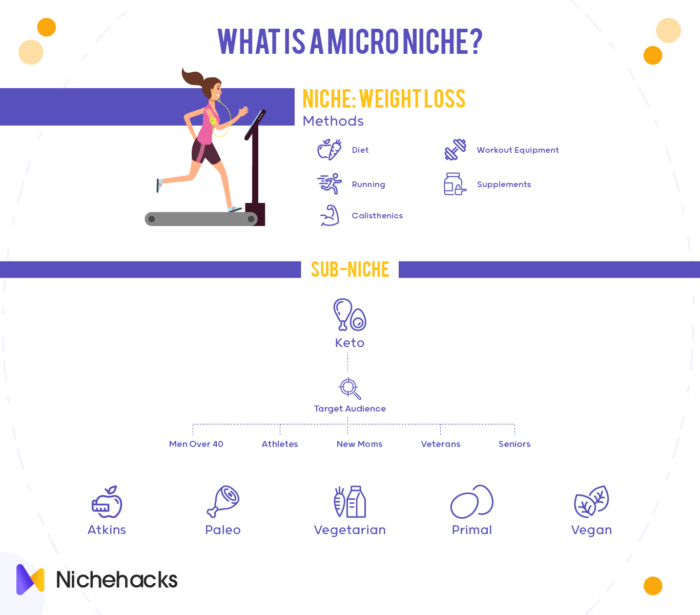 (Image Source: Nichehacks)
2

Document how you will find and deliver leads

Do you have a strategy to get your potential customers' contact information? What types of offers are you going to send them?

It's crucial that you have everything documented so that your lead generation campaign is successful.
3

Sign up for a lead finder

You can find leads by using a lead generator. A lead generator will provide you with leads that might be interested in your products or services, but they usually come at a cost.

Although lead generators can be an expensive investment, it's worth the cost if you have a plan on how to use them effectively and convert those leads into customers.

LeadFuze is a great option for this — it's a SaaS that specializes in lead generation.

Its team is made up of experts who are passionate about what they do and want to help you grow your business. We offer an unlimited agency plan, so you can work with them as long as you need without any hidden fees or contracts.

LeadFuze will provide the expertise, strategy, and technology needed for your company to succeed online. You don't have to worry about anything because it can take care of everything from A-Z! All you have to do is sit back and watch the leads come pouring in!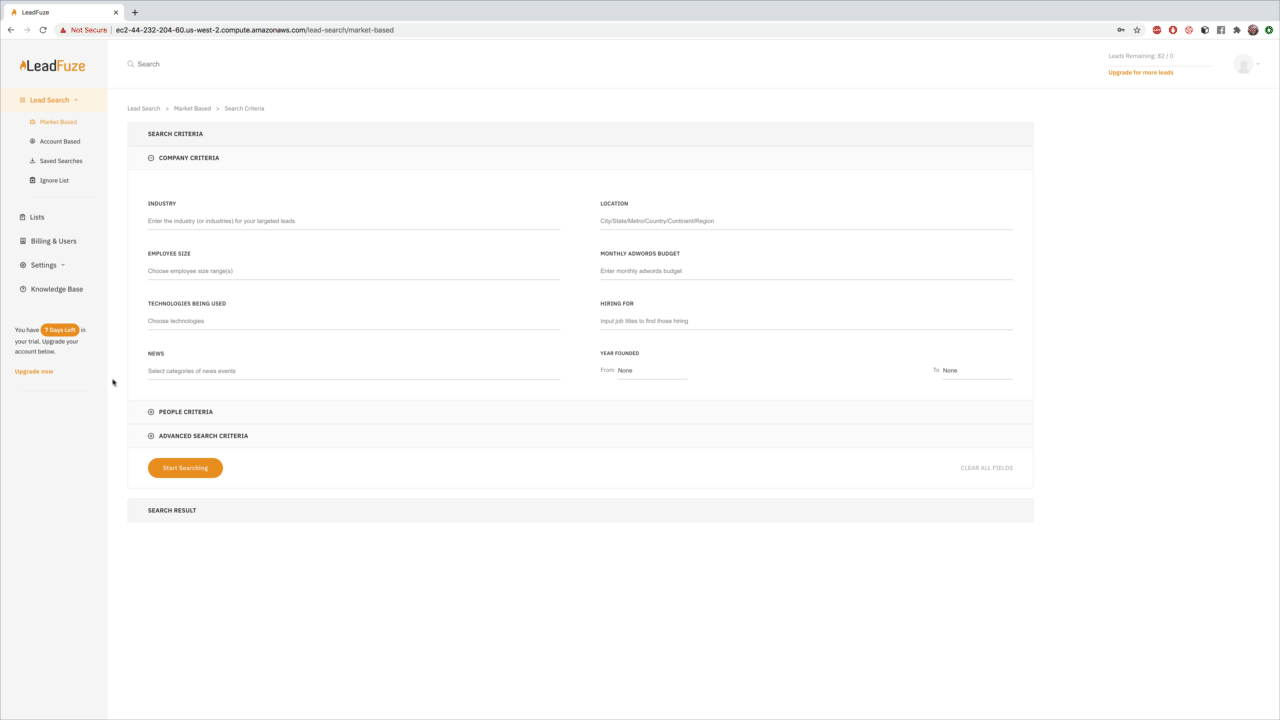 Sign up for a free trial of LeadFuze!
4

Find your first client

Once you find the perfect lead generation tool for your business, it's time to go on a quest to find your first client. With the right strategy, you can land your first client in no time!

Steps to find a lead generation client:
Find out what their pain point is and how they will benefit from working with you.
Make an offer of free consulting or service for them on one condition that if it works well for them then they will pay for future consulting or service.
Create a sense of urgency and scarcity by telling them that there are only so many spots available, and you won't be taking on any more clients unless they sign up now!
Sell the benefits of what working with you would do to help them solve their pain point
Or you can simply let LeadFuze do all the dirty work for you!
It will help you find your first client by connecting you with people who need what you offer. It's so easy! All you have to do is answer a few questions about yourself and it will match you with someone in need of your services.
With LeadFuze, there are no more cold calls or waiting around for clients to come to you. It makes it easy for them to find YOU!
And if that wasn't enough, it also provides all the tools necessary for success at no cost – including its lead generation software and marketing materials.
But in order to ensure that this lead becomes your newest client, follow these tips:
Be concise and clear about how much time they will need to give you
Ask them what they're struggling with, and how your services can help solve this problem – if it is not something that your service offers or specializes in, be sure to mention the good points too
Make sure they are 100% comfortable before sending over any information. If there's anything that makes them uncomfortable, be sure to address this head-on
Make a follow-up call or email in the next few days. This will ensure that they are on your radar and not forgotten about
Never say no at first contact – if someone is looking for help with where you specialize, it's possible that could be your new client!
5

Deliver leads

Your client is now waiting for the leads to be delivered to them. If they're in a hurry, it's your responsibility to work with them to ensure that the leads are delivered as quickly as possible.

Be sure to communicate clearly what will happen during this process and send over any necessary contracts or agreements if requested

If you have no plans on delivering these contacts within 24 hours, be sure to notify clients.

It's important to work with your client as closely as possible. This will ensure that you have a successful relationship and can grow together in the future!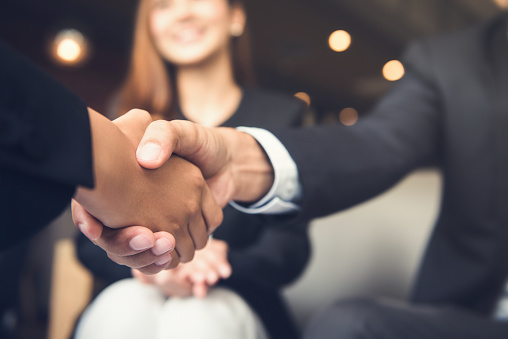 (Image Source: iStock)
6

Track and optimize your results and process

It's important to track your results and process. This will help you gain clarity into what is working for you, and where there are concerns or issues in the system

This can help you improve your process, and ensure that you're always providing an adequate level of service.

This allows clients to be informed about the process as well!

No client wants to work with a lead generation business that is not transparent about its process and results.

But don't just tell them your numbers, show them what you're doing to get those numbers!

Here are some steps you can follow:
Be clear with clients about the service you provide and how it benefits them. This should be outlined in your contract or proposal
Create a timeline for lead delivery
Instill trust by showing clients your process
Provide transparency about what you're doing to get results
Follow up with leads in a timely manner
Keep records of the communication between yourself and the client so that every aspect is on record. This will help should disputes arise or if there are concerns about how things went down.
Provide your clients with a list of references
Track the number of leads, not just how you're getting them. This will help in determining what's working and what isn't
Work to build relationships with other businesses that could be potential contacts for future lead generation opportunities. Keep track of these connections so that when new projects or prospects arise, you can follow up with them
Stay on top of the latest trends in marketing and lead generation to stay ahead of your competition
At least once a week, review past leads so that there's an accurate assessment about what needs to be done next. This will also help when it comes time for reporting because all input will be up to date
How to Find Good Leads for Your clients
Your clients deserve high-quality leads that will do what they're supposed to: generate sales.
The first step in that process is finding the best sources of these good leads and then following up with them on a regular basis until they convert into sales opportunities for your clients
Tap into your business connections to find out who has hired or been referred by other businesses, this will be a lead that is highly qualified
Identify which of your existing clients are most likely to turn into referrals and get in touch with them. These leads will also have high level of trust, as they've already been referred by someone
Search the web for groups or associations related to your business industry so you can find potential customers who are looking to purchase
Target your leads by location, their roles and titles, or the size of their company. This will help you pinpoint which companies need what services
Use social media like LinkedIn to find groups with people who share similar interests as those in your target audience
Start a blog that speaks directly to prospects' needs and concerns
Follow up with those who don't respond to your initial contact within 24 hours or less. This is where you should say, "I'm sorry we haven't had a chance to speak as of yet but I'd love the opportunity"
End each email by asking for something that would allow them to stay in touch with you
Send an email to the person's boss, make them want to know more about your business
Share content related to what they're interested in on social media or a blog post. This should be something that will resonate enough for them to click and read it. For example, if they like reading articles on cooking then share one of your articles on cooking. This will give them a reason to like and follow you
LeadFuze can help you generate quality leads for your business — it's a lead generation company with expertise in list building, research services, and marketing strategies.
LeadFuze is a powerful tool that helps you find the contact information of your prospects. It also lets you build profiles on them, so you can better understand their needs.
With this software, it's easy to keep track of all your leads in one place!
You don't have to spend hours looking for contacts or manually entering data anymore. With LeadFuze, everything's done automatically – saving time and money. And with its free trial offer, there's no risk at all!
How to Retain Clients With Automated Lead Generation
Generating leads is the first step to increasing your revenue. It's a continuous process of lead generation and conversion that never stops — but you need more than just fresh prospects for this cycle to work!
In our experience, it's important to keep in touch with your customers by following up on their needs or even recommending new products and services.
Luckily, LeadFuze can help you with that! Our automated lead generation software not only finds prospects for your business but also keeps in touch with them until they're ready to buy. Your job is simply to follow up on their needs or recommend new products & services when the time comes – it's all done automatically without you lifting a finger!
Fuzebot keeps feeding lists with leads and prospects, so you don't have to do much other than sending them a warm touch-based.
This way, you can hook your clients to stay with your company for a longer period of time, and you'll see an increase in the number of leads coming in!
You can even charge them a recurring fee, so they'll always be paying for your services.
LeadFuze's Fuzebot can help you retain clients and increase your lead volume!
Conclusion
Lead generation business is a tedious and demanding process that requires patience, consistency, and time. However, by using Fuzebot to automate your lead generation campaigns, you'll start seeing the results much faster!
Editors Note:
Want to help contribute to future articles? Have data-backed and tactical advice to share? I'd love to hear from you!
We have over 60,000 monthly readers that would love to see it! Contact us and let's discuss your ideas!