Sales prospecting doesn't mean what it used to and it can even be automated!
We're going to get into all the cool sales prospecting techniques, but let's get some of the basics out of the way first.
Sales prospecting is one of the most important aspects of an organizat
ion, let alone a sales process.
Yet, many companies don't even have the same prospecting definition in fact many people still don't know what sales prospecting is—making it difficult to have a set procedure to gather leads.
All companies have to fill their pipeline with good leads in order to acquire customers.
There are several ways to find people who may want to buy:
Inbound Marketing (Content marketing, SEO)
Referrals (Colleagues of current customers)
Networking (People you meet and rub elbows with)
Outbound Sales Prospecting (The subject of our post today)
There are setbacks to each of these sales prospecting techniques.
Getting around these hold-ups is part of growing a business.
Inbound sales prospecting takes time and effort on the front end.
Referrals may not be plentiful enough to grow your business.
Networking doesn't mean you'll meet the right people.
Outbound sales prospecting means hitting the proverbial pavement and finding lead data from scratch. The best part? You get to target exactly who you want.
Motivated yet?
let's jump in.
We (obviously) feel strongly about the potential of developing, qualifying, and closing B2B outbound leads.
It's this passion that has led us to write a series of posts on sales definitions including the definition of prospecting.
In this one, we'll define the term "sales prospecting", talk about the process, define who should be doing it, and how to best get around the time-consuming process of lead generation.
The goal is to teach you:
Sales Prospecting Definition (What is prospecting, exactly? We define it in detail)
Answer the Question, What does sales prospecting mean for your business or quota
What are the sales prospecting methods you should be using?
That way you can do what makes you money—talking to people who actually want to buy.
Let's Start With Some Definitions
Sales Prospecting: The act of recruiting or seeking out new customers for a business. Prospecting is a common role of a salesperson. It is associated with a goal of increasing the customer base of the company and generating new revenue streams. (source: Reference.com)
It's important to note that the term "prospecting" and a "prospect" mean two different things in the sales world.
We want to define prospecting.
Let's quickly define prospect, too. A sales lead that is close to being qualified for an appointment with a closer is a prospect. We have a whole post outlining what a prospect is right here. We've also covered how to qualify prospects here.
A prospect is a lead in the pipeline that is likely going to make a decision.
Click To Tweet
So, What Does Prospecting Mean Again?
In the sense of prospecting, it's just like a gold miner.
You are sitting by the river, checking mounds of dirt for a few specks of gold. One of my best friends literally does this and gets excited by the sight of just a spec of gold. 
I've spent an entire day, and managed to get one very small spec of gold. 
In this vein, when you are prospecting for sales, you are trying to create new leads. They're your gold.
Maybe researching a new market, or digging deeper into the same sectors.
The point is, you're starting with a clean slate.
When you start a sales prospecting session, you have no leads nor contact data. When you're finished with that session, you have leads and contact data.
"Networking is not prospecting." — Mark Hunter
The difference between leads and prospects
It can seem difficult to discern between leads vs prospects.
Plenty of companies have their own definitions of the two terms, while different marketing automation and CRM software solutions have their own ways of defining them.
There are those that consider leads to be qualified prospects, while others state that prospects are sales-qualified leads.
For the sake of this blog post, it's crucial that we're on the same page regarding what constitutes a lead vs. what constitutes a prospect.
A lead is a potential customer that fits your ideal customer profile. You have their contact information, but they may, or may not, have expressed interest in your company, products, or services.
Once you qualify leads, they become prospects. 
Prospects can become opportunities as they move through your pipeline. 
In simple terms, here's the progression: 
Lead > Prospect > Opportunity > Customer > Advocate
The difference between lead generation and sales prospecting
Lead generation represents all the inbound and outbound activities a sales and marketing team does in order to generate leads. 
Sales prospecting, on the other hand, is directed toward activities that help to find and engage leads with the intention of turning them into prospects (such as booking meetings, having email correspondence, etc). 
Who Should Be Doing Sales Prospecting?
There are several stages in the life of a company, but really there are just a few different roles that will handle the crucial process of outbound lead prospecting.
Owner/Founder: In the early startup stages, founders will likely handle the outbound lead gen. There are ways of automating the entire process by using lead generation and sales prospecting tools (such as ours), making it much easier. We're talking the earliest time of your company. The one where you do the coding/creating/packing, pay the bills, and handle the sales.
Sales Rep: Some companies may have a stage where they have sales people that handle the entire process from generation to close. This isn't a preferred method, but it may be unavoidable for your organization.
BDRs: If you really want a healthy sales team, it should have both sales development reps and business development reps. SDRs will handle mostly inbound leads (the other ways of getting leads we talked about earlier). BDRs will strictly be for finding and qualifying leads in an outbound setting.
If you can afford to hire a person specifically to find and qualify outbound leads, we encourage you to do so.
When trained and focused, these reps can enter into new markets that will likely bring in more referrals and inbound leads in the future.
While they may not set as many appointments as an SDR, the ground they open up can grow your company for years to come.
What Do Sales Prospectors Do Exactly?
Now that we've given you the technical definition and who should be in charge, we'll share some details into the process, a few sales prospecting tips, as well as talk about what the sales prospector will need.
Extensive Knowledge of the Product
Yes, everyone should know the product(s) well.
But there is a real possibility that those who prospect have to know how to use your product better than even closers. 
If you are supposed to think about who else can use the product, sometimes you'll have to think out of the box.
An intimate knowledge of the product will go a long way to finding those customers that aren't finding your brand.
Extensive Knowledge of Your Ideal User/Client
What roles really love your products?
Who are your happiest customers?
What industries are they in?
How about the average revenue of these companies?
Yep. These sound like the questions you ask when you're developing a buyer persona.
Prospectors can use your personas to quickly profile potential leads and contacts in different industries.
Make a product that helps HR reps in manufacturing? Great!
BDRs want to try and sell it to HR folks in restaurants, or government, and even more manufacturers.
They can use the data of those who love your stuff (and the ones your company loves back) to deconstruct and find new contacts.
Crazily Good Research Skills
Sales prospectors have to dig, right?
It's the same thing here.
But instead of getting in a river, it's on government websites, social media, lead gen software, or countless other sources.
The intricacies of lead gen aren't all covered here, but there are three broad areas that are essential for sales prospecting.
Researching Firmographics
We touched on this earlier, but firmographics are a playground for good prospectors.
Finding new industries and then narrowing down brands by this data to find potential contacts are the entry level of the process.
This is where the buyer personas you currently employ can be handy. Prospectors can look at several things here including:
Industry: Finding other whole sectors and sub-sectors that can use the product to their benefit.
Number of Employees: If this seems to be an important indicator of those who buy, then it should be considered when sales prospecting.
Geographic Data: Where companies are located can have an impact. Seasonality can be an issue too. Certain times of the year can be busier/slower for industries and roles.
Revenue: Small fish may not be able to afford your stuff and big fish may have a custom solution. Prospectors are like Goldilocks and find those that are just right (see what we did there.. prospector, Goldilocks).
Sales Cycle: Is a target industry bogged down by red tape and bureaucracy? These are the questions prospectors ask.
With these types of data (and more), your reps will be able to generate a great list of brands.
But the work is just getting started at this point.
Researching Companies
Now that you have that fancy list—it's time to find out more about them.
Reps will be sleuthing out their current solution, finding out where each individual stands on issues that pertain to your product.
They'll also be looking into the industry and becoming a relative expert on all things that potential contacts will care about.
Depending on who is doing the work, you may even develop a valuable resource to help with the cold outreach you'll be doing later on.
You know, something that merges the interests of interested parties while merging the offer of your product and the pains that it solves.
Researching Contacts
You can't send cold emails without the contact's address and you can't cold call without their number.
Click To Tweet
This makes researching your contact data the last, but indispensable part of research before you begin contacting these new leads.
This has historically been the worst part of lead gen.
Finding those who make decisions within the protected borders of assistants and gate keepers has made the end of many-a-prospector.
While it still sucks getting told "no" so often, software has made finding B2B contact intel so much easier—it doesn't make sense to do it manually anymore.
A step-by-step guide to effective sales prospecting
This is the part where we guide you through the process of sales prospecting. In our book, sales prospecting has five distinct steps:
1) Research and prioritize prospects
The first thing you need to do when looking to start sales prospecting is conduct extensive research on your prospects to determine if they're a good fit for your products or services.
You'll want to find out if the prospect falls within your target buyer personas' demographics, industry, and company size. 
This will allow you to prioritize prospects based on how good a fit they are, as well as their potential lifetime value.
Additionally, try to find out the prospects' budget limitations and time constraints before getting on an exploratory call. 
While you won't be able to find this information on all your prospects, you'll still be able to eliminate a number of prospects who don't have the bandwidth to take you up on your offer.
Take all of the above into consideration when prioritizing prospects, and give priority to those that are the most likely to convert, as well as those that represent the highest opportunity value.
2) Identify key stakeholders
Going further, you'll need to identify key stakeholders, including decision-makers and influencers. 
Don't underestimate the importance of company influencers – they might not have the final say in whether the company will do business with you or not, but they can often become your biggest internal advocates.
Getting influencers to understand the value of your product can result in them making a compelling case regarding your offering to decision-makers before your sales team even gets a chance to talk to the people in charge.
3) Prepare for outreach
All the information you've gathered on your prospects will help you personalize your outreach and enable you to create the perfect pitch for each specific prospect.
To prepare for outreach, you'll also want to find out what your prospects care about the most by looking at their website and social media profiles and seeing what they post about most frequently.
Once you gain a better understanding of the prospect, you'll need to find a reason to connect. Look for any mutual connections or trigger events that could help you have an easier time connecting with the prospect.
4) Reach out to the prospect
Once you're ready, reach out to your prospect. Make sure to tailor your outreach to the prospect and their company, as well as their particular industry and goals.
No matter how you decide to reach out to the prospect, you'll want to personalize your message by referencing a specific problem or issue that's relevant to the prospect.
You should also strive to genuinely help the prospect, instead of simply trying to push your product or service. No one likes being sold to, so don't make the prospect feel like you're only interested in getting their business.
During your conversation with the prospect, make sure to fully qualify them and determine if they're a good fit for your product or service. 
For a prospect to be a good fit, your offering needs to align with their specific needs and use cases. They also need to align with your target buyer persona and have potential lifetime value that's big enough to justify you working with them.
If all of these conditions have been met, you'll know that you've found a good fit.
5) Analyze your results
Finally, you should analyze your conversation with the prospect and see if there's anything you could have done better, regardless of whether you closed the prospect or not.
Think about how you uncovered the prospect's challenges. Did you help them create well-defined goals, determined their budget, and helped them understand what kind of results they could get with your product or service?
Consider all of the above and try to improve your approach before you talk to the next prospect.
Sales Prospecting Method #1: LeadFuze 
I'd be remiss not to tell you the one solution that can lead to 100% automated sales prospecting, because… well, I built it exactly for that purpose 🙂 
Using LeadFuze to Quickly Find Targeted Leads
With LeadFuze, anyone can find thousands of qualified B2B leads in a matter of minutes. Then, you can automatically send those leads to the other tools in your outreach stack. 
Enter a few details like:
The industry you'd like to target
Size of the average company you'd like to see
Roles of contacts you'd like to target
Geography (if interested)
Even tech being used and ad budgets can be searched.
After your search yields high-quality contact data like names, emails, phone numbers and social profiles, it's time to see the full power of LeadFuze.
Once nail your target market criteria  — You can use Fuzebot to automatically send a number of those leads to tools like Mailshake, Close, dux-soup and more.
That's right, you can run a search for people that resemble your favorite customer and then Fuzebot automatically adds the leads that match that criteria to your list…
day after day…
month after month…
It's 100% automated!
No more looking at search results and going one at a time and looking for the one's to add. This does it all for you.
The leads that get added to your list are already cleaned, but then we re-verify them in real-time as well! 
25, 50, 100+ leads a day can enter your funnel without you doing anything other than setting it up once! Cold outreach going out, warm leads coming in. 
I'm going to go into a deep dive here to show you more specifically how LeadFuze can help with your sales prospecting efforts.
If you prefer, you can skip this light orange background section to see more sales prospecting methods and walk-throughs. 
Using LeadFuze for Sales Prospecting
You're allowed to fill in multiple industries, but this wouldn't be ideal if you're looking to create tailored lists, which you can do on this platform. However, this isn't recommended, especially if you have multiple types of customers to target.
You can type in the role or position of the leads you want to target within a company.
For example, owners, marketers, sales, or finance. Again, you can search for multiple roles. Also, you're able to exclude certain roles by typing – before the word (i.e. -secretaries, -vice, etc.).
After inputting the company size (based on how many employees), city/state/region, and keywords, you'll be taken to a screen showing all matching leads.
The listings show the name, their role, industry, location, and the number of employees.
You can click on the website links to scout whether the lead is worthy of including in your list. If so, you simply put a check in the box.
Automating Your Lead Generation
Once you're done, click the "Add to Lead List" button.
Before creating your list, you'll be prompted about setting up an automated lead capturing tool.
You can choose how many new leads will be added daily automatically, based on the criteria you entered.
You can always tweak this later if you want to increase or decrease the number as you see fit.
This is a useful tool if you're looking to gather as many leads as possible and don't really have the time to keep searching on your own.
After you click "Save Automation" (or decline it), you'll be taken to your lists. You can easily add more and they'll all be displayed here.
Just click on the "Leads" tab on the sidebar to access your lists.
Editor's Note: Already know the specific accounts you want to target? Use the "Account Based" lead search.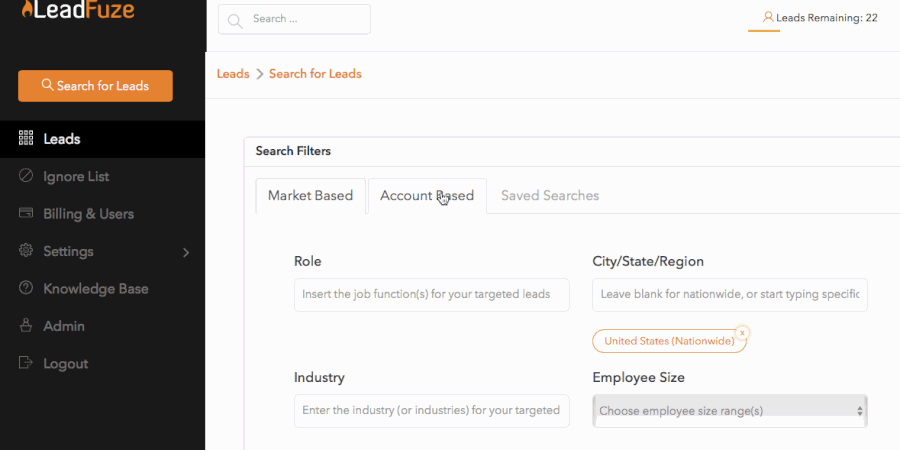 You can search by name and company to really find those influencers and supporting roles to go after those large enterprise accounts. 
For example, you could upload a list of 100 company names or domains, then choose a target role (such as CMO) and we'll give you all the CMO's at those 100 accounts!
Tailoring Your Lead Lists for Higher Conversions
Now, the best way to make use of this is to make your lists tailored to key audiences you're targeting. So rather than including several industries and roles in one list, separate them.
For example, you can have one list targeted at fitness business owners and another list tailored for fitness business marketers.
Rather than including several industries and roles in one list, separate them.
Click To Tweet
On the other hand, if you're only interested in business owners, then create varying industries for each list.
For instance, you can have one list for fitness business owners and another list for bridal shop owners. Then if the location is important, you can target those in a specific city, region, or state.
Just add multiple cities to the location area of the form. Or you can update it from the list section by clicking on the pencil.
The point of creating unique lists is so that you can personalize the emails you send them.
Obviously, the way you market to a marketer would be different than how you'd market to a finance director.
Once you click on the list, you'll see a list of the leads you've selected for that group.
From here, you can see their email addresses, website links, social media profile buttons, and other details. You can easily delete and edit each lead individually.
Okay, that concludes the deep dive into using LeadFuze for sales prospecting!
Using Twitter to Find Leads
Yes, we know B2Bs live and breathe on LinkedIn (it's on this list).
But one of the most undervalued social channels is Twitter.
B2Bs who use Twitter effectively have dramatically increased sales.
Click To Tweet
Not only can you reach out to the right people directly, you can research contacts to find influencers and decision makers before you reach out.
It can also be (partially) automated to save time and give you notifications when something worth your time happens.
Tip #1: Use a tool, like SocialOomph (free and paid), to pick keywords and a ridiculous amount of other prompts.
Tip #2: Use the advanced search feature. To find this feature you'll have to search for something first and then choose advanced search after the results come up. But if you really want to dig in, we recommend that you use the desktop site and just go directly to the advanced search page—here's the link.
Take a look at the screenshot below and drool over the inputs to search.
Tip #3: It should go without saying that when you do interact with leads via any social channel—start by adding extreme value to them while learning more about them. Consider this a time to qualify them without them knowing it.
Effort: Searching takes a little time, but building relationships takes a while. Let leads simmer longer here before getting aggressive.
Potential Result: The number of hot leads may not be a steady stream, but if you use automation it'll be like putting a pole in the lake and waiting for a bite.
Further Research: A great post from Salesforce on using Twitter for B2B sales.
Probably the hardest part about Twitter marketing is trying to weed through all the noise.
Finding the prospects who are most likely to desire your product or service is pretty much slim. At least, that's the reality when you don't have the right tools.
In this case, it's Commun.it. This platform has a special feature SMBs can use to find qualified leads.
Much like the LeadFuze deep dive above, I'm going to a step-by-step plan for using Commun.it to take your Twitter prospecting up another level. 
Within the dashboard, you'll find the "Schedule" tab.
From here, you click on "New Leads" and you're granted access to an area that allows you to search for Tweets and users based on keywords.
Simply click on the "Add keywords" under "Search by Keyword" on the left and you can begin finding prospects.
Filtering Your Leads with Relevant Keywords
Let's say you sell fitness supplements and want to reach out to fitness trainers.
You can type in keywords like a fitness trainer, fitness, physical fitness, personal fitness, and personal trainer. Or you can even search for hashtags.
This will pull up users who mention these terms and/or have them in their Twitter bios.
You can scroll through the results and easily find out if you're already following one another.
From there, you can decide to connect with them and begin your journey to building a relationship.
In this case, if it's a fitness trainer, then simply introduce yourself or begin interacting with their Tweets.
Comments, retweeting and mentioning them are all excellent ways to engage with users in a meaningful way.
Eventually, you can reach out and make an offer. Or, if you're posting great content, the user may reach out to your brand instead.
The good news is you can do all of this right from the platform.
In your dashboard, you can see the last time users mentioned your keyword in a Tweet as well.
Finding Businesses to Partner With
Another way you can use this tool is to find and connect with other business owners.
You'll find that partnering with other companies can improve your visibility and consumer reach.
For instance, if you own a fitness supplement shop, it'd be a good idea to reach out to fitness gyms, personal trainers, plastic surgeons, and anyone else who shares your same customers.
Simply use the same keyword search tool to locate businesses searching for nutrition, fitness supplements, weight loss, muscle building, or other keywords related to your industry. You can also look them up by their own keywords – weight loss trainer, fitness gym, and plastic surgeon.
It's pointless to partner with brands that don't have your same customer base. The key is to cross-promote services so the relationship is mutually beneficial.
For example, you can offer to promote their weight loss training services to your customers and vice versa. You can also write content on your blog revolving around exercise and weight loss, then provide a link to your partner's website.
The key is to cross-promote services so the relationship is mutually beneficial.
Click To Tweet
Another option is to write a guest blog post for the trainer's blog. This will make things easier on your new partner and help give your brand a voice on their turf. You can allow them to do the same on your blog.
This way, any visitors that find the content will click the link and find your businesses.
Following Your Customers
You want to get more Twitter followers, but not just any kind.
So far, you're aiming for prospects and business partnerships. But there's another group of people you don't want to overlook – your customers.
Retaining your customers is important. Not only is it cheaper to keep them, but it can also boost your revenue. By re-engaging your current customers, you can increase the chances of them returning to buy from you again.
A whopping 80% of Twitter users have mentioned a brand at some time or another. And nearly 55% of users reported taking action after seeing Tweets mentioning brands.
With Commun.it, you can find your customers using your brand keywords. This can be the name of your company, products, or services. If there are other keywords related solely to your business, then you can search for those as well.
Now, once you find your customers, you can follow them and join in relevant conversations. You can also keep an eye on reviews. When someone posts a negative comment about your brand, you can quickly reach out and try to rectify the issue.
And whenever there's a positive review, you can reach out and say thank you. It's also essential to reply to users that have questions for your brand. Most of today's consumers use social media as their medium for obtaining customer service and support.
In fact, 63% of consumers expect for brands to reply to their tweets within the hour. Yet the average response time is around 90 minutes. Beat this and you're in the money. About 76% of consumers say they're more likely to recommend a brand after receiving friendly service.
When other users see your responsiveness to customers, it'll help convince them to do business with you as well.
Just look at the numbers – 77% of Twitter users say they feel positive about a brand that replies to them.
Remember, Twitter is highly visible – if your customers are saying good things about you, then all of their followers will see it and may check out your brand.
Growing Your Brand with Influencers
Partnering with businesses is great, but nothing can give you a near-instant boost in recognition like an influencer can. And you don't necessarily have to go after the most notables.
There are tons of influencers today and you can easily find who has the most followers on Twitter, thanks to the social media age we live in.
Nearly every industry has hundreds of influencers helping consumers learn and even purchase products and services.
The tool enables you to find, connect with, and track influencers in your industry.
The keyword search tool will assist you in finding a list of users talking about a given topic. You can see everything on the platform, including their number of followers.
This is crucial to know to determine whether they have a large enough influence. Ideally, you want someone who has tens of thousands of followers. However, you can harness the power of multiple influencers to triple or even quadruple your reach.
Most of today's influencers are bloggers and vloggers. So you can add these keywords to your search. For example, you can look up weight loss bloggers, fitness YouTubers, and so on. The more niche your search, the easier it'll be to hone in on the perfect influencer for your brand.
Using the same example as a nutrition supplement seller, you can reach out to fitness gurus who have a large social media following and have them promote your supplements. It'll work even better if you supply them with free supplements to try and showcase before and after photos of their results.
Maximizing Your Results with Highly-Targeted Leads
The Commun.it platform goes beyond just being a tool for finding leads. It also allows you to organize your outreach campaigns in a unique way.
For example, you can quickly blacklist a user you don't want to see in your feed. This is good for using for competitors that show up in your feeds or irrelevant users.
Or you can add them to a specific group – starred (to get back to them later) or whitelist (for a definite prospect).
You can also create a new group and easily manage them from the dashboard.
If you already have Twitter lists, you can easily import them by clicking on manage groups, then selecting "Import Twitter Lists."
Another feature you don't want to overlook is the ability to view the full profile of each user listed in your search results.
Here, you're able to see the last time they Tweeted, their recent Tweets containing your keywords, and how many times you've engaged with them. This becomes essential when you begin interacting with your new leads.
You can keep track of how many times and how often you reach out to them and what your interactions were (retweets, mentions, replies etc). There's even a quick mention button you can click to add them to a new Tweet.
If you click on the Tweets tab on their profile, you can see all of their most recent Tweets as well. This enables you to quickly engage in real-time by replying, retweeting, or liking their posts.
Managing your connections and relationships doesn't get any more convenient.
Sales Prospecting Using Facebook Groups
Facebook? For B2B? Yep!
It's actually worth some time to look to FB for genuine B2B leads.
The best place for reps is going to be groups that would interest and directly relate to their leads.
These groups don't have to be stuffy and can be entertaining—that's what makes them great.
Best Tip: Show them something different. Your customers go to LinkedIn and are bombarded with stock photos of computers, people in dress clothes, and those stupid fake stick figure people.
They go to FB to waste a few minutes and see something that interests them. Give them that in a way that establishes you as a relative expert. You don't have to share industry memes, or be a jester. But tips, tricks and other interesting industry points are very welcome on FB.
Effort: You shouldn't spend too much time here, but consistent posting and question answering will give the best result.
Potential Result: Again, it won't make your month, but it will bring in some leads that may not have come in otherwise.
Further Research: Here are six case studies/tips of B2Bs using FB.
Sales Prospecting Using LinkedIn Groups
You knew it'd be on here.
If your reps aren't using LinkedIn, they're either new or about to get fired.
Tip #1: Obviously, you should be connecting with your ideal leads, but you need to send them relevant connection request messages and follow-ups.
Tip #2: LeadFuze integrates directly with tools like Dux-Soup that can automate:
Profile Views
Send connection requests
Send follow-ups once your connection requests are accepted
Tip #3: A recent strategy I implemented, is to automatically connect with all new LeadFuze trial accounts (who we could match to a LinkedIn profile). 
This is if I am not already connected through my LeadFuze to Dux-Soup outbound automation.
Effort: Spend a few hours upfront getting this engine set up, and then it's completely hands off. 
Potential Result: Combining this with other outreach channels like email, and/or other social channels, can lead to a LOT of conversations. 
Further Research: Here are 27 LI tips from Forbes.
Sales Prospecting Using Quora (and Sites Like It)
Forum sites don't seem to have the staying power of social media sites, but they do get really popular.
Folks like GaryVee, Tim Ferris, and other top market thinkers use them, which should tell you a bit about their value.
Using these sites help you in multiple ways that pay dividends over time.
Using them is usually quick and easy, too.
Tip #1: Search for topics that you can add value to, but will be seen by influencers in your target industry. Think, answering questions about lowering shrink when you sell inventory software.
Tip #2: Don't expect the asker to be your client. These questions get seen by tons of people; consider this one to be more of an inbound method. This means that your answer should be the best one, so make sure you know what you're talking about.
Effort: Your answers should come from experience, so the effort is just quickly searching for questions and answering appropriately.
Potential Result: A drip of people who find you here, may follow you via social making it a slow, but potent drizzle down your pipeline.
Further Research: Here's a Quora question (with some great answers) about finding other sites like Quora.
Sales Prospecting Using Cold Call Email
Cold calling may not be needed at all—if you can get cold leads to respond to your emails.
How do you get more people to respond to your emails? Glad you asked.
It starts by having a firm grip on who you're emailing. Researching contacts from a brand, finding out their pains, and all of the other aspects of having an ideal prospect in mind.
Tip #1: Use a tool. Lead gen without a tool is nonsense nowadays. LeadFuze allows you to research leads based on several factors including industry, revenue, and size. We even automate sending those leads into a cold email tool of your choice so that everything is hands off. 
Effort: Without a tool. Nonsense. With a tool like LeadFuze, it's minimal compared to the result.
Potential Result: Well-researched cold email is possibly the only item on our list that can help you make your month in an of itself.
Further Research: If you're interested, our lead generation software automates it all.
Sales Prospecting Using Current Clients
Referrals can make or break a sales team.
Between prospecting and getting closed clients to refer colleagues, you can be a good rep.
Even with this common knowledge, few have an automated process or schedule for getting them.
We're not saying you should send a canned email or anything, but a little knowledge goes a long way here.
Tip #1: Do it within 30 days, but not too soon.
Customers are typically the happiest with a product a few weeks after using it.
Click To Tweet
They are no longer "learning" and starting to see the benefits—making it the perfect time to reach out, see how they're doing, and ask for a contact.
Tip #2: Calling works best, but email can be a bit more automated. They'll answer because you've already sold them, right?
Effort: It takes some time to get in the groove, but once you get going; referrals can be a healthy source of constant leads.
Potential Result: Depending on how many sales it takes to make your month. Referrals could fast become your favorite lead gen method.
Further Research: Case study about one B2B marketer getting over 1000 referrals in a year.
Sales Prospecting Using Joint Ventures
This strategy isn't going to work for many sales reps and managers. For that we apologize.
But if you're a founder that is looking to heavily boost your exposure while helping like-minded entrepreneurs—it could really help.
A joint venture is less formal and less time bound than a partnership.
Instead of going into business together, you and another similar company run together for a while in the form of promotion for an agreed-upon amount of time.
It can be very loosely put together, or even involve contracts.
Either way, they're a good idea if done well.
Tip #1: You HAVE to add insane value to the partner you are pursuing (if you don't know them well). Building a literal relationship before asking them for something this significant. Like, find out what conference they're attending, the mastermind they're in, make yourself known through bringing genuine help.
Tip #2: Have a couple of solid ideas when you finally ask for the JV. You'll have some back and forth, so you don't want it to be rigid. That said, you don't want to show up to the meeting you set with, "I don't know, what do you have in mind?"
Effort: Much effort. Months of looking and trying to make friends.
Potential Result: Incredible. Done well, it would be like McDonald's only selling hamburgers and then partnering with a business that makes french fries.
Further Research: A great post on the advantages and disadvantages of joint ventures.
Sales Prospecting Using Peer Luncheons
Definitely the most fancy sounding method on our list, but don't let it scare you.
Sales reps may not be able to do a joint venture, but you can rock a peer lunch.
If you try to move B2B products for a living, you like to talk shop.
Big sales, tough sales, bad clients.
Our career path lends a lot of stories and we love telling stories.
You know what else people love? Food.
Tip #1: Meet once a month and get to know sales reps in your area. Get to know them and have fun. It's a tough job sometimes and venting with others is a great way to keep your sanity.
Tip #2: Chances are someone sells something that compliments your product. A little mutual back-scratching shouldn't be hard if you can work out the details.
Effort: Picking a venue, making calls, and eating. Nothing too difficult.
Potential Result: The camaraderie is good, but a call now and again with a warm lead is definitely worthwhile.
Further Research: How to host a networking dinner via Entrepreneur.
Sales Prospecting Using Direct Mail
Don't knock it 'til you try it.
What's in your mail box?
If it's like mine, you have bills, a package from Amazon, and something from a TV provider.
The point is, there's room for something unusual. Like a letter or postcard.
Granted businesses do have letters and such sent to the office, but even still it's getting rare.
B2Bs that do regular mail well are killing it.
Tip #1: Don't mass send these. Personalization can be done via email with software. The same-ish type of personalization on physical letters is only possible through incredibly expensive printer/computers. Send only to high-quality leads that seem a bit old school.
Tip #2: Make it something different. Not necessarily fancy. After all, a handwritten note in a handwritten letter is something that very few people do.
Effort: Tons of effort. You'll either have to construct a physical mail campaign, or hand write letters to a small list of great leads.
Potential Result: The personal touch can have a great impact on the smaller amount of leads—leading to a warmer experience during the sales process.
Further Research: A great piece from Pardot about using direct mail with your marketing automation efforts.
Sales Prospecting Using Networking Groups
Join networking groups. It's free and easy.
Here in Phoenix we have a site like NetworkingPhoenix.com.
There is a detailed calendar of networking events in the area.
You may have something like this on different chambers of commerce in your area.
You can check MeetUp.com as well. Unless you live somewhere very remote, it's likely you'll have a group within driving distance.
Best Tip: Don't just whip out your business cards. Have conversations and listen. Usually, relationships and potential leads will develop through the natural communication.
Effort: We'll be honest, these can be grueling to go to all the time. Get a schedule that works for you and don't go to events that make you uncomfortable (or put on your own).
Potential Result: Anything from partnerships, referrals, or warm leads can come from networking. It's not going to sustain you, but there are many residual benefits to consider.
Further Research: A great article from LifeHack to help B2B folks.
Sales Prospecting Using Webinars
No, don't just do a sales presentation on a web chat full of a bunch of people you duped into being there.
Having a webinar has to entice people to come, but it also has to impress them once they arrive.
If you just try out your pitch for 30 minutes, you'll burn that field right over.
Best Tip: Give a group of people (that could be interested in your product) something that they truly want. Sell and inventory software? Talk about lowering shrink in the XYZ industry. Make it related to the pain you solve and let them know how well you know how to solve it (with the product).
Effort: If you know your target audience and your product, you should be able to put together a valuable 30-45 presentation in a week. Then, you'll just have to generate interest amongst leads by inviting them, or a small ad budget.
Potential Result: Webinars can be one of the primary methods you use to bring a steady stream of leads into the funnel.
Further Research: 8 Tips for integrating webinars into your B2B sales and marketing process.
Sales Prospecting Using "Old" Leads
One of the biggest travesties of most sales reps is the lack of follow-up on old leads that never closed.
You know… All those qualifying calls that went sour and the closed-lost pile that's full of people who already know about you?
It's surprising how many people you'll call months down the road and they'll say "I've been meaning to look at that again", or "We might have the budget now".
Only Tip: Call old leads that didn't buy the first time. Yes, develop a plan, make a schedule, yada yada. But just call them, please.
Effort: You may have to add a process to your CRM, and do a little adjusting to your weekly schedule. Nothing too life-changing.
Potential Result: Track the number of leads you contact who didn't make it all the way. Take that number and track your follow-ups and conversion rate. Do it for 3-6 months and you'll probably never stop.
Further Research: How to revive old sales leads courtesy of Vendasta.
12 Sales Prospecting Techniques
We've covered sales prospecting methods in great detail above.
Before we finish up this guide, we're going to go over our favorite sales prospecting techniques and best practices.
1. Understand buyer psychology
Every organization has that one prospecting rock star and you know what their secret is?
They understand buyer psychology.
One of my favorite posts about this aspects comes from the people over at Kissmetrics where they explain 15 triggers that turn prospects into customers.
I've selected some of the most fascinating to share with you.
People are motivated by pain and pleasure – find out what your customer views as the driving force between both of these and play them up.
People are motivated by pain and pleasure.
Click To Tweet
Appeal to the sense of novelty – Ever notice that one year's model of a vehicle isn't all that different than the next and yet people can't wait to upgrade? Buyers are motivated by novelty.
Buyers need to know why – If you tell them you are going to do something, they want to know what is motivating you, what's the catch. Cited in the Kissmetrics post is the Xerox experiment conducted by Dr. Michael Gazzaniga, a psychology professor at the University of California.
Essentially it was proven people will agree to do more when they are given a reason. In this instance, people standing in line waiting to use the photocopier were 34% more likely to allow someone to cut in line if they offered a reason, even if only a basic one.
Storytelling motivates buyers – when we tell stories to our sales prospects, we are bringing more senses into the decision making process, something that more readily motivates the sale.
Inspire curiosity –  Once your sales prospects become curious about you, they will more likely open emails, answer calls from you and ultimately become a customer.
Utilize social proof – Markers and salespeople have taken social proof to a whole new level. No longer do our prospects listen to us, but they listen to what their peers say about us. Use social proof in your email prospecting whenever possible.
2. Know your Unique Selling Proposition (USP)
Thinking once again about buyer psychology, your buyer will, of course, want the question "what's in it for me?" to be answered first and foremost.
This is why your unique selling proposition (USP) is one of the most vital tools you can use in an effective prospecting email.
If you've been working with your company for any length of time, you probably already have a pretty good grasp on your USP, but how are you communicating this to your prospects?
Our recent post Sales Hooks – How to Develop the Ultimate USP for your Product is a great place to start if you feel yours needs improvement.
Some essentials to keep in mind when prospecting:
3. Find leads who are already spending money
Typical email prospecting goes something like this – search for relevant industry professionals, reach out and then reach out again.
That's all fine and good but how do you know if the company has the money to pay for your to accommodate their needs?
Take a look at sales prospects who are spending money in other areas of company improvement. Are they serious about doing what it takes to grow and increase their capital?
These are the most likely prospects to invest in what you are selling.
A great tool to download your competitors' profitable keywords – both organic and paid is spyfu.
And to see which ads are working and where, check out this.
Pro Tip: Inside of LeadFuze, you can also filter leads by ad spend as well as technologies that a company uses. 
4. Use a script
You should always have a script prepared when talking with a prospect. This will help you use the right language and have an easier time responding to objections, as well as reduce any awkward pauses.
Using a script will also ensure that your conversation with the prospect doesn't go off-track and that you guide the prospect into making the purchase.
Note that using a script doesn't mean reciting everything that's written in it verbatim. Adapt and personalize your script for each prospect. 
5. Take advantage of marketing and sales automation
You don't have to do your sales prospecting manually in today's day and age. 
Take advantage of the marketing and sales automation solutions that are available and automate follow-ups, lead nurturing campaigns, and anything else that can help you prospect more effectively.
6. Educate instead of trying to sell
Don't go into a call or meeting with the attitude that you're solely looking to make a sale. You should try to genuinely help the prospect solve their issues and pain points. 
One way of doing this is educating your prospects on their issues and the potential solutions they might want to try. Provide them with content that discusses their specific pain points.
This content can be in the form of blog posts, ebooks, white papers, or any other medium your prospect enjoys using to consume content.
Apart from helping your prospects, producing industry-related content will also establish your company as an authority and thought leader in your industry.
Educating your prospects and being supportive of their goals will give you the best chance of closing them.
7. Try using video
Video has been rising in popularity as both a marketing and a sales tool in recent years. 
70% of B2B buyers state that they watch one or more videos during their buying process, with 60% considering videos sharing platforms such as YouTube and Vimeo to be important when making a purchasing decision.
You can create educational videos on topics that are relevant to your prospects, or even personalized videos where you address the prospect directly, discuss their specific pain points, and offer potential solutions.
8. Record Yourself on Your Next Sales Call
This is a great way to improve your prospecting. If you don't know why you are getting poor results, try recording your cold calls and see how you can improve your sales pitch.
Try recording yourself cold calling and see how you can improve your sales pitch.>CLICK TO TWEET
Try playing it back and even getting feedback from your sales team.
Creating a script is a great way to improve upon your prospecting. It's easy to get stuck when you don't have a road map to rely on.
9. Establish Alliances with Non-Competing Competitors
This one may have you scratching your head but by collaborating with competitors (who aren't directly competing with you) you can branch out your potential prospects.
If your business is largely limited to a local market, try creating events and promotions with those just outside of your normal customer based.
Also, keep this in mind. When was the last time your enemies sent you business? Never, right?
Keeping other similar businesses friendly with you greatly increases your chance of referrals. If you are offering slightly different products or services, teaming up can actually greatly increase your customer base. It may not work for your company, but it is certainly a prospecting technique to keep in your toolbox.
10. Ask for referrals
As much as 91% of B2B buyers are heavily influenced by word-of-mouth recommendations. However, only 40% of sales people ask customers for referrals.
Ask your satisfied customers if they know anyone else that could benefit from your products or services. If they do, politely request that they introduce you to them.
Make it easy for your customers to refer you by offering them an email script that they can use to introduce you to referrals. Once customers send referrals your way, make sure to thank them with an email or a handwritten letter.
Getting recommended by your customers will help you establish trust and have an easier time converting prospects, so make sure to develop a system of asking your existing customers for referrals.
11. Observe Your Competition
You can learn a ton about the shortcomings of you own prospecting and lead generation process by taking a look at your competition.
How are they handling their social accounts? What information are they providing their clients with. In order to remain relative and competitive in your market, you need to look to your competition and trump their initiatives.
12. Remember to follow up
Finally, remember not to give up after the first try and follow up with all your prospects. Try to provide prospects with additional value with each follow-up you make – don't follow up just for the sake of following up.
One way of doing this is sending them valuable information related to their industry or pain points in the form of a blog post, ebook, case study, or white paper.
Remember that you don't have to follow up the same way you did in your initial outreach. If you sent an email to the prospect when you first reached out to them, try following up by calling them on the phone or leaving a voicemail message.
Reaching out to prospects through multiple channels will increase your chances of getting their attention and receiving a reply.
Finally, make sure to let prospects know what they need to do to move on to the next step of the process.
How Often Should You Be Prospecting for Leads?
Reps who prospect on at least a weekly basis have been proven to hit quota more often than those who don't prospect regularly.
Pipelines and funnels are meant to hold a constant stream and those organizations and sales teams that balance lead acquisition and lead nurturing grow faster than others.
If it's not in the routine, you'll end up in a "feast and famine" scenario.
Too many people to talk to for a few months and then—crickets panic!
Now that you've learned how to prospect…
You should be using LeadFuze to automate the entire sales prospecting process! : )
Check it out if you'd like to avoid (or get out of) the feast and famine cycle.
Editor's Note: I'd like to thank Sharel Omer, the CEO & Co-founder of Commun.it, for helping to contribute to this guide. 
How often do you (or your team) perform sales prospecting activities? Have other sales prospecting methods that should be added to this monster guide? I'd love to hear your thoughts, so connect with me on LinkedIn!
Editors Note:
Want to help contribute to future articles? Have data-backed and tactical advice to share? I'd love to hear from you!
We have over 60,000 monthly readers that would love to see it! Contact us and let's discuss your ideas!