Sales prospecting is the process of seeking potential clients to grow the customer base and increase returns. Although it's a vital aspect of the sales process, the manual task is tedious and repetitive. It consumes most agencies and sales development representatives' time and energy.
As the use of Artificial Intelligence grows, AI lead generation bots make sales prospecting painless. Sales prospecting tools such as LeadFuze, and Zapier allow sales automation.
You can even decide to start a lead generation company. Such a company assists other businesses in generating leads through email marketing campaigns and SEO optimization for websites.
Sales prospecting tools prevent human error and improve overall efficiency. It helps to get quality, new leads quickly, increasing the chances of converting the leads into sales.
Such stools use information from various platforms to generate leads. The lists include details such as the prospect's email and phone number.
With sales automation software, you simply input data points specifying the target prospects. The tool generates a list of prospects and verified details as well.
What Sales Processes Can I Automate?
Besides enhancing productivity, automating tasks saves you up to 90% of costs. Numerous tools are available to assist the automation of sales processes.
Since the tasks take place on different accounts, it's essential to consider a tool with everything on one platform.
Some aspects of your sales process that you can automate are, for example;
Automate Outreach by Sending Emails
Using email templates is a great way to eliminate human error, save time, and capture your prospects' attention. The templates can have some personalization aspects while making it possible to reuse or repurpose them.
To get started with email automation, analyze the regular sales tasks your sales reps carry out. Establish the most common emails sent daily, the time your team uses to compose and send an email, and the level of personalization they use on each email.
The content you use should target the prospect's needs.
How to Automatically Add Leads to Mailshake
Sales engagement tools such as Mailshake assist in sending many personalized, cold emails at once. As a sales engagement platform, Mailshake sends automatic emails to prospects via the existing email platform.
It blends well with most third-party CRM solutions and comes with a VoIP phone dialer. You can schedule follow-ups, keep track of campaign performance, and enhance customer relationships.
Manually transferring data across different platforms can take some time. Automating this process is accessible by linking Mailshake to other apps with Zapier.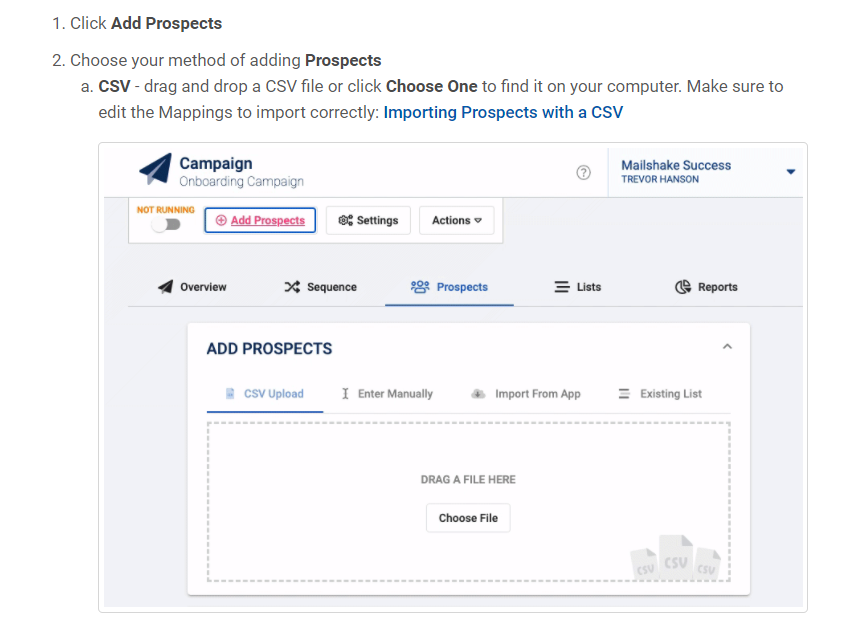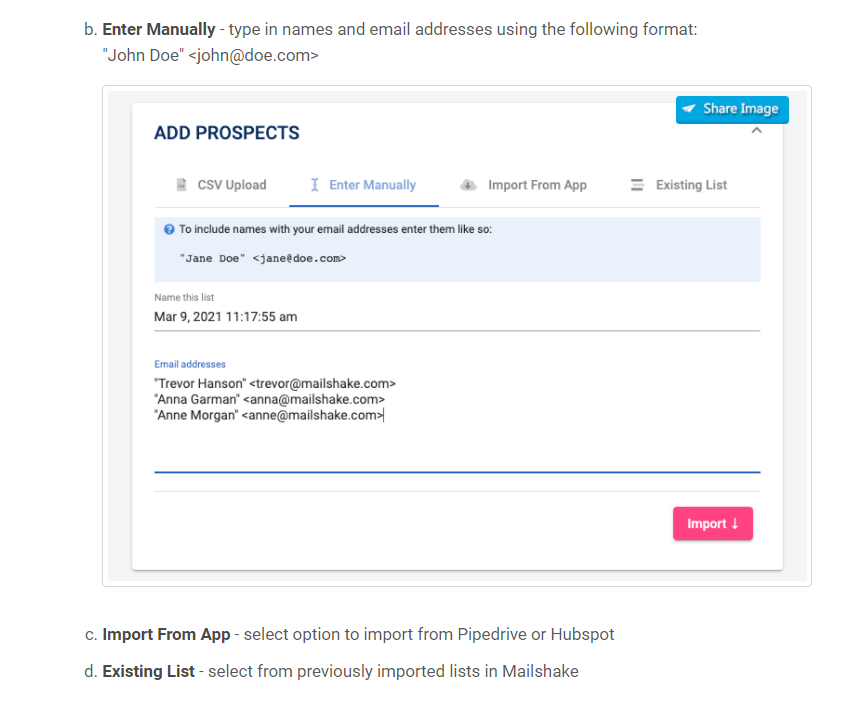 1

Prioritize Leads

Many leads originate from different sources and may be large in number. Some may be frivolous, but some may lead to generating a good relationship with your business.

Deciding how much time to send on either type of lead can be a challenge for you or your team. The solution to helping you prioritize leads lies in lead scoring tools that use AI.

If you're wondering whether you need to automate the lead prioritization process, consider;
The time you or your team spends on qualifying leads
How the conversion rates are performing
The length of your sales cycle as a result of leaks and bottlenecks.
When looking for the right tool to use, it's important to keep in mind the metrics that align with your type of business.
Some businesses use leads based on basic information. Some require in-depth knowledge, such as how customers use products, web activity, or download patterns. In such a case, a hybrid scoring system will be more beneficial to your business.
If your business operates using many products, you should consider using different lead scoring models for every product. Set an approach that qualifies the leads based on whether they rank as cold, warm, and hot leads.
Configure the lead prioritization tool to include negative scoring. For instance, these can be leads that no longer engage with your website or don't respond to the emails you or your sales team sends.
Avoid using vanity metrics such as email opens, as they may not be the best indicators of the lead's interest.
2

Auto Cold Email Prospects with Personalized Messages
For cold email campaigns to be effective, there are some strategies that you can use;
Have a short, personalized subject Line
Make your message precise and keep it below five sentences
Personalize the email with details such as the recipient's name and company.
End the message with a call to action
After drafting the cold emails, automate sending them at preset intervals within the sales automation tool or email platform.
Steps to Automate Prospecting System
3

Select the Right Sales Automation Tools
The first step towards sales automation is determining the appropriate sales automation software. It will assist you in reducing the time you spend on repetitive prospecting tasks.
For instance, Leadfuze is a great tool to automate outbound sales prospecting. You're able to get prospects depending on aspects such as;
Specific roles in an organization
Selected industry
Software solutions they have
Amount of money they spend on Adwords
Just by manually typing some search parameters, Leadfuze gets you the details you require.
Another example is Anyleads, a software program that automates sales prospecting. It's possible to create reports with different data points depending on pre-selected criteria.
4

Integrate Your Sales Automation Software

With the sales automation software at hand, it's essential to check if it integrates with your other sales tools such as your CRM, calendar software, and email marketing platform.

The Integration process is easy, especially with the right automation software. Most can blend well with common CRMs like Salesforce and HubSpot.

You should also link the software with email platforms like Gmail, MailChimp, and GetResponse. Don't forget to link up calendar software such as Calendly through Zapier.
Following Up with Initial Contacts Made
For contact to qualify as a lead, they have to engage your business or express interest in your products. To kick start this process, you need to get in touch using automated emails.
Calling customers who have newly signed up to generate leads increases the chances of responding to your calls later on.
Businesses get leads from sources such as websites, blogs, and social media platforms. In most cases, the sales team takes time to contact new leads. This creates a gap between the time the leads get recorded in the CRM and when a sales rep gets in touch with them.
To bridge the gap, the lead distribution comes in handy. Automating lead assignment reduces the response time and increases the lead conversion ratio.
You can create HubSpot contacts from the content of new emails you get on Gmail. Every time a new email comes in your inbox, the new contact gets automatically added, or the existing contact gets updated in HubSpot.
You can then classify the leads based on geographical location, type of industry, size of the company, and the value of the deal. This way, the sales team can quickly contact prospects in a shorter time.
Lead distribution increases sales effectiveness and prevents double contact.

Reach Out on Autopilot with More Advanced Workflows
Besides tasks like sending emails and qualifying leads, other administrative tasks need to get done daily. These tasks are equally important in increasing sales.
There are powerful tools that automate administrative tasks. A great example is how Integromat helps to automate manual processes. It can connect apps, eliminating the need to copy-paste information between them.
Another example is linking Dux to your sales and marketing tools for an all-rounded end lead generation. The Dux-Soup API orients systems, databases, and other lead generation processes.
You can trigger events from Integromat in Dux-Soup, to enable you to generate the same process flows inside this environment.
1

Data Entry
A CRM consolidates data collected from prospects, current customers, deals, various accounts, and other sales activities. This data is manually entered into the CRM by the sales team. Automating such data entry is bound to save you both time and effort.
You can automate call logging into the CRM based on the lead profiles. Lead enrichment tools help to populate lead profiles automatically using important information. For instance, you can use information such as the job title, industry, and company instead of manually researching the leads.
2

Creating Appointments and Setting Reminders
Scheduling meetings with leads usually involves some level of back-and-forth communication.
There are tools to automate appointments to make this easier. You simply send your lead a link to your calendar, showing the available time slots. This way, the lead can select a time slot that works best for them.
Just as you'll both be able to see the calendar invite, you'll also both get an email reminder before the set time.
3
Invoice Generation
After closing a deal, the sales rep has to update the status of the deal in the CRM, then then generate an invoice through an invoice management system. This process is tasking and time-consuming, hence the need for automation.
This way, an invoice is automatically generated every time the deal status gets updated to closed or won.
4

Report Generation
The importance of reports to any business is evident. Maintaining sales records assist a company to;
Establish revenue targets
Determine movement in the sales pipeline
Quantify the output of sales processes.
Regardless of their importance, generating reports can be tedious. Before creating reports, you have to gather the data first. It may involve manually updating a spreadsheet, tabulating the data, or generating graphs.
Automating reports eases the manual process of collecting, sorting, and analyzing data. It also reduces the possibility of having errors and inaccuracies in the data.
Before automating report generation, determine the reports you need and the critical KPIs. A good starting point is listing important reports such as;
Periodic sales reports, sales calls reports, sales emails reports, and team performance.

Editors Note:
Want to help contribute to future articles? Have data-backed and tactical advice to share? I'd love to hear from you!
We have over 60,000 monthly readers that would love to see it! Contact us and let's discuss your ideas!