What is Sales Productivity
Sales productivity is the ratio of productive hours to unproductive hours.
Productivity is a measure of efficiency, that compares the amount produced in relation to what could be produced under similar circumstances with maximum output.
Sales productivity can also refer to increased profitability and effectiveness by using more efficient methods and improving teamwork
To increase sales productivity, you need creative solutions for your business.
The best way to increase sales productivity is by simplifying your work process.
Once you have a more streamlined workflow, it will be easier for everyone in the organization to achieve their goals without wasting time on unnecessary tasks or meetings.
Some ways that can help with increased sales productivity are: creating accountability and transparency among team members; structuring and documenting workflows; delegating tasks to those who are most qualified for the job.
Best Solution to Increase Sales Productivity
93.2% of sales teams increase sales productivity with this one solution… 
Have your attention? Want the elixir for increasing sales productivity?
It's…
drum roll…
big reveal…
Use Sales Software!
Okay, that's a gimme.
We'll touch on this here at the beginning before we go MUCH more in-depth. 
Editors Note:
This article was based on a recent interview with Karen
McCandless researcher for Sales Management Software Reviews Company, GetApp.Com discussing her latest findings on customers, social selling, and how sales enablement software can benefit a sales team.
In addition, the sales productivity statistics below were submitting by Eric Czerwonka, an entrepreneur and co-founder of Buddy Punch.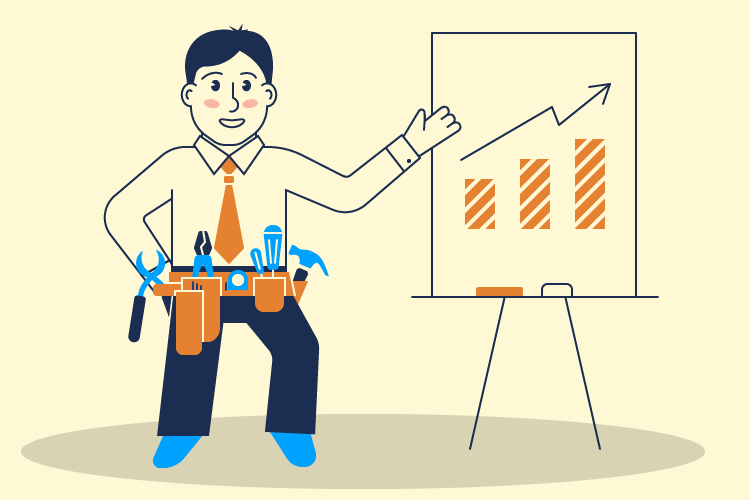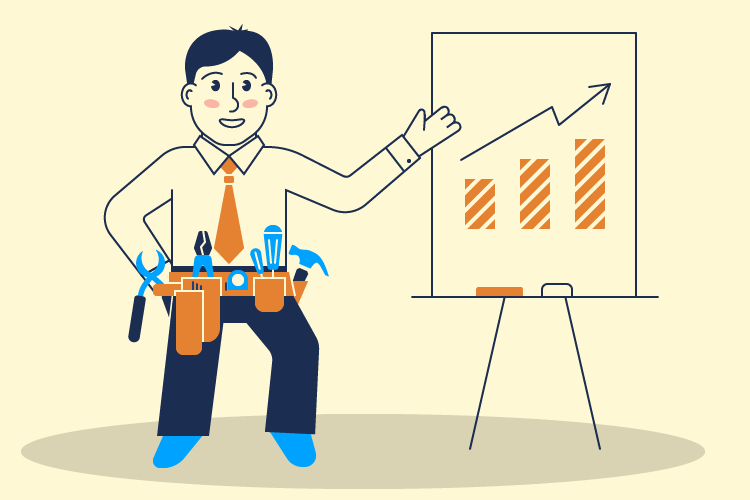 Okay, so maybe you were expecting something you had never heard of before, a buzzword that you stumbled upon that would change your world forever?
Seriously, it's sales software… but let's dive into some specifics.  
Easy Riders
This is how it is going to revolutionize, revamp and renovate your modus operandi. In other words, make your life a whole lot easier by increasing sales productivity.
"Easy like a Sunday Morning" (Lionel Richie)
It will free you from the shackles of manual data entry. And just like Tom Petty you'll be "free, free falling, yeah."
You won't have to keep updating the status of each deal in the pipeline. Can you see the gift of many hours being handed to you on a silver sales automation platter?
You can put away your data cleaning brooms and brushes secure in the knowledge that there will be no incorrect or duplicated data anymore.
Don't you love a great statistic that sums up your challenges and hardships in a perfect number?
This one is 35%.
It's the percentage of time available to salespeople to actually sell their product. Increasing this number means improving sales productivity.
You intrinsically know that you never seem to have enough time to actually do your job.
Right?
An insightful survey, from CSO, revealed this figure that describes your dissatisfaction with the T. But the antidote is staring you in the face.
Sales automation will have you singing Leonard Cohens 'Hallelujah" chorus.
LeadFuze was built for this. It's a software solution that helps you build lists of accurate leads automatically while integrating with sales outreach tools to allow you to contact those freshly verified leads.
8 Statistics to Increase Sales Productivity
Companies lose an exorbitant amount of productivity hours each year. Why? They are spending those hours manually entering data and tracking their activity. Effective CRM software will allow you to interact with prospects and close deals rather than wasting that precious time on mundane tasks.
1

Lost productivity and poorly managed leads cost companies at least $1 trillion every year. — CMO Council

Even $1 would be too much of a loss because it's almost completely avoidable.
2

Almost half of all sales reps will take nearly a year to become productive enough to meet company goals. — Accenture

The faster your representatives are up and running, the more productive they are able to be. Intuitive CRM software will help to get your new hires up to speed and give them the confidence that they need to start closing sales.
3

50% of B2B companies see generating high quality, sales-ready leads as a challenge for 2018 — LeadForensics

The quality of your CRM will directly impact the quality of your organization. Choose a world-class CRM that will bring you the results that you're looking for.
4

Top-performing companies are twice as likely to have automated their sales processes. — Velocify

If you're not automating your processes, you're leaving money on the table. There's no need to take our word for it. Look at the top-performing companies and whether or not they automate their sales process.
5

Half of all sales time is spent on ineffective prospecting. — The B2B Lead

It's important to target a specific kind of customer. Know who your ideal customer is and market to them. Use this profile of the ideal customer as a template to generate other leads.
6

Sales reps who use social media in their sales are 50% more likely to meet or exceed their goals. — InsideSales

LinkedIn is especially useful for these types of sales.

Poor time management and ineffective CRM software are usually the culprits.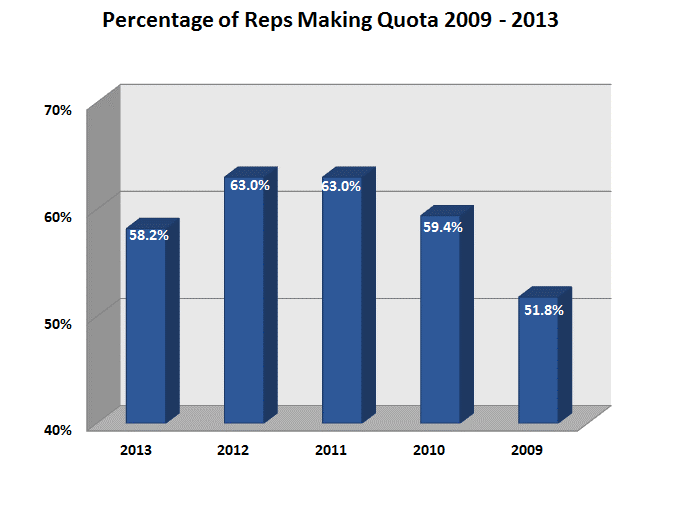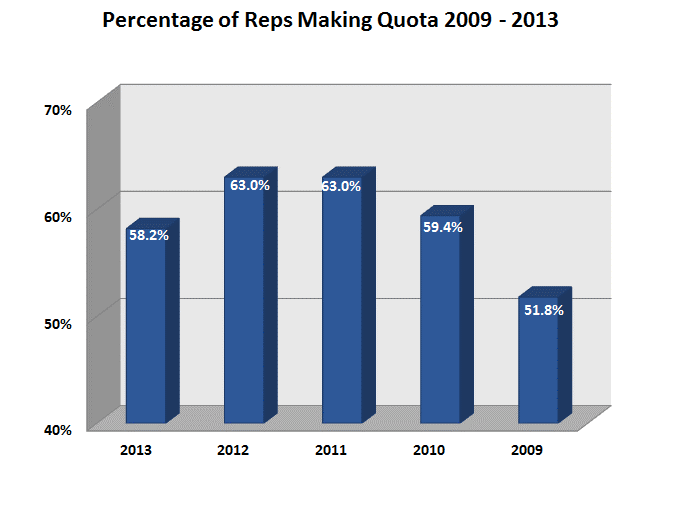 (Source: MaximizeBusinessMarketing)
8

Almost 90% of workers are not actively engaged in their jobs. — Gallup

Not only does a lack of employee engagement result in decreased productivity, but it also causes high turnover.
5 Benefits of Automation
When you feed your manual processes to the automation genie you get 5 wishes answered:
You can go back to your real job of selling
You can spend a whole lot more time prospecting
You can focus on lead generation again
You can actually nurture your leads
And voila you can close more sales
You have made it through the Ninja warrior minefield of cumbersome tasks and confusing info and have become a true sales hero.
"Life at any time can become difficult: life at any time can become easy. It all depends upon how one adjusts oneself to life." ~ Morarji Desai
Sales Productivity Hacks
Just do a Google search, scroll your Facebook and LinkedIn, or watch videos on YouTube and you'll see some form of content that is made to help people become more efficient. Tim Ferris has made a career of personal optimization. The folks at LifeHacker have, too. Productivity hacks for home and work are all the rage.
People are obsessed with them.
Everyone desires productivity, saving time, and seeing better results. I get it. We talk (a lot) about the sales process. Streamlining your funnel and getting better leads is the reason we exist. But that doesn't mean we don't enjoy reading about sales productivity hacks.
The opposite in fact. We automate, streamline, or improve all day long (when we're not messing around online).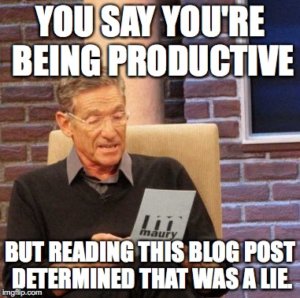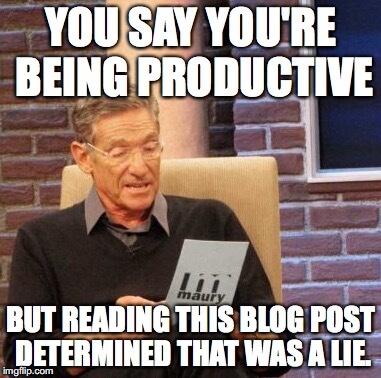 Quick Links to Productivity Hacks Sections
So this post is a mega list of all the sales productivity hacks we can put together, big and small. Some are more in-depth, others are quick. Ultimately it's a resource (I hope) worth bookmarking, revisiting, and even sharing with your team and new hires — giving them a leg up.
Onto the list.
"Information is useless if it is not applied to something important or if you will forget it before you have a chance to apply it."—Tim Ferris

 
6 Sales Organization Hacks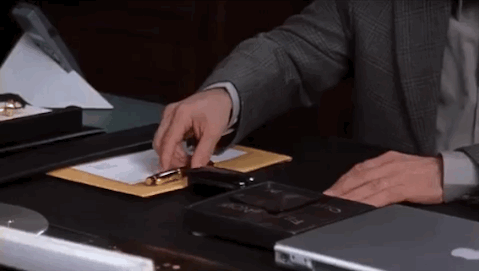 1. Organize your physical workspace
We've all swung wildly from having a somewhat messy desk to an absolute wreck. It usually ends up with you screaming, "I can't live like this!"
Next thing you know, you're hauling out 5-6 of those tiny trash cans full of post-it notes, Mt Dew bottles, and who knows what else.
The truth is that a messy work environment messes with your mind. Most people get more stressed (without even realizing it) and it can slow you down both mentally and physically. Not to mention that if the boss and co-workers walk by — you look like a slob.
Further Reading: Here's a great post about the benefits of a tidy workspace.
2. Organize your mental workspace
Every job can be stressful.
Even if you have one of those "never work a day in your life" gigs, there are always going to be tough times. It's knowing what to do the event you get stressed that can make the difference. If you're under a tight deadline or just going through some stuff — do something to clear your mind.
Call an old friend
Take a nap (if allowable)
Hit the gym or track during lunch
Take regular breaks (especially important if you work at a desk)
Just like your workspace, don't let your head get too cluttered and stressed before you do something about it.
Further Reading: Check out this post from PopSugar with 13 tips to destress at work.
3. Batch your tasks
You sit down to do some lead gen and BAM, you get an email that you want to reply to. Next thing you know ZING, the boss calls a quick meeting. Before you can even remember what you were doing POW, you have to meet with a client.
Then, the day is done and it's time to go home. No leads for you.
Besides the Batman references (rest in peace Mr. West), this probably happens to you. Unless you bat-ch (see what I did there) your tasks. Whatever you regularly do should have a set time or even day of the week.
Things like:
6 a.m., 11 a.m., and 3:30 p.m. is Email time
All my meetings happen Tuesday through Thursday
Admin and lead generation is on Friday (unless leads are automated) : )
You get the idea. One of the most prominent time batching techniques is called The Comodoro Technique. Essentially, it's a set block of time (say 20-30 minutes). You plan out your day in those blocks and take a 5-10 break in between each.
This is incredibly handy if you write a lot or find yourself doing a lot of tasks in front of a screen.
Further Reading: Michael Hyatt is fantastic at getting the most from your time. Here's his post on batching tasks.
4. Think about your workflow
Once you have your tasks all batched into segments, it's time to rearrange everything and put it together in a way that really gets you the most bang for your buck.
Sales reps and managers will tweak and test every element of their cold email and sale process to maximize everything. But when you can line up the workflow to match your outreach and lead nurturing, that will take your team to a whole new level of rhythm and efficiency.
There are times each week, month, and year when the team has to be on. Launches, promotions, etc. Understanding and working through these times and allowing things to calm down is crucial to the long-term health of the team and a company.
"Alternating periods of activity and rest is necessary to survive, let alone thrive."— Tim Ferris
Further Reading: A great piece on workflow from Namely.
5. Leave it clean
Enough with the cleaning stuff already.
Believe it or not, this isn't an organization tip in that sense. Leaving it clean is all about not having anything to stress about the next day (really that night, if we're honest). Tossing and turning over an unfinished project is not a good idea.
Know what you're doing at the beginning of the day and after lunch does an assessment. If you're not going to get everything done, pick out the best "stopping point". Then, allow 15 minutes or so to line out the next day.
Finally, wrap that day in a bow, stick a fork in it, or whatever other cliche you want to use, and go home.
Further Reading: Ever wonder how "exceptionally productive" people end the workday? Todoist wrote about it here.
6. Review often, review regularly
Much like the sales process, you can always find ways to improve your workplace organization.
Review what it is you're doing. You don't have to be a founder to automate tasks. If you're doing something that can be handled by a bot (and it's within company guidelines)—make it happen. You can also discover if the days and times you're working on things is really the best thing to do.
Keep detailed track of your days. What you're doing now and then, after some thought, write down your ideal workday.
Get as many days as possible as close to that picture. You do this by reviewing what you actually do on a regular basis.
Further Reading: A great read from proofHQ about improving your workflow.
5 Digital Hacks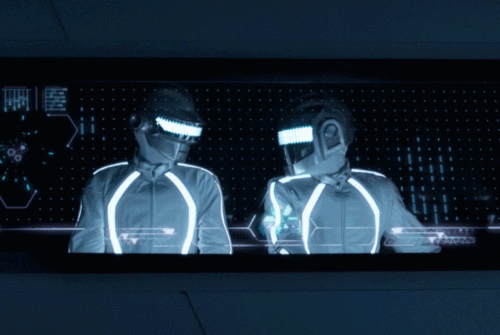 1. Use IFTTT (If This Than That)
Evernote, Gmail, Twitter, LinkedIn, Slack, and just about every other popular app is probably on your phone/tablet/computer.
These applications are all awesome and useful, but sometimes you have to close one and open another or be a little bit more 'hands-on' when using them all in tandem. IFTTT is an app that helps you join the most effective apps together to become super powerful.
Example: IF your weather app shows (this) rain in the forecast tomorrow (than that) it will send you an email. These equations of if-this-than-that are called "applets". Cool, huh?
It can help you with your everyday used apps (like weather). However, it can be used for sales, too.
There are applets for CRMs, social media, and organizational apps to all work together and make you way more productive. For instance, you can set up an applet that alerts you when you (or your company) are mentioned via Twitter. Or, you can create a task in Salesforce when a new opportunity is won.
Here's a screenshot of six of the 24 applets for SalesForce.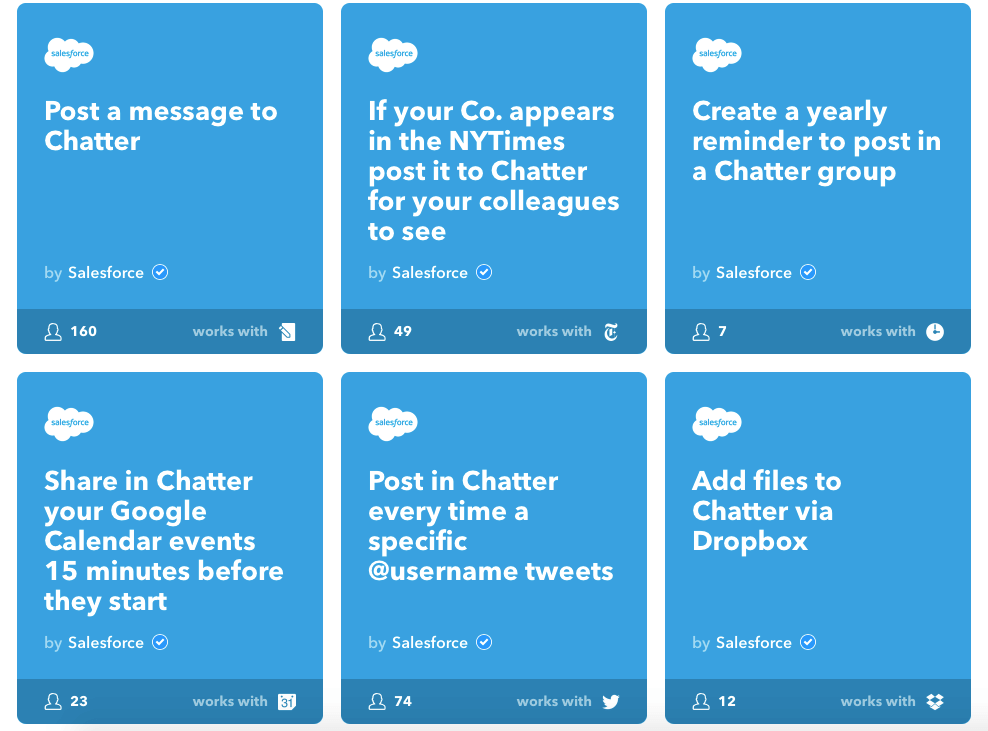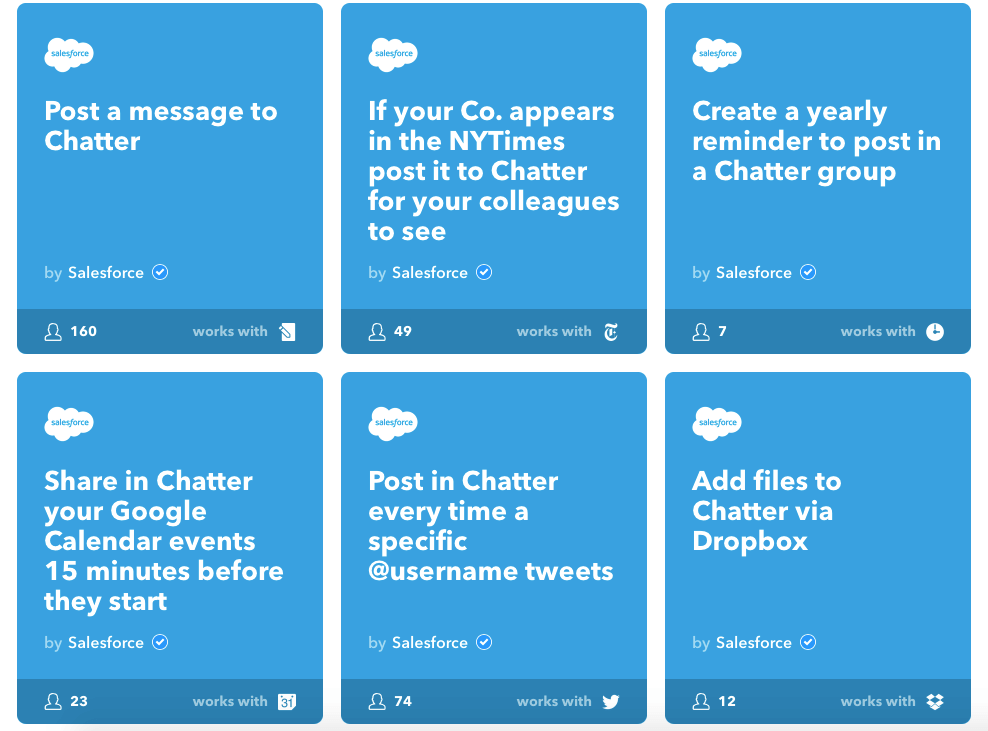 Further Reading: Check out Hatchbuck's list of ways to close more deals with IFTTT.
2. Get awesome tools to automate wherever possible
IFTTT deserved its own mention, but there are literally dozens (if not hundreds) of tools that can help you automate things.
For instance, Pocket can help you snag those awesome stories from around the web and store them to read later — even if you're offline. This makes it super easy to find a few dozen stories quickly in the morning, skim through them during downtimes, and then posting the best to your social media.
Other tools can be useful for your sales. For instance, LeadFuze is a complete automation platform for B2Bs lead generation and cold email outreach.
You just choose the industry, contact desired, and a few other criteria, and Fuzebot will gather leads automatically and send them your cold emails every day.
Imagine the kind of time and energy this automation can save you (or your reps).
Further Reading: Here's five tools recommended by FastCompany.
3. Don't use too many tools
There is always "too much of a good thing". Apps aren't an exception to this rule.
Founders, reps, and managers can all find themselves working for their tool stack instead of the tool stack working for them. It's this danger that has many of us do way too much "busy work" and not enough effectual work.
Of course, I can't tell you how many is too many. But we did write a post about choosing the right tools. You'll have to honestly judge if your tech stack is working for you or against you.
Further Reading: A great post from Gizmodo (they would know about this potential problem) asking, "how many apps is too many".
4. Use a good calendar
If you use Gmail, you have Google Calendar. Or, your company probably has another viable option set up for you.
The only problem is, you're still using post-it notes and paper planners to manage your sales life. Instead of being cool and collected — knowing that you're exactly where you need to be — you're like that guy in all the movies frantically running down the hallway with papers falling out everywhere.
Here's how to avoid this:
Step One: Pick a good calendar. If you're not using one now, I'd recommend Google's. It has a ton of functionality and integrates so well with everything.
Step Two: Use it. Seriously, put all your regular meetings in there. Section off the times that you are 'batching' tasks. Set up email reminders to alert you when you're supposed to be where. Use IFTTT to make it even handier.
Step Three: Get better at it over time. That thing can be color-coded and separated between work, home, and other engagements you may have.
Further Reading: A massive list of 50 tips for Google Calendar from StudyWeb.
5. Use Calendly to make your calendar better
There really isn't a reason that all sales-facing roles aren't using a tool like Calendly.
Availability is the name of the sales game and this calendar tool allows you to show the times you're open to prospects and let them choose when they can talk.
We all know that response (from a cold email or call) is what drives conversations. If you can get a lead to chat, you can qualify them. A clear, compelling call-to-action (CTA) is crucial for this to happen. What if prospects could see a time that fits their schedule by clicking a quick link?
And what if they could then schedule a call with you?
There is also a slew (is that still and expression) of options for managers and CEOs to manage the meeting structure of your team.
Further Reading: A post from Calendly telling us how sales folk are using their tool.
9 Email Productivity Hacks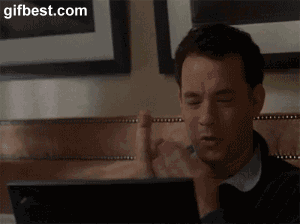 1. Clean out your email subscriptions
Over time, we all build up tons of newsletters. Maybe it's a download you were interested in, a webinar you signed up for, or just about any other reason to pass out your email. The point is, your inbox gets cluttered.
Decluttering it isn't as difficult as you may think — especially if you use Gmail. Here's how in two easy steps.
Step One: Put "unsubscribe" in the search bar at the top of your email and hit enter. You can try variations of this word (e.g. subscription, manage, etc.).


Step Two: Choose the emails you no longer want to get. Look at how well it works (screenshot).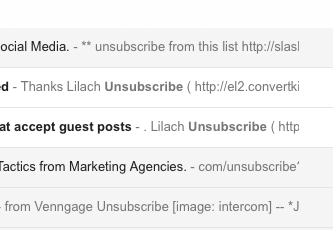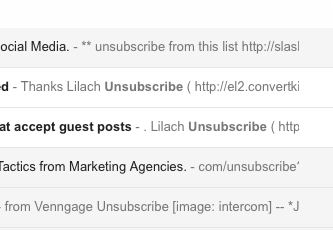 Bonus Tip: You can also use a tool like Unsubscriber.
2. Tame the beast we call email
Ok. Ok. Yes, the last tip will go a long way toward taming the email beast. That said, most of the problem isn't your newsletters.
I know this from experience. Every Monday at 8 a.m. I (sometimes) have more than a dozen emails that I've "snoozed" come flooding into my inbox. While delaying your emails can be a great trick (we'll talk about it in this section), it can also be a bad deal.
The hack here is to deal with your business — or put it where it belongs.
If there is an article you want to read, read it, or put it in Pocket to read later. Then archive or delete the email.
The email has something you need to do that only takes a minute? Do it.
It may not sound like a hack, but if you keep emails sitting in your inbox you'll get overwhelmed, and once a week/month you'll have to take an hour or more and go through them all—wasting more time than it would take just dealing with it.
Further Reading: Helpful post from The Muse about keeping your email under control.
3. Stop using your inbox as your to-do list
Again, my guilty hand was once raised on this one. Struggling to get rid of those bad freelancer habits from my past. But like many of our other hacks, it's fixable in two steps.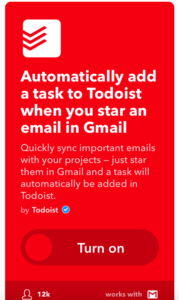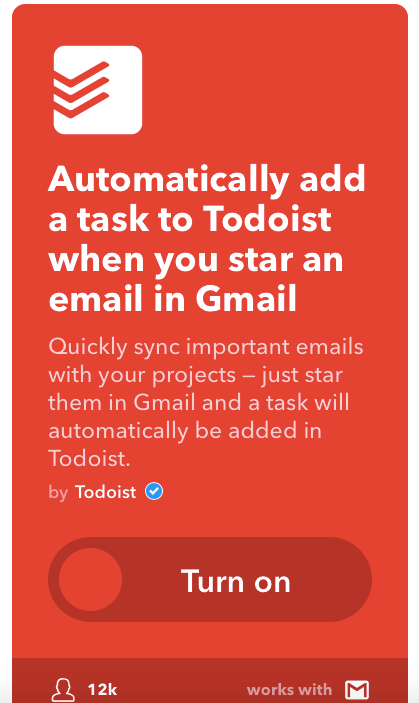 Step One: Get a to-do list app (Like todoist, or Wunderlist). I'll go ahead and suggest todoist because you can actually automate this with IFTTT. Step Two: If an email comes in that has a clear task, create it on your to-do list. Or, you can set up an IFTTT applet to do it for you (see screenshot).
Get them on your list and out of your inbox. Of course, you'll have to learn to use the list app as well as batching tasks for this to be effective. But, once you've done it, you'll be much happier.
Further Reading: Here are 9 ways to instantly turn emails into tasks from MakeUseOf.
4. Use SaneBox to love checking email
Do you ever find yourself saying that your inbox drives you crazy?
The fine crew over at SaneBox may have just become your best friends. If you find yourself with hundreds of emails coming in every day, you'll want to watch their quick video.
There are so many other features that you can add, depending on your account. But a robot that keeps you from unimportant emails sounds like a dream come true. And that's what many people are saying about them.
Further Reading: Here's a post from the SaneBox blog about keeping your email management at around 2 minutes.
5. Use templates
You may have heard the saying, "automate anything you do twice". It's great advice for founders, but can also be helpful for sales and marketing teams.
There are tons of things that can have a simple template email for you to quickly send out. You don't want to automate your sales conversations, but FAQ-style questions and other things could be used to save time and respond quickly.
Here at LF, we just started accepting limited guest posts to find good content and other good, like-minded companies.
Our guidelines page gives me an idea of how well responders pay attention to details (there are specific things we ask for) and tells them exactly what we need. I then have a quick template that helps me speed up the process.
I still have to visit their site, check some stats, and choose from their list of topics. But that can be quickly added to a template (like the screenshot below).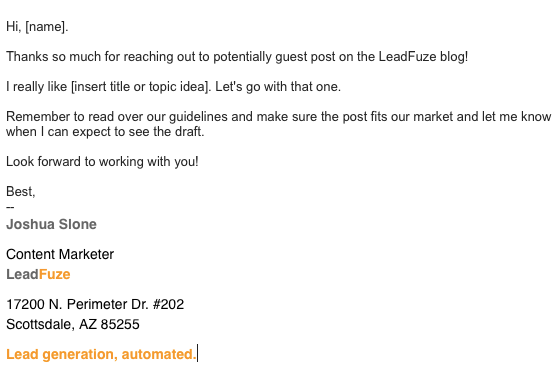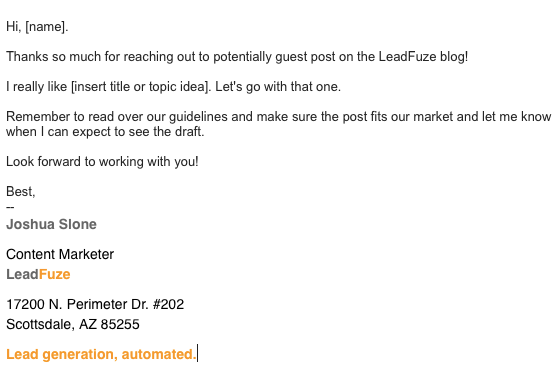 You can also have the inverse of these responses. Like, if I have to decline an opportunity, I can have a template for that, too. Makes it easier to break bad news if you don't have to write it out every time.
Further Reading: Here are 12 different templates that you may be able to use from YesWare.
6. Snooze or Boomerang
Ok, you shouldn't do this to set up reminders of to-do list style items. That said, there are many reasons to want to "snooze" and email and have it reappear at a later date. I'll give you two instances that I personally use regularly.
Non-Sales Contacts: If I'm organizing guest posts or asking for input in a post I'm writing — I love to snooze emails. People are busy and say things like, "I'll need to wait on this until the end of the month." Or, "Can you ask me again in September?". Snooze that email and then reply. They'll see what they told you and feel obligated to respond. It works.
Subscriptions: If you're like me, free trials are a no-brainer. You want to let me try your tool for 7, 14, or 30 days — let's DO IT. Likewise, I'm terrible at remembering to cancel or purchase. Either my account is charged for a product I don't want, or my data is lost for a product I do want. Having the email come back a couple of days before the trial is up alleviating all the problems.
I use Streak's "Snooze" function to do this (see screenshot).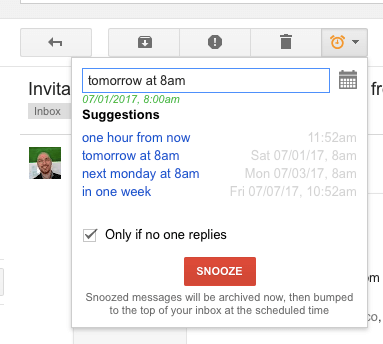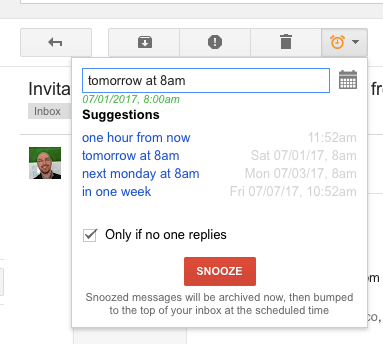 7. Don't use email as team communication
There are so many project management and communication apps out there. It's really the poorest way to keep a team organized.
Either people will be getting emails they don't need, or people who need the emails won't see it because of all of the different responses. The email could be the biggest necessary evil in the business world at large. Seriously.
I'm sure it's no shock to you that LeadFuze uses Slack.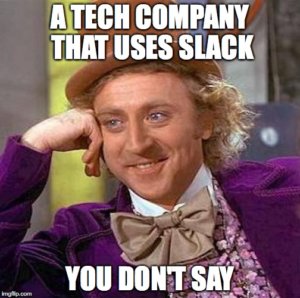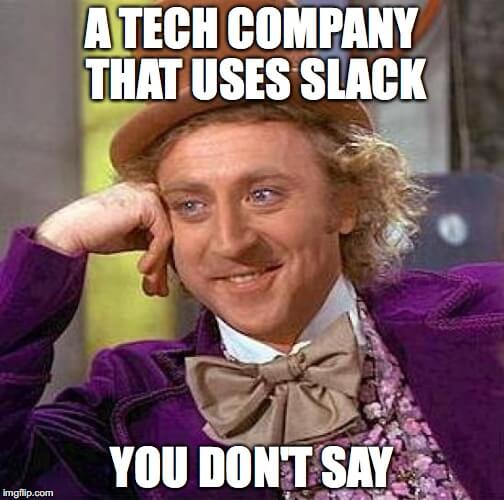 8. You don't have to be the last word
How many emails have you sent that are less than three words? You know the ones I'm talking about. Where you say stuff like:
Awesome, thanks!
Looking forward to it.
Glad I could help.
Sometimes, during prospect and client interaction these things are unavoidable. That said, most of the time you should be good to let the person on the other end of the conversation have the last word. A better idea for you, in these cases, is to put the item in the email on a to-do list.
Doing so will get you out of the habit of relying on your inbox to tell you what to do.
9. Use "auto advance"
Here's an amazing tip from Rob Rawson of staff.com. You know how (in the old days of emails) you'd just open an email, make a decision (either to keep, trash, or archive), and then the next email would load up automatically? This is still possible and amazing.
It'll take a bit of a tutorial, I'll try to move quickly.
1. Go to Settings by clicking gear icon in the top right of your Gmail.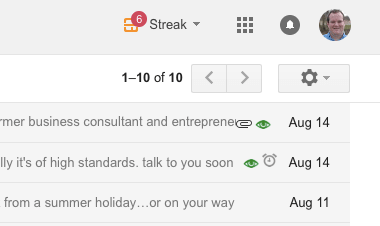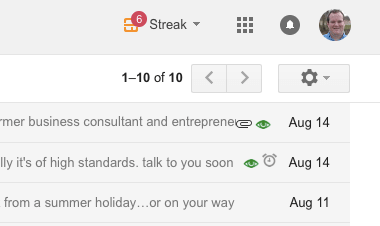 2. Click the Labs header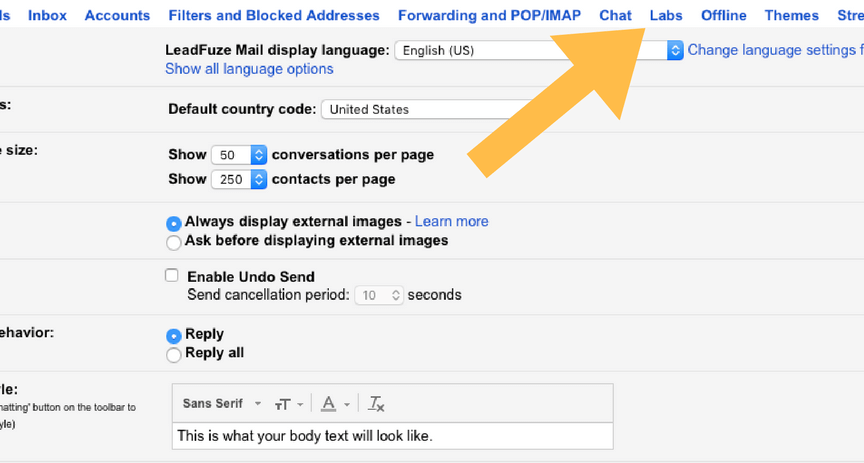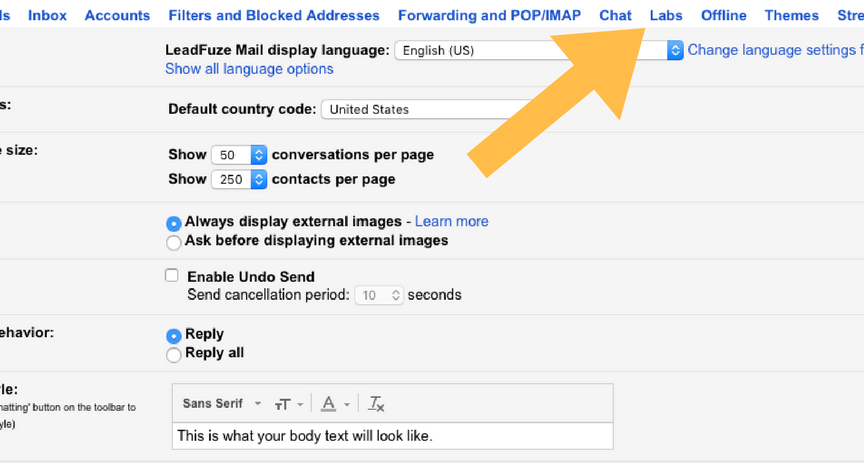 This should bring up a list of some "crazy experimental stuff" that the Google folks are working on.
3. Find or Search for "Auto-advance" and "enable" it. It was right on the top for me when I searched.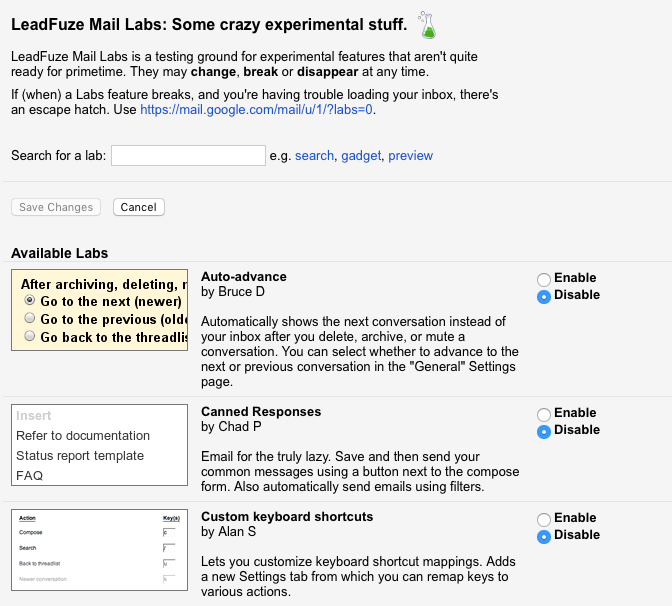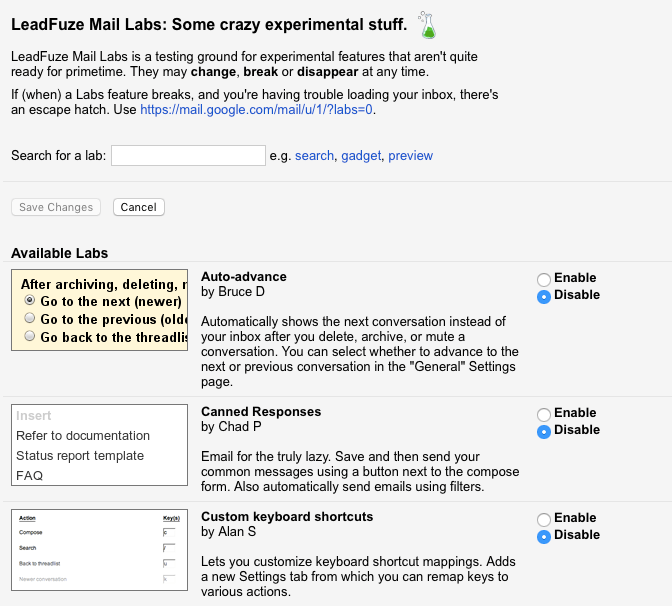 4. Save your settings. This will then return you to your inbox.
If you prefer clicking on each and every email to look at it, change it back. But it's worth a shot.
3 Productivity Hacks for Your Senses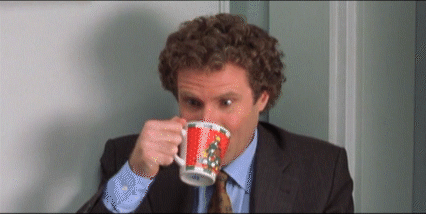 1. Get a better coffee
There are a lot of stats rolling around the web saying that coffee is a good thing for productivity. In Arizona, especially in the summer, it's hot.
Like, makes normal stuff look like a Dali painting – hot.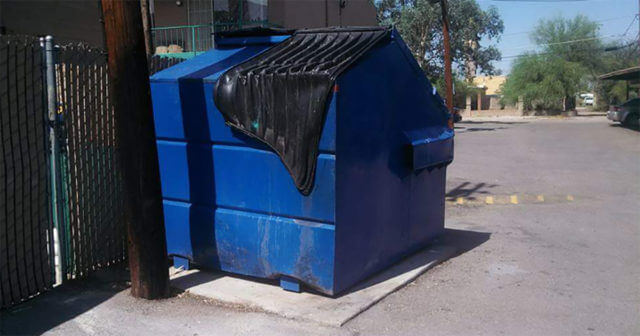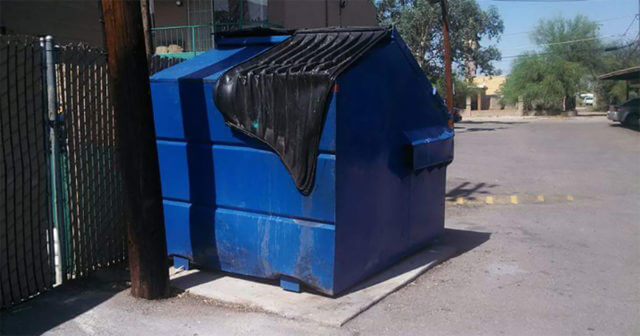 (Source: Tribunist)
That's beside the point. Coffee can help you be (or at least feel) more productive. But not all coffee is created equal. Apple improves the morale and works output of their people with expensive coffees made right there in the office.
Others are experiencing the benefits of "bulletproof coffee".
Essentially, it's made with:
Good quality coffee (preferably starting with whole beans)
Coconut oil (for all of the benefits it has)
Unsalted organic, grass-fed butter (you heard that right)
Don't knock it till you try it. I don't drink it regularly, but the energy delivered from this drink (from experience) truly doesn't leave you crashing an hour or two after you drink it.
Further Reading: If you're interested, here's a solid definition and explanation from the folks at Bulletproof.
2. Listen to music during admin times
Obviously, you're not going to be blaring some tunes during your calls. But you may want to turn up some music during those times you don't interact with anyone.
Music, especially certain kinds of it, can change your ability to perceive time in a way that makes you increase your output on certain tasks. It can also give you the motivation you need to persevere through the toughest, most mundane aspects of your office tasks.
Some experiments have shown it to make these tasks more enjoyable. It's also shown to make you more creative.
It's not all sunshine, though. Music isn't great when you're trying to learn things. But those things that you do on the regular could be aided by some instrumental music.
Super Tip: Use FocusatWill. It's incredible and their music is chosen based on science and tested by their users to produce maximum effectiveness. There are also some productivity tracking tools available. All for a decent price.
Further Reading: A post from the FocusatWill blog from a Ph.D. about some scientific productivity secrets (hint: music is in there).
3. Smell something good while your awake (and working)
Never thought I'd write about the need to get a diffuser and put it in your office, but here goes.
Smells have an effect on all of us. Disney literally puts unique scents in their hotels and even certain attractions to brink a certain euphoria when you smell them. It really creates an other-worldly experience, which is one (of the many) reasons people keep going back to the parks.
It's not just a Disney thing, though. Studies show certain scents make people more productive (among other things). Citrus (like orange and lemon) is the most effective for mental clarity and work productivity.
Why?
Well, it's not like a drug—so don't worry about that.
It's more about the association. Think back to being a kid when your parents (or you) cleaned the house. Most of those cleaners in our day had some sort of fresh clean smell (i.e. lavender, lemon, whatever Windex is, etc.).
We associate these smells with a clean environment and the work that it takes to get it there.
So, like Disney creates their smells to remind you of the fun you're having, you and your guardians have programmed you to associate lemon (and other scents) with some good old-fashioned hard work. So, get to smelling.
Further Reading: You can see what other smells do stuff in this post from LifeHack.org.
12 Sales Team Hacks
1. Negotiate a raise
It's not a shocker that most sales reps are, at least partially, motivated by how much they earn. In many cases (not all), more money = more motivation = more productivity.
Asking for a raise isn't easy, but there are times when you can and should talk to your supervisors about getting a pay increase. We actually wrote an entire post about it here as well as an infographic that shows the average salary by state for sales reps.
But here's the gist.
Know your numbers: Both the numbers that you are required to hit as well as the average salary of reps in your state (hence the infographic).
Be good at your job: Have a little self-awareness and honestly evaluate whether or not you're worth a raise in the first place. If so, ask. If not, be better.
Do it: Once you fully understand (by fact, not emotion) that you deserve a raise, don't back down. Set a meeting, come prepared, and ask respectfully.
2. Hire a salesperson
Perhaps one of the best hacks on this list for anyone who is still handling the entire sales process. Sure, you may have VA's, employees, and even a project manager. But when it comes to getting new clients, you're it.
This hack doesn't have the instant gratification of most of our other entries. It will take time and may even frustrate you. Here are some of the benefits and considerations to help you along.
Hire a Development Rep: You can and should be the closer after your first sales hire. The rep should develop and send qualified prospects to you. This still saves you a ton of time and will actually (when done correctly) increase the number of sales-qualified appointments that you have.
Do It All Slow: You can plan ahead as best as you know how, but this is still a very fluid process. It's your first sales hire. It will be exactly as troublesome as it sounds and it won't likely last long either.
Keep Going: If you fire the first rep, hire another. Just learn from your mistakes. Once you actually have a system and a good SDR, things will take off for the better.
Check Out These Posts: 
3. Improve your sales process
Where do you get your clients? How do they become clients? How long does it take? And how much does it cost?
If you are unsure of most of these questions, it's likely that you need a better sales process. Knowing the answers to these questions can give you data. That data can then help you do things that improve each of those data points.
For instance, if you know that all of your clients come from "word of mouth", you may realize that this isn't scalable. Referrals are great, but they just aren't reliable to grow your business. Now you have data and you can try things (social ads, guest posting, cold outreach, etc.).
Or, if it takes 4 months on average to close, you can dig in and figure out why it takes so long. What objections are not being answered correctly and what content needs to be written to alleviate these concerns.
Further Reading: We'll let Salesforce help you out a bit more with this post.
4. See if you're really using your CRM
Most businesses with a somewhat outlined sales process will utilize a CRM. But a well-used software can become an assistant to a sales rep and a data-generating machine to marketers who want to improve the company's sales and marketing effectiveness.
Here are the basic tips to take your CRM game to the next level.
Training: It's too easy to add a new hire into the CRM and give them a few of the tutorials available online. This is too, eat or be eaten. Their success is your success and if you want the benefits of a well-tuned team using the tools you're paying for—help them.
Integration: The best CRM is one that is harmoniously attached to the others. Social, Gmail, and several other apps all brought together to give you the pulse of your leads.
Encouragement: Using the CRM better will likely give you cause to show the team how well it's working. Use the data that these tools give to track progress and encourage the team by showing them the results.
Further Reading: Here are some more pragmatic ways to increase CRM usage from our friends at HubSpot.
5. Get better data and use data better
There are a ridiculous number of places to buy leads. Direct mail leads, phone numbers, and the coveted email. But if you've bought leads, you probably know that a lot of it is either outdated or incorrect.
In today's technologically advanced world it shouldn't be so.
Bad data leads to poor quality leads. This leads to a wasted time for your reps and often poor performance. If you buy leads, make sure it's from a source that really checks contact data. For instance, LeadFuze double verifies every email.
Another part of the equation is to use data better. Use reporting to figure out the best times to send emails or make calls. The times your prospects are using to read and answer.
Here's an example screenshot from the LeadFuze app showing when emails are getting opened. Imagine structuring your send times and call times accordingly.
How many more connections would you make?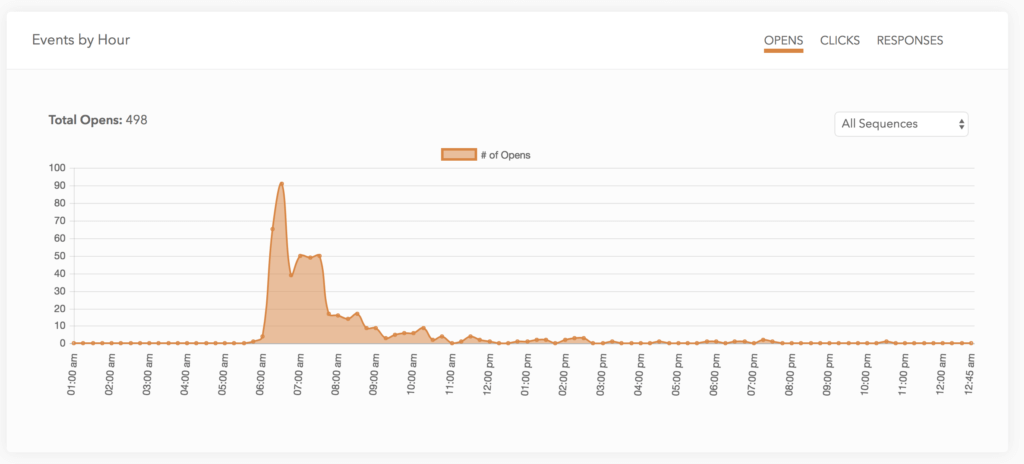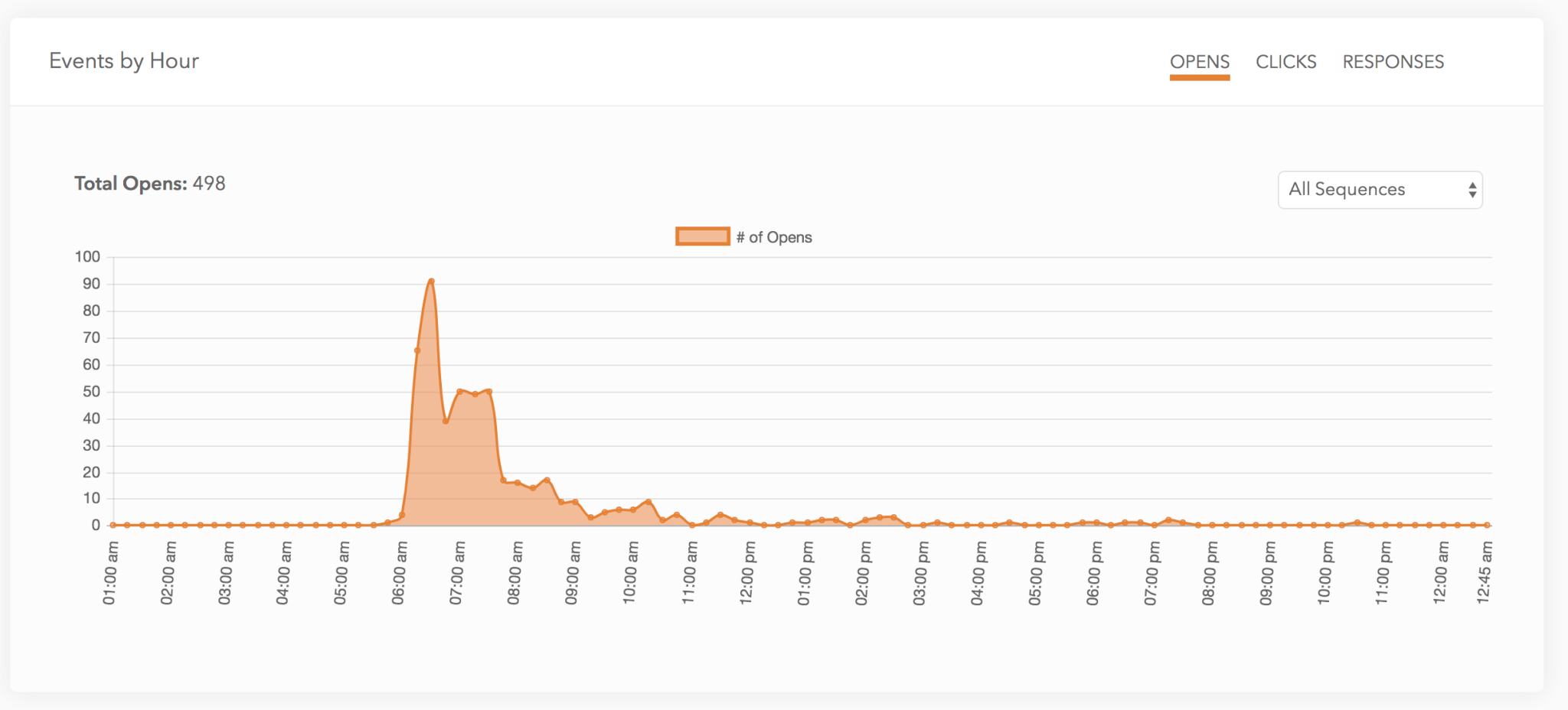 6. Cut your prospect list in half
You heard that right. Chances are, your list of leads is too big. But here's the thing, the contacts aren't good enough for you.
It's not just about fewer leads, it's about better quality prospects.
For that, you'll need to understand your target markets (do you even have those?). Then, you'll need to find out who (typically) makes the decisions in the companies within your target market.
We've written several posts on the subject, but this one will get you started.
7. Find leads by being everywhere
It takes about 6-8 contact points to really get a good chance at closing a deal. Just using one method can be counter-productive to your efforts.
Instead, you have to try multiple ways to get in touch. Here's a sample schedule in graphic form: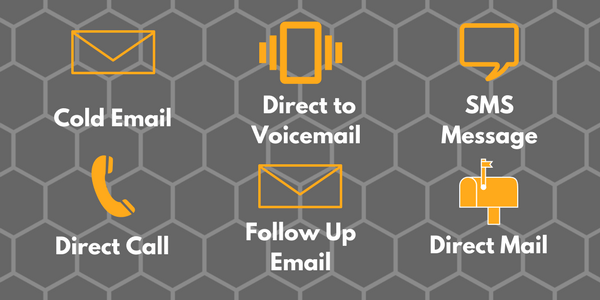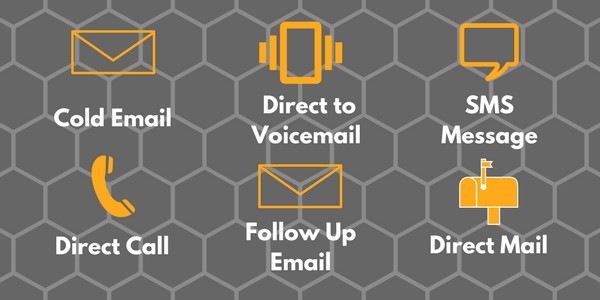 You can experiment with the cadence, but with the right tools, this isn't difficult to achieve.
8. Automate outreach emails
One of those tools is using an automated email service (kinda like ours). Once you set the target market, key decision-maker roles and a few other details — Fuzebot takes over.
He'll find and send your leads to cold email tools to contacts. That means, you can do your job and only talk to those who are interested in finding out more about your offer.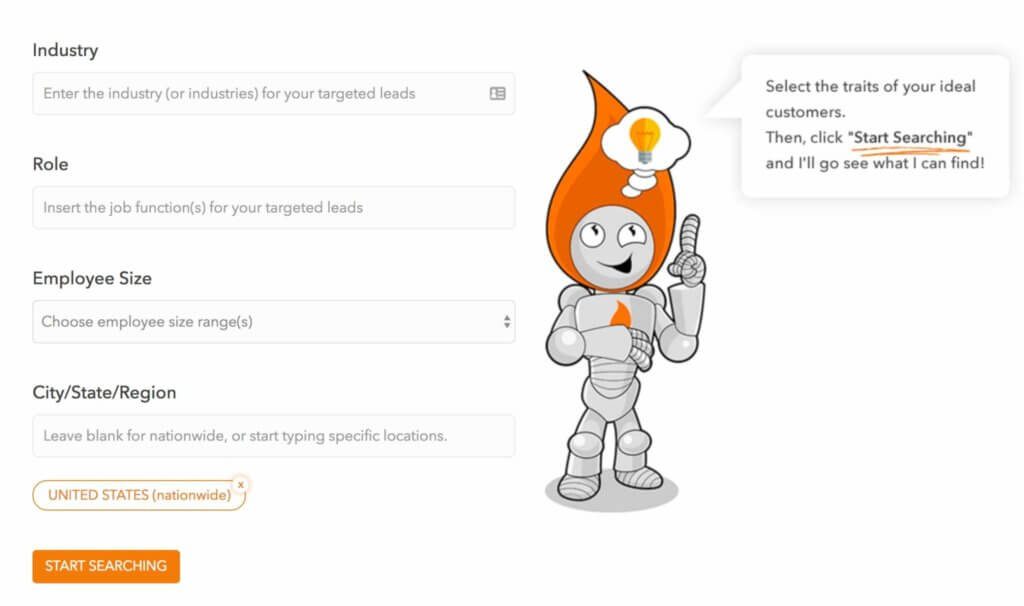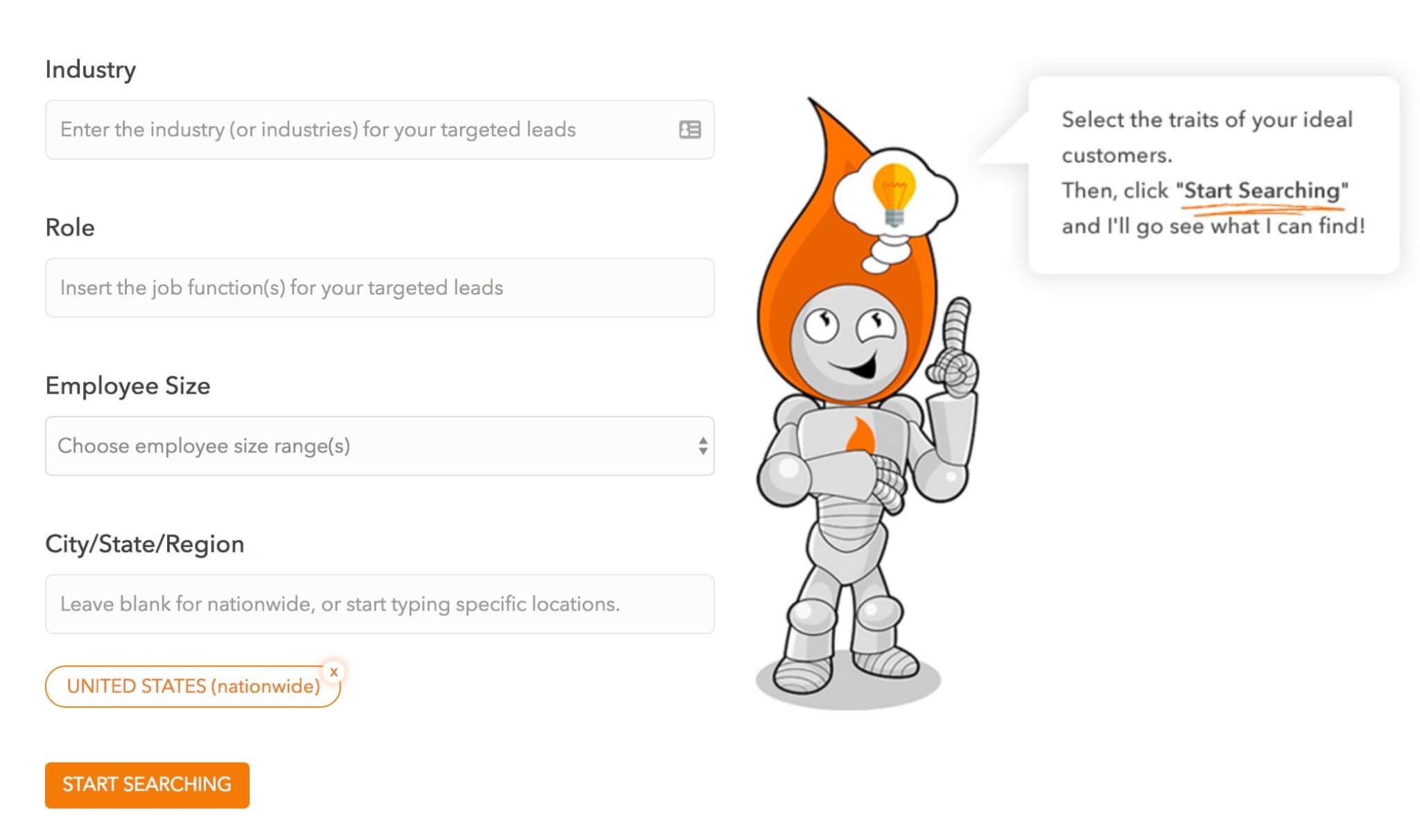 9. Schedule meetings like it's your job
Reps have a decent amount of tasks to do that are related to sales, but not always setting meetings. I'm sure you've had the thought that you need a virtual assistant just to set appointments. Some sales roles may even provide this luxury.
But for most of us, we set our own meetings.
Using a tool like Calendly (I know we mentioned it before) can really remove a lot of headaches in the scheduling process. You set when you're available and whoever you need to meet with chooses a time they are available. Then, the appointment is set for you.
It's really amazing and you can put links to our Calendly in emails so interested prospects can just set a time with you immediately.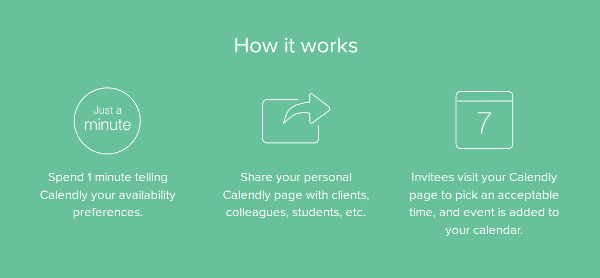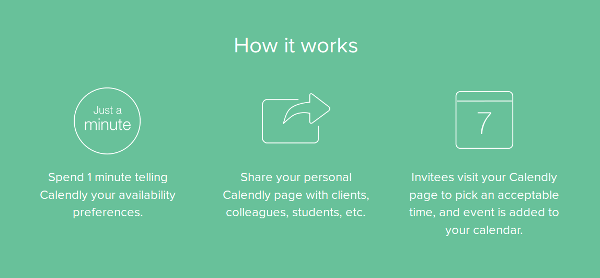 (Source: Calendly)
10. Take time before each sales call
One of the worst things you can do is just pick up the phone and dial. Even if you are fluent in your product's features and amazing at overcoming objections — take a few minutes to do a few key things.
Acclimate yourself to this prospect: Take a look at CRM notes, try to recall previous conversations. Preferably, you would have taken notes before this point. Review them and get ready to talk to this person, not lead number 150.
Pull up everything necessary: From the CRM to a glass of water — make sure you are ready to go and won't need anything.
Get your head in the right place: Tony Robbins jumps on a trampoline and takes a dive into a 57-degree pool every morning. Sometimes you have to figure out what works for you and do it before you speak with someone.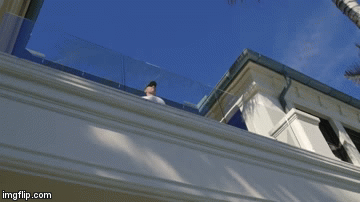 Further Reading: A great post (and video) from Kim Orleski about preparing for a sales call.
11. Catch up on the industry until you're inspired
What you read puts you into certain moods. If you read an intense true-crime novel before bed, the next day you may not be ready for sales.
To get there, try reading a few posts in your target industry. Or, you could check the latest sales tips from the best sales blogs.
12. Then, abruptly stop reading blogs (for the day)
Once you feel yourself coming to the point of inspiration, pull the plug on your reading. You want to avoid content confusion. Just enough until you're ready to get on the phones.
6 Sleep Productivity Hacks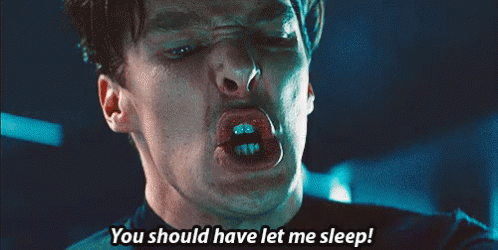 1. Smell something good while you sleep
Lavender, chamomile, jasmine. These are just a few of the scents that are great to help you get better sleep.
How?
Well, there are a few ways. Fresh flowers and incense are more classical ways. But nowadays, the most popular are — Essential Oils. Yep, a sales blog just started talking about essential oils. Don't worry, we're not going to go too far.
Just head to a big-box retailer (or Amazon), spend $5 on the oil and about $15-$20 on a diffuser and let it rip.
2. Give your eyeballs a rest already
I know it's hard. When you live in your inbox, you are constantly online. And when your inbox is available on your phone — forget about it. But too much time has an effect on your sleep.
However, it's suggested to stop all screen time at least one hour before you plan on going to bed.
3. Count 90 minutes at a time
There are five stages of the sleep cycle that take about 90 minutes to complete. It's good to have 5 or 6 sleep cycles per night.
While there may be some transition time between cycles, setting your alarm to a 90-minute increment can help you wake up clearer and feeling more refreshed.
Example: You typically go to bed at 10:30 p.m. In order to get 6 good sleep cycles, you'll need to need to set your alarm for 7:30. It's also possible to experiment. Try going to be earlier/later or set your alarm for 5 cycles (6 a.m. from our example) instead of 6.
4. Just get up
If you're the type who finds themselves awake at 3 a.m. and can't go back to sleep — just wake up.
I wouldn't suggest doing this if it happens more than a couple of times per week. But if you just get up and start your day, things will likely shake out the rest of the week. You'll be tired enough for bed the following night and may even sleep the night through.
5. Stop drinking caffeine (by 1 p.m.)
Caffeine has about a six-hour half-life. If you go to bed about 10:30 p.m., stopping in the early afternoon will keep the energy component of your coffee and soda from ruining your sleep.
Productive sleep doesn't just happen with a good bedtime. It happens when you make slight shifts in your daily routine that result in better, more peaceful sleep.
6. Exercise early
Exercise has proven to both improve endorphins (making you happier). Most people know this fact. That said, it's lesser-known that regular morning exercise helps your body produce more natural melatonin at night.
When you regularly put in a workout in the morning, your body wants to sleep well the night before (to prepare for another workout).
More Productivity Hacks to Increase Sales Productivity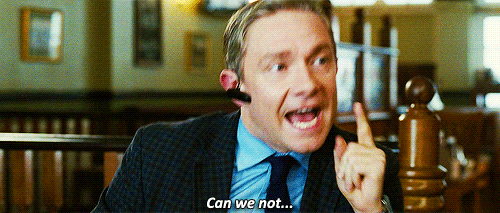 The cliche, yet powerful S.M.A.R.T. goals
Sure, you've heard of smart goals. But do you really use them?
One guy (John Lee Dumas) always executes and he wrote a guest post on the subject of SMART Goals. Feel free to check it out, right here.
Build up those regular muscles (aka exercise)
You know you should be doing it. I know I should be doing it. So, instead of harping, I'll just put this meme off a disappointed stormtrooper.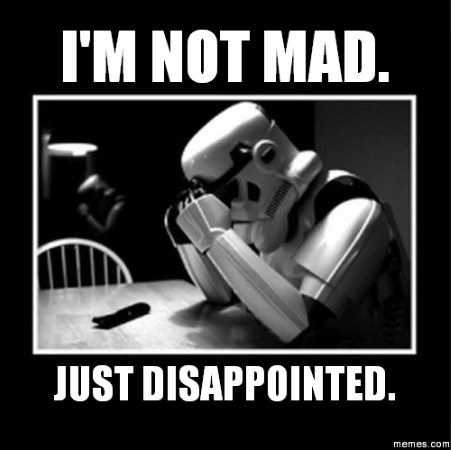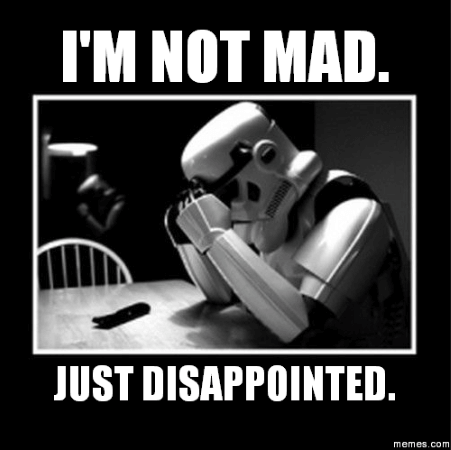 Drink more water
No. Drinking water will not make you a better sales rep. However, even slight dehydration has such a large effect on cognitive abilities (according to research). I don't know how many sluggish reps are making quota, but it's probably not many.
You may not have to set an alarm, but why not bring a bottle of water and fill it up every time you get up from your work area. Bathroom break? Fill it up. Taking a stroll to stretch your legs? Finish off what's in it and fill it up.
If you can associate your water bottle with leaving your desk, you'll likely not be dehydrated.
Eat your frog
I read a book years ago called "Eat that Frog" (not an affiliate link).
The Gist: Do the hardest thing first thing. Whatever you don't want to do at the start of the day, do it first. Get it over with. The author (Brian Tracy) essentially says, that if you woke up every morning and ate a frog, the rest of your day would be great by comparison.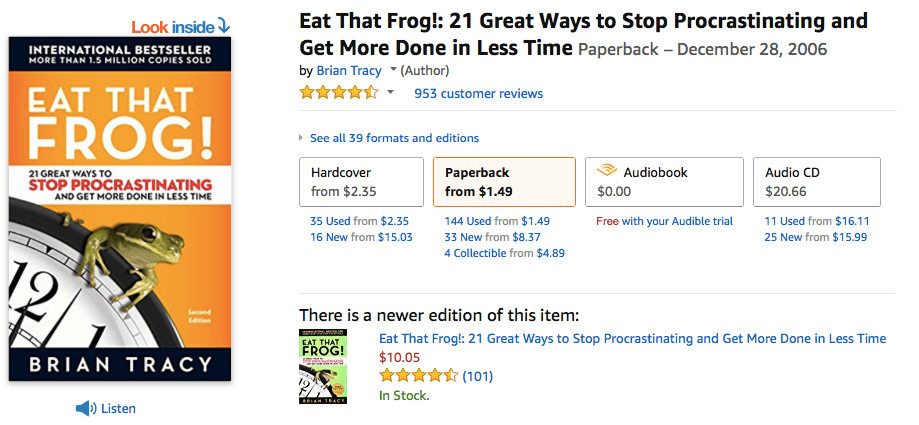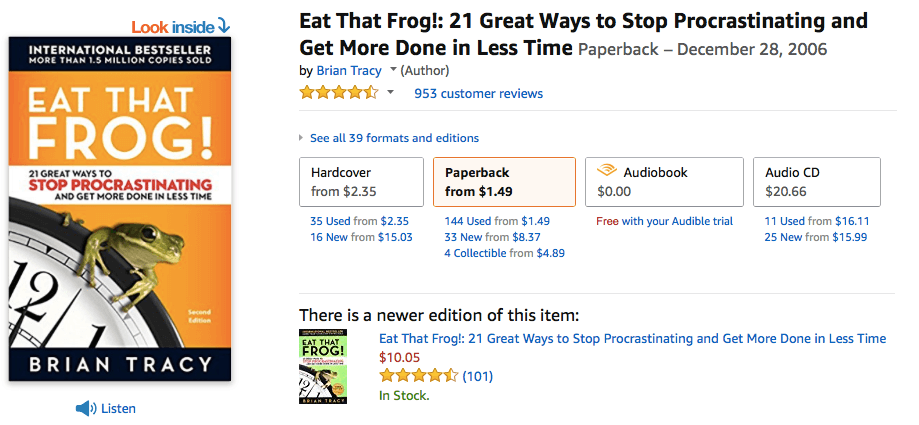 Start using a standing desk
In the early part of 2017, standup desks were all the rage. Lately, I haven't heard a ton about them. That said, they're still great. There are studies that have shown many potential benefits for them. I just feel more productive when I use mine.
When I have to pump out a few thousand words in a day, it's best to turn on focus at will and stand up while I get a thousand on a document. Then, take a break and do it again.
4 Cerebral Sales Productivity Hacks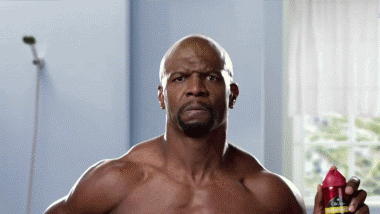 1. Write something
Writing is a skill that only gets better the more you do it.
Your email copy, blog posts for leads, even social media posts can all help you close deals. If your writing is good or bad, there will be a direct correlation in the number of conversations you have. Hardcore writers begin each day writing at least 1000 words.
You don't have to do that, but write something that is worth writing every day. For you, your family, or your leads — write what excites you or what would excite your readers.
There are also a couple of resources to help improve your writing here and here.
2. Read about other crafts
If you're on the clock, don't waste time. We are NOT condoning that. However, if you're just not in it, take a few minutes (for a break) and look for something completely unrelated. When the memory on my Mac keeps floating higher, I restart.
It takes the memory down. Instead of making a call that you're not really there for, check on vacation destinations. Or, you could look at scores. Fantasy football stats. Something that can restart your mind for a minute.
Once you find yourself in neutral, get back into the game.
3. Do a "power pose"
It may sound silly, but if you stand like you were the fastest man in the world — you'll think you've won something.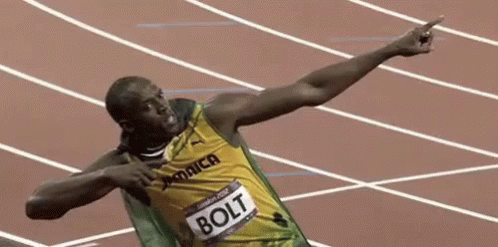 It's based on real science and communicated very well in this Ted Talk.
Best Tip: If you're embarrassed, head to the restroom and do the pose in the stall.
4. Kill the notifications (ruthlessly)
A ding for your email, a bleep for your Twitter, whatever the Slack noise is. All of these (and many more) make it nearly impossible to get *uninterrupted* work done.
You have to go off on them. Be ruthless, like Beatrix Kiddo.
First, don't sign up for any new notifications. If you see a message like the one in the screenshot on your browser or phone — just say no.

Next, undo as many notifications as you can. Here's a fantastic guide with text and video guides to cancel many.
Conclusion
To increase sales productivity, you need to take care of yourself, your team, and the digital tools that help them.
Implement these hacks today!
Editors Note:
Want to help contribute to future articles? Have data-backed and tactical advice to share? I'd love to hear from you!
We have over 60,000 monthly readers that would love to see it! Contact us and let's discuss your ideas!