What is a Unique Selling Proposition?
A unique selling proposition is a position that differentiates your product or business from other competitors.
It can be an aspect of the company, such as its founding date. Or it could also reflect how you value customers and work with them to create what they want more effectively than anyone else does.
Why a Unique Selling Proposition is Important for Your Business
A unique selling proposition is a crucial part of your business because it sets you apart from the competitors.
It makes your business stand out and be memorable to consumers so that they will choose it over others when purchasing products or services, even if there are similar options available elsewhere on competing sites
A unique selling proposition can also help with marketing by making an advertisement more effective than one without a USP.
What makes a strong USP
A compelling and winning unique selling proposition is one that is concise, memorable, and resonates with your target audience. It should also be as simple to understand, so they will not need any further information on the product or service
The USP needs an easily identifiable difference between you/your company's offer from others in order to stand out.
Here are some characteristics of a strong USP:
An effective USP can be defended and is not too far from reality. It should have an easily identifiable difference between your offer and other brands' offers.
It will include well-known benefits, tangible features, or advantages over competing products. It should directly speak to your target audience to get a response of desire rather than apathy.
The customer is always right! Letting customers decide which product offers more value without having any bias towards one particular type may result in better sales and happier and satisfied consumers.
Yes, it's more than that — it is a slogan with substance. If you're going to take the time and effort for developing your unique selling proposition, it's important that they be as strong (and original) of an idea or company value statement as possible, so customers know what sets them apart from other brands/companies in their field.
How to Write a Unique Selling Proposition in 4 Steps
In creating a unique selling proposition, your goals are to stand out and become memorable.
Here are four easy steps you can follow to write your best USP.
1. Go back to the basics
Take a step back and review some of the basics. It's important that you know your product or service inside and out. You should also research what the competition is doing to make sure you're not copying any of their strategies.
In this step you should:
Ask yourself: "What sets my business apart from all others?" This will help with making it catchy, but still have substance, so customers are interested.
Take time to review other successful slogans used by companies and research how people feel about them on social media sites like Facebook.
One of the ways to accomplish this is through survey questions.
With this step, you'll be guided on how to come up with something short yet memorable enough — something that consumers would remember.
2. Solve a problem
Identify your target market's problem and then work from there.
For instance, your target market is those people who want to make a small fortune by investing their money. Now your offer would be to help them invest and grow wealth more quickly with less risk — this would be what sets you apart. You can develop strong investment portfolios which are diversified in various asset classes like stocks, bonds, real estate, gold, etc.
But let's face it: Finding target market data is not easy.
Fortunately, LeadFuze can help you solve this problem by collecting the data you need to find your perfect customers.
With LeadFuze, you can easily collect and organize your audience's information so that you can make better marketing decisions and improve conversion rates. You'll also be able to create custom audiences for retargeting using Facebook Custom Audiences or Google AdWords Customer Match with just a few clicks of the mouse!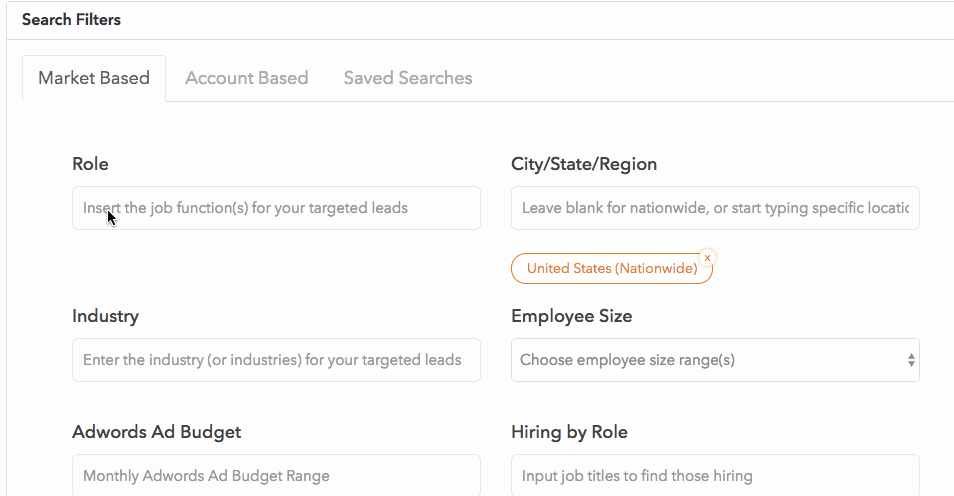 3. Identify the differentiators
Find out what makes your solution different or better from your counterparts.
Find out where other brands fall short before setting yourself up with any expectations about being unique.
Understanding how consumers shop will provide valuable insights on whether branding efforts should focus more heavily on product innovation/features, price points and promotions, or customer service offerings.
4. Make a promise
This promise is the assurance that you will exceed their expectations and be all they want from a brand, product, or service.
You can make a pledge, like "I am going for quality over quantity; timelessness, not trendiness."
17 Unique Selling Proposition Examples From Brands
Many brands have used the unique selling proposition technique to make their brand stand out.
A few examples are below.
1. The Economist
The Economist made an unexpected but powerful twist on the magazine's long-standing slogan: "Never more than you need to know."
It created a new tagline called "Know More" and launched it in March 2015. It has an interactive ad campaign that encourages readers who don't subscribe or purchase online content from other online newspapers and magazines.
The subscription costs US$399 per year. Aside from having an affordable offer, The Economist is also less intrusive compared to others. It allows you to block notifications from them out if you decide to decline their offer.
2. Tiffany & Co.
Tifanny's unique selling proposition says: "The right one is worth waiting for." This message lets consumers know investing time into finding your perfect item can be more worthwhile than just buying something on sale now.
It's a great reminder to the customer that they should invest in quality over quantity. The company makes a point of highlighting the high-quality, ethically made pieces and letting customers know these are investments for life rather than impulse buys.
Tiffany & Co.'s brand promise is "To grant happiness." This timeless sentiment resonates with their clientele who want an elegant gift or beautiful piece because it will bring them joy every day without fail.
3. N26
N26 has a unique proposition of being mobile. With all the bank features available on the app, you no longer need to personally go to their branches for your bank-related transactions.
It even allows you to do peer-to-peer payments for international money transfers at low fees!
It's one of the world's firsts — N26 has proved to be such an innovative disruptor to yesterday's banks.
Their Unique Selling Proposition is not just about banking. They also offer savings accounts that come without any minimum balance or account service charge.
They're doing big things across borders, so I think it's safe to say their growth strategy will be very different from other traditional financial institutions that want bigger profits immediately.
4. Salesforce
Salesforce is highlighting its USP in its company description — and that's a great strategy.
Its unique selling proposition is one of many examples that illustrate how valuable it can be to have an understanding of what your brand provides.
They showed why customers should choose them over other brands with similar offerings, but not quite as compelling products or services — in this case, CRM solutions for large and small businesses across all industries.
5. Southwest Airline
Southwest Airline's unique selling proposition is that you "can't beat the price" for their flights. Their prices are almost always less expensive than other airlines' fares to similar destinations and at comparable times of the day.
Aside from offering low prices, you don't have to worry about paying anything extra if your flight gets delayed or canceled due to bad weather conditions. And that's probably another reason why Southwest has been named one 'America best airline.'
6. Brex
Brex's slogan "the smartest corporate card in the room" is a great example of unique branding.
It claims to be designing the smartest corporate card in the room, while other companies are focusing on making their credit cards more convenient to carry around. Some are even busy offering discounts at certain retailers like Amazon Prime Rewards Visa Signature Card and Chase Sapphire Reserve.
Offering travel rewards for spending money without interest rates with a certain card company can be really enticing.
However, Brex's focus isn't on those types of perks. Instead, they're looking out into what's next.
They try to get to know their customer base better, so they can give benefits tailored specifically towards a brand's needs.
This creates loyalty not only because it provides personalized services (which will keep people coming back) but also offers transparency by letting employees monitor all expenses made through one account.
7. Postmates
Postmates slogan is "anything, anytime, anywhere."
They make it easy for consumers to buy anything they want at any time by providing delivery from restaurants and stores that offer on-demand pickup or carryout. This means, their clients will never have an excuse of not getting the things of their heart's desires.
With Postmate's app people don't need their own car which saves them money — not to mention that fewer cars mean more parking space!
This is also good news environmentally speaking as fewer gas emissions are released into our atmosphere when we rely solely upon public transportation rather than personal vehicles powered with fossil fuels.
The marketing slogan makes it clear that this company values convenience above all else while making sure customers feel accomplished after the purchase.
8. Ben and Jerry's
Ben and Jerry's "we make the best possible ice cream in the best possible way" slogan is a good example of positioning.
When a company has what is viewed as the best product or service, they are in an excellent position to use that perception for branding purposes. They can even charge more than other competitors who offer similar products/services yet don't have this perceived quality advantage
Aside from delivering their unique selling proposition through words, they also involve the way they do business.
For instance, they're using environmentally friendly packaging which then creates customer trust. There'll not be any harmful chemicals within the package since all materials used were deemed safe by various certification bodies like BSI PAS 2050 etc.
The key idea here though should always remain unchanged — making sure customers perceive added value when purchasing from them over others.
9. Emirates
"Don't just fly, fly better" is another great USP example. The airline is one of the few businesses in its industry to offer a buy-on-board meal service.
Moreover, Emirates offers customers additional services on board, such as New York Times newspapers and Sky TV channels They also have their own in-flight entertainment system called ICE which has games including chess or poker — so their clients will never be bored during the flight!
Customers can even order items from an onboard shop before take-off using WiFis provided by Emirates.
#EmiratesAirlineFlyBetter campaign slogan is not just catchy, but genuine too. They use all these unique selling points that set them apart among other airline brands that don't provide any meals throughout flights nor seatback TVs.
10. Netflix
Netflix's unique selling proposition is "watch what you want, when, and where." The TV streaming service offers a monthly subscription that grants access to both old favorites as well as new movies or original series for members on the go without ad breaks in between episodes.
The company wants customers who can't stop watching TV shows but don't have time because they're busy — this means people with lives outside bingeing!
They offer an unlimited catch-up feature so if something just started airing it doesn't matter how far behind someone might be; there will always be plenty more waiting whenever they feel like catching back up again later.
This hooks customers and makes them forget about their daily routines even longer than before.
11. HelloFresh
HelloFresh's winning slogan is "America's most popular meal kit." It offers a variety of meal plans that cater to people with different needs and desires.
They target a wide range of people — from those who want unlimited ingredients for their recipes all the way down to basic recipe options like chicken tikka masala or white bean soup.
This makes them stand out among competitors by offering flexibility between cooking at home vs shipping meals weekly if desired. It's appealing not just as an offer but also based on what consumers are looking for most often these days — convenience!
That's one reason this brand has been so successful over time despite competition coming up now again every few months. It seems there is some new company launching its own version after seeing HelloFresh's success.
12. Nike
Nike's USP "Just do it" is a good example of how to make your brand stand out.
This tagline is compelling, and it inspires people from all walks of life no matter what their fitness level or age is.
And yes, the slogan has been around for decades!
It's not a new concept, but Nike still makes this motto work through repetition in advertisements (videos), social media posts (#justdoit) merchandise, and other promotions like tie-ins with popular athletes who endorse them like LeBron James.
All these efforts help reinforce the "Just do it!" message over time as they build on one another. The repetition is ultimately making consumers respond more positively when viewing ads containing said strategy even after years have passed since its initial release date.
13. DeBeers
DeBeers' unique selling proposition "a diamond is forever" is an old marketing slogan. However, it has proven to be effective as the company never fails to create new ways to show that their product will last forever.
The said campaign features interviews with celebrities and couples where they talk about how they were drawn together by a diamond ring.
Also, they included some of Hollywood's first-ever engagement photos created exclusively for DeBeers diamonds.
Some photos are of Marilyn Monroe (1953), Audrey Hepburn – Humphrey Bogart (1957), James Dean (1956), and Grace Kelly (1952).
The celebrity endorsement may not be what stands out in these ads more than anything else. I mean, they could have been more straightforward like simply saying 'buy our jewelry'.
But instead, we see beautiful pictures which make clients want someone special who can share the momentous occasion of opening the jewelry box.
14. Saddleback
Saddleback Leather has a very interesting USP that says "they'll fight over it when you're dead." In fact, it's one of the most memorable and well-known ads in history.
This company has been making leather goods for over forty years, but their slogan "they'll fight over it when you're dead" is what sets them apart from other brands who are more focused on simply satisfying customers' needs or wants with a product that works adequately enough.
Instead, the Saddleback team provided their customers with something unique.
The company's founder summed up his customer service philosophy by saying: "I don't want people just walking out my door happy; I also need those same folks thinking about me every day – until they die."
He wanted SaddleBack products to become so desirable even after death because he knew firsthand how much better life could be if someone were using one thing less.
15. Seattle's Best Coffee
Seattle's Best Coffee has a unique selling proposition of "coffee without boundaries" which is appealing for people who want more than just coffee and enjoy other drinks as well.
Included in their menu is the famous hot chocolate drink that they offer year-round with different flavors like mint or peppermint. It's perfect for wintertime when everyone craves something sweet after dinner on chilly evenings.
16. Coca-Cola
Coca-cola's slogan is a good example of a USP. The company has a true mission statement which is "to provide refreshment to the world."
Their unique selling proposition enables them as an organization and their employees to work with integrity, knowing that there are people all over who deserve something better than they have today.
The power of this brand promise rests on two pillars: the universal importance in human culture for liquids that quench thirst and secondly, it reflects our enduring commitment to financial investment elsewhere around the globe.
These commitments create a competitive advantage whereby other brands cannot compete because consumers know Coke will be at every event or public gathering.
17. Toms Shoes
Toms shoes' slogan is a good example of a unique selling proposition: "With every pair you purchase, TOMS will give a pair of new shoes to a child in need. One for One."
That's great advocacy — the company makes sure to donate a pair of new and gently-used children's shoes to someone in need for each purchase made.
And this golden move helps them stand out from the competition because they are making an effort towards doing something good with what would otherwise be waste material by giving it away instead.
An example that shows how unique Toms' is can even show up on TV through commercials!
When people see advertisements for their products, it's more likely that many people will become interested. The strategy is pretty strong compared to typical advertisements of most brands today.
At first glance, you notice only one thing — the product. But later, you'd realize there is still more to Toms than providing a quality product like always.
Once they know about the company's effort to donate to the less fortunate, customers would see why they should shop here rather than on other brands of the same price and quality.
Conclusion
A unique selling proposition aligns your brand's unique set of skills, features, and benefits to the needs or problems that are faced by potential customers.
It helps you differentiate yourself from competitors in a manner that will make you more memorable than them. This way, people can recall who they want when it comes time for making their next purchase decision — thus increasing conversion rates.
Editors Note:
Want to help contribute to future articles? Have data-backed and tactical advice to share? I'd love to hear from you!
We have over 60,000 monthly readers that would love to see it! Contact us and let's discuss your ideas!