What Is LinkedIn InMail and How Do I Use It?
LinkedIn InMail is a premium messaging feature that allows you to send messages to people who are not connected with your network. With LinkedIn Premium, however, you can contact anyone through the app as long as they accept your message.
The InMail feature allows you to send a personalized message without first sending an introductory connection request. This saves time since the recipient doesn't have to wait for your introduction before reading it.
Your cold messages should be as to the point as possible because you only have a limited number of characters in Messages or InMail.
Cold emailing has an inherent flaw in that the emails are automatically relegated to a junk folder. However, InMail messages see higher open rates because there is no such thing as a spam or bulk mail section on LinkedIn.
To give you a better idea of what to do, here is a list of some pros and cons. You can then decide for yourself which messaging portal is better for you.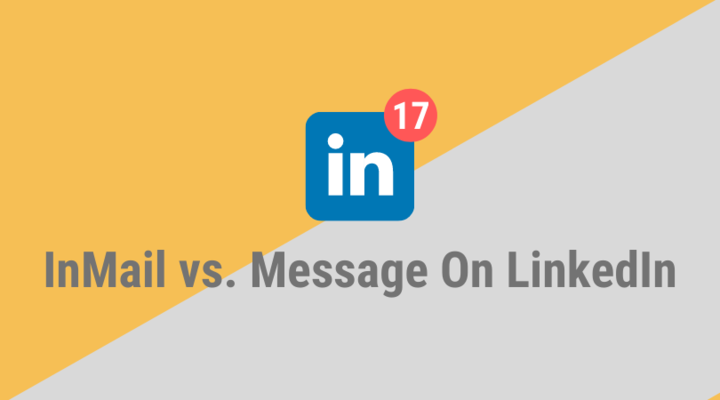 ---
What Is the Distinction Between InMail and Message On LinkedIn?
Although LinkedIn InMail and Messages share the same interface, there are differences to be aware of. For example, messages on LinkedIn are free while InMails require a monthly subscription.
Direct messages can only be sent to someone who is a first-degree connection.
LinkedIn offers a paid feature called InMail that enables you to send messages directly to people who are not already connected with you. Depending on your premium account plan, there is a limit to as far as how many of these Inmail messages you can send per month, as well as the credits available.
Costs and Credits for LinkedIn InMail
Most people who want to use LinkedIn as a marketing tool are not able to do so because they run out of LinkedIn premium InMail credits. Depending on your plan, you get 5-150 messages that can be sent without someone else knowing about it.
Well, there are many different tools to reach your best leads. InMail is a great way to bypass the mountain of connection requests and instead land in their inbox where they're more likely to see your message. Some people have seen open rates above 85% and clickthrough rates over 5%.
LinkedIn InMail is great for reaching a few high-touch leads, but it loses its effectiveness when you're trying to reach several prospects at once. Click To Tweet
LinkedIn Premium members are limited to five LinkedIn InMail credits per month, but Sales Navigator accounts have 20. LinkedIn Inmail credits, on the other hand, roll over for up to three months before being capped.
You can purchase more LinkedIn InMail credits if you want to go beyond the initial credit. Additional credits are $10 each, with a minimum of 100 dollars per order. Put another way, anything other than your highest quality leads using InMail adds up quickly.
With a monthly plan, you get more value for your money with $4 per InMail credit and under $10 per additional or free account.
A recent post on InMail showed that to reach 100 LinkedIn leads, you will need 60 credits over three months and $10 for every additional credit. This totals out at about 600 dollars in 3 months or an equivalent of 200 a month.
Message Ads
Message Ads are a newer form of advertising on LinkedIn. They allow for easy scaling and provide more value than InMail messages.
One way to reach out to potential customers is by using LinkedIn's sponsored messaging. With this, you can send messages with specific targets instead of having one-on-one interactions.
Message Ads are more limited than other advertising methods because of their scale. If you want to get a response from your leads, make sure that there is an actionable CTA in the message.
When you use a message ad, your email recipients will see the word "sponsored" in the subject line.
While Message Ads are cheaper than LinkedIn's organic InMail, they're only delivered when your leads are active on the site.
Unlike other forms of advertising, Message Ads are priced by the number of messages sent instead of impressions or clicks. The cost-per-send depends on your target audience but usually runs about $0.20 per send for one message to be delivered.
Message Ads are well known for their high visibility. LinkedIn, on average, reports a 70% open rate among users; however, this number is closer to 50%.
Utilization of LinkedIn for Email
If you don't want to spend thousands of dollars on LinkedIn Ads or hundreds of hours sending out InMail messages, there is a third option. You can find prospects and reach them via email instead.
Hiring remote workers is an easy way to scale your business, and it's much cheaper than other options. Click To Tweet
With this approach, you have a few different options.
Juliana Crispo has written a helpful guide on how to use LinkedIn in order to get Fortune 500 accounts. She starts by setting up targeted ads through the site, which are cheaper than sending out InMail or emailing someone. The strategy is set off with an irresistible lead magnet that she then uses for following-up and outreach via email.
You can start by using Sales Navigator to generate leads, find their email addresses with your favorite tool, and then export the data into a CRM for starting contact.
With this approach, you only pay for verified emails. These work as the foundation of a cold email campaign with higher open and response rates. You could even use our new sales email templates to boost your opens and replies.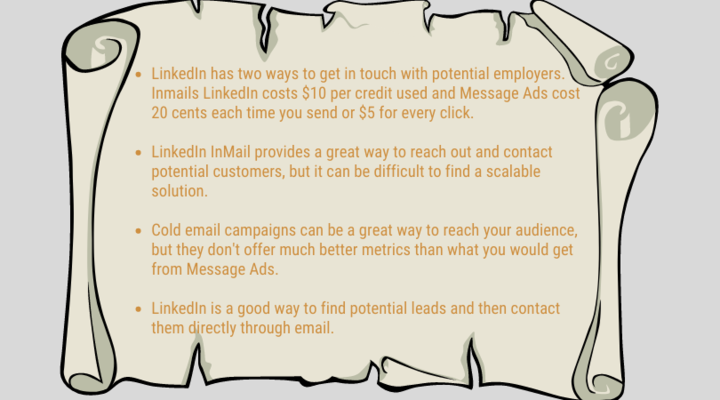 Select What's Right for You
In the end, you'll have to figure out what approach is best for your business. We can't tell you that one type of lead generation will work better than another because it depends on a lot of factors: What's important to you, your budget, the people who are going to buy from your company, and how they're most comfortable making decisions are the most important considerations.
It is important to remember the following points.
LinkedIn has two different ways to get in touch with potential employers. The first is InMail; Inmails LinkedIn costs $10 per credit used and the second is Message Ads that cost 20 cents each time you send or 5 dollars for every click they receive.
LinkedIn InMail provides a great way to reach out and contact potential customers, but it can be difficult to find a scalable solution.
Cold email campaigns can be a great way to reach your audience, but they do not offer much better metrics than what you would get from Message Ads.
LinkedIn is a good way to find potential leads and then contact them directly through email.
Now go out there and start connecting!
---
Need Help Automating Your Sales Prospecting Process?
LeadFuze gives you all the data you need to find ideal leads, including full contact information.
Go through a variety of filters to zero in on the leads you want to reach. This is crazy specific, but you could find all the people that match the following: 
A company in the Financial Services or Banking industry
Who have more than 10 employees
That spend money on Adwords
Who use Hubspot
Who currently have job openings for marketing help
With the role of HR Manager
That has only been in this role for less than 1 year
Just to give you an idea. 😀
Editors Note:
Want to help contribute to future articles? Have data-backed and tactical advice to share? I'd love to hear from you!
We have over 60,000 monthly readers that would love to see it! Contact us and let's discuss your ideas!