9 Simple Steps to Send The Perfect Event Follow Up Email (With Templates)
An email reminder for an event is not effective if no one reads it.
Many salespeople will send follow up emails, but many of them never get opened. If you email and it does not open then that is a failure.
---
Need Help Automating Your Sales Prospecting Process?
LeadFuze gives you all the data you need to find ideal leads, including full contact information.
Go through a variety of filters to zero in on the leads you want to reach. This is crazy specific, but you could find all the people that match the following: 
A company in the Financial Services or Banking industry
Who have more than 10 employees
That spend money on Adwords
Who use Hubspot
Who currently have job openings for marketing help
With the role of HR Manager
That has only been in this role for less than 1 year
Just to give you an idea. 😀
---
Why Is It Necessary to Send Event Follow Up Emails to Meetings and Conferences?
When it comes to building connections, there are two steps. First you go to a conference and meet people but once back in the office, you need to send an email as soon as possible so that your connection is not forgotten.
Here are some tips for making sure you do the event follow up email right.
How to Compose an Event Follow Up Email After a Meeting
Here are some tips for making the most of your event follow up emails :1. Be specific about what you want them to do after they have attended your event 2. Make it easy for people to find out more information on how they can get involved with the cause or topic that was discussed at your conferenceevent 3. Encourage attendees not only attend, but also bring a friend
Clearly communicate the reason for your follow-up call.
If you want to be successful, it is important that you understand the mindset of your target audience.
Timing is important in everything, and can change depending on your perspective.
Be personable.
Be personal.
Make sure to show that you care about your employees and their work.
Keep it simple.
Keep it direct.
I was hesitant to pick up the phone because I didnt want my voice mail message cut off. But if someone calls, they deserve a real person on the other end of their call.
Sending a follow up email after event to your conference attendees is one of the most important components of any event marketing strategy. The Event Marketing 2020: Benchmarks and Trends report found that events are by far the best way for marketers to achieve their goals, but if you cant make it through all those emails in people's inboxes then there goes your effectiveness.
I have been a salesperson for years and I know that event follow up emails are an essential tool in any successful business. In my time at Bizzabo, Ive written thousands of these types of messages to get people interested in what we do here.
In a recent study, Radicati found that the average person receives 121 post conference emails per day. Click To Tweet
If you want your event follow up email to be seen amidst all of those conference and meeting notifications, here are some tips for making it stand out.
The first hint I have for you is to not wait until the client leaves your office before sending an email. Get it right when they walk in.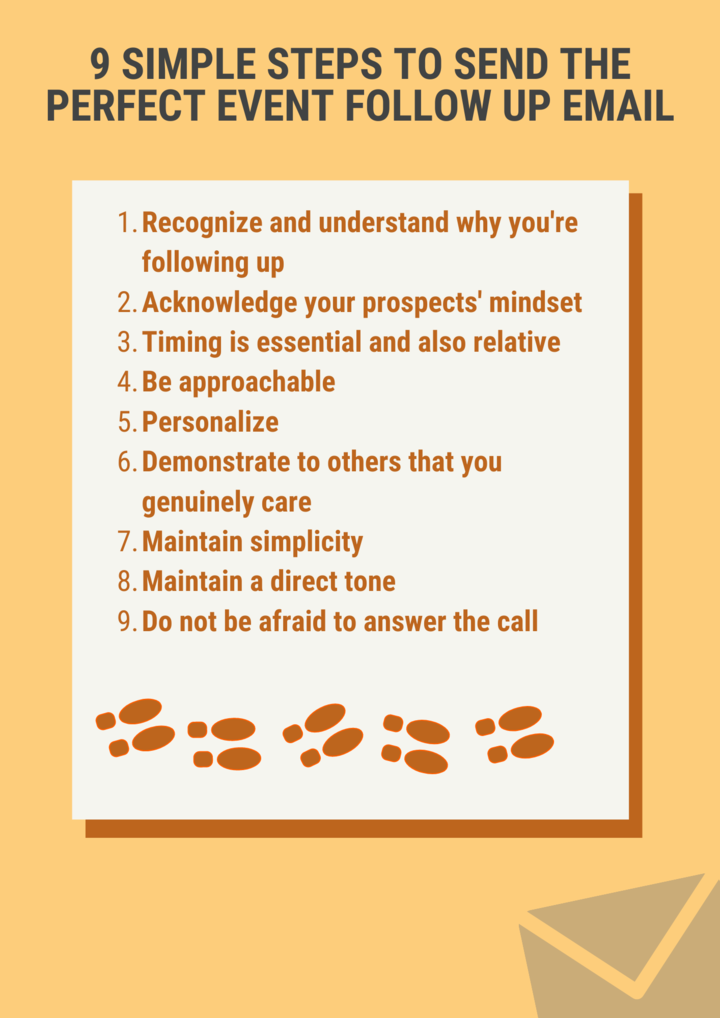 1) Recognize and understand why you're following up
The key to getting your event success mail and emails opened is having a clear sense of purpose. You should be thinking about what you want from the meeting before it even starts, and know why you're going in order to find out how best to approach them with follow up questions or requests for information.
Increase brand awareness?
Generate pipeline?
Generate leads?
Close deals?
Expand your network?
One of the mistakes I made when hiring salespeople was not to offer enough free swag.
Its important to remember your goals when you attend an event. You should be constantly reminding yourself of what they are and how to achieve them.
Going to an event catering follow up email can be overwhelming. There are too many people and vendors, its easy to get lost in the crowd, meeting new faces is hard. You need a goal so that you don't waste your time at these events.
The intention behind an event and the event follow up email afterwards are just as important, if not more so.
Networking and lead generation are two different things. If you want to build your network, then just use LinkedIn or any other social media outlet that allows for networking. But if you're looking to close a business deal, it's best not talk about anything personal on the phone.
When you are following up with a potential customer, do not use the same words they said to you when talking about their business. Instead ask them what is on their mind and try to find some common ground.
Consider the other person's needs and wants. What can you offer them? Something tangible like exclusive research or something intangible, such as your time.
2) Acknowledge your prospects' mindset
Each lead is different, and not all of them are created equal. Some leads have an urgent need for a solution while others may just be curious.
When we speak to 100 people at an event, our goal is not just making a sale with the first person that walks up. If I know 10 of those people could benefit from what we have and vice versa, then its worth building relationships with them.
A good event follow up email, phone call and process is crucial to building a relationship with potential clients. The mutual benefit for the organization might be different than what they expect from you as an individual or vice versa, but that can create some really great opportunities.
In order to better understand the needs of a lead, there are several questions you should ask yourself.
What are they hoping to get out of the event?
What are they going to do at the event?
What is their industry?
What is their job title and what do they do?
When youre crafting a event follow-up email, knowing who your lead is will help to provide the appropriate message. For cold outreach, it matters even more because if someone has already attended an event or purchased from you in person they are likely familiar with what it offers.
When you have a meeting with someone, make sure to take good notes. If you only remember the important points on their business card, then use that for your follow up correspondence.
3) Timing is essential and also relative
I love this quote from Yogi Berra: "Timing is everything."
You dont have to swing hard to hit a home run. If you got the timing, itll go.
It's not possible to identify the perfect time for sending an email, but it is important that they are sent.
In many cases, it is best to reach out within 24 hours. In some other situations, however, waiting a few days may be the better idea because there are so many variables that will determine when you should contact them.
Instead of just reaching out to leads, be smart about it. Figure out what they are most interested in and when you should reach back.
Some employees may be more attentive to their inbox at certain times of the day. For example, a sales manager might always check email in the morning hours while an operations employee would never look during lunch time.
Figuring out the perfect time to offer a bonus is difficult, but figuring out when not to do it isn't hard.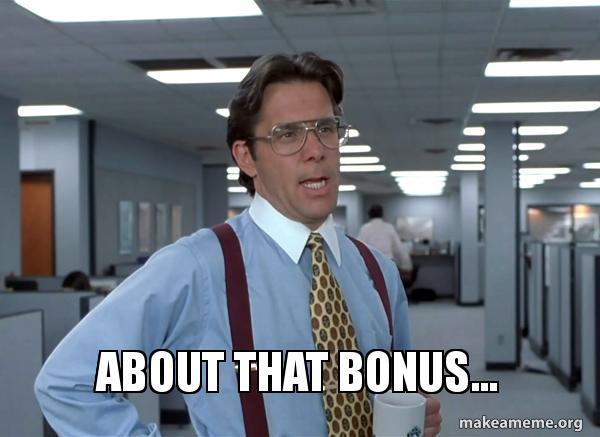 When people are in their inboxes, they see messages that need to be read and responded to.
1) Early in the morning
2) A few hours after lunch, but I would recommend that you avoid getting caught up in the work day.
My favorite time to email is mid-day when the person has had a chance to catch up on their work, but they are still one of your freshest emails in their inbox.
One of the most important things to remember when you're hiring salespeople is that different people operate on different schedules. Click To Tweet
There are no set rules, so be flexible.
I met someone at a conference who flew to Vegas for five days before flying out again. Im sure she received many emails during that time.
I emailed her as soon as I knew she would be back from the wedding, and my first question was: How did you enjoy your honeymoon?
Yes, that deal closed.
4) Be approachable
A quick, but often overlooked tactic is to make sure youre looking at other factors that may be important for your employees.
At events, it is important to be friendly and personable with the people you are meeting. Listening carefully to what they say will make them feel like their voice matters.
5) Personalize
And to make matters worse, it turns out that what motivates employees are not always the same as what drives sales performance.
The key to being personal is demonstrating that you listened. Remember all of those notes from your meetings? They will come in handy when writing a post event feedback email or exhibition follow up email.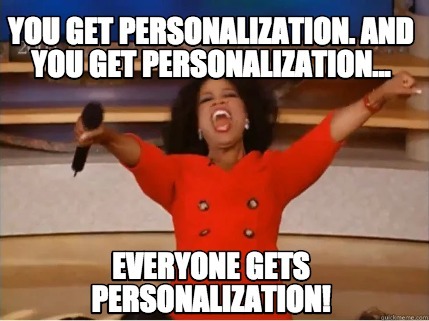 A conference follow up email template have a good subject line that will let the recipient know that you want to talk with them, and not just blast your generic email.
Campaign Monitor found that personalized subject lines are 26% more likely to be opened than generic ones.
When you're contacting leads, it may be more effective to contact them individually or send a personalized email at scale.
6) Demonstrate to others that you genuinely care
I thought that a big paycheck and commissions would be enough to motivate my salespeople, but I was wrong. The only thing they will remember is how your conversation went and what you said about the product.
If you had a great conversation with someone at an event, ask them about it later. Ask what they liked the most when talking to you.
For instance:
Remember how excited you were about our engagement analytics? You mentioned that the dashboard could make it so much easier for you to measure your attendees event experience, speakers etc? Id love to speak with you more about that.
When you take the time to remind people why they are doing what they do, it is a sign that you care about them.
7) Maintain simplicity
A study done by Retention Science found that post conference emails with subject lines of between 6 and 10 words had the highest open rates. It also showed that this has stayed stable over the past several years, so make sure to include your name in an email if youve met someone before.
Dont expect to get a response from your first email. You will often need to follow up with the lead before they respond back.
8) Maintain a direct tone
When I am making a call and the person on the other end asks if this is a sales call, I reply with Yes! There's no reason to hide what you are doing. You're in sales – it doesn't matter whether or not you sell something that benefits people.
I find that people appreciate when you are direct and honest with them. With email, this means letting the reader know what they will be opening up by subject line because if it is simple or personal then your lead should understand what to expect from reading any further.
When you send an event follow up email, start by explaining that it would be beneficial to talk more and propose specific times. Make sure they know what the next steps are after this call.
9) Do not be afraid to answer the call.
Its very common for prospects to ignore post conference email today, even if you have a well-crafted email and the right strategy. They might not open it or reply.
Maybe they deleted it, maybe they never saw it.
The phone is the most powerful tool in a salesperson's arsenal. Click To Tweet
It should be used as often as possible to generate leads and close deals.
Even if the prospect doesnt have any money, or they are not a good fit for your productservice, you should still talk to them. Make sure that when you speak with prospects and customers alike, there is always an open line of communication.
Event Follow Up Email After Meeting and Networking Templates
If you're going to a conference, here are some sample of conference follow up email template that will help get the conversation started.
Template 1
The (XXX) session was great. I'm glad you were there.
Hi (PROSPECT NAME)
I was so happy to see you at the (XXX) conference and talk about our project. I enjoyed your thoughts on _____ as well!
When we spoke, I realized that (OUR PRODUCT) could really help with your problem.
I want to show you how we can save your company 20% and make it more efficient, all while saving money.
Could you take a quick phone call on Friday?
Template 2
Subject: We talked about (XXX)
Hi (PROSPECT NAME)
When we last talked, you mentioned (WHATEVER THEY TALKED ABOUT)
I'm sure we can help you with (WHAT THEY NEED HELP WITH) because our team has the perfect solution.
When would you be available for a call to discuss this further?
Template 3
This is the resource I promised you.
Hi (PROSPECT NAME)
You were interested in (PROBLEM) when we met at (SESSION NAME).
I want to make sure you have the information and resources needed in order to (ACTION).
Ill give you two days to review this information and get back in touch on Friday.
Key Takeaways
Following any event, you and the people who attended are bound to be busy. It is important for me as a organizer of an event to find ways that will break through all the noise so I can follow up with everyone.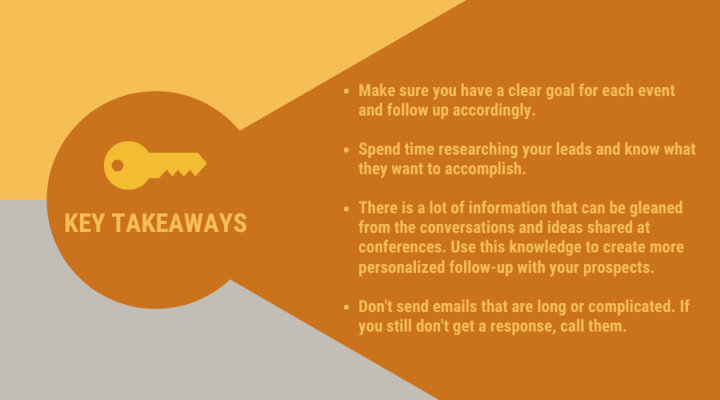 Make sure you have a clear goal for each event and follow up accordingly.
Spend time researching your leads and know what they want to accomplish.
There is a lot of information that can be gleaned from the conversations and ideas shared at conferences. Use this knowledge to create more personalized follow-up with your prospects.
Dont send emails that are long or complicated. If you still don't get a response, call them.
Sending an event follow-up email to your event is more than just the opportunity for someone to open itits a chance to make them feel special, create something memorable and work towards achieving their goals.
---
Need Help Automating Your Sales Prospecting Process?
LeadFuze gives you all the data you need to find ideal leads, including full contact information.
Go through a variety of filters to zero in on the leads you want to reach. This is crazy specific, but you could find all the people that match the following: 
A company in the Financial Services or Banking industry
Who have more than 10 employees
That spend money on Adwords
Who use Hubspot
Who currently have job openings for marketing help
With the role of HR Manager
That has only been in this role for less than 1 year
Just to give you an idea. 😀
Sign into comment.CommentCommentShow:OldestNewestMost Upvotes
Editors Note:
Want to help contribute to future articles? Have data-backed and tactical advice to share? I'd love to hear from you!
We have over 60,000 monthly readers that would love to see it! Contact us and let's discuss your ideas!