With the rise of sophisticated sales tools, cloud technology, and big data, sales operations have become essential to the success of a company's sales department now more than ever. But what exactly are sales operations?
This article will discuss sales operations teams' functions, goals, and best practices.
What is Sales Operations?
"Sales operations" has been around for a long time, but it covers many things. It was first popularized in the 1970s and was then only focused on analyzing data to provide insights to sales reps.
Sales operations help people by providing them with a strategic and tactical plan to sell more efficiently. Click To Tweet
They do this by supporting frontline employees who have been put in charge of selling.
The advantages of implementing a formal sales operations team are:
Streamlined sales processes.
Data-driven strategy and decision making.
Higher productivity from strategic sales models and territory planning.
Smoother operations, allowing sales representatives to focus on selling.
Improved recruiting practices;
More effective employee onboarding and training;
More sales!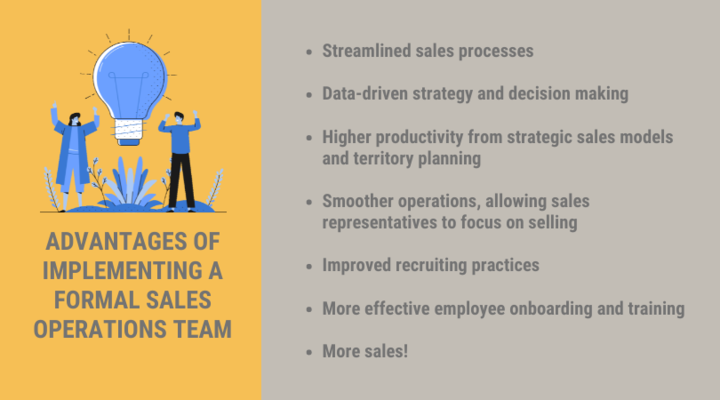 The line between sales operations and sales enablement is not clear. Many people use the terms interchangeably, which often leads to overlap in responsibilities for each team.
That said, the ultimate goal is the same: to increase sales effectiveness and efficiency to drive more significant revenue.
So what's the difference?
Different organizations will define a sales enablement team differently, but they are generally responsible for supporting the field-based reps.
On the other hand, sales operations often handle higher-level functions such as tech management, territory mapping, and reporting. They are focused mainly on enabling successful sales later in the cycle (closing).
The key to getting people motivated is giving them a sense of purpose. Providing an environment that provides employees with the opportunity for promotion and providing opportunities such as negotiating contracts or closing deals will help motivate your sales team.
Sales operations can take on many different forms, depending on the company. The following section will discuss a few of those potential roles.
What are the Roles of Sales Operations?
Sales operations teams are responsible for strategizing, data analysis, hiring and training employees to work in the field. They also forecast revenue targets based on current conditions to determine how many people need to be hired or what territories should be created.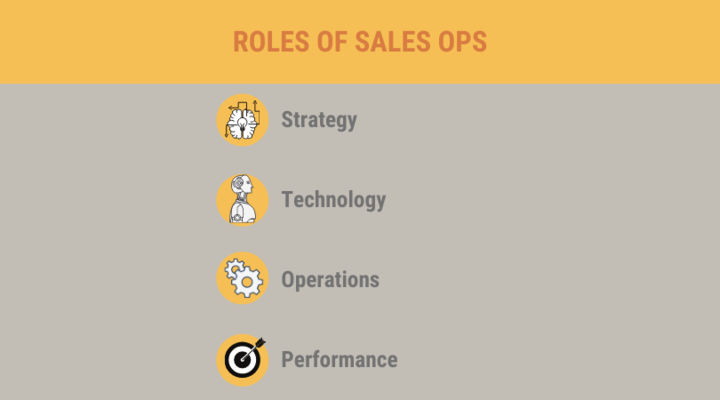 The roles of sales ops can be classified into four categories:
Strategy
The job of a sales operations person is to create high-level visions for the company and develop strategies that help them reach those goals.
The strategic function may include:
Sales technology and methodology evaluation.
Sales process optimization.
High-level planning and goal setting.
Sales coverage model and territory planning.
Data analysis.
Sales forecasting.
Technology
The number of tools that have been made available to companies in the past few years has grown exponentially. These new technologies are great for helping with sales, but they can also be a huge distraction when too much information and not enough time.
That's where sales ops come in. They are tasked with managing the technology that drives a company's success because it is their job to make sure reps can focus on selling.
Here are some of the roles of sales ops technology-wise:
Task automation.
Integration of apps and tools.
Data management and reporting.
Adoption and customization of a CRM.
Communications management.
Operations
The role of sales ops is to ensure that the company's resources are being used to maximize performance. This can be done by taking on administrative and operational tasks, data analysis, and process optimization.
As a sales manager, it is essential to remember that you are not only responsible for your employees' success. You also need to know how much work needs to be done.
Operational tasks include:
Hiring and onboarding top talent.
Product training.
Sales training.
Market intelligence support.
KB management.
Contracts and SLAs.
Performance
Lastly, sales operations aim to improve productivity and performance by eliminating barriers and streamlining processes for the sales representatives.
Sales operations can focus include these performance-related tasks:
Sales operations strive to reduce the time it takes for a sale to go through and improve productivity by eliminating barriers.
Identifying KPIs and sales metrics.
Implementation of sales methods and best practices.
Lead management.
Compensation and incentive plans.
How to Run a Successful Sales Ops Team?
Running a sales operations team is no easy task. Here are a few of the most essential tips to make sure you achieve success.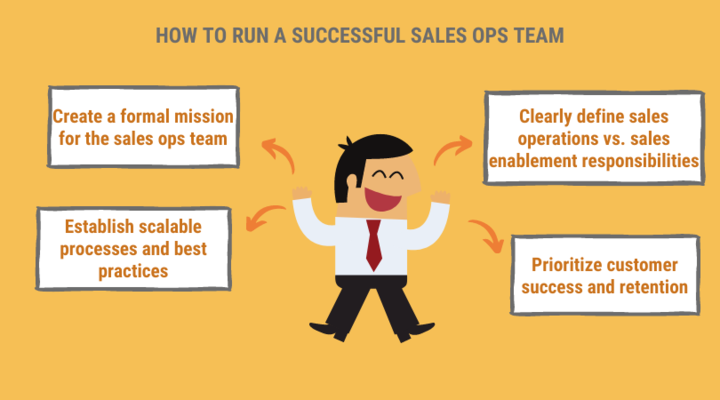 1. Create a formal mission for the sales ops team.
There are a lot of flashy buzzwords in the sales operations field. You can fall into believing that your team is successful just because you have all these fancy words, but if there's no defined purpose and mission, then it won't work.
Don't create sales ops without a clear objective. You should only do it if you know the benefits, and use them.
To create a more effective sales ops team, it is essential to have the members know their objectives and make sure they fit into the company's strategy.
2. Establish scalable processes and best practices.
Sales operations are the most valuable asset to a sales department because they will help you manage and scale processes. If your company has best practices for all sales functions, then these should be documented to share with other departments.
By evaluating, documenting, and implementing company best practices, the organization can operate better in terms of efficiency. Likewise, formal processes like employee orientation training or team-building exercises will reap the same results, especially when everyone is on the same page.
Keeping the knowledge base updated and accessible is essential to ensure smooth transitions.
3. Clearly define sales operations vs. sales enablement responsibilities.
To avoid confusion and redundancy, you need to establish the responsibilities of each team.
By clearly defining boundaries, the two teams can help each other and support sales.
Sales operations is a team that helps sales reps find the best leads. They also focus on driving success and retaining customers. This team has its own advantage because they know the customer base.
The sales ops team is armed with data and research that they can use to improve how employees can be trained. This same data can also be used to assist them during complex negotiations or pricing conflicts as well as after a sale.
A sales rep's primary responsibility is to manage customer satisfaction, but their success can be aided by the help of a dedicated sales operations team. This group communicates and shares information about accounts with reps, giving them insight into how customers actually feel.
Final Thoughts on Sales Operations
Sales operations have significant responsibilities.
As your company grows, implementing a sales ops team can help your organization improve the sales cycle at every stage. Click To Tweet
Editors Note:
Want to help contribute to future articles? Have data-backed and tactical advice to share? I'd love to hear from you!
We have over 60,000 monthly readers that would love to see it! Contact us and let's discuss your ideas!