I want to share with you how I keep track of sales and grow my pipeline more efficiently by using a few simple spreadsheets. You're in luck! We are offering this library of free sales tracking spreadsheet templates that will help you to grow your business.
It is no secret that there are 700+ new SaaS products out on the market. With all that, it seems like automation has been a key trend in sales for years now. A problem with this is that you might get caught up in the temptation to constantly look for new ways of doing things, which could waste more time than it saves.
Believe it or not, you can still do a lot of work with sales tracking spreadsheets and word documents. You may even be surprised to know that Microsoft Excel is still a reliable old friend.
I have created a list of sales tracking spreadsheet templates that you can use to track your sales pipeline, manage performance, and create compensation plans.
Sales Tracking Spreadsheet and Excel Templates
The best sales leaders are constantly training themselves, studying their craft, and practicing to be the most effective they can be. Click To Tweet
If you're not doing this for yourself or your team members, then you will lose out on those who do.
What if you don't have the time or money to adopt new sales technology? Even worse, what if you lack a basic understanding of how this tech works and all its benefits for your company?
The library of templates includes spreadsheet and word doc tools that are perfect for sales tracking. A sales tracking spreadsheet can help you to identify which areas of your company need work.
If you don't have a sales performance excel template, then Microsoft Excel will help.
These are not difficult models that will take you weeks to figure out. These basic Excel spreadsheets and documents can be used by any sales leader or rep for immediate improvement in their process.
How To Get the Most Out of Sales Tracking Spreadsheet Templates
With the plethora of tools available today, salespeople can track their progress with ease. They no longer need to use complicated models and spreadsheets that are difficult to navigate.
I've learned that you need to maintain a certain level of manual reporting, sales tracking, and documenting in order to deeply immerse yourself into the task at hand.
The fast-paced world of social media and other distractions makes it easy to just glance at your sales reports for a few minutes before getting back on, for instance, Instagram.
If you use our free sales templates or create your own, then it will be easier to plan and strategize for the future. You'll have data on what has worked in the past as well as new ideas based on past outcomes. This spreadsheet helps me stay committed to my goals and objectives by tracking them in a way that I can easily see what is going on.
Sales Tracking Spreadsheet Templates (Ideal For Desktop Users)
One of the best things you can do for your business is to save and edit these templates. You will find that they are easy to use, and help keep all necessary information in one place.
The templates are yours to keep and you can customize them in any way.
Sales Pipeline and Forecasting Templates
1. Sales Hacker Pipeline Template
A sales spreadsheet to help you keep track of your pipeline, and forecast how many sales will come in. You can also adjust the weighting by probability for each stage.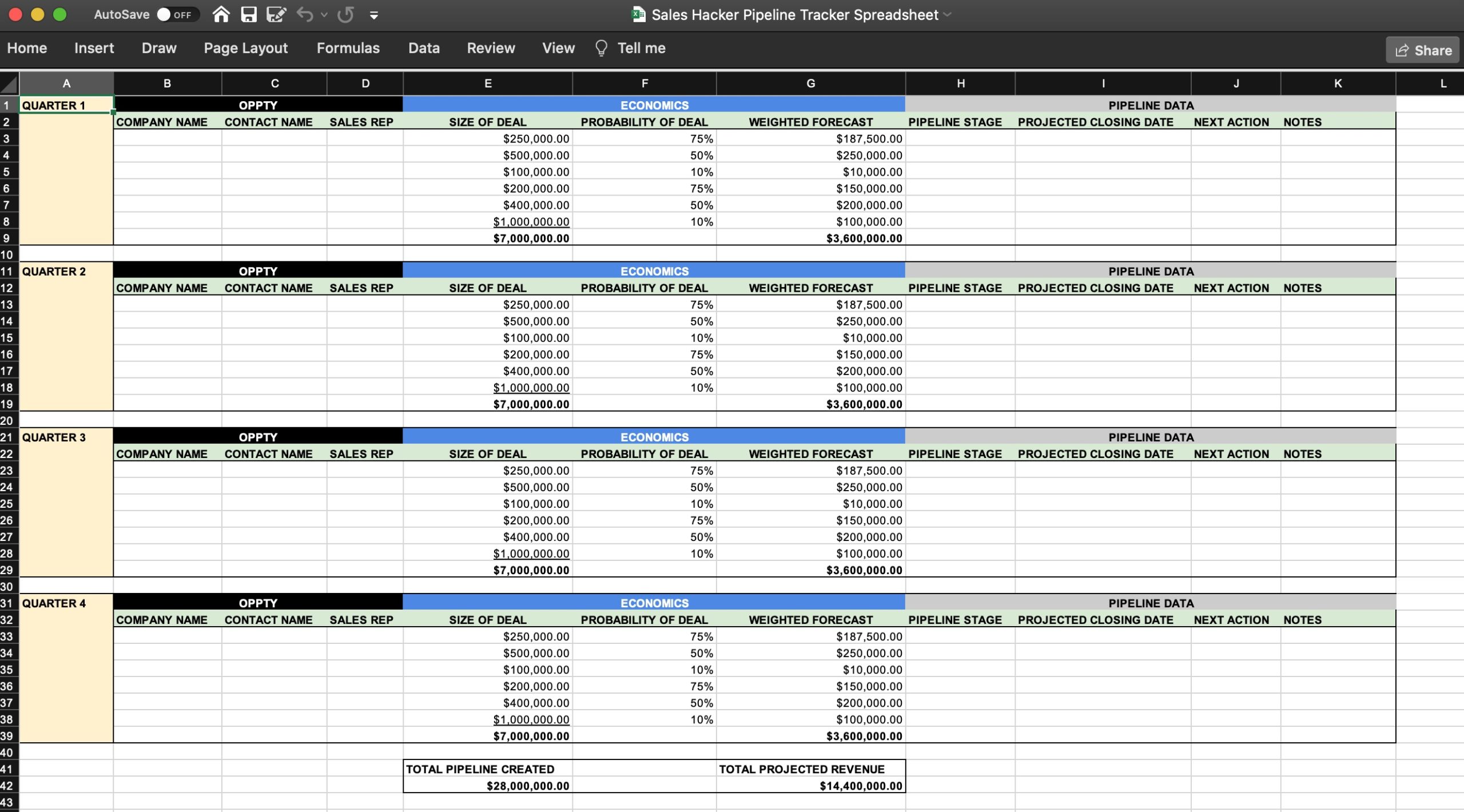 2. Pipeline Velocity Analyzer
Pipeline velocity is a metric that can help you see how small changes in your pipeline variables affect the end result. This spreadsheet will show you this.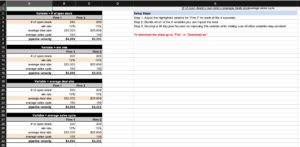 Sales Outreach and Email Templates
3. Sales Hacker Tech Press Ecosystem Outreach Spreadsheet
Getting press is difficult. You need to be a skilled salesperson and have the right connections with journalists who will write about your company's latest innovation.

4. Cold Email Sales Weekly Activity Spreadsheet
If you're relying on cold email to a prospect, it's important that your lead sheets are organized in a way so they can be tracked.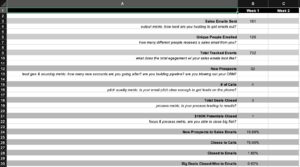 5. Sales Hacker Sequence Builder
It is very important to have a sales process in place. Consistency makes the execution of that sequence easier, so use this sheet to build your dream sales sequence.

Sales Activity Tracking Templates
6. SDR Daily Attack Planner
Have your SDRs fill out this document each day to help them organize their activities and have a better understanding of what they need to do for the day.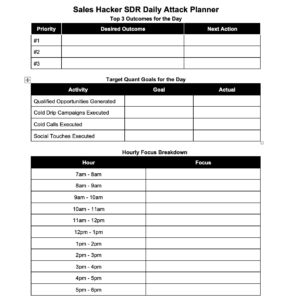 7. Sales Activity Scorecard
Planning for the future is a key to success and this sales activity tracker sheet will help you do that. You can forecast your activity levels on a quarterly, monthly, or weekly basis in order to make sure they are consistent.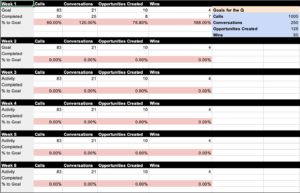 8. Sales Call Planner
A lot of sales reps have been known to lack planning, but with this document, you can plan out your calls and improve the results.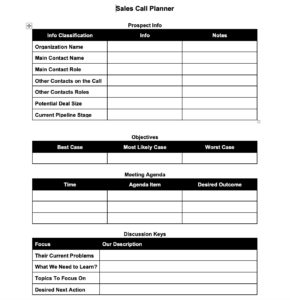 Sales Management and Performance Templates
9. Sales Manager 1-on-1 Coaching Planner
To get the most out of your weekly meetings, be sure to ask these questions and give feedback on them.
10. Performance Improvement Plan
Selling is hard. There are some reps that won't make the cut, but you can help them by implementing a PIP to their performance reviews. Aside from these meetings and review periods, sales representatives should read books on how to be better at selling or leadership skills in general.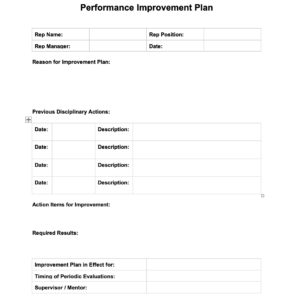 11. SDR Performance Calculator
One of the most difficult aspects of setting goals for sales development reps is that it can be tricky to attribute revenue and set a realistic CAC. This calculator helps you find out how much your SDRs impact company revenues, as well as their potential in terms of bringing in new business.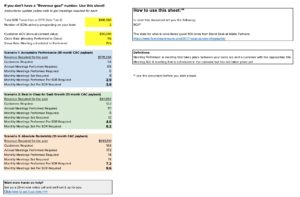 Sales Compensation Templates
12. Sales Compensation Plan Worksheet
You need to make sure that your compensation plan fits the needs of both you and your sales team. The first step is determining seniority levels, base pay, commissions, bonuses etc. If it doesn't fit them well enough, then this will affect how they work for you.
A good compensation plan should be easy to implement and benefit the involved parties. It also needs to motivate employees while incentivizing them for meeting your organization's goals.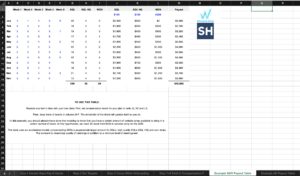 13. Sales Compensation Plan Agreement
A formal compensation plan is a good way to keep track of what you have been promised and how much money your salespeople are earning. This template will give you the tools necessary for communicating this information.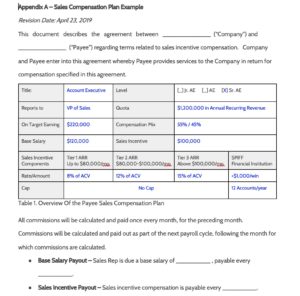 Final Thoughts on Sales Tracking Spreadsheets
Any salesperson who is serious about their job knows that tracking performance, both individual and company-wide, can be an excellent way to manage your business. Click To Tweet
These sales tracking spreadsheet templates teach you how to keep track of your sales progress as well as the effectiveness of management techniques.
With these sales pipeline and forecasting templates, you can measure your incoming profit to help make key decisions like budgeting or hiring.
Editors Note:
Want to help contribute to future articles? Have data-backed and tactical advice to share? I'd love to hear from you!
We have over 60,000 monthly readers that would love to see it! Contact us and let's discuss your ideas!