Why is sales coaching important?
There are many studies that show sales coaching can be a 7% increase in revenue, but managers say they don't have enough time to do it. The problem is the excuses will never stop because there's always something else more important than people. Here's how you can start to sales coach now. 
---
1. Sales coaching as a Key Performance Indicator
The most common response I get from sales leaders is that they don't know how much time to spend coaching. They can always tell me, however, how much time they spent tracking KPIs or recruitment tasks.
Considering that 34's of sales managers spend only 5% of their time coaching and mentoring, is it just because they choose not to? What if you made something like this one of your own personal KPI's? If the quality or consistency were tied with performance objectives for revenue goals and hiring, would more people be interested in doing so than before.
2. Downtime = Sales Coaching Time
I have 30 minutes of downtime commuting to and from work, so I use that time for coaching. Technology has allowed companies to record calls, demos, emails – so by the time I come into my office in the morning or leave at night I can review what all my reps are doing.
If you're listening to a call from your rep, it could be just as valuable for them to have that coaching face-to-face.
3. Eliminate the time-consuming ride along
I have to admit that when I hear about how much time sales managers take sitting next to their reps, shadowing calls and demos. One recent SDR leader told me they would often take an hour out of the day just listening in on a rep's phone call. The problem is that while the manager was there for one hour, most of it was spent listening to voicemails or watching them type up notes into CRM.
Ride alongs are old fashioned. Technology is great because it allows us to be able to record our sales calls and demos for coaching, which makes the process asynchronous.
4. Determine your team's most frequent blunder
When I ask sales managers what the most common mistake is in their reps' conversations, they often don't have an answer. The reason for this is that they're not investing enough time in listening to and observing these interactions.
If you're not listening to your reps, then how can you lead them effectively? By investing the relatively small amount of time identifying common trends in their weaknesses, coaching becomes more focused on that specific deficiency. Often a lack of discovery or 'value selling' is identified as a weakness for sales teams. If it's found this was true with my own team, I would prioritize mentoring and skills development exercises within this area so I wouldn't waste valuable time delivering cookie cutter style training which doesn't fit everyone.
5. Construct weekly scenario challenges
One customer we work with said that one of their biggest challenges when it comes to coaching is not the lack of time, but scheduling a mutually convenient time.
Video coaching has been on the rise in recent years as a way to bridge gaps of both geography and time. Companies such as Refract, Brainshark, and CommercialTribe have solutions that make this easier for managers by making it simpler to administrate.
In order to get a good idea of your reps' capabilities and messaging skills, it's important to record challenges all at once so they can be sent out on a weekly basis. This will allow you time for coaching and feedback without having to go back-and-forth with them.
6. Embrace peer to peer sales coaching
As sales teams scale, managers are trying to delegate tasks more efficiently. A Bridge Group study found that in two years the number of reps per manager has increased by 12%.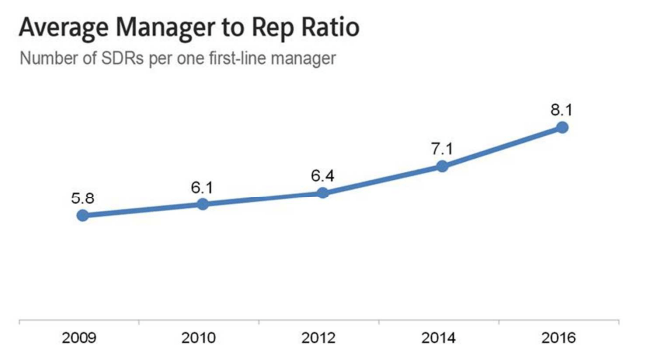 Credit: bridgegroup.inc
It's no wonder then, that there is a lack of time for consistent and regular coaching. Sales managers need more support from other colleagues to help them coach their salespeople.
Turn your most experienced sales reps into player-coaches. This way, they can give feedback on calls and demos to their peers who are still in the learning phase of selling.
7. Adopt an inbound strategy for sales coaching
When people think about coaching, they assume it's a one-way process where the coach observes and helps out. A lot of this is true but there are other parts to being a great sales coach now.
It can be difficult to see what is happening with a large or remote sales team. Consider moving towards an inbound coaching strategy, where reps come to you on a weekly basis and tell you about the past week's events. 
---
Need Help Automating Your Sales Prospecting Process?
LeadFuze gives you all the data you need to find ideal leads, including full contact information.
Go through a variety of filters to zero in on the leads you want to reach. This is crazy specific, but you could find all the people that match the following: 
A company in the Financial Services or Banking industry
Who have more than 10 employees
That spend money on Adwords
Who use Hubspot
Who currently have job openings for marketing help
With the role of HR Manager
That has only been in this role for less than 1 year
Just to give you an idea. 😀
Editors Note:
Want to help contribute to future articles? Have data-backed and tactical advice to share? I'd love to hear from you!
We have over 60,000 monthly readers that would love to see it! Contact us and let's discuss your ideas!