The Best Sales Podcasts for You This 2021
The ability to listen to an almost inexhaustible supply of training, case studies, and applicable tips via sales podcasts shouldn't be taken for granted.
From individual sales reps to Founders, there are so many great "shows" to help you become better at your job.
The biggest concern for hardworking folks is the time it takes to search out quality programs.
That's why we've put together a massive fresh list with dozens of sales podcasts (ones that are still active) along with over 100 quality episodes ready to download and follow you to the gym, car, or anywhere else this 2021.
THE BEST SALES PODCASTS:

The Gist:  
Sales Success Stories is a sales podcasts site that focuses on the people who are still picking up the phone and calling leads—not those who've since left the ranks of SDR and BDR. The people interviewed are actively in a sales role and offer up tips to those who are still "pounding the pavement."
Best 3 Episodes:  
Podcaster Blurb:
The host, Scott Ingram, started the podcast on self-described "selfish" terms to find those who are successful in the world of sales and learn their best practices and tips. A salesperson himself, he publishes the bi-weekly podcast in hopes of helping others who want to improve their skills while improving his own.
The Gist:  
Predictable Prospecting brings in some of the top minds in lead gen, social selling, and sales process. The big hitters share some of the best tips that can boost an individual rep's performance or even transform an entire team and organization for the better.
Best 3 Episodes:
Podcaster Blurb:
Marylou Tyler is a top-of-funnel mastermind. Filling the pipeline with quality leads is a concept that so many neglects. You'll be sure to hear the importance of prospecting as well as dynamite for the rest of your sales process, even if you listen to a few episodes.
The Gist:  
The sales podcasts with something for everyone. Internet marketers, inbound fanatics, individual sales reps, team leads, founders, and just about anyone else who is "sales facing" will enjoy so many of the episodes. Leading experts from the entire spectrum of sales in one place.
Best 3 Episodes:
Podcaster Blurb:
Wes Schaeffer calls himself "The Sales Whisperer," and it could be said that he also whispers to anyone who is good at sales. In his own words, he's also a "Ruthlessly Pragmatic sales trainer, marketing consultant, keynote speaker, copywriter, InfusionSoft expert, Doer.
Nothing happens until a sale is made. A sale cannot be made until a prospect has been identified. A prospect cannot be identified until a business owner informs the marketplace that they are in business with a valuable offering.
Each step must be carefully crafted and integrated, and then automated in order to create a business that sustains you vs. a service that drains you. I help you build all of that."
Connect with the Host:
Twitter: @saleswhisperer

The Gist:  
Linking into Sales podcasts deals strictly with strategy, lead generation, and sales tactics using everyone's favorite networking site; LinkedIn. There are other topics (typically social media related) and guests that provide a wealth of tips and other data to give you an edge when you're rubbing virtual elbows with your prospects.
Best 3 Episodes:   
Podcaster Blurb:
The podcast is co-hosted by Martin Brossman, Greg Hyer, and Elyse Archer. The group has decades of sales experience in companies like IBM and has extensive experience in social media and sales training. The wealth of knowledge and training available on the site and the podcast is incredible.
Connect with the Hosts:
Twitter: @martinbrossman, @greghyer, and @elysearcher.
The Gist:  
A vast amount of podcasts (soon to be over 400). The site is well-organized with an alphabetical topics list with dozens of tags from B2B sales to time management. The episodes are chocked full of advice that is beneficial for reps, leads, and founders alike. There aren't many episodes that should be skipped, it's a fantastic program.
Best 3 Episodes:  
Podcaster Blurb:
Andy Paul brings over 30 years of experience to the table as a sales leader, author, speaker, and consultant. While he now pumps out podcasts like it's his job, he's helped startups, and Fortune 1000 companies (and virtually all types of businesses) boost performance with their sales processes.
Connect with the Host:
Twitter: @ZeroTimeSelling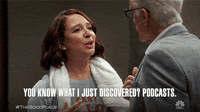 The Gist:  
Definitely one of the younger podcasts on our list, but it serves as a training-style program for newer reps and founders looking to understand the sales process better. If you're a hardcore sales vet, there may be one or two episodes of value. However, if you're a new recruit or rep that is struggling—listen up.
Best 3 Episodes:  
Podcaster Blurb:
Mike Connor and Mike Simmons have almost 50 years of combined sales experience. They now help founders and businesses build sales teams quickly by avoiding the typical pitfalls and mountains of faulty information on the subject.
Connect with the Host:
Twitter: @catalystsale
The Gist:  
You can tell by the name of the program that it is designed to help to get a hold of and have conversations with qualified prospects. Most of the episodes deal with some variation of this (and there are a ton of them). Some are mindset-driven, others are interviews, and then there are some with direct sales tips.
Best 3 Episodes:
Podcaster Blurb:
Steve Kloyda is the founder of The Prospecting Expert and has been refining the process of finding and engaging in selling experiences for over 30 years. He's made over 250,000 sales and prospecting calls while analyzing over 25,000 more. It's safe to say he knows how to engage.
Connect with the Host:
Twitter: @stevekloyda

The Gist:  
The Outside Sales Talk sales podcasts interviews sales experts, thought leaders, authors, speakers, and trainers. Listeners receive actionable advice on how they can become more successful in outside sales and how to develop their sales skills.
Best 3 Episodes:
Episode 42: Anatomy of a Lousy Pitch: Worst Presentation Habits & How to Avoid Them – with Tim Wackel
Podcaster Blurb:
Steve Benson is a passionate life and career coach whose expertise lies in sales, startups, company culture, entrepreneurship, SaaS, and leadership. By sharing his experience, Steve's goal is to help outside salespeople perform at their best.
Connect with the Host:
Twitter: @SteveBenson
The Gist:

This podcast comes to the list as a reader recommended choice! The Conquer Local podcast is a great mix of interviews and educational content. You'll find interviews from experts like Rand Fishkin and Colleen Francis right alongside valuable lessons about things like elevator pitches and prospecting.
Best 3 Episodes:
The Gist:  
Before you think this is only a podcast for execs, we urge you to take a look at the benefits for leads and reps. The somewhat deceitful title means to tell you that your personal revenue (as an SDR) can increase by using their tips in the program. There are founder-esque tips, but most are for the sales crew.
Best 3 Episodes:
Podcaster Blurb:
Ian Altman works with some of the biggest companies in the world to help them modernize their sales processes for the digital age. He's fast becoming a well-known keynote speaker at live events, as well as podcaster, to help share tips and lessons he's learned, helping companies grow beyond the billion dollar mark.
Connect with the Host:
Twitter: @ianaltman

The Gist:
In The Arena is an interview-style podcast with some of the best salespeople who are making it happen. The show is full of value, and the show notes are meaty (if you don't have time to listen). There are also great timestamps to skip ahead to the information that interests you most.
Best 3 Episodes:
Podcaster Blurb:
Anthony Iannarino is an international speaker, bestselling author, sales leader, and entrepreneur. In addition to the weekly podcast, he updates his blog regularly to include daily sales tips to boost your confidence and skill level.
Connect with the Host: Twitter: @iannarino
The Gist:

The title of this sales podcasts program pretty much is the gist. Its episodes are geared towards those in sales leadership roles and take a look at how to grow revenue, land big positions, and otherwise rock an entire sales department. Anyone in the inside sales camp should find something of value.
Best 3 Episodes:
Podcaster Blurb:
This valuable show seems to be made by some successful founders with a new idea to offer conversation analytics. The company isn't officially launched (at the time of this post), but you can go ahead and enjoy the valuable content now.
Connect with the Host:
Twitter: @Chris_Orlob
The Gist:  
Not nearly as much as a topical, tip-based show (there are a few of those episodes). More of a conversational "fireside chat" environment with a more fluid conversation. If you prefer a talk radio style environment or just enjoy hearing people talk about your line of work—it's worth a shot.
Best 3 Episodes:  
Podcaster Blurb:
If you get the attitude of the host, you'll get the format of the show. Chris Spurvey is a best-selling author as well as a media resource on the subject of sales.
"I believe that feeling good about sales is the foundation for success in business. I will help you feel good about sales."—Chris Spurvey
Connect with the Host:
Twitter: @chrisspurvey

The Gist:  
Path to Mastery is an interview-based show with a broad mix of individual sales reps, team leads, and even entrepreneurs who share their value via the program. You'll find industry-specific help (typically real estate) as well as great tips for building a well-run sales team.
Best 3 Episodes:  
Podcaster Blurb:
With about 30,000 hours of on-the-phone prospecting, David Hill has put in the time to get those meaningful conversations. When others were switching to email and social, he kept calling, in the real estate industry no less. His dedication sold 42 homes in his first year, all via phone prospecting.
Connect with the Host:
Twitter: @davidhill771

The Gist:  
Sales Babble really focuses on reps with tips, mindset help, and best practices to help you better yourself as a salesperson. Each episode is in an interview style with big names in the sales world, and the show notes are filled with useful links and bonus resources.
Best 3 Episodes:  
Podcaster Blurb:
Pat Helmers wants to train ethical sales reps who genuinely seek the best for their potential customers and the businesses they represent. It's not necessarily a novel concept in the current world of software, but it was when he started in the sales world.
Connect with the Host:
Twitter: @pathelmers
The Gist:  
Sales Funnel Mastery is the perfect podcast for inbound sales reps (and marketing folks) looking to improve their funnel conversion rate. There are shows for anyone in sales, but it's definitely geared towards the funnel. The episodes are short and to the point, which is a plus for many.
Best 3 Episodes:
Podcaster Blurb:
Jeremy Reeves is a hard-working direct response copywriter with some impressive credentials. He helps companies and individual entrepreneurs build sales funnels that convert and bring in higher revenue. There is a lot of value to be gained from his sales writing ability and overall attitude towards email marketing.
Connect with the Host:
Twitter: @JeremyReeves
The Gist:  
Another podcast (mostly) devoted to sales funnel building. This one is definitely more focused on providing tips to improve your funnel performance. The episodes have tips for any sales environment, but its vast theme is to build a sequence that motivates and sells.
Best 3 Episodes:  
Episode 23: The Four Essentials to Get Fast at Click Funnels
HeySteve Show 2: How I Got 53,000 People to an Internet Sales Funnel in 2 Days
Episode 37: The Power of Perception
(Links to iTunes and SoundCloud.)
Podcaster Blurb:
Steve Larson loves sales funnels. He even offers to give them away on his website. This "self-taught" expert has spent his time through door-to-door sales all the way to helping businesses finesse their email sequences to promote higher conversions.
Connect with the Host:
Twitter: @stephen_larsen1
The Gist:  
The Sales Influence program is a younger podcast that has some unique value and a lot of promise. There are case study episodes every so often that gives a detailed look into the exact process of selling specific goods and services. Not a bad morale booster for the rep looking for some motivation.
Best 3 Episodes:
Episode 022: 7 Ways to Avoid Discounting
Episode 037: Pricing Concerns Changes Over Time
Episode 007: 10 Sales Presentation Tips
(Link to the Podcast Page.)
Podcaster Blurb:
Victor Antonio is a giant in the sales motivation world. He's shared the stage with the likes of Zig Ziglar and has worked with some of the biggest companies on the planet. Now he teaches people how to sell using his vast experiences via free and paid training.
Connect with the Host:
Twitter: @VictorAntonio

The Gist:  
Sales Integrity is a straightforward, informational podcast that covers some deep subjects in the art of selling. From science to psychology, each program will deliver some insights to help you better understand both yourself and your customers.
Best 3 Episodes:
Podcaster Blurb:
The host, Sean Piket, is the CEO of the company, Sales Integrity. It's a service that coaches individuals and teams to improve sales performance. Sean's an expert in creating, building, and improving sales operations using his 23+ years of experience in sales and business development.
Connect with the Host:
Twitter: @seanpiket
The Gist:  

The Salesman Podcast is all about the B2B and is one of (if not) the most popular shows on the subject. Hundreds of episodes to help closers close better. Not only is the focus on selling better, but ensuring that your attitude and mental health stay strong with a mix of pointers and inspirational guests.
Best 3 Episodes:  
Podcaster Blurb:
The host, Will Barron, is a sales professional who is asking his guests the same questions that he would like answered. It's through his genuine desire to improve his abilities that bring listeners relevant and useful conversations that will improve anyone's game.
Connect with the Host:
Twitter: @salesmanpodcast

The Gist:  

Sales Pipeline brings you interviews with top executives in the sales world to find out what is working in the current environment. If you like to stay up-to-date in the subjects of content that sells, account-based marketing, and a healthy pipeline, take a good look here.
Best 3 Episodes:  
Podcaster Blurb:
Matt Heinz is the President and Founder of Heinz marketing. He's an award-winning blogger, podcaster, and dynamic speaker that gives away raw value in every form of communication offered. With 15+ years of experience in marketing and business development, he's a wealth of knowledge for any pipeline builder.
Connect with the Host:
Twitter: @HeinzMarketing


The Gist:  
The perception of sales hasn't always been the best. Most who've never been on a cold-call have a terrible outlook on the profession. While that may never go away, the Reinvented Podcast hopes to show that you don't have to be sleazy to be good at sales, and you don't have to be ashamed of the career path you chose. You'll also get a lot better at it with the awesome guests.
Best 3 Episodes:
Podcaster Blurb:
Paul Watts is a certified sales professional with over 20 years of sales experience. He's on the hunt for the best sales tactics and considers himself a "Student of Sales." He's trying to improve the image of sales by having some of the most stand-up figures in the industry as guests on the show.
Connect with the Host:
Twitter: @salesreinvented
The Gist:  
Most of the podcasts on this list are longer-form content of over 20 minutes. Sales Tip a Day is a short, impactful show that attempts to give a quick win to those in the sales community focused on using LinkedIn to generate leads. Some episodes are answered questions, and others are just straight up tips, and most episodes are less than 10 minutes in length.
Best 3 Episodes:
Podcaster Blurb:
Chris Hamilton is a 20+ year sales veteran who wants to share the information and knowledge that he has amassed over the years in his career. He's clear to point out that the tips shared via the podcast and the posts on his site are his take on sales and marketing, giving readers full permission to disagree. Humility and sales knowledge are a powerful combination.
Connect with the Host:
Email: Chris@SalesTipADay.com

The Gist:  
Sales Tuners has a knack for getting world-class talent in the sales industry to give away some great knowledge that either advanced their careers, built their companies, or helped them see tangible results. A professional feel and smooth format make for easy listening, too.
Best 3 Episodes:  
Podcaster Blurb:
Jim Brown coaches tech companies and reps in the Sandler Selling System. Additionally, he hosts a weekly podcast and interviews sales leaders and high performing salespeople about all things that have led to their success.
Connect with the Host:
Twitter: @salestuners

The Gist:  
Disruptive marketing and sales tactics are perfect for B2B, tech, and especially software. These sales podcasts are all about prospecting, marketing, and pitching in a disruptive way to gain an edge over the competition and break into the mind of your potential customers. There are categories to help you sort out past episodes and a lot of packed value in every show.
Best 3 Episodes:  
Podcaster Blurb:
Mark S. A. Smith creates systems for companies that find and convert ideal buyers. Mark has authored 13 popular books and sales guides, as well as writing and contributing 400 magazine articles. He's a disruptive and guerrilla marketer who loves leadership, team building, sales, and marketing.
Connect with the Host:
Twitter: @marksasmith

The Gist:  
Obviously, the focus of these sales podcasts is to help sales professionals and marketers move more products through social media. That said, the topics of discussion range from sales productivity to improving your close rate all the way to brand building. The majority of the content does have a social skew, but value can be found by any in the sales industry.
Best 3 Episodes:  
Podcaster Blurb:
Mario Martinez Jr. is the CEO of M3Jr Growth Strategies. A keynote speaker, top-ranked sales expert, and considered one of the top social sales experts in the world. Through the podcast, blogs, and live events, Mario teaches sales leaders and reps how to grow company revenues, develop a brand, and attract buyers using social media.
Connect with the Host:
Twitter: @M_3J

The Gist:  
A younger podcast but promising. Smart Sales Pro is a mix of personal tips from the host and interviews from people who are "in the trenches" of the sales and marketing world. Small business owners, sales reps, and others come onto the program to share what they are using today to make quota.
Best 3 Episodes:
Episode 022: Staying Patient in a Buyers Market
Episode 018: The Perfect Close
>Episode 007: 5 Common Traits of a Qualified Prospect
Podcaster Blurb:
Michael Mason has went from inside sales to sales coach and now has sales podcasts to help other reps stop complaining about their lackluster performance and get to work improving their numbers through education, practice, and application.
Connect with the Host:
Twitter: @smartsalespro
The Gist:  
Getting sales rolling at a startup can be nerve-racking for founders and extremely lucrative for BDRs, SDRs, and team leads. The challenges that face new organizations are unique and need specific sales strategies to tackle those situations. This sales podcasts program has straightforward tips for startups as well as interviews with founders and professionals that are succeeding.
Best 3 Episodes:
Podcaster Blurb:
Scott Sambucci is a startup veteran with nearly 20 years of experience building sales processes, developing new markets, and creating technology products. He's also an accomplished university teacher in the art of sales with courses in Sales Management, Pricing, Marketing Economics, Finance, Entrepreneurship, and Strategic Management.
Connect with the Host:
Twitter: @scottsambucci
The Gist:  

With well over four hundred episodes, The Advanced Selling Podcast is an extensive and valuable resource for anyone who fancies themselves a salesperson. There are episodes that deal with every portion of the pipeline, both close up and the 10,000 foot view. The shows could be organized a bit better (for searching), but there is so much good stuff there.
Best 3 Episodes:  
Podcaster Blurb:

Co-hosts Bryan Neale and Bill Caskey each have decades of experience helping businesses and sales team ramp up their growth and see serious gains. Keynote speakers, authors, and Brian is even an official in the NFL! These guys know how to train and grow a sales team to consistent gains.
Connect with the Hosts:
Twitter: @advancedselling
The Gist:  
One of the youngest podcasts on our list. B2B Revenue Leadership may seem like an odd name, but what's even more peculiar is the ability of the host to attract some of the guests. This program only features B2B executives picking their brains and sharing their insights into selling products to brands.
Best 3 Episodes:  
How the Sales Model Has Changed
How to Find Your Total Addressable Market
How to Rapidly Build Out Your Inside Sales Team
Podcaster Blurb:
Brian Burns has spent over 20 years selling enterprise software for start-ups. Since then, he's been working with a few businesses at a time to improve their B2B sales and grow revenue. To help other companies and B2B reps, he started the sales podcasts to interview CEOs, CMOs, CROs, and just about any other chief you can dream up.
Connect with the Host:
Twitter: @briangburns

The Gist:  
The majority of sales podcasts are in an interview-style format where experts come on and say a few useful things and talk about a range of topics. The Funnel breaks that mold and offers a focused topic on each episode in an instructional format. The titles could be training modules and, if you like the style, it could be a library of value.
Best 3 Episodes:  
Podcaster Blurb:
John Shea is a synergy expert that has helped companies throughout the U.S. get the sales team facing the same direction. Whipping teams into shape, John assists sales departments to achieve growth, develop the sales team, on-board, enhance process, and with the hiring process. Every stage of building a successful sales force.
Connect with the Host:
Twitter: @sheajohnr
The Gist:  
Hardcore Closer is really the only name that you could give these sales podcasts. It's a no-nonsense look at the world of sales made to help reps sell more stuff. The well-done show is a break from the monotony of the interview and dry style of (some) other podcasts. Reps and team leads will benefit the most. A lot of solid sales tips to help you make quota.
Best 3 Episodes:  
Podcaster Blurb:
Ryan Stewman is an unapologetic sales type who is driven and talented. His story is unique and compelling, from starting in sales at the age of 13 to almost losing everything after one piece of legislation and a rocky past took away his mortgage sales career. The guy knows his stuff and can teach you how to sell better and close more.
 with the Host:
Twitter: @hardcorecloser
The Gist:  
Salesforce started these sales podcasts. It's still a little young, but the interview-style program shows some promise. With the extensive list of contributors and clients, there is a seeming never-ending list of guests to bring value and insight to listeners. Quotable is already showing promise and will likely become an internet favorite as it continues.
Best 3 Episodes:
Podcaster Blurb:
Salesforce started these sales podcasts as a way to provide value to their clients and the sales staff who use their popular CRM to track leads. In an effort to provide a broader scope of sales resources, the company has created an entire online magazine devoted to finding the best and relaying their tips to readers and listeners.
Connect with the Hosts:
Twitter: @Quotable
The Gist:  
Sales Acceleration are sales podcasts put on by the folks at InsideSales.com. It's an interview-style program that tackles issues for reps, leads, and owners in an intensely useful way. Through focused subjects, the hosts pull from industry experts to help listeners build the processes and systems that work.
Best 3 Episodes:  
Episode 67: Time Based Closing Strategies: The High Cost of Procrastination
Episode 60: How CEO's Break Revenue Plateaus
Episode 53: Unraveling the Sales Stack: What 600 Sales Leaders Say are Must Haves    
(Links to iTunes and Stitcher.)
Podcaster Blurb:
Gabe Larsen and Steve Eror co-host and are, by no means, new to the sales game. Both have helped companies get past the hangups that keep their clients from seeing the type of accelerated growth that everyone wants. Their expertise helps them ask the right questions that provoke guests to give away gold.
Connect with the Hosts:
Twitter: @InsideSales
The Gist:  
You'd be hard-pressed to find other sales podcasts that have pumped out as much content as The Sales Evangelist. There are over 500 short episodes (typically interviews) with actionable tips, encouraging stories, or industry trends to help anyone who sells for a living.
Best 3 Episodes:
Podcaster Blurb:

Donald Kelly calls himself "the sales evangelist" and has devoted himself to helping anyone with the desire to succeed in the industry do just that. These sales podcasts is a great way to start, but there is no shortage of content to be found both paid and free.
Connect with the Host:
Twitter: @DonaldCKelly
The Gist:  
A very new, but promising sales podcasts that are almost exclusively for individual sales reps. There may not be too many insights on growing a startup, but there will be tons of value for anyone who is new to sales and looking for reliable tips from successful professionals.
Best 3 Episodes:  
Podcaster Blurb:
Tasha Smith has 15 years of experience training and leading sales teams. Now, she and her colleagues help their students communicate the value of their products, understand the sales process, and improve their results so they can achieve their goals.
Connect with the Host:
Twitter: @EmergeTrg
The Gist:  
Sales Polish is a sales podcasts program created to get past all of the tips and tricks from most other programs and to "…really uncover the beliefs, though processes, creativity and character traits that make [the show's guests] wildly successful."
Best 3 Episodes:  
Podcaster Blurb:
These sales podcasts are hosted by Arlina Allen, a talented sales professional who intends on taking advantage of her location (Silicon Valley) to network with some of the greatest tech and sales professionals. Gaining insights and stories through these conversations, she'll add value to anyone in a client-facing role.
Connect with the Host: 
Twitter: @ArlinaAllen1
Conclusion
With this list of sales podcasts, you'll have access to a wealth of knowledge and sales experts on the go. Whether you're in your car or at home with some free time, listen up for these podcasts that will help you become better equipped to handle anything life throws at you. The best part? You can learn everything from how to close more high-value deals and master networking skills all while getting through traffic! Any other sales podcasts you think we should add to the list?
Editors Note:
Want to help contribute to future articles? Have data-backed and tactical advice to share? I'd love to hear from you!
We have over 60,000 monthly readers that would love to see it! Contact us and let's discuss your ideas!