The reason lies in the quality of people using the platform.
30% of B2B businesses can be found on LinkedIn.
So are the people running them.
One study shows that out of the over 600 million people using this platform, 90 million of them hold a senior-level position with another 63 million listed as key decision-makers. Of these, 76% check their LinkedIn accounts and engage with content published here every day.
Additionally, 60% of people with an annual household income of at least 100,000 US dollars can be found on LinkedIn.
This impressive quality and engagement you get from LinkedIn also mean that the way you reach out and engage with them is very different.
7 Ways to Use LinkedIn for Sales Leads
In this post, I'll be sharing with you 7 different ways on how you can generate more B2B sales leads on LinkedIn even if you only have a lean marketing budget to work with.
1

Fill out your LinkedIn profile and optimize it.

You might get away with giving your basic info on Facebook or Twitter. But not with LinkedIn.

In fact, your chances of attracting your potential customers depend on how effective you craft your LinkedIn profile. Studies show that LinkedIn users with complete profiles get found in searches and receive queries from potential customers 40x more than those that don't.

The completeness of your LinkedIn profile will also dictate what lead generating features you'll have access to. You'll find out more what I mean as we go further.

You'll also need to optimize it the same way do with your blog posts and landing pages. The reason is that LinkedIn's search algorithm is similar to Google's.

Here are some tips on how to do that:
Add keywords within your profile.  
If you want to get in front of your target audience and use LinkedIn for sales leads, you got to include long-tailed keywords in these specific areas:
Your profile's headline,
Your About section,
Description in your work experience, and
Your skills.
Use bullet points.
People checking out your LinkedIn profile don't have the time or patience to read through large chunks of text. Listing them with the help of bullet points make your LinkedIn profile easier to scan.
Only provide relevant work experience.
You don't need to include every single job you've held on your LinkedIn profile. Choose those work experiences that'll contribute to you establishing your authority and reputation in your niche.
2

Create a LinkedIn page for your company.

Even though LinkedIn allows you to promote your brand and generate B2B sales leads through your profile, it's a good idea to create a LinkedIn Company Page.

The first reason is that your company logo appears on your LinkedIn profile and the profiles of your employees. It's subtle, but it still helps promote your brand and make others aware of it.

Second, it allows you to create specific Showcase pages for your products and services.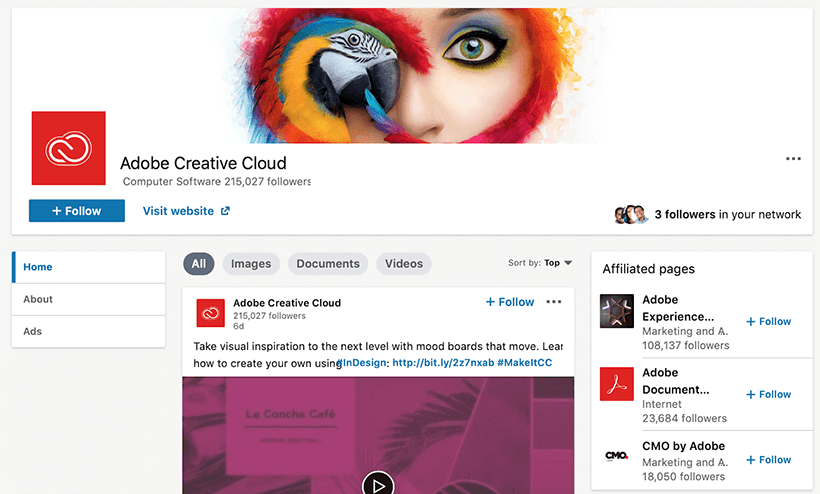 When you have this on your company page, it'll be easier for prospects to learn more about what you have to offer and convert them into sales leads for your business.
Third, your LinkedIn page can serve as your company's hub where your employees can pull content that they can share with their connections. This was the strategy the American Institute of Certified Public Accountants (AICPA) used to increase their membership by up to 40%.
Unlike Facebook, however, LinkedIn has a few requirements you got to meet before they allow you to create a Company page.
First, your LinkedIn profile should have reached either an "Intermediate" or "All-Star" ranking. You've also got to have several connections. Most importantly, you've included this company in your profile's Work Experience.
(See why it's critical to complete your LinkedIn profile?)
3

Write quality articles in LinkedIn Pulse.

This micro-blogging feature is what makes LinkedIn unique from other social media networks. It's also one of the cost-effective ways to generate B2B sales leads on this platform.

Publishing an article in LinkedIn Pulse gives you valuable backlinks to your site. Click To Tweet

Here's why:

LinkedIn Pulse articles are public.

Unlike the posts you share on LinkedIn that's limited to your connections, all of your LinkedIn Pulse articles can be viewed by everyone using the platform.

That means you get to reach those LinkedIn users that fit your buyer persona. At the same time, you got an additional platform where you can establish yourself as an authority and build a trusting relationship with them.

Publishing an article in LinkedIn Pulse gives you valuable backlinks to your site. This gives you a channel to directly drive quality traffic to your landing page where you can convert them into leads, and eventually, into customers.

On top of that, Google indexes articles published in LinkedIn Pulse. And because Google considers LinkedIn as a reputable site, your LinkedIn Pulse article can rank higher than those posted on your website.  

For all of these to happen, you got first to make sure that you write a high-quality article. Here are some tips to help you out:
Write an eye-catching headline that'll make people click and read your article.
Answer questions you commonly find your target audience are asking.
Make it easy to read by using simple, everyday words and short paragraphs.
Add relevant links to your website's content.
Break up the text using subheadings and visuals.
4

Use InMail to send cold emails to prospects.

InMail is one of the features that's available only to those with a Premium account. It works very much like your conventional email provider in that you can send email messages and segment them so that you can target your messages more effectively.

Since LinkedIn puts a limit on the number of InMails you can send per month, you've got to make sure that each one you send out counts.

One tip is to make sure that the cold prospect you're targeting matches buyer persona. Using a tool like LeadFuze makes this quick and easy for you because it'll provide you with a list of the principal decision-makers of the companies you want to target.

With this information, you're able to customize the message you send so that it's more personal. At the same time, you're in a better position to know which of your products that'll best meet their needs. This will help pique their curiosity and want to learn more about it.

Another tip is to use the AIDA model when crafting your cold emails.

Copywriters use model this when writing landing pages and ads because it helps you structure your copy so that the one reading this will be ready to take action.
5

Join LinkedIn groups.

LinkedIn is home to several different niche-focused groups that you can join and connect with prospects that you can eventually convert into leads.

Now, that doesn't mean that you start pitching your products and services in the groups you join. That's going to get you banned from the group.

Instead, follow these tips:
Ask thought-provoking questions.
This helps you in three ways.
First, it allows you to pool ideas and topics that you can then write about either on your blog or in LinkedIn Pulse.
Second, it'll give you insight into possible objections your target customers will have about your product or service. That way, you can be prepared to answer these so that you can get your visitors off the fence and convert them into sales leads.
Third, the answers that you get from the group members will help you weed out those who are potential sales leads. You can then continue the conversation with them privately or encourage them to visit your landing page to learn more about your product offerings.
Answer questions.
One of the reasons why LinkedIn users join groups is to find people to help them solve their problems.
When you become one of those that provide them with practical solutions to their problem, and they experience a result, you'll earn their trust. And they'll be more open to learning more about you and your business.
Don't make your conversations strictly about business.
Two words: Be Human.
Chime in and share your thoughts even if some of the conversations have nothing to do about your business. This is crucial if you want to build a relationship with some of the members here.
Without this, you won't get anyone notice you, much less become a sales lead.
6

Take advantage of LinkedIn paid ads.

LinkedIn paid ads are a quick way to generate quality B2B sales leads for your business because helps you get in front of those users that match your customer profile, even if they're not in your network.

There are two different kinds of LinkedIn ads. The first is the Sponsored Content, which looks something like this.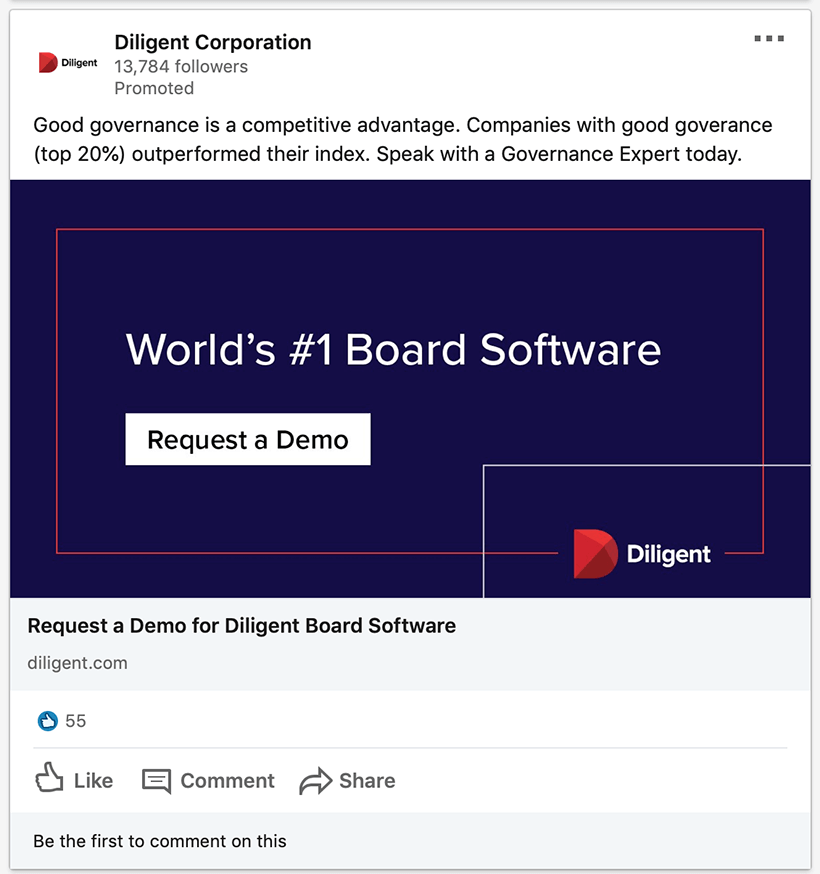 As you can see, this type of PPC ad looks like any organic post providing valuable content on a users LinkedIn feed.
LinkedIn has a comprehensive guide on how to turn the content published on your Company Page into a sponsored post. It also contains guidelines and Best Practices to maximize your results.
The second is the Premium Display Ads that you can create through LinkedIn's Advertising Partner Solutions self-service feature.
Here you can choose either a plain text ad like this:

Or one that's got an image like this: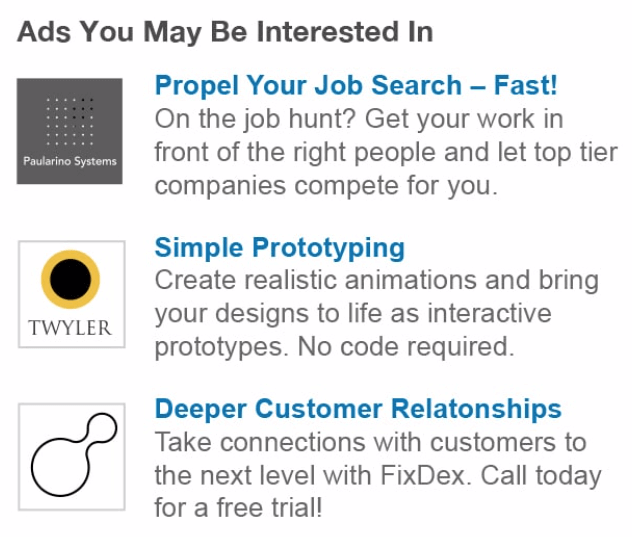 Here are some tips to help your ads to get clicks and generate B2B sales leads for your business:
Add an image.
Paid ads with images get 20% more clicks than those that don't because these images help make your ads more eye-catching.
Be direct with your copy.
The people using LinkedIn are very busy. Plus, LinkedIn paid ads' headlines have a limit of 25 characters, while the ad's body has room for just 75 characters.
Getting straight-to-the-point with your ad's copy will help you not go beyond that limit.
Use localized keywords.
This is crucial if you've got a physical office for your business or are only offering products in specific locations. That's because as much as 29% of people searching online will visit a store within their area within 24 hours. Often times this is done using directories such as Google Maps or Yelp.
7

Get the support of employees outside your sales and marketing teams.

Your sales and marketing team aren't the only ones that can help you generate sales leads for your business on LinkedIn.

Every single one of your employees can be your biggest brand ambassador.

Think about it:

If you got 10 employees, and each of them has got an average of 500 connections on their LinkedIn profile, that's 5,000 potential people that you can connect with, engage, and possibly even convert into leads!

Make every single one of your employees a brand ambassador. Click To Tweet

Creating an employee advocacy campaign within your company is one of the most effective ways to get everyone in your company on board to help spread the word and help you get more leads.
Key Takeaways
LinkedIn is no longer a social media platform for people looking to find a job or people to hire. It's now a fertile ground for you to generate quality B2B sales leads.
The tips shared here include paid strategies and those that you can do for free. Combining these will help you increase your site traffic and conversions.
Whichever strategy you choose to implement now, always make sure that you put your focus on your target customer and meeting their needs. This is what will get them to notice, trust, and buy from you.
Editors Note:
Want to help contribute to future articles? Have data-backed and tactical advice to share? I'd love to hear from you!
We have over 60,000 monthly readers that would love to see it! Contact us and let's discuss your ideas!