Recruit Hacker: Hiring New Salespeople While Keeping Up With Business as Usual
It's important to get in touch with people as soon as possible since it doesn't take long for the best candidates to be hired.
It's difficult to find skilled talent, especially when they can easily get a job elsewhere. With the fast pace of business, it becomes even more challenging.
That's why it is so important to overcome indecision and quickly find the right salesperson. You can do that with these recruit hacker techniques we'll show you.
In this article, we're going to help you overcome analysis paralysis and get the right talent where and when it's needed. We'll show you 5 recruit hacker ways of doing so.
---
The Business World Is Moving at the Speed of Light
If you're looking for a salesperson, your revenue targets are already built on the assumption that all of your positions are filled.
If I don't have a full team of salespeople, it's more difficult to achieve any goals. When there are empty seats in the office, my ability to hit targets is reduced.
I feel like I'm stuck in a catch-22. Filling roles quickly is my goal, but it's hard to find the right person for that position and do your day-to-day tasks at the same time.
Here are some steps to consider as a recruit hacker.
Step 1: Make sure your organization is a place where good talent wants to work. Good talent will be attracted to an employer who has set themselves up for success.
Causes of open territories need to be examined.
Is it unrealistic to think that we can expect people to sell more than they should?
Is the territory incapable of achieving that quota? Does it make sense for them to lower their compensation rates instead?
Is it a lack of leadership?
These factors can cause a lot of problems for the sales team.
Your standards should be high, but not so high that you're unable to find a qualified candidate.
If you're unsure about an applicant, first ask yourself why.
Have you been focusing on the wrong areas in recruiting?
There are many factors that contribute to the lack of diversity in the workforce. One factor is an initial vetting process that does not account for different types of qualifications and skillsets.
Have you made sure to properly use your employees and their networks when it comes to hiring?
As the pace of business increases, it is important to find a hiring system that helps you make quick decisions.
I'm currently looking for new salespeople, but I've found that there are many questions to ask before the hiring process begins.
Reframe the Process of Hiring
When you're paralyzed during the hiring process, it can be difficult to make a decision. As a recruit hacker, here are some tips for how not to get stuck in your search.
Do:
The sooner you can hire salespeople, the more quickly they'll be bringing in revenue.
You need to define success in a way that encompasses both the short-term and long-term benefits of your company.
When you're interviewing candidates, look at their experience in the marketplace of buyers and how they can grow with where it's headed.
Don't:
If you're too strict, it'll keep people from applying.
Hire only the best candidates that are currently available.
Invest in sales training that is specialized and effective.
Hire all of your salespeople the same way.
When you are overwhelmed with the process of hiring, create a strategy that will help make decisions faster.
1. Consider the candidates' prior experiences and their capacity for growth.
When hiring salespeople, it is important to find people who are adaptable. That cannot be taught but is critical for success in a sales role.
If someone seems like a good culture fit, is capable of growth and has the right background, don't be afraid to move forward with them.
But if the position is for a niche skill, it's OK to take your time. Some positions are so specific that they won't work with just any person.
It's important to have a strong referral incentive program in place for current employees.
The hiring process can be difficult, and there are many different things that go into making a decision.
2. Develop your career and provide specialized training
Sales managers often think they need to only hire the best salespeople, but these people make up less than 15% of qualified applicants.
Don't be discouraged. There are plenty of talented people out there who come at a lower price and want to learn, but they may only need more industry exposure.
Don't just hire someone because they have a great personality. Give recent graduates with promising sales skills the chance to prove themselves.
3.Utilize your team's advantages
It is best to keep your top salespeople in the roles that they enjoy and are good at, instead of trying to change them into something else.
Too many leaders think it's a good idea to reassign top salespeople from being in the field and hunting for new business, which is like telling an award-winning hunter that he should tend a cornfield instead.
Top salespeople have a unique skill set that is not transferable to other roles in the company.
Executives should keep the top 20% of performers for each role in place. The common recommendation is to do so.
4. Develop latent savantism
Chances are, you have some salespeople on your team that aren't being used to their full potential. You might not even need new employees if they were properly trained and had more encouragement.
Start by dividing your training into segments based on specific roles and specialties.
Rather than standard training on emotional connections, you could offer specialized education for specific accents and cultural backgrounds.
Hiring for specific talents will give reps a chance to learn more about themselves.
It is important to keep your sales machine efficient while scaling headcount.
5. Restructure your compensation plan
Sales positions should not be treated the same when it comes to compensation.
The traditional "hunter" model consists of a base rate, commissions based on actual sales and bonuses for exceeding quotas.
When a hunter is looking to maximize their short-term gains, you should compensate them based on the initial deal and the ongoing health of that relationship.
If you want to keep your best talent, make sure they're compensated based on more than just sales. They should be rewarded for customer satisfaction as well.
Create a Strategy That Is Beneficial to You
The majority of executives focus on the present and not so much on future hiring. The problem with this is that you'll eventually fall behind, which will make it harder to hit your sales numbers.
The modern sales industry moves so quickly that it's really hard to find the right talent. But by having a system for hiring, you'll be able to move faster and overcome your recruitment challenges.
When you put a plan in place before hiring, it's easier to make decisions quickly and hire the right people.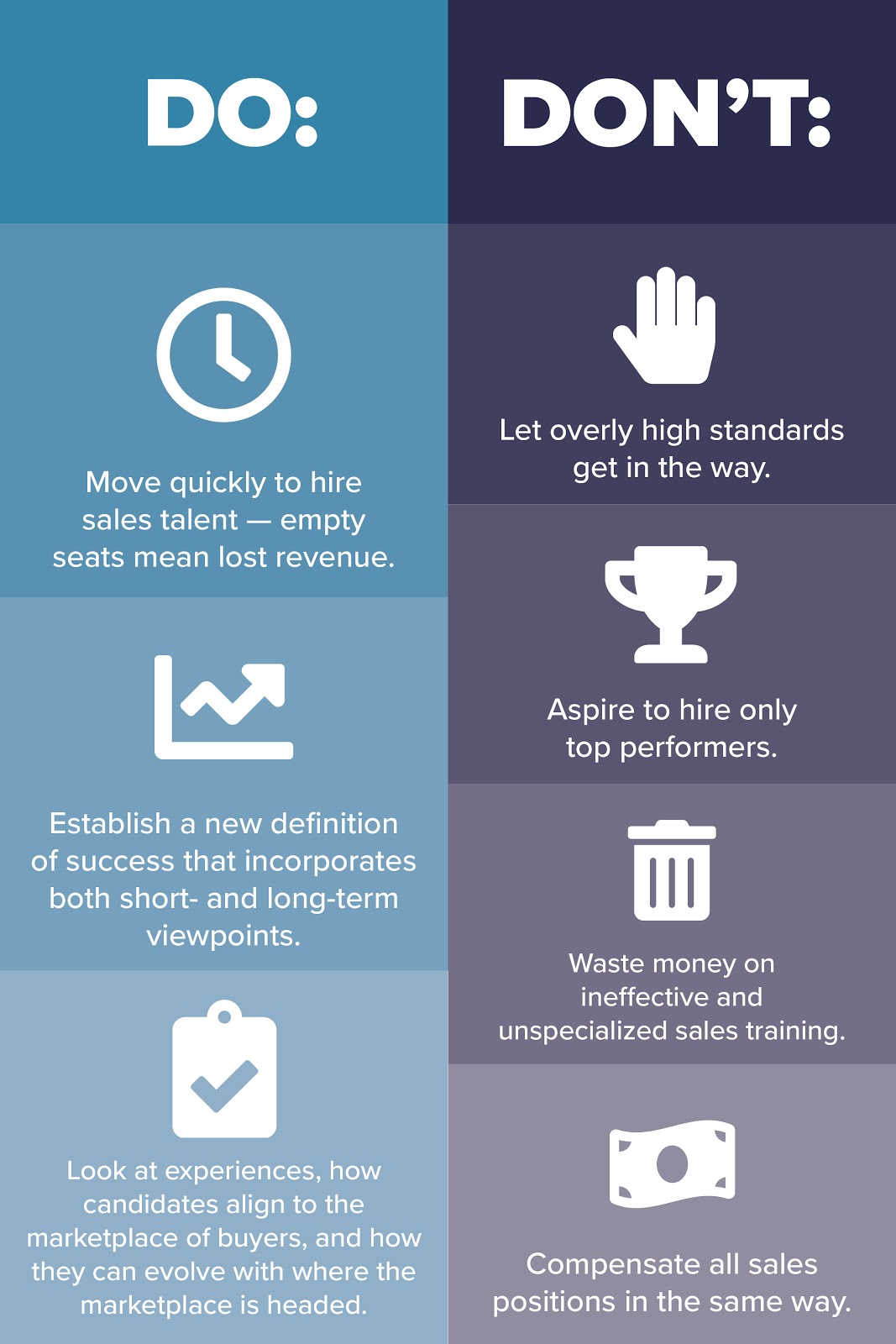 ---
Need Help Automating Your Sales Prospecting Process?
LeadFuze gives you all the data you need to find ideal leads, including full contact information.
Go through a variety of filters to zero in on the leads you want to reach. This is crazy specific, but you could find all the people that match the following: 
A company in the Financial Services or Banking industry
Who have more than 10 employees
That spend money on Adwords
Who use Hubspot
Who currently have job openings for marketing help
With the role of HR Manager
That has only been in this role for less than 1 year
Just to give you an idea. 😀

Editors Note:
Want to help contribute to future articles? Have data-backed and tactical advice to share? I'd love to hear from you!
We have over 60,000 monthly readers that would love to see it! Contact us and let's discuss your ideas!