If you're looking to build a high-performing revenue operations team, check out these RevOps strategies for structuring your team for success. I know from personal experience how important it is to have the right mix of people and skills on a RevOps team. By following these guidelines, you can set your team up for success.
RevOps Strategies and Tools 
A fragmented approach to managing businesses was common at the beginning of the 21st century. Each business function was managed using a different strategy in order to maximize the return.
This approach was made possible by technology, as there were many software solutions that could be tailored to a specific business function. This approach was amazing, but it had so many factors that it became difficult to maintain cohesiveness. Different business functions worked independently and did not collaborate as often as necessary, keeping up with changing customer buying habits.
This disconnect led to the demand for a better approach that eliminates operational silos. Revenue operation was born out of the need to align all business processes in order to increase revenue.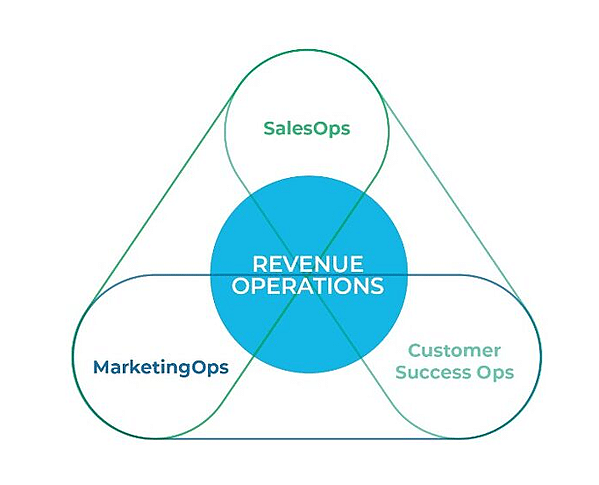 Source: hubspot.com
Revenue operation is a way to bring together sales, marketing teams, and customer success so that they can work together to increase a company's revenue. This is why many B2B companies have adopted this approach in recent years.
Revenue operations is a new operational approach that has roots in the B2B sector. It aligns sales, marketing, customer success and software throughout the entire customer lifecycle with the common goal of increasing revenue.
RevOps uses operational synchronization and efficiency to lower costs and increase productivity. This directly results in growth of your revenue.
This approach holds every business operation responsible for increasing the firm's revenue and business. A well-run RevOps team will allow every revenue-generating area to grow and work together.
Hold on! This sounds a lot like Sales Operations. Let's look deeper to see the differences.
Revenue Ops vs. Sales Ops
This team is responsible for assisting the B2B sales process by starting with sales ops. This team is designed to increase the productivity and efficiency of sales reps, which will result in predictable revenue growth.
Technically, the answer to this question is yes. The difference lies in the scale at the which these approaches work.
Implementing sales Ops does not only bring about improvements for the B2B sales team. Revenue operations can bring about significant improvements in all areas of revenue generation.
Sales ops reduce friction within the sales team to allow them to spend more time selling, while revenue operations does the same for all revenue-generating sections of a company. This allows the entire organization to be more effective in what they do.
Sales ops are therefore limited to B2B sales teams, while revenue ops is an all-encompassing solution, i.e. It covers everything from product to payment.
Revenue Operations Leaders.
Three key responsibilities fall on the revenue operations leader. These are:
1. Building Consensus 
Implementing revenue operations within a company means that the entire structure and operations of the company must be redesigned. This can lead to a lot of inertia or transitional friction.
A good leader in revenue operations must ensure that everyone is on board about the need for a radical transformation. Once everyone is on board, it is easy to deploy revenue operations.
2. Problem Solving
The real world isn't a perfect place and operations leaders can't expect to get everything they need in the time and manner they need. Sometimes the funds don't get allocated and sometimes the software doesn't meet the needs.
In such situations, the revenue operations leader must use creative problem solving to solve the problem and keep the organization functioning.
3. Sales Enablement and Education
The revenue operations leader is the technical and thought leader for the operation. It is his responsibility not only to educate and train the team about software but also how it works.
Now you know what revenue operations are and how RevOps works, here are some tools to help you.
1. Salespanel
The sales panel is our own product. It connects sales and marketing operations by seamlessly syncing customer data between each department.
Integrate your lead acquisition funnel with your CRM system
The sales panel automates the process of collecting leads from different acquisition funnels and transferring them to your CRM. Once leads are entered into the pipeline, they are immediately collected in your CRM.
Share lead intelligence between all teams
The sales panel allows you to keep all your teams up-to-date in real-time with all the interactions a lead has via various touchpoints.
Qualifying and Scoring your Leads
Leads can be scored using either a rule-based or predictive framework. Your sales team will be able to access lead scores that are updated regularly for any changes. Focus on product-led growth.
Notify instantly when a lead shows strong intent.
The sales panel will notify your sales team instantly if a lead qualifies for MQL status or if they have high intent actions. It also uses predictive modeling in order to determine which leads are most likely to buy.
A closed-loop reporting system allows you to tie marketing initiatives to revenue.
You can instantly create reports and have marketing touchpoints assigned for revenue generation. Select CRMs, such as Pipedrive, allow you to create a two-way data synchronization workflow to unify data across sales and marketing verticals.
A sales panel is a great tool to align if you want a complete view of your customer journey and can pass data between sales and marketing.
2. Outreach.io
Outreach.io is a DevOps platform. It maximizes visibility in four key elements that aid sales and marketing to overcome the problem of the disconnect between them and increase their efficiency.
Centralized Communication
It centralizes all communications between and to a contact. The platform allows you to email, voicemail, and text prospects from one place.
Full-Time Assistant
Outreach.io analyzes all data in your CRM and other databases about prospects to provide sales reps with all the information they need to contact existing clients.
Artificial Intelligence
Outreach.io uses its AI engine to prompt users with the best actions they can take during their day-to-day operations. This could be used to recommend a better time to send an e-mail to maximize open rates.
Campaign Testing and Projection
It can simulate different approaches and campaigns to determine which approach is best for a prospect. This allows sales reps to make adjustments to their strategies before pitching.
3. Clari
Clari helps businesses translate strategic goals into superior performance. Clari's RevOps platform can transform your sales team to unstoppable revenue-generating machines. How? They are focused on three areas:
Real-Time Data
Clari collects data from your business, as well as from any business software you may be using, and updates it in real time. All team members can see their accounts clearly by bringing together all data.
Powered by Artificial Intelligence and Machine Learning
Clari's AI/ML algorithms use the centralized, updated database to generate insights and risks into different opportunities. These insights can be used to help users make faster business decisions and profit from profitable opportunities.
Accurate Forecasting 
Clari's AI can process many scenarios and make predictions to provide accurate forecasts. This database is constantly updated and validated in real time. This gives you more insight into the pipeline and how much revenue it has.
4. Lean Data
LeanData, another RevOps platform, helps organizations organize and clean up their data to provide actionable insights, and clarity, and align sales and marketing activities. They accomplish this through three components.
Intelligent Routing
Intelligent routing from Lean Data eliminates delays. You can create rules and customize workflows to ensure leads reach the right person as soon as they enter your sales funnel.
The routing graph can be viewed. This increases transparency and clarity between teams, resulting in smoother workflows.
Matching Data
Lean Data's data handling capabilities can be described as exceptional. Lean Data's data matching function does not just keep your data organized and up-to-date, but also reduces redundancies or data duplications.
It is easy to pair contacts with the right accounts, making it easier to do work. The entire database can be used across all teams.
Engagement
Lean Data offers a central dashboard that allows users to view all activity of an account or contact. All data can be accessed at one location, regardless of origin.
5. Openprise
Openprise automates your revenue operations using a single platform that doesn't require any code. This allows your teams to spend more time on more productive tasks. Openprise's data handling capabilities will make it easier to generate and convert leads quicker.
Data Management
Enterprise ingests data at all possible input points to create a single data repository that is accessible by everyone. Data is cleaned, validated, and updated in real-time to provide actionable insights.
Data Orchestration Routing
Openprise's Data Orchestration feature allows users to select ingestion points and route data to different teams in a customized way. Openprise is extremely user-friendly because it doesn't require any code.
Sales Automations
Qualification, assignment, lead and account scoring, qualification, etc. Automated processes can also be used. You can structure account hierarchies, assign priority, plan territories, assign partner deals, etc. All this from one place.
Understand your customers' journey and sell more!
Conclusion
The most important thing to remember when structuring a RevOps team is to have the right mix of people and skills. By following these  RevOps strategies, you can set your team up for success. With the right team in place, you'll be well on your way to achieving your business goals.
---
Need Help Automating Your Sales Prospecting Process?
LeadFuze gives you all the data you need to find ideal leads, including full contact information.
Go through a variety of filters to zero in on the leads you want to reach. This is crazy specific, but you could find all the people that match the following: 
A company in the Financial Services or Banking industry
Who have more than 10 employees
That spend money on Adwords
Who use Hubspot
Who currently have job openings for marketing help
With the role of HR Manager
That has only been in this role for less than 1 year
Just to give you an idea. 😀
Editors Note:
Want to help contribute to future articles? Have data-backed and tactical advice to share? I'd love to hear from you!
We have over 60,000 monthly readers that would love to see it! Contact us and let's discuss your ideas!