Sales alignment is a term that gets thrown around a lot in the sales world, but what does it actually mean? And more importantly, why should you care? In its simplest form, sales alignment is the process of aligning your sales team with your company's overall goals and objectives.
But there's so much more to it than that. It can help improve communication and collaboration within your team, reduce manual effort, and ultimately lead to better results. If you're looking for ways to improve your own sales process, here's why you should consider sales and marketing alignment.
Sales Alignment
Sales alignment is the process of ensuring that the sales goals of a business are aligned with the overall business strategy.
This includes developing sales strategies that support the company's objectives and ensuring that the sales team is focused on activities that will generate the desired results.
Sales and marketing alignment can be a challenge, especially in fast-growing companies, where the sales team may be outpaced by the rest of the organization.
However, it is essential to make sure that the sales goals are aligned with the company's overall strategy, in order to maximize profits and avoid duplication of effort.
Benefits
of Sales and Marketing Alignment
There are countless benefits to aligning your marketing and sales teams, and we'll discuss them.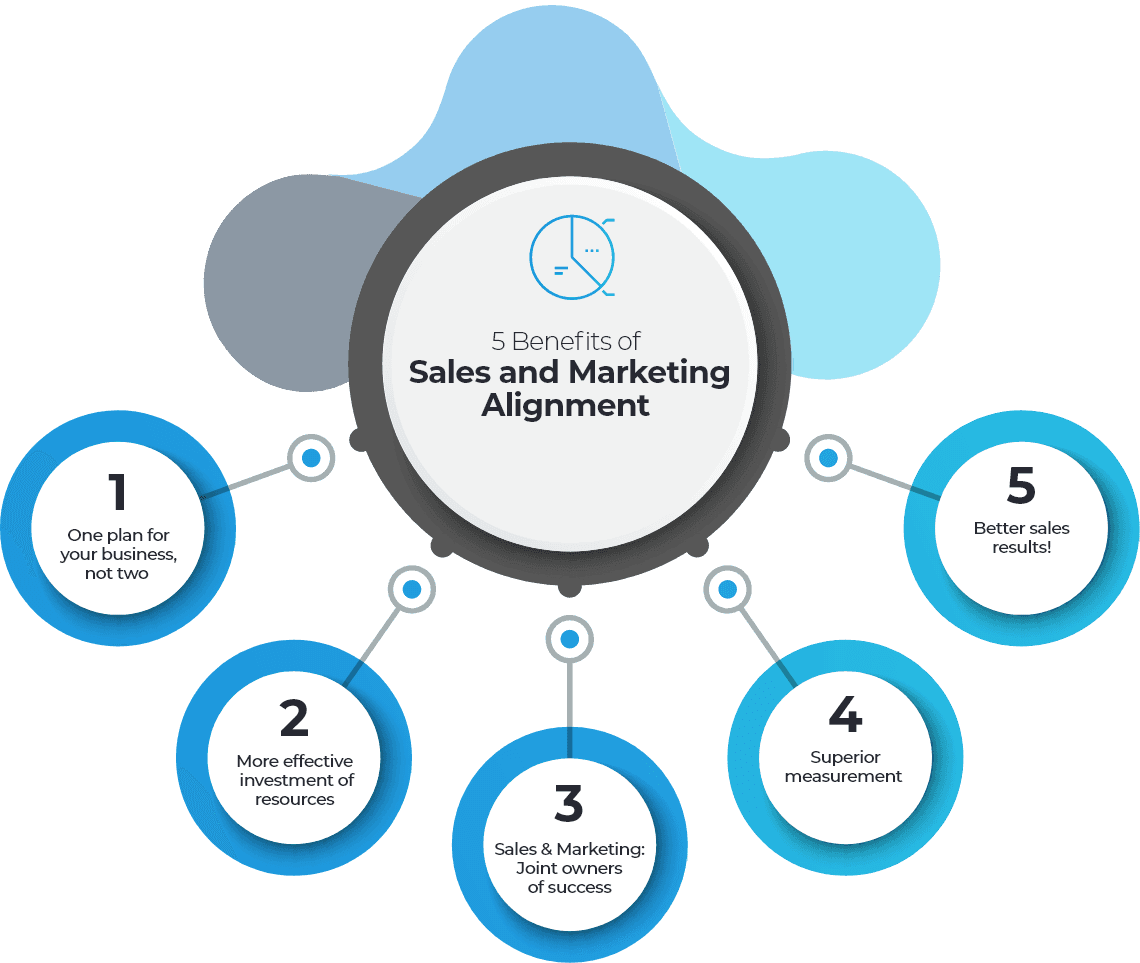 (Source)
When marketing and sales teams work together, they can achieve greater revenue, ROI, and efficiency.
The impact of marketing and sales working together is crystal clear. The Aberdeen Group found companies that align their sales & marketing operations see a 32% YoY revenue increase.
The relationship between marketing and sales is crucial for success. By aligning their strategies, both teams can better identify new sales opportunities, drive revenue, and increase revenue.
With a 'sales and marketing system, the two teams can collaborate, communicate, and benefit from each other.
Aligning your marketing and sales teams is essential to increase revenue and close more deals.
98% of businesses believe that aligning their marketing and sales teams is crucial to success.
When these two departments collaborate, they also waste less time and get a better sense of their return on investment.
When marketing and sales are on the same page, you can push more leads into your sales funnel.
Problems Caused By Misalignment Between Marketing and Sales Teams
Misaligned sales or marketing teams can lead to major problems, regardless of industry. Here are five common problems that a strategy to align can help you solve.
Inadequacy of understanding. Sales teams believe that marketers don't understand their customers' needs and questions. Marketing teams assume that sales teams only know their customers and don't understand the wider, ever-changing buyer market. Each team is correct and wrong: Each team has its own strengths and weaknesses. The potential for everyone to succeed increases when there are opportunities for knowledge sharing.
There is fierce competition for funding. There is no limit to the budget of an organization.

Marketing and sales

often feel like they are competing for recognition and resources. Each team believes their department is more valuable and there can only be one winner.
Separate systems. It is a problem when

sales and marketing

data are stored in different systems. Information is often handed out at a snail's pace by departments. Teams overlook critical leads. The business loses the opportunity to plan, upsell, and pivot.
Different priorities. Are your two teams unable to agree on the products to promote and who to sell them to? Do you prefer your marketing team to bring in new leads while your sales team is more focused on existing customers? Different priorities can waste time and resources, and cause frustration for both your company and your customers.
Uncoordinated timing. Marketing creating demand for a product sales cannot currently fulfill? Are marketing campaigns missing seasonal fluctuations that only sales can see? Collaboration between teams allows you to exceed customer expectations at every stage of the buying journey.
Are any of these problems familiar? These problems can be as difficult as they sound. However, you can solve them with a thoughtful strategy that considers how each person can help the other.
Effectively bring together your marketing and sales teams
Both

sales and marketing teams

need to share a common vision,

goals, and a shared

understanding of the KPIs required to achieve them.
Both teams must have the resources they need to achieve their goals, whether it's staff or software.
Both teams need to use effective feedback loops to drive informed processes.
Marketing and Sales Alignment

Strategies

Now that you've learned what sales and marketing alignment is, and seen some real-world examples of it in action, it's time for you to put it into practice.

Here are 7 ways to help you change how you do sales.
1. Focus on

 customers
Your customers should be your top priority. This will allow you to focus more on the customer experiences they have with your business, rather than the numbers and statistics.
When both your marketing and sales teams are on the same page, your chances of achieving greater success are increased. By focusing on your customers' wants and needs, you can foster an environment of collaboration between these two vital departments.
2. Define the Stages of Your Marketing & Sales Process
The marketing department is in charge of creating and implementing a marketing plan, as well as promoting the brand and bringing in new customers.
The marketing team and sales reps are responsible for executing a clearly defined marketing process. By defining clear roles, responsibilities, and expectations, both teams can collaborate more efficiently to drive company revenue and close deals.
3. Share your sales feedback
with the marketing team
It's vital for sales and marketing teams to work together, sharing the information they gather from interactions with customers. That way, you can ensure that you're providing your buyer with the solutions they need at the right time.
This will provide your buyer with the solution they need at the right time in the buying cycle.
Time is valuable, so share these insights and build effective knowledge-sharing systems.
4. Frequent communication
It's not just about increasing communication between the sales and marketing departments — all communications need to be as organized as your feedback process for sales.
Coordinate with your team on when to follow up, and how often.
By maintaining a consistent, disciplined, and organized approach, you can ensure that everyone on your team is following the same playbook. Create a detailed agenda, and allocate time for discussing action items and following up.
5. Measure and track Key Performace Indicators
Now that you have improved your communication with your sales team, established your sales funnel, and focused on the buyer experience, it is time to measure your marketing and sales team success metrics.
This integration with Salesforce ensures that both teams have visibility into each other's pipelines and work together to meet revenue and process targets.
Teams that focus on improving the quality of their leads may find themselves closing more deals, improving the handoff of leads to sales, or aligning their content with the needs of their customers.
6. Rewarding and recognizing your team's effort
Most businesses only reward their sales reps for bringing in new business, while marketers are only recognized for the number of qualified leads that get through the door. A successful business recognizes both marketing and sales teams for their contributions at every stage of the sales funnel.
If you celebrate and reward your team for sales, you'll emphasize respect. This will lead to more coordinated teamwork.
7. Control Your Content Management
Your team's shared goals and integrated efforts won't be effective if your content management system is a mess.
Content management allows your marketing and sales team to easily access the right material for the right situation.
Keeping all of your marketing materials organized and easily accessible will ensure your message is always on-point and that you always have the materials you need.
Your marketing department creates a lot of valuable resources for your prospects — does your sales team know how to use them?
What are some examples of
sales and marketing alignment

?

While implementing a new process can be time-consuming, the end results are always worth it. Here are a few examples of how organizations have implemented marketing and sales strategies successfully.
Insight Sharing
The well-known company, (Zoom), has revolutionized the telecommunications industry with its easy-to-use video conference platform. However, their outdated sales processes and manual operations were hindering their growth.
Before using Outreach, the sales and marketing departments at Zoom used separate tools that didn't communicate with each other.
These multiple, sometimes conflicting, sources of data made it hard for us to share information and collaborate. We wasted a lot of time manually tracking information and missed opportunities as a result.
With outreach, sales & marketing teams are able to track their success rate, analyze their campaigns, and target their messages to their ideal audience.
More communication, less manual effort
With more than 200 million customers and 188 different countries, Docusign is aggressively growing.
The global Esignature company needed to streamline its sales processes, especially its international and enterprise-level accounts.
Before Outreach, the Docusign team tracked their sales efforts with Excel spreadsheets and relied on their CRM for other tasks.
On top of that, sales reps had to manually update their CRM, coordinate with the marketing staff, and follow up seven times via email and phone to follow up with the lead.
With help from Outreach, the sales team at Docusign was able to increase their daily performance by 30%.
This was accomplished by eliminating unnecessary and repetitive tasks that were slowing down the sales process, automating the schedule, and improving tracking and visibility.
By using marketing automation tools, they were able to make their customer relationship management system more efficient, as well as improve the alignment between their marketing and sales departments.
Conclusion
Sales alignment is a process that can help improve communication and collaboration within your team, reduce manual effort, and ultimately lead to better results. If you're looking for ways to improve your own sales process, I highly recommend considering sales and marketing alignment.

---
Need Help Automating Your Sales Prospecting Process?
LeadFuze gives you all the data you need to find ideal leads, including full contact information.
Go through a variety of filters to zero in on the leads you want to reach. This is crazy specific, but you could find all the people that match the following: 
A company in the Financial Services or Banking industry
Who have more than 10 employees
That spend money on Adwords
Who use Hubspot
Who currently have job openings for marketing help
With the role of HR Manager
That has only been in this role for less than 1 year
Just to give you an idea. 😀[/sc
Editors Note:
Want to help contribute to future articles? Have data-backed and tactical advice to share? I'd love to hear from you!
We have over 60,000 monthly readers that would love to see it! Contact us and let's discuss your ideas!