The Complete Guide To Auditing Your Sales Content Library
A content audit is something that many companies don't seem to think about. It's not a hack or trick on how to increase your sales numbers.
You can get caught up in quick wins, but the reality is that it's not sustainable. You need a go-to-market strategy and smart processes to reinforce them.
In the sales content library, when I first did a content audit, it was not fun. It wasn't exciting at all but when deployed properly they can have significant impacts on sales and marketing outcomes.
Here's a rundown on how to execute a content audit based on our own experience, and what we learned from these clients. Every sales team is different so I want to give you some tactical advice but try not to get too specific because it might not work for your company.
---
What is a sales content library audit?
A content audit is a review of any and all content used by a sales team, with the goal being to see what types of investments in new or updated content could have the largest impact on business. The process maps your current sales funnel against existing pieces of company-owned material.
A successful audit will provide you with a list of projects that have the potential to be profitable, but it's up to you whether or not this is worth investing in.
Phase 0: Get a sense of the terrain
If we want to be successful, we need to understand how the goals of our marketing and sales team support those initiatives.
One of the best ways to prepare your sales reps for success is by providing them with relevant, timely content with the help our sales content library.
Let's say the company has a specific revenue goal. It might be easiest for your sales team to hit that by increasing opportunity creation by X%.
It's important to think about the role content plays at that specific stage of a deal.
Phase 1: Speak with Sales
Before you start creating content and adding it to your sales content library, find out what your sales team needs from it.
If you already know this, that's great. You probably have an idea about some problems and opportunities with content.
If you want to make a difference, then it's important for your assumptions to be validated. If not, they need to be broken down and reworked.
When you are looking for feedback, make sure to ask about your content library and how well it aligns with the company's needs. Then, you may add it in your sales content library.
When I'm looking for content, is it easy to find the right article?
Do you feel like the content is getting your clients closer to a purchase?
Is the content up to date and reflective of what is currently happening in sales?
Are there enough deals at each stage to keep the content fresh?
Relevance: Does this content have a message that can be communicated to all major customer segments?

Article: Relevance is an important consideration when developing new marketing messages.
To get a better sense of what's going on, talk to the managers and also the individual reps. They have a more accurate idea about how things are working or not working.
Survey the team of sellers about trends they've seen in their conversations.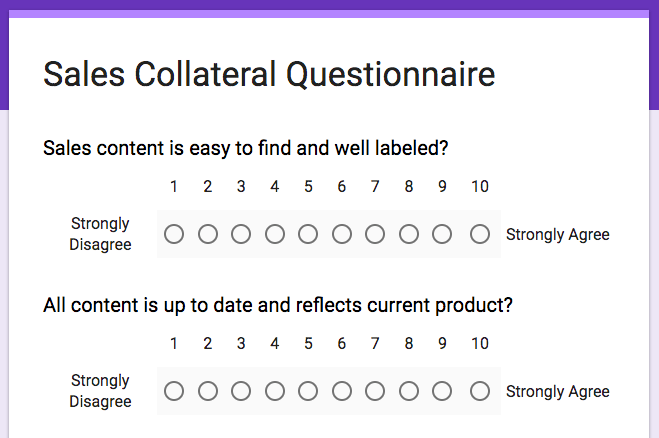 Phase 2: Set your goal
You need to set a clear goal before you begin the audit process. You don't want it to become too complicated and take up more time than necessary.
Here are some ways to stay on top of the project:
One of the problems is that there are a few trouble spots in the sales funnel. Content can help identify those areas.
You've got lots of outdated and off-brand content, but you can't afford to re-do everything. You need to figure out what's worth the investment.
The content library is disorganized and you want to understand what reps are using so that it can be organized in a way that suits their work style.
D) All of the above.

When I first began hiring salespeople, I just assumed pay along with commissions and bonuses would be enough sales motivation. With my first salespeople, I made the mistake of constantly testing pay and commission structure.
Once you have a goal, break it down into smaller goals and put numbers on them.
If you are trying to support your sales funnel, set a goal that 25% of opportunities move from stage 1 to 2. If the content is outdated, make sure that 80% of next quarter's content is up-to-date or 90% of reps on your survey agree it's easy to find.
When you set a timeline for results, it's helpful to include your stakeholders and give yourself an actual deadline. You should also discuss what metrics will be used to measure the impact.
Phase 3: Map your world
First, identify all content that gets used throughout the sales process and maps it against your sales funnel. If you use a CRM with production content management capabilities, this is easy as you'll already have access to all of the company's pre-existing material — including what individual reps have created on their own.
If you have a lot of sales content all over the place, like Google Drive and Dropbox but also individual reps' hard drives…  you will need to get creative.
One way to find the best content is by manually combing through shared drive folders. Another option would be sending an email to reps asking for 10 pieces of collateral they have sent over the past few weeks, or searching activity history in your CRM for keywords like attachment, white paper, case study etc.
Here is what a high-level sales development cycle typically looks like: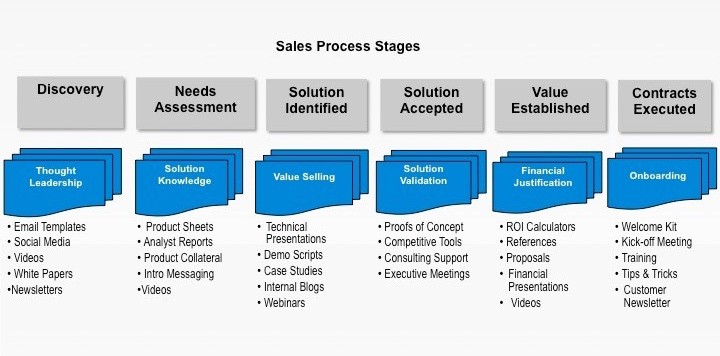 Source: The Value Shift Blog
When preparing for a PowerPoint, it's best to use Microsoft Excel. Start with the following columns:
Deal stage
Content title
Link to content
Phase 4: Assess the quality of your material
The goal of this phase is to create a rubric and then evaluate your content against that. What goes into the rubric should be entirely driven by what you are trying to accomplish with your audit, for example if it's about case studies an individual may only need three columns — Content Type, Persona, and Content Utilization (whether or not Sales is actually using it).
Here are some other factors that can be useful in evaluating the company's diversity efforts.
Is this an advertisement for a brand?
I watched a video of their presentation.
Deal stage
Date created
Last updated
Sales representatives want to have a presentation that they can take with them and show potential clients.
Persona / Buyer Type
With content management platforms, you can see how the sales team is deploying and managing their own content. You also tie this back to your CRM so that you can measure whether or not they're using it in a way that will help them close more deals.
Add these to the content map you created. Review and score each individual piece of content, but stay within a certain scope. For example, if your goal is just for proposals to close more deals, then ignore any top-of-the funnel articles.
Phase 5: Identify opportunities and make a plan to address them
After completing the content audit, you should have a better understanding of your content library and how it's being used by sellers. Look for patterns in what scores high on both goals and identify areas where there is room to improve.
The next step is deciding whether the project will be worth it. You'll want to take into consideration if you have time or money, and then weigh that against your other strategic initiatives.
Phase 6: Measure its impact
After a while, you should review the KPIs that were affected by your audit. Did they have the expected outcome? If not, find out what went wrong and how to fix it next time.
The survey you sent out might have biased the results, or it could be that your scoring framework didn't align with what you were auditing well enough. Whatever the case may be, there are always ways to improve for next time.
Phase 7: Do it over again
The best time to do a content audit is at the beginning of every quarter. If you start seeing trends, like organization and freshness issues, it might be worth investing in technology or process.
---
Need Help Automating Your Sales Prospecting Process?
LeadFuze gives you all the data you need to find ideal leads, including full contact information.
Go through a variety of filters to zero in on the leads you want to reach. This is crazy specific, but you could find all the people that match the following: 
A company in the Financial Services or Banking industry
Who have more than 10 employees
That spend money on Adwords
Who use Hubspot
Who currently have job openings for marketing help
With the role of HR Manager
That has only been in this role for less than 1 year
Just to give you an idea. 😀
Editors Note:
Want to help contribute to future articles? Have data-backed and tactical advice to share? I'd love to hear from you!
We have over 60,000 monthly readers that would love to see it! Contact us and let's discuss your ideas!