Sales enablement initiatives can be the key to unlocking success for sales teams. By optimizing sales content, these programs help sellers close more deals and improve their bottom line. I know this from personal experience. When I was working as a sales manager, we implemented a Sales Enablement Initiative that helped us optimize our sales content strategy. The results were amazing: We saw increased closed deals and higher customer satisfaction scores. If you're thinking about starting a Sales Enablement Initiative at your company, here's what you need to know to get started on the right foot.
Sales Enablement Initiatives
Sales enablement initiatives are designed to help sales teams be more effective in their roles.
These efforts may include training your sales reps on new products and services, providing them with marketing collateral they can use to close deals, or implementing systems that allow them to work more efficiently.
What is sales enablement?
A high-performing, strategic, and results-driven marketing professional will empower your sales team. But what does "sales empowerment" mean for business-to-business (B2B) organizations?
Sales enablement involves providing your salespeople with the right tools, resources, and support that can help you improve customer relationships and increase conversion rates.
A high-level overview of your sales strategy should cover what you do, how you do it, your goals, and the main way you enable your sales team.
There are various ways you can help your sales forces be more successful. One strategy is to provide your salespeople with valuable customer information.
This data can help you better understand what your customers need and their pain points.
Equipping your sales team with tools ensures they have everything they need to close more sales.
Your sales team needs more than just the right marketing materials. They also need an easy way to find those materials and use them. This eBook has 7 tips to help your marketing team build an effective strategy to help your sales operations teams sell, not search.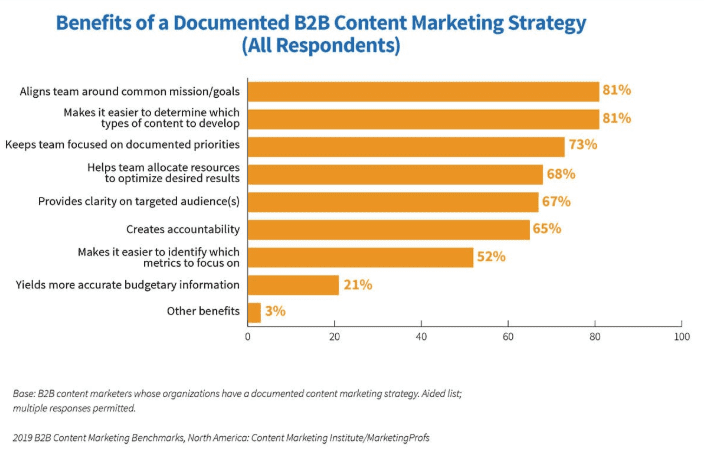 (Source)
Your sales team is the backbone of your business. They drive your revenue, and without them, you wouldn't be able to accomplish any of your goals.
More and more sales enablement companies realize the importance of having more than just a great salesperson on their team. Instead, they need a high-performing sales team that can drive growth and help keep the business alive.
By investing more in sales training, companies can give their employees the best chance at success.
In 2022, more businesses will be using inbound marketing, efficient tech, and buyer personas in their sales process.
By assigning these buyer types to different stages in a buyer's journey, you can determine which parts of your process are most effective.
Sales teams need effective strategies to ensure they have everything they need to be as successful as possible.
What members of your sales team need to be successful will depend on the specific product or service you're selling, but generally, it should include the right technology, training, and collateral.
What are the components of sales enablement?
Sales enablement aims to equip your sales team with the tools, information, and resources they need to do the best job possible.
A solid sales enablement strategy will give your team the resources they need to succeed. This includes access to useful technology, informative content, and goal-oriented guidelines. Investing in sales enablement can improve lead-to-conversion rates and reduce sales cycles.
Sales Enablement 101
Sales enablement wasn't something that suddenly appeared on our doorstep. It's been around for over 20 years and has evolved with technology. Its origins can be traced back to 1999.
John Aiello, a former Miller Brewing Company brand manager, and Drew Larsen (a telecommunications consultant) joined forces to create a strategic approach for sales operations and management. Aiello and Larsen aimed to fix long-standing problems that have plagued sellers over the past decades. Sales trainers and enablement consultants made steady inroads with early adopters, but it wasn't until 2010 that the concept caught on.
Software vendors developed technology to help buyers and sellers make sense of the huge amounts of available data as more companies were eager to implement best practices in sales enablement.
Sales analysts used reporting tools to analyze that data and provide insights to sellers that can help them improve their interactions with prospects and leads.
SiriusDecisions, Gartner, IDC, and Aragon Research. 2013 saw the birth of the Sales Enablement Society, officially establishing sales enablement as an occupation.
Developing a sales enablement strategy
Now that we've explored the benefits of implementing an effective, high-performing, and scalable marketing-sales process, let's look at the tips and processes to do so.
A business's approach to delivering resources to salespeople is referred to as a "sales enablement" strategy.
A comprehensive sales strategy goes beyond just emails and phone calls. While these are useful tools, they are only a part of the larger puzzle.
Sales reps need a comprehensive set of tools, training, and support in order to be effective.
This could include things such as product info, industry trends, sales best practices, and more.
By making sure that your sales team has all the resources and training they need, you can ensure that your entire company has a holistic approach to success.
Your sales forces are most likely emailing out hundreds of follow-ups a day, all from lists they've gathered.
Helping them be more effective and save time by simplifying their process will help your sales team connect with more potential customers.
With proper use of automated email marketing, you can send emails that are highly targeted to each individual prospect based on their position in the sales process. These follow-ups can be sent automatically if a lead does hundreds of follow-ups daily. This makes sure that you remain top of mind with your prospects and that your sales cycle keeps moving forward.
These emails can be personalized for each contact and company, making them more relevant to the specific person.
Using automated lead prospecting tools
A sales rep can use a premade template for an email to a potential client that they can edit slightly before hitting "send."
Email templates are a great tool for sales reps to quickly reach out to potential new customers. Unfortunately, this doesn't mean that they're going to be using best practices when doing so. This is where sales enablement programs comes in.
By enabling your sales team with sales emails and phone scripts, you can help ensure their success.
With automation, you can schedule a series of emails that are sent automatically to your prospect. These can include links that directly add events to your calendar.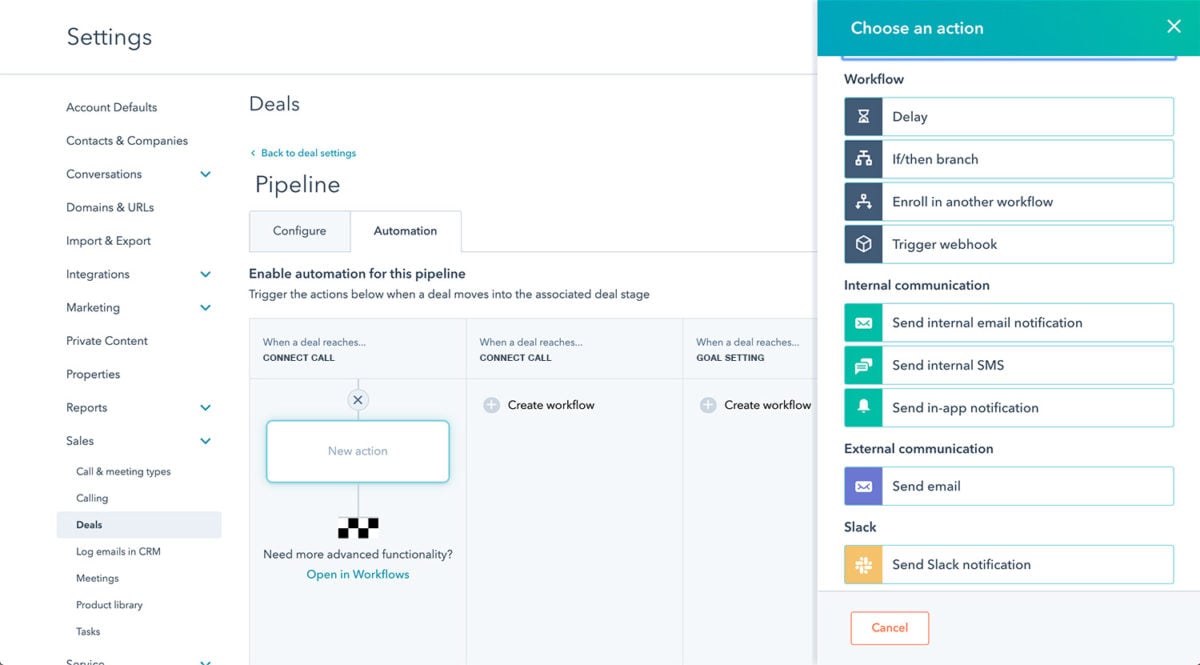 (Source)
This awesome feature allows customers to quickly and easily book meetings or conversations with reps without reaching out to them directly.
Scheduling a meeting with your prospect is a great way to get them ready for a sales pitch. It's a great way to qualify your contact before jumping in.
With an automated system, sales reps can schedule meetings at the beginning of every day with highly qualified, interested customers. This can save hours that would normally be spent finding and qualifying new contacts.
Automating Your Live Chat Service
A live-chat feature on your site allows decision makers to connect with customers who are actively looking for your services. This can help speed up your sales cycle, as you can immediately answer their questions, and pitch your product.
Want to spend less time on the phone? You can optimize your live chat services to bring in higher quality sales-ready customers.
B2B sales enablement

software

A useful tool, such as a Sales Enablement Platform, can help you manage and access all of the important sales and customer-facing material in one place. This can be incredibly useful for keeping everything together and easily accessible.

Using sales enablement tools, like Outreach, allows you to manage, edit, and share all of your marketing and sales materials in one central place. This improves your team's productivity and helps you to close more deals with your prospects.

Sales enablement software is essential for any company that wants to improve communication and alignment between sales and marketing teams.

Using the right tool can help your team create, edit, share, and manage all your content. It can also help your team members collaborate and discuss which content is the most effective.
Sales Content Optimization
for Sales Enablement

Plan

While marketing teams typically focus on creating content that engages potential customer needs, many sales departments are also responsible for creating their own content that they can use when reaching out to new contacts.

Content creation is time-consuming, so it's important to optimize it. You can streamline the process by creating a guide that outlines what types of info are the most effective content. This will allow you to spend less time creating content and more time closing deals.

Sales reps use a variety of tools to help them save time, including optimized content that can be accessed quickly.

The following list from major sources like Hubspot and Forbes are the top 10 ways to optimize any piece of marketing or sales content for effectiveness.
Conclusion
If you're looking to improve your sales content strategy, a sales enablement initiative can be the key to success. By optimizing your sales content, you can close more deals and improve your bottom line. If you're thinking about starting a Sales Enablement Initiative at your company, keep these tips in mind to get started on the right foot.
---
Need Help Automating Your Sales Prospecting Process?
LeadFuze gives you all the data you need to find ideal leads, including full contact information.
Go through a variety of filters to zero in on the leads you want to reach. This is crazy specific, but you could find all the people that match the following: 
A company in the Financial Services or Banking industry
Who have more than 10 employees
That spend money on Adwords
Who use Hubspot
Who currently have job openings for marketing help
With the role of HR Manager
That has only been in this role for less than 1 year
Just to give you an idea. 😀
Editors Note:
Want to help contribute to future articles? Have data-backed and tactical advice to share? I'd love to hear from you!
We have over 60,000 monthly readers that would love to see it! Contact us and let's discuss your ideas!