Like all other things, to be successful, you need a plan. And having a strategic sales plan template is the best way to ensure success in your business.
A sales plan is a great way to:
Analyze where you are in your company and see what steps need to be taken in order for it to grow.
Show the level of potential success that can happen when making changes.
To create a sales plan template that actually impacts your business, you need to have the right strategy. Click To Tweet
Here are tips and tricks for creating a sales plan for your business.
What Is a Sales Plan?
A sales plan is a strategy document that lays out the company's plans for improving sales results for a specific time period.. A comprehensive approach to this kind of planning helps ensure all members are working towards common goals and objectives.
Your sales plan should include:
Specific performance and revenue goals for a given period
The strategies to achieve them
The activities and resources required to carry out those strategies
What's Included in a Sales Plan?
A sales plan covers important aspects of the business, including revenue goals, selling methods and metrics, current sales force capabilities, target customers, and more.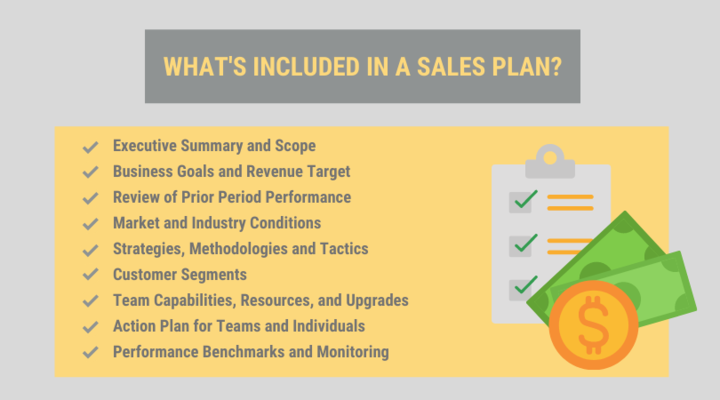 It covers nine pieces of information:
1. Executive Summary and Scope
This section provides a brief summary of the document, discussing its goals and strategies to achieve them. It also states when this plan is being put into effect.
2. Business Goals and Revenue Target
This section clearly defines revenue targets and may also include related company objectives (e.g., optimize lifecycle value through customer success programs, etc). Classifying revenue statistics into distinct categories (such as line and area) aids in the document's organization.
3. Review of Prior Period Performance
This section summarizes the previous period's performance, highlighting both errors and decisive decisions that resulted in a beneficial outcome. The overarching objective is to optimize the sales plan through the use of effective inputs and strategies.
4. Market and Industry Conditions
This section summarizes market trends that are highly likely to have an effect on sales performance.
5. Strategies, Methodologies and Tactics
This section makes recommendations for the most effective selling strategies, communication sequences, and playbooks for the company in question.
6. Customer Segments
This section lists all the possible revenue generating omnichannel opportunities, like:
Upsells
Cross-sells
Referrals
Renewals
New Prospects
New Segments
7. Team Capabilities, Resources, and Upgrades
This part summarizes and describes the present state of all production inputs (human resources, technology, specialized sales team, and so on) necessary to process and close sales details.
8. Action Plan for Teams and Individuals
This section assigns various teams and individuals jobs, activities, and responsibilities. Prospecting efforts, meeting appointments, and product demos/presentations are all part of the job description.
9. Performance Benchmarks and Monitoring
This section defines performance metrics and the methods and processes that assist in monitoring them.
Sales Plan Examples
When you think about sales plans, what usually comes to mind?
When most people are in charge of sales, they often have to create an annual or weekly plan. This is a strategic and tactical document that outlines the plans for everything related to sales.
There are many different types of sales plans and everyone needs a plan that suits their situation.
Here are some examples:
30-60-90-day Sales Plan
One way to quickly get new salespeople up-to-speed is by teaching them a 30, 60 and 90 day plan. This includes the milestones they would need to reach for the quarter.
The 30-60-90 day sales plan is a helpful tool that can be broken down into 3 parts:
Day 1 to 30:
Learn everything you can about the company: their products, customers, competitors, processes, and procedures.
Day 31 to 60:
Put your plan into action. Analyze current processes and evaluate changes.
Day 61 to 90:
Optimize the plan. Implement any new strategies you have come up with.
Sales Work Plan For Specific Sales
It's important to have a process for approaching and converting prospects into customers. This can be done in many ways with different tactics.
A type of sales plan that you'll often see is a slaes plan for specific sales tactics like call sequences, email follow up, and meeting appointments. Such plans focus on just one goal or task.
Territory Sales Work Plan
Managers who oversee a region use territory sales plans to help their directors and VPs keep track of the progress in each area.
I recommend using this plan to target the right customers and set goals for increasing income and sales over time.
The following are the objectives of a territory sales plan:
Make your team more productive
Increase the number of generated sales
Reduce operational costs
Improve working relationships between clients and managers
Improve customer coverage
It is important to work on your territory sales plan and avoid making frequent changes. Changing things often can hurt productivity in general.
SalesTraining Plan
There are many different types of sales plans, each with a specific focus. For example, Sales Enablement might have a plan for their employees' training and Revenue Ops might have one focused on the compensation structure.
One of the most useful things a sales training plan can do is provide direction for different programs. It's also possible to group them according to which position they are designed for, what assets they use or how well someone has done in past years.
Sales compensation plans encompass the base salary, commission and incentives that make up a sales representative's earnings.
A sales training plan will go over the importance of a well-thought out and innovative compensation plan, which can help motivate your team members to work harder.
Sales Budget Plan
Lastly, a sales budget plan provides you with insight into the revenue that will be generated for a given period. It takes into account factors like industry trends and entry to new markets segments in order to calculate what resources are needed. This is similar but not exactly the same as traditional sales plans which cover staff, tools, marketing campaigns and other necessary items.
Sales budgets should be planned with the following in mind:
Sales forecasting:
This is the process of estimating future sales by forecasting the number of units a team or salesperson can sell over a certain period.
Anticipated expenses:
Includes all the costs your team would likely incur. Remember to list even the smallest expense.
Expect the unexpected:
Always leave room for the unexpected in your sales budget. For example, you might have to account for new packaging expenses or a competitor's sudden shift in strategy.
Benefits of a Sales Plan
I know that sales plans might seem like an extra task to take on, but they really help your team stay motivated. It's one way of ensuring slaes don't dry up over time.
What we find is that most of us are not planners. We say we want to do something, but nothing happens until theres accountability.
Without a written plan, you can't do anything.
With a good sales plan, you can make sure all your best ideas are executed. Click To Tweet
A good sales plan will also help to:
Give your team direction and purpose.
Keep your team on the same page.
Clarify revenue objectives and goals for a given period.
Know what your team can do and isolate the resources you need to succeed.
Make sure that you have a unified set of strategies and playbooks to achieve your business goals.
Motivate and inspire stakeholders.
Track progress and optimize performance over time.
How to Write a Sales Plan
Writing a sales plan is pretty straightforward. It just needs to outline your plans for the coming period, whether that is a year, quarter or month.
The sales plan template is comprised of 9 sections, but most importantly it validates your ideas. The following are the most important pieces of information: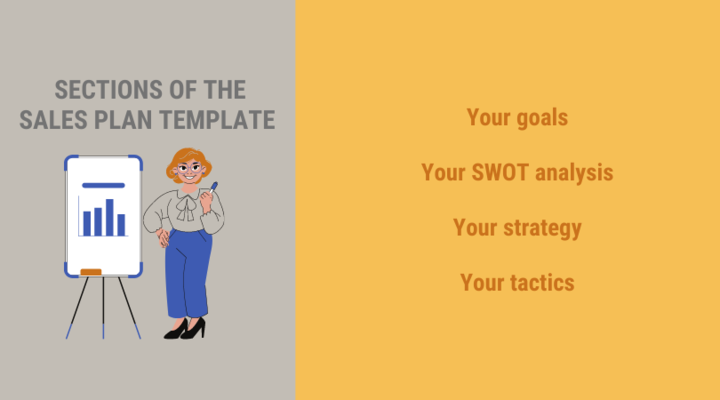 1. Your goals
To make your sales plan successful, you need to set goals for yourself and team members. A common mistake is focusing solely on numbers.
Smart sales goals should be actively focused on. Make sure that you set your goals in a way that is SMART (Specific, Measurable, Achievable, Relevant, and Time-bound).
2. Your SWOT analysis
Strengths, Weaknesses, Opportunities, and Threats (SWOT) analysis is a great framework for analyzing the strengths and weaknesses of your sales team. It helps you to create an effective plan.
You'll be able to identify your weaknesses, come up with a Unique Selling Point that sets you apart from the competition and focus on Value-Based Selling.
3. Your strategy
It is important to have a documented sales strategy in order to differentiate your product from competitors.
A good strategy will help you address your customers needs at every stage of the sales process. For more successful and consistent results, balancing inbound and outbound strategies can be a great way to improve your bottom line.
4. Your tactics
A sales plan should be based on data that is measurable and specific, not just wishful thinking.
Along with that, a good sales plan is one which does not set unattainable goals and expectations.
It is important to have a goal in mind, but what about now? What are your current numbers and how can you set goals based on those numbers.
7 Tips on How to Create a Sales Plan
Sales plans do not have to be a formal document, but they should still clearly communicate your goals and strategies.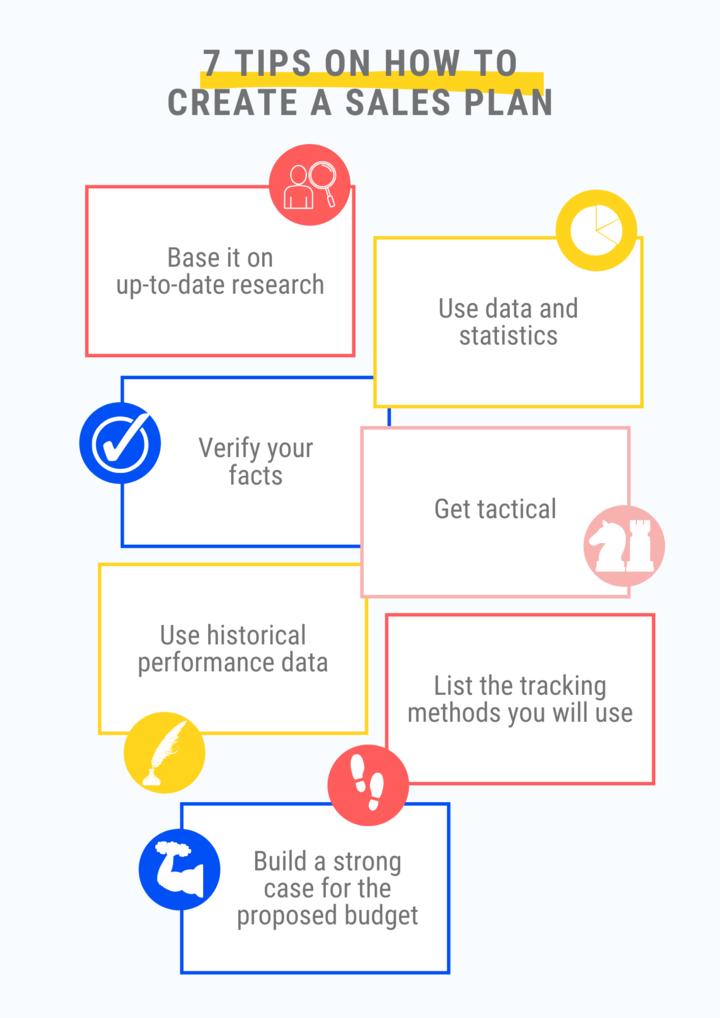 1. Base it on up-to-date research
To be successful, you need to know what your customers want and where they are in the market. Markets change constantly. So it's important not to get stuck chasing old prospects while ignoring market segments that have a rising demand for your products and services.
2. Use data and statistics
Based on the research you have done, identify where your company is falling short in sales and what can be improved.
You can also use the data to help you come up with accurate metrics and figures that will give you a better idea of how your sales plan is going.
3. Verify your facts
Accuracy matters. Dont be hasty! Before you send your plan to stakeholders, make sure that all the facts and figures are there. One little mistake could lead to a failure.
Before you send off your document, make sure to check the accuracy of all facts and figures.
4. Get tactical
Break the sales action plan into individual areas of sales:
Sales development reps and account executives
Sales enablement
Sales operations
Customer success
Collaborating with teams like marketing, customer support and product development may be necessary.
5. Use Historical Performance Data
In sales, the past can be used to predict future performance. Historical data will help you set targets for your current period and know what mistakes to avoid when setting goals.
6. List The Tracking Methods You Will Use
To ensure that your plan is successful, use metrics and tools to monitor progress. These include software, selling strategies, and performance metrics for your business.
7. Build a Strong Case for the Proposed Budget
Stakeholders and superiors want cold hard facts, so having a strong detailed case for your budget will help make sure that you can easily get it approved.
Outline your plans for the coming period and detail the costs. Remember to include a return on investment analysis.
Sales Plan Template
Have you written your own sales strategy? Here is a sales plan template to help get the process started.
Just follow the prompts in each section. Try to keep things simple and specific.
Share information in a format that works best for you. You can use text, tables, lists or graphics to get your point across.
A sales plan should have the following sections:
1. Executive Summary
Your opening statement is a short summary of your strategy. When writing your executive summary, keep it short and to the point (should be one page or two).
It should provide an overview of what's included in your sales plan. It should include:
Your goals
Strategies to achieve your goals
The scope of your plans
Time frame for achieving your plan
2. Business Goals With Revenue Targets
This section is about the revenue target and the associated business goals. Classify revenue figures into different categories.
For example, for each goal, enter the current outcome and the targeted outcome.
3. Review of Past Performance
Look at the past to see where you can improve. Note what mistakes happened and how strengths could have helped.
One of the goals for an employer is to identify what works and then put it into practice.
4. Strategies, Methods, and Playbooks
List specific sales strategies, methods and playbooks you will use to reach your goals.
5. Customer Segments / Buyers Persona
One of the most important things to think about when it comes to sales is revenue streams. There are different opportunities available for companies and new markets that can be explored with upsells, referrals, and renewals.
6. Team Capabilities and Resources
Describe the production inputs needed in the sales process, such as human resources, sales team, software, etc.
7. Action Plan
Set specific strategies and tactics that you intend to use to achieve a particular goal. Assign different responsibilities to teams that will execute that particular action.
Here is an example of a sales action plan template:
8. Sales Tools
List the tools you will use to make sure the sales plan runs smoothly.
9. Performance Benchmarks
This is the last section of your sales plan. It helps you track and monitor how well process systems are working, which will help to ensure that they continue to work.
Selling Your Sales Plan
Great, you have a sales plan. But it's not enough. Once youve created your plan, present it to management and stakeholders.
When your sales team is on board, theyll be pumped about doing their assigned tasks. When management is on board, theyll be excited about giving you the budget you need to turn your plan into a reality.
With buy-in as your top priority, its important to be prepared to give a solid presentation. In other words, sell it.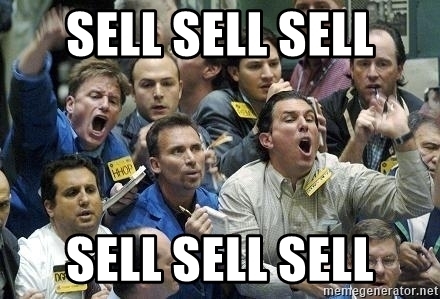 One final note: There are lots of reasons you may not get everything you ask for. Perhaps the budget needs to favor another initiative, or there could be plans in the works that you are unaware of.
If you get less than what you asked for, be sure to revise your sales plan accordingly.
Final Thoughts on Sales Plan
A good sales plan is necessary to achieve success in sales. Click To Tweet
Fortunately, it is not as difficult to make, especially if you have a sales plan template to serve as a guide.
Identify your biggest challenges and plan accordingly. You might not know what will happen, but at least you'll be prepared.
Editors Note:
Want to help contribute to future articles? Have data-backed and tactical advice to share? I'd love to hear from you!
We have over 60,000 monthly readers that would love to see it! Contact us and let's discuss your ideas!