What is a sales tech stack?
A sales tech stack is a collection of tools that will help your team focus on the selling process by streamlining, organizing, and automating administrative tasks.
There are many different types of tech sales tools that you can use to motivate your team—these range from industry-specific incentives structures to more personal motivators like a company-sponsored group outing.
It is important to have a strong, efficient sales software stack that allows you and your team to find qualified leads to automate tedious tasks like sending out email campaigns or researching competitors. A good system also tracks the most effective strategies so people can spend more time on revenue-generating activities.
A sales tech stack helps a company's employees focus on selling instead of administrative tasks.
---
Need Help Automating Your Sales Prospecting Process?
LeadFuze gives you all the data you need to find ideal leads, including full contact information.
Go through a variety of filters to zero in on the leads you want to reach. This is crazy specific, but you could find all the people that match the following: 
A company in the Financial Services or Banking industry
Who have more than 10 employees
That spend money on Adwords
Who use Hubspot
Who currently have job openings for marketing help
With the role of HR Manager
That has only been in this role for less than 1 year
Just to give you an idea. 😀
---
Which sales tools should you include in your sales stack?
Every company will have a different sales stack, so the tools you use should be tailored to your specific needs. The more targeted and useful they are for your team, the better.
Every company has a different sales tech stack because they are motivated by their own goals, challenges, and target customers. The first step in building your sales team is determining the best engagement platform or outbound tool for you. Then figure out what else will work with that.
Below, we'll explore the top types of sales tech stack tools and what type of company needs them. For example, HubSpot is a popular CRM, but it also offers real-time reporting tools.
In this article, I will provide you with seven tools that can help improve your sales process.
1. Customer relationship management (CRM)
When you find yourself struggling to remember if a lead has already been contacted or whether they downloaded the latest whitepaper, it is time for CRM.
A CRM (customer relationship management) system provides your sales team with a single place to store all of their customer information. This includes old leads, new leads, and current customers so you can see who they spoke to last and where the lead is in the sales funnel.
CRMs are a popular way to manage sales teams. Some examples of CRM software include:
HubSpot offers a suite of software and tools to help businesses automate, organize data, manage contacts and deals.
Zoho One has a range of features to help you stay organized and build your sales process, from making calls to set up customer meetings.
Salesforce is a company that provides tools to help companies grow their sales. This includes an efficient CRM, productivity tools, and intelligent data gathering.
Pipedrive is a program designed to help salespeople with lead management, communication tracking, and all the other great features. It includes detailed analytics reports that track your progress.
2. Prospecting and generating leads
If you're in the business of generating leads, don't just focus on quantity. Quality is more important than anything else when it comes to nurturing prospects.
Prospecting and lead generation tools help you find those high-quality leads by providing data to help teams uncover them. Some of this same software also helps automate parts of the nurturing process so that it takes less time for employees to reach out on LinkedIn.
Prospecting and lead generation tools to consider include:
Leadfeeder is a website that tracks anonymous visitors and qualifies them as leads. This service provides contact information for these prospects.
LinkedIn has a paid tool called Sales Navigator, which helps you find and connect with leads.
Leadpages is software that enables small businesses to build websites, collect leads and deliver files. They also provide website testing for those who need it.
A lot of CRM tools have lead generation features, but these standalone programs can provide more data and better leads. They also help you qualify your prospects more effectively.
3. Automated Sales
Automation can be a great way to improve efficiency. Automating tasks like nurturing leads, sending files, and following up on hot prospects is key for sales teams.
Automation has a positive effect on the productivity of sales technology reps, and it also benefits businesses. In fact, 61% of companies that use automation in 2020 exceeded their revenue targets.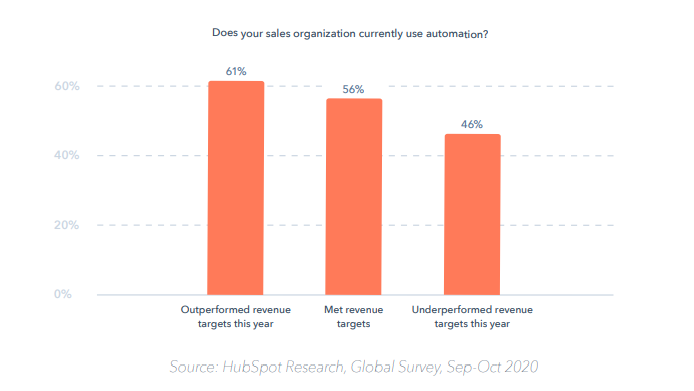 With all the available sales technology and tools on the market, it's easy to automate many of your daily tasks. HubSpot is an excellent example of an automation tech sales tool that helps with email marketing and social media campaigns. However, there are other tools out there you should consider.
I've found a few other tech sales tools that can help sales reps work more efficiently: -CRM software like Salesforce and Microsoft Dynamics to organize leads, contacts, activities, and pipelines. This helps track customer behavior patterns as well as managing communication with prospects.
ClickFunnels is a platform that helps marketers and entrepreneurs to build sales funnels.
The company Slack might not be a sales tool, but it does offer the ability to automate workflows for any number of tasks. It integrates with most other sales tools and has some great features like Leadfeeder integration.
Zoominfo is a service that gathers information about prospects and customers to help salespeople better know their customers. It also integrates with CRMs so the process of selling can be streamlined.
Ambition is a powerful tool for sales teams looking to increase efficiency and accountability. It provides goal tracking, coaching, scorecards, alert insights that allow you to see how your performance matches up with others in the organization.
4. Learning management systems (LMS)
When it comes to sales training, there is a clear lack of resources. Approximately one-third of the reps surveyed reported that their sales training was not effective at all, and another third said they only had usually effective training, which means if we want more success in this field, something needs to change.
Learning management systems streamline the process of training and updating sales reps by providing a central platform for all product information and helping new hires get started with their jobs.
In light of the recent LMS solutions, it is best to consider:
iSpring is a video-creation platform that offers an easy way to create courses, features integrations with Zoom for webinars, and has its course builder.
SkyPrep is an online training software that allows you to onboard your employees, train them on company policies and procedures, sell courses to customers so they can learn more about the products or services offered by your business. You can also create virtual classrooms for larger groups of people.
There are some cases where you can use the platform to manage training and learning. For example, Salesforce and Zoho both offer a way of managing this through their platforms.
5. Management of sales tech projects
The best project management tools are not just about tracking projects and task lists. Sales teams need a powerful solution that integrates with other sales tasks to help them track leads, manage tasks, and focus on their goals.
There are some features that might be built into your CRM, but if they're not, you can find standalone platforms like:
Basecamp is a service that brings all your information into one place, allowing you to track projects, chat with coworkers and create check-ins.
Zoho Projects is a project management tool that integrates well with Zoho's other features, including their CRM. The software includes task management tools and document storage to make collaboration easier.
Workfront is software from Adobe that helps companies of all sizes manage their projects.
6. Demonstration tools for tech sales
Demos are a key part of the sales process. They can make or break your company because they allow you to convert leads into customers with high-quality video and audio that integrates well with other tools like scheduling software.
Zoom is a video meeting tool that can be used to connect with customers and potential leads, share screens in real-time, record demos for later use.
GoToMeeting is a web-based video conferencing tool that allows you to share screens, record meetings, and fine-tune lighting.
Tanida DemoBuilder is a screen recording and presentation tool that also features time-based effects like bubbles, 3D graphics, and multi-track timelines. It can even be used for live streaming to Zoom.
7. Reporting and management of sales
Reporting and data management solutions are important for sales managers to track what works in the process. For example, can your manager see which leads will convert into customers? 
There are many sales and reporting tools that provide all the data you need to make better decisions. Some, like CRMs or automation software, come with built-in reports already set up for you. But if your company has multiple platforms in its stack (like a marketing platform), it can be hard to get all of the necessary information into one place without some help from an outside source.
Sales reporting tools can be used to help manage and motivate your sales team. They offer a variety of features that might work for you, such as:
Salesforce offers a lot more than just the tools to make sure you are on top of your customer relations and workflow management. It also provides robust reporting tools.
HubSpot also offers a platform that can track the progress of contacts as they go through each stage in your sales funnel. It will tell you which reps are doing well and what outreach methods work best.
Aviso is a platform that integrates with CRM, forecasting tools, and various collaboration platforms to help sales teams forecast deals, manage opportunities and work more efficiently.
What tools do the most successful sales teams utilize?
I've been told by my peers that they only use the tools and software that work for them. So what do these top companies have in their stacks?
Ambition
Ambition is a performance management tool that helps with accountability by providing real-time insights. It offers zoom info, LinkedIn Sales Navigator, and Outreach as tools to help salespeople succeed.
Why is this a key feature of your tech stack?
This stack is a practical way to help sales reps and account executives.
Chorus (recently acquired by ZoomInfo)
Chorus is a speech recognition tool for sales teams. As they are also in the tech industry, they understand that investing in promising technology pays off.
Why does this make sense in your tech stack?
As new sales tools are introduced, we embrace them because they strengthen the B2B sales and marketing process. This is accomplished by using smart tools that allow us to operate with more insight into our customer's needs as well as what helps their customers be better at what they do best.
Clari
Clari is a company that offers an easy-to-use pipeline management system to make it easier for salespeople and managers to track the process from start to finish. Their software includes their own product as well as Sales Navigator, Gong, DiscoverOrg, and Salesforce.
What is the relevance of this to your tech stack?
Our sales team is unique because they are all interconnected.
Clari automatically records everything that reps do, including conversations with prospects. It can even show all the various interactions between a rep and prospect throughout the sales cycle.
The secret to success is not just getting the best, most sophisticated tools for engagement and pipeline management. The real key is integrating them in a way that allows our go-to-market team to proactively manage the pipeline, identify risk factors earlier on, and forecast more accurately.
DocSend
DocSend is more than just a document-sharing tool. It also offers engagement analytics and collaboration tools. They use the following technologies: – NodeJS with MongoDB as their backend stack – PythonDjango for data processing and machine learning algorithms – React + Redux on the frontend to develop high-performance web applications.
What is the reason for this in your tech stack?
The goal with this stack was to keep it lightweight and simple. Every tool has a cost, so we are careful about adding them in the first place. This is why our stack works great because of its simplicity.
DocSend is a great solution for three reasons.
It is easy to find documents in a folder because they are organized by content.
With Insightly, we have a more intimate understanding of how people are interacting with the content that they're consuming.
We eat our own dog food.
Intercom
An intercom is software that helps businesses communicate with their customers. It has been used by Microsoft, Amazon, and Facebook.
The company has a robust list of tools that it uses, but the following are some:
What is this, and why do you use it?
Intercom believes that sales tools should not replace the ability to train new employees or close a difficult deal. The key is adding technology without altering what makes you special.
We have created a stack of tools for our sales reps to use. Each tool is designed with the goal in mind that it will make their work easier and more efficient, as well as create an easy workflow.
Automate repetitive tasks
Accelerate our sales cycle
Provide our sales reps with the information they need to buy from us
Eliminate low-value work
We found that the best way to do this is by using our own product, Intercom. Our sales reps use live chat and their other tools in order to engage with potential customers proactively while qualifying them for a sale before they're ready.
We also use Custom Bots, our chatbots for sales, to automate the repetitive parts of the sales process. This lets us save time and maximize efficiency while maximizing customer experience.
Leadfeeder
Leadfeeder is a website that provides information about what companies visit your site and their activity when they are there.
Our company has a strong sales team that is supported by software such as Salesforce, Hubspot, and Marketo.
The article is about the different tools that help to keep track of leads and provide insight into customer conversations.
Pipedrive has a valuable marketing tool called Engagement. With this, you can send people an email to remind them about your product, and they will reply back with their thoughts on it.
Communication is one of the most important aspects of any business. Luckily, there are many options to choose from when it comes to online communication tools like Slack, Leadfeeder, and MailChimp.
I believe that Pipeline, Analytics, and Measurement are crucial for success in sales. Leadfeeder is a great example of this.
CRM: Salesforce
Why is this important for your tech stack?
Our sales stack is comprised of three categories: CRM, prospecting and learning about leads, and communication. Each tool plays a specific role in our ability to move quickly through the different stages of selling.
We prioritize tools based on how easily we can get started and the ease of integration. The easier a tool is to implement, and the less time it takes for your team to become proficient with it, the faster you will see results.
Our tools are versatile and can be used for more than one thing, which is good because it reduces the number of necessary resources that we need to have on hand. It also makes sure our team doesn't get bogged down with too many details.
Nutshell
A nutshell is software designed for small businesses to help turn leads into customers. They use the following features:
Why do you need this in your tech stack?
Nutshell's sales stack accomplishes three critical goals.
We're all evangelists for our product, so Nutshell is a key tool in our stack across the whole company. We use it extensively to help us better serve customers.
We have included every possible aspect of our sales stack to help support the ability of each Nutshell expert to deliver unique and customized experiences. This includes understanding their behavior through tracking so that they can quickly understand how best to provide customer service.
We're always trying to figure out what's most important for our company, and that means tracking everything. We have a system in place so we can filter all of the data into actionable insights.
One of the most important things you can do is to learn how to define what a sales pipeline and funnel are. The difference between these two terms will determine your strategy for business success.
The best part about the tech stack is that it gives your team a lot of flexibility. If you have an idea, they can switch to another tool and get things done without having to worry too much.
Outreach
Outreach has many sales tools in its arsenal, but it still needs a little help from the outside. Here are some of Outreachs top selling points:
What is this used for?
Each part of our stack is a crucial piece of the puzzle, and we change them frequently. We regularly audit all technologies to ensure that they are still necessary, efficient, and worth it for us.
How to construct your sales tech stack
Building a new sales tech stack can be tricky, but it is also challenging to know how to expand your current one. There are so many tools out there that trying them all might not be the best idea.
Before you sign up for new sales tech tools, figure out your needs and which ones will be more of a nice-to-point.
Evaluate your current tools. What sales tech tools do you currently use, and are they working well for you? For example, suppose a CRM is not functioning as expected or it does not provide the information that needs to be tracked in order to make informed decisions. In that case, other technologies should supplement what's lacking.
Evaluate your current sales process and see what tools will help it. Start with a reporting tool or CRM to identify roadblocks if you're not sure.
A good question to ask when considering a new tool is, "What tools do we currently use?" You want any new system you get on board with work in tandem with your current email service provider and chat programs. If the systems don't integrate natively, consider using Zapier or other integrations that can help make it all seamless.
It is crucial to consider your company's long-term growth goals when choosing a sales solution. It can be time-consuming and expensive to switch platforms, so look for something that will work well in the future.
The best sales tools won't improve the process if they aren't used correctly. The tool should come with training and onboarding to make sure that everyone is able to use it effectively.
Your sales process is unique; consequently, your sales technology stack should be as well.
When I was first starting to recruit salespeople, it seemed like the only incentive that mattered was pay. But people are not just motivated by money; they need a variety of incentives in order to be productive and perform well on the job.
Don't be fooled by all the fancy bells and whistles. A successful sales team is intentional, always looking for new ways to improve their business model, testing out different tools until they find what works best.
Try new products and integrations to see if they work for your needs, but don't be afraid to ditch those that do not. Invest in training programs so people can get the most out of their tools.
Need Help Automating Your Sales Prospecting Process?
LeadFuze gives you all the data you need to find ideal leads, including full contact information.
Go through a variety of filters to zero in on the leads you want to reach. This is crazy specific, but you could find all the people that match the following: 
A company in the Financial Services or Banking industry
Who have more than 10 employees
That spend money on Adwords
Who use Hubspot
Who currently have job openings for marketing help
With the role of HR Manager
That has only been in this role for less than 1 year
Just to give you an idea. 😀
Editors Note:
Want to help contribute to future articles? Have data-backed and tactical advice to share? I'd love to hear from you!
We have over 60,000 monthly readers that would love to see it! Contact us and let's discuss your ideas!