Of course, balance is necessary between getting quality hires and staff who are engaged with their roles during the talent acquisition (TA) process.
Recruitment is constantly evolving. 70% of the global workforce is now composed of passive talent. This means that headhunting and candidate sourcing are becoming more important. Recruitment teams now need to find their own candidates and convince them why they need a new job. This is not always an easy task.
Thankfully, there are useful metrics used to measure, inform and improve the process. These metrics are for anyone running a recruitment process to use to ensure talent acquisition (TA) quality.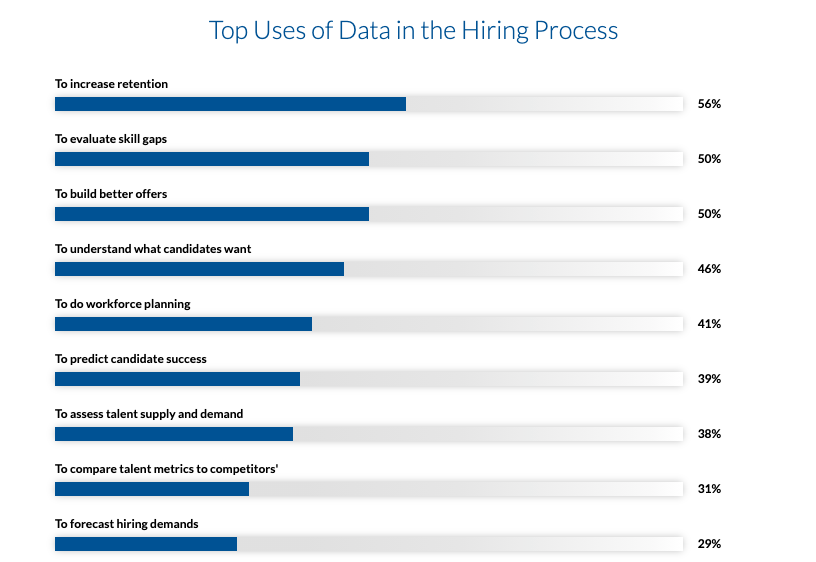 Source: Financesonline
Here are 8 metrics that recruitment coordinators will find useful to track.
1

Applicants per position

Applicants per job opening is possibly due to the popularity of the job, or it could mean something else. It's not as easy as saying a high number of applicants means the posting is doing well, either.

A high number of unqualified applicants could mean the description is too broad. You might decide to alter the job description and include a number of difficult criteria. This will reduce the total number of applicants, resulting in more suitable candidates.

Conversely, a high number of qualified applicants may indicate a particularly effective channel. If this is a case, looking into your strategy for that position may provide useful insights.

Even with a brilliant job description, finding the right applicants is often hard. In difficult times (like a global pandemic, for example), more people are looking for jobs than ever. This is where recruitment technology and Artificial Intelligence (AI) becomes more important.

This area is believed to lead to huge improvements in recruiting performance over the next 5 years.

75% of recruiters and talent managers use applicant tracking or recruiting software.

94% of those say software has improved their hiring process.

Only 5% of HR professionals who use software think it has a negative effect on their organization.

Despite these positive statistics, only 68% of recruiting professionals say they prioritize using new recruiting technology.

There are many solutions available that utilize AI to help identify potential candidates. For example, you might want to use lead generation software . It will help to make sure you're getting targeted results and prospects straight away.

A predictive dialer often also assists with ensuring there are enough applicants. If so, it's integral to designing a smooth and efficient recruitment process. But what is a predictive dialer, and how can it help in recruitment?

Essentially, it's a predictive algorithm that uses rule-setting and data integration capabilities. These can be used to set different criteria, which can aid in finding the right candidates. It allows lots of calls, and makes callbacks easy. It guides engagement flows that automatically adapt to each interaction.
2

Time to hire

Time to hire refers to the time between the first contact with a candidate, and the moment they accept the job. This can provide information about how long it takes to fill a position. Time to hire can vary based on industry, job type and department.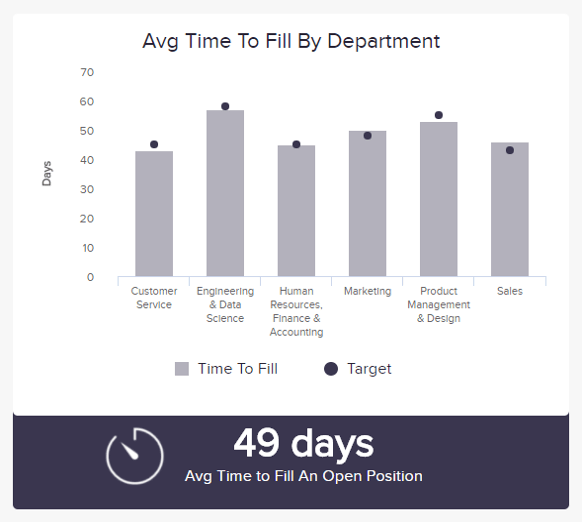 Source: datapine
Time to hire often provides an indication of how the recruitment team is performing. Ideally, businesses aim to reduce their time to hire, and increase their quality of hires.
If your time-to-hire is particularly high, is sometimes indicative of a slow hiring process. You may want to address inefficiencies or unnecessary steps. This will help to fill positions faster and reduce the risk of losing candidates to other jobs.
However, a long time to hire does not necessarily signify an issue in the process or recruitment team. If a job has a straight-forward recruitment process of one interview, the time to hire will be shorter. It will naturally become longer if further steps (such as coding tests or background checks) are necessary. Therefore this benchmark can vary per organization and job.
3

Hiring Costs

74% of companies say that they've hired the wrong person for a role before. They lose an average of $14,900 per bad hire. Conversely, the average cost of losing a good hire is nearly $30,000! The statistics speak for themselves – try not to make a bad decision, because it will cost you. But any hire will incur costs, the challenge is just to keep it as low as possible, and to factor in all aspects.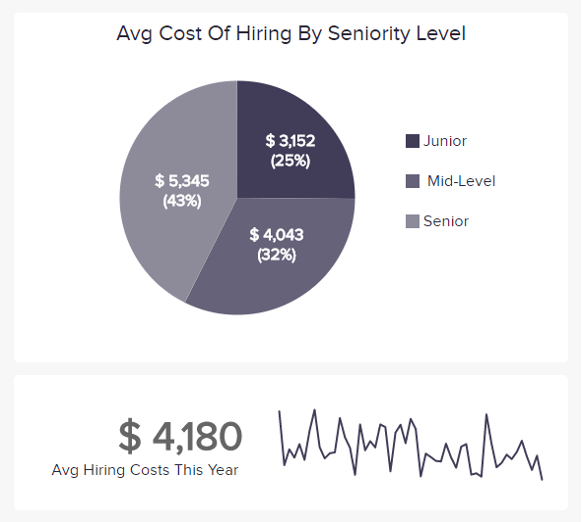 Source: datapine
It's important to look at all related costs when hiring an employee. This allows costs to be cut without affecting the quality or skill level of the candidate. You might find you can cut back on ineffective ads or reduce time spent in interviews.
Some of the factors that the cost per hire helps discover are:
Recruitment time costs
Advertising costs
Costs of personnel involved in the hiring process
Background checks
Travel costs
Administrative costs
Costs related to training and implementing new employees
Rather than relying on in-person meetings at all stages, you could move to remote solutions. A hosted pbx can help to drive down costs and make the recruitment process much more flexible.
This system can have advantages for the business overall too. It helps remote staff to stay connected, and makes call costs lower. It also lowers the costs for the infrastructure of the phone system and maintenance.
4

Quality of Hire

This metric is important to track and learn from to ensure future success. It's no good hiring people if they don't end up being a good fit for the role. This will happen occasionally, but it's best to try and decrease the chances as much as possible.

Qualified applicants are drawn to companies with a strong brand. All aspects of the business count, from overall image to even how you sell products online . A company's digital footprint is more important than ever in attracting new hires.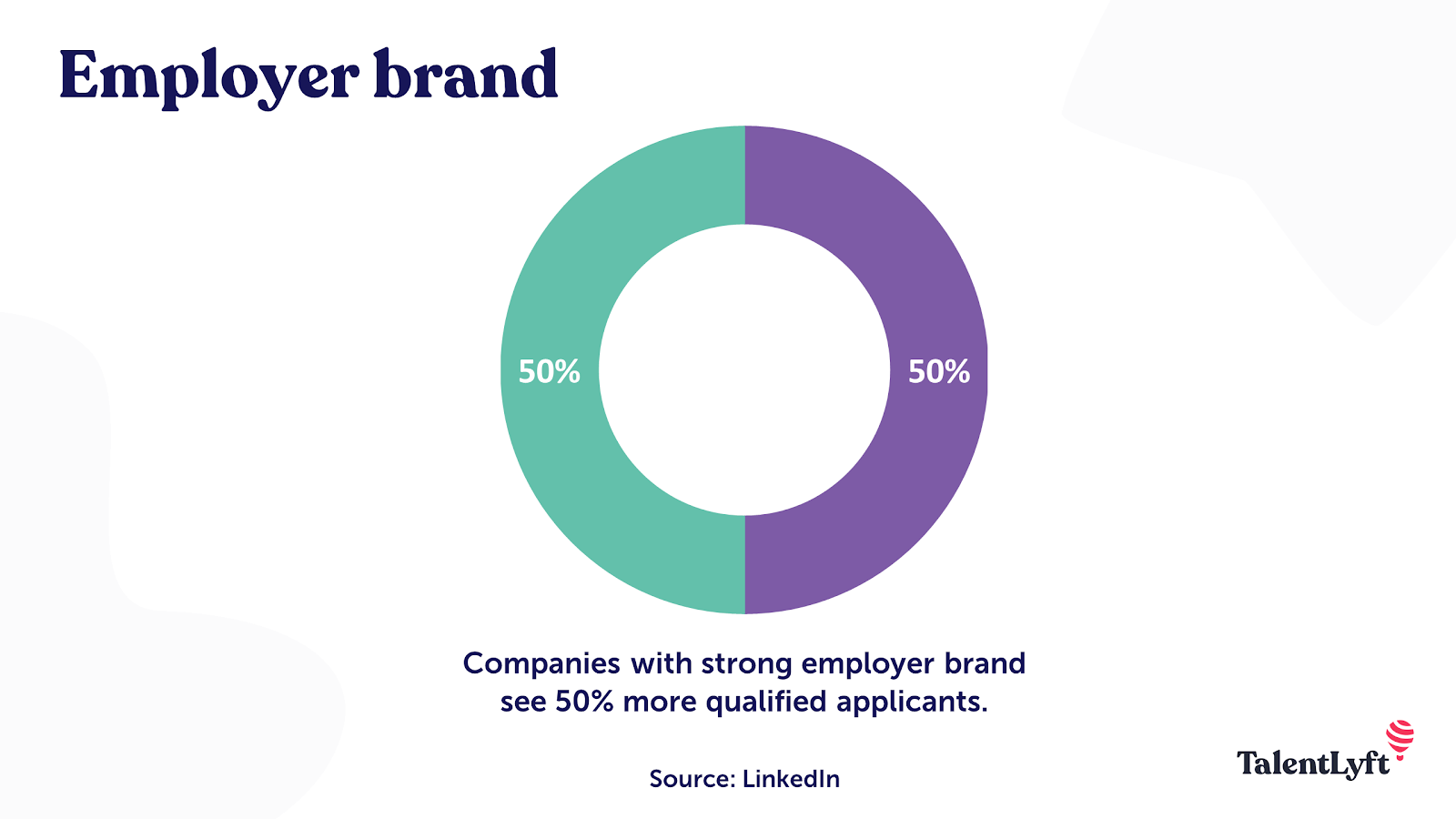 Source: TalentLyft
Job simulations can be of great assistance when trying to hire quality staff. They directly test skills relevant to the job, in the setting in which they'll be used. Some of these skills and competencies aren't easily assessed in other ways. So running job simulations can give a much greater insight than you would otherwise get.
If someone is standing in the way of your ideal candidate, work out how to get past the gatekeeper and engage them. You might even find you interview a great candidate who isn't quite right for the role you're filling. Although you don't want to offer the job to them now, you could keep them in mind for future positions.
If you have a couple of great candidates in mind, you might want to refer to their interviews. If it was done remotely, call recording solutions can be used to keep a record. This makes it much easier to refresh your memory.
5

Offer Acceptance rate

The offer acceptance rate compares the number of received and accepted offers. This could be based on factors such as the details of the offer, or the manner in which it was made.

A low acceptance rate is likely to point out an issue that could be improved. It might be an opportunity to vary some aspects of the role or the process. When making an offer, it's important to do it in the right way. You might want to brush up on your email etiquette to give the best chance of the offer being accepted.
6

First-year attrition

This metric refers to whether the hire lasts in the job for a year. Candidates who leave in their first year of work fail to become fully productive. They usually cost the company a lot of money, with little returns.

Measuring how long a new hire stays in the role is a key recruiting metric and can indicate hiring success. New hires leaving with the first year is usually due to one of two reasons.

The employee did not meet expectations or take on feedback and improve. Therefore, the employer decides to terminate the contract.

The new hire leaves because the role is not what they were expecting. This could signify unrealistic expectations, or the position not being advertised correctly.

By tracking first-year attrition rates, you can improve your recruitment and onboarding processes. This increases the chances that once you make a hire, they're in it for the long run.
7

Candidate job satisfaction

It's always possible that a hire won't be right for a role. But the actual recruitment process itself is more important than you might think. For the best chance of ongoing success, the candidate needs to have had a positive experience. And that means all the way from first contact to commencement.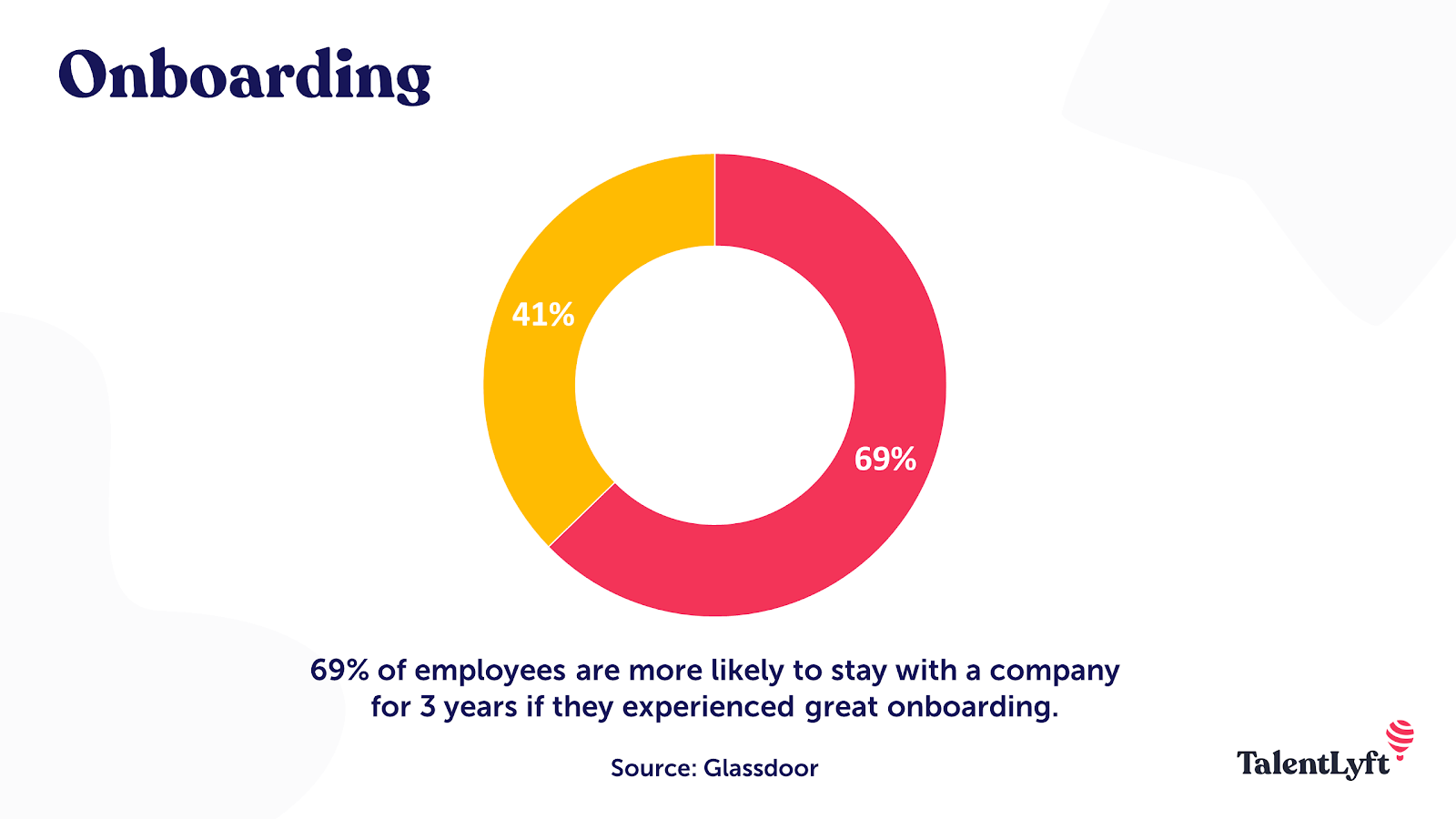 Source: TalentLyft
In any workplace, it's important to foster great employee engagement . This is directly linked to the candidate's job satisfaction. Be sure to check in with them even after they've been placed in their role. That way, you'll be able to identify any issues before they become serious problems.
You might want to use a handbook maker to create welcome packages for new employees. That way they'll feel supported as soon as they enter the role, and be prepared from the outset.
8

Percentage of open positions

This is an interesting metric, because it can mean a few different things. Some possible outcomes include:
The industry is growing, and there is a high demand for jobs.
There's a low labor market supply, which could lead to a shift in the company's workforce
High turnover rate
Time to hire being too long
This is a good overall metric that can inform many aspects of the recruitment process, as long as you support it with additional contextual data.
Finding Passive Candidates
LeadFuze gives you all the data you need to find ideal, passive job candidates.
Go through a variety of filters to zero in on the leads you want to reach. This is crazy specific, but you could find all the people that match the following: 
People who have worked in Computer Software
Who held a title of Lead Developer OR Lead Engineer OR Head of Engineering
That have NOT been a CTO or Chief Technical Officer
And currently make $85,000 to $100,000 in salary
While having javascript skills
Who are currently unemployed
Who are likely to fit culturally due to liking Back to Future OR Fast and the Furious
Just to give you an idea. 😀
Recruitment is such a multi-faceted process. It has lots of different aspects to it, not to mention the unknowns and variables. And with so many people out there looking for jobs, it can be hard to find the right person for the role. Focusing on these metrics and using them to inform the process will make a huge difference.
Editors Note:
Want to help contribute to future articles? Have data-backed and tactical advice to share? I'd love to hear from you!
We have over 60,000 monthly readers that would love to see it! Contact us and let's discuss your ideas!