4 Steps to Get Started in Multi-Threaded Sales and More Deals with the Modern, Multi-thread Framework
Did you only apply to one college?
When you bought a car, did you test drive more than one?
When you were looking for a job, did one company meet your expectations?
I'm guessing that you didn't. That would lower your chances of getting the end result that you wanted.
So why is it that most sales reps don't diversify their target accounts and deals? Why just stick with single threading?
One-to-one selling is becoming less and less common, as it has become more complex. It's important to multitask in order to penetrate a deal faster and decrease ghosting.
Getting started in multi-threaded sales can be intimidating. Who do you reach out to and how many relationships should you have? We're going to talk about that today.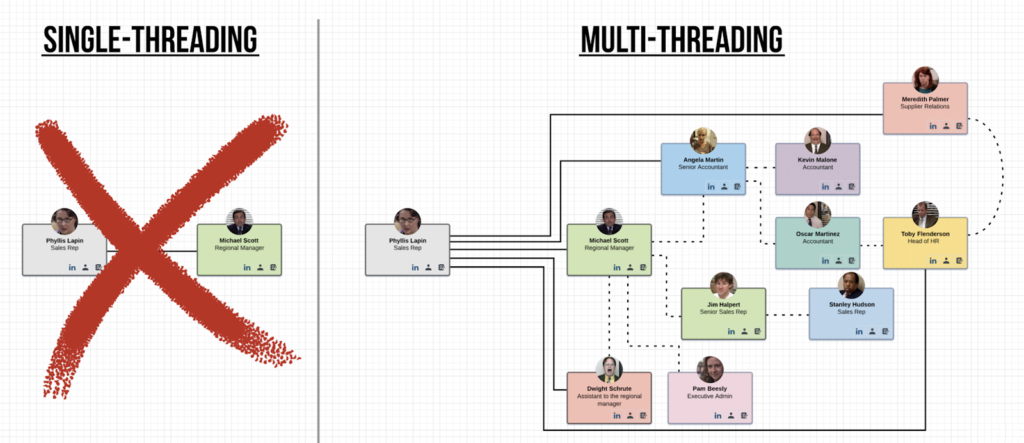 ---
Why Multi-Threading?
According to Microsoft, sales professionals who multi-threaded (engaged with more than one decision maker) saw a 34% increase in their win rate and 10% decrease in the total deal cycle time.
More sales teams are looking for ways to close more deals faster.
The vast majority of sales professionals are not taking advantage of the opportunity to diversify their networks. Only 7% were connected with six or more people at their account.
Even though it takes more time and effort, multi-threading is necessary today in order to sell effectively.
The study found that there are six to ten people involved in the purchase of $500,000 or more. Not only are there more decision-makers participating, but they come from a variety of backgrounds.
More and more buyers say the role of executives in purchasing decisions has grown, which is a sign that buying habits have changed. They also mention operations and finance as having an increased influence on decision making.
You can't rely on Joe from sales to make the sale anymore; you need to know as many people in an account as possible, including Sean and Carol.
But turnover is also a factor that necessitates multi-threading.
One in five decision makers leaves an organization every year, which means you need more than one advocate at the company. If your champion goes away and is no longer there to promote your deal, it can be a disaster for 24% of deals that will never happen.
The Modern, Multi-Threaded Sales Framework
And when you do multi-threaded sales, make sure to go about it the right way. That means investing in a strategy that will give your team the best results.
I recommend focusing on multi-threading as you think about the modern selling outreach framework.
1. Target the full buying committee.
Determine the account's key players and identify which 10 people most influence your company's primary decision makers. Save them as "Leads" in LinkedIn Sales Navigator.
A map of the decision makers and their relationships can be helpful during this process.
Be sure to include important details like their title, the person they report to and what role they take in decision-making. Keep this account map updated as you go through the sales cycle.
2. Understand your buyers.
Now that you know the basics, do your research on these key players. Use Twitter and LinkedIn to listen in and learn everything you can about their pains, problems, and motivations.
Ask them about themselves, their business and the industry they're in.
Put all your findings in one place.
3. Engage with your buyers
It is important to build relationships with influencers, so they can give positive feedback about your company.
Decide on the three buyers you want to work with most. These are the ones that will be important for your current deal, but don't forget about those seven others — keep working on building trust so they'll support you when it comes time to make a purchase decision.
As you start engaging the three primary buyerinfluencers, be an active listener and gather as much information as possible. Ask questions that will help provide value throughout their journey.
The Revenue Grid list of questions to ask during the interview process includes:
What are your responsibilities?
What are your goals for this year?
How did you hear about us?
What made you reach out?
I've been hearing that your current solution is not working. What has prevented it from being effective?
What other solutions have you been looking into?
The more channels you use to reach people, the higher your chances of finding someone who will be interested in what you have to offer.
Use phone, social media, in-person meetings and video conferencing as well as email and chat to communicate with your employees.
Julie Thomas, CEO of ValueSelling Associates says that when she uses an omnichannel approach to sales, it's like jazz.
Prospects are usually introduced to a company at an event.
Today, I'm going to email a prospect with something that will add value for them.
Today's goal is to call a prospect and be prepared for their voicemail.
I sent a LinkedIn message to the prospect and asked them if they would like to connect.
One way to follow up with prospects is by liking and commenting on their social media posts.
Day 13: Call prospect
Schedule multiple touches over the course of 30-35 days.
In order to have a successful first interaction with someone, appeal to their emotions. This is done by researching the person and finding connections between you two.
To get the most out of your presentation, you need to discuss features and data that relates to what you're selling.
Keep trying. It takes a few tries to book an initial meeting.
4. Provide Value
This modern selling framework focuses on teaching and learning so you can truly understand the buyer. This way, when it comes time to pitch your product, they'll know exactly what value it provides them.
Educate your customer at every sales step, addressing their needs.
Start with a key statement, and then tell the story of someone who is similar to your buyer. Set up how they are feeling pain that needs to be solved. Show them how your product solves their problem, and what it means for them.
The HubSpot survey found that 69% of buyers respond to primary research relevant to their business, so it's important you personalize your message in order for them to be interested.
Give the buyer a clear idea of what your product can do for them. For example, you could give them case studies or infographics to help show how it works.
Don't Get Overwhelmed
Don't spend your sales process steps time on emails, activity logging, and data input. Instead focus on spending more of it talking to prospects so you can understand their needs.
It's better to focus you sales steps on diversity of multi-threaded sales instead of just one person. Diversity leads to increased chances for success.
---
Need Help Automating Your Sales Prospecting Process?
LeadFuze gives you all the data you need to find ideal leads, including full contact information.
Go through a variety of filters to zero in on the leads you want to reach. This is crazy specific, but you could find all the people that match the following: 
A company in the Financial Services or Banking industry
Who have more than 10 employees
That spend money on Adwords
Who use Hubspot
Who currently have job openings for marketing help
With the role of HR Manager
That has only been in this role for less than 1 year
Just to give you an idea. 😀

Editors Note:
Want to help contribute to future articles? Have data-backed and tactical advice to share? I'd love to hear from you!
We have over 60,000 monthly readers that would love to see it! Contact us and let's discuss your ideas!