The Ultimate Guide to Creating a Framework for Your B2B Marketing Plan (2022 Update)
---
Need Help Automating Your Sales Prospecting Process?
LeadFuze gives you all the data you need to find ideal leads, including full contact information.
Go through a variety of filters to zero in on the leads you want to reach. This is crazy specific, but you could find all the people that match the following: 
A company in the Financial Services or Banking industry
Who have more than 10 employees
That spend money on Adwords
Who use Hubspot
Who currently have job openings for marketing help
With the role of HR Manager
That has only been in this role for less than 1 year
Just to give you an idea. 😀
---
What Is a B2B Marketing Plan and Strategy?
B2B marketing plan and strategy is about how you plan to raise brand awareness. It involves identifying the channels and tools you're going to use, as well as what resources are needed for that journey.
What is a b2b marketing strategy? This article will outline a proven B2B strategy that I have developed over the years to help identify which segments are most likely to be your best customers, what they need and want from you as well as how marketing channels can provide them with this information.
What Are the Main B2B Marketing Plan Channels?
We are going to go over some marketing channels and strategies, then take a look at how you should create your b2b startup marketing strategy the right way.
1. Website
The importance of having a good website cannot be overstated. More than half the people who are considering your company will visit your site and make their decision based on what they find there, so it needs to be fast, secure and visually appealing. It also has to function properly on mobile devices since more than 50% of visitors come from these devices (even though B2B companies still get significant traffic that way). Finally, you need to offer something for everyone with products customers might want at prices they can afford because no one wants an online brochure; rather users should feel like they're being led into the top part of marketing funnel where data is collected in order for them not only buy but purchase items again.
2. B2B Content marketing
Increasingly, high-quality content is becoming a primary way to demonstrate expertise. Companies produce white papers, original research and blogs on their own websites or elsewhere in order to show off the skills of employees. Its more important than ever for companies because search engines are better at recognizing when sites have great writing.
3. B2B Email marketing
Many people predicted that email marketing would be dead by now, but this is not the case. Instead of just relying on social media and search engine optimization to promote a businesss products or services, it has become necessary for marketers to also use email lists in order to generate regular newsletters and notifications.
4. Search engine optimization (SEO)
Organic search is also a vital component of any successful business, as it drives the most traffic to your site. However, you can't always guarantee that this will be high quality traffic and so there are other ways you should work on drawing in visitors.
5. Social media marketing
More and more marketing is taking place on social media, which means that it's easier to attract new customers. Social media also helps you gain validation from third parties or even just strengthen your brand name by using a variety of platforms depending on the business sector in question.
6. Pay per click (PPC) B2B advertising
Its important to use both organic and paid traffic on social media platforms, but you need to be careful about the phrases that get used. The more information you have about your customers before hand, the easier it is for them identify who will respond well or not.
7. Video marketing
Video content is a growing trend and has become an important part of the mix.
8. Field marketing
In the past, there was no indication that speaking and taking stands at conferences had lost any of its power as a marketing channel. However, in light of repeated lockdowns it is still unclear how this will affect future behaviour. With events retaining much of their power it seems likely to me that they will remain an effective b2b marketing strategies and tactics.
How Do You Construct a B2B Marketing Plan?
The steps for finding out what you want to achieve with your marketing campaign are:Step 1) Figure out who is going to see the message and why. Step 2) Write down a list of objectives that will help meet those needs.
Focus on a target market and make sure to segment it well.
Create an incentive compensation plan for every market segment.
Run a competitor analysis
Find a unique selling point for each market you want to target
The first step to successful selling is understanding the buying b2b marketing process. Present your prospects with all of their options, and don't stop until they're completely satisfied.
When hiring, identify the channels and resources that you can use to find qualified candidates.
1. Segment your market and focus on a target segment
Imagine youre scaling a tech startup and want to purchase CRM. You have read through tons of information, but can't decide between 2 variants.
A CRM is a system that gets your sales organized.
Another way to stay on top of your sales is by using a CRM that will organize and track the data for you. There are many different options, but it's clear which one stands out.
Marketing segmentation is the key to marketing success.
When we narrow our focus to a specific market segment, it becomes easier for us to tailor not only the offer by *NAME*, but also according to what is needed andor desired in that particular industry.
The only way to get the best results is by looking at what your customers want.
Start here:
In order to figure out your segments, ask yourself these 2 questions:
Who is my target audience?
What are the customer's problems? What tasks do they want to complete or what need can my product satisfy for them?
The following are some aspects to evaluate when hiring salespeople:
Competition level
The breadth of the market
Lifetime value
Segment growth
Continuity
Your past experience
Gatekeepers are there to keep the flow of information under control. They might not be too receptive to strangers on the phone, but it's worth a try.
Solvency
Margin
I now realize that a paycheck is not the only thing motivating people, and 2 things will change as a result of this exercise.
Not all markets are equal. Some have a higher ROI, but they require more resources to be successful in the market. Other segments may not generate as much revenue for your company, but it is easier to do so.
Ive found that it is important to create a different proposal for every market segment you want to prospect. It also means using different approaches with each group, because all markets are unique.
2. Create an ICP for every market segment you want to target
How does an ideal customer profile differ from a simple customer profile?
A common marketing mistake is not taking into account the needs of their customers.
One of the mistakes I see many companies make is that they base their marketing off an average persona and then try to tailor it for all segments.
As a result, instead of adapting their product and proposals to fit the needs of different markets, they try and create one universal pitch.
The most important thing to remember about an ICP is that it targets customers who are like your best customers, not just anybody.
There are 3 benefits of such an approach:
All your marketing materials will be more effective and personal: sales pages, proposals, ads, lead nurturing emails.
The best way to figure out what is the most effective sales channel for lead generation, instead of just guessing.
The information in this article will allow you to make better decisions about which criteria is most important for your marketing campaigns.
Next steps:
I am going to walk you through the process of creating an ICP.
Choose one market segment
I've found that the top 10 customers in a segment are not just happy with an average service, they want excellence.
Research the candidate before you hire them.
There are many ways to find out more about customers. Social media is one way because people often post their thoughts and feelings there.
Survey your customers
Collect data and categorize your customer base into specific types of customers. This will help you to create a profile that can be used as an example for other potential clients, giving them the type of experience they want.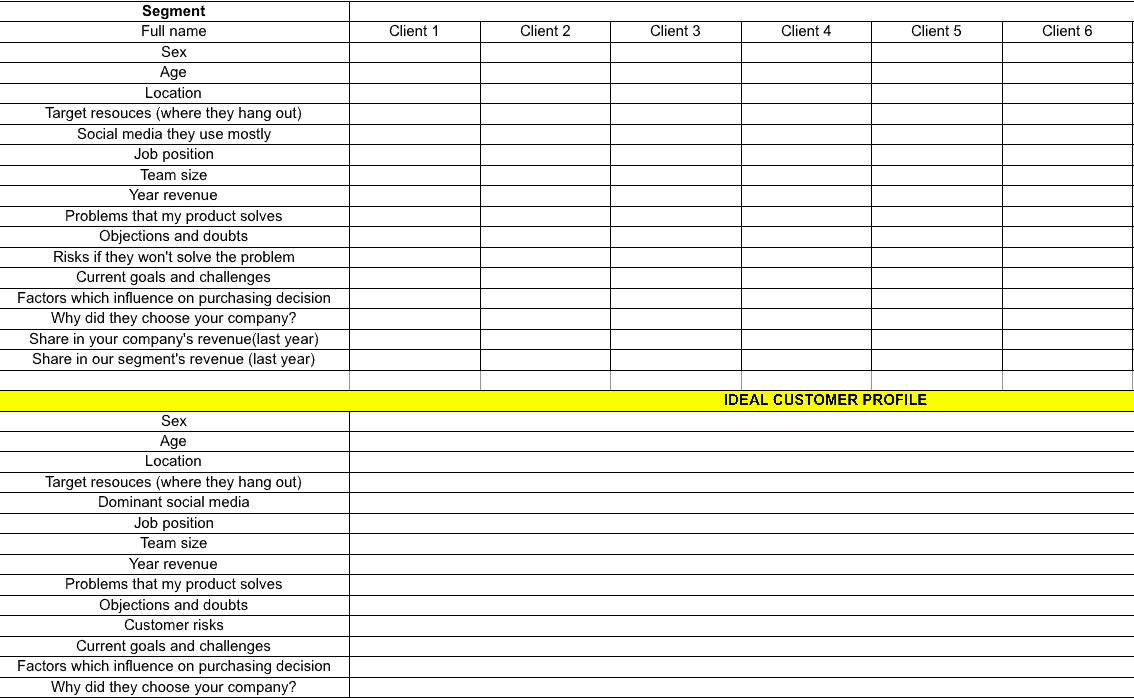 The easiest way to collect this data is by searching on LinkedIn. You can just open a profile and extract the information that you need.
When surveying your customers, there are a few questions that will be helpful.
What motivates you to buy our products?
I would like to know what you are struggling with currently.
What are the benefits of our product?
What will happen if these problems are not solved?
Where did you hear about us?
What are your favorite features of our product?
Are you satisfied with your company's products and services?
What are your favorite features of our product?
How likely are you to recommend our company?
How much time do you spend on social media?
What blogs, websites or influencers do you follow?
Who are the key people who have an interest in your company?
To maximize productivity, it is important to have a clear idea of the workday. This includes collecting data such as:
One of the best ways to find potential clients is by browsing through your customers' profiles and seeing which websites they're sharing content from. This will give you an idea about where you can apply for guest posting or collaboration.
If you want to build a relationship with someone, the best way is to start by consuming their content. This will give you an idea of what types of things they are interested in and might be good for discussion.
Communities are a great way to share content and get the word out about your company. It is also an opportunity for you to collaborate with other brands.
3. Run a competitor analysis
In order to make sure your marketing is as effective as possible, its important that you have a strong foundation before beginning any type of advertising.
There are dozens of marketing channels, tools and growth hacks that you can use. We looked at some core ones above but the truth is they all work in different ways for different markets.
What channels should you focus on for marketing?
If you have a customer base, conduct surveys with them to see what they want from your product or service.
Spy on your competitors
Next steps:
I recommend using tools like SimilarWeb, Ahrefs, and BuzzSumo to see where your competitors are getting their traffic from.
In order to avoid wasting time and resources, this data will help you figure out which channels are worth your focus.
The second part of the analysis is to learn more about how competitors do business, what they are strong in and where they fall short. This includes finding out their USP (unique selling proposition) as well as their pricing policy.
When hiring salespeople, there are some general things you should always consider. The industry will dictate the list of mandatory points to analyze.
Evaluate your competitors B2B marketing strategies by seeing what they are doing in the "top of funnel" and the "middle of funnel."
What are some of the ways that they generate leads?
They get your contact information from what you post on social media, by tracking the links that you click in their email marketing campaigns and also through pop-ups.
Does the salesperson take time to find out what you are looking for? Do they offer any alternatives if your needs don't align with their approach? Does it seem like they care about making sure that everything is explained thoroughly and in a way that makes sense to you?"
What kinds of resources do they provide to help you make decisions?
Does the company have an email list of people who are interested in your interests?
How do they interact with you? Do they try to build a relationship or just start talking about their product as soon as possible?
Do they use social media to get in touch with you?
Next, analyze their motivation to succeed
To motivate your sales team, you need to ask for a proposal and talk with them.
Here are some questions to ask during a sales call:
Can the sales team answer specific questions about their product? Do they know it inside and out, or are they still learning on the job?
When interviewing a salesperson, you want to be sure that they are prepared for the conversation. You also need them to try and understand your challenges rather than just talking about their product benefits.
The one question I ask myself before hiring is whether or not the person can articulate why my company should be their employer of choice.
How did they try to close you?
4. Create a USP for each market you want to target
Many companies make the mistake of assuming that a USP and positioning are interchangeable.
This isnt true.
Positioning is the way in which you describe your company to a prospect. It's how different and special we are from our competitors, as well as what services or products we offer that will be beneficial for them.
Next steps:
Developing a USP can be difficult, but here are five steps that will help you through the process.
Ask your core customers what they like about you. Reach out to them and ask for feedback.
I had a hard time with this one because of the way it was phrased.
The main point of the article is to show how your product or service can be differentiated from its competitors.
When you're competing with your competitors, it's important to be aware of the factors that make a difference.
I found that my USP was not as unique or differentiated as I had originally thought, so instead of focusing on features and benefits alone like before, I now use a model to help me form mine.
How to formulate your USP
It turns out that a paycheck is not the only thing that matters.
The company promises to find 1,000 new members who fit your ideal customer profile within the first month or they will refund you.
Need + important feature
If you are looking for translation services, we will pick up the documents from your office on the same day that you place an order and return them to you when they have been translated.
I have found that a combination of commission and base pay is what really drives salespeople. The incentive structure must be clear in order to avoid confusion, since everyone needs different motivations.
I have helped B2B companies increase their pipeline, scale revenue and customer growth through system marketing.
Unique feature
The manufacturer of this ice cream makes it from natural olives without sugar and milk.
5. Take your prospects through the buyer journey
The numbers show that there are people who need your product or service, but they're not ready to buy it. To be successful in sales you have to find these prospects and sell them before the competition does.
Most of the people who want to know more about your company today will not purchase for at least three months and up to one year.
This means that if you only focus on BoFu activities, your audience will be 97% untapped.
What do these stats mean?
The majority of your market is not ready to buy.
To attract your prospects, you should know how the problem they're trying to solve occurs and why they might not be aware of it.
For B2B marketing consultant companies, prospects are not searching for "b2b marketing consultancy" but rather search terms like: how to generate leads or improve campaigns.
Answer these questions and help your prospects identify the problem they are facing.
Four out of ten potential customers are currently considering our product.
Prospects might search for "How inbound marketing works" or how to generate leads with inbound marketing at the consideration stage.
3% of the people I surveyed are still making a decision about their career path.
When youve made it this far, you would qualify prospects to see what solution they are most interested in.
At this stage, prospects might search for information about your company to learn more.
If the lead is qualified, he must be nurtured to feel confident in your product and all of its benefits.
Start here:
It is important to know that the sales funnel does not represent all of a customer's journey.
When you're looking to grow your sales, there are three stages: attracting the leads (ToFu), qualifying them and nurturing them.
I also learned that the buyer journey is made up of more than just a marketing funnel. The other parts are:
The sales funnel is an essential part of the business that handles lead nurturing and closing deals.
A customer's post-sales experience is a vital part of the funnel. This includes educating buyers and measuring their satisfaction.
Referrals are a way to generate referrals, recommendations and case studies.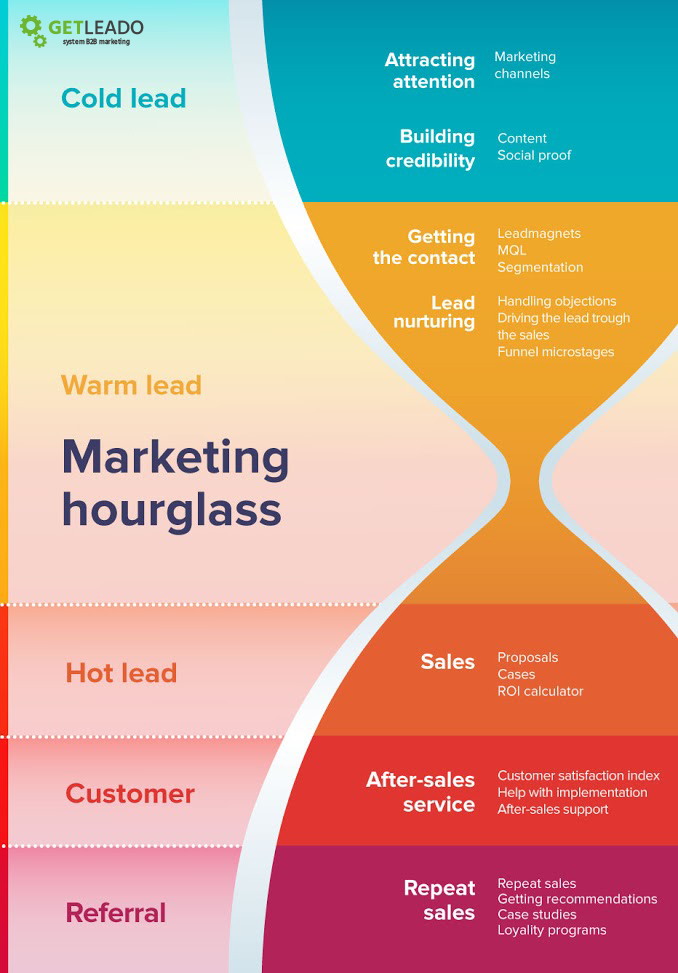 6. Recognize goals, channels and resources to support your B2B marketing plan
By doing research on your own, you can figure out what you need to sell and where it is that your competitors are weak.
So, where to next?
Establish clear goals for your employees to achieve, and track their progress on a regular basis.
Once you know what your goals are, it is time to make a reasonable assessment of where you stand and how much work needs to be done. Remember that there will always be competitors trying the same thing as well.
The way to create success in marketing is by setting up checkpoints for when you have reached your goal. What are the milestones that need to be accomplished at each stage of your plan?
We need to figure out what resources we have available in order to commit.
The resources you commit to your marketing plan should depend on how successful you think the campaign will be. The process is likely to see a lot of back and forth as identify which actions have the highest ROI for your company. Obviously, take all the high-ROI activities first until it's no longer cost effective.
What is the best way to increase budgets? It's unlikely that this will be a solution because of how costly it would be. The more likely answer for budget changes is in investment, but there are no guarantees.
Find out what marketing channels are available to you.
Having now identified which media your ideal customer profile is active on, and the tools that are going to have most success at reaching out to them, you can make decisions about what channels you will prioritize. When it comes down to making choices though–which things should be prioritized or not done in order for a strategy-you need some sort of plan.
A key thing to consider is which channels you think will be most effective. The article also notes that this may not just mean the ones you use, but how exactly they are used.
If you want to be successful in your marketing strategy, it is important that each element of the plan has these three things attached:
Every company needs a DRI.
Deadline
Budget
Expected outcome
Execution and analysis
Finally, after all of this planning and preparation, its time to deliver.
Get Started With Your B2B Marketing Framework
What makes a B2B marketing plan effective?
When you include marketing focus zones into the plan and add activities to every zone which might help to achieve your goals.
The marketing focus zone is a place where companies should spend the majority of their time and resources. It includes things like social media, blogging, SEOSEM (search engine optimization), email campaigns and other channels that are proven to work well in this area.
Bellow are some examples.
For lead generation, you would create marketing plans based on the buyer journey stages.
Lead nurturing is the process of using videos and case studies to help close more deals.
Trade marketing is a way to keep your customers interested in buying from you. It may include sending them newsletters, setting up promotions with other businesses that have similar products or working on an advertising campaign together.
PR: Creating a buzz and getting mentioned in the press.
Product: Activities which include analyzing current products.
The key to success in a partnership is developing relations through common activities.
---
Need Help Automating Your Sales Prospecting Process?
LeadFuze gives you all the data you need to find ideal leads, including full contact information.
Go through a variety of filters to zero in on the leads you want to reach. This is crazy specific, but you could find all the people that match the following: 
A company in the Financial Services or Banking industry
Who have more than 10 employees
That spend money on Adwords
Who use Hubspot
Who currently have job openings for marketing help
With the role of HR Manager
That has only been in this role for less than 1 year
Just to give you an idea. 😀
Editors Note:
Want to help contribute to future articles? Have data-backed and tactical advice to share? I'd love to hear from you!
We have over 60,000 monthly readers that would love to see it! Contact us and let's discuss your ideas!