What is a sale prospect?
A prospect is a potential client who has been identified by a firm as meeting specific criteria related to its business offers. The first stage in the selling process is assessing if a contact is a sales prospect. Once you've established that the individual fulfills the requirements, they're classified as a prospect and can proceed to the next stage of the sales process.
Prospective consumers are defined by businesses as those who have been qualified as holding certain qualities. Generally, a prospect fits your market segment, possesses the financial resources to purchase your goods or services, and possesses the authority to make purchasing decisions. Prospects are not required to have shown an interest in purchasing; they must just fulfill the aforementioned requirements.
What is a prospect list?
A prospect list contains information of possible customers who might gain from a business's goods and services. Prospective client identification can be a time-consuming job for entrepreneurs, but it is critical for building a strong consumer base. A successful prospecting strategy necessitates preparation and structure to guarantee that each lead converts into a valued customer.
How to build list prospects?
Use tools to build prospecting list
The most difficult aspect of a cold email is that the person who receives your message may not know who you are or how your message pertains to them. There is a considerable chance they have never encountered your firm, which provides them with an easy excuse to disregard your message.
This is why it is critical to cultivating a list of focused prospects. Identifying prospects who express an interest in your service or even your field of expertise is an excellent approach to initiate contact. Here are 9 tools for developing a focused prospect list.
1

LeadFuze
LeadFuze is an excellent tool for automating the process of building list prospects. It is the only lead-generating solution that can integrate data from numerous sources while also providing limitless access and fully automated list building.
While many lead-generating tools search by account and area, LeadFuze may search by a variety of other parameters. For instance, it may look up connections in certain jobs and sectors, who are using specific services, and who are recruiting.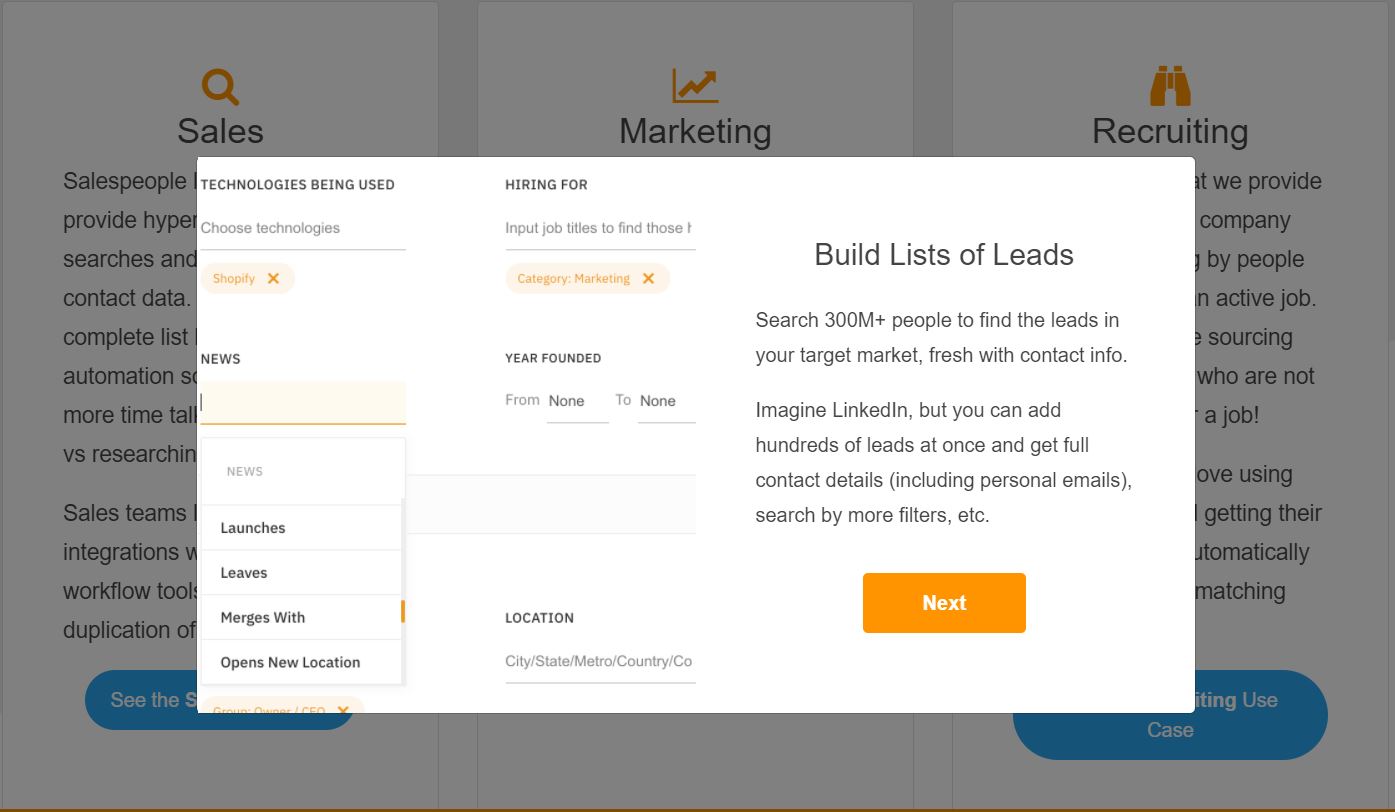 LeadFuze interfaces with a variety of customer relationship management systems, like Pipedrive, GSuite, and Mailshake. As with the other solutions on our list, LeadFuze may convert to a CSV file if you need to perform data management or analysis.
2

LinkedIn site search
LinkedIn can assist you in rapidly building a B2B prospect list. Utilize the following steps to create a highly targeted B2B prospect list using LinkedIn:
Filtering potential – To begin, you'll want to do a search for your desired audience by selecting the "Filter individuals by" option. Here, you'll find many filters to help you narrow down your search. For instance, you may select by your audience's area, industry, or employer, among other criteria.
This is less of a tool and more of a procedure for individuals without access to LinkedIn Sales Navigator.
Sales Navigator is an extremely effective tool for developing a focused prospect list. Because it is such a strong instrument, there is already a wealth of information available on how to utilize it effectively. 
For those who do not have Sales Navigator (which starts at $80/month), you may have discovered that prospecting using LinkedIn search may be a nuisance.
Their search feature is inefficient, and you rapidly reach their commercial restrictions.
Fortunately, you can locate prospects using Google search operators, which enables you to find accounts more reliably without exceeding your advertising limit.
To expedite this process, you may use a few basic formulae in Google Sheets to enter in the information you're searching for (name, firm, role, etc.) and have Google create your searches for you.
3

Voila Norbert
Voila Norbert maintains an up-to-date database brimming with B2B connections and boasts a whopping 98 percent accuracy.
It's optimized for mass activities, native integration, and an excellent API. It connects perfectly with Salesforce, Chrome, Hubspot, and Mailshake, among others, making it simple for you and the company team to handle leads on the move.
VoilaNorbert is utilized by large organizations like as Facebook and  Oracle for email verification. However, if you're still undecided, Voila Norbert gives 50 free searches so that you can try it first. 
4

Wiza
Wiza is a tool that was built particularly for LinkedIn lead generation. Wiza can do queries and export the results to a readable CSV file that your company may utilize independently or import into your favorite CRM.
For as little as $0.15 cents per email, you may receive LinkedIn scraping, email verification, and CSV download with the entry-level service. It is a Chrome add-on, which makes it simple to incorporate into your existing habits.
Although it has somewhat less features than the other options on our list, it might be an excellent value if you feel that the majority of your prospective customers can be found on LinkedIn.
5

Seamless.ai
Seamless AI uses artificial intelligence technology to assist professionals in establishing new contacts and possibilities faster than ever before. It has around twenty functions, the most important of which are the ability to check emails and contacts, as well as build lists of your most lucrative accounts.
Seamless may organize your data into multiple lists and categories, which aids in the creation of customized communications. It may generate lists through actual sales, company accounts, and social media among other criteria. Additionally, it integrates with Chrome, Outlook, Salesforce, Hubspot, and Gmail.
A distinguishing feature of Seamless.ai is its capability to perform across many social networking networks. It can scan LinkedIn and Sales Navigator.
6

Dux Soup
Dux-Soup, like Wiza, focuses exclusively on LinkedIn lead creation.
Dux-Soup works by evaluating your LinkedIn prospects' profiles automatically, approving their abilities, and monitoring their LinkedIn activity. Additionally, it may send tailored messages on your behalf. Dux-Soup may also be used to run LinkedIn drip campaigns. Once you've received a response, you can terminate the sequence and reply more personally.
Once you've begun your sales activities on LinkedIn, Dux-Soup also allows you to make personal notes on LinkedIn profiles to help you recall important facts or next actions. Best of all, those remarks and labels are searchable, which means you'll never have to wonder what your most recent chat was about.
7

Albacross
Albacross is an excellent lead generating tool since it is adept at detecting and monitoring site visitors. It offers you with specific data on your visitors, including their company's name, revenue, sector, and the contact details for their main decision-makers.
Additionally, you'll receive information into your site visitors' activity, such as the amount of time they spend on your site and their buyer decision stage. This feature contributes significantly to minimizing your prospecting time.
What's the best part? Once you've set up your Albacross account, everything will go smoothly. Each day, you'll have new leads delivered directly to your email, with no action required on your side!
8

Uplead
UpLead is focused on generating and delivering high-quality leads. The application enables you to quickly and simply create highly tailored contact lists by applying more than 50 different criteria. As a result, developing lead lists has become a breeze.
Another intriguing feature that UpLead provides is the ability to create lists depending on the technologies utilized. This manner, you can identify prospects who have adopted particular technology  You may choose from over 16k technologies. As a result, you would be able to locate the targets you want.
Additionally, UpLead makes it simple to export your leads to the CRM of your choosing and has a respectable range of connectors like Salesforce, Pipedrive, HubSpot, Mailshake, Outreach, Reply, Lemlist, and more. 
9

Upwork for Manual Scraping
Upwork is not your typical lead generation website. Indeed, it is not intended for lead generating. Upwork is a website that connects freelancers and contract employees with businesses in need of short- or medium-term assistance.
By creating an account and searching for people wanting to employ in your specialty or sector, you may get tailored leads. If you offer social media services, for instance, you can check out who is recruiting in the social media sector. You can approach them using the contact information you discover and offer to meet their requirements or improve their procedures.
A unique feature of looking for leads on Upwork is the ability to view the amount of money they've paid on the platform. This might assist you in determining their budget and whether they are a suitable fit for you.
Set up an Ideal Customer Profile ICP
It's difficult to sell to someone you don't know, yet it's what the majority of representatives do on a daily basis.
To fine-tune your sales messaging and marketing activities, you must first establish your ideal client profile (ICP). 
If you work in sales, you will constantly encounter new individuals. Some for a moment or two, while others you could be acquainted with for years. It's challenging, but there is a method to make it far easier—by utilizing ideal client profiles.
The notion of the "Ideal Customer Profile" has gained prominence during the last decade or so. It is still not generally adapted to the extent that it should be, which may make the difference between increased sales and happier clients. 
You may be interested at this point to understand the process of creating your own ideal customer profile.
It requires some upfront work, but it is not nearly as difficult as you believe. While there are some advanced techniques available, this piece is meant to assist a salesperson, sales manager, or entrepreneur with identifying prospective customers and meeting sales objectives this month, or at the very least this quarter.
To do this, you're going to rely on a single source of intelligence—your present clients. The good, the terrible, and even the terrible clients you presently service will steer your personas until your pipeline is filled with only the highest-quality leads. You'll want to discover the top and worst clients among your present consumers.
To learn more about ICP, check out this article. 
 Use email marketing tools
Innovations and methods in marketing develop over time. While certain trends come and go, one medium that has stayed quite consistent is email. Indeed, email remains the most popular medium for content marketing among B2C and B2B marketers.
Additionally, it might assist you in amplifying your other marketing platforms, such as social media. Having said that, marketers continue to encounter a slew of obstacles in their email marketing operations. One of these significant obstacles is the time required to generate an attractive email from start. Without effective tools, marketers may find themselves spending an inordinate amount of time generating and delivering emails that are less than aesthetically pleasing. This reduces productivity and lowers your email ROI.
Many businesses accept this scenario because they are reluctant to invest in a process-simplifying instrument. However, email marketing solutions do not have to be prohibitively expensive. There are several free email marketing solutions available that may help you. Here are some of them:
Evaluate prospects lists and finalize research 
If the market is being kind to you and your sales team is doing its job, you must have a funnel full of sales opportunities. However, just even though you have volume does not guarantee you have quality – a point that many marketing teams struggle to grasp.
When there are too many prospects running around in your pipeline and your representatives are not assessing or sorting them in a structured manner, you risk amassing a huge number of unqualified prospects, diluting your prospective pool and making it harder to discover your best chances.
 This is an excellent issue to have, actually. This indicates that people are interested in your services. However, please remember – a phone conversation or website click does not always indicate that they are ready to purchase. Prospects are only conducting research, so avoid getting ahead of yourself.
To land the big fish, you must first qualify your prospects.
Prospect qualification is the process of assessing if a prospect is worthy of the effort required to convert them to a client.
If you have a shortlist of 10 people and five of them would never purchase from you, wouldn't you want to understand that upfront so that you can concentrate your energy on the remaining five who might really buy from you? Additionally, wouldn't you want to prioritize those five prospects so that you may devote the most work and attention to those with the biggest sales potential?
This is the essence of qualifying, and those that execute it successfully get a greater ROI and a higher closure rate.
Conclusion
It takes so much work to build list prospects, but it's worth the effort. When you follow these five steps when you build list prospects for yourself, not only will you have more people to sell to, but your sales numbers should increase as well. The rewards of following these steps are tenfold so take action today! Give them a try and let us know how it works out for you!
Editors Note:
Want to help contribute to future articles? Have data-backed and tactical advice to share? I'd love to hear from you!
We have over 60,000 monthly readers that would love to see it! Contact us and let's discuss your ideas!