What is a Business Development Representative?
A business development representative is a salesperson who specializes in selling products or services to other businesses. They are often responsible for developing new customers and making sure that existing customers continue to purchase from their company.
The BDR team is responsible for identifying and securing new clients, as well as maintaining and developing relationships with current customers.
A skilled laborer begins a project with nothing but tools and a plan. Over time, things begin to take shape until the job is done.
Likewise, a business development rep needs the right tools and a good game plan.
Like an SDR, a BDR is compensated based on SQAs (sales qualified appointments).
This is a big step that starts with a fresh cold prospect and ends when your rep qualifies them for sales, but it's a closer that will end up getting the yes.
Their sales role focuses on generating qualified prospects using:
Cold email

Cold calling

Social selling

Networking
It can be both an inside sales and outside sales role.
Always remember that your BDRs (and SDRs) get put off, told no, and then have to send the good prospects to someone else for the climax.

In this post, after we've defined BDR, we will provide you with insights on:
The difference between BDR vs SDR

A comprehensive view of BDR job description

A clear idea of business development rep metrics and salaries
SDR vs BDR: What's the Difference?
Mainly, sales development representatives (SDRs) focus on the qualification of inbound marketing leads, while business development representative (BDR) aims at prospecting outbound leads.
In some cases, you can find a sales development rep (SDR) working on prospecting outbound leads alongside the BDR team.
Many get the idea that BDRs & SDRs are responsible for making sales. In fact, they are just a part of the sales pipeline. They are the front rocks in a chess game.
SDRs & BDRs prepare the ground for the next players to continue the sales process, as this illustration below shows.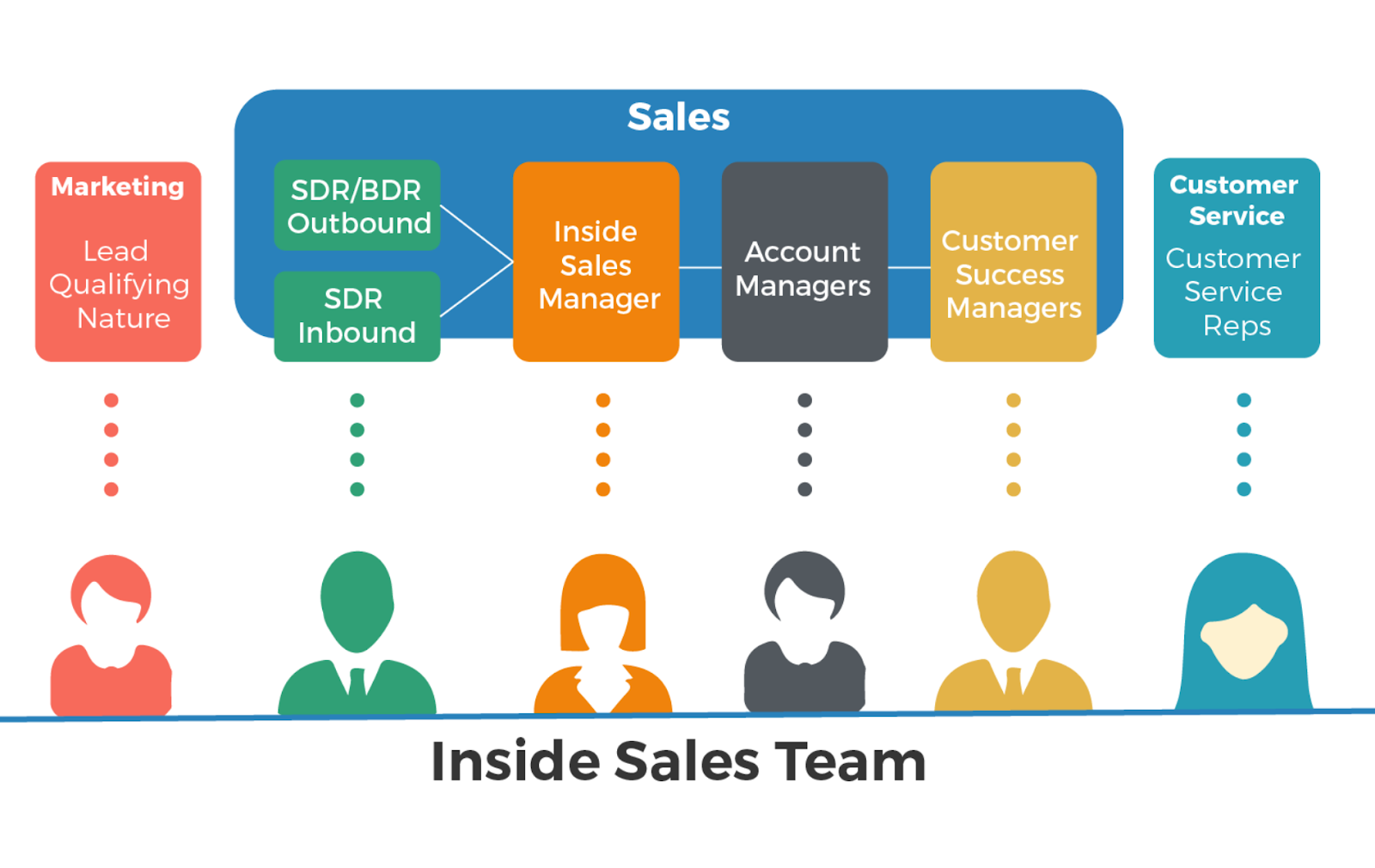 Note that BDRs also work with marketing or customer service departments where they provide product support by answering questions about company offerings.
You're probably wondering now, what's really the job description of a business development rep?
Well here's your answer.
Business Development Representative Job Description
Business development representative requirements
BDRs are required to possess a special set of features, traits, and requirements, such as:
Proven work experience as a business development rep, account manager, account executive, or relevant fields.

A good understanding of the business environment they are placed in and be experienced in using

sales techniques

to identify opportunities for sales/improvement or new ways to achieve objectives.

Strategic thinking where they need a long-term vision for the company's growth plans at all times, without forgetting short-term goals like developing client relationships and meeting budget targets.

Communication, presentation, and negotiation skills.

Familiar with databases, spreadsheets, and chart analysis.

BDR must have a BSc degree in business, marketing, communication, or likewise fields.

Experience in CRM software usage.

Personal characteristics such as confidence, assertiveness, persistence, etc…
Business development representative responsibilities
In addition to requirements, business development representative jobs have a responsibility towards the organization and the position itself.
Outreach for potential clients through cold calling, cold email, social selling,…

Generating qualified leads and turning leads into qualified prospects, in order to spawn

sales opportunities

.

Understand and identify client needs to present them with accurate suggestions and solutions in terms of products and services.

 BDRs need to develop the ability to adapt quickly to tech, new trends, and changes in customers' behavior in order to stay competitive.

Keep up with market changes, new products & services, and finance in terms of pricing changes and payment plans.

Arrange calls and meetings between prospects and account executives or managers.

Identify and secure new clients using various tools, besides developing long-term relationships with current customers.

Prepare weekly/monthly/quarterly reports of sales results to the Business Development Manager. 

Focus on increasing customer satisfaction by customizing product solutions and take feedbacks into real consideration.
Now that we have an idea of a business development rep's responsibilities & requirements, it's time to dig deeper and see what they would do to accomplish their tasks.
To do such a monumental task, it takes five broad areas that we'll dig into.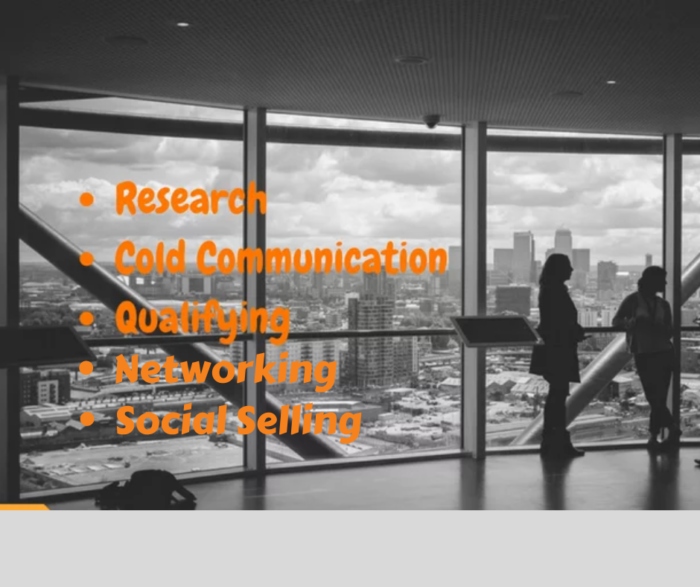 1. Researching new business
Business development representatives are business strategists and need to take an in-depth look at the company's competitors. This means a business development representative needs to:
Research new markets

Identify business opportunities

Study target customers

Connect with potential suppliers and partners
Don't underestimate the importance of business development representatives. What they actually do might not seem as glamorous to some people as other positions in marketing or sales, but it's an absolutely crucial position in any organization's growth strategy when done well.
Other than using data from what is currently working, BDRs are out trying to drum up new businesses through leads research.
BDRs utilize resources, like databases and verified leads generation software, that contain lists of potential customers or competitors for particular industries and fields so they can present those prospects with offers.
For example, you can use LeadFuze for your BDR team as it provides accurate & verified leads and allows them to build various lists.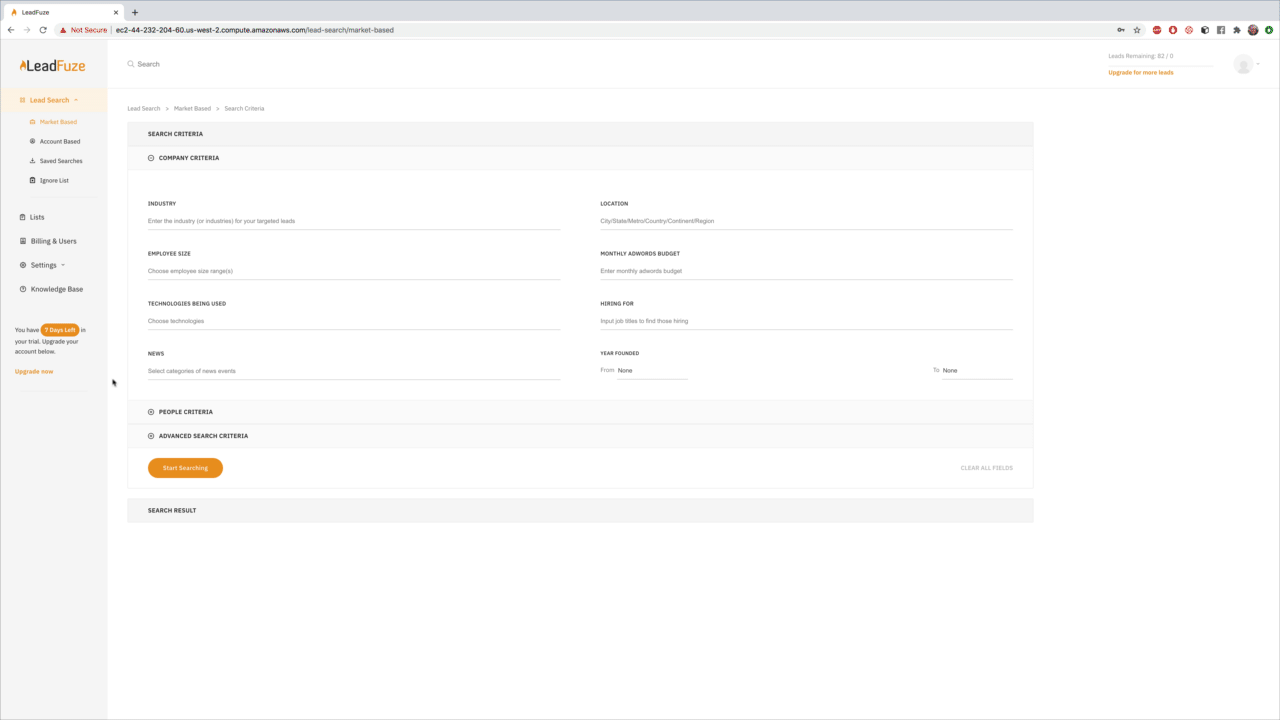 It also allows BDRs to activate Fuzebot autopilot, our A.I. assistant, which will automatically add new leads that match your search criteria.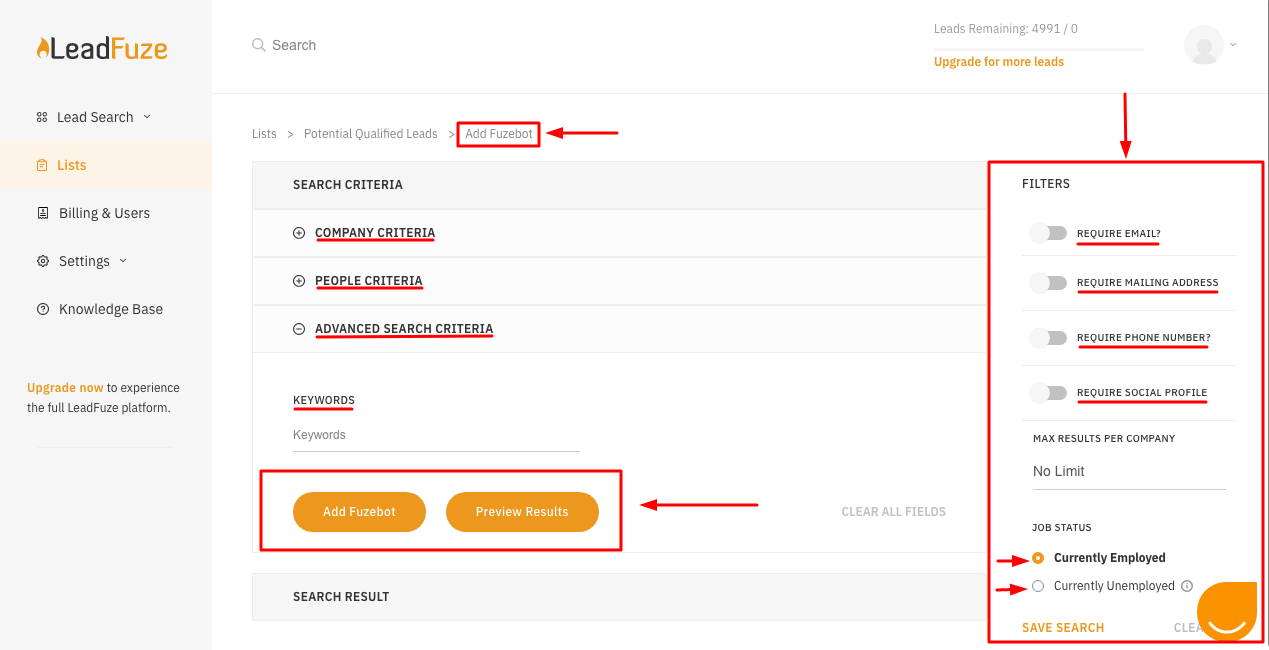 You can manage the Fuzebot any way you want.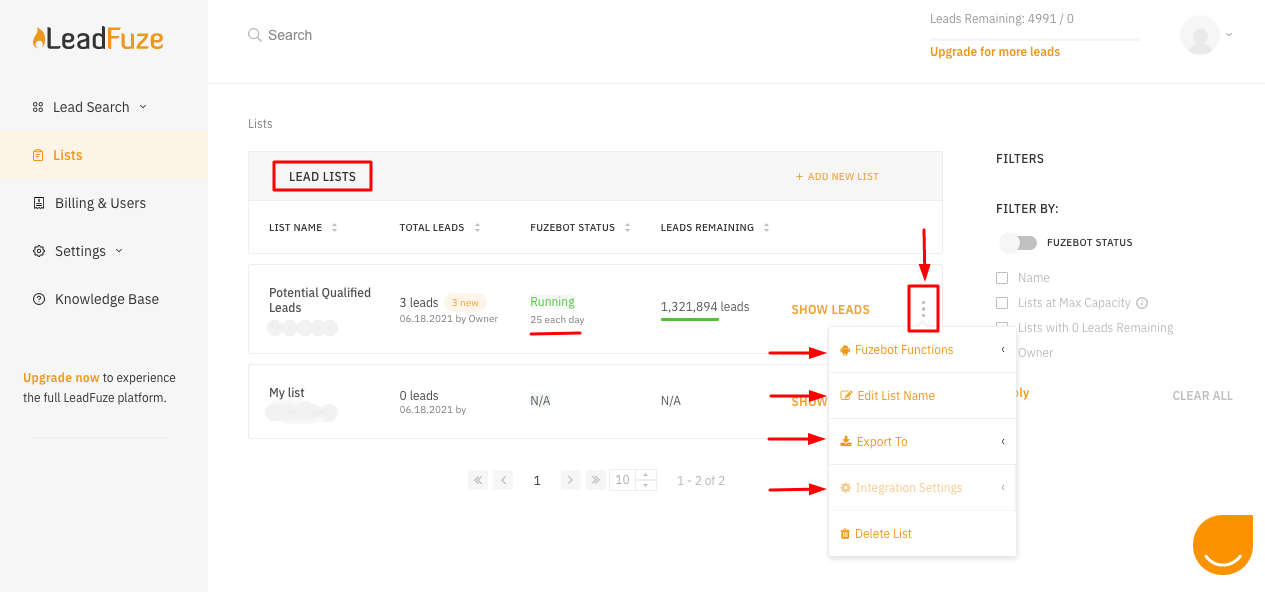 Either you're conducting an account-based or a market-based search to explore potential prospects or pick up information about competitors. Leadfuze enables business development representatives to acquire the necessary data by providing accurate intel on leads.
A filtered search, based on the desired criteria put by BDR team. As shown in the following example: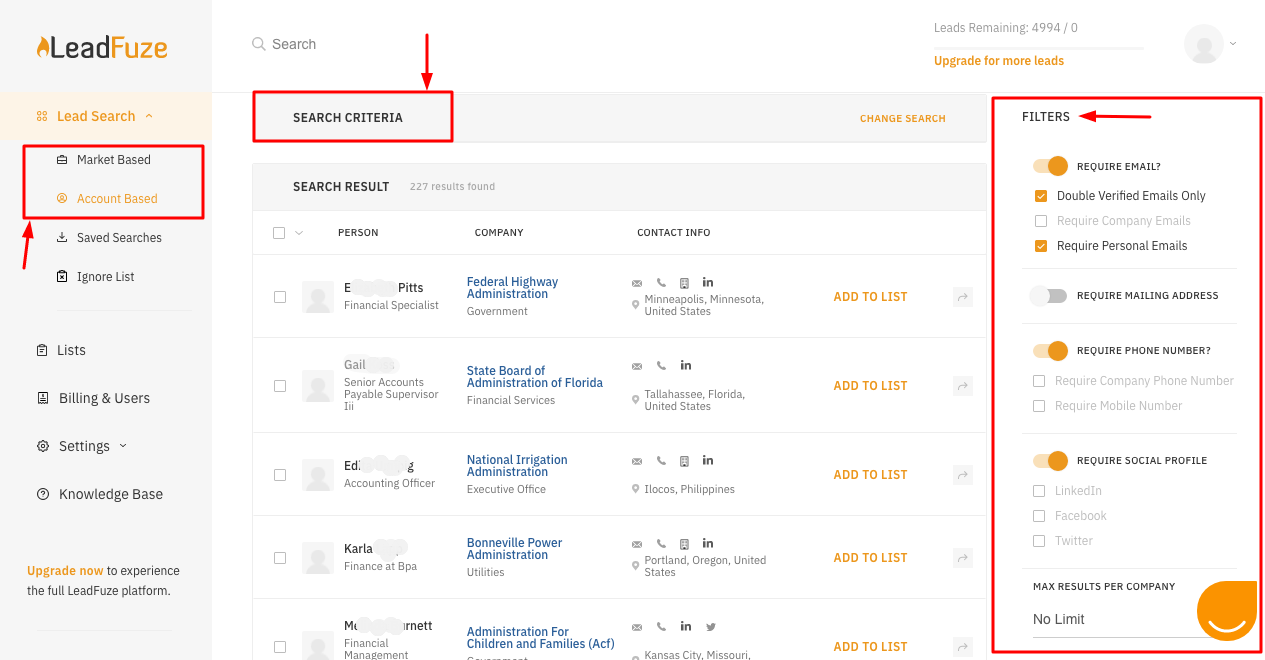 This is what Account Based Search Criteria includes: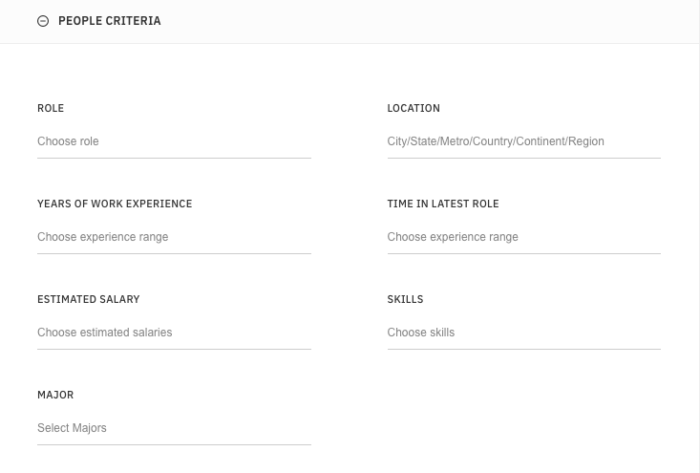 On the other hand, here's what Market Based Search Criteria include: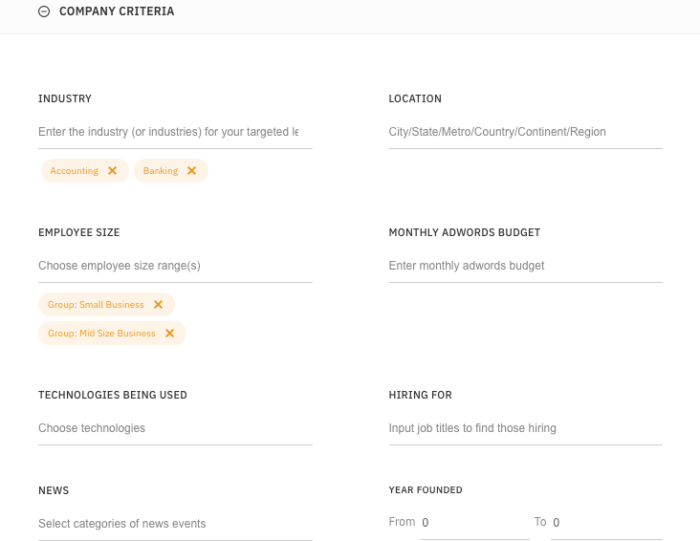 2. Cold communication
Inbound leads aren't always easy, but they at least come to the sales funnel through some means of their own initiation.
On the other hand, outbound leads require cold communication through communication tools, platforms, and strategies.
By now you're probably wondering what cold communication is exactly?
It's also referred to as cold outreach, It consists of cold emailing & cold calling.
Cold emails & cold calls both serve the same purposes which are:
Identify the decision-maker

Have a qualifying call
Cold calls are typically personal and energetic because they allow BDRs to distinguish the prospect's mood, on the other end of the phone, through his/her voice, tone, and way of speaking.
Though at times, cold calling can do the opposite which is drive prospects away because phone calls can be seen as annoying and get turned down by some potential prospects.
While cold emails are found more suitable than cold calls because they are less time-consuming besides can be automated, tracked & forwarded.
Cold emailing is basically sending an email to leads who haven't contacted you or showed interest in your product or service. 
Note: Cold communication is not a process of calling & sending prospects a sequence of pre-programmed emails that gently woo them into making an appointment. Oftentimes, this is an intense 10-21 day process of outreach techniques application that will either end with an appointment or not.
Finding the decision-maker is difficult, but it's also what a BDR loves to do. Click To Tweet
It can be accomplished effectively through intraday emailing and calling.
Pick the top three candidates who can be potential prospects and send them an email. Briefly introduce yourself and ask them who's responsible for buying decisions.
Don't send more than that, you'll hit the spam category. But a genuine question to a few heads will usually get you a much better response rate.
Then, call all three of those names—same day (not necessarily the same day as the email).
Not only that it will give your BDRs a fast answer (more often than individual outreach). It will also give a few names to drop during your outreach to the decision-maker (e.g. I was speaking with Jane earlier).
It's not a silver bullet, but it may seem like that at times.
The other times, you'll have to constantly reach out through emails, voicemails, and calls.
A sequence is usually around a couple of weeks. It is usually a variety of communication that either end with a call to qualify, the lead letting your rep know communications aren't welcome, or a "break-up" notice where your rep just can't get through.
All of this is done to get the decision-maker on the phone for a call and hopefully turn him from a prospect to a sales opportunity.
3. Qualifying call
A qualifying call is a call that is made to business owners, directors, or managers, or potential customers.
A sales qualification call with a prospect is necessary and important because it helps determine if there's a fit with the prospect's needs and your company's products in terms of services offered. 
In other words, to find out whether the potential prospect qualifies for the next step which is turning prospects into sales opportunities or not.
The purpose of the call is to designate whether or not this brand or lead is a prospect worth sending on to a Sales Qualified Appointment (SQA). The call should take anywhere from 15 minutes to 45 minutes. 
The longer the call, the more qualified it is.
Most of the qualification questions should be focusing on identifying the lead's issues and whether your product or service presents a solution to be offered and preparing him for the next phase if interested.
Business Development Representative Job Description and Tools Click To Tweet
It requires a skill level that takes a long time to master.
Taking someone from unaware to warm and qualified within a couple of interactions is a difficult task. Not everyone is cut out for this, but this is where a BDR excels.
4. Networking
Other than the tools and softwares a BDR uses. The process of identifying and pursuing business potential prospects or sales opportunities requires networking and social communication skills for BDRs. To seal deals you need to be great with people on a communicational level, especially when it comes to face-to-face or calls meetings.
5. Social selling
Many confuse social selling with social media advertising. Well, it's not.
Social selling is applying social media platforms and channels to connect with prospects.
It's the business practice of engaging in business conversations with prospects on social media.
Social selling can be as simple as sharing links to articles relevant to your business interests from an industry publication. 
But it's not blind-targeting or just adding random new leads to your list. It's mainly a trust-building process and meaningful purposes by presenting your company product or service to an existing problem for prospects.
LeadFuze facilitates this process for BDRs, by providing database information including social media accounts, as shown here: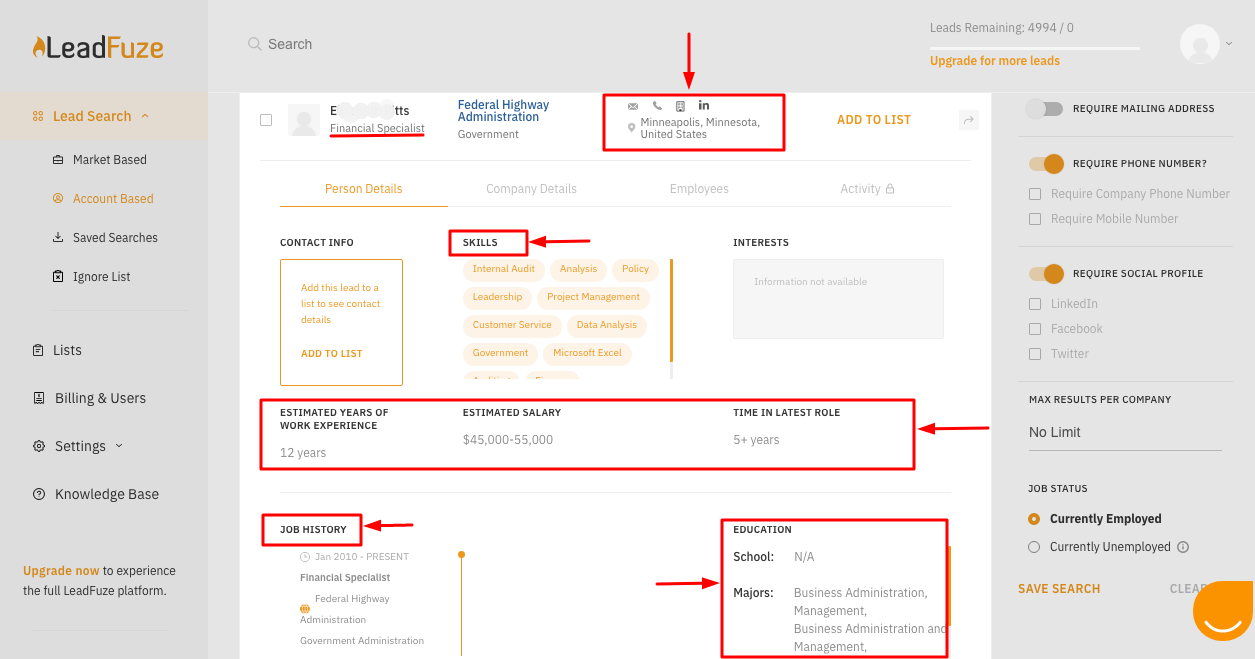 By providing LinkedIn, Facebook, and Twitter verified profile accounts, Leadfuze enables business development reps to tap into prospecting with everything in their hands.
Business Development Representative Metrics
In terms of metrics and KIPs, several key performance metrics are inducted in order for the business development reps to keep track of their performance. 
These key performance metrics consist of monthly, quarterly, and annual quotas to keep account of the number of emails sent, the number of made-calls, and the number of set-up meetings of prospects with account managers.
BDRs are also tracked by BDR team-performance rate, the number of potential leads, and the number of prospects.
Salaries for Business Development Reps
Before proposing or demanding salaries for business development representatives, you'll need to know the difference between an entry-level and BDR.
A BDR role is mostly entry-level.
Conclusion
In conclusion, BDRs play an important role within the sales funnel. Yet, they cannot function properly solo.
In order to have the highest rate of BDR team efficiency, you need business cooperation formation between departments with BDR teams, especially the marketing department. 
Of course, along with the use of the various BDR techniques, by BDRs themselves, mentioned earlier.
Editors Note:
Want to help contribute to future articles? Have data-backed and tactical advice to share? I'd love to hear from you!
We have over 60,000 monthly readers that would love to see it! Contact us and let's discuss your ideas!