Customers Insights to Improve Sales Conversations
There are many tools to help salespeople improve their conversations with customers. Customer insights can be used in order for them to move from simple questioning, and explore challenges together.
---
The following sections will answer what are consumer insights that can really help salespeople and what is the overall purpose of customer insight teams.
What is consumer insight: qualities that make an organization a good place to work:
Companies are now getting insights into the persona of their target audience.
The most important topics in the market right now are those that will help you open conversations.
Use cases are the activities and workflows addressed by your product or service.
Prospects are motivated by customer business challenges or opportunities.
1. Qualifying features of organizations
A good target company for our product is one that has a lot of employees, and those companies also need to have some type of problem with their current work environment.
If you are in either inside or field sales, key consumer insights is important.
When hiring, you should look for more than just the basics like how much money they make or their number of offices. For example, if you sell a field service app and need maintenance technicians with your company then that is important.
It is also important to know how to qualify prospects who already have a solution from another company. If they are happy, you should not waste your time trying to sell them something that isn't needed.
It's important for employees to know what they're talking about and be able to adjust their pitch when necessary. So, consumer insights research is a must.
Most companies develop qualification questions for salespeople. However, what they often don't do is equip them with the knowledge needed to have flexible conversations – it's important to engage the contact and 'set the hook' for a follow-up meeting.
2. Persona insights and intelligence
There are often discrepancies between the personas that product and marketing teams want to promote, and what salespeople find useful when they're trying to prepare for a meeting with a customer.
The information product managers need to design new products and the insights marketing teams needs in order to take their products to market, are not what salespeople really want.
Salespeople are interested in:
Guidance on the business roles and segments to target for their products.
Education
Example job titles
Roles and responsibilities
What keeps them awake at night
They are involved in many important activities that can have a large impact on the company.
Specialist knowledge
They look for information online and in books.
Other personas they work with
It's also important to let salespeople know what they're up against when meeting different types of people. They must be aware of customer insight definition.
3. Define consumer insights and topics
It's important for salespeople to be up-to-date with the latest industry developments and to know what is customer insight. This will help them build credibility and trust during their initial interactions.
As a small team in marketing or sales enablement, you must keep an eye on what's happening in the market and capture any changes that may affect your company.
But it's difficult to get the right information and customer insight data into the hands of salespeople in a timely fashion. Sending out monthly market insights notes used to work, but now they are getting ignored because email overload.
One option is to add a panel of latest insights on the home page so that salespeople can see what's new when they log in. The user should also be able to filter results, so they only get information relevant for their markets.
4. Use cases you address
You need to provide new salespeople and bring in new products with a solid understanding of the customer business activities and workflows your company serves.
If salespeople do not understand the relevant business processes, they will be unable to write proposals that are credible and appealing.
It's not always easy to find this information, and usually it is managed by the Learning team working closely with relevant product managers. Making that knowledge accessible in a way that's easy for salespeople to dip into before calls or meetings can be more difficult.
5. Customer business challenges and opportunities
One of the most important things I tell salespeople is to know who they are talking with and what their goals might be. 10 years ago, it was easy for a salesperson to just ask questions but now people have much more on their mind so if you can't get them engaged in something else then your chances go way down.
Buyers expect salespeople to know what they are talking about and want thoughtful conversations. To do this, the salesperson needs to be prepared for different types of people.
Customer insight definition vs Disruptive insights
A lot of companies are now focused on disruption, especially when it comes to early sales. The idea is that by bringing new insights and ideas to customers about how they can do things differently – disrupt the status quo.
Market themes can be a good way to start conversations when you're looking for insight into how the prospect is thinking. But if they are not yet considering changing their ways, then it's necessary to instill fear – either FOMO or that they're taking unacceptable risks.
Here are some of the ways to do this:
You know the type of company they run, and you've seen what other companies like that have gone through.
How companies like Google and Lego have changed their hiring process to be more diverse.
Trying to get the customer out of their comfort zone doesn't work well if they are already looking for a solution. In this case, they know what challenges that face and aggressive-disruptive tactics may be off putting.
Issues vs. impacts
A good salesperson will want to know the impact of solving the customer's problem.
When you work with stakeholders to capture the likely top of mind challenges for different personas, it's important that they're able to offer guidance on how salespeople can help them in their role. For example, if someone is a customer service representative and needs more information about what features are included when purchasing this product or service.
Different people will react to something differently, but that doesn't mean they are wrong.
Imperative for salespeople to be better prepared
You can't just go in and ask questions, you need to prepare before the meeting. This way they will know that you're there for them and not trying to sell something.
It is not enough for salespeople just to figure out customer challenges and opportunities on their own. Product marketing, as well as other teams need to work with knowledgeable people across the business in order capture this information.
Who to get input from and how to prepare
Let's start with the people you need to work with in order to get customer insights.
Sales
It's important to get input from your best salespeople. They're in close contact with customers and know the types of issues they face and how these could affect or may already be affecting my business.
Marketing or product marketing
Marketing professionals will be able to focus on the needs of their customers and understand what they're looking for.
Product management
Product managers should have an in-depth understanding of how products are used by customers. They will talk to the customer, and decide what features are needed for future development.
Professional services/customer success
Customer success teams are often in a position to provide valuable insights about the market and what customers need.
Customers and prospects
You may also need to recruit and get input from decision-makers or influencers at target accounts, but for existing products you are already aware of the customer needs. For new propositions it will be essential.
Preparation steps
So, now let's go over the steps you need to prepare.
1. Put the stakeholder team together
Now you have to get commitment from people before they will participate in the process, and even then there are limits.
2. Specify the market and customer insights to be captured
It's important to think about what insights you want from your salespeople. What are the most relevant and useful for them?
In most B2B situations, the customer will want to see:
Your customers are facing challenges and opportunities based on the market theme.
The top challenges and opportunities for the different products you sell
Insight that could offer a different perspective for your prospects to consider.
3. Determine segments, workflows, and personas to be addressed
It's important to work with stakeholders before the first session, so that you have a clear idea of what to discuss.
Target segments that are more likely to be interested in your product.
A description of the business activities and workflows that your solution addresses with a brief explanation of each.
When you're trying to sell something, it's important to know who the decision-makers are.
Don't leave the discussion on segments, workflows, and personas to the first workshop. If you do this, then it will take up too much time into what the target market is and who your customers are.
4. Identify and recruit customer contacts
If you want to validate your project with actual customers and prospects, then here are some things you will need:
Determine how many contacts will be needed to reach the segments, workflows and personas
Contact current customers to see if they have any information about your competitors.
Determine the best way to motivate them, whether it be a raise or donation.
Decide on the best method of interaction (e.g., phone interview, online survey)
Get permission to interview customers by getting agreement in principle.
5. Mine existing materials for relevant insights
You should always prepare for the meeting by mining past work done on customer insights. Stakeholders are very receptive to seeing all of their previous work being leveraged.
6. Conduct desk-based research
The key to success is research. You can use the internet and other tools that you have access to in order do some research into what your customers want or need.
7. Produce workshop pre-read
To show stakeholders that you've done your homework, pull together a short document with all the information they need to know before coming into the workshop. This will make them more prepared when they arrive.
Running customer insights workshops
Let's talk about how to run a customer insights workshop and the best way to structure one.
Agenda
Typical customer insights workshop agenda might look like this: 1. Customer segmentation 2. Market analysis and market sizing 3. Competitor mapping4.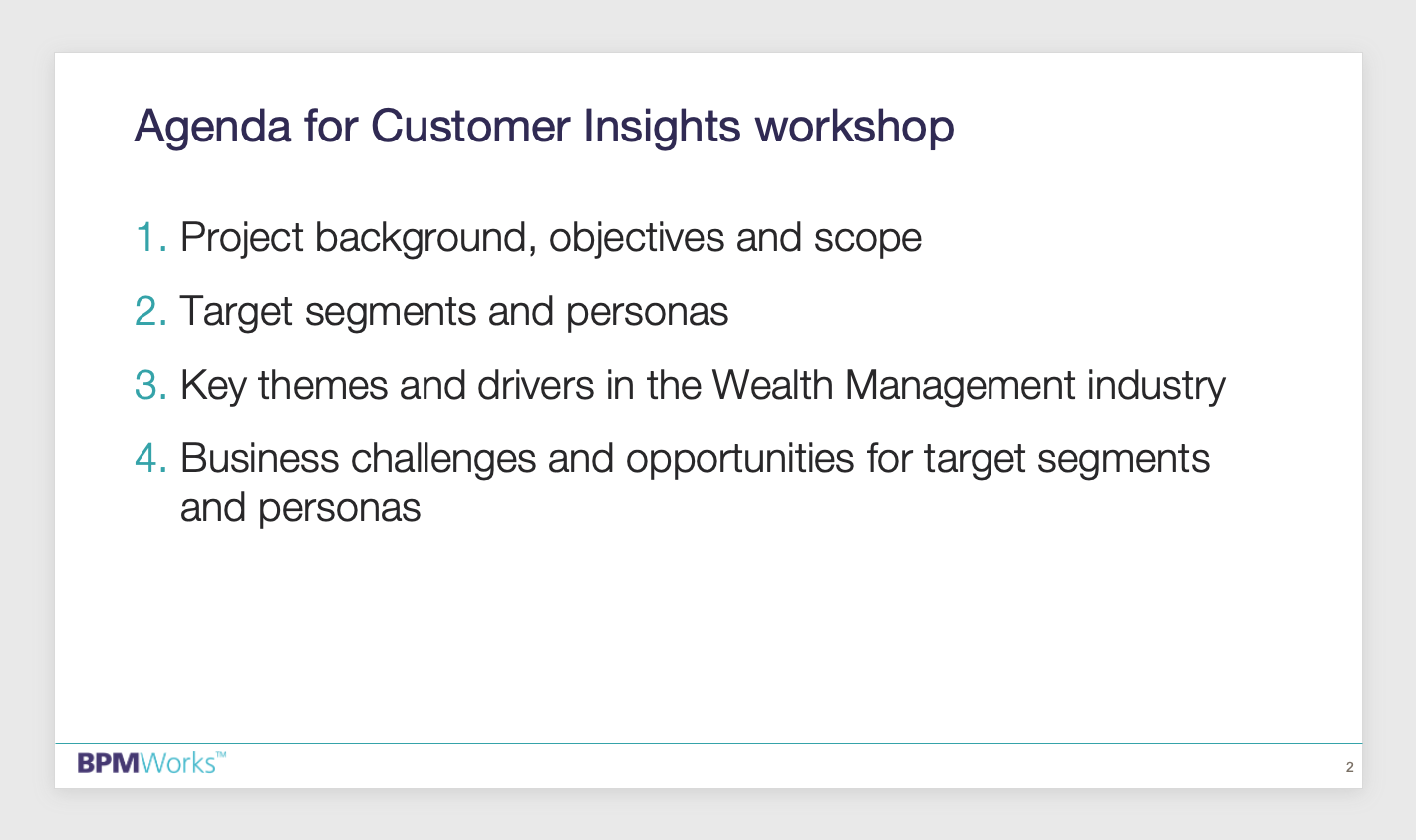 Program
Below is a table of meeting times for this workshop.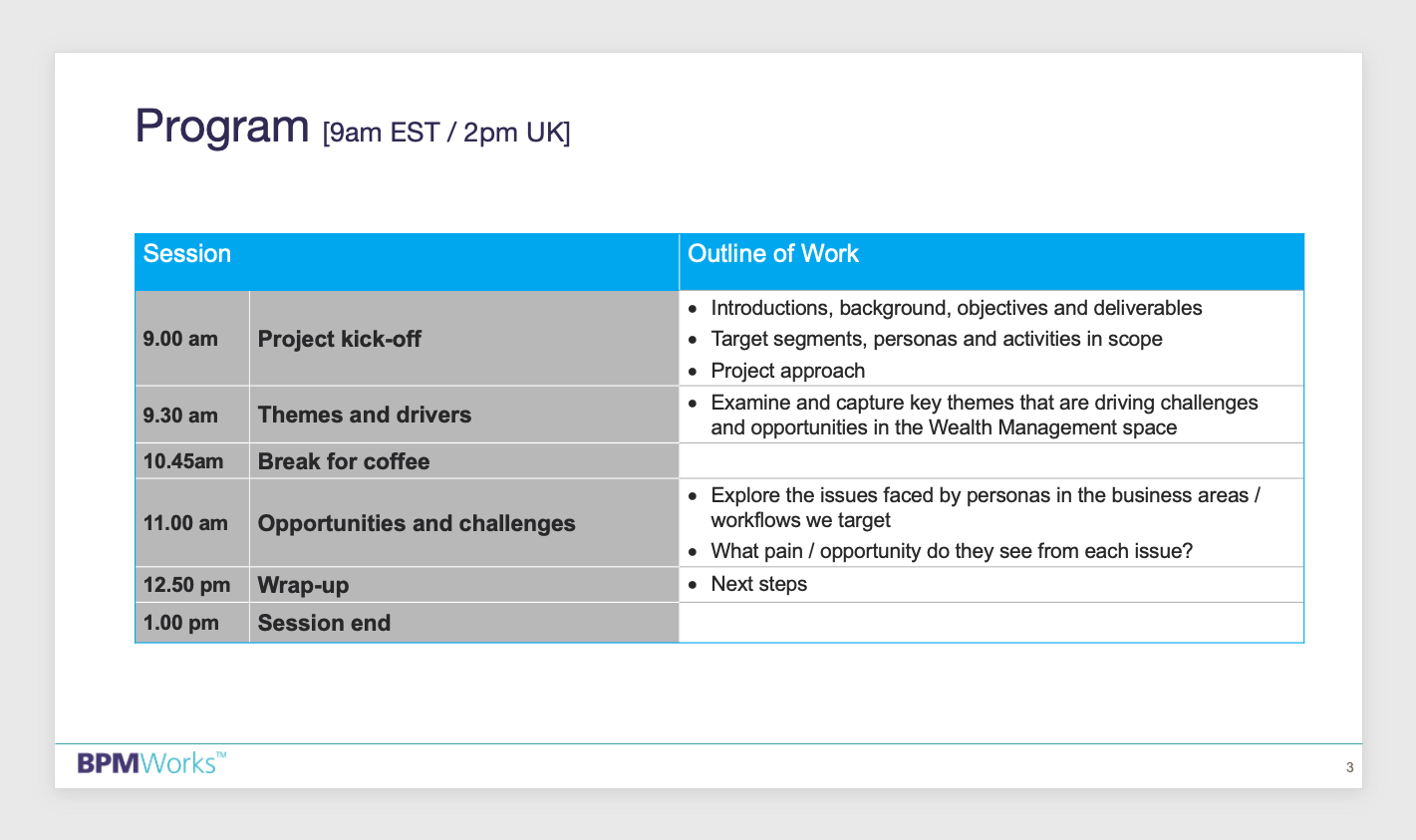 Project kickoff
Don't leave out the project kickoff section. A lot of people may not be involved in earlier discussions about a new project and won't know why they were invited to participate – busy people want a clear understanding of what it's all about, how valuable it is, and what will come from their work.
The best way to ensure everyone is on board and ready in the workshop, is by having a pre-workshop call. This will mean you can get straight into intake discussions with attendees at the actual workshop.
Facilitation
Whoever is leading the session will need to keep it moving while also allowing time for people with important points to make. It's not easy getting this balance right, but one technique is having a flip chart ready and waiting so that any contentious or peripheral topics can be discussed later by the team.
In the themes and drivers section, you should talk about how these need to relate to your company's customer base. You'll also want to steer away from general market trends that don't match this criteria.
For this session, you can either focus on one business area at a time for your customer or do it by persona. I recommend thinking about challenges and opportunities first in terms of the relevant personas.
When you are working on a challenge, make sure to get the view from every member of the team. The customer is likely to see it in that way.
Value of in-person sessions
Gather your top performers to get their perspective on the marketplace, challenges they face and opportunities for improvement.
It's important to get people into a room together when you can because it creates an atmosphere that is more powerful and generally positive than the corresponding distance situation. Traveling for meetings helps offset travel costs in this respect.
Remote sessions demand greater facilitation skills
But, COVID-19 has changed the way people work and it's likely to stay that way after this pandemic is over. People are less interested in travelling now and they're getting used to working together through video calls.
Facilitation often takes skill, especially in customer insights sessions. It can be difficult to know that people are paying attention and not doing their emails when they're in the session. Advising them ahead of time helps a lot.
With remote attendance, you have to run shorter sessions in order to keep people's attention. This means that instead of running one day-long workshop with six hours worth of content, you may need two workshops: a 2 hour and 4 hour session.
Managing conversations
It is important to make sure one or two people don't dominate the conversation, without being rude and cutting them off. But it's vital if you want a balanced view of an issue and tap into all those who have knowledge on that topic.
This is where the facilitator's skills come in. They need to have a strong presence and be able to control the meeting.
If you want to keep the meeting on topic and make sure everyone has a chance to speak, it's important that there is an agenda with supporting slides.
Team alignment
Attendees often comment about how much they enjoyed these customer insights sessions. They're not just for understanding customers, but also to share knowledge and align around a common point of view.
Capturing output
To make the most of workshops, you need to find a way to capture people's insights as they happen. Flip charts and sticky notes used to be the standard for this process but are now inefficient with everything needing unscrambling after sessions.
The other problem with this is that you have to be in the same room for everyone, which means there are no remote attendees. This may work well when people can fly around and attend meetings remotely, but it will not work if they expect to join sessions virtually.
Delivering insights to salespeople
Now we'll talk about how to deliver this knowledge. We want our salespeople to use it, but the problem is that they might not take advantage of all these insights and data if you just give them a report.
Just-in-time learning
Salespeople need to constantly be learning new skills. A well-constructed sales playbook can provide this type of training during the appropriate times.
How to structure a sales playbook
The different types of things you need to know depend on the sales situation and where in the process you are. So it makes sense that information would be available just-in-time, as needed.
A typical playbook may have this structure:
Sales Stage 1: Prospecting
A look into the markets the customer serves
Possible topics for my target audience
This article talks about how to make your company more relevant and interesting for potential applicants.
It's important to open up a conversation by asking questions.
Sales Stage 2: Exploration
Different people have different goals, issues and pain points in the workplace.
What has your company done for other customers in the same situation?
How to articulate the benefits of a solution.
Sales Stage 3: Needs Analysis
Needs discovery questions
The challenges that your products address
Other customers had similar challenges and we were able to provide them with a solution.
When you're at the final stage of making a sale, your customer will be evaluating whether to buy the product or not.
The most important thing for a company to do is differentiate itself from the competition.
Corporate credentials
Positioning vs. competitors
Salespeople can use the playbook to quickly get relevant ideas, insights and guidance for their clients.
If your company only sells one product into the same industry segment to just one main customer, then you could fit this type of information in a PDF. But if reps sell more than one product or service and have different buyers for each of them, they will need access to all that knowledge.
Putting all this information into a 50 page PDF will make it impossible for the salesperson to find and use what they need when they need it.
Digital delivery options
Traditionally, sales playbooks have been delivered in PDF format. However with HTML5, new digital formats that include interactivity and video are now available.
Learning playbooks
Companies that want to use videos, knowledge checks and navigable content for learning style sales playbooks should consider using an industry-standard software package like Articulate Rise, Lectora or Adobe Captivate.
Guided selling tools
When you are not face to face with a customer, it can be difficult for them to start the buying process. In order to get them interested in your product or service, an interactive screen could be extremely useful.
Interactive tools that help salespeople guide conversations with customers and provide insightful information will solve the problem of maintainability.
---
Need Help Automating Your Sales Prospecting Process?
LeadFuze gives you all the data you need to find ideal leads, including full contact information.
Go through a variety of filters to zero in on the leads you want to reach. This is crazy specific, but you could find all the people that match the following: 
A company in the Financial Services or Banking industry
Who have more than 10 employees
That spend money on Adwords
Who use Hubspot
Who currently have job openings for marketing help
With the role of HR Manager
That has only been in this role for less than 1 year
Just to give you an idea. 😀
Editors Note:
Want to help contribute to future articles? Have data-backed and tactical advice to share? I'd love to hear from you!
We have over 60,000 monthly readers that would love to see it! Contact us and let's discuss your ideas!