Generating Leads Through Social Media Is Made Easy With These Five Little-Known Interesting Tactics
Generating leads through social media can seem impossible.
The truth is, social media can be a great source for lead generation, as well as for nurturing leads and turning them into customers.
In this blog post, I want to share with you 5 ways that you can be generating leads through social media this 2021.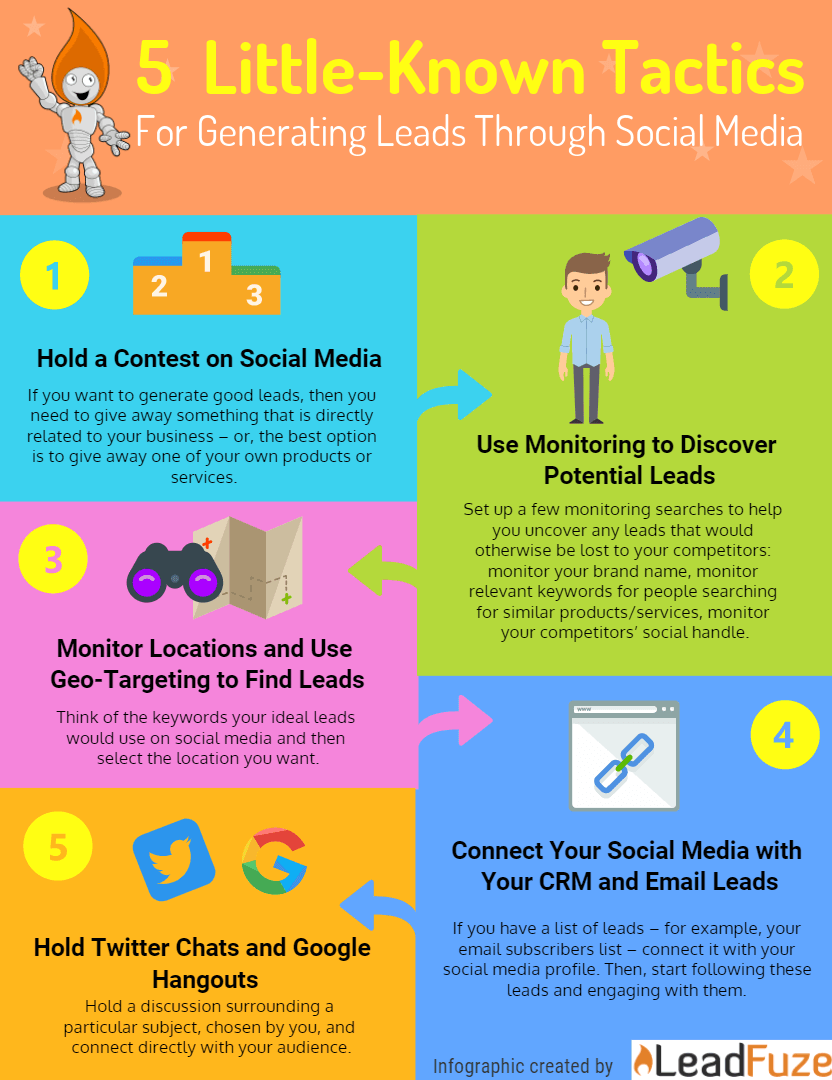 1

Hold a Contest on Social Media
One of the best ways for generating leads through social media is to give people a good incentive to get them to provide their email, and what better incentive is there than a prize?
However, if you want to generate good leads and not just people who want to win your prize, with no interest whatsoever in what you sell, then you need to give away something that is directly related to your business – or, the best option is to give away one of your own products or services.
You might not get as many people interested and participating as you would with a prize that appeals to a large audience, but the leads who do sign up will be of a much higher quality.
If they are participating in order to win one of your products or services, that shows that they have a need or interest for that product or service – they might not get it for free if they don't win the contest, but you might be able to sell it to them later on.
Because Facebook is by far, the most frequently utilized social media network, holding a contest on the site makes sense in many ways. It seems here is where your prospects are most likely to congregate.
It seems here is where your prospects are most likely to congregate.
Before you launch your Facebook contest, double-check that you have the legal authority to do so. Because of liability concerns, Facebook has tightened its grip on contests, so be sure to familiarize yourself with their severe regulations before entering.
Including a form on your landing page may be beneficial if your goal is to create leads as a result of your contest. This will make the process of registering for the contest considerably simpler for those who are attempting to do so.
Try not to make your entrants wade through mountains of regulations or a maze of links in order to reach what they need. 
Whether you're asking visitors to fill up a form, give a narrative about their first services provided by the company, or express why they adore your product. People are more inclined to participate in your contest if you provide a fantastic prize in exchange for their efforts.
Just remember that even if you'll make the most amazing contest in the industry, but if it doesn't line with your aims or if you don't measure it effectively, it won't be of any use. If you want to produce leads from your event, you should be aware that you will need to collect the information of contestants using a form.
If you want to expand your reach and increase your brand exposure, encourage contestants to participate in the campaign in some way. Whatever your goal is, Facebook Insights can tell you how much your reach has increased, making it even easier when generating leads through social media. Alternatively, you may invest in a marketing system to track the number of leads generated as well as the increase of your reach.
Facebook is probably one of the best platforms for holding contests; you can easily create one by using a tool.
For example, you can use something like Agorapulse to create a quiz, a photo contest, sweepstakes, a fan vote contest, or a fun personality test with prizes.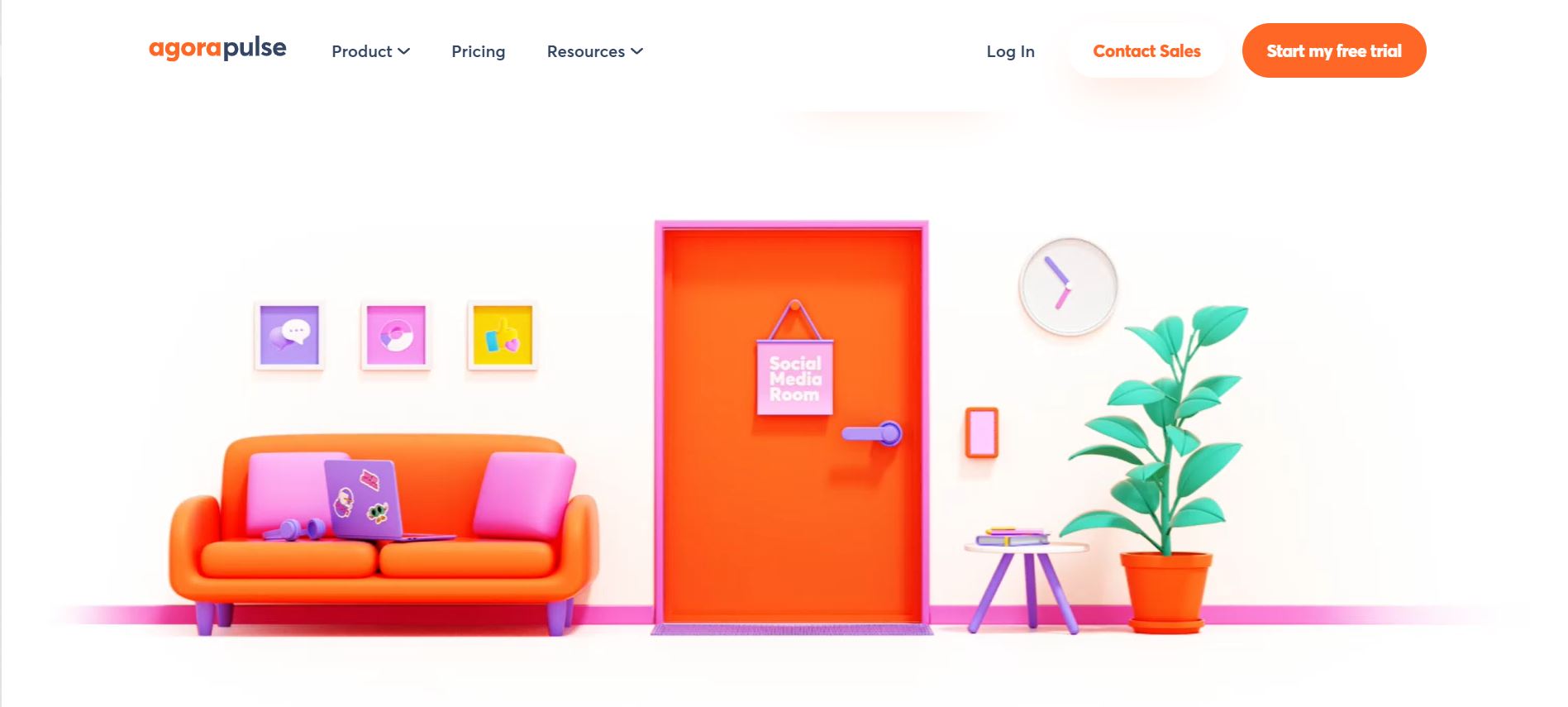 Another useful tool for generating leads through social media is Woobox, which you can use to create quizzes, sweepstakes, photo and video contests, and much more.
2

Use Monitoring to Discover Potential Leads
By thoroughly monitoring different social platforms, you can generate more qualified leads that are on the lookout for products or services just like the ones you're selling.
That is why you should set up a few monitoring searches to help you uncover some leads that would otherwise be lost to your competitors:
Monitor your brand name: not everyone will use your social handle when mentioning your business, so it's best to monitor your brand name and check it consistently. It could be a customer service issue, or it could be a lead – a lead that wouldn't get on your radar unless you were listening.
Monitor relevant keywords for people searching for similar products/services: think of what keywords people would use when searching for products or services like yours and set up a search for them. When you use a dedicated monitoring tool (such as Brand24 or Brandwatch), you'll have access to all kinds of filtering options so that you can get more relevant results.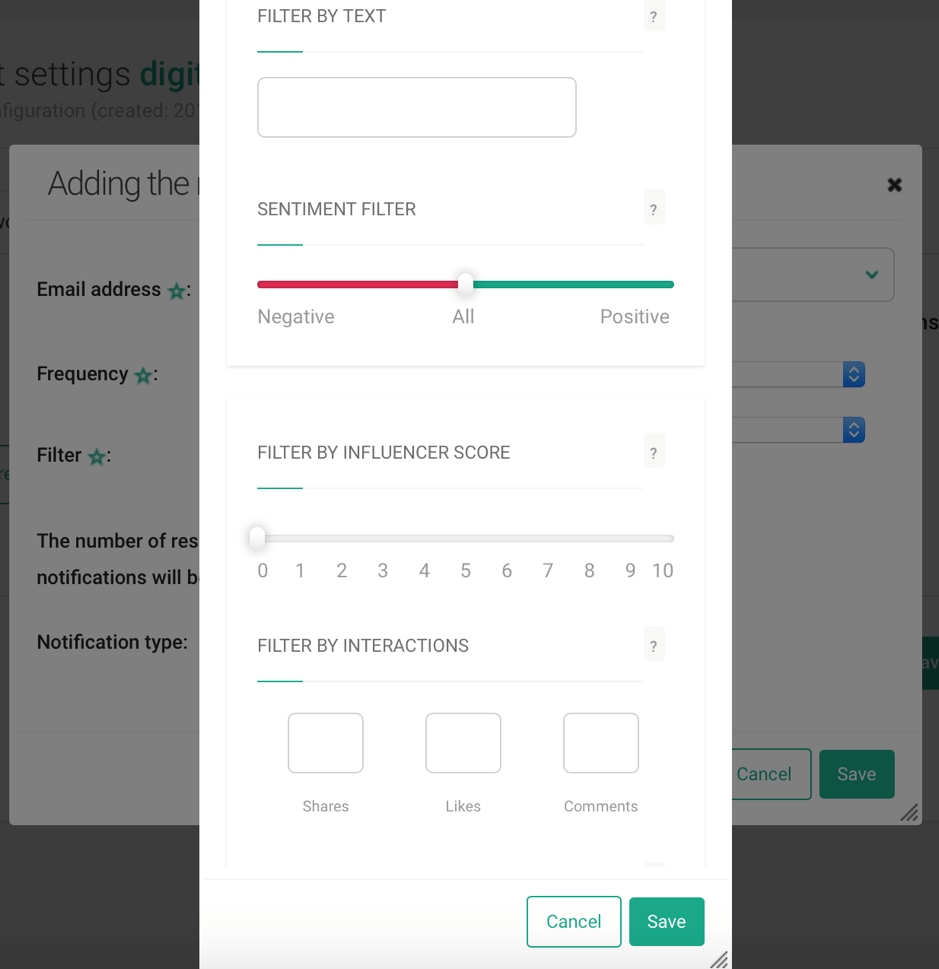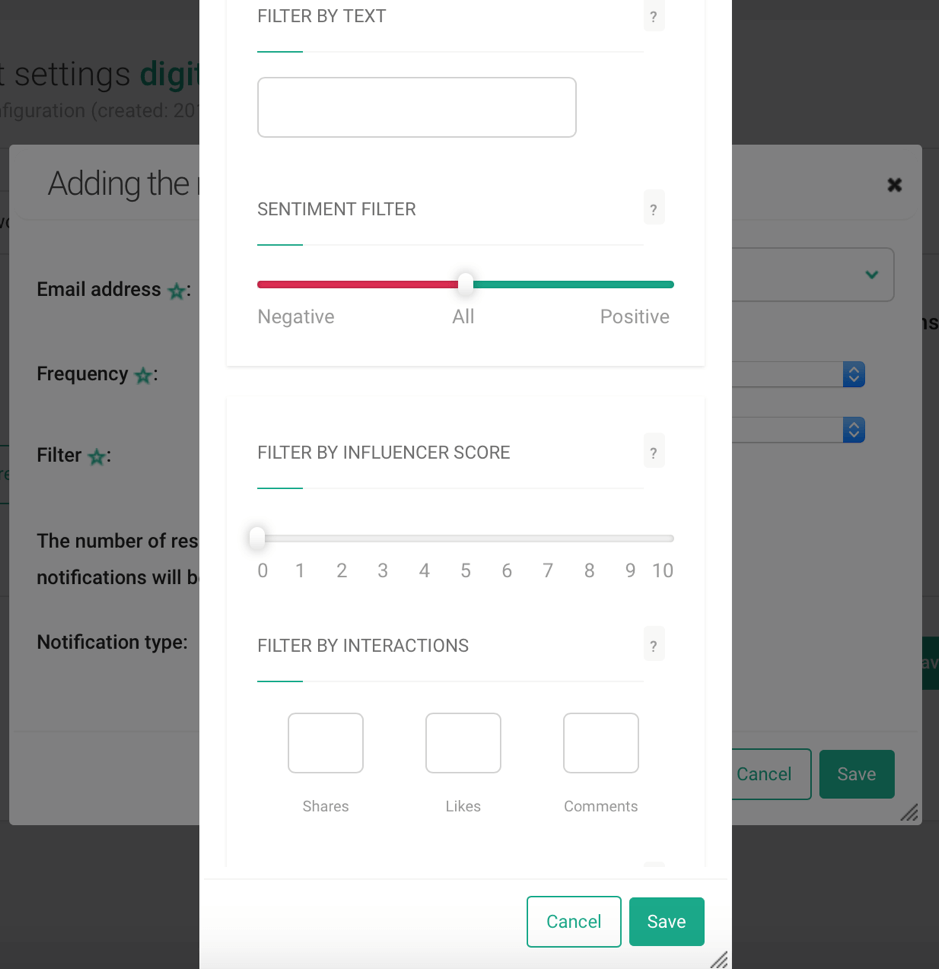 Monitor your competitors' social handle: by monitoring your competitors on social media, you could find potential angry customers that you can reach out to, or you could find people interested in their products and services – then, you can jump in to show why you are the better option.
3

Monitor Locations and Use Geo-Targeting to Find Leads
If you operate in certain areas only, you can discover potential leads by monitoring social media activity in that location only.
You can do this on several social networks, such as Twitter and Instagram; to start you off, think of the keywords your ideal leads would use on social media and then select the location you want.
There are several tools that can use when it comes to generating leads through social media, such as the aforementioned Agorapulse (for Instagram, Twitter) and Brandwatch.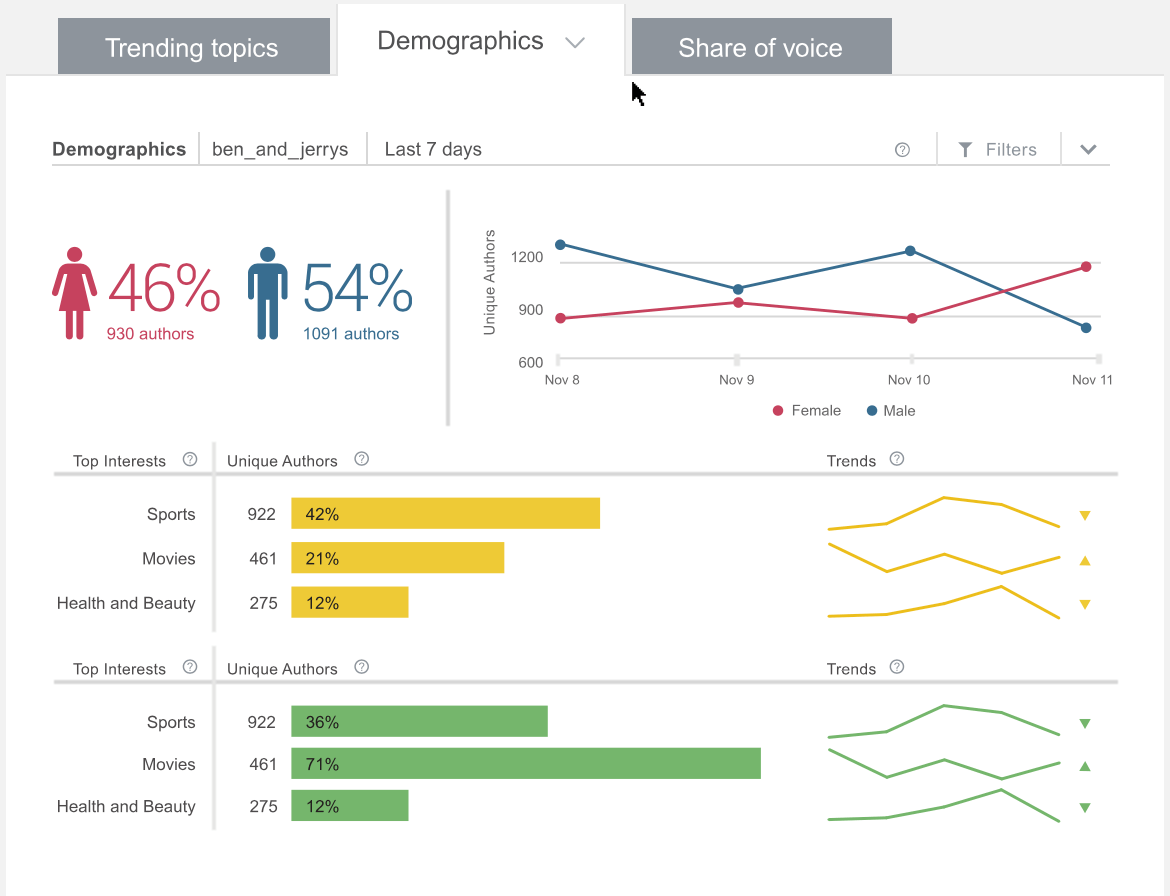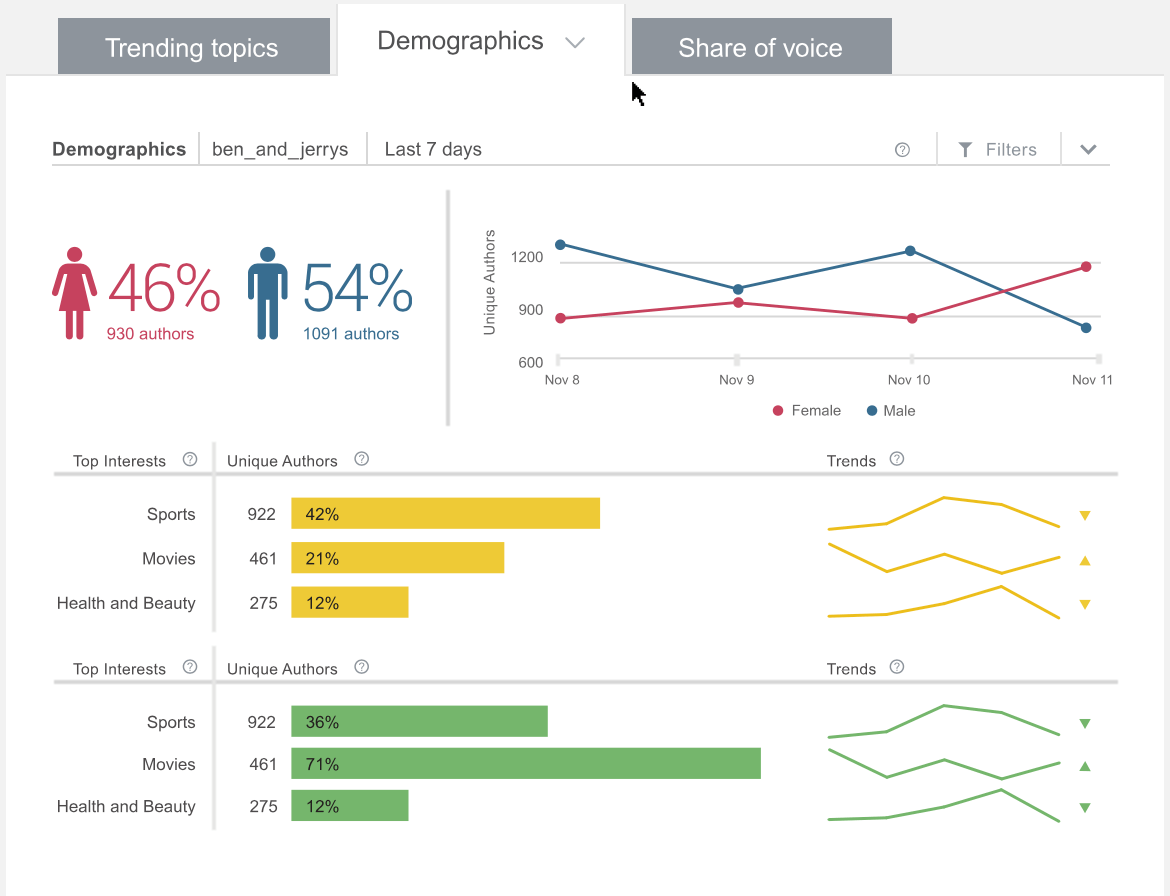 4

Connect Your Social Media with Your CRM and Email Leads
Generating leads through social media isn't always easy, but this one is pretty straightforward.
Social media is a great tool for nurturing leads and building trust. It allows you to engage with your leads and to build a stronger relationship – one that helps move leads along the sales funnel and get them to buy and one that gets your leads to think about you.
If you have a list of leads – for example, your email subscribers list – connect it with your social media profile.
Then, start following these leads and engaging with them – it will help bring you back on their radar, and furthermore, it will help build a relationship between you, too.
Engage with them as often as possible, share and retweet their updates, leave comments and likes, and so on – the more you engage with them, the better.
Then, whenever you get a new lead, connect with them via social media if they have an account. This will help speed up the entire process and get them to trust you faster.
5

Hold Twitter Chats and Google Hangouts to Generate Leads
Twitter Chats, Google Hangouts, and other similar services offer a great way to connect with your audience on a deeper level, demonstrate your expertise and your knowledge, as well as to generate leads.
While one is by video and the other by text (or rather, tweets), the principle behind them is the same: hold a discussion surrounding a particular subject chosen by you and connect directly with your audience.
The Hangout/Chat/etc. can be about your business – or, rather, one of your products or services – which will attract a smaller but much more targeted audience, or it can be about a more general subject, such as a discussion about recent news in your particular industry, which would have a broader audience.
Once the Hangout or Chat is finished, you can direct the audience towards your gated content or directly to your landing page.
Plus, by sharing (and showing) your expertise and knowledge, you can find potential leads in your audience.
Once the event is over, you can then continue reaching out to them via social media (or other contact information, if you can get it) with the purpose of moving them through the sales funnel.
Conclusion
Generating leads through social media started out as a fad and grew to improve brand awareness and engagement; now, though, it's so much more than that.
It's become one of the top sources of referral traffic, as well as a great source for generating leads.
And it makes sense; after all, everyone is using social media – young, old, wherever there is access to the Internet, people are on some sort of social network.
There are always new social media sites to be on the lookout for (here's a guide on TikTok for example) and they can help you both find find new customers, but also nurture relationships. 
Not to mention, an increasing number of people are using social media to find and research businesses, which is why businesses need to be constantly listening and monitoring social media for opportunities.
What are some of the ways you're generating leads through social media?
Editors Note:
Want to help contribute to future articles? Have data-backed and tactical advice to share? I'd love to hear from you!
We have over 60,000 monthly readers that would love to see it! Contact us and let's discuss your ideas!