Why Learning How to Curate Content is Important
Curating content is important because, as the internet grows, it's important to be selective about what you publish and share with your audience. It is a skill that any writer should learn because there are so many things out there to explore.
With this skill, you can explore different topics and find out what your audience is interested in. You can also introduce them to new ideas that they may not have seen before.
For instance, if you were writing about marketing and social media, you might find an article on how to create a good Facebook post or the best time of day for posting.
Those can help you create better content for your own blog.
The best way to learn about curating content is by reading other people's posts and articles that are related to the topic you're interested in exploring. You'll notice trends of what they do differently and different points of view on a certain subject, which can help you create original ideas.
You should also take the time to leave comments on other people's posts, which will introduce you to new topics that you may not have seen before.
Learning how to curate content in a way that is streamlined can be effective for driving traffic. Here's how…
Content curation is the process of sorting through the plethora of existing knowledge and information on the internet and presenting it in a way that's fresh and unique. And it should be an integral part of your business's digital marketing strategy. Learning how to curate content is a crucial skill.
Not sure where to get started? No problem.
Below, I'll pick out some of my favorite tips and suggestions for creating an effective content curation process that will be influential to your brand's online presence.
Why Content Creation is Awesome
Here are the reasons why content creation is awesome:
Streamlined content
There's a lot of content out there, and most of it isn't all that helpful.
By curating content and organizing it in a way that makes reading and digesting information easier, you're making your insight useful to your target audience.
Many perspectives
Let's face it: nobody wants to read about how great your products/services are 24/7. Curating content that already exists gives you the unique opportunity to share multiple perspectives, even if you don't necessarily agree with every viewpoint.
Showcase others
When you're in the process of curating existing content, you don't have to add your own in-house content.
Instead, you're able to showcase other viewpoints and give your writers other opportunities to create valuable in-house content in other areas of your overall marketing strategy.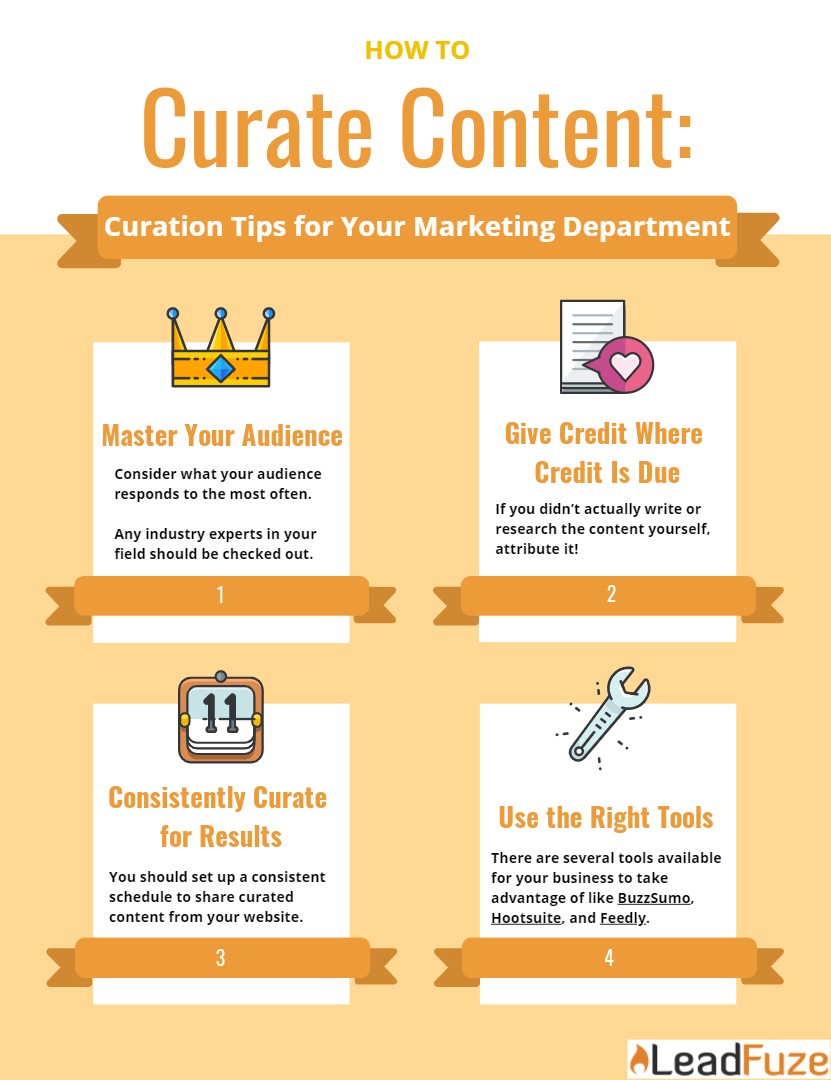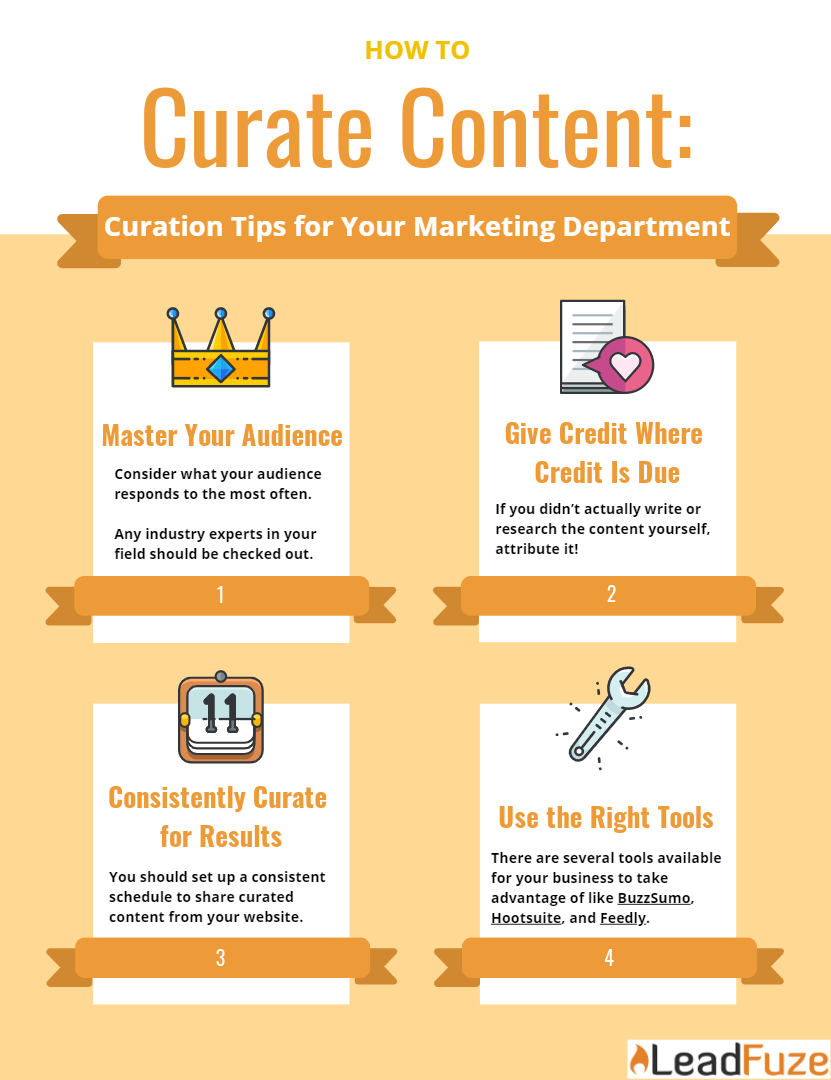 4 Tips on How to Curate Content
Now, it's time for some tips that will help you get started with curating content.
1

Master your audience

Before you get started on the process of content curation, you need to know who you're writing for, and what they're expecting from you.

For example, if you're traditionally a CRM software developer, it's probably best to stick to what you know, and not stray too far from your writing base.

If you've developed a following on your blog or through social media, consider what your audience responds to the most often. These are the types of articles and content pieces you should be looking at curating.

Additionally, any industry experts in your field actively writing should be checked out. They might share some exciting news within the industry you'd like to include in a curated post about trending topics.
2

Give credit where credit is due

If you didn't actually write or research the content yourself, attribute it!

Time and time again, I see businesses attempting content curation, but failing in this regard.

You're simply collecting the content and repurposing it for your readership—out of respect for the author who initially wrote the piece, it's always best to give credit where credit is due.
3

Consistently curate for results

Like with most things, when it comes to marketing, consistency is key. Content curation shouldn't take nearly as long as it does to research and write your business's own unique content.

Like with most things, when it comes to marketing, consistency is key. Click To Tweet

As such, you should be able to set up a consistent schedule to share curated content from your website, whether it's weekly or bi-weekly. By having a consistent schedule in place, your readers will know when to check out your site for the newly-released content.
4

Use the right tools

I get it: curating content manually can be time-consuming and overwhelming. Not everybody has the time to endlessly scroll through Google or industry websites searching for quality content to curate.

Fortunately, there are several tools available for your business to take advantage of. These include:
BuzzSumo – Allows you to find the most shared content and key influencers in your unique industry. BuzzSumo is also a great way to leverage social media in your content curation process, since that's where you'll likely find a lot of the influential content you're hoping to share.
Hootsuite – Lets you quickly peruse any and all social channels for mentions and hashtags frequently used online. If you have a specific niche industry in mind, utilizing Hootsuite for topic ideas can be helpful.
Feedly – Gives you the ability to aggregate and organize RSS feeds of content. If you're perusing the internet regularly, Feedly offers a quick way to organize and keep track of interesting articles for later use.
These tools can help you be more efficient, but they will also help you stay on top of trends. Topics that are currently discussed on social media and in the news are great options for content curation – just be sure to keep it relevant to your audience.
Content Curation and SEO: How to Curate What's Already Published
When curating content that has been published already, there is a valid concern that you are creating duplicate content that could become an SEO issue. You can mix your original content with the curated content without causing any issues—if done correctly and respectfully.
When done correctly and respectfully, you can mix your original content with the curated content.
Click To Tweet
Here are a few rules to follow:
Attribute the article to the original author and/or site where you found it. Remember, your goal should be to curate for your audience, not for the search engines.
Add your own perspective to each curated content piece. This will make the content on your site unique and not an exact word-for-word copy of the source article. This also allows you to add your two cents and add the voice that your audience is familiar with.
Create a new title for each curated article. Again, think unique content here. This can help prevent your article from competing with the original article in the search results.
Curate content from different sources. This should be a no-brainer, but it's still important to mention. If you curate content from the same source constantly, then you might as well just tell all of your users to visit that other site first in the future. You don't want to clone another site's content, as that loses the value your curation is creating, and can seriously hurt your SEO. Instead, aim to add real value for your readers by curating the best content from a variety of sources.
Mix in your original content with the curated articles. Well-thought-out, original content is not dead. In fact, articles that cover a topic in a new way with an original thought have more potential. It will likely turn into some of your best traffic-driving content.
If curated content isn't for search engines, that means you still need original content for the search engines to pick up.
It's the combination of the two (curated and original content) that creates a one-two punch that your audience will love.
What questions or strategies do you have for people learning how to curate content.
10 Common Mistakes in Curating Content
We're done with the tips; now, let's talk about some common mistakes you should avoid in curating content:
1. You share too often
You should never disregard the importance of variety and spacing when it comes to content curation.
Posting the same content 5 times in a row one hour apart isn't a good practice, as this will only bore your audience. You don't want them to see only your posts on their feed, or else they'll unfollow you. And you don't want that, do you??
2. You don't share your content with the right people
If you want to have a successful blog, then you need to find influencers in your niche and promote their work. You'll get more followers this way because they keep getting inspired by new creators.
For instance, if you're an interior designer, then find a fashion blogger and share his content. You'll get more followers in return because people will follow the example of their idol – plus they'll come to your blog for design advice too!
3. You don't post often enough
People expect that if they follow someone on social media platforms like Instagram or Facebook, then they'll see that person's posts on their feed. If you don't post often enough, then your followers will unfollow you and go to someone who does.
When you're active, you get more followers, and when they see your latest post on their feed, it'll motivate them to follow you too!
After all, what's the point of following someone if there are weeks between their posts. You need consistency so that people know what to expect. If you're inconsistent, then some days will have no posts at all.
4. You don't share at all
If you're not sharing your curated content, it will be difficult for people to find and discover what you've found.
How would they know you're an expert and provides reliable information when you don't share your best content?
5. You don't engage with followers
If you're not engaging your followers, then why should they bother following you?
It's important that you reply to their messages or comments. It's your responsibility to grow their following and keep them interested.
6. You are too secretive about sources of content
This can prevent other people from discovering the same thing as you did through different points of view on a certain subject, which can be valuable for them.
Being secretive would get you nowhere. You should share your sources of content so that other people can go there.
7. You lack focus
A blog post that covers too many topics will probably not be as engaging or read for long periods of time. Some of your followers may not be interested in other topics you curate, but one post that covers the topics your followers are interested in is better than ten posts no one will read.
So, it's best to determine the niche your content will be centered on, and narrow your focus.
8. You allow spammy content to stay on the blog
If you allow articles that are not of quality or legitimate, this will reflect poorly on your site as well as keep people from wanting to go there in the future.
This is why it's so important when curating content for a blog post to only post quality content.
9. You don't go back to edit old posts
If you publish a blog post, but never return to it and make updates or add new information when necessary, then your followers are missing out on what's happening in the world of whatever niche is being covered by that article.
This damages trustworthiness so be sure to periodically go back and update old blog posts.
10. Your content is all about you
Don't make this selfish mistake. Your blog post should be about your readers and what they want to read.
What will keep them coming back?
The answer is quality content that's relevant to their interests, but also doesn't bore them with the same old thing over again.
Remember that you're serving them and not yourself, so make sure not to make your content all about you.
Tool You Can Use for Content Curation
Are you looking for a new content curation tool?
LeadFuze is the ultimate social media management and marketing platform. It's easy to use, affordable, and powerful. You can manage your Facebook, Twitter, Instagram, LinkedIn, and Pinterest profiles all in one place! Plus it has some awesome features like lead generation templates that will help you grow your business faster than ever before.
With LeadFuze everything is easier – from managing posts on multiple networks to finding prospects with our lead generation tools.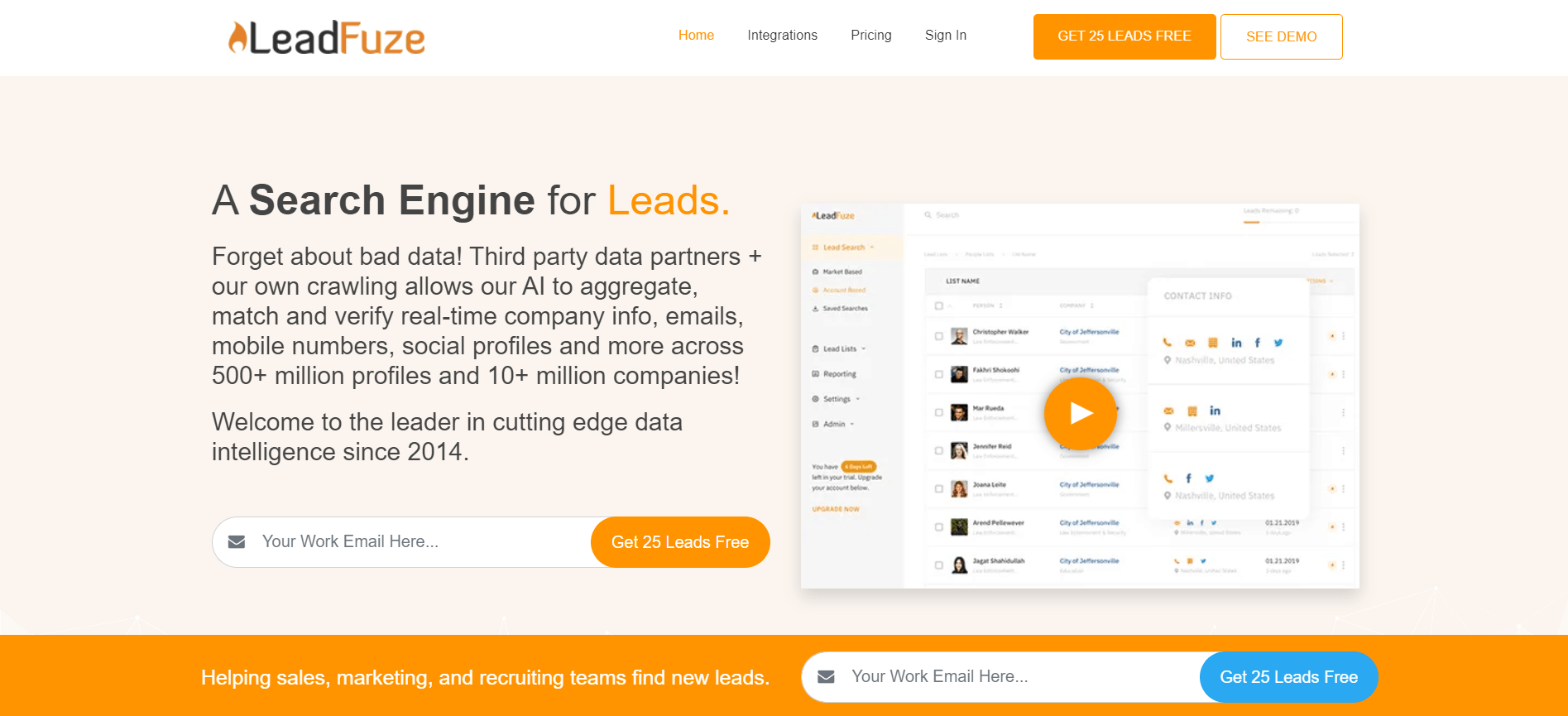 Conclusion
Overall, learning how to curate content is a necessary skill. Not only does it make you look like an expert, but seeing your content in many different formats will draw new readers to your blog from all over the web.
This post is full of helpful tips on how to start this process and get started today!
Editors Note:
Want to help contribute to future articles? Have data-backed and tactical advice to share? I'd love to hear from you!
We have over 60,000 monthly readers that would love to see it! Contact us and let's discuss your ideas!