How To Get a Sales Job With No Experience
Sales jobs are a good choice for people who want to earn more than the average salary. The amount of money that you can make depends on where you live and work, but there is potential to earn up $300,000 per year. 
If you are starting your sales career with no experience, it is crucial to realize that it will be a while before you can earn $300k, or even $30k per year. But maybe before you get that far ahead, you must decide if you want to be in sales; whether you can handle the nature of the job and what it will take to get to the level where you can feel fulfilled and well-compensated. 
Here are questions you must ask yourself to see if sales is the right career for you: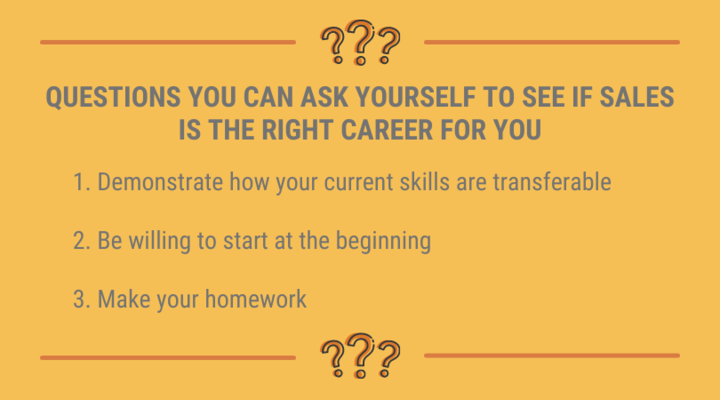 Here are a few of those questions:
1

What skills and experience do I have and are they transferable?
You don't need to have actual sales experience or experience selling a specific type of product to get into sales. 
For example, if you've ever sold something like a TV at Best Buy or worked in retail sales for five years, that counts as experience. Even your experience as a kid making money selling lemonade at the roadside counts for something.
If you've worked in retail or customer service, you already have an advantage. It should be pretty easy to figure out what the sales job entails based on your past experience. You already have experience dealing with customers.
A college degree in marketing or communications can also work to your advantage when applying for a sales job.
Many of these skills are transferable. You can use them in sales as they mostly involve convincing people to take a certain action, which is what sales ultimately is.
2

Are you willing to start at the bottom
Without experience, the beginning of your sales career will be a little rough. You will have to take lower positions, and work hard for the first few months or so before you get any real benefits from it. 
But if you take time to study human psychology – precisely how to convince and win people over, and put in some serious effort while also taking initiative when necessary, then anything is possible.
It is important to stay resilient and confident when you are rejected, but it's also a good idea to pursue self-improvement by practicing active listening or developing rapport-building skills. This will help improve your sales performance even in the face of adversity.
Persistence and a bit of entrepreneurial spirit will help you hit your numbers in no time.
3

Is your brain wired to solve problems?
To be a good salesperson, you need to understand your customer and know them well before talking with them. Dig into their needs and pain points and offer solutions that will help solve the problems they are facing.
You should show that aptitude for solving problems in the interview itself. Convince the prospective employer that you are a right fit for the sales job the same way you will want to convince potential customers to buy what you will be selling.
Doing your homework before a job interview is not just about preparing for the questions. It's also essential to have an understanding of what challenges this employer is facing and how you can help them. How will you grow their sales?
When interviewing for a sales position, the best thing to do is not just speak about your skills and experience. Instead, you should pretend that you are at an interview with someone who needs help solving their problems.
How to Get a Job in Sales With No Experience – The Step-By-Step Process
When it comes to hiring salespeople, there are many factors that go into the decision. The candidate's past experience and educational background are obvious considerations, but you may still be given a short even if these aren't your strongest areas.
Sales managers have seen some people start from square one with no little experience and go on to thrive within a short time frame. They are always looking for that next precocious sales talent.
So be honest about your experience. Don't lie or fudge the truth because you will create unreasonable expectations for yourself in the mind of your boss, which will just lead to problems in the long run.
You can only get sales experience by selling, but there are some sales jobs you can still get without experience. Here are the steps you need to follow to start your sales career with no experience:
Step 1: Maintain an updated resume and LinkedIn profile.
When you are hunting for a new sales job, make sure to update your resume with the latest skills and experience. If you have a specific type of position in mind, be sure to include keywords that will get noticed by potential employers.
LinkedIn is an important tool to have when looking for a job. You should update your profile regularly with new skills and accomplishments.
Step 2: Discover where to look for sales positions.
If you're getting into sales with no experience, there are some websites that can help. You might want to start with Indeed or Monster and if those don't work out try Google For Jobs. 
If you don't find the right jobs on those sites, check out this list of paid job boards:
The Ladders

: A job search site that offers a list of the most lucrative sales positions with an average salary in excess of $100,000.

SalesTrax:

A new site that focuses on sales jobs. Instead of just listing jobs, it's more like social networking with the ability to follow companies and post comments about them.
But of all the tools we have used, LinkedIn is the best tool for finding jobs. I will go into more detail about how it can be used in the Do's and Don'ts sections below.
Step 3: Connect with the hiring manager
The best way to get a job is through networking. Once you have found the right position, find out who your hiring manager will be and send them an email or LinkedIn connection request letting them know that you are planning on applying for their open sales position.
A bonus tip is to ask an intelligent question that gets a conversation going. This will give you insight into the hiring manager's personality and how you will work with them, which can be helpful when it comes time for the formal application process.
Here's the important bit – how to apply for a sales job with no experience:
Step 4: Apply for the position
It's important to remember that most companies will require you to formally apply for the job. You will need to send the employer a personalized cover letter and resume outlining why you want the position.
As we have outlined already, you don't need to lie about your experience. Instead, mention any skills that you demonstrated in another role or capacity that can be transferred to the sales job you are applying for.
Convince the employer why they should hire you in spite of your lack of experience. Importantly, demonstrate how you will help them sell more of their products. Obviously, you will need to have done your homework and researched this company and its products.
The employer is, in fact, not selling a job; they are buying a solution for a problem they have – low or no sales. Show them that you understand their problem and that you can solve it in specific ways.
Step 5: Maintain contact and be patient.
Many people neglect this important step. More than in any other job, this skill is actually a must-have in sales. You will be following up with customers a lot if you get this job. Why not demonstrate this skill now?
Be patient and follow up with the employer periodically to see if they have any news. They are likely busy and forgot to pick a candidate from a shortlist they had made. 
If you are on this shortlist, that you have demonstrated that you can follow up may just sway the scale heavily in your favor. The job could well be offered to you in the reply to your follow-up email.
How to Get a Sales Job Without Experience – 8 Tips to Boost Your Chances
In order to get a good sales job, you need to do the following:
1

Be clear in your communications
When you are responding to a LinkedIn post, make sure that your message is clear and concise.
You don't want the hiring manager to struggle to just make out what you are saying in your DM. Salespeople can't afford to have their pitches and sales presentations 'lost in translation. It's a must-have skill to communicate clearly.
2

Build credibility around your personal brand
It's not easy to build a strong personal brand when you are just starting out in sales. So you should work with what you have. 
Have friends and family mention you in their comments on LinkedIn. This will help build credibility for your profile, which can lead to more job opportunities.
3

Leverage your network
If you have people in your network that can put in a good with someone at the company you are eyeing for a sales job, ask them to introduce you. It helps f your connection knows someone in authority at the company and is well respected.
4

Put some effort into your LinkedIn profile
It is a good idea to invest time in your LinkedIn profile. This will be the first thing that potential employers see and it should tell them everything they need to know about you as a sales employee. 
Everything from the people and companies you follow to the content you share should a person with aspirations to a career in sales.
5

Be your own hypeman
When you sell a product, it is important to show off your successes. So if the customer asks about how many sales you have made or testimonials from happy customers, share these details with them as well.
The same applies to you as a job seeker. Don't be shy when it comes to highlighting what you have achieved, especially the accolades you have received. Mention them on your LinkedIn profile and in the job application itself. Sell yourself to prove you can sell their products.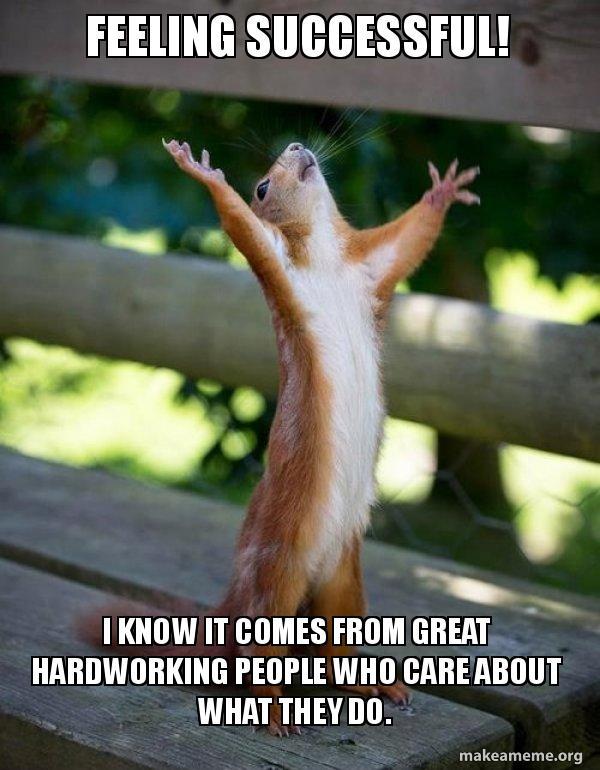 6

Show a passion for sales
I am a seasoned professional with more than 20 years of experience in the field. I have been on both sides of hiring, and from an employer's perspective, having a sales qualification is not enough.
Hiring managers want to see active, engaged people on LinkedIn. They look for people who are passionate about the industry and their practice. They look for what you post on social media, which should be relevant content that shows you know what is going on in the world of sales.
6

Show that you have researched your prospective employer
If you are excited about the company and its work, show it. It's hard to find people who really want to be there; we don't just hire anyone with a pulse. We like employees who are passionate about the company as well as their job, because such people will always go above and beyond what is expected of them.
7

Be presentable
You want to look like you're approachable, friendly, and professional. A proper profile pic means wearing business attire with a smile or warm facial expression without hats or sunglasses.
8

Use trustable communication channels
When it comes to email, Gmail is the best option. Avoid anything else because people are quick to judge others based on their use of technology.
What Not to Do When Interviewing For a Sales Job With No Experience
There are some things you should not do when interviewing for a sales job. Here are a few of those don'ts:
1. Do Not Rush
You only get one chance to impress with a job application or interview. So take your time. Don't rush because you will make mistakes and neglect to include important details. 
Speaking of those important details, make sure to include your LinkedIn account in the application so I can see who you are.
2. Don't follow up too soon 
I was out of the office when I posted a job opening and had to travel internationally. One person pinged me on Instagram but got mad that they didn't get an answer in 48 hours. 
If you don't hear back from me right away it's not because I'm ignoring your application. I may be busy or tied up with an emergency. In any case, it is not a follow-up if you do it in 48 hours. Give me time to consider all the applications I have received. You are not the only applicant.
3. Don't take rejection personally
If you are not the right fit for a job or don't get any follow-up from an employer, it means someone more suited to the role got the job. It's because you are a bad person. 
It is always hard to make hiring decisions, and there will only be one person hired. So try your best in every interview but also know that being upset won't help anything.
To enhance your chances for future jobs, after every unsuccessful interview, make sure to follow up with hiring managers and ask for their feedback.
Even if they don't offer it at first tell them that you're available anytime in case there's anything they need from you. This will help build goodwill which is something that pays off over time.
I first started my sales career with a company that had no VP of Sales. I didn't have any mentors to show me the ropes, so it was up to me to figure out how everything worked on my own. That being said, you can become one by 25 if you follow these tips.
Bonus: Our Special Follow-Up For Candidates Who Failed To Get The Job
Back to the job that I posted that I referred to above. I was in a difficult position because I had to turn down many great candidates, but as the leader of this space, it would have been inappropriate for me to send them an impersonal email.
I reached out to my network on LinkedIn and asked for help. I knew there were tons of great companies hiring, so they could tell me which titles they needed people in.
Here was the LinkedIn post:
I have a question and I need some help.
We have a ton of great applicants for our Partnership Sales Exec position, but I can only hire one person.
I won't be able to hire some of the best salespeople because I can't afford them. Since they're not coming with me, I want to help find a good home for them elsewhere.
If you're hiring for Inside Sales positions, please comment with your company name and what position is available. I'll get in touch to follow up.
I hope that we can have a mutually beneficial relationship!
I published the post and it had over 70,000 views within a day. A week later, there were 350,000 page views with 218 comments plugging their companies.

I gathered a list of more than 200 comments from salespeople and filtered the results to find only qualified companies. Then, I had my virtual assistant pull the company name, location, and LinkedIn profile for those who posted as well as their position in order to make an organized spreadsheet.
I sent an email to the candidates that didn't get a job offer, which had plenty of other options and contact information for people who are qualified.
I will continue to monitor my employees, but so far it does not seem like any of them are interested in taking the job.
We do this because we care and it makes us different, but I wish that weren't the case.
I encourage other companies to do the same and take a chance on inexperienced new hires. As the CEO of a sales company, I am one person who can take a chance on a candidate looking for a sales job with no experience.
In the middle of running a 450-person conference in London and conducting the entire interview process from Europe, I was able to find someone qualified for my team. Your organization can do it too! 
Summary: How to Get Started in Sales With No Experience
Unfortunately, getting into sales with no experience requires a thick skin. You are going to be turned down a lot. But there are many ways to get the experience, including many unpaid jobs. The experience does not need to be relevant, just transferable.
Like the salesperson you want to be, show that you can sell by selling yourself to your prospective employer. The best way you can show them you are a fit for this job is to show them you can solve the challenge they are hiring you to fix. Show them how you will solve their problem and you will land this job.
Beyond that, sell yourself as presentable, driven, and passionate about sales. Show that you have and want a future in sales, and that this is not a job for you. Your LinkedIn profile is your best tool for this. Let it sell you. 
This, fellow salesperson, is the secret hack(s) for how to get a sales job with no experience. Happy job hunting!
Need Help Automating Your Sales Prospecting Process?
LeadFuze gives you all the data you need to find ideal leads, including full contact information.
Go through a variety of filters to zero in on the leads you want to reach. This is crazy specific, but you could find all the people that match the following: 
A company in the Financial Services or Banking industry
Who have more than 10 employees
That spend money on Adwords
Who use Hubspot
Who currently have job openings for marketing help
With the role of HR Manager
That has only been in this role for less than 1 year
Just to give you an idea. 😀
Editors Note:
Want to help contribute to future articles? Have data-backed and tactical advice to share? I'd love to hear from you!
We have over 60,000 monthly readers that would love to see it! Contact us and let's discuss your ideas!