7 Steps to Building Stronger Sales Relationships with Human Centric Approach of Problem Solving
Traditional selling doesn't work anymore. It's all about building strong relationships and showing how your product will make the customer's life better.
If you want to close more businesses, try human centric approach in solving problems.
---
What is human centric approach in problem solving?
Human centric problem solving looks at what people actually do instead of just listening to what they say.
The approach helps you get to know your prospect on a personal level, as it can help find out what their problems are rather than just focusing on the sales tools.
It may not be until the customer has bought that you find out they need something more.
An example of human centric approach in problem solving
Oral-B, a company that sells toothbrushes for kids, hired IDEO to help them solve their problem of selling more products
I'm sure the executives at Oral-B wanted to create toothbrushes that were more appealing and fun for children, so they may have been looking into partnering with Disney or creating designs in different colors.
IDEO researched how kids brush their teeth in the morning under normal circumstances. They found that adults use their fingertips, but children usually just put it into a fist to do so.
Instead of creating "fun" patterns, IDEO created a toothbrush that was easier for kids to hold and won market share. They also stripped the problem back to human level challenges faced by end-users and found it worth solving.
When problems arise, it is important to think of the people that are affected by these issues. The more you can empathize with them, the easier problem-solving becomes.
What are the benefits of human centric approach to Sales Organizations?
It's easier to know what the prospect thinks.
Some people have difficulty putting themselves in the shoes of their potential customers. It can be helpful to think with a human-centric approach.
A new way to do the initial sales call with a prospect.
This new approach leads to a deeper discovery of the client's needs and helps uncover more opportunities for them.
It's important to stay true to your values and beliefs when navigating the complex world of sales.
When it comes to competitive sales, there are more factors like price and product quality. Additionally, if the customer is undergoing a major transformation in their company, human-centric problem solving can help find unique solutions that will give you an advantage.
The more trust a company has with their clients, the larger deals they can close.
The more you take into consideration the challenges of your prospects, they will feel heard. It also develops trust and strengthens relationships because it is a personal experience.
Seven human centric approach salespeople can take to build strong relationships:
1. Conduct research as though you were creating a product from start for your prospect.
If you want to know what your customers really need, try borrowing some techniques from customer research methods. This will allow for a deeper conversation about the product or service that is being offered.
Once you get the customer's perspective, it will be easier to find a solution that fits their needs.
For example, you could set up interviews with customers. Ask them questions about what they think to be your product or service and other challenges in their role that might seem unrelated but are worth the conversation for better understanding of what it is like to do this job each day.
Another exercise is to have your customers show you how they use the product or service. You can ask them questions, but it's also good just to watch.
If they help you out in this way, be sure to say thank you.
2. Maintain Contact with the Customers of Your Customers
Your customers are only concerned with their own, so by understanding that you can get ahead of your competition.
You should visit your customers' websites and those of their competitors to compare positions. You need to do this like you would for a company that is competing with yours.
When you're trying to sell your product or service, pretend that the person in front of you is just like a customer who would be interested in what they have.
Some of the best ways to find out what your customers think is by asking their clients about it.
When you connect with the needs of your customers and their customers, it makes you seem more authentic because then people can see that you actually care about them.
A lot of sales reps aren't paying attention to this level. They don't realize that's where you build trust.
3. Discover New Customer Insights
If you collect and connect the dots from your team's interview observations, then it will be easy to extract some interesting research angles. It is also easier to present fresh insights when you're more targeted in what conversation they have with customers.
Imagine you were the first person to suggest that Tyson Foods could export leftover chicken feet as garbage rather than paying for them to be hauled away.
If you can uncover new insights, it could help build trust. Conversations about sales and buying patterns might turn into a trusted partner conversation.
4. Extend the scope of the Request for Proposal (RFP)
If your customer has a specific problem and wants product X, don't just jump at the chance to provide it. Instead, try human centric problem solving to explore their situation.
Validate your customer's understanding of their need by using the research you've done on them. This is a great opportunity to show that you know how broad their problem really is.
It's important to educate your customer about why they're using the wrong solution. It could be that product X isn't a good fit for their problem.
5. Create a More Beneficial Future for the Customers of Your Customers
Stop focusing on your customers and start focusing more on their customer. Shift the conversation away from what you can do for them to how they could improve.
For example, you could ask your candidates this question:
"Let's say we have the perfect solution to your problem, you just got a new budget today and by next week are completely onboarded with us. How will life be better for your customers?"
Product X is a great start, but it's important to think about other products that will be needed for future growth.
6. Assist Your Client in Innovating or Transforming
The human centric approach to problem solving can help you differentiate your commodity solution from the competition.
Product X may be great, but it's not innovative if everyone else is using the same product.
In order to have a successful product, it is important to involve the customer and create something that solves their problems. Think of your product as being a building block towards solving real innovation.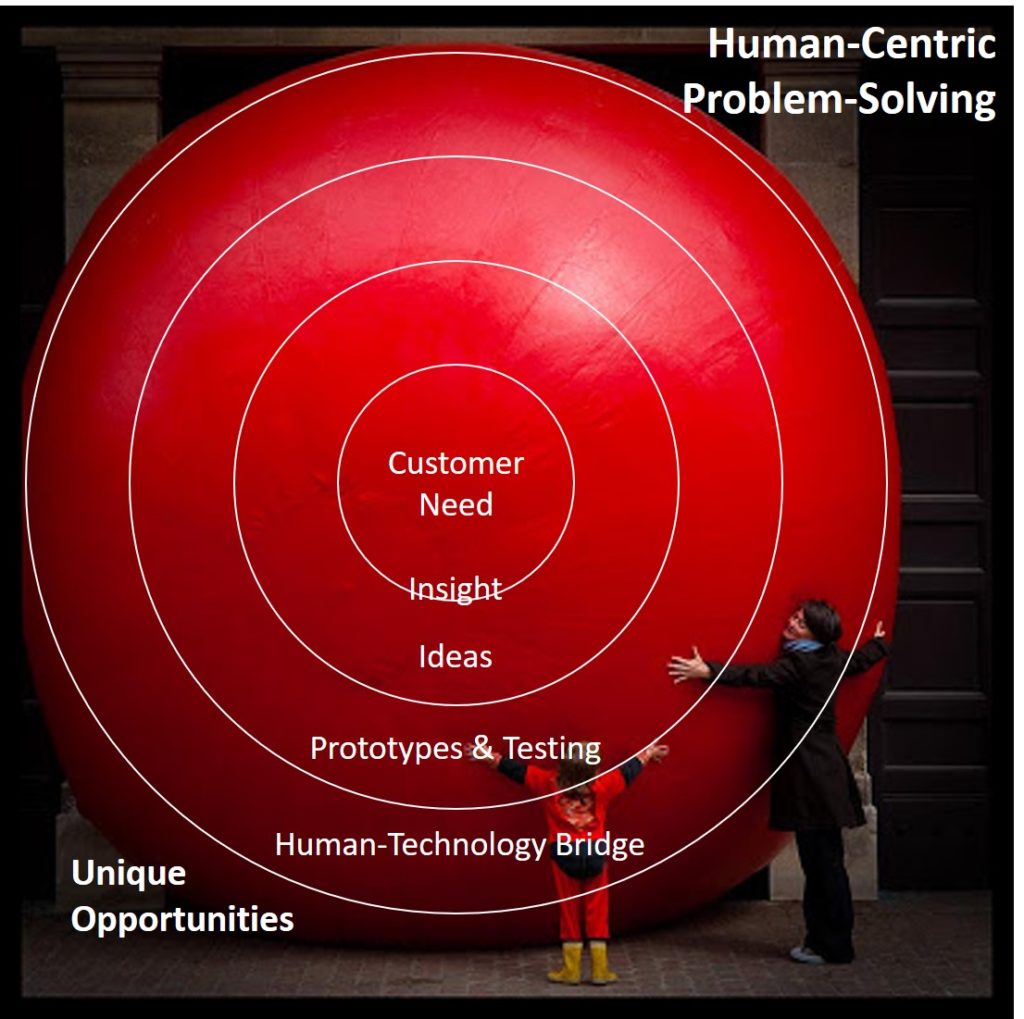 7. Authenticity and Trust Outperform Technology and Cost
The competition for product X is fierce. There's no way I can compete on price-quality alone.
Instead, focus on the human dimensions of authenticity and trust. This will be your red ribbon to make you stand out from competitors.
Bottom Line
The elements of human centric problem solving are to look at a person's problems and be curious about them. It also means looking beyond the one-time sale for product X, but instead being more interested in long term relationships with customers.
In order to succeed as a salesperson, you have to focus on trust and not just demonstrating how your product solution will make the customer's life better. Sometimes it might be worth losing a deal because in the long-term benefits are much more important than one sale today.
Companies like Apple and Nike know that they need to be in touch with their customers' needs. They also understand how important it is not just for them, but for the market as a whole.
You need to be more than just a customer service representative. You should help customers find new ways of making their shoes work for them.
---
Need Help Automating Your Sales Prospecting Process?
LeadFuze gives you all the data you need to find ideal leads, including full contact information.
Go through a variety of filters to zero in on the leads you want to reach. This is crazy specific, but you could find all the people that match the following: 
A company in the Financial Services or Banking industry
Who have more than 10 employees
That spend money on Adwords
Who use Hubspot
Who currently have job openings for marketing help
With the role of HR Manager
That has only been in this role for less than 1 year
Just to give you an idea. 😀
Editors Note:
Want to help contribute to future articles? Have data-backed and tactical advice to share? I'd love to hear from you!
We have over 60,000 monthly readers that would love to see it! Contact us and let's discuss your ideas!