The practices of lead generation are different according to geographical metrics. 
According to the marketing center, the best lead generation strategies in the UK in order are:
Emailing with

70% of Businesses

using them

LinkedIn with

50% of businesses

using them

Organic social

Content Marketing

Telemarketing

Webinars

PPC

Social Ads

Direct mail

Sponsorship 

Press Ads
In conclusion, Emailing and LinkedIn are the top lead generation tactics in the UK.
Email marketing, in this case, is a reliable source to generate leads in the UK since the majority of businesses are using them.
So it would be best to invest in good CRM software and email marketing experts to see great sales results. In addition to writing email sequences in UK english addressing the locals.
Also, LinkedIn should be taken seriously since you can locate your leads on this social platform. Especially for B2B businesses where all their lead generation efforts are on LinkedIn. 
In the end, it won't hurt to conduct an extensive market research to figure out which tactic will work for you.
What if your best option is telemarketing for lead generation in the UK?
In general, most B2B businesses are still relying on telemarketing for lead generation. 
In case this is the strategy your company needs then you must follow these steps:
Conduct a thorough market research to understand the buyer's psychology in the UK

Hire experienced telemarketing (or lead generation) experts with UK english knowledge

Decide whether you need to operate this remotely or in the UK

Use a UK phone Code (+44…) and adequate CRMs

Create the perfect pitch tailored to UK markets
Given this information, doing lead generation in the UK by yourself can be extra expensive and demands a lot of experience.
That's why, you probably need to consider outsourcing to lead generation companies in the UK which will give you better leads results.
What is outsourcing lead generation?
We already explained all aspects of outsourcing lead generation since LeadFuze started out as an outsourced lead generation agency.
In case you didn't read the article, we will give you a general definition of outsourcing lead generation.
First of all, lead generation outsourcing is done when a company decides to buy leads from another vendor. Or hire a lead generation agency to achieve the sales goals they set.
Surely, many companies prefer to do lead generation by themselves. Hiring a lead generation team, setting up the tools and technologies internally.
However, if the company doesn't have the skilled people or enough experience to generate leads, this strategy will fail.
For this reason, outsourcing would be of great help for businesses.
Moreover, when the company decides to launch an operation in a new geographic market, outsourcing might be the best option.
We will particularly focus on outsourcing lead generation companies in the UK. 
How to do it? What are the best lead generation outsourcing agencies in the UK? and why should you definitely consider it if you are expanding in the UK?
Why outsourcing to lead generation companies in the uk?
Once you made the decision to expand geographically to the UK, outsourcing lead generation will surely present great opportunities.
First of all they have local knowledge of people's culture, language, and behavior. In addition to experience in the sector they are focused on and sales expertise.
The language barrier is always the main issue a company has to think of when expanding overseas. English is a universal language but it doesn't mean that it's spoken identically everywhere.
Certain words and pronunciation is not the same as in the UK which can result in frustrating situations for leads.
Not to mention that the time zone for the UK lead generation company is the same for leads. This means working in GMT hours and as a consequence you will not have to overwork your sales team. 
Deciding to outsource lead generation in the UK will also lessen the burden of the company in solving technical issues. 
This has to do a lot with the CRMs, Phone lines, Automated software and many lead generation tools that can crack in your location.
Moreover, you will have the ability to establish a remote team in lead generation companies in the uk without relocating your human resources.
How to outsource for lead generation companies in the UK?
It is difficult to trust another company in lead generation, especially if it is in another country and you don't know how it works.
First thing to consider when outsourcing for lead generation in the uk is to give a full presentation on your company.
They need to know your products or services, your targeted audience, your brand's identity and most importantly your sales goals.
Best thing to do is to prepare a document or presentation which you can further explain in your scheduled meeting in-person or online. 
You will have to give a pitch for the outsourced company so that they won't give excuses once you get the wrong leads.
Try to be concise and efficient with your presentation. This will give the lead generation agency a clearer view on the quality of leads you are looking for.
Second, before jumping into searching for lead generation companies in the UK, figure out what type of tasks you want to outsource. Is it related to:
Inbound Customer Service

Web Design & Development

SEO and Online Marketing

Back Office or Admin Support

Outbound Telemarketing (cold calling/ email)

Marketing & Sales Support
This will help you determine the qualification you are looking for in UK's lead generation agencies.
Try to give the agency as much information as you can about the type of clients you have. This is in case your business is already established and has clients' testimonials.
You are now ready to outsource lead generation to companies in the UK, or let's say you found one that matches your criteria.
It is crucial to have a clear understanding of how you can have audits or updates from the lead generation company. Are you going to receive them:
Daily, weekly, or monthly?

By email or through an online Channel? 

Final or partial? (meaning whether you can tweak the results or not)
You need to have access to the call results and call metrics. And be able to download all the data in a format enabling all the leads to be saved into your own CRM.
Moreover, negotiate the terms and cost of their service. Ask around about their quota and determine whether it will work for you or not.
How Much Do Lead Generation Companies Charge in the UK?
It is important to choose the  lead generation company that has the best price and also aligns with your needs. 
How much the charges can be for a lead generation agency can vary from business to business. the price can differ depending on:
The target lead category, 

The method of lead generation, 

The market, 

And other metrics and additional services that you will negotiate on before the campaign.
The metrics for pricing also differ from a company to another. It can be per leads, hours of work, or project. 
Best outsourcing companies for lead generation in the UK:
In the UK, you will find several lead generation agencies, each with its own service delivery approach. 
For example, some specializes in generating leads from cold calling, while others are better at generating leads online. 
Therefore, it is crucial that you set specific targets and a budget before you start searching for the right company that will help you draw people's interest in your goods and services.
An SEO and B2B Lead Generation Agency that's based in London but truly innovative in it's approach to business growth and success.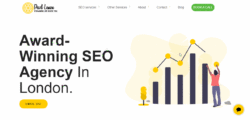 They focus on helping their clients achieve the competitive space of Google ranking and getting the sales meetings needed to form their company successful. 
Among the projects they delivered we are able to mention:
SEO for B2B Professional Service Provider

Digital Marketing for Private Jet Charter Company and e-learning company

SEO & Inside Sales Consulting for Facilities Management Firm

Lead Generation for Insurance Software Company

PPC & Email Marketing for Timeshare Resale Company

SEO Consulting for Blog & Content Writing Seminar
Curral is a B2B Lead Generation Agency that provides businesses of all sizes with pre-qualified leads.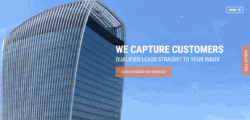 As an outsourced sales function, Curral works alongside customers, finding potential sales opportunities, developing partnerships and creating appointments. 
To ensure that their campaigns are a success, they integrated expert technical analysis, personalized communication, constructive pipeline management and market development practices.
They worked with roofing contractors, software, accountancy, and recruitment firms
Some of the projects they have done:
Outsourced Business Development for Supply Chains Solution

Lead Gen. & Sales Process Refinement for App Developer
Latestfreestuff is one of the growing lead generation for B2C and B2B businesses. Where users sign in to a form to comment, review, or share to get a free sample or coupons…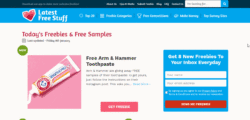 Their site is free to use and their major goal is to be the platform providing freebies for its clients.
They generate money through affiliate links which help them cover the costs of the website's running. 
This is a network of carefully chosen, highly talented, independently owned marketing & advertising agencies.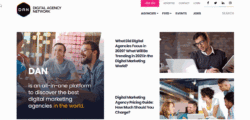 The mission of the agency is to help the enterprises of member agencies. They are also focusing on enhancing the information, competence, and reach of members through collaboration and knowledge sharing.  
Today, more than 2,700 member agencies work in 90 cities around the world. 
When it comes to innovation, and the portfolio of promotions and prizes, all member agencies are among the market leaders in their respective nations.
AnswerConnect is a Portland, US-based live answering service. They also have a Telecommunication Company based in Edinburgh, UK.
This will be helpful for you if you are in the US and want to keep in touch with their headquarters for more control and monitoring.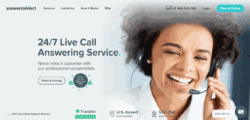 They offer virtual receptionist services, which means they are available 24/7 to answer your calls, arrange appointments, and other similar tasks.
Their services include:
Call Center Services for Legal Services Provider

Inbound Call Services for Manufacturing Company

Customer Service Support for Entertainment Company

Customer Support for IT Company
Lead Forensics enables businesses to engage with prospects and customers faster than ever before, right at the point when they are most engaged – whilst they are visiting your website.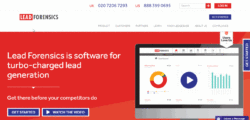 This agency gives you the possibility to reach and interact with leads and potential clients in a quick manner. They are able with their software and tools to identify your website visitors.
Additionally, it uses the best lead generation tactics in the UK offering relevant, valuable and meaningful conversations with your visitors. 
Moreover they are able to identify:
Who are the visitors?

Where do they come from?

What are they searching for?

And in what stage are they in the sales pipeline?
It is a management consulting firm that implements sales and business strategies for its clients. The lead generation tactic they use to meet client's needs is Linkedin.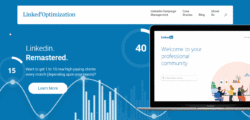 Moreover, they offer B2B firms the ability to obtain, retain and convert clients through Linkedin.
Surely they are not affiliated or connected to LinkedIn Corporation. However, their team is composed of certified Linkedin experts with significant knowledge and experience on matters related to the Linkedin platform.
There are two ways through which companies can use this tool. 
Access the services portal, which has valuable reporting and exporting functions. 

Integrate directly into companies' existing CRM systems. 
In both cases, Lead forensics' users have a Success Manager at their service to guide them through each step of the process. 
This lead generation company has it all.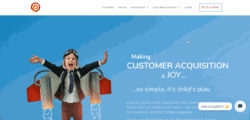 It performs several lead generation and management tasks for your company including:
Importing Data

Sales Pipelines

CRM 

Email Marketing

Lead Generation (track and automate prospect engagement, identify the hot prospects and nurture them through your sales process)

Automation 

Landing Pages

Website Tracking
Cognism is a sales-acceleration solution offering a more convenient way of prospecting for sales organizations.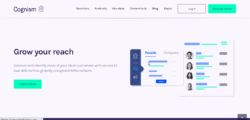 Delivered as a software service (SaaS), Cognism helps to optimize CRM records, stream leads into the funnel and uses artificial intelligence to surface possibilities and detect consumer patterns through its specific data asset and enforcement engine. 
The business is a pure AI sales technology company that produces, cleanses and enriches prospect data on scale.
It also helps sales teams develop and scale through all levels of the sales process.
Global Database is a lead generation company for B2B businesses. Having a broad business directory of more than 80 million highly qualified business profiles covering 195 countries and 34 industries.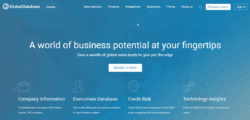 Since the platform is updated automatically, it allows users to follow certain profiles and send instant updates when their data is altered . 
Over 100 filters are available by: 
Industry, 

SIC code, 

Company size, 

Sales, 

Seniority level, 

Years of experience.
This definitely allows users to find the information they need easily, allowing them to get more qualified leads.

Publicate is a SaaS application providing content marketers with leverage curated content. Its goal is to help them generate new leads and real marketing results.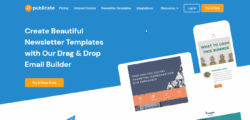 Moreover, it creates curated content assets like email newsletters, blog posts, resource hubs, and branded social shares. The key is to add a lead capture form to any piece of content.
Benefits of outsourcing with lead generation companies in the UK:
Highly qualified leads:
There are a lot of benefits of outsourcing tasks to external organizations, and lead generation is one of those tasks that can benefit from outsourcing it. 
Outsourcing firms performed lots of intensive research regarding customer's preferences and trends. 
For that reason, outsourcing firms know the marketplace better than most companies. This is very important because it means they can produce you quality leads. 
Therefore, one of the primary advantages is that their data quality will benefit you. With that said, the liability for database updates is transferred to the external organisation. 
The external organisation is also responsible to guarantee that it is composed only of eager and attentive consumers for a high-quality lead generation business. 
Furthermore, they will handle all the necessary testing and research to ensure that targeted people are genuinely interested and willing to benefit from your company's products or services. 
Cost-effective:
Many think that outsourcing lead generation can cost more, as you have to pay the external organisation for that task. 
But this statement is not necessarily correct. If you sum up all the costs needed to support lead generation internally, you'll find out that the cost is much more. 
To support lead generation in your company, you need to hire and train employees. Hiring employees also means more expenditures for insurance, coaching, paid holidays, and purchasing software licences. 
Outsourcing the lead generation in the B2B can cut off all of these extra costs needed. 
A lead generation firm specializes in accelerating success for companies mainly active in the e-commerce area. And this is what they are mainly focused on. 
So clearly outsourcing the lead generation can cost you but producing your own leads would cost you way more than expected. 
Connected With related customers:
It's very important to distinguish the customers who are really interested in your products and those who don't. 
If you ever took part in a cold calling operation, you know that most of your attempts are unsuccessful at all. 
That's expected when you are reaching out to several users. With this practice, most of your returns are disadvantageous.
 Instead, you should only reach those customers that are interested in your products or services and willing to chat. 
Having a lead generation firm to find you those customers can be a lifesaver and save you from lots of efforts. 
You really want to spend your time with these potential customers and can lead to higher-level conversations. 
Finally, the gain from such an investment can be very high in terms of lead generation and sales. 
Remote staff:
The best thing about outsourcing lead generation is the fact that you no longer need to hire extra staff. 
The investment you made for outsourcing will save you a lot of resources. Especially for recruiting and training a qualified lead generation team.
A lead generation agency has the potential, in terms of staff, to give you the best results in an effective and fast manner.
After all the experience and skills you are looking for in a lead generation expert will be available without much effort.
Not only will you avoid expanding your office and paying salaries. But also you will abstain from paying for extra supplies (computers, desks…), bonuses, taxes…
Furthermore, your work will go smoothly since you won't have to monitor production and work hours. Those things are guaranteed with an outsourcing lead generation agency.
In addition, doing the market research and figuring out how much time and the type of experts you need is no longer a requirement. 
All you need to do is set your lead generation goals and the agency will determine all the metrics to meet your needs.
To conclude:
Expanding and trying to reach a new market to generate leads is always challenging. 
Whether you decide to do or outsource lead generation in the UK, you should consider the long term outcomes.
For Example, if you are hiring the staff and allocating important resources for the lead generation operation in the UK, you should have an important budget.
But if you don't have the necessary means to invest and allocate to such an operation, then you should probably consider outsourcing.
It is important to mention that your company's size doesn't matter, even big companies are always on the look for best lead generation companies in the UK.

Editors Note:
Want to help contribute to future articles? Have data-backed and tactical advice to share? I'd love to hear from you!
We have over 60,000 monthly readers that would love to see it! Contact us and let's discuss your ideas!