If you're anything like me, generating leads is one of the most frustrating parts of running a business. You spend hours creating content, networking and trying to get your name out there – only to be met with crickets. I'll never forget the moment when I finally realized that lead generation doesn't have to be so difficult. I was talking to a friend who runs a successful marketing agency, and she told me about her 5-step lead generation process.
Since implementing this process, she's been able to consistently generate high-quality leads that convert into paying customers. And today, I'm going to share that same lead generation process with you!
Lead Generation Process
There are many ways to generate leads, but the basic process is usually the same. First, you need to identify your target audience. Next, you need to create a compelling offer that will interest them. Finally, you need to create a system for capturing leads and contact information.
What is Lead Generation?
Lead generation is the process of attracting potential customers and convincing them to purchase your product or service. To generate leads, businesses typically use marketing techniques such as advertising, direct mail, or trade shows.
Generating new sales opportunities is the cornerstone of the selling process. At its heart, lead generation is about attracting the attention of those most interested in buying from you.
Any action that arouses curiosity about a product or service and draws in potential consumers to fill the sales funnel.
Some of the most popular and effective methods of generating new sales today are digital marketing campaigns, email marketing, telemarketing, search engine optimization, online events, pay-per-click advertising, social media marketing, and banner advertisements.
How can your company build an effective lead generation process that consistently delivers quality leads to your sales team?
This comprehensive guide covers everything you need to know about building a lead generation system that will keep your sales teams busy with qualified opportunities.
Learn everything you need to know about lead generation!
How Does Lead Generation Work

?

If you are using the inbound marketing method, the lead generation process comes in at the second stage.

First, the prospect learns about a company through a marketing channel — a blog, social media, or business website.

The prospect then clicks the Call-to-Action button and gets redirected to a landing page with an enticing offer. This could be an ebook, course, or template.

The offer must be appealing enough to get the prospect to provide their personal details on a subscription form. These forms are typically placed on the landing page.

The prospect becomes a lead after completing the form.
How to Generate Leads Through Email Marketing
Using email marketing is a great way to generate new sales. It's important to design your emails in a way that will entice your leads to purchase.
You'll also want to send out valuable content that your subscribers will find useful.
Providing social sharing tools in your marketing email is also a good way to generate more interest.
To use email marketing to its full potential, you need to entice your targets with irresistible offers, engage them with interesting and relevant material, and provide a clear call to action.
To make your email marketing more effective, your messages should have attention-grabbing headlines, images that support the copy, short paragraphs, links to social media, and a clear call to action.
For lead generation, there should be some people on your email list. Rather than add them without their consent, you should allow customers to choose whether or not to opt-in.
For maximum results, a marketing professional should:
Provide the prospect with different ways to opt-in (email sidebar link, website pop-ups, social media, etc.)
Include an option to unsubscribe.
Give compelling reasons for the prospect to opt in.
The double opt-in subscription method creates better quality mailing lists.
Offering something of value to your prospects is a great way to get them to open your emails. You can do this by offering them discounts on your products, sending them free educational materials, or giving them free downloads, just to name a few.
Generate a sense of urgency by using phrases such as "limited time only" or "while supplies last."
Use attractive visuals to make the email more appealing.
To generate leads through email marketing, it is important to focus on quality over quantity, segment your target consumers, and create a sense of urgency.
To cultivate your lead, you can segment your customer base into different groups based on where they are in the buying cycle.
Marketers can send out emails to targeted customers at every stage of the buying process. By doing this, they can guide their leads to making a purchase.
If you have valuable content to offer, such as a downloadable PDF or e-book, insert a CTA (call-to-action) in your email. Your offer should be relevant to the customer and something they would be willing to exchange for their contact information.
An effective call to action must:
Have a clear value proposition.
Stand 

out from the rest of

the email.
Prompt the reader to act.
If you want your subscribers to forward your email campaigns to their friends, you should make the forwarding process as simple as possible. You can do this by including a "Forward to a friend" button in all of your emails and Share icons for all of your social networks.
In addition, you should make the signing-up process as painless as possible. For example, you can include a link to your newsletter subscription page in all of your email messages.
Why is Lead Generation Important for Brands?
When a prospect is showing an interest in your products or services, it's natural to want to help them fulfill that need or solve that problem.
If you try to convince someone to buy your product when they have no interest in it, they may feel like you're trying to push them into spending their money. This could damage your brand's reputation.
Lead generation ensures that you attract only the most relevant audience to your company. Other benefits can include:
Increased awareness – When people discover your brand, you will be able to send them more information about your product benefits.
Build valuable prospect information – Gather important marketing information from prospects such as needs, wants, and preferences so you can customize your product for them.
Brand loyalty – Build large communities of like-minded customers to improve customer loyalty.
Most marketing teams are focused on the quantity of their generated sales, while sales teams are usually more concerned with the quality of their incoming inquiries.
Quality leads are typically those who have a clear intention to buy your product or service, have the financial resources to do so, and fit the criteria you have set.
If you focus on the quality of your sales leads, you have a higher chance of converting these leads into a customer.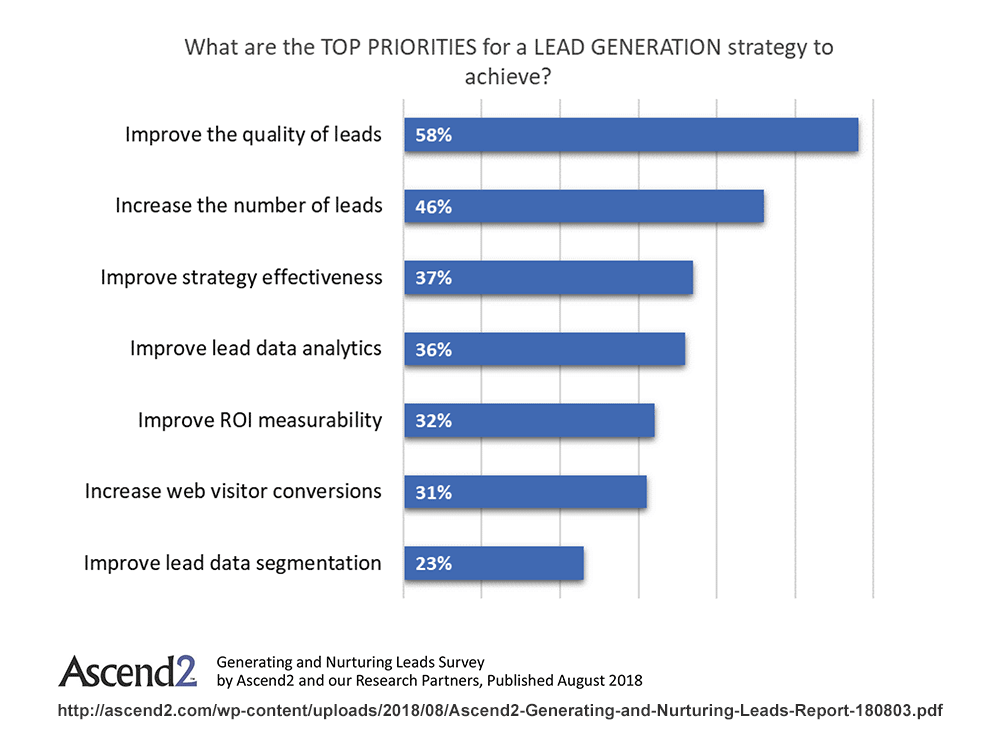 (Source)
Lead generation is important for brands because it allows them to quickly grow a loyal customer base. By focusing on quality leads, brands can increase the rate of new customer acquisition, which is essential for long-term success.
Lead generation can also help improve ROI in the long term, as building a customer base quickly can allow for retargeting of new and existing customers.
However, there are a few drawbacks to quality leads.
A sales team that focuses on quality leads is more likely to convert those leads into customers. However, the team may neglect other duties such as after-sales calls or product deliveries.
Salespeople have to take the risk of investing time and money into quality leads because a quality lead can still back out at the very last moment.
If a lead backs out at the last moment, not only will you lose the deal, but all the time and effort you put into convincing them to purchase your product. Quality leads are essential to avoid this wasted time and effort.
Lead quality is important for brands because it allows them to determine which leads are worth pursuing and which ones are not. By focusing on lead quality, brands can save time and effort by only pursuing leads that are likely to convert into customers.
So, while there are tools out there to help determine the quality of a lead, it's still up to sales and marketing teams to go through all leads to weed out the bad ones.
Lead Quality Pros
Lead quality is important for several reasons. Firstly, improved conversion rates. If you are able to target your product at a customer who is more likely to convert, then you will see an improvement in your overall conversion rate. Secondly, improved ROI. By targeting the right customer, you are more likely to see a higher ROI on your investment as they are more likely to use your product or service. Finally, higher customer satisfaction when matching your product with a target customer. If you can provide a customer with a product or service that meets their needs, they are more likely to be satisfied with the purchase.
Lead Quality Cons
Lead quality can be time-consuming for sales teams. If outsourced, the company generating the leads might not have sufficient product knowledge. Quality leads are still considered a risk as they can back out of deals.
Lead Generation Best Practices
If you're looking to capture more quality sales opportunities, make sure you're using effective lead generation techniques and utilizing good landing page design. You should also consider implementing an effective scoring system to filter out bad or unqualified contacts.
For effective lead gen, here's what each business should do:
Improve lead capture. Offer promotions or ads that are of value to boost email capture.
Use proper lead magnets. These are tools that allow you to provide value to your customers by gaining their contact details, such as email addresses, phone numbers, and social media followers. Some examples of effective and easy-to-create lead generation tools include webinars, free trials, eBooks, whitepapers, bonus trips, interviews with experts, and training videos.
Create effective conversion landing pages. Use call-to-actions and clickable links on your landing page. Don't include any information that isn't necessary. Instead, try to create compelling copy that persuades visitors to convert.
Perform lead scoring. Using automation, marketers can prioritize the inbound leads that are most engaged with their content.
4 Steps of
the Lead Generation Process
The four steps of the lead generation process are identifying your target market, creating attractive offers, generating leads, and nurturing leads.
Identifying your target market is the first step in lead generation. You need to know who your ideal customer is and what they are looking for. Once you know this, you can create attractive offers that will appeal to them.
Generating leads is the next step in the process. There are many ways to generate leads, including online advertising, direct mail, and cold calling.
Once you have generated a list of potential customers, it is important to nurture these leads by staying in touch and providing them with valuable information.
What is
the Lead Generation Process

in BPO?

A lead generation process in BPO typically involves a team of telemarketers making outbound calls to potential customers to generate interest and setting up appointments. The team will often work from a script and may use a CRM system to keep track of leads and customer interactions.

In some cases, the lead generation process may also involve email marketing or other digital marketing tactics.
What are the Types of Lead Generation?
There are a few different types of lead generation that businesses use to bring in new customers or clients. Some common methods include online advertising, search engine optimization, email marketing, and social media marketing.
Inbound marketing is also a popular lead generation strategy that focuses on creating helpful content that will draw people to your website or product.
Conclusion
The bottom line is that if you want to generate leads that convert, you need a solid lead generation process. And this guide has shown you exactly how to do it. So what are you waiting for? Implement these steps and watch your business grow!
---
Need Help Automating Your Sales Prospecting Process?
LeadFuze gives you all the data you need to find ideal leads, including full contact information.
Go through a variety of filters to zero in on the leads you want to reach. This is crazy specific, but you could find all the people that match the following: 
A company in the Financial Services or Banking industry
Who have more than 10 employees
That spend money on Adwords
Who use Hubspot
Who currently have job openings for marketing help
With the role of HR Manager
That has only been in this role for less than 1 year
Just to give you an idea. 😀[/sc
Editors Note:
Want to help contribute to future articles? Have data-backed and tactical advice to share? I'd love to hear from you!
We have over 60,000 monthly readers that would love to see it! Contact us and let's discuss your ideas!