What is Lead Generation?
Lead generation is the process of capturing and stimulating people's interest in a product or service in order to develop a sales pipeline. It consists of all marketing practices that trigger consumers' interest in the products or services that a business offers.  
The aim of a marketer in lead generation is to warm up target customers and set them on a path that will result in buying. In this process, he reaches out to users and converts them to people who are naturally interested in a particular brand's products or services.
The generation of leads is very important to the existence and future of any business you can think of because every business needs new customers to grow.
All B2B organizations around the world need and can't live without sales. Leads are sourced from diverse avenues such as telephone calls by telemarketers or the company, personal referrals, advertisements, events, and the internet.
Other means of sourcing leads include emails, content marketing, search engines, and events.
Leadfuze is one of the most excellent tools for the lead generation process, giving you desired results.
How Lead Generation Work?
Here is a rundown of how lead generation is achieved:
A visitor discovers a business. He learns about a company through the diverse marketing channels a brand uses. such as blogs, social media, or business websites.
The potential customer then clicks on a call to action which could be a button, an image, or a message that prompts him/her to take action.
The customer is then redirected to a landing page after clicking on the CTA. This landing page then captures useful information about the lead in exchange for a valuable offer which could be an eBook, Free course, Consultation, etc.
When you are enticing a prospective customer with an offer, the proposal has to be appealing enough to the visitor in order to make them willingly provide their details to access it.
37 Lead Generation Tips That are Proven to Work
1. Build a buyer persona
This is actually the first thing you should work on. You must have perfect insight as to whom your ideal target customers are and what they need.
After developing your buyers persona, you have to revisit regularly ideally every month, to ensure that your message remains relevant to your audience.
2. Keep your form questions simple:
You do not want to put your potential customer off by asking far too many questions on your website forms, most especially if it is their first time visiting your site.
Requesting for a phone number or even making all fields compulsory is off-putting for a new visitor to your site. And can be very frustrating when the questions are much and compulsory.
Try to take it one step at a time, by first gradually building up your relationship. In the process, you can ask a little more questions each time they interact with you.
3. Be focused, objective, and organized:
You need to clearly define your goal and have a consistent marketing plan which you must also be determined to work with. Do everything for a reason, be objective and know-how all your plans fit together and how they can help you achieve the overall company goals.
4. Have clear plans:
Always have lots of plans, be clear on what your next step is and always have one too. Prepare and clearly state what you want a lead to do next. You wouldn't want to confuse your leads with senseless instructions as this will only put them off and cost you valuable leads.
5. Become an authority in your field: 
Create highly informative and educative contents that help users solve a lot of problems in your niche or in your line of business.
The idea is to become the only r one of the top reference that people consult in search of answers to certain questions or to solve a particular problem.
By doing this, you are building confidence in the heart of the customers and making them regard you as an authority to reckon with in that field.
And in the long run, when they want to make their buying decision, you will be the first and topmost in their choices.
This strategy is a way of establishing your brand giving your business a much superior recognition.
6. Use targeted content: 
You don't have to try to cover every topic from so many fields to reach out to every kind of person.
Just stick to a specific audience in your field of expertise and make your content speak to them specifically. Your message and content must be relevant too if you really want them to notice you.
Your aim should be to target specific market segments with different content initiatives
7. Prioritize quality rather than quantity: 
This should be your watchword; your motto and it must reflect in all your dealings. For instance, rather than stocking your blog with hundreds of irrelevant posts every day, you could just limit it to posting three or two interesting, relevant and engaging content weekly.
Your priority should be on producing only highly relevant content that engages your audience.
8. Write content worthy of sharing:
Create awesome content that stands out from the crowd. Make the content really catchy and highly engaging to your readers.
If your readers are impressed and intrigued by the content, they will be interested in sharing it with their friends.
And the more shares your content gets the more recognition your brand gets and the wider the audience you will capture and you will get more new leads.
9. Focus on engaging leads: 
The higher the engagement levels the more leads you will generate. You should focus more on engaging your prospects because it is only engaged leads that can convert.
10. Engage in strategic email marketing: 
When doing email marketing make sure you don't flood your leads with excess emails. If you flood their inbox with too much email, they will be forced to unsubscribe from your mailing list.
Send no more than one email every week or every two weeks.
11. Map out the buyer's journey: 
A buyer naturally undergoes a journey that starts off with the realization of his/ her actual needs through to selecting a product or service to meet that need.
It is important for business owners to identify each stage they pass through on the journey. This understanding of buyers' journey will come in handy when you are creating your content.
12. Match content to the buyer journey: 
Now that you have understood each stage of the buyer journey and what a prospect needs to know before moving to the next, you can then proceed to use this information to create fantastic content.
This time your content must be such that specifically provides necessary information that will help leads to progress leads on to the next stage.
13. Engage in multichannel marketing: 
Make use of all the available marketing channels to reach your target audience.
Your prospects can not all be on only one channel, some prefer to hang out on social media like Facebook and Twitter. And others prefer watching videos on Youtube or reading emails.
Your goal is to make sure you cover the entire spectrum by posting content regularly on as many channels as possible and in a variety of formats too.
14. Adopt email opt-in: 
Allowing your leads to willingly opt-in to your mailing list will ensure that you are marketing to leads who are willing and genuinely interested in your products and services.
And you will rest assured that you have only prospects who are eager and interested in hearing what you have to say. These are the kind of leads who will easily become buying customers in a short while.
15. Add forward to a friend links in emails: 
After you must have created very fantastic content and published it or sent it to your mailing list contacts. Be sure to include a link that will make it possible for them to also forward the content to their friends and other colleagues on their contact
16. Use A/B test regularly: 
Don't ever make the mistake of thinking you already have the perfect knowledge of the market.
The truth is that the needs of the market change and the trend shifts constantly.
It is therefore important to A/B test your emails frequently. Both the subjects, the email bodies, and your landing pages to confirm that you're on the right track. And to know when to come up with a new strategy.
17. Be active on social media:
Today, social media has become the largest meeting spot for a vast number of online users.
You will find many people there seeking fun and also many trying to get information. This makes social media a good source for online lead generation.
Set up your social media account, post engaging contents daily or weekly on every social media platform, and make sure your following grows steadily.
18. Respond to comments on social media: 
It isn't enough to just post content on Social media, you should learn to interact with your followers on the platform by responding to their comments and questions to your post.
You should also try to post or react to content that is related to your business on social media. Doing this will further strengthen your reputation, brand name, and credibility.
It will also earn you more buying customers in the end.
19. Engage with industry influencers:
Link up with industry influencers and interact with them on social media.
You can as well contact them directly and ask permission to co-author content with them that they will post to their sites.
Afterward, you can enjoy the ability to reach their followers too with content that you know they will need.
20. Avoid keyword stuffing: 
Although the use of keywords is important in SEO, make sure you don't overstuff your content with keywords.
Only include your main keyword at least four times in your web content body and try to keep it at that.
As a general principle, search engines can spot excess keywords in your content and that will not be acceptable.
21. Properly format your web page title:
Your web page title is very essential in SEO. If your page title is not properly formatted, it will have a negative impact on your content visibility on search engines.
The best way to format your web page title is: [ Primary Keyword – Secondary Keyword | Brand ]. And make sure everything doesn't exceed 60 characters.
22. Limit your web pages' description tag:
The recommended length of characters for your webpage description tag160 characters. And if you make it longer than that some of your descriptions will be truncated in the results displayed by the search engine.
23. Place your primary keyword in your web page's URL:
Search engines look for this, so be sure to include your keyword in the web address to generate higher SEO rankings for each page.
24. Adopt pay-per-click advertising: 
Pay-per-click advertising is important for young businesses looking to grow because it makes sure that their web pages appear at the top of web search results based on the specified keywords.
This strategy costs money but the outcome is totally worth it.
25. Leverage your customer testimonials:
It is important to share the positive feedback and reviews you got from your existing customers on your website.
By doing this, you will provide positive and confidence-boosting remarks that your prospects and website viewers will read. This will give them more assurance that your product or service is reliable and probably just what they really needed.
You can achieve this by creating a web page and include a section with a function that lets you add testimonials at the bottom of your web pages.
Having the testimonials display at the bottom of all your relevant pages is much effective than having one dedicated testimonials page because readers will see the testimonials more often.
Use Your Call-To-Actions Properly And Frequently
26. Place calls-to-action (CTAs) conspicuously:
Make sure that your CTAs conspicuous and easy to spot. The main goal of having them in the first place is to call your viewers' attention and to make them take the desired action. Therefore, it would make no sense whatsoever if the CTAs are designed to be small or not catchy enough or placed in a less obvious corner.
27. Avoid multiple CTAs:
You don't have to confuse your audience by presenting them the option to click on two or more different CTAs on the same page.
It is best to direct them to just one clear CTA that is positioned closely with the content you are presenting.
28. Make your CTA stand out:
Use clickable images or buttons for your CTAs instead of a hyperlinked text. Make sure the button or image is designed colorfully to be catchy or bold so as to make it stand out in the midst of your content body.
29. Use specific CTAs:
Make sure that your CTAs take the reader to an offer about a specific topic they are already reading about on your email or landing page or email instead of having your CTA link back to your homepage.
This will make you engage them better with something that is relevant to their actual needs at that moment.
30. Place a CTA in your email signature: 
This could either be in your email body or included in the signature. Make sure you include a CTA in your email directing your customers to take an action after reading the email.
Properly Use Forms to Collect Prospect Information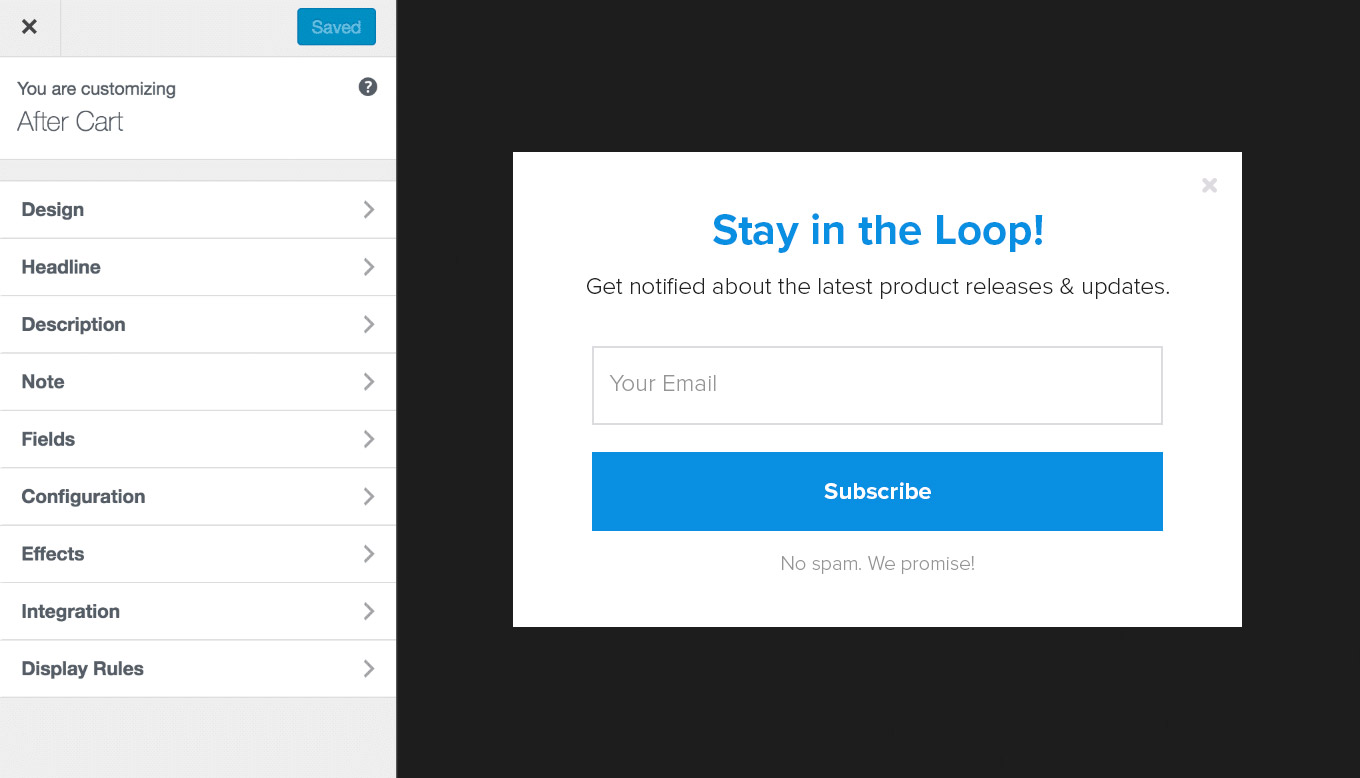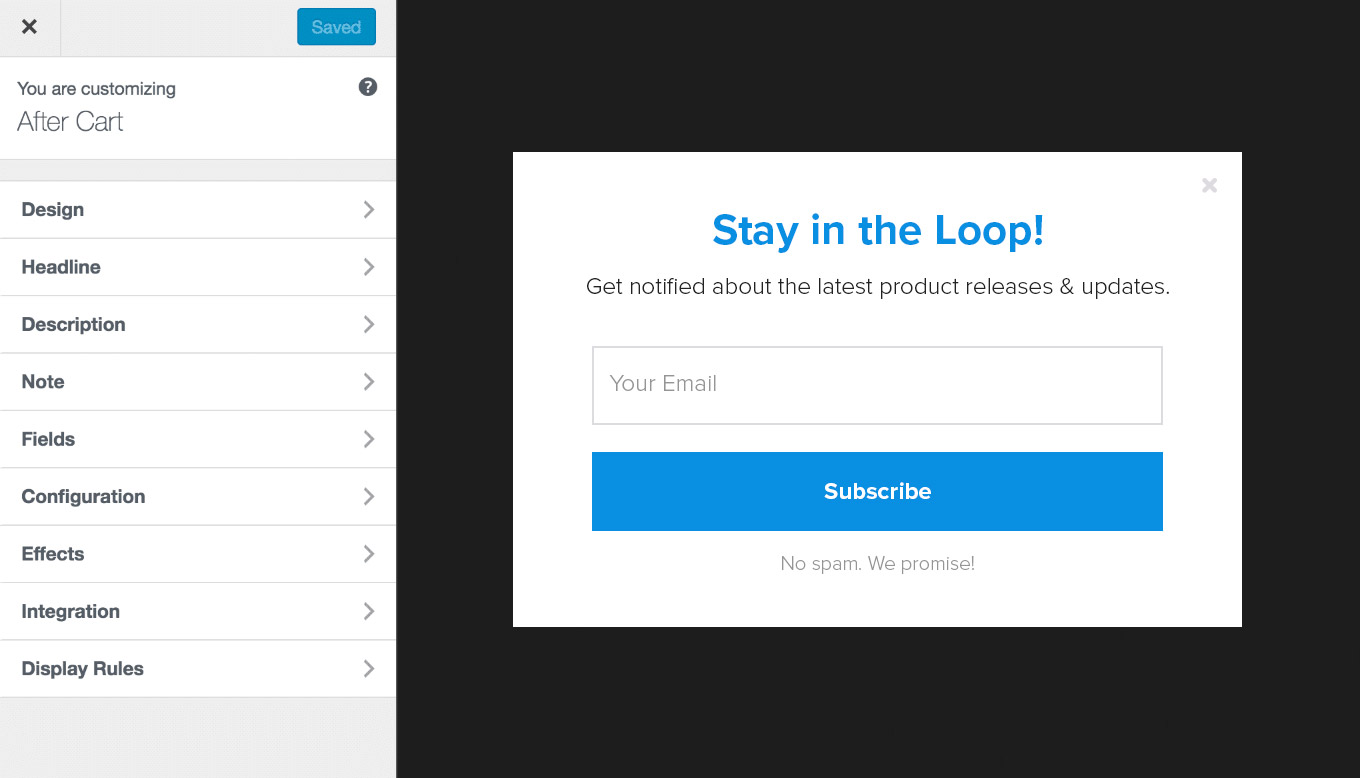 ( Image Source: MailOptin )
31. Add social share buttons to your content:
Make use of social share buttons by inserting them above or below valuable content so that readers can share the content after reading.
You can also place the share button on the confirmation or thank you page for a form. This makes it easy for leads to sharing your content with their friends.
32. Limit the length of your forms: 
You must limit the amount of information you ask from your new leads. When you ask a new lead to provide too much personal or sensitive information that's going to be so off-putting.
33. Use different forms to collect different Information: 
Gradually build your contact profile over time, the first thing is to get to know them by asking only a few information, then as they get more comfortable with you can send out another form to collect additional information about them.
34. Give out freebies: 
As much as you engage your leads with fresh content regularly, you should also make them happy to keep coming back for more by giving out free stuff periodically.
You shouldn't make just your forms the only thing they see always. Spice it up with free offers that will be of benefit to them as well.
This could be free e-books, free vouchers, free consultation, free tutorials, the list goes on Just make sure it is something related to your business.
Giving out freebies will not only keep them perpetually attracted to you but will also serve as a way of asking them to try out your new products and give reviews which will also attract new leads.
35. Score leads for important actions that illustrate a propensity to buy:
Give your leads a few points for visiting high-value web pages or for opening emails and give more points when they take actions that show greater interest.
When your scoring threshold for lead qualification is met, pass the qualified leads to the sales department for conversion.
This method ensures that your sales representatives are only communicating with leads that are ready to convert.
36. Use a fast-track scoring system: 
While scoring your lead's actions, some actions they take indicate that a lead is already qualified to be reached by the sales team without having to go through any more stages.
For instance, if a lead places a request for a demo of your product, such a lead should be awarded enough points which instantly sets him above the qualification threshold
37. Measure and track some more: 
Make sure to keep repeating your tracking and measuring process. You should find ways to attribute the qualified leads back to your marketing
Also, make sure to understand what content drives more leads toward qualification.
38. Use LinkedIn:
LinkedIn is a very good source for lead generation.  The Sophisticated Marketer's Guide to LinkedIn states that 94% of B2B marketers use LinkedIn in the distribution of their content. This implies that LinkedIn is a very good platform/channel for marketing and acquiring good-quality leads.
make sure you set up a LinkedIn account and use all the available lead generation tools to reach out to prospects and stay connected with leads, engage them, nurture them until they eventually convert.
Conclusion
In order to arrive at a huge number of steady daily leads your marketing teams must be working very hard at every stage of the sales process.
Starting from providing amazing and engaging content to effectively nurturing leads and being able to strike and seal the deal at the accurate time.
The truth is a sales funnel is only as strong as the leads flowing through it. And just as every product needs a buyer, so also every salesperson needs someone to sell to.
Your marketing strategy is also very important to make the entire lead generation process a success. That is why we have compiled this massive list of lead generation tips to help and guide you in your lead generation journey.
Editors Note:
Want to help contribute to future articles? Have data-backed and tactical advice to share? I'd love to hear from you!
We have over 60,000 monthly readers that would love to see it! Contact us and let's discuss your ideas!