What Is Outbound Sales?
All sales reps need to know about outbound sales strategies, but before we go ahead and discuss all that, let's focus first on the definition of outbound sales. Outbound sales, as defined by the American Marketing Association, is the process by which the sales representatives make outbound sales calls or use other sales channels to contact prospects. 
Outbound sales are those in which a seller initiates contact with a prospective buyer. When compared to inbound sales where the potential customer initiates the interaction, outbound sales are more passive.
Occasionally, outbound sales representatives will cold call leads on a list. But more often than not, they will contact leads who have already shown desire by interacting with a brand's product, filling out forms, emailing a company, or making a prior phone call to a firm.
7 Steps to Run Outbound Sales Campaign
Step 1: Create a customer persona
A customer persona (alternatively referred to as a buyer persona) is a semi-fictional character that embodies the essential characteristics of a sizable part of your customers, based on data gathered from user testing and web analytics. It provides some insight into what your potential buyers are considering and doing as they consider various solutions to their problems.
Customer personas may be a huge asset and source of insight for your business. For instance, they can assist every member of your team to:
Acquire a more complete grasp of client demands and how to meet them

Contribute to product development by incorporating features that aid in achieving the intended goals.

Determine appropriate projects, initiatives, and campaigns to invest time and money in. 
As a result, you'll be more ready to accommodate your clients and provide them with an exceptional experience that will keep them returning for more. However, failing to define your client personas will affect every element of your product development cycle, customer experience, and marketing efforts.
Step 2: Build prospect profiles
In online marketing, it's critical to understand how to attract the proper audience. This enables you to establish a solid basis for your marketing initiatives and maximize your ROI. However, just as critical as your marketing approach is knowing whom to target. With so many businesses vying for customers' interest, it only makes perfect sense to be more tactical in your approach to prospects and avoid overloading them with promotional emails and phone calls that they may ignore.
This is why it is critical to create the appropriate prospect profile. If you want to improve your marketing efforts, you need first determine who you are targeting and how you are focusing your marketing tactics in order to reach out to and sell to them. To develop the optimal prospect profile for your business, it's necessary to first grasp the many aspects that go into creating a prospect profile.
A Prospect Profile's Components
1. Demographic information
Demographics refer to your prospective consumers' age, gender, and race. To understand your ideal consumers, you must first determine the demographics of the bulk of them. Which age group are they a part of? Are they predominantly masculine, female, or a mixture of the two?
2. Socioeconomic setting
This relates to your consumers' qualities as they relate to their degree, income, employment, household composition, and neighborhood. How much money do they earn annually per individual or per residence? What is the composition of their household? Are you single, have children, married, or cohabiting? What community do they typically originate from, and what is unique about their neighborhood? 
Furthermore, what is their major source of revenue? Are they self-employed or do they own a business? What sector do they work in, and how long have they been there? Is your brand more appealing to college grads or to consumers with a variety of educational backgrounds?
3. Psychographic data
The psychographic part is delving into your consumers' personalities, behaviors, and mindsets. This includes their attitude, views, dreams, wishes, purchase decisions, as well as their concerns and anxieties. How do they respond to events that occur online? What are they hoping to acquire or accomplish? How do people decide to purchase? What do they hold dear? What causes them concern? By analyzing this data, you can improve your marketing strategy and increase engagements and click-throughs, that can finally result in a sale.
Developing a Prospect Profile
After you've identified the components necessary to create an ICP, you can follow these steps to create prospect profiles that are suitable for your online marketing tactics:
1. Analyze your data
The benefit of Online promotion is that it enables you to quickly acquire data on your brand's customer base. You may then utilize this data to examine your customers' behavior and develop an effective marketing strategy to help you increase your sales. The majority of site host and social media sites provide built-in analytics tools that enable you to analyze your data and determine who you should truly reach with your campaign.
2. Provide feedback on your clientele
After you've examined your stats and consumer data, you should go on to rating your clients. This enables you to determine which segments of your client base your brand connects with the most. By analyzing the data you've acquired and segmenting your consumers according to geographical, financial, and psychographic characteristics, you can now group them according to your rating.
3. Conduct a poll
After segmenting your clients, you may run a survey to learn how they feel about the product, your marketing strategy, their preferences and interests, and other factors that influence their purchase choice. To encourage customers, you may offer them incentives such as gifts or discount vouchers redeemable for purchases from your firm. Additionally, the data you collect here can assist you in developing a more robust prospect profile for your organization, which will make it simpler to construct a more effective marketing plan.
4. Contrast data with comparable firms
Another option is to check your ICP to that of other firms in your industry. If you have business colleagues in the same industry, you may arrange a meeting, online or anything else, to exchange notes and learn how to better approach the proper clients for each of your firms. Once you've gathered sufficient information on your prospective customers, you can create a prospect profile, improve your marketing approach, and begin increasing your sales.
Step 3: Find contact details and data
For instance, you stumbled upon a firm that may be a possible customer and wish to contact the business's decision — makers.
Often, you will just discover their names on corporate websites and no additional contact details. So, how do you instantly contact them?
Now, assuming you would do this manually for at least 50 contacts, consider how long it would take you to locate your targets' corporate email addresses and phone numbers. 
This is when a sales prospecting tool like LeadFuze comes to the rescue.
LeadFuze is a cloud-based marketing automation platform that enables organizations to harness the power of artificial intelligence (AI) to create leads and manage marketing processes. The program generates a list of possible prospects automatically, which advertisers may use to collect leads' contact details.
Step 4: Sign up for a cold email software
If you want to be successful with cold email campaigns, you need effective cold email software.
You may reach out to new possible clients and build relationships with your audience using cold email.
We've put together a list of the finest cold email software that each marketer should use, along with reasons why you should use it:
1. Uplead
UpLead is a tool for lead generation. Its objective is straightforward: to link you with the appropriate connections.
Unlike some of the other alternatives discussed here, UpLead guarantees data accuracy to the tune of 95%. When you download your email messages, they are instantly validated. That way, you can be certain they will not bounce when you include them in your emails.
Finding the appropriate leads is a simple process. Simply explore UpLead's global database of 46 million company connections. Narrow down your preferred leads using over 50 parameters.
Once you've compiled your list, save it and use it in your email outreach campaigns!
With UpLead, you get the appropriate emails accompanied by the right information. You can understand the individuals you're contacting as you search them up thanks to colorful profiles. As a result, whenever you receive a response, you'll know precisely who they are, whatever they want, and how to craft your communications and follow-ups.
2. Zerobounce
Zero Bounce enables you to verify emails prior to sending.
By emailing legitimate addresses, you may enhance your delivery rate using Zero Bounce.
Utilize it to thoroughly search your database for incorrect email accounts and spam traps. As a result, you may enhance your delivery performance and cut costs by retaining emails that go nowhere.
3. Clearbit 
Clearbit has a collection of more than 200 million connections from more than 20 million businesses. To use it, you just enter details of your ICP and it returns the profiles that correspond to it.
Clearbit also offers a number of useful connectors. Salesforce, Segment, and Marketo are all integrated.
Clearbit obtains its data including over 250 publicly and privately accessible sources. They validate their information. Additionally, they state that you may anticipate an email delivery rate of greater than 94%.
Step 5: Write a cold email template
What is the distinction between a sales email that receives no response and one that produces hundreds of new customers? Is it because of the topic line? How long? The manner in which the text is written? Or the content's concepts?
The correct answer is a mixture of the preceding.
Creating the ideal cold sales email is a combination of art and science. Balancing a pleasant tone with the necessity of getting to the point may be challenging. Creating an appealing, non-obtrusive CTA is an art.
How to create a cold email template:
Create an attention-grabbing subject line.

Include an irresistible offer.

Personalize and naturalize the copy.

Social proof should be used to substantiate your assertions.
Step 6: Launch your campaign
This is the point at which your sales staff begins to act. Salespeople contact leads by call, email, or some other technique. A large portion of this procedure is spent contacting and emailing customers.
Salespeople will assess whether or not a lead is a probable buyer for your organization during their initial contacts with them; this is what sales qualifications is for. If they do not comply, they are deleted from your list. They will advance to the next level if they are a qualified candidate.
Your staff can now focus on what they do best: selling. This may be a live demonstration of your program, a meeting with management, or a phone call to highlight your product's benefits and features.

Step 7: Analyze and optimize
Sales analysis is the process of mining your data in order to assess your sales organization's progress versus its objectives. It gives insights into the best and worst operating products/services, selling challenges and market possibilities, sales forecasting, and revenue-generating sales activities.
Frequent sales data analysis enables you to have a better knowledge of the items your consumers are purchasing and to decipher why they behave in a specific way. Additionally, you may see trends in your lead conversions and drop-off rates. All of these factors contribute to the optimization of your sales process.
Are you aware of which of your company's goods are doing best and worst? Sales data analytics analyzes sales statistics to determine how your business is performing in relation to its objectives. Here are some reasons why you should incorporate it into your sales activities.
Make data-driven judgments rather than depending on your intuition — Effective and consistent sales analysis reveals the progress of your sales strategy and tracks the success of each sales rep on your organization in real time.
Determine your most lucrative consumers — Your sales representatives should devote the bulk of their time to connecting with high-quality prospects who provide value to your business. Thus, identifying the qualities of consumers who spend lots of money on your items and are the most loyal to your brand is critical.
Acquaint yourself with market trends — Are you about to launch a new product? Are you considering your future activities in terms of stocking inventories, implementing new programs, and altering your production process (where applicable)? A sales analysis report supports these efforts by identifying commercial opportunities and patterns.
Improve customer service — By determining why a sale closed, you can keep consumers satisfied and develop stronger connections. Once you have a deeper understanding of their demands and your brand has gained some traction, you may also upsell and cross-sell to these existing consumers.
Extend your market reach — Analyzing and interpreting sales data can also yield information about your non-customers. The data is important for honing your sales pitches and tailoring future marketing initiatives in order to potentially acquire new clients.
3 Outbound Sales Strategies to Execute in 2022
1

Automated list building
List building is one of the selling process's most time-consuming activities. It takes time to develop a highly focused contact list, craft a compelling offer, and assemble a successful sequencing .
However, this does not have to be the case! By utilizing the appropriate tools, you may significantly enhance the efficiency and efficacy of your prospecting effort.
To prevent time loss and to accelerate your sales processes, automated sales prospects is a must.
You couldn't manually sort your sales prospects, message them, and then contact them again. Instead of that, the ideal approach is to discover a product that allows you to unwind while it takes care of the heavy lifting. It's one of the most effective strategies to contact new consumers and nurture existing ones.
Everything must be automated, from the lead generating process to the lead screening process, from lead segregation to drip emailing.
And, much to the delight of your sales staff, LeadFuze is one such product that performs wonders in terms of generating new leads for the sales team.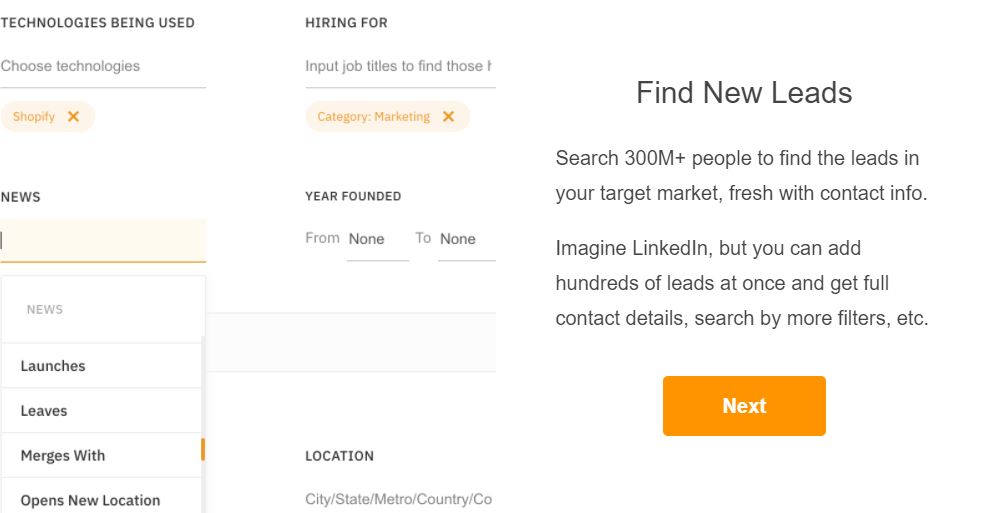 LeadFuze bills itself as an "all-in-one business-to-business sales automation software."
Salespeople detest cold calling the most, and LeadFuze eliminates this fear. LeadFuze automatically collects data on LinkedIn and Twitter, validates it by pinging the servers, and serves it to salespeople ready to send tailored and well-crafted messages.
Personalization guarantees that emails sent to current and new clients are unique.
As a result, when these emails arrive in their inbox, they are helpful and valuable.
2

Integrate different tools and workflows
Almost 30% of all sales jobs are automatable. Therefore, consider how much mental energy you might save by redirecting it to more outcome-based tasks. By streamlining your sales cycle, you can free up more time on tasks that require human interaction, such as generating leads or channel planning.
What is the purpose of workflow automation?
Automating your sales cycle enables you to eliminate the majority of your manual repetitive chores.
In other parts of your sales process, such as tailored one-on-one engagement with high-value prospects, human participation is considerably more necessary.
The majority of administrative activities can be automated. Sales automation automates the sales process and eliminates human effort in areas such as data collecting, prospecting, and follow-up.
There are several techniques for automating your sales workflow. You must determine which parts or activities in your sales process may most benefit from automation and so contribute to the improvement of your sales strategy.
3

AB test channels and messaging
A/B testing (alternatively referred to as split testing) is the practice of analyzing two variations of a website page, email, or other promotional asset and determining the differences in performance between them.
Consider it a competition. You're comparing two distinct versions of your item to determine which one wins.
Understanding which marketing asset performs best may assist you in making future judgments about web pages, email text, and anything else.
How Is A/B Testing Conducted?
To illustrate how A/B testing works, consider the following scenario.
Consider the following scenario: you have two distinct designs for a landing page and you're curious about which one would perform better.
After creating your designs, you assign one to one group of clients and the other to another set of prospects. Then you can view the performance of each landing page in terms of traffic, views, and sales.
If one outperforms the other, then that is fantastic! You may begin investigating why this is the case, and it may influence how you build webpages in the future.
Developing a website or an email marketing campaign is only the beginning of marketing. Once you've established a website, you'll want to determine if it aids or hinders sales.
A/B testing enables you to determine which words, phrases, pictures, videos, and testimonials perform the best. Even the smallest modifications may have a noticeable effect on conversion rates.
Conclusion
When it comes to effective outbound sales strategies, you have a lot of options. But there are 3 that we've found most successful in the past and present. We hope you found these 3 outbound sales strategies helpful. If so, we'd love to hear about it! Your feedback is the best way for us to know what our readers need and want from their blog posts on this topic. Happy selling!
Editors Note:
Want to help contribute to future articles? Have data-backed and tactical advice to share? I'd love to hear from you!
We have over 60,000 monthly readers that would love to see it! Contact us and let's discuss your ideas!