Sales case studies are a great way to learn how to make a sale. I remember when I was first starting in sales, I would read as many sales case studies as I could get my hands on. They were a huge help in learning the ropes and understanding the different steps involved in making a sale. This sales case study will show you how to make a sale in 7 steps. By following these simple steps, you'll be well on your way to becoming a top-performing sales rep!
Sales Case Study: Successful Sales Techniques
A sales case study is an important tool for sales teams. It can provide insight into how other companies have been able to successfully sell products and services and can help sales teams learn new strategies and techniques.
Additionally, sales case studies can help to identify potential customers and target markets.
What are Sales Case Studies and How Do They Help You?
A case study analyzes a specific instance –– or case if you will –– that shows how your product has been effective in solving a problem.
When you market with customer success stories, you allow your prospective customers to get to know your existing customers on a more personal level. This can help them see how your product has benefited other people, which can in turn make it easier for them to purchase.
Would you hire a company to produce video content for you if they just said, "We produce high quality, high return-on-investment (ROI) generating videos"?
Wouldn't it be more beneficial for you to see the quality of their work first and read a personal recommendation from someone who has worked with them before through case studies? This way, you can make a more informed decision about whether or not this is the right company for your needs.
Most customers read reviews before making a purchase. This is because 81% of people do their research before buying anything.
B2B sales are just like any other kind of sale – the prospect does their research before committing to a purchase. To get an idea of what a company is like, it can be helpful to read reviews from past customers. This way, you can learn about a company's reputation before making a decision.
Case studies are an excellent way to show your potential customers the benefits of your product or service. By reading about how other companies have benefited from using your product, they can see the logic behind your claims and also get a sense of what a satisfied customer looks like. This can help to remove any objections they may have about purchasing from you.
How to Write a Sales Case Study
The customer is a small business owner who needs help with bookkeeping and accounting. They have a goal of being able to track their finances and make better decisions for their business. We helped them by providing bookkeeping and accounting services. The result was that they were able to track their finances and make better decisions for their business.
B2B Case Study
88% of customers trust online reviews, so having testimonials and reviews on your site is a great way to establish credibility.
When you're marketing to other businesses, case studies can be extremely impactful. Why? Because when your target audience reads about success stories within their industry, they'll assume that the same approach will work for them.
Marketing Case Study
Case studies are an excellent way to show that you are comfortable in a specific field and familiar with industry-specific needs. By using case studies, you can demonstrate that you have the expertise to provide targeted results to that industry.
Sales Case Study Examples
Customer case studies are a particularly effective way of selling.
A sales case study is an in-depth look at how your service or product helped a client. It not only shows their opinion of your brand but highlights the results they achieved with you.
Make Impactful Statistics Pop in Your Sales Case Study
Case studies don't have to be limited to just written words. You can include images, videos, and more.
To make your statistics pop in your sales case study, use icons to highlight areas that are particularly interesting or relevant. This will help your readers quickly identify the most important information in your study.
(Source)
Icons are visual images that help to summarize important information quickly.
The use of icons in the business case study examples above helps to quickly represent areas of impressive growth and act as visual cues to help draw the reader's attention to certain parts of the page.
Use High Contrast Shapes and Colors in Your Sales Case Study
Use contrasting colors and shapes to help your key info pop.
Use a different or complementary color scheme, or add a graphic such as a square or a circle.
(Source)
This visual design uses blue boxes to separate the information to make it more readable.
This information is easily digestible and retainable for a potential customer, thanks to the use of icons and strong statistics.
(Source)
8. Tips For Creating a More Effective Sales Case Study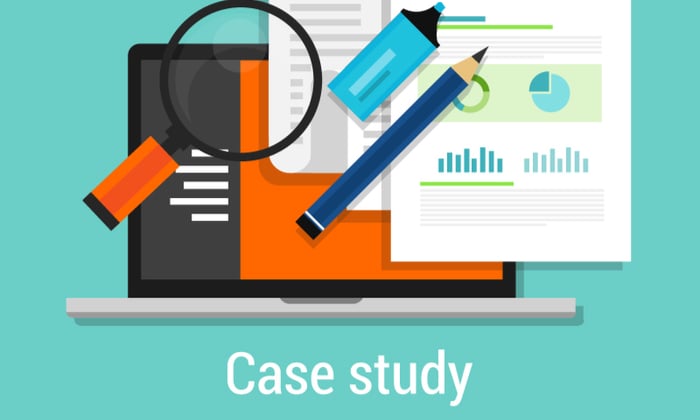 (Source)
Case studies are a powerful way to increase conversions and revenue.
They show how your product/service helps customers achieve their own goals.
An extensive, detailed, and specific case study that outlines your achievements and shows potential customers how you helped them achieve their goals.
Writing a compelling and action-oriented case study can be a real challenge. Most out there are boring, uninspiring, and fail to deliver all the information they should.
It's time to change that. Here are 8 tips to help you create a more effective case study.
1. Write About Someone Your Customer Can Relate
If your target audience is in the education industry, then make a case study about one of your university clients.
If it's related to the automotive industry, then make a case study about car parts and car accessories.
The purpose of your case study is to show that you are comfortable in their industry, you understand their specific needs, and you know how to deliver results.
Think about writing a how-to post for a blog. The content is geared toward average readers. But when you read a case study that deals with your industry and needs, you are much more likely to understand and apply the information presented.
The same can be said for case studies – people reading them will think that the same methods worked for the company.
This means you'll need to write multiple case studies, each tailored to a different customer type.
2. Narrate a Story From Start to Finish
Storytelling is a powerful marketing tool. They allow readers to get to know your customers on a deeper level.
Who is the customer? What do they do? What are their needs and goals? How do you satisfy those needs so they can meet those goals?
Continue following up with your customer in your case studies and show how your solutions provide ongoing value.
In your case studies, be sure to include both the emotional benefits of your solutions as well as more concrete, measurable results.
Did your software help boost productivity, reduce turnover, or free up employees' time? By including these metrics, you'll provide your readers with a complete picture of how your services have helped your customers.
3. Make Your Case Study Easier to Read
No one likes reading large blocks of texts, regardless of how informative or entertaining they might be. Like a blog post, a case study should be easily scanned and readable.
Use the same elements of content and writing that you would for an article, blog post, or website copy.
When you're writing a case study, use effective design elements like bold or italic fonts, bullet points, and header tags to help readers easily digest the information.
By including these simple, yet effective, techniques in your case studies, you'll help readers find the information they're looking for and better understand your value proposition.
In addition to writing blog posts, consider including videos and other types of media to spice things up.
Including images of your actual customers, screenshots of your results, or even videos of you explaining your process will help make your case studies more engaging.
4. Highlight Real Numbers
Have you ever wondered if doubled traffic in a case study meant going from 100 to 200 visitors or 10,000 to 20,000?
To strengthen your case studies, share exact figures. Show how much your increase in website traffic, sales, or whatever else matters to your clients.
This adds credibility to your case studies and builds trust with your audience.
Your case studies should be as detailed and as factual as humanly possible. Don't just say you increased their website traffic by 50%, say you boosted their web traffic by 50%, and back it up with hard numbers.
(Source)
It's important to provide context when sharing these statistics. Explain why they're important to you and your company.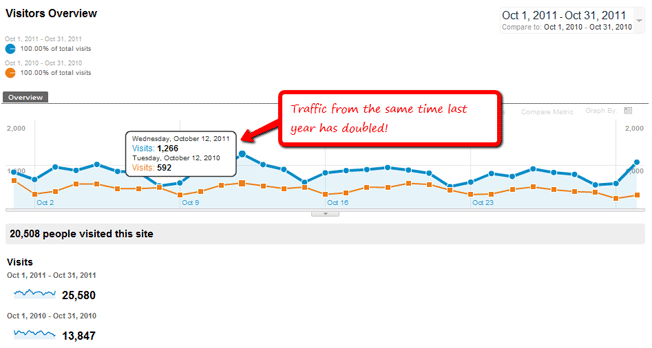 (Source)
By showing your customers' journeys, you can show readers how you've helped customers get to where they are now.
Including before and after photos in your case studies helps your readers visualize the results you achieved for your clients. Seeing these before and after shots lets your prospects know that you are capable of achieving similar results for them.
5. Talk About Specific Strategies
So, you managed to improve your client's web traffic? How did you do it?
This is where you tell the prospect which products or services you used to achieve your goal.
"Thanks to our digital marketing strategies, we increased website traffic from 2,000 to 15,000 visitors a month in just three months. Our social media marketing campaigns on Facebook and Youtube helped increase our brand awareness, and our link-building campaigns helped us rank higher on search engines."
Don't worry about giving away your secrets — your goal here is to establish yourself as a thought leader and showing that you know your stuff is key to that.
6. Test Different Content Formats
You don't have to always write case studies in story format.
Try interviewing your clients and asking them the same questions, such as how they started their business, what their goals are, and what you did to help them.
Be sure to include quotes from your customers in your case studies. This will make your stories more believable and relevant to your prospects than if you were to tell your story yourself.
If you're looking for ways to make your case studies more engaging, consider using infographics, webinars, or podcasts. These formats can help you capture your audience's attention and communicate your key points more effectively. Experiment with different content types to see what works best for your business and your customers.
When Vortex switched to a brochure style, they noticed a significant boost in conversion rates. Their case studies highlight exactly how they achieved those results and can help convince customers that the same techniques will work for them.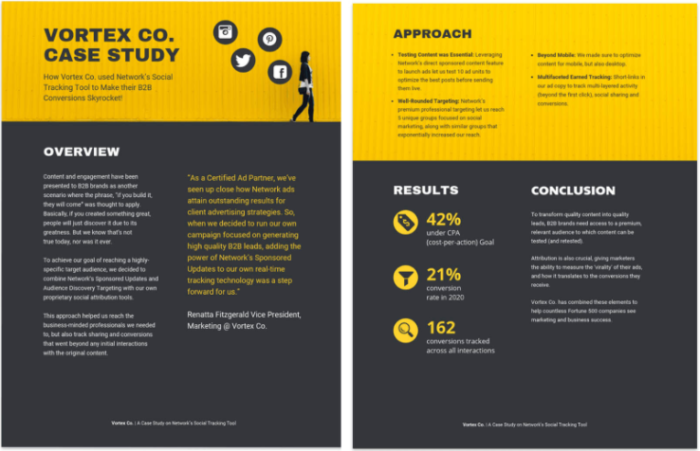 (Source)
7. Repurpose Your Case Study for Different Audiences
While some people are happy reading your text-based case studies, other people may like to listen to them, watch them, or see them in a visual format. So, take your written content and repurpose it as a podcast, a YouTube video, or an engaging infographic.

(Source)
The main benefit of video marketing is that videos are easily sharable. This means that your case study could reach more potential customers.
You can embed case studies in ebooks, blog posts, and resource guides. You can also link your case study to posts that prove your value and mention them in webinars.
8. Make Your Case Study Easily Accessible
What's the point of creating a great case study if no one ever reads them? Be sure to organize your case studies in a way that makes them easy to locate.
List them on your website, optimize them for search engines, and promote them on your social media accounts.
Here are a few examples of easy-to-find case studies.
Amazon Web Services
If you're in an industry like manufacturing, finance, or fitness and are looking for a case study, check out what Amazon Web Services has to offer.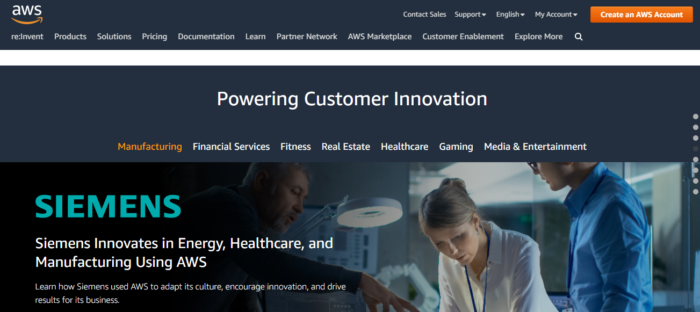 (Source)
Drupal
The case study section on the landing page for drupal.org features several success stories from major brands, making it simple to see how Drupal can help your business.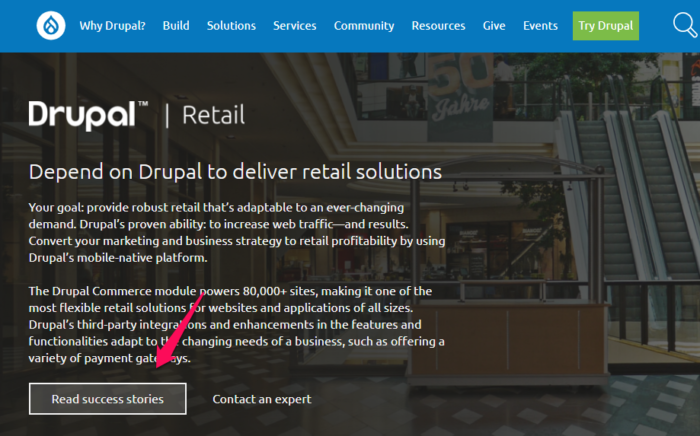 (Source)
How to Use Case Studies in Marketing
Blogs
Follow up your case studies with blog posts that highlight a challenge or obstacle that your customer or company faced. Then, show the steps you took to overcome that issue.
In your post, show the steps you took to solve these issues.
Let's say we had a client case study that detailed how a company used videos to build their trust. We might write a blog post that was called "Using Videos To Build Your Brand's Credibility".
A customer success blog post should focus on how your customers overcame their challenges and used your product or service to do so.
Video
Most customers don't want to spend a long time reading through a long explanation when they're buying something. It's much easier for them to watch the video that explains the service or product quickly. Our research shows that 96% of buyers would prefer watching a short video over having to read long explanations.
It's easier for them and saves time if they view a video that gives them all the information they're looking for.
Including statistics, and data, and ending with a call to action, video case studies are a great way to show your prospect how your product/service has benefited someone else.
If you can demonstrate to your prospects how your product or service is helping them solve their problem, you will be in an excellent spot.
Through videos, you can establish an emotional connection between your brand, product, and customers. Having satisfied customers explain the benefits of your product will help build a stronger relationship with your prospects.
This leads to more sales and more loyal clients.
Website
You can display your testimonials or customer success stories directly on your home page. This will show web visitors that other people have had success with your product or service.
How to Present Your Case Studies
Here are a few suggestions for how to display your success stories:
Feature a quote from your case study on your homepage
Create a dedicated page featuring your testimonial or video case study
Include a graphic or image of your case study
Email Marketing
Case studies are a great way to connect with those already-cold, disengaged contacts and re-ignite their interest.
Our preferred method is product-specific segments.
Do you have case studies from a specific product or service? Look at your analytics to see who was at one time interested in it.
Then, send an email to your subscriber list with your case study.
Social Media
Case studies are an easy way to promote your business on social.
Share a link to your customer's success story and mention them.
To get the most out of a case study, post the case study in a way where readers are inspired to action. Focus on the benefits, be direct, and link to the page.
What other creative ways can you think of to use social media to promote your case study?
There are many ways to use a case study on social media.
You can show your happy, smiling face with a testimonial on your Facebook page, your Twitter account, and your LinkedIn profile.
You can also share your case study on LinkedIn, or add it to your company's page.
Finally, you can post your case studies in related Facebook groups, or tweet about them. By doing all of these things, you will increase your engagement, and reach more potential clients.
Quotes
According to Accenture, 41% of customers switched to a different business due to a lack of personalized communication.
When quoting your case studies, choose quotes that are specific to how your company helped the customer or quote metrics that demonstrate what the results were.
"We were able to increase the number of our email list by 80% in only a year. Their professionalism, dedication, and results speak for themselves."
These quotes are a great way to boost your social media presence and website views.
Newsletters
Case studies can be included in your newsletter to both attract new potential clients and solidify your relationship with existing ones.
When companies focus on their customers, they not only improve relationships with current clients but can also attract more business. It's natural to want to be part of a group, and when customers see that a business cares about them, they're more inclined to support that company.
Case Studies for sales teams
Did you know that 70% of B2B customers do their research before even speaking to a sales rep? And 44% of those same people are looking for a specific solution before reaching out to a salesperson.
As customers become more and more educated, sales reps need content that speaks to each stage of a buyer's journey. This ensures that reps are providing customers with information that's relevant to their stage in the buying process.
Case studies are an excellent way to showcase your successes.
Have you heard of the saying "right place right time"?
Case studies are a great way to build credibility and trust with potential buyers. By showing past successes, you can demonstrate to potential clients that your product works.
What is a Sales Case Study?
To recap, a sales case study is a written document that describes a sales process from start to finish. It details the challenges faced by the salesperson and how they were overcome. A sales case study can be used to teach best practices, highlight successes, and identify areas for improvement.
A good example of a case study is a research paper that analyzes a particular subject in depth. Case studies are usually conducted on people, businesses, or organizations, and they often involve interviews and observation in addition to secondary research.
Conclusion
A sales case study is a great way to learn how to make a sale. This sales case study has shown you how to make a sale in 7 steps. By following these simple steps, you'll be well on your way to becoming a top-performing salesman or woman!
---
Need Help Automating Your Sales Prospecting Process?
LeadFuze gives you all the data you need to find ideal leads, including full contact information.
Go through a variety of filters to zero in on the leads you want to reach. This is crazy specific, but you could find all the people that match the following: 
A company in the Financial Services or Banking industry
Who have more than 10 employees
That spend money on Adwords
Who use Hubspot
Who currently have job openings for marketing help
With the role of HR Manager
That has only been in this role for less than 1 year
Just to give you an idea. 😀[/sc
Editors Note:
Want to help contribute to future articles? Have data-backed and tactical advice to share? I'd love to hear from you!
We have over 60,000 monthly readers that would love to see it! Contact us and let's discuss your ideas!