What is a Sales Engagement Platform?
SEPs, or sales engagement platforms, are designed to arm your sales staff with the tools necessary for success. They enable sellers to communicate with prospective customers via a variety of channels. Through intelligent automation, sales engagement platforms can assist sellers in remaining organized and streamlining their flow of work. By digitalizing low-level manual tasks and incorporating CRM, mobile, and email systems, SEPs can significantly simplify your sellers' everyday work.
These platforms should be integrated into your sales technology stack and are a necessary component of any successful sales team. They assist sellers by automating routine tasks, organizing daily activities, and facilitating the recording of results. SEPs assist sales executives by providing insight into their employees via analytics and data. Executives will now have a better understanding of how to maximize their team's quality and efficiency.
3 Reasons why you Need Sales Engagement Platforms
1

  A Sales Engagement Platforms enable teams to sell more intelligently
A critical component of sales engagement is the analytics available for your workers. The appropriate platform will be capable of tracking and monitoring all exchanges between group members and consumers. This enables you to make good choices about what works and what does not.
When do you make your call? How frequently do you update? Which script is the most effective? Should you send an email prior to calling? Which demographics convert the most effectively?
It is critical that you have a system in place that can analyze this data, provide answers to critical questions, and assist you in developing a high-converting selling process. Rest assured, a  sales engagement platform takes care of all of this for you.
2

A Sales Engagement Platforms Accelerate the Closing of Deals
The more quickly salespeople close sales, the more quickly they can go on to cultivate the next lead.
While speed should not come at the price of personalization or precision, it is always prudent to search for methods to improve the efficiency of your operations.
A SEP will give tools that will assist representatives in closing transactions more quickly. For instance, all salespeople should have access to a common library of sales content — product specification sheets, templates, and sales promotions – that they can utilize on-site to field inquiries, address objections, and complete the deal.
Likewise, representatives should not be required to send contracts time and time again for countersigning. A strong SEP will enable teams to use e-Contracts to put digital ink on the dot.
Each second that passes after representatives go out the door brings the deal closer to being lost. A sales engagement platform will equip representatives with the tools necessary to complete more contracts on the spot.
3

A Sales Engagement Platforms Can Enhance Productivity
Combining all contacts, information, and other critical components in one location maximizes a representative's efficiency.
Employees may cut down on time spent on non-sales-related duties, such as switching between multiple software packages or doing admin duties.
Rather than juggling several tools to get necessary details, your Sales Engagement platform will provide workers with a comprehensive Sales Intelligence center where they can monitor and learn about prospects, develop customer profiles, and categorize leads.
6 Sales Engagement Software
1

LeadFuze
LeadFuze is a database of useful contact information for business operators and sales development representatives. Additionally, marketers and recruiters use this great service to generate lists of prospects and potential applicants. Why does the business enjoy such a solid reputation among its clients? Indeed, it compiles professional data from around the world and maintains a regularly updated database. Additionally, LeadFuze's incredible intelligent automation has positioned it as an industry leader in the modern day.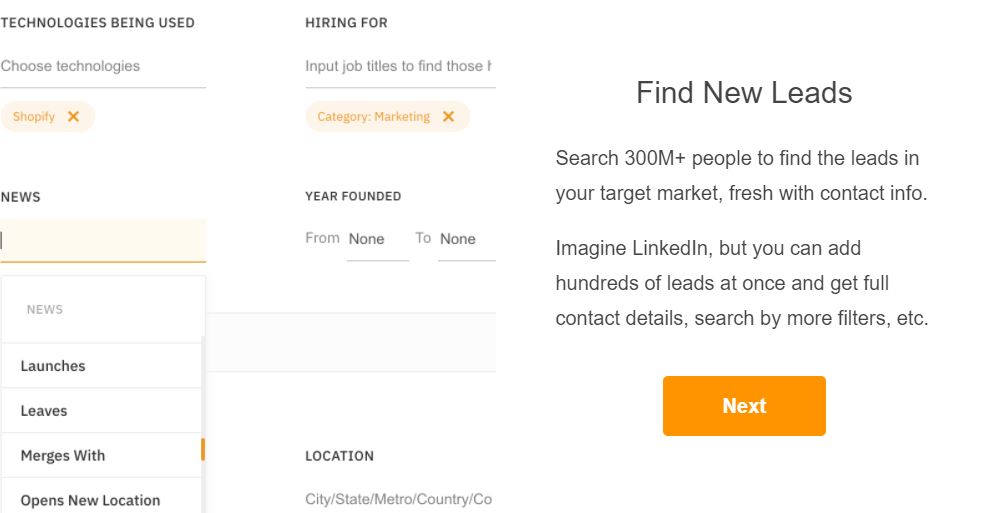 LeadFuze collects data using cutting-edge artificial intelligence technologies, ensuring that you get the most up-to-date information about the firm. All emails, contact information, and other critical data have been checked and updated, ensuring that no low-quality connections are obtained. You will get access to over 10 million businesses and 500 million social accounts in total.
Your SDRs will appreciate LeadFuze's list-building automated feature, since it saves them so much time. Your sales staff may devote their attention to more critical activities while the tool handles the "dirty job." Additionally, the firm offers hyper-targeted lead searches, which enables your SDRs and marketers to do in-depth research and acquire critical information. What's more, the majority of the research is automated. Finally, you may connect all of your data with the CRM and use workflow tools selectively, as needed. There are no duplicates at all!
2

Mailshake
Cold email and phone call engagements with prospects may be automated and personalized with Mailshake, one of the sales engagement platforms designed for modernized sales people.

The Mailshake platform enables businesses and teams to connect with prospects on a large scale. Sales and marketing operations may be carried out using the platform in an automated and tailored manner. You may create tasks for interaction on the phone, by e-mail, or through social media; it's all stored in one location. When you use Mailshake, you can contact your prospects straight from a built-in mobile dialer, send mass cold emails, and automate the follow-up process with ease. Mailshake integrates with Pipedrive and Hubspot, allowing you to improve customer interaction and sales automation across your whole tech infrastructure.
3

Pipedrive
When searching for sales software, it is best to begin by learning about the product's basics. In every competent sales CRM, funnels and deals are the building blocks of the system. These capabilities enable you to view your selling process and advance your transactions from the prospect stage to the closing stage. It is recommended that you select sales software that is as flexible as possible so that it may be tailored to your specific business structure and workflow requirements.

With Pipedrive, you may enter transactions, their values, win probabilities, and projected closing dates, and then arrange and manage them according to the stages of your pipeline. To meet your sales cycle, you may change the stages. You can also construct team funnels and categorize results by rep or stage, or create a funnel for each member of your team. Colored indicators bring your attention to offers that are about to expire, allowing you to prioritize which ones to close first.
4

Close.io
Close.io is a customer relationship management system that includes a robust sales engagement platform.

It helps to track and handle all of your customer communications, including messages, voice calls, email, and video messages from a single, centralized location. You may also automate email sequences to save time, as well as employ sophisticated auto-dialing to contact fresh leads as quickly as possible.
5

Outreach.io
Outreach.io is a complete sales engagement platform that enables sales representatives and executives to enhance productivity, produces more sales opportunities, and outperforms their sales targets.

You're probably already using CRM, sales force automation, and other enablement technologies to handle customer data and interactions. Nonetheless, without a sales interaction platform to integrate these disparate systems, service gaps are almost certain.
Through  Outreach's sales engagement platform, you'll obtain an end-to-end solution that enables your sales staff to process data more efficiently, handle critical tasks more effectively, interact more effectively with clients, and move more prospects down the funnel.
6

Groove
Groove was designed with relationship-based salespeople in mind. It boosts rep efficiency, accelerates Salesforce acquisition, and gives revenue executives with critical insights into what drives their business. Because Groove is Salesforce native, it has the industry's leading activity capture, guaranteeing that selling teams can depend on reliable information and forecast, reduced compliance risk, and simplified management.

Groove frees up 20% of reps' week off so they can deal with high tasks, whether it's the automation of CRM data input or enabling reps to build pipelines and complete more sales. Groove is used by over 70,000 individuals throughout the globe, namely Google, Uber, and Capital One.
Conclusion
They are all great sales engagement platforms that can help your team grow revenue faster than ever before. We have used these steps ourselves and they work like a charm. If you use them correctly, your sales pipeline will be full in no time at all. If you have any questions, don't hesitate to contact us. Our team is happy to help out in any way that we can.
Editors Note:
Want to help contribute to future articles? Have data-backed and tactical advice to share? I'd love to hear from you!
We have over 60,000 monthly readers that would love to see it! Contact us and let's discuss your ideas!