What are Sales Methodologies?
Sales methodologies are guidelines that govern how your goods or services are sold to consumers. It is a selling strategy that is frequently founded on a particular understanding of client psychology. It establishes the manner in which you should engage prospects and the language you should use with them. It establishes a structure for your representative's presentation to the customer and a strategy for closing the business. If everything is going well,, all of your salesreps should engage clients in the same manner and with consistent messaging.
There is no one-size-fits-all approach. The approach that is most appropriate for you will vary according to your business market.
If you sell a complicated combination of product range, for example, you may want your representatives to serve as consultants, assisting the customer in choosing the optimum customized solution. On the other side, if you sell a limited number of regular, low-cost items, you may want your salespeople to be transactional, assisting clients in selecting between two or three pre-selected solutions.
15 Sales Methodologies Examples Necessary For Every Business
1

Sandler Selling System
The Sandler Selling System, one of the most enduring sales methodologies, is driven by customer purchasing behaviors rather than equations and procedures. When done properly, the buyer seriously thinks they are pursuing the bargain, which results in a less overbearing, non-salesy engagement.
The first contact will take the form of a conversation rather than a sales call. Budget constraints and time constraints are highlighted early in the selling process, instead of later. Objections serve as a preliminary impediment rather than a final, unexpected impediment. Once they are disclosed, sales representatives can determine if the solution is a good fit for the prospect.
The Sandler Selling System is divided into three basic stages:
Develop and nurture rapport. Effective selling begins with establishing a positive relationship with the customer. To win their trust, you must demonstrate a genuine willingness to assist them in overcoming their most difficult obstacles.
Before you begin selling, you must ensure that the client is qualified to receive your message. Not everyone is a goodfit for your service or product; thus, determine upfront whether you can assist them and let the others go. 
Complete the transaction. Prospects who advance beyond the qualification stage have a good probability of closing. At this stage, you must limit your discussion to the original pain issues addressed in order to keep the dialogue on course.
This technique can save sales staff significant time by eliminating poor transactions early in the cycle rather than later. You spend less time on prospects who would not have closed regardless of what you said or did, allowing you to move on to more lucrative possibilities faster.
2

Customer-centric Selling
This technique is centered on the client's difficulties, goals, and comfort. It is based on John Holland's, Michael Bosworth's, and Frank Visgatis's book of the same name. The goal here is for the salespeople to develop a rapport with the client and earn their trust.
Sales procedures and activities are tailored to the client's schedules, goals, and circumstances. Rather of giving presentations, salespeople engage in meaningful discussions about how the product may be tailored to the client's specific requirements.
This selling technique is comparable to conceptual and consultative marketing. It argues for a shift away from the hard sale toward one in which the representative is prepared to leave if the client's demands are not fulfilled.
The Eight Components of Customer-centric Selling Include the Following:
In comparison to presenting ideas, converse in situations.

Pose pertinent questions rather than providing views

Solution-oriented rather than relationship-oriented

Rather than users, approach decision-makers.

Emphasize product usage rather than the product alone to generate interest.

Concentrate on being the top seller rather than the busiest.

Settle on the buyer's schedule, not the seller's

Empower customers to make purchases rather than persuading them to do so
3

N.E.A.T Selling
NEAT selling is a procedure for qualifying leads and allocating reps' time and also an approach for closing the deal. NEAT is an acronym for:
Need: What's the prospect's primary requirement? What is giving them distress?

Economic Impact: What's the monetary impact of the client's pain point? How will they profit from the discovery of a solution? 

Authority: Who has the jurisdiction over the matter, and how does the representative contact that individual?

Timetable: What is the feasible timeline for concluding the transaction? What time does the customer requirements for the service to go live?
This technique, developed by the Harris Consulting Group and Sales Hacker Inc., was created to flip the BANT (budget, access/authority, need, and timing) paradigm.
The BANT framework is a tool that assists reps in determining the client's position and hence assists the rep in understanding what they have to do to complete the sale, but it does not assist the rep in determining what the customer wants.
Rather than qualifying consumers according to the salesman's requirements (buy qualifications), NEAT selling requires the salespeople to evaluate how much they can benefit the prospect.
4

Challenger Approach
This sales plan is based on Gartner's research, which indicates that customer behavior has shifted as a result of the abundance of information available online. Prospects now spend significantly more time researching goods and conversing with peers and are 57% of the way through the purchasing experience by the time they call a representative.
The sales approach is built around the concept of the expert representative pushing and challenging a customer. Rather than utilizing relationship-building tactics to gain approval of the client's worldview, it suggests that you should draw the consumer into you by informing them about the environment in which they operate.
Then, customize your messages to your prospect and seize control of the conversation. The challenger sales approach works well in a climate where novice clients are overwhelmed with high-quality information on the web and want a representative to explain why they must buy.
5

Consultative Selling
This approach, introduced in a publication by veteran seller Mack Hanan, is based on solution marketing, utilizing the experience, technical expertise, and credibility of a senior salesperson. Consumers make a purchase in this dynamic since they "trust" the vendor and anticipate receiving the advertised advantages and outcomes.
As with conceptual selling, it is centered on inquiring about the consumer and their wants.
It consists of six stages:
Preparation: Verify that you are knowledgeable about both the customer and their company, as well as your own items.

Connection: Establish a good relationship with the customer and make an impactful first impression.

Recognition: Acquaint yourself with the customer and their requirements

Recommendation: Make a clear suggestion regarding the best option.

Commitment: Make a firm promise to the client on the services you will provide.

Act: Monitor your progress and ensure that you keep your obligations.
As with conceptual selling, this idea is most effective in sectors where large amounts of recurring business and word-of-mouth necessitate a high level of customer trust.
6

Solution Selling
One of the many distinct selling styles is solution marketing, which shifts the emphasis away from the products and toward the advantages, effect, and applicability of a customized solution.
Solution selling foregoes the product-centric approach in favor of a solution's advantages, impact, and relevance. Solution-sellers delve deeply into their clients' specific circumstances in order to discover their pain spots and agree on a set of criteria that defines an acceptable answer.
Solution selling, which began in the late 1980s, has developed through time to adapt its tactics to shifts in buyer experience and corporate climate. As a technique, solution selling adheres to many of the same principles as conceptual or consultative selling. It places a premium on identifying the customer's pain spots, probing to ascertain their underlying demands, demonstrating an in-depth grasp of their company and needs, and providing not only a product but a remedy to their issues.
Solution selling places a premium on empathy, connection with the client, and a laser-like concentration on the buyer's demands. It's probable that this will entail developing a highly tailored, sophisticated product that addresses a large number of the customer's main demands.
7

Target Account Selling
Target account selling focuses on identifying the best candidates to offer to in the first place, instead of on how the rep closes the sale with those customers after contact is established. The method necessitates significantly more labor in terms of investigating the accounts that must be targeted. 
Because the procedure is about selecting the proper accounts, target account selling is frequently automated to a considerable extent, by utilizing a CRM to discover customers that have specific qualities and characteristics. Once these common triggers — the factors that make individuals more inclined to buy – are discovered, a systematic, repeatable procedure can be used to convert these prospects into sales.
Fortunately, there's a fast solution now. It can assist you in locating and collecting contact information for individuals inside your target market.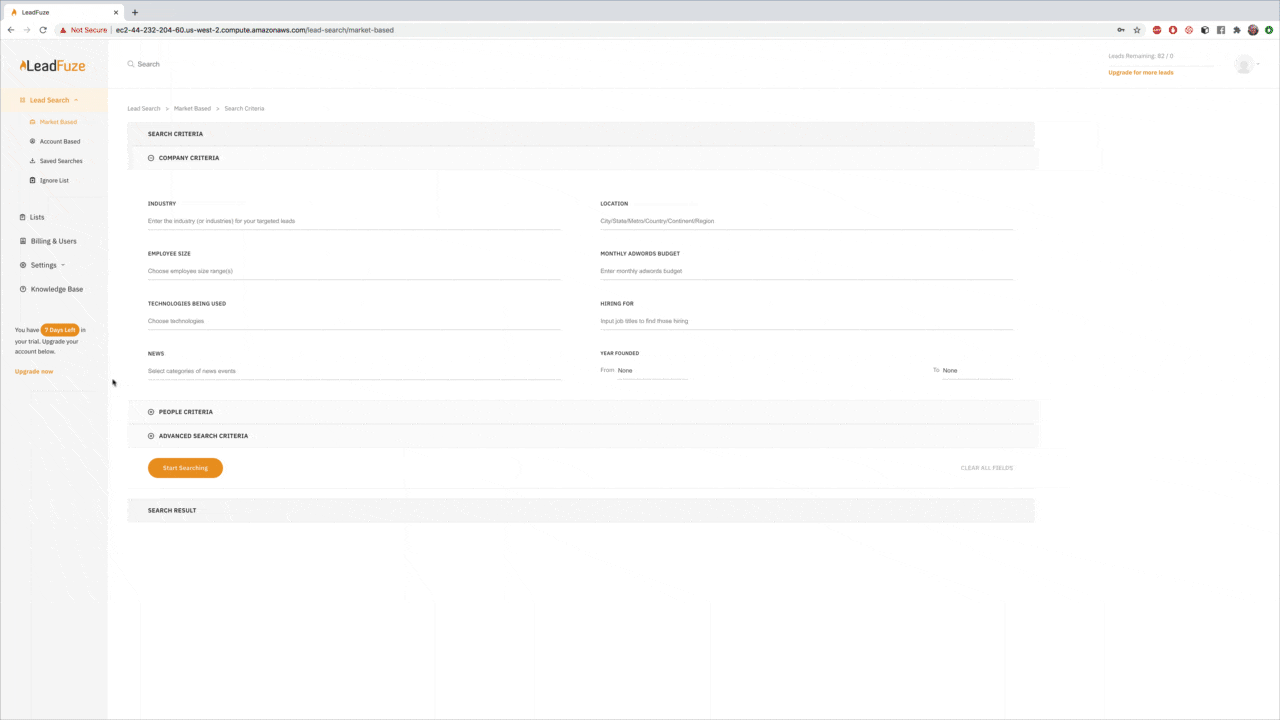 Then, you may automate outreach emails by syncing your contacts with your email and communication platforms.
You may do a search and identify qualifying leads based on the following criteria:
The industry you wish to penetrate

You'd like to see the average size of a business.

Contacts' roles that you'd like to target

Geographic information is utilized to develop software. Ad expenditures are also used to develop software.
After your search returns high-quality contact information such as names, emails, business phone numbers, and social profiles, it's time to experience LeadFuze's full potential.
Fuzebot may be used to automatically deliver leads to marketing tools such as Mailshake, Close, and dux-soup.
8

Conceptual Selling
This approach reshapes sales as a method in which a seller convinces a consumer to acquire an idea, rather than a commodity. It is centered on listening to and comprehending the client's fundamental requirements. The seller's objective is to probe and actively listen in order to ascertain the buyer's desired end-state.
The salesperson can then make a connection between their solution and the final objective.
It recommends asking five distinct sorts of questions:
Confirmation questions to ensure that you comprehend the previously provided information. 

New informational inquiries to elicit more information about the prospect's perception of the product or service.

Attitude inquiries are designed to elicit information about a candidate on a personal level. 

Commitment inquiries elicit information about a prospect's investment in the project on which they are currently working.

To have a better understanding of possible issues, ask fundamental issue questions.
Conceptual selling is based on the belief that a sale must benefit both the customer and the representative, and that firms should avoid transactions that do not provide a high level of satisfaction.
Conceptual selling is likely to be a more successful framework for firms that rely significantly on reputation for customer satisfaction and anticipate making a high volume of repeat sales in a comparatively small market where recommendations and word-of-mouth may be major channels.
9

Inbound Selling
Sales and marketing are becoming more inextricably linked. Historically, clients relied largely on sales representatives to direct them to a product, but that is no longer the case.
Individuals prefer to investigate ideas, services, and solutions on their own before contacting sales. By the time a prospect contacts with a sales professional, they are expected to be more than 57% through the purchasing cycle.
This demonstrates two points:
To begin, marketing is becoming a more integral part of the sales process. Effective marketing drives prospects thus far into the sales cycle, allowing the salesperson to continue up to where advertising leaves off.
Second, prospects who have progressed this far are engaged purchasers, not passive leads. Sales representatives have a greater chance of converting prospects that seek out voluntarily to learn more, as opposed to tire-kickers who most likely slipped into the sales pipeline by mistake.
This is the fundamental tenet of inbound selling. Rather of pursuing and filtering out bad leads, excellent leads will come to you. Inbound selling enables sales teams to engage with customers at any point in their purchasing journey and to provide meaning and value throughout the discussion.
This approach recognizes that you are dealing with an educated prospect. They're already intrigued by the prospect of what you might be able to accomplish for them. They are already familiar with the products you sell and are looking to you to direct them to the best one.
Sales representatives take on less of the job of a salesperson and more of a consultative role. They must be able to tailor their sales procedure to the specific stage of the customer's purchasing experience. This contributes to the strength of the exploring and connection stages, ensuring that the prospect has the highest possible chance of succeeding.
10

Value Selling
This technique focuses on lead qualifying and lead value evaluation, helping sellers to complete transactions more quickly and engage only those leads who are likely to have a material influence on their portfolio.
Value Selling teaches sales people how to ask the proper questions, communicate the product's value to the company, and exercise flexibility in developing a mutually advantageous solution. It's all about ensuring that each step in the process adds value to the client.
11

SPIN Selling
SPIN is an earlier model introduced in 1988 by Neil Rackham. It is founded on the premise that customers purchase items to address specific issues, and the sales representative must diagnose the issue.
SPIN stands for four distinct sorts of inquiries that sellers should ask prospective buyers:
Situation: What is the prospect's current condition in relation to your solution? Are you familiar with the buyer's existing procedure and available resources?
Problem: More precisely, how does the scenario result in a pain point? Where is there a breakdown in the situation?
Implication: What is the implication of such a problem? What will happen to the potential if the problem is not resolved? What further anguish will they endure?
Need-Payoff: What Happens After the Problem Is Solved? How would that appear? At this point, the prospect should ideally see the value that the product creates for themselves.
These questions assist sellers in assessing their customers' actual conditions, isolating the critical issues that must be resolved, and outlining the repercussions of not resolving the issues.
There are concerns about the utility of SPIN selling as a process, considering how little opportunity salespeople have to investigate clients' problems before meeting face to face.
12

MEDDIC
The MEDDIC technique is defined by a highly structured, technologically driven, and tightly regulated sales process. It was developed in the 1990s by the marketing design team at Parametric Technology Corporation and highlights the importance of determining if it is beneficial to get a consumer into your sales funnel via the use of extensive measuring methodologies.
It is an acronym for:
Metrics: Determine a tangible benefit that the prospect desires from your business.
Economic Buyer: Determine who the decision-maker is in the firm with whom you are dealing, as this is frequently not the same person with whom the salesperson will initially communicate.
Decision Criteria: Gain an understanding that the prospect will consider when making a decision, as well as the weighting of those criteria.
Decision Process: Know the decision-making process — who will make the choice, what sign-offs will be necessary, and what deadlines will be involved.
Identify Consumer Pain: What issue does the customer have that your solution can resolve? What happens if they do not purchase a solution?
Champion: Find a person at the firm you're seeking who is invested in your success. The champion is likely to be the person most impacted by the company's misery and the most receptive to what you're giving.
MEDDIC is a sales technique that is most effective when it comes to qualifying transactions and determining where representatives should spend the majority of their time. Rather than focusing exclusively on how to complete the sale, it concentrates on the areas where transactions are most likely to occur, which makes it an especially effective technique for businesses with numerous prospective customers and a need to focus resources on the greatest prospects.
13

Signal Based Selling
With every sales encounter being recorded digitally — conversations, emails, language, and attitude — sales leaders now have access to an unfathomable quantity of data. However, the information we provide to salespeople remains ambiguous and dependent on tribal knowledge.
Signal-based selling is a novel approach for converting sales data into successful representative actions.
Increase sales productivity as your business grows by encouraging your revenue staff to engage in the appropriate activities. SetSail's real-time rewards for outstanding practices enable every sales professional to behave like a top performer.
Signal-based selling acts as an ongoing X-ray scan of encounters among your reps and customers, identifying what the most successful reps do to win and providing the winning actions as guidelines for reps to follow and improve. It enhances your representatives' experience by providing real-time, clear, and engaging coaching.
Incentives increase engagement, enthusiasm, and reinforcement when a sales process is followed. Signal-based selling connects key indicators of success, such as VP involvement and multi-threading, to the appropriate micro-rewards that drive representatives to alter their actions.
The foundation of this strategy is the truth: by focusing exclusively on confirmed consumer intent and leading signs of success, you can ensure that you are focusing on what counts. Made feasible by artificial intelligence, signal-based selling is the future of sales in the digital era.
14

SNAP Selling
SNAP was founded in 2012 by Jill Konrath and is built on the premise that customers have very little time to devote to decision-making and are frequently already overloaded with information before they hit the point of interaction with a representative.
Thus, the technique is built on the premise that by keeping things simple and delivering only the most critical information, a representative can assist the client. As the acronym suggests, this technique is designed to expedite the sales process by presuming that prospective customers are typically busy and preoccupied. The four guiding concepts are as follows:
Simple: Complications will fall flat when interacting with a busy man, so provide only the most important facts.
iNvaluable: Establish yourself as a buyer's trusted expert
Aligned: Ensure that you are aligned with the consumer and their needs.
Priority: Put the front and center of the most critical decision in their minds. The
The SNAP technique is developed for a frazzled, preoccupied client base that requires something that can be conveyed simply and depended upon to operate efficiently.
15

Value Selling Framework
The value selling framework focuses on lead qualifying and evaluation of lead value, allowing salespeople to close more quickly and contact only prospects with substantial portfolio impact.
Sales representatives are expected to ask the appropriate questions, explain the unique value of their products, and exercise flexibility in developing a mutually advantageous solution.
Which Sales Methodology Is Perfect For Your Business?
You may be asking, "Which sales technique will function better for me?" To be honest, it's difficult to say – the key is to avoid being focused on which works best and instead to committed to whateveryou choose.
As per MetaCX's State of B2B SaaS Sales Methods research, businesses often choose methods that align with their selling processes. The research revealed an eclectic mix of the various sales methods employed by the assessed firms. It suggests that "high-velocity transactional firms are more likely to utilize Challenger than others, whereas hybrid and strategic salespeople are more likely to use Solution Selling."
According to the research, sales organizations should "choose the taste that appeals to them the most.  Then become a devout follower of how it is implemented, not of which one they select.
A distinctive sales process may be critical in differentiating your firm from the competition and maximizing the effectiveness of your sales. Creating and implementing a successful one needs an in-depth grasp of your company's external conditions, inner structure, sector, and position in the market, among other variables.
However, a sales process is only effective if it is guided by a guiding concept, attitude, and set of strategies. Sales methods provide those components, and any sales organization interested in providing a path for reps that produces results should consider adopting one.
Sales Methodology Importance 
Great sales organizations are built on a foundation of the methodology. It establishes a consistent, scalable, and stable mode of operation for salespeople and management, which ultimately decides the organization's capacity to attain process maturity and increase win rates.
It is virtually difficult to increase your organization's marketing skills in today's global business environment without a consistent approach that provides numerous critical benefits to salespeople and management, including the following:
Proven techniques for managing a changing business climate successfully

Effective tools for evaluating sales opportunities, conditions, and obstacles

A standardized language for outlining the procedures necessary at each level of the sales process

The identification of successful practices

Top achievers are replicated throughout the sales organization.

Effective and scalable methods for coaching sales representatives through the sales cycle
Conclusion
The sales methodologies in this article are tried and true, but they won't work unless you put them into practice. Use these 15 proven and tested sales methods to grow your business today! Share with us what works for you so we can help more people have success through our company's services. You too can be a successful entrepreneur by following the advice in this post, so let's get started now!
Editors Note:
Want to help contribute to future articles? Have data-backed and tactical advice to share? I'd love to hear from you!
We have over 60,000 monthly readers that would love to see it! Contact us and let's discuss your ideas!