Stay Ahead With These Sales Training Courses this 2021!
Predictable Revenue, sales hacking, and now account-based everything have massively impacted the sales profession over the last 10 years.
As the profession continues to evolve at a rapid clip, current and future sales leaders must constantly self-educate with sales training courses in order to remain on the cutting edge.
In partnership with LeadFuze, Sales Hacker has launched FREE LeadFuze Certified Sales Hacker Bundle. We hope these sales training courses will help you improve your skills as a sales hacking, systems designing, revenue-producing machine.
Below are lessons from the sales training courses with leading minds in predictable revenue, sales hacking, and now account-based everything. We have hand-selected these sales training courses as they are extremely relevant and important in the current ABM/ABSD sales environment.
1

Anastasia Pavlova, Marketo
The five steps to executing an account-based sales and marketing plan are:
Identify Accounts- In these sales training courses, you'll learn that due to the fact that your efforts will be concentrated on a limited amount of customers, target accounts with the largest potential profits.
Your prior success may have been with businesses in specific industries or with a specific amount of workers, departments, or locations. Utilize sales information to ascertain what previously worked and which types of accounts were the most lucrative. Based on that information, you can learn more about the firm by consulting publicly accessible yearly accounts, LinkedIn, and other resources.
Cleanse Your Data- With technology evolving at a breakneck speed, it is critical to take all reasonable precautions to protect the precision and reliability of all your data. If businesses rely on data to promote revenue and innovation, data that is old, corrupt, incorrect, or invalid has the potential to significantly distort your results. The more you ignore the issue, the larger it will get. 
Create Content-After carefully laying out customer profiles and account data on a whiteboard, the next step is to develop a tailored content strategy depending on the type of your company, the phase of the sales process, and the buyer's purpose. As previously stated, the B2B purchasing path involves several decision-makers, each of whom has been assigned a unique task linked to the ultimate purchase. An ABM marketer's objective is to provide content that is stage-specific.
Launch Campaigns-Once you understand the structure and risk factors of your target customer, your team will have the knowledge necessary to build a tailored campaign. Choose two to three individuals inside each organization to advertise to. At this stage, your research should have identified the key decision-makers and departments that might benefit from your company's services. Based on the size of your team, aim for 25-50 per month to guarantee your sales staff has adequate follow-up time each month.
Measure and Analyze- A hyper-personalized approach, such as ABM, may be adjusted in real-time to optimize results. Consider A/B testing the messaging for prospects and re-testing till you find the optimal messaging for target accounts/members. SEO is also an excellent metric for determining the efficacy of ABM material. Analyze and monitor interaction at each contact point using statistics and tracking solutions.
ICP or
ideal customer profile
is such a big topic in sales, and I like how Anastasia really broke down what an ICP strategy should look like. Below shows how deep you have to go with your ICP account planning and selection before you even think about sending that first cold outbound email.

Drive to Close, JBarrows' hallmark sales training courses, is designed to engage the sales staff and maximize sales skill sets. JBarrows conducts a pre-training meeting with the firm's management in order to tailor the instruction. Additionally, the JBarrows sales portal offers post-onsite training to reinforce the training subjects covered during the on-site session.
Driving to Close is one of the sales training courses designed to assist salespeople in managing the complete sales cycle effectively by enhancing the quality of conversations and performances all through the selling process. Your team will acquire practical skills for retaining urgency, dealing with objections, bargaining, and closing transactions.
3

Tim Sanders, Dealstorming

Dealstorming and account-based everything is two concepts with a lot in common. Both concepts highlight how sales professionals need to leverage other teammates within their own company to help close the bigger named accounts. If you are selling paid social services, get your head media buyer on the discovery call with the prospect. If you are selling enterprise technology, get your CTO to join the in-person presentation, etc.

As a sales productivity consultant, ValueSelling Associates has been assisting B2B employees in boosting their sales productivity since 1991. The company's ValueSelling Framework, which is its main product, encourages question-based marketing with an emphasis on adding value to the customer's life. Value-Based Sales Training follows a six-step approach that allows you to modify the methodology and eventually pass ownership of the technique to your sales leaders.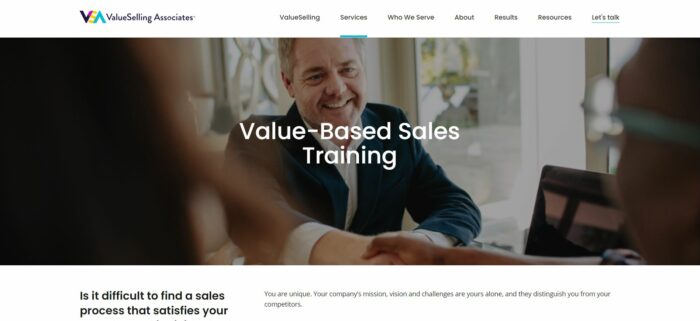 Founded in 1998 by sales training professionals, Sales Readiness Group (SRG) is dedicated to assisting businesses in developing the selling and sales management abilities that are critical to building high-performing teams. Knowing the five-stage customer purchasing process and how sales professionals may apply suitable selling skills and strategies to improve their clients' purchase process are the foundations of SRG's Comprehensive Selling Skills training.
Their core principles in their sales training courses include understanding how to acquire more quality appointments and improving win rates, increasing influence with customers and motivating them to take some action, and being innovative. After all, in a sales negotiation, recognizing seller power sources is important. 
Conclusion
Sales have changed. No longer will the lone wolf kill the large target. It takes a team to manage the account, so as sales professionals, let's check our ego at the door and ask our internal team to help us hunt the whales.
In partnership with LeadFuze, Sales Hacker has launched FREE LeadFuze Certified Sales Hacker Bundle. We hope these sales training courses will help you improve your skills as a sales hacking, systems designing, revenue-producing machine.
Editors Note:
Want to help contribute to future articles? Have data-backed and tactical advice to share? I'd love to hear from you!
We have over 60,000 monthly readers that would love to see it! Contact us and let's discuss your ideas!