Top 40 Sales Training Programs and Techniques That Will Help You Win In 2022
Here are 45 of the best sales training programs that you should consider as a leader. The list is updated annually to include only those which have been found successful by other leaders in the industry.
I know that when I recruit for salespeople, the top performers are able to produce eight times as much output in a day than their peers. The difference between having a high-performing team and one with only average performance is huge.
Hiring average performers means you will have an average team, and this is not what your business needs.
You need a superbly talented group of people to compete with the other companies in your industry. Click To Tweet
With inexperienced salespeople, you will see a lot of mistakes and failures. However, with the right people on your team, success is guaranteed.
Salespeople are not just motivated by a paycheck, and that is why excellent training has become the primary driver of business excellence.
---
Need Help Automating Your Sales Prospecting Process?
LeadFuze gives you all the data you need to find ideal leads, including full contact information.
Go through a variety of filters to zero in on the leads you want to reach. This is crazy specific, but you could find all the people that match the following: 
A company in the Financial Services or Banking industry
Who have more than 10 employees
That spend money on Adwords
Who use Hubspot
Who currently have job openings for marketing help
With the role of HR Manager
That has only been in this role for less than 1 year
Just to give you an idea. 😀
---
What Are the Types of Sales Training Courses?
When it comes to sales training, there are four different types: inside sales, field-based selling, service based selling and management. Although many programs have different names or categories they can be categorized as one of these.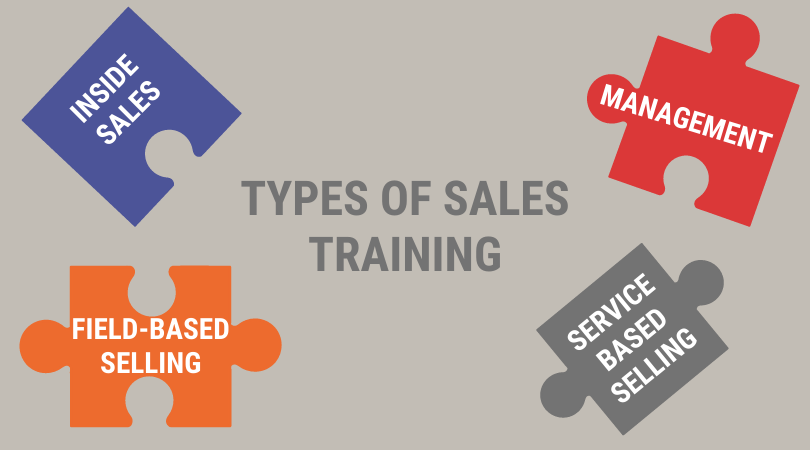 The term "inside sales" refers to people who sell products over the phone, through email or online. This includes prospecting for new customers and referrals.
The field salesperson, in contrast to the inside salesman, literally sells out on location where they meet with prospective customers at trade shows and conferences.
Service sales is based on building relationships with customers and giving them a positive experience, which will keep your company in their minds for future purchases. This may include consultative selling or storytelling.
Sales management training teaches sales managers how to be better coaches and motivators. It also provides them with the tools they need for pipeline management, which is important in order to achieve business objectives.
Why Is Sales Training Important?
Investments in sales training programs will help the company to achieve its objectives faster and better serve customers. Training can be a critical part of developing new teams, whose representatives are more successful while understanding their potential customer's needs.
Training programs are also helpful in teaching reps how to better communicate the benefits of their companys products and services.
5 Different Sales Training Methods To Include In Your Program
There are literally thousands of sales training techniques on the Internet, and it's easy to get overwhelmed. We're going to make this easier for you by listing five different types of sales training programs that will grow your team or help newer reps with their skills.
1. Break sales training into smaller chunks
If you are new to sales, it is important that you take the time before your first day of work to get ready. That means taking some time ahead of schedule and preparing a training program for yourself so that when the big day comes, all will be in order.
2. Let new reps shadow your jobs
If you want to teach someone new, let them watch the more experienced team members for a day. They will get an idea of what they do on their job and once that person feels comfortable enough with the tasks he or she is performing then it's time to give himher some training materials.
3. Back theory with real-life success stories
Theory with real-life examples is better than just theory. Successful stories and the mistakes that come from them will inspire sales reps more because they can look forward to success by following a detailed roadmap of what works.
4. Give your reps some hands-on experience
It is important to provide your sales team with real-world experience, as they wont be able to make it without training. Even if a rep learns on their own, the results will not compare to those of an experienced employee.
5. Have sales leaders share insights with your reps
You can organize a workshop for your sales team once every month, where the top performers in each department share their tips and tricks with everyone else. This will help motivate them to perform better because they know that someone is watching.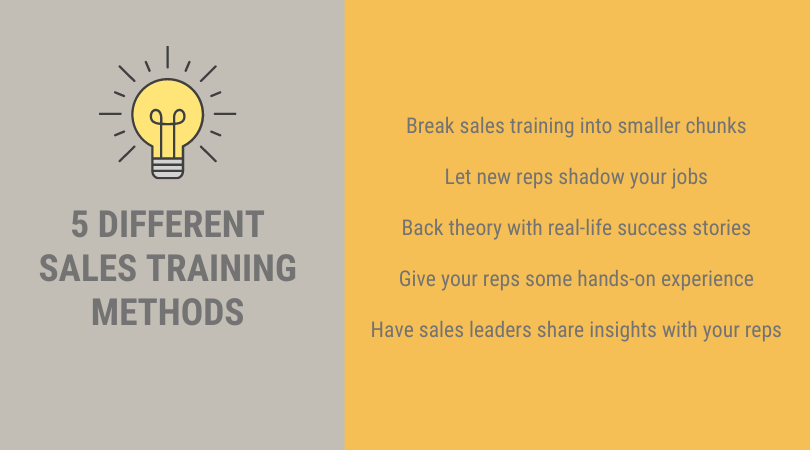 Great Professional Sales Training Leads to The Best Sales Outcomes
There is a lot of data available and it offers proof.
Eighty percent of high-performing sales teams find their training process to be good or better.
Organizations with successful sales teams are more likely to invest in training than companies that struggle.
US companies spend $70 billion on sales training per year.
People who go through excellent training programs have a 10% higher win rate than those without any formal sales training.
As more companies decide to invest in sales development training, demand for the courses will grow.
Choosing the right training for your sales team can be difficult, but it will help you grow in years to come.
In an effort to make your life easier, we have created a list of the top sales training companies that are generating buzz in the industry. More importantly, these programs provide significant value for both learners and companies who use them.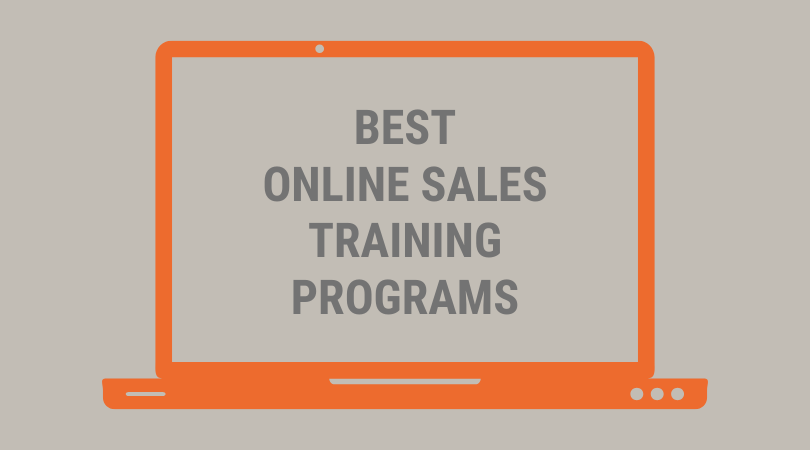 The 40 Best Online Sales Training Programs
In order to make it easier for you, we have grouped the best courses and resources into three categories.
Full-Service Sales Courses
I never realized how important it was to have a training budget, but now I see that every company needs resources for self-service learning.
Sales Training Consultants
Full-Service Basic Selling Skills Training Courses
Advantage
Advantage Performance Group has created a three-part program to improve skills in all areas of the business: corporate leaders, sellers and businesses as a whole.
Advantage provides learning experiences for every role, covering diverse topics such as sales negotiation and emotional intelligence. The company's products are aligned with the customer audience which consists of business professionals who want to increase their success in B2B negotiations.
Altify
Change is always difficult in business. One of the most challenging aspects to change for sales teams, which thrive on habit and need high performance, is changing their behavior. Altify has mastered this process by offering a proprietary way to full transformation.
Altify is a company that offers services to companies in need of better sales strategies. It's an all-inclusive package, including training for employees and customers on how to maximize the benefits of improved sales effectiveness.
Ariel
In a new sales landscape, where customers are in control of the process and can do their own research before they buy anything, people who want to be successful need empathy and authenticity.
Ariel's training company is constantly trying to improve sales skills. They provide holistic solutions that combine technology and experiential learning.
Storytelling for Professionals
Sales Effectiveness
To help increase sales, coaching can be a great tool.
Problem Solving Negotiations
Effective Finals Presentations
ASLAN Training & Development
If you feel that your company has a unique approach to the market, ASLAN is an excellent training partner. They can tailor their trainings for each organization and learner.
The company offers training programs for inside sales, field sales, telesales and even a program to train managers. The goal is not just to teach people how to sell but also help them understand what the client needs so they can create positive outcomes.
Brian Tracy is one of the most quoted sales gurus in existence.
The bestselling author has written books and delivered keynote speeches, but he also offers training programs designed to help you learn how to walk the talk. One of his more notable courses is 21st Century Sales Training for Elite Performance.
The course is broken down into three months, and it teaches you how to win in every stage of the sales process: from B2B prospecting to renewals.
Aspireship
Aspireship is a company that helps you pivot your career to sales in the SaaS industry. It partners with companies all over North America who hire Aspireship graduates directly into Sales Development Representative, Account Executive and Account Manager roles.
Aspireship's flagship course, SaaS Sales Foundations, is a comprehensive and interactive program that will help you to succeed in the competitive field of sales.
Aspireship is a SaaS company that offers teams access to 50+ hours of on-demand content from industry leaders. The topics range and include techniques for writing great emails, leveraging the latest tech solutions, and more.
Corporate Visions
Corporate Visions has created a system that is flexible and well-rounded. The company provides solutions for every stage of the sales process, from lead generation to customer success.
With skills training, your people will gain the ability to fill pipelines and win more deals by learning how to create winning proposals. They'll also learn about deal profitability which will help them build long-term relationships with customers.
CustomerCentric Selling
CustomerCentric Selling (CRC) offers workshops and courses that focus on the customer's needs rather than what they can offer. A good choice if you feel your reps are more concerned with their quotas than customers.
The company provides custom training workshops that focus on the needs of each specific team or organization. Skills targeted include:
Business development
Creating new value in the business world
Lead qualification
Negotiation and control over the sales process
DoubleDigit Sales
DoubleDigit Sales is a company that specializes in training salespeople. They believe in keeping things simple and not overcomplicating the process.
One of the courses offered is:
Finding New Customers
Hiring salespeople with the right strategies can be difficult, but it is necessary for companies to have a good strategy in order to do well.
Articulating Your Unique Value
Expanding Relationships
GoSkills
GoSkills is a website that provides online sales training. It has been recognized for its high quality and proven techniques by an award-winning author and business coach, David Brownlee.
GoSkills offers short courses for entrepreneurs, Fortune 500 companies and individuals. The course topics include project management, customer service skills and public speaking.
IMPAX
IMPAX is a training and consulting company that has been in business for over three decades. The firm offers workshops, seminars, and online courses to help companies achieve high performance.
The company's sales skills programs cover a wide range of topics, including:
Account management
Presentation
Value-based negotiation
Dealing with gatekeepers
Strategy formulation
Lead qualification
IMPAX was recognized as one of the top 20 sales training companies in 2019 by SellingPower.
Mandel Communications
Mandel Communications has a team of experts that teaches communication skills for salespeople. They focus on teaching the so-called soft skills and provide coaching to help people succeed in their careers.
Mandels award-winning approach is based on a few simple ideas.
The most powerful tool that salespeople can use is effective communication. Effective communication helps to build trust and form relationships with prospects, which will help them close more deals.
When interviewing a candidate, ask them the right questions and then use those answers to start up an interesting conversation. Don't just go through rote interview steps that you've done before.
Mercuri
Mercuri International has a great reputation and is one of the largest trainers in the world. They train over 15,000 organizations from 50 countries with 30 languages.
Mercuri's five-step method for tailored learning solutions involves analyzing, designing, training on the new processskillset, implementing it with clients and consolidating after a certain period of time.
This company offers a variety of training, including blended learning and impactful sales skills.
New Velocity
New Velocity is a platform that provides online and onsite training to help salespeople grow their skills.
The company's curriculum is based on four pillars of sales.
Prospecting & Approaching
Closing & Presenting
Follow-up & Referrals
Leadership Development
New Velocity's business plan is to cater to any size of company, from small startups all the way up to global leaders such as Google and Oracle.
RAIN Group
This company offers a training program that is geared towards boosting sales success.
RAIN Group designs training programs that focus on not only teaching skills, but changing behavior across the entire sales organization.
RAIN Group provides a variety of resources and tools to help organizations grow. They provide training for every stage in the sales process, from prospecting all the way through closing.
Sales Readiness Group (SRG)
SRG provides skills development to help individuals and organizations maximize their sales performance.
Some of the companys courses include modules for improving productivity, team dynamics and employee happiness.
Basic selling skills
I also offer in-depth training for my salespeople, including the importance of value-based selling.
Sales management training
The Brooks Group
The Brooks Group is a company that specializes in designing and delivering award-winning sales classes for B2B professionals.
The company was founded in 1977 and is known for its IMPACT Selling methodology, which provides a results-driven sales process based on decades of research.
The IMPACT Sales Team Training workshop has been delivered in more than 350 industries and can be taught onsite, online or both.
Value Selling Associates
Value Selling Associates is a highly acclaimed and multi-awarded sales training provider that has created the ValueSelling Framework. This framework helps businesses grow quickly by offering assistance with everything from small startups to Fortune 1000 corporations.
The company's training program is called ValueSelling and it aims to improve salespeople by teaching them how to sell on value instead of price. The idea behind this technique is that selling on something other than the cost will actually be more effective.
On-demand courses
Instructor-led workshops
Video-based reinforcement is a method that relies on videos to reinforce good behavior.
Activity-based coaching
Self-Service Training Resources
Action Selling
Action Selling is a company that provides sales training to hundreds of thousands of professionals. They have been in business since 1990.
The company was one of the first in its industry to incorporate big data into their training, focusing on skills that are essential for selling and reinforcing them through repetition.
Cegos Group
Cegos Group is a training company that has been around since 1926 and helped pioneer the modern skills development industry. They train 250,000 people in 50 countries each year.
It is no surprise that training programs are still the leading innovation in learning. They help organizations with their strategy and growth.
They provide a variety of learning solutions, such as e-learning and in-house training to develop skills.
Customer Relationship
High-Performance Selling
Sales Negotiation
Key Account Management
Factor 8
Factor 8 is a company that specializes in sales training. They help people learn how to book appointments, add value and land new business with no face-to-face contact or lots of time from decision makers.
Factor 8 is known for being very hands-on. Once reps learn new tactics, they hit the phones to try out what they've learned and then coach their peers on how it's done. Most training days have higher activity than regular sales days because of this approach.
The Sales Bar also offers access to training and coaching that will help sales skills stay sharp after the initial instruction.
FranklinCovey
FranklinCovey offers its solutions in more than 150 countries and 30 languages, so it can be adapted to fit any company's needs.
Self-paced online courses
Consultant-led onsite training
Sales coaching platforms.
The workshop covers topics such as leadership training, customer success, lead qualification and closing deals.
Imparta
Imparta provides sales training to over 60 countries and more than 30 languages. Some of their clients include Intel, Telefonica, Canon, and the WPP Group.
Impartas sales training solutions are highly customizable and will help your organization with its own challenges.
You can choose to take a single course, such as consultative selling skills or you could create your own Sales Academy by taking many courses.
Kurlan & Associates
Kurlan & Associates provides tailored training solutions that follow three simple steps: 1) they work with clients to understand their needs, 2) deliver personalized courses on-site or online and 3) provide ongoing support
Understand
Apply
I realized that I needed to put in place some baseline strategies before hiring any more salespeople. These are what work for me.
The firm offers 12-week courses for sellers to learn how to have better conversations and close higher value deals.
Miller Heiman Group
Miller Heiman is a global organization that offers game-changing technology and classes on sales.
The Miller Heiman Group Academy offers top-notch courses to help your company.
Strategic selling
I have begun to build a sales process that would allow me to serve larger clients.
Conceptual selling
Professional selling skills
SalesBuzz.com Online Sales Training
When we first began our training program, it seemed like a good idea to include weekly workshops and tracking so that managers could see how engaged the sales reps were. It turns out this was not enough motivation for some of them.
Sales Hacker
Sales Hacker is a resource for sales professionals that provides valuable learning materials and networking opportunities.
Sales Hacker provides two free, no-pitch webinars every week that teach a new skill to sales reps and managers. Sign up for these events and you have an ongoing training program.
Sales Hacker also publishes content that makes you think.
Sandler Training
Sandler Training has been in the industry for more than five decades and still provides new insights into how to sell well.
Ive learned that the company's approach to learning is one of reinforcement training, which has been proven as a crucial component in successful sales programs.
With a new course added every month, and an ever-growing library of videos and articles, Sandler Training is one of the most popular destinations for sales practitioners.
The Sandler Selling System is for any company, from small to large.
Sales Training Consultants
AltiSales
AltiSales is a company that helps companies with their sales teams. They specialize in helping businesses build top-notch organizations from the ground up.
The company offers three main services: creating a team from scratch, adding talented people to your existing sales staff, or partnering with you for training purposes.
DSG
DSG can help you figure out how to make your sales process more effective and practical by providing a tailored playbook.
Once these playbooks are created, they can be used as the core training assets for businesses to teach their messaging techniques.
Client engagement
Sales processes
Selling frameworks
Technological tools
GP Strategies
GP Strategies is a company that provides performance improvement for specific industries, with programs created in 1966.
GP Strategies sales training programs are unique because they take into account the nuances of your industry, business model, and sales culture. We can easily integrate our program with any specific strategy or branding you have in mind.
Trainers4trainers, an online training site for both learners and trainers alike is trying to transform the way people learn by creating more efficient ways of learning.
Integrity Solutions
Integrity Solutions is more than just a training company. They work to change the behavior and mindset of sales professionals.
The consulting firm helps businesses understand the value of their products and services by giving them direction on how to attract more customers.
Janek
Janek provides training and consulting services for clients in order to help them better manage their sales teams. Janek also helps its customers meet certain goals, such as delivering significant ROI.
The company and its clients work together to create a continuous learning environment for employees that will make them more productive.
John Costigan
John Costigan is of the opinion that most sales training classes are too long, complicated and impractical.
So he developed his training programs with an overarching theme of keeping it simple, and in the process showed that these techniques work in real life. He does this by presenting live calls, meetings, and prospects to demonstrate how they are successful.
Training companies such as Google, Oracle and Gilead Pharmaceutical in salesmanship methods since the 1970s, Costigan Companies provides courseware to suit every stage of a selling cycle.
Revenue Storm
With the help of science, Revenue Storm provides consulting services that can be used to transform your sales team.
The company is focused on helping businesses make better use of buyer-initiated purchases and to build demand. Revenue Storm partners with clients to help them grow their business by providing tailored training, tracking solutions, and coaching services.
Richardson
Richardson works with global brands to identify and understand the selling skills needed for success.
Ive learned that the key to sales success is having a high-quality curriculum and training. I now have my team create robust, engaging lessons for new recruits.
All training programs can be customized and tailored to suit your company's needs.
The Harris Consulting Group
The Harris Consulting Group helps companies train their sales teams and provide tailored learning experiences to help them grow revenue.
Harris Consulting partners with clients to assess unique situations and build matching sales training solutions for their needs. The company traces its roots back to the SaaS B2B sector, where it started.
Sales Development
I had one account executive work with two customer success teams.
My clients are small businesses, mid-market companies and enterprise scale corporations.
Tyson Group
Tyson Group believes that the only way to achieve sustainable success in sales is through a four-step process involving team training.
Assess
Design
Train
Coach
That is why Tyson Group does what they do best:
Use your B2B clients to learn about their needs and how you can work with them.
Build tailored playbooks
To get the most out of your salespeople, you should be looking for candidates with critical skills and a strong work ethic.
Orchestrate measurable success
Wilson Learning
Wilson Learning is an organization that has been helping businesses to grow revenue, improve margins and expand market share for over 50 years.
The company provides tailored consulting, training and coaching to ambitious organizations in 50 countries around the world.
Training programs cover a variety of topics, including:
Buying behavior
Strategic business calls
Selling as consulting
Negotiation techniques
Inbound sales excellence
Managing competition
Winning By Design
Winning By Design is a company that specializes in helping SaaS and B2B companies grow their sales by designing, building, and scaling high-performing teams.
Winning By Design provides services that help companies improve their sales strategies. They offer consulting, training programs and also provide technological solutions for businesses.
The Sales Academy offers dozens of courses to help employees improve their skills. The titles include:
Provocative Selling
Account-based Prospecting
Selling as a Science
Vengreso
Vengreso is a company that helps sales teams create more conversations with qualified buyers, build up their pipeline through content for sales strategies and LinkedIn Profile Makeovers. They offer courses on topics like: – Content Marketing Strategies For Sales Teams – Building A High Performing B2B Sales Team
LinkedIn is a great tool for salespeople to use when they are not in the office.
LinkedIn Sales Navigator is a social media tool that allows salespeople to find leads, research potential clients and their company, create messages tailored for specific companiesindividuals.
Selling with Video for Teams
LinkedIn Profile Makeovers for Teams
Selling with Social Networks
Are There Other Different Sales Training Programs to Consider?
It is difficult to find the best sales programs online because there are so many. We listed out some of our favorites, but we did not mention all that exist.
As businesses grow and evolve, the skills that people are expected to have may change.
Continuous training allows employees to keep up with what is needed in order for them not only survive but thrive. Click To Tweet
Businesses looking to win the future need sales training programs. Dont be left behind in this fight for talent, and use these top 10 best-selling courses as a starting point.
---
Need Help Automating Your Sales Prospecting Process?
LeadFuze gives you all the data you need to find ideal leads, including full contact information.
Go through a variety of filters to zero in on the leads you want to reach. This is crazy specific, but you could find all the people that match the following: 
A company in the Financial Services or Banking industry
Who have more than 10 employees
That spend money on Adwords
Who use Hubspot
Who currently have job openings for marketing help
With the role of HR Manager
That has only been in this role for less than 1 year
Just to give you an idea. 😀
Editors Note:
Want to help contribute to future articles? Have data-backed and tactical advice to share? I'd love to hear from you!
We have over 60,000 monthly readers that would love to see it! Contact us and let's discuss your ideas!