What are Sales Training Programs
Sales training programs are any type of formal or informal training that helps employees sell more effectively. These programs can include learning about persuasion, how to read a prospect's body language, understanding the customer's perspective and why they buy from you over your competitors, etc.
For instance, a sales training program might teach you about the science of buying, how to ask questions to better understand your prospects' needs and wants, or ways that people buy.
These programs often teach sales forces to "fence" when the new game is mixed with martial arts.
Nowadays, you've got to get into the ring and off the ropes. Otherwise, you're going to land face down watching the referee's fingers in a slow-motion 8 count.
The fast-paced, online, data-driven sales environment requires new sales training programs to empower the team.
We are in the process of finishing up a sales training academy that we put all new hires through and can attest to the importance of evaluating your training program on a regular basis.
Why are Sales Training Programs Important
Sales training programs are important because they can help increase sales, retention, and revenue.
They're very effective because they give employees the tools and training to succeed.
Employees who are trained on how to be persuasive, understand their customers' needs, know what questions to ask, etc., will have a much easier time connecting with prospects and closing deals.
Additionally, sales training programs can also help reduce turnover by giving new hires or less experienced staff a leg up on the competition.
This type of training can help people achieve their sales goals, earn more money, and progress in their careers.
If you work with people who are not very experienced at sales or don't have much interest in it, this might be a good way to get them motivated by focusing on topics they're interested in.
Why do Employees Need Sales Training Programs?
Some employees require more formalized training to become better sellers, while others might just need some tips on how to close a sale or make the best use of their time in an account visit. Some companies will provide sales training programs that are relevant to the job they're in.
That's because the training is designed to meet their specific needs, whether it be how to sell a product or service they're in charge of selling.
Statistics of Sales Training Programs
Larger organizations spend an average of $954,070 on sales training every year, according to ATD research and continues to rise.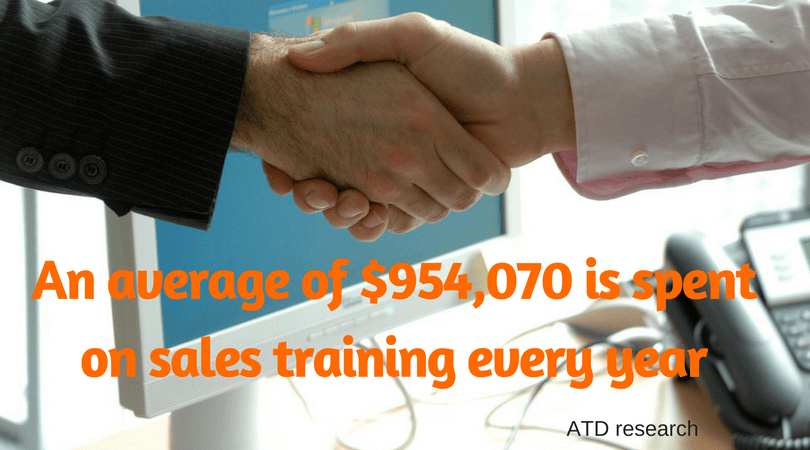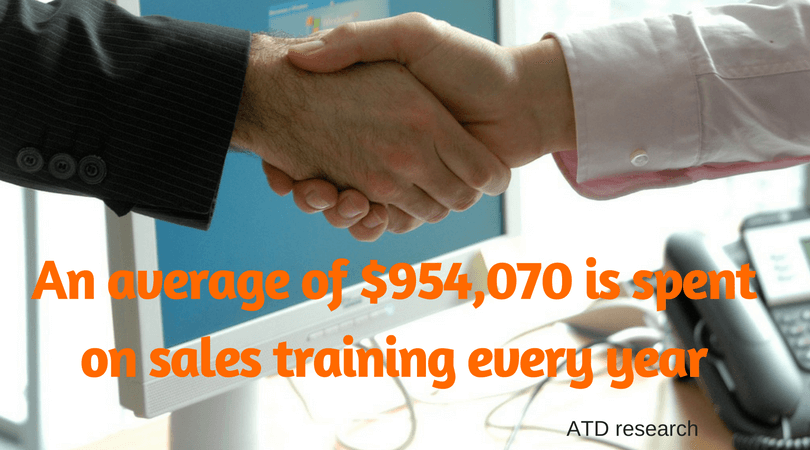 But how are you measuring your ROI?
Do you have metrics in place to ascertain that your KPIs have been achieved?
You might be spending money on outdated techniques that might not translate to the ever-changing sales environment. So where should you be investing your sale training dollars?
This year's trends include:
Peer to Peer learning supported by mentoring and coaching
Creating subject-matter experts (SMEs)
Online self-paced training modules
Shorter training modules using video
Retaining knowledge with quizzes and homework
Different techniques required for training millennials
Increasing emotional intelligence (EQ)
Ever-evolving, collaborative training manuals
Sales training for everyone
Let's take a further look at each of these trends that will define the coming years of sales training efforts.
Water cooler colleague coaching as sales training
"Our research confirms that traditional, curriculum-based sales training and enablement techniques are no longer effective for the modern-day mobile salesperson." ~ Yuchun Lee, co-founder and CEO, Allego.
A recent survey on training methods found that 91% of sales reps and managers found trading ideas with peers more beneficial to sales success than traditional training methods.
Reps prefer to gain knowledge from their buddies, who are out there in the field every day and are able to give them usable, actionable insights.
This "over the shoulder" learning is highly effective to get sales teams working together and learning from each other.
The professional development of one-way flow from manager to sales rep is seriously outdated. Companies are going to need to find effective strategies for encouraging peer-based learning.
The rise of the SME salesforce
Today's B2B buyers have access to exactly the same information that the sales reps have at their disposal.
You need to train your sales team to be subject-matter experts so they are able to assist the buyer with understanding how all the information they have gathered can be relevant to their company. This will require individuals to learn another set of professional and interpersonal skills.
Training content will need to come from third parties, as in-house training might have its limits in this regard.
The SMEs will be trained in understanding sales from the customer context.
In your own time
How are you training your new team members?
A combination of manuals and shadowing?
Then sending them out on free udemy courses or another online courses?
Each of these training initiatives are established by the manager, and it's usually mandatory. In many organizations, training is never the employee's "choice."
This trend is set to change in 2017. We're in the era of choice – the web has given us resources to learn any and everything, and we get to choose where to place our focus.
When things are mandatory, you often get less buy-in. People view it as a condition of the employment and not necessarily a benefit especially if the course offered is not talking to the current sales landscape and its rapidly changing customers.
It's often seen as yet another demand in a time-strapped sales person's existence.
When there is freedom around choice and people request training, they feel the value to the individual and the company is significantly higher.
You will see the rise of individualized training. Online self-paced training programs are going to overtake the traditional workshops that have been offered to people in the past.
Adult learning is going mobile, online and interactive.
Click To Tweet
Technology has supplied a huge opportunity for sales training to be offered online and completed in the individual's ideal time frame.
"Much like the increasing power of CRM, these new tools will provide greater levels of individualized training, when you need it, where you need, and how you like to learn.  A few sites like ChannelEQ.co and SalesGravy.com are just a few of the potential winners." ~ Ken Thoreson, president of Acumen Management Group, Ltd.
Watch and learn
The numbers are in — we are all getting used to receiving information in short format videos.
Our training efforts should be no different.
Trainees want to learn to use short modules delivered in video format that's current and innovative. It's the way we process and retain information in 2017.
Trainees are also requesting closed captions for their learning videos as they are often training where the environment can be noisy, or the PC has low quality volume.
This could also be linked to auto-play feature trend started on Facebook from 2014 where creators of content were looking for ways to make their content engaging without using sound.
Of course watching videos is a great way to convey information and something like interactive tutorials can really bring that knowledge home. 
See and do
A study by the Brevet Group on how we retain information for the long term found that 80% comes from seeing and doing, 20% from reading and 10% from hearing.
This reinforces the necessity of using visual aids for training.
When trainees are involved in modules that employ gamification techniques their retention is also higher.
Quizzes after each module can assist with knowledge retention as well as assigning homework to the trainees.
3 Sales Training Programs Tips for Millennials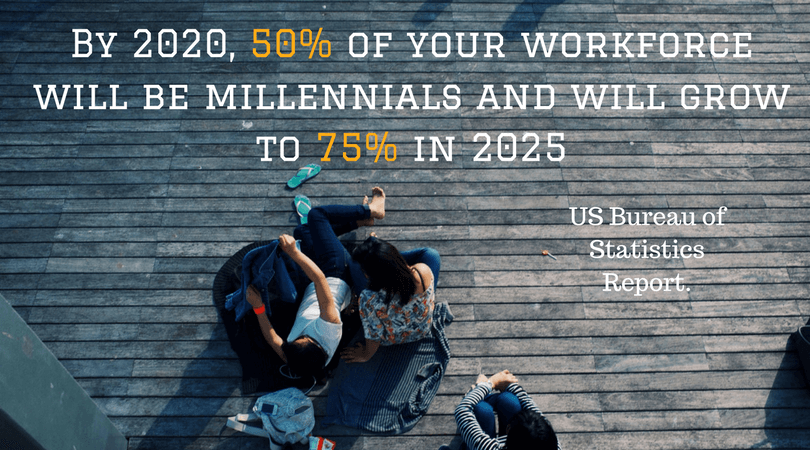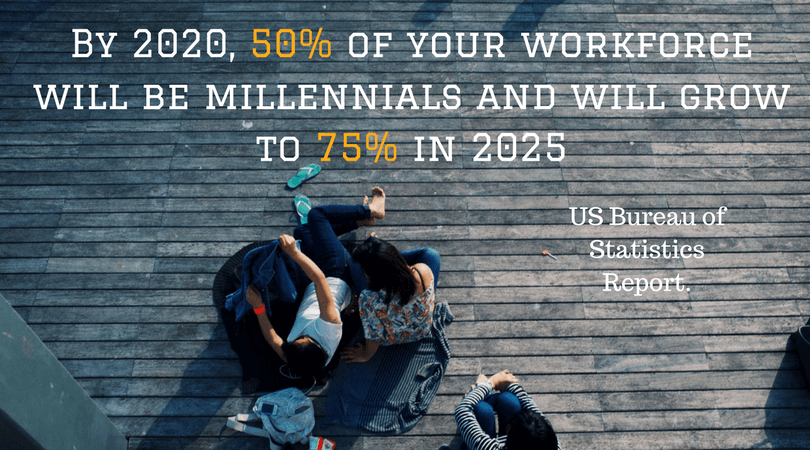 Millennials are hungry for knowledge – starving. So their training options must speak to their need for technology-driven professional development.
They're keen on coaching and mentorship – but the old hierarchical structures will send them right out of the door.
They must be able to access their sales training online and on the device of their choice. Give them knowledge at their fingertips in real-time.
1

Up your EQ

One part of your training is going to be the in-depth knowledge of your product, but this year it has to be paired with emotional intelligence and strong self-awareness if you want to stand out.

There are stats that point to job success coming from having excellent well-developed soft skills like communication, empathy, negotiation, and a positive attitude.

Training cannot only focus on technical know-how, otherwise your team will only be 15% prepared to build business relationships.

If you can truly understand human emotions, you're going to come out on top. Those trained with emotional intelligence always outperform their colleagues with lower EQ.
"Emotional intelligence is the ability to sense, understand, and effectively apply the power and acumen of emotions as a source of human energy, information, connection, and influence." ~ Robert K. Cooper, PhD
This training ensures that you will start having smarter conversations.
The buyers are self-educating and don't require you to be the font of knowledge, but to be the human element in the purchase that can display the art of the sale.
The data keeps showing us that person-to-person selling is still a vital element of an effective sales conversion.
Training must continue to focus on helping people have better conversations.
Click To Tweet
2

Play-by-play sales training manual

Throw out your old training manual in 2017. There is a wealth of information about our targets thanks to predictive/real-time analytics and big data.

We have so much buyer persona info that brand-new scenarios to sell to them are evolving every day. So the ol' sales manual is only useful as a great door stop.

You need to create a dynamic play book.

This is never going to be a completed manual, as with all the new learning will come daily updates.

This "training" manual will keep the whole team learning from each other and the ever-changing digital landscape. It's got to live and breathe to stay relevant.

It makes the sales team conscious about what is working, what has changed, what needs to change and then reporting and updating on the new learning.

Thanks to technology we are learning in totally different ways and all of our personal discoveries are going to organically become the training manual for all.
3

Automation makes everyone a salesperson

Big data and real-time analytics show us that sales are a function of the entire organization.

The massive amount of data has brought sales and marketing into alignment. Training has to show you how to work together and not in silos.

Working collaboratively is an essential skill everyone has to learn and put into practice. Click To Tweet

Automation makes everyone a sales person these days. Your organization needs to train everyone in the art of selling – not just the sales team.

Do you want to increase your sales?

LeadFuze is a sales automation platform that helps companies close more deals. We offer an easy-to-use, customizable solution for lead generation and management. Our software provides a complete view of all leads in one place so you can easily track their progress from start to finish. And our team of experts is always available to help with any questions or concerns along the way!

You'll never have to worry about missing out on potential customers again. With LeadFuze, we take care of everything for you – from generating leads and sending emails, right through to following up on prospects who don't respond as well as those who do! It's time for your business to grow faster than ever before.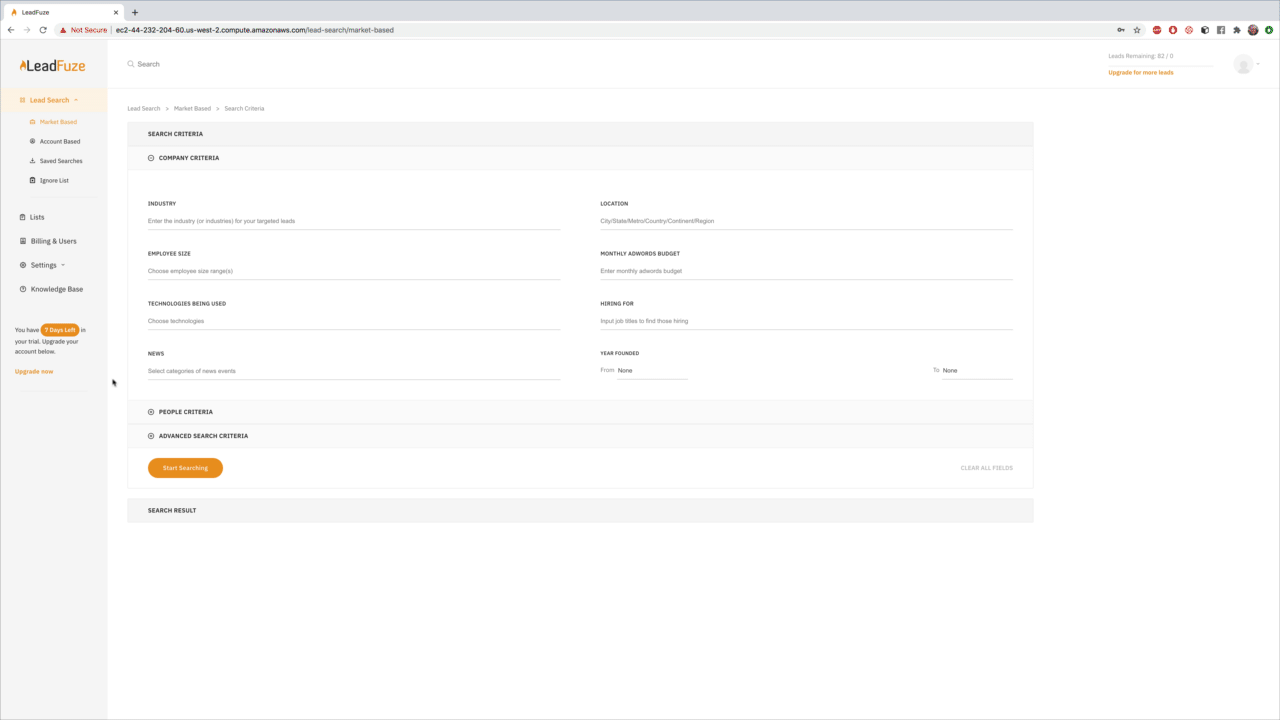 9 Characteristics of Great Sales Training Programs
These changes are necessary to match the breakneck pace at which business is occurring these days. So training needs to be:
bite-sized
easily accessible
relevant
online and mobile (we're all on our phones)
customized for busier lifestyles
holistic
hassle-free
drenched with personalized content
data-driven
Look at employing some of these methods and then use your big data to analyze whether there are any major shifts in sales conversions. What sales training strategies are you using?
6 Sales Training Programs Examples
Here are just a few examples of sales training programs that can make them more effective:
Implementing new hires with a company introduction, to encourage involvement in the business
Investing time and finances into trainings for employees is an investment on their behalf; you're investing your time in making them more successful, and it shows that you're invested in them as well
Implementing sales competitions within a team or company can encourage competition and create healthy challenges to push themselves. These contests are also great for building camaraderie among the group
Offering rewards for those who achieve certain goals is an excellent motivator; some companies offer monetary rewards, while others provide time off or other non-monetary prizes
Offer a series of courses geared towards specific sales roles so that there is more opportunity for adequate training
An introductory course focused on how to read customer body language, different communication styles, and strategies would be an excellent starting point
The point is to find what works for your company and employees. A successful sales training program should be a combination of individualized attention from the employer and employee participation in developing their skillset. The best way to create success within newcomer training is by involving the employees in the process.
Conclusion
Sales training programs can be instrumental in helping your company grow. If you are looking for a way to improve overall sales, it's time to get started on planning and developing the perfect program for your team members.
It is also important to bear in mind that learning styles are changing, especially during this post-COVID time wherein employees work from home too. TrainingByteSize has a whitepaper that looks into exactly that – Have Learning Styles In Training And Development Adapted In The COVID Age?
Nevertheless, implementing an effective training program will take more than just having the right people; you'll need to invest effort into finding ways that work best for your company. Evaluating the needs of your organization is critical for finding the best way to create a plan that will work from all perspectives.
Create an environment where employees feel valued and respected, while also being given opportunities to explore their full potential; establish this foundation early on in order to maximize sales training program success within your workplace!
Editors Note:
Want to help contribute to future articles? Have data-backed and tactical advice to share? I'd love to hear from you!
We have over 60,000 monthly readers that would love to see it! Contact us and let's discuss your ideas!