What is an Account Executive?
One of the most important ingredients for success is sales talent, which carries out day-to-day tasks and closes deals.
The huge number of sales positions can be very confusing and difficult to find the perfect one. There are also many different types, which makes it hard to know what's best for you.
In this article, we'll figure out what is an account executive in sales.
Account executives are responsible for increasing client counts, maintaining relationships with current clients and meeting customer needs.
Account executives and account managers have different responsibilities, but they perform a lot of the same tasks.

What does account executive mean? Skills needed to be a good account executive.

The average account executive salary is around $78,000.
This article discusses the qualifications and qualities of a successful account executive. It also lists some questions to ask during interviews.
---
What Does an Account Executive Do
An account executive is a sales professional who helps to maintain and grow current customers, as well as find new ones.
Account executives are good at using a wide range of channels to reach out to customers, but they also make themselves available for customer calls. This requires them to be well-organized and engaged.
Account executives are responsible for many different tasks. Sometimes they'll be in charge of customer service, other times their responsibilities might include prospecting.
Secure contract extensions
The account executive has to maintain contact with current clients, keep them satisfied and ensure they renew their contract or purchase more inventory.
How to be a great account executive?
Account Executives should keep up with the inner workings of your customer's business, and leverage that knowledge to make good recommendations. And they need to stay on top of their account.
When I first began hiring salespeople, it was common for me to constantly test pay and commission structure.
Account executives are usually in charge of keeping customers updated on the latest features and updates, so they always have a good idea about what is going on with their accounts.
They will need to nourish their product knowledge and develop close ties with the account in order for upselling to be effective.
What does an entry level account executive do? Care for existing customers.
When an account executive has a customer, they're often the first point of contact. They either handle or escalate any issues.
In order to be a good account executive, they should have all of these skills. They need to know the product well and how it works as that will help them with common issues. They have to know how to be an effective account manager.
What is an Account Executive vs Account Manager – the Difference?
There are lots of different jobs in sales, and the titles can overlap. Different companies will use a different title for an account executive depending on their culture.
It's vital that you fight against this confusion, to develop a clear idea of the roles in your team.
In some companies, the term account executive vs sales executive are used interchangeably. In other cases, a single person will fulfill both roles.
In some businesses, an account executive's role will be more of a pre-sale role. They are responsible for prospecting and closing deals.
It's no surprise there are so many misconceptions about this topic. So, what does an account executive do in sales?
The roles of an account executive and account manager are different in each business, but it's the tasks that matter. To achieve the best results internally, make sure to be as consistent as possible with expectations so your team members know what they're expected to do.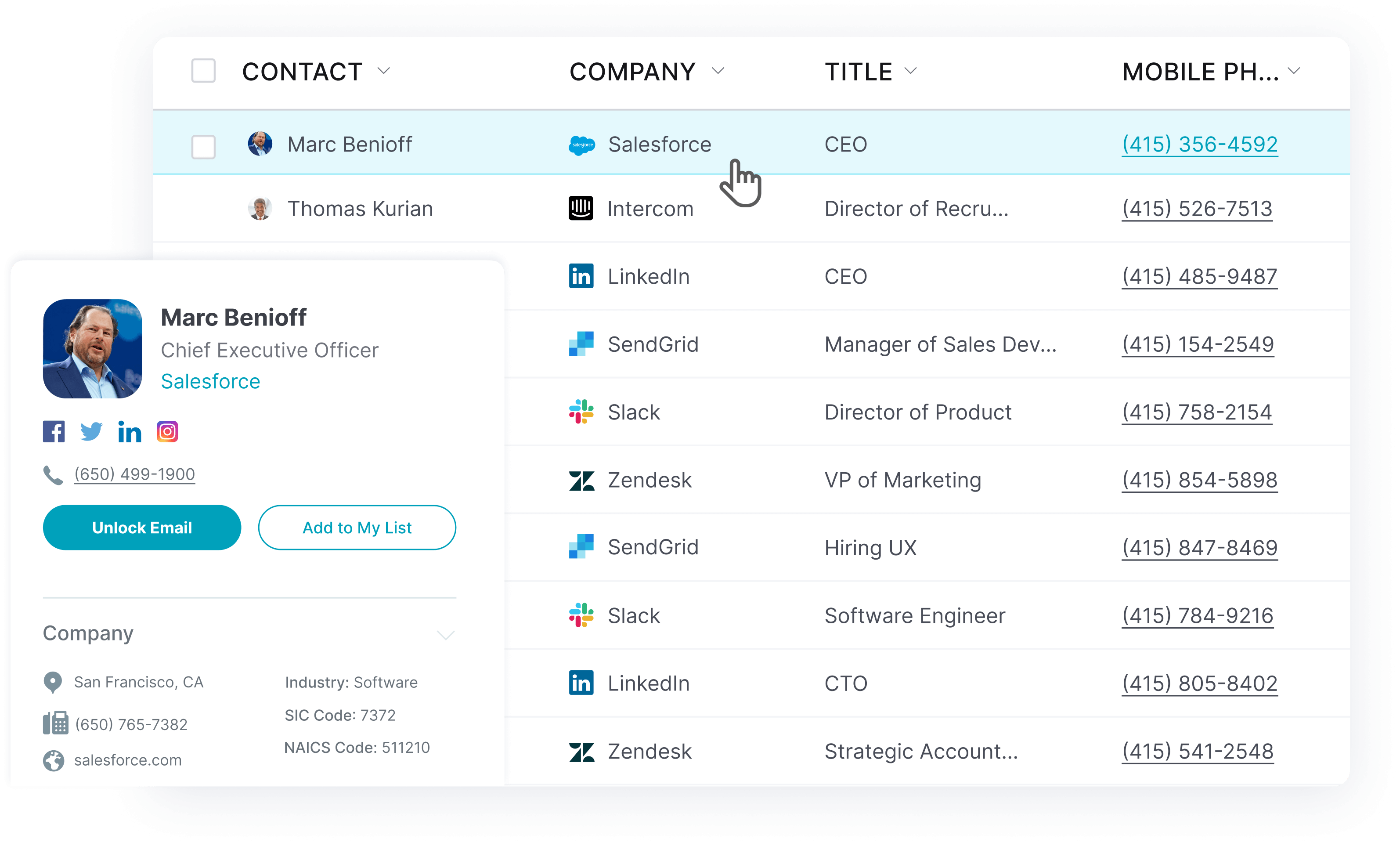 Crucial Account Executive Skills
What does account executive position mean? Well, Account executives need to be good at upselling new products and services, securing renewals, and reducing churn.
The account executive's responsibility is very diverse and complex, so they will need to have the appropriate skills. Here are some of their most critical skills according to:
Great communication Skills
The account executive will be responsible for following up with current clients to make sure that they are satisfied. That's why you have to make sure to ask great interview questions for account executive position.To be a good account executive, you need excellent written and verbal communication skills. That will help make sure the right messages are delivered at the right time, that your paper trails are thorough and clear, and customers move smoothly through your sales pipeline.
Utmost decorum
Communicating well is one thing, but it's also important for account executives to be able to read the situation and your partners' preferences. They should have a delicate touch when they communicate.
When it comes to the way your account executives represent you, this decorum will help them always be on their best behavior and achieve amazing results in whichever communication channel they use.
Proactive
The account executive will be in a position to make those relationships as productive as possible, by taking the initiative and connecting the dots.
For example, an account executive might learn that one of their existing customers is looking for a certain feature. They could then offer to sell them another product with the requested features.
Organizational abilities
An account executive's day is fast paced. They need to be able to switch between accounts quickly and stay organized.
Top-tier account executives can be nimble and quick on their feet, without any mistakes or wasted time.
Negotiation skills
The best account executives will be able to use their work relationships with customers. They'll also negotiate and bring about mutually beneficial results for both parties.
Negotiation skills are also great for negotiating with larger accounts and potential customers.
A desire to Satisfy
The best account executives are usually empathetic people who enjoy helping others succeed. This quality helps them go the extra mile for customers and will also help you build your relationship with those customers.
A mindset full of goals
Account executives are an important part of any sales team, so it's necessary that they do their job and contribute to success.
For many, their job is tougher than it looks. They may have to put in extra hours and travel often for business which can tire them out temporarily but they need the emotional fortitude to stay with it until their cutoff date.
Great account executives are ones who have social skills, but also an analytical mindset to help them reach their targets.
Account Executive Base Salary: How Much Should a Good One Cost?
It's important to negotiate realistic salaries for your employees, which will help you find the best talent while avoiding an unsustainable wage structure.
But in sales, there's a lot of difference between the capabilities at an entry-level employee and those for someone with more experience. That means that they have to be paid differently.
According to Glassdoor, the average salary for an account executive is $59,416. This can fluctuate depending on factors like location and industry.
How to Hire an Account Executive
Now that we know what the account executive role entails, let's break down and examine how to hire one.
Where to find the best account executive profiles
There are many tools and platforms that can help you find the perfect account executive. Here is a list of what they are: – LinkedIn – Job Boards (Indeed, Monster) – Career Fairs
Job boards
Your candidates will use job boards extensively, and 42.9% of them start their search there.
Make sure you upload your job advert to the most popular sites so that it's seen by as many people as possible. You should also make use of local boards.
These are the boards you should consider using for your job search.
CareerBuilder
Idealist
Glassdoor
Indeed
ZipRecruiter
LinkedIn
LinkedIn is the world's most popular professional network, and over 260 million people use it each month. That means you can be almost 100% sure that your ideal candidate will have an account on LinkedIn.
Finding a great account executive is hard, but this site makes it easy. One such feature allows you to search for high-quality candidates.
This article will help you find the best candidates on LinkedIn.
Networking
Review42 found that an estimated 46% of people got their current position through networking. This is a powerful channel to use when you want the best talent.
Here are just some of the places where you might decide to meet with candidates in person:
Industry events
Social events in your office
Meetups are one way to bring like-minded people together.
Visiting local job fairs
Referrals
Referrals are the best way to find great candidates. They're better than job boards because they can be trusted, and you'll also save time.
If you're looking for excellent account executives, be sure to reward referrals from your current employees. You might offer cash rewards or other prizes as motivation.
Account executive job responsibilities full set: What does account executive do?
With the current skill shortage, it's tougher than ever to find qualified candidates for your open positions. To get noticed by top talent, you need an excellent job description and you must actually know what makes a good account manager.
I've noticed a trend of job descriptions including more information about the company itself, which is very useful for account executives who are looking to find jobs.
Account Executive – Talkdesk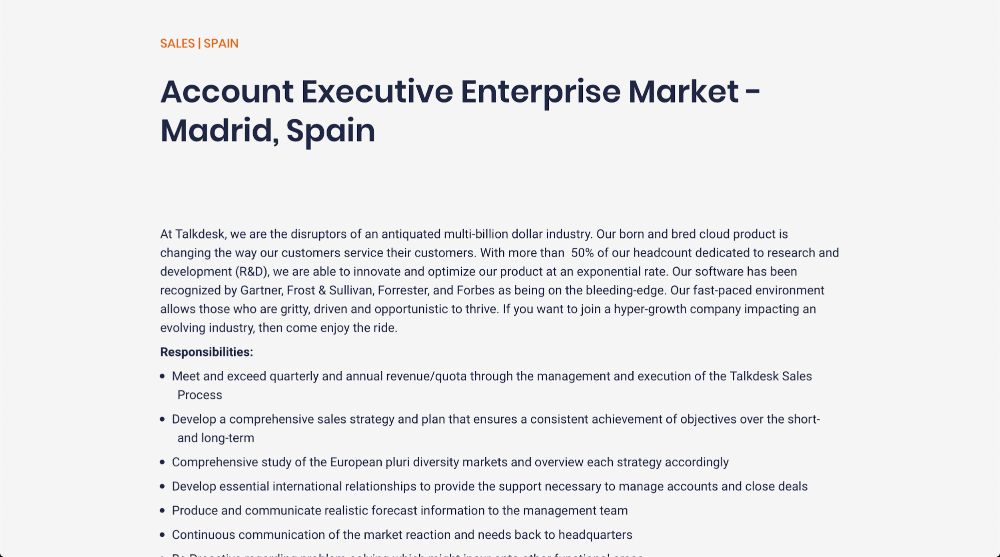 This is a great account executive job description from Talkdesk. Here are the key points that it does well:
The job description is written in a consistent tone.
The account executive is responsible for many high-level tasks, like making sure the company has a good reputation.
The job requirements are very clear and detailed.
Intralinks is currently hiring for an Account Executive position.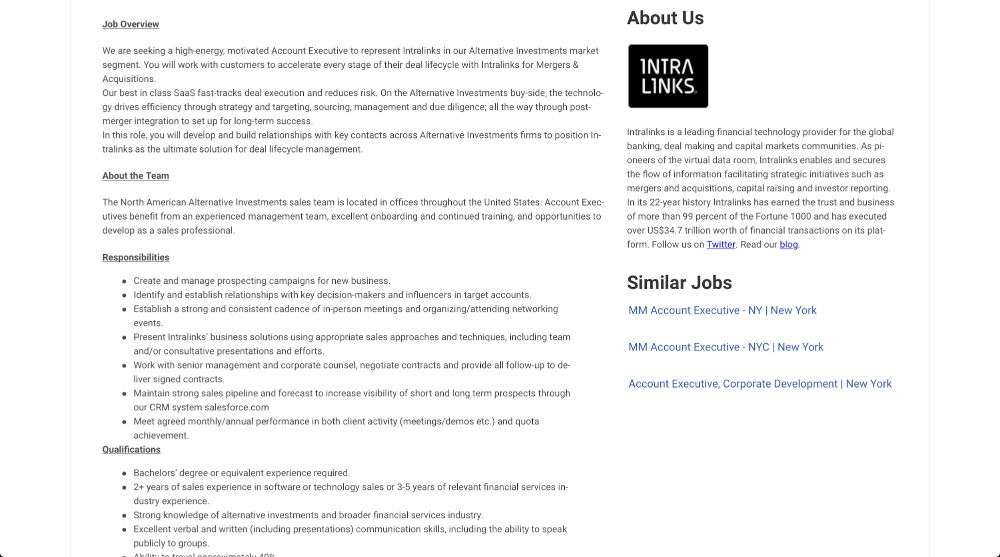 This is a job description for an account executive at Intralinks. The company wants someone who will focus on pre-sales, and this job does well in that area.
When we include desired qualifications in the job description, it helps to avoid excluding a lot of qualified candidates who don't have that exact experience.
The introduction to the sales team is a way for them to get acquainted with each other.
This job description is on point.
Student Beans is a company that provides coffee beans and other products to students.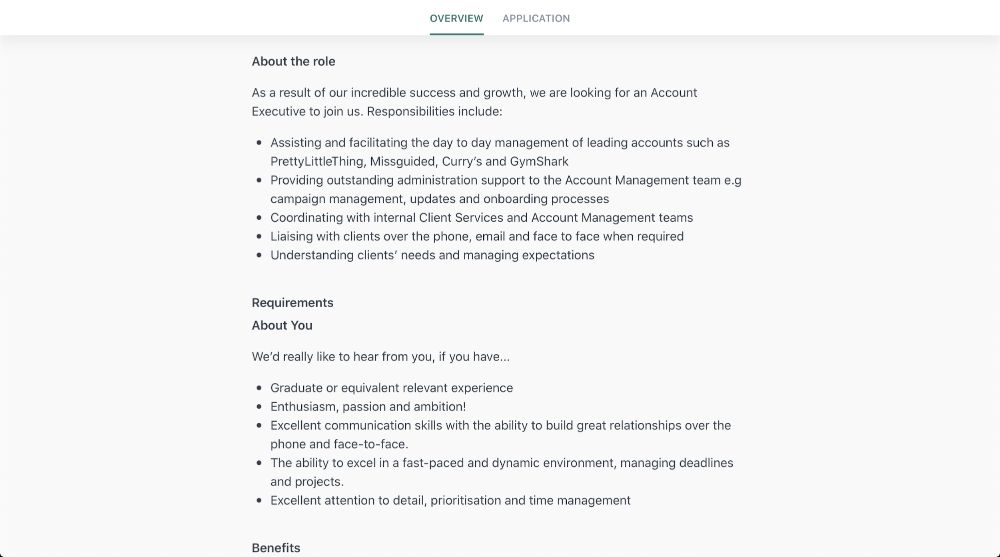 From reading this ad, it's very clear that the company feels like they're running an exciting account executive job.
We like this ad because it contains a good headline and an attention-grabbing photo.
The ad starts by providing some context to the reader.
This article implies that you can teach character, but not qualifications.
The ad includes a lot of information about what employees are offered.
Now that we've seen some great examples of best practices, let's put them into action! Here is a template you can use to start right away:
[Name of company] is looking for an account executive to help them with customer service and results-driven tasks.
The successful candidate will join our sales department and be responsible for customer service, product updates, answering common questions from clients.
Responsibilities
Find good rapport with a lot of customers.
I had to learn a lot about the industry and product in order for me to be able to generate new clients.
Use the experience you have in sales to upsell novel products and services.
Answer phone calls and emails from our customers.
We always try to show our customers that we care.
Requirements
A four-year degree or two years of experience.
2+ years of sales experience
I need someone who is articulate and can communicate well both verbally and in writing.
A strong business acumen
The best account managers are empathetic.
As a business owner, I want to provide the best customer service possible.
How to verify an Account Executive's resume
These days, resumes come in all shapes and sizes. This means that you need to spend a lot of time assessing each one.
Here are a few of the things you want to look for when assessing an account executive's CV:
It's important to have perfect spelling and grammar.
Your account executives should have great written communication skills. You should check their CV for any errors, because this will give you an idea of how focused they are on detail.
Employers are more interested in a candidate's skills and abilities than their qualifications.
There's no one-size fits all path to becoming an account executive. There are many different ways people can go about it. Some will study humanities subjects, for instance, while others might study marketing or business.
If you're looking to hire someone, instead of assessing their diversity, assess what they can bring with them. Look at the skills and abilities that make up for any lack in diversification.
Relevant experience
You should find someone who has experience in the field if possible, but you shouldn't just take anyone. They need to be able to show how their previous work relates to your company's needs.
Proven soft skills
Account executives need to have both hard and soft skills. They should be able to speak in front of a crowd or receive awards for their achievements.
10 interview questions for account executive position
Once you've found a candidate, the next step is to invite them in for an interview. This gives you the chance to get more information about your potential employee and their personality.
Here are some of the best questions you'll want to ask account executives during interviews:
What is your management style? What's one example of a time when you were able to work with someone who had different views than yours. What was that like and how did it go for both parties? Describe what makes an ideal candidate in this position. How would they be successful at their job here, based on your experience as people manager over the past few years.
What's your favorite part of the account executive job?
A successful account executive needs to be able to connect with people and make them feel comfortable.
Why are you interested in this job?
Which management style do you find the most effective?
What would your previous manager say about how you did in the role of account executive?
What do you think our customers' opinions are of account executives?
Can you tell me about a time when something went wrong, and how did you handle it?
What are the expectations of account executives?
Are you always looking for concrete targets and specific numbers?
How do you think account managers will change in the future?
Conclusion
We hope that reading this article has helped you prepare to go out and find the perfect account executive for your business! Always remember, it's worth investing the appropriate time and effort into finding a candidate who will be able to make an impact on your company.
A company needs a healthy sales pipeline and great customers before they can hire an account executive.
---
Need Help Automating Your Sales Prospecting Process?
LeadFuze gives you all the data you need to find ideal leads, including full contact information.
Go through a variety of filters to zero in on the leads you want to reach. This is crazy specific, but you could find all the people that match the following: 
A company in the Financial Services or Banking industry
Who have more than 10 employees
That spend money on Adwords
Who use Hubspot
Who currently have job openings for marketing help
With the role of HR Manager
That has only been in this role for less than 1 year
Just to give you an idea. 😀
Editors Note:
Want to help contribute to future articles? Have data-backed and tactical advice to share? I'd love to hear from you!
We have over 60,000 monthly readers that would love to see it! Contact us and let's discuss your ideas!