First of all, you may have been asking, "What is an account executive?"
The Account Executive is a salesperson who typically has a revenue target. They are paid commissions when they sell their company's products and services.
A Sales Development Representative (SDR) usually sets up the first meeting with a prospect, and then an Account Executive (AE) has to follow up for the product demo. If all goes well, they can close on that deal.
What is An Advertising Account Executive?
Other industries have a position similar to the Account Executive in sales. This role typically includes bringing on new clients and servicing existing ones, which is why it's sometimes called Full-Cycle Sales Rep. They, basically, do the job of an SDR, AE, and customer service team, all at once.
What's the difference between an Account Executive and an Account Manager?
Every company has different definitions of each role. For example, an Account Manager is usually only responsible for growing and maintaining existing relationships with customers while the higher-level position of account executive will cover her role and also be in charge of finding new clients as well.
How Much Does an Account Executive Make?
The average account executive salary is $63,000 per year with the potential to earn over 100k in bonuses.
In Boston, an Account Executive for a large Software company may make $350,000 per year or more. In North Carolina, however, working at a smaller manufacturing firm, the same AE would likely earn about $80,000, annually.
What Skills Does an Account Executive Role Need?
Sales professionals are in a more competitive market than ever before. New tools and changes to the buyer have made it harder for them to succeed with just high base pay or commission structures.
This is where a good salesperson's skills get in.
A good salesperson is someone who has certain skills and characteristics. One of the most important skills that a person needs to have in order to be successful at their job is being persistent with:
Communication Skills
High Empathy
Organization
Problem Solving
Negotiation
Determination
Goal-oriented
Presentation Skills
The account executive also needs to be a hard worker. In sales, competition is intense and it can help if you work even harder than your competitors. Also, a great salesperson must be motivated by more than just money.
What does an Account Executive Do?
Here is an example of what a typical work week for an Account Executive might look like: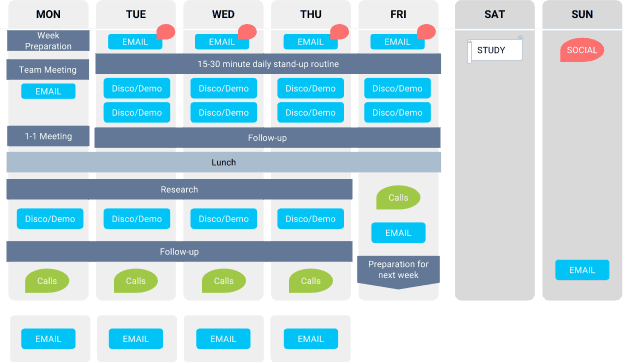 When AEs work in a rhythm, they can get more done. They structure their time to focus on different tasks at various times of the day or week depending on what is most efficient for them.
When the AE only sends out emails in their free time, their work hours can be spent on sales meetings and other tasks.
A Day in the Life of A Sales Account Executive
Account Executives are often the first line of contact for potential clients, so they must maintain a level of professionalism that is acceptable to all parties. These people work with other employees as well as customers and prospective buyers.
As an Account Executive, no day is the same. A typical workday might look like this:
Every morning, I drink my coffee while responding to emails and this is an important way of keeping in touch with customers and potential clients.
A daily meeting with the team is scheduled for 8:00 am. This helps to identify and resolve any issues that arise during the day.
I always start my day with social media. I check out who commented on my posts, look at how many views and followers I have, research potential clients to reach out to for business development purposes or as a lead generation tool.
I've found that social selling is an effective way to reach potential customers. It has helped me grow my business by expanding the market I was targeting.
If you're a sales rep, make sure to do your research on people that are about to call. Ask yourself the possible questions they may have and come up with answers for them before dialing.
9:30 am: Take a break! Find someone to chat with for at least 15 minutes. You've got an important day ahead, so take care of yourself first.
9:45 am: Get ready to start your day. From now on, you'll be working hard for the next few hours on discovery calls or product demonstrations.
11:30 am: Follow-up. You take 30 minutes to check in with your prospects and clients, emailing them back when they reach out to you about the deal you are working on together.
Take a break and refuel.
In the morning, it is a good idea to stop by your manager and make sure that there are no pressing issues. In an ideal setup, this should be done every day but can also happen randomly once in a while.
1:15 pm: Checked in with the team to see if they need anything, then checked LinkedIn and email for any messages.
2:00 pm: It's time for another batch of discovery and demo calls. You're energized, you've got your materials ready to go, and the excitement is building.
When you are interviewing candidates, it's not uncommon to have 4-5 interviews a day. So make sure that your proposal is customized and follow up with them after the interview.
I start my day at 4:00 pm by calling past customers, prospects, and partners. I ask them if they are happy with the service and when it is positive feedback, I will follow up to see who else might need our product or service.
4:30 pm: Text your partner or loved one and let them know you are on the way home.
But your day is not over yet. You still have one more opportunity to make a sale.
There is a time of day that I have found to be the best for getting responses from decision-makers. It's 8:00 pm on weekday evenings when people are catching up with their favorite TV shows and responding to emails.
We have to take this opportunity now and talk with these busy people. They are not going to wait for us.
Days That Need Special Consideration:
Monday is not a time for social activities. There are no meetings on Monday afternoon, so you can book your own internal meeting instead of doing check-in calls with employees. If it's not urgent, you might as well wait until Sunday night to respond because there won't be any work done over the weekend. Sunday evening is a great time to send emails, especially for executives and decision-makers. One hour should be enough prep work before sending out an email.
How to Get a Job as An Account Executive
When applying for an AE Role, there are some things to keep in mind. First off, excellent communication and organizational skills are required so the job is not too difficult.
Do:
It is important to be prepared for the interview, so do your research and practice answering common questions.
Be professional when you are in the office.
Show confidence and communicate with clarity.
After you've interviewed with a company, follow up quickly and thank them for their time.
Once the applicant has submitted an application, you should make sure to give them a call or email thanking them for their interest and setting up the next steps.
I've been successful in the past with this and that.
The interview is a two-way street. It's not just about finding out if the candidate will be able to do the job but also making sure that you're going to enjoy working with them.
Be persistent, but polite
Don't:
Wing it in the interview
When interviewing, never be late. Always show up 10 minutes early and give yourself enough time to find parking or get lost in the building.
The interviewer will most likely follow up with you, so it is important to be on the lookout for emails and calls.
It is important to be open and honest during the interview process, but it's also vital that you ask questions about what your role would entail. It can seem like a bit of an awkward question at first, but if you're not sure how much detail the interviewer wants or needs then just use this opportunity as well.
---
Need Help Automating Your Sales Prospecting Process?
LeadFuze gives you all the data you need to find ideal leads, including full contact information.
Go through a variety of filters to zero in on the leads you want to reach. This is crazy specific, but you could find all the people that match the following: 
A company in the Financial Services or Banking industry
Who have more than 10 employees
That spend money on Adwords
Who use Hubspot
Who currently have job openings for marketing help
With the role of HR Manager
That has only been in this role for less than 1 year
Just to give you an idea. 😀
Editors Note:
Want to help contribute to future articles? Have data-backed and tactical advice to share? I'd love to hear from you!
We have over 60,000 monthly readers that would love to see it! Contact us and let's discuss your ideas!