A year end discount is a sales promotion that is offered at the end of the year. This discount is typically a reward for customers who have been loyal to the company or to those who have made a large purchase during the fiscal year.
The year end discount is a way for the company to thank its customers for their business and to encourage them to continue to do business with the company in the future.
10 Year End Discount
Ideas For Small Businesses
After a rough pandemic year, the holiday season means a lot more to a lot of people.
People are looking for reasons to be happy and excited.
It's time to crank up those sales one last time before the year is over!
Here are 10 creative ideas to end the year on a high note.
1. Creative Seasonal Promotions
Run a contest for the best holiday meme.
Offer a discount on each of the 12 days of Christmas.
Create a virtual advent calendar.
Countdown to a sneak peek of next year's offerings.
2. Offer Promotion Bundles
A great way to increase sales is to offer package deals! Combine several products and sell them at a discounted price.
The goal is to entice customers to buy an entire bundle instead of a single product. For example, a beauty product package might include eyeliner, mascara, foundation, and lipstick.
Try bundling holiday items together and increase the number of impulsive purchases!
3. Customer Appreciation Day
The holidays are all about showing your appreciation for those around you.
As a business, this also includes your fans and customers. One way to do this is to run a customer appreciation campaign.
There are many ways you can show your appreciation for your fans. You can share their photos, videos, and stories. You can give them a virtual shout-out. You can offer a special discount code just for them. Or you can dedicate a thank you post on your social media.
This marketing strategy is cheap as it doesn't cost much.
4. Flash Sale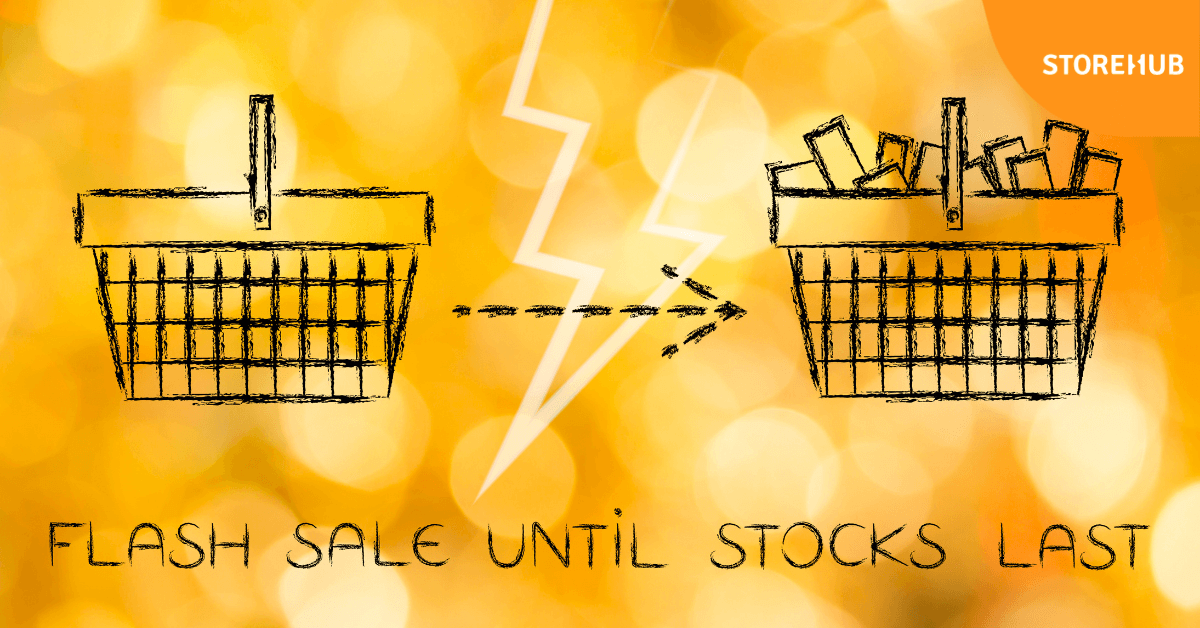 (Source)
Flash sales appeal to that fear of missing out (FOMO).
Have a limited-time offer and incorporate words into your promotions that convey urgency.
Here are a few examples:
"It's now or never!"
"Time is running out!"
"Buy while you still can"
"Sale ends tomorrow!"
"Limited stocks only!"
5. Buy One, Get One Free
BOGO promotions are a win-win for both parties. The customer gets two for the price of one, and the company sells more products or clear inventory.
Everyone loves a good deal, and this is one of the best ways to get people to purchase your products.
During the biggest shopping day of the year, customers will be on the hunt for the best deals.
Having a good inventory management system in place is crucial to managing your business.
6. Games and Contests
Everyone loves to win!
Gamification is used to make sales more fun and engaging.
It's a fantastic way to boost engagement and get customers to take action.
Offer rewards such as bonus points for spending a certain amount.
This subtle trick will get customers to buy more!
7. Free Samples
Free gift is one of the most effective sales tactics.
Why?
Everyone loves free stuff!
End the year on a high note by rewarding your loyal customers with a gift.
Offer customers a freebie when they spend a certain amount of money at your business.
Find the perfect balance between something that's both inexpensive for you to create, and worthwhile for your customers to spend their hard-earned money on.
If you're a clothing company, why not give away a fashionable accessory with every purchase? It's a win-win situation for both parties, and customers will surely appreciate the kind act!
Buying freebies wholesale from sites like Alibaba is a great way to save money on your giveaways.
And the best thing about this is that it'll make customers happy, and they'll be more likely to come back to your shop!
8.

Buy 1, Get 2nd Item

for Half The Price
This is an amazing offer that customers definitely wouldn't want to miss!
It's best used alongside other promotions where a small percentage off is offered. For example, a section where items are 10% off.
Which of the two promos would be more popular among your customers?
That's right, the second promo!
When given a choice between two offers, people usually go for the one that offers them 50% off although they may end up paying more.
9. Cashback Loyalty Program
Holiday promotions may be great but what can you do to increase sales in the long run?
The solution: run a customer loyalty program.
A loyalty program is one of the best ways to keep current customers and encourage them to spend more.
Running a customer loyalty program also allows you to collect data on your customers.
Knowing who your buyers are can help you target them better so you can sell more effectively.
10. Clearance Sale
After-Christmas sales are a great way to sell off any leftover stock.
People receive a lot of gifts during Christmas so they're ready to buy! This is the perfect time to run a year end discount promo.
What is a Year-End Sale?
A year-end sale is a type of sale that is typically held in late December to clear out inventory and make room for new products. During year-end sales, businesses offer deep discounts on their products to encourage customers to purchase.
Does Amazon Have a Year-End Sale?
Amazon does not have a year-end sale. However, they do have seasonal sales throughout the year like the Black Friday sale.
Conclusion
If you're looking to increase sales while clearing old inventory, offering a year-end discount is a great way to do it. Year-end promos are also a means of showing appreciation to your loyal customers. Start planning your after-Christmas sales promotions by going through this list of 10 discount ideas for small businesses.
---
Need Help Automating Your Sales Prospecting Process?
LeadFuze gives you all the data you need to find ideal leads, including full contact information.
Go through a variety of filters to zero in on the leads you want to reach. This is crazy specific, but you could find all the people that match the following: 
A company in the Financial Services or Banking industry
Who have more than 10 employees
That spend money on Adwords
Who use Hubspot
Who currently have job openings for marketing help
With the role of HR Manager
That has only been in this role for less than 1 year
Just to give you an idea. 😀
Editors Note:
Want to help contribute to future articles? Have data-backed and tactical advice to share? I'd love to hear from you!
We have over 60,000 monthly readers that would love to see it! Contact us and let's discuss your ideas!