Focusing your time and attention on high value prospects earlier in the sales process affords you the opportunity to create a more tailored and individualized communications plan.
This personalized approach means that campaign content is more relevant to the target account, helping to generate engagement which provides the supplier with increased insight into the business' challenges, and a greater understanding of the clients' needs.
The key benefits to adopting an account based marketing strategy are:
It keeps your sales and marketing teams aligned
ABM helps you to streamline your organizations' sales cycle
It provides your clients with a consistent customer experience
It leads to increased business through improved account relationships
ABM generates an improved ROI
In this blog we take a look at how to get ahead with account-based marketing.
7 steps to ABM success 

Step 1 – Identify target profile
The first step is to identify any high value accounts within the existing client base. Use these as a guide to generate a target profile, for the business to use. Aspects to consider for profiling include company values and purchase decision patterns, technologies and additional resources used by the organization. Demographics to consider are:
Industry sector
Business size
Business HQ location
Products and/or services offered
To help identify the high-value accounts to target, consider the amount of revenue that could potentially be generated from that account. Consider whether there is the potential to grow the account, based on the company information that is available. Consider who is buying from the competition and evaluate the marketing and sales strategy in line with potential opportunities to work with those businesses in the future.  
All of this activity helps to generate a target list of clients for the sales and marketing teams to manage. Some of these businesses will be existing clients, others will have been identified as future prospects.
Step 2 – Find accounts
The next step is to identify the right accounts to prospect to and there are several ways to do this:
Existing CRM – Every business has a list of their existing clients, or prospects they intend to target, whether this be a simple spreadsheet, or a complex CRM platform. Use this in conjunction with the target profiling, as a basis to start identifying the high-value accounts which should become a priority.
A prospecting tool – Lead generation software, such as Leadfuze, provides the perfect prospecting tool. With the ability to scan through 500+ million prospects and identify those who meet the profiling data requested, this automated process can save time and money.
LinkedIn – With 57 million companies, and 830 million individuals having a LinkedIn account, there's a ready-made list of hundreds if not thousands of potential prospects to match a target profile. To get the best out of the information available within LinkedIn, we recommend Sales Navigator due to its improved filtering capability, allowing you to home in on the 'perfect' accounts. Using Sales Navigator in conjunction with a LinkedIn automation tool like Dux-Soup can triple conversion rates whilst remaining within the existing LinkedIn limitations of 100 connections per week. This makes it not only a time-saving tool, but also a very safe way of starting your automation journey.
Step 3 – Define introductions that engage
During the early stages of outreach, campaigns will seek to build connections, generate relationships and drive the growth of your network. LinkedIn is a great place for this. It's important at this stage to ensure that messaging is focused on this objective alone.
With a limit of 300 characters, in order to drive success from your outreach, suggested content includes experience of working with the company you are prospecting to, a common contact, a common interest or common group. It's also beneficial to add an element of personalization, so it's obvious that messaging is directed specifically to the recipient and seeks to add value to their role, and the business they work in, and is not simply a blanket message, sent 'en masse' to an entire list of prospects.
Including a brief introduction about why you'd like to connect, and the value this may have to the target account, will also generate a higher rate of success.
Try not to give too much away at this stage, so the prospect is keen to continue to engage with you. Here are some more tips on writing good LinkedIn connection messages.
Step 4 – Send connection requests using LinkedIn
Once your connection message content has been defined, it needs to be sent. With a LinkedIn connection limit of 100 prospects a week, this can be a time-consuming process. The simplest way to manage this, is to automate your connection requests.
Automating timely, manual tasks such as sending connections invitations saves a business multiple hours per day, so efforts can be focused on more value-add and rewarding activities, such as speaking with target accounts to maintain and build those important client/supplier relationships.
LinkedIn automation tools often provide integrations with other sales and marketing tools. These clever integrations, mean that prospects can be sent LinkedIn connection invitations directly from Leadfuze for example, or via CRMs including Hubspot, Pipedrive, SharpSpring and SalesForce among others.
Step 5 – Follow-up
Once an invitation has been accepted, it is important to follow-up promptly, while you are still front of mind. Being proactively engaged at this stage, will result in much better response rates, particularly if communication is fast and remains relevant and personalized for the recipient.
Ensure objectives are clear for each campaign, so that follow-up messaging is suitably targeted and measurable. Run each new campaign to a small subset of accounts initially, to allow you time to assess the success of the campaign content before using it at scale. Ensure that your content is aligned, and it is clear to your target account, how and why your solution is the answer to their challenge.
Examples of successful engagement strategies for account based marketing include sharing statistics to showcase what has been achieved in other departments of the business, or for competitors. This could be shared through case studies, or by inviting prospects to a meeting to discuss the approach and benefits in more detail. Events providing potential clients with the opportunity to engage with and hear first-hand testimonials and success stories from existing clients, can also lead to increased engagement.
By managing this activity through an automation tool, you are able to create campaigns that automate the follow-up process, again vastly reducing the time and effort required to respond and engage manually. Once your campaign focus turns away from purely increasing the size of your network, you're ready to ramp up and run multiple concurrent campaigns targeting different industries, different solutions and all with different content.
In addition to the ability to automate the lead generation process, the ease at which prospects can be enrolled into campaigns, directly via Leadfuze, LinkedIn or your CRM helps to accelerate the engagement process and increase conversion rates, generating improved ROI.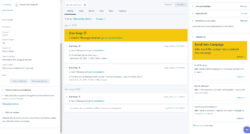 Step 6 – Measure success
The next step in the process is to measure the success of your campaigns. Each campaign will have a different goal and be working to achieve different outcomes and objectives for the business.
For each campaign, assess whether the outcome is achieving the objective. Whether the purpose of the communication is to book a meeting, close a sale, or increase attendee numbers for an event, the content needs to be clear and make it easy for your prospect to achieve the goal that has been identified. Providing content which includes meeting links, clear calls to action, landing pages that lead the target business through the process and strong ecommerce sites are all critical to a successful conversion process.
By using a performance tacker, you can carry out regular reviews on the performance of each campaign, and evaluate whether the message content is clear enough to drive your target accounts to achieve the goal you have defined.
It also helps you to identify the campaigns, message content and sequences that are delivering optimum results for your business, providing you with the opportunity to refine and update your content and tweak your approach until you are happy that you have found the perfect formula for campaign success.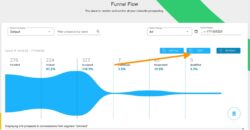 Step 7 – Scale your outreach
The final step is to scale your activity. When you are happy that you have defined your business goals, found the right target accounts and identified your winning campaign formula, then it's time to scale that winning formula across all of your target businesses, and watch as your sales pipeline starts to fill.
Next steps
Account based marketing provides a business with the ability to expand their reach within larger, high-value accounts, generating faster revenue growth and the ability to maximize ROI, through increased client retention.
The key to the success of an ABM strategy lies within the success of two distinct aspects:
The ability of the marketing and sales teams to work together. It is essential that they create an engaging and cohesive buying experience for the target accounts with a seamless transition between the activities managed by each of the teams.
Selection of the right, third party prospecting tool, to carry out automated prospecting and campaign management at scale.
To allow Leadfuze users to get their LinkedIn automation journey off to the best start, Dux-Soup offers a free 14-day trial, with access to all of the best Dux features. In just a few easy-to-follow steps, you can have your first campaign up and running. 
Now it's up to you.
Guest Blog by:

Will van der Sanden
Founder
Dux-Soup
Editors Note:
Want to help contribute to future articles? Have data-backed and tactical advice to share? I'd love to hear from you!
We have over 60,000 monthly readers that would love to see it! Contact us and let's discuss your ideas!