Before I started researching the content for this article, I thought that email was going to be a critical channel for B2B content marketing. But what I found wasn't exactly what I had anticipated.
Some of the most surprising findings came from The State of B2B Email Marketing report, released earlier this year. It found that 59 percent of B2B companies DID NOT use email marketing. That's a bit shocking…To say the least.
Credit: The State of B2B Email Marketing report.
Emails are an important communication channel as well as a lead generation channel in B2B. Even still, a lot of companies choose to avoid it to communicate. Let alone nurture, and sell to their audiences.
Ever since I've found this amazing stat, I wanted to discover the reasons preventing B2B businesses from using emails.
I'll share my findings in this article. This, along with five research-based B2B email marketing techniques to help you increase the effectiveness of digital marketing campaigns.
Why So Many Companies Fail to Capitalize on B2B Email Marketing?
Let's make one thing clear from the start: email marketing is hard because you have to follow a lot of rules and be aware of the quickly evolving best practices.
To be able to improve the performance of your marketing with emails, you have to have a documented strategy that outlines the types of emails to send out, content calendar, and many other things. The importance of having a documented strategy is hard to overstate since it provides that much-needed vision and ensures consistency.
However, when we dive into research, we discover that only 37 percent of B2B marketers have a documented content marketing strategy necessary to manage the email effort as well.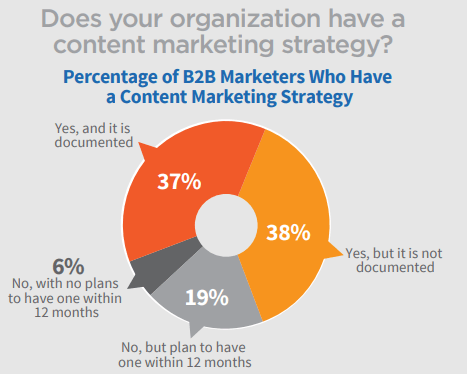 Credit: Content Marketing Institute.
The Research
Evidently, 25 percent of B2B marketers don't even have a content marketing strategy. Which means their B2B email marketing effort? Well, if they use emails, of course – is mediocre, at best.
However, many plan to develop a strategy within a year, which suggest that more B2B businesses realize the importance of emails as a marketing channel as well as being consistent and organized about it.
Another important factor that defines the effectiveness of email marketing is the frequency of the campaigns. Unfortunately, there's no universal formula on how many emails you should send within a specific time period, but some research findings can help.
For example, it's a known fact that sending too many emails is a sure-fire way to make subscribers feel overwhelmed. In fact, a study by Marketing Sherpa found that "too many emails in general" and "too many emails from a specific company" were two of the top three reasons why people unsubscribe from newsletters.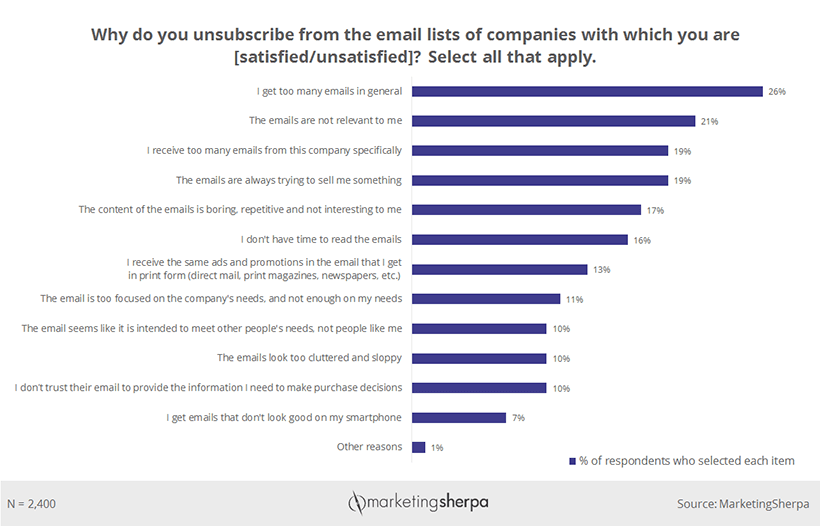 According to the abovementioned State of B2B Email Marketing, the companies sent one email campaign every 25 days. While this may work for some businesses, don't forget that the total number of business and consumer emails sent and received per day in 2018 was about 281 billion.
This means that chances are pretty high that your subscribers receive tons of emails every day, so if you choose to send one email every 25 days, they are likely to forget about your company very quickly.
So, to quickly summarize these findings, we can safely assume that many B2B businesses fail at email marketing because they lack the knowledge of the most effective practices and techniques that maximize the selling potential of the approach.
With that in mind, let's review five B2B email techniques that can increase the effectiveness of your digital marketing effort.
1

Have a Documented Strategy

As we already know, having a documented strategy is a strong precursor of success here; in fact, the above-mentioned Content Marketing Institute report discovered that 62 percent of the most successful B2B marketers have a documented content marketing strategy compared to only 16 percent of the least successful ones.

B2B Email Marketing Techniques to Avoid Poor Sales Practices Click To Tweet

Not only having a strategy contributes to being consistent here, but it also helps B2B businesses to be organized. For example, you can give a specific purpose to emails that you send out to your subscribers:
First-month emails: share knowledge of common issues faced by leads
Second-month emails: share tips on how to deal with those issues
Third-month emails: demonstrating why your company is the best to help with those specific issues with case studies etc.
Now we're talking! This simple strategy provides some organization to your email campaigns and allows to nurture leads properly.
2

Define a Frequency of Email Campaigns

We've touched on this specific topic above, and we know that many B2B businesses send out only one campaign every 25 days. This might very well be one of the main issues preventing them from increasing their sales, but I won't give you a lot of specifics here because they depend on your industry, niche, and product or service.

The best advice that I can give you here is to take a cautious approach and test your campaign and start with one email per week. We cannot risk getting your emails lost in overfilled inboxes, so try this frequency and go from there.
3

Use a Personal Name for a Sender Name

What sender name do you use in your emails? The research suggests that it's the most important factor when it comes to increasing open rates; in fact, a Super Office survey found that 64 percent of emails subscribers were likely to read an email because of who it was from.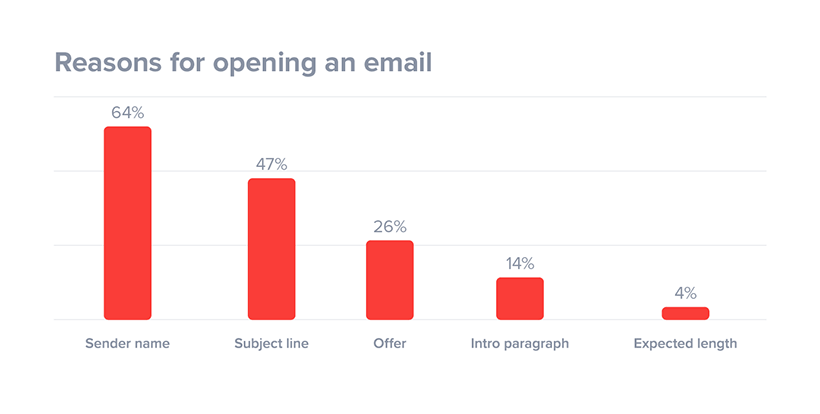 Credit: Super Office.
Since it's easier for people to connect with other people, not companies, this finding was expected.
What was unexpected, though, was that The State of B2B Email Marketing discovered that 89 percent of B2B companies send their emails from a company's name!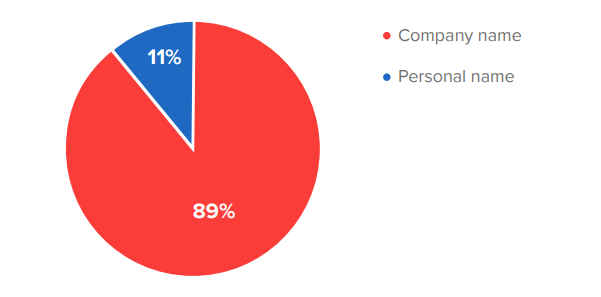 Credit: The State of B2B Email Marketing report.
Clearly, they are not doing a great job at encouraging their subscribers to open emails because people respond better to people, not things like companies and departments. The best way here is to use a technique like this.
The below email comes from Business Insider Intelligence, a premium subscription service created for business executives and leaders. As you can see, the name of the sender is included in the sender name field as well as in the body of the message (along with an image of the person).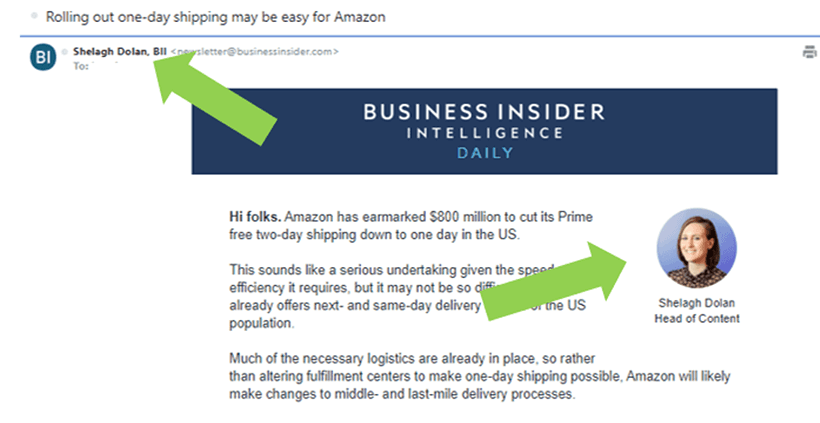 This is way better than receiving an email from a company name, agree? In many cases, it would be a better decision because it makes the email look more trustful, so be sure to test how emails send from your brand name and from a personal name perform.
4

Write Compelling Subject Lines

One of the most important things to get right withe B2B email marketing? The subject line. The reason is pretty simple: your subscribers receive a lot of emails and often, a subject line is the only thing they read, so making it as enticing as possible is a must.

Standing out from the rest of the message in an overfilled inbox is tricky. Some brands even go for capitalizing subject lines to get noticed, but this is a bad idea since using all caps is like screaming at the receivers.

There are a number of good techniques here. So let's review some of them and give you some examples.

The first technique is to describe the benefits to the receiver. For example, here are a couple of messages from well-known B2B companies that follow this approach.

As you can see, they let the receiver know about the content inside the messages by describing the benefits it provides them (also take note that both of them use personal names as senders).
Another technique is to write a subject line that catches a reader's attention with something they don't expect to read. For example, the following line is a good example of that.

A lot of people would like to know this, right? So, such a curiosity-based subject line would be a great way to encourage your recipients to open the message and learn more about what you have to offer.
5

Audience Segmentation

This is quickly becoming one of the most important techniques in both B2B and B2C email marketing because it increases the relevance of email content to receivers, which is something they appreciate (irrelevant emails go to the spam folder or simply get ignored, obviously).

If you segment your subscribers, for example, by interest, you can create emails that they will be more willing to open and read. For example, many B2B businesses make a big mistake by sending their sales-related content to the entire lead base, which means that all of them get the same offers.

Instead of sending sales-related content to the entire lead base, try sending this content only to those who are interested in it. Click To Tweet

That's not a good idea, obviously, since every business has unique needs and goals. So, instead of doing that, try sending sales-related content to those who are interested in it. To identify these individuals, you can segment your subscribers based on the following:
Industry. This one is obvious: you won't get a lot of business by sending offers that are irrelevant in terms of industry.
Website behavior. Take a look at what pages a subscriber visited (product pages, landing pages, etc.)
Position in a company. It may not be the best idea to send an offer with an IT infrastructure security solution to a head of HR, agree?
By doing so, you'll increase the relevancy of your emails to subscribers, which will dramatically increase the chance of selling something to them.
Conclusion
B2B email marketing is hard. You have to follow so many rules. And pay attention to so many things. Which may be one of the reasons why a lot of B2B businesses don't even use this approach. However, avoiding a marketing technique with the highest ROI of $43 per $1? Simply not a good way to develop a business in 2019.
Hopefully, these techniques will help you to rethink your approach to email marketing or enhance your existing techniques to improve sales.
Editors Note:
Want to help contribute to future articles? Have data-backed and tactical advice to share? I'd love to hear from you!
We have over 60,000 monthly readers that would love to see it! Contact us and let's discuss your ideas!