What is an Email Signature
An email signature is a block of text or graphic content that is added to the end of every email sent from a particular email account.
This signature helps identify who the sender is, what they do and how people can get in touch with them.
There are two types of signatures: The traditional one which includes contact information such as phone number, address, etc., and the modern one which is just a marketing tool.
The email signature helps you stay connected with your contacts and provides them with information about how to get in touch if they need further assistance.
It typically includes contact information, such as name, title or job description, company name, address, and phone number. It might also include a company logo or slogan.
It's the perfect way to establish your professional brand and to connect with your contacts on a personal level.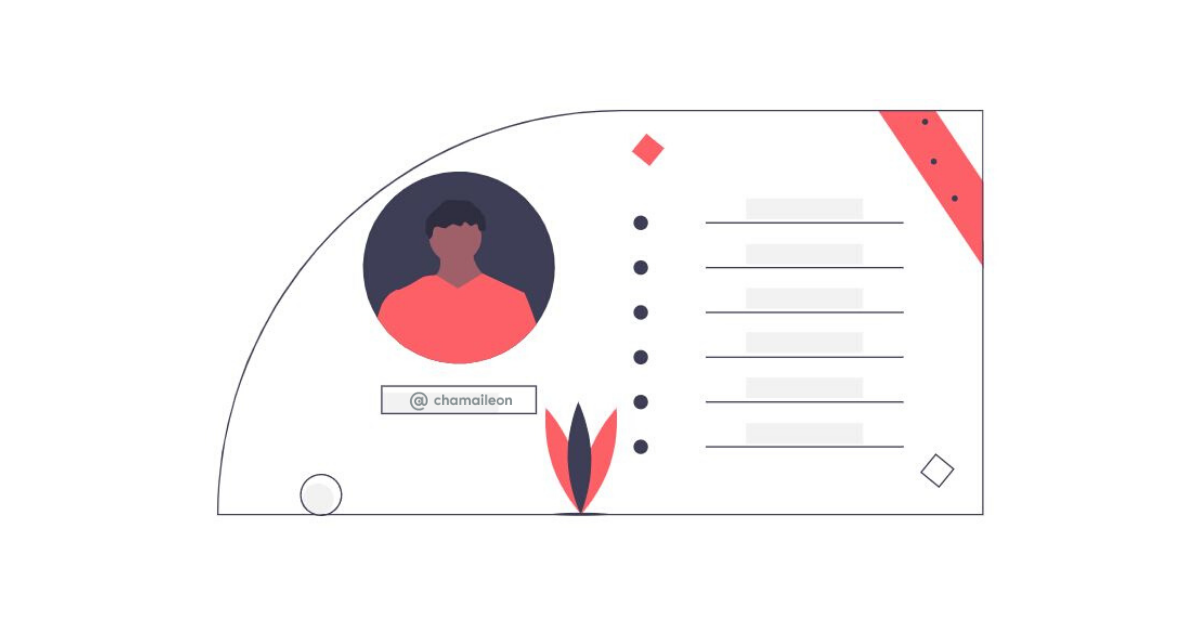 (Image Source: Chamaileon)
How to Create an Email Signature
Creating an email signature is easy and quick.
It can be created in Microsoft Word, with an email client like Outlook or Gmail, or on the web using Google Docs.
First, you will need to open up your email account of choice and find any emails sent from that address as well as replies to those messages. If there are no past emails available for the account, create an email and then save it as a draft.
Once you have found one or more emails to use for the signature, open them up in Microsoft Word (or your chosen editing software). The first line of this email should be the person's name. Then add their professional title below that followed by contact details such as phone number, email address, and website.
The next section of the email should introduce any relevant social media accounts that they are on such as LinkedIn or Twitter. This is followed by a brief bio about themselves before ending it with their signature.
But if you want to make email signature creation easier and more convenient, you can use LeadFuze's free email signature generator. It can help you make your emails more professional.
This tool lets you create beautiful, personalized signatures for all of your business and personal emails. You can use its simple editor to add images, links, and text in seconds. It's easy!
LeadFuze knows how important it is to have a professional image when sending out emails. That's why it created this tool, so anyone can easily create an elegant signature without any design skills or expensive software. All you need is an internet connection!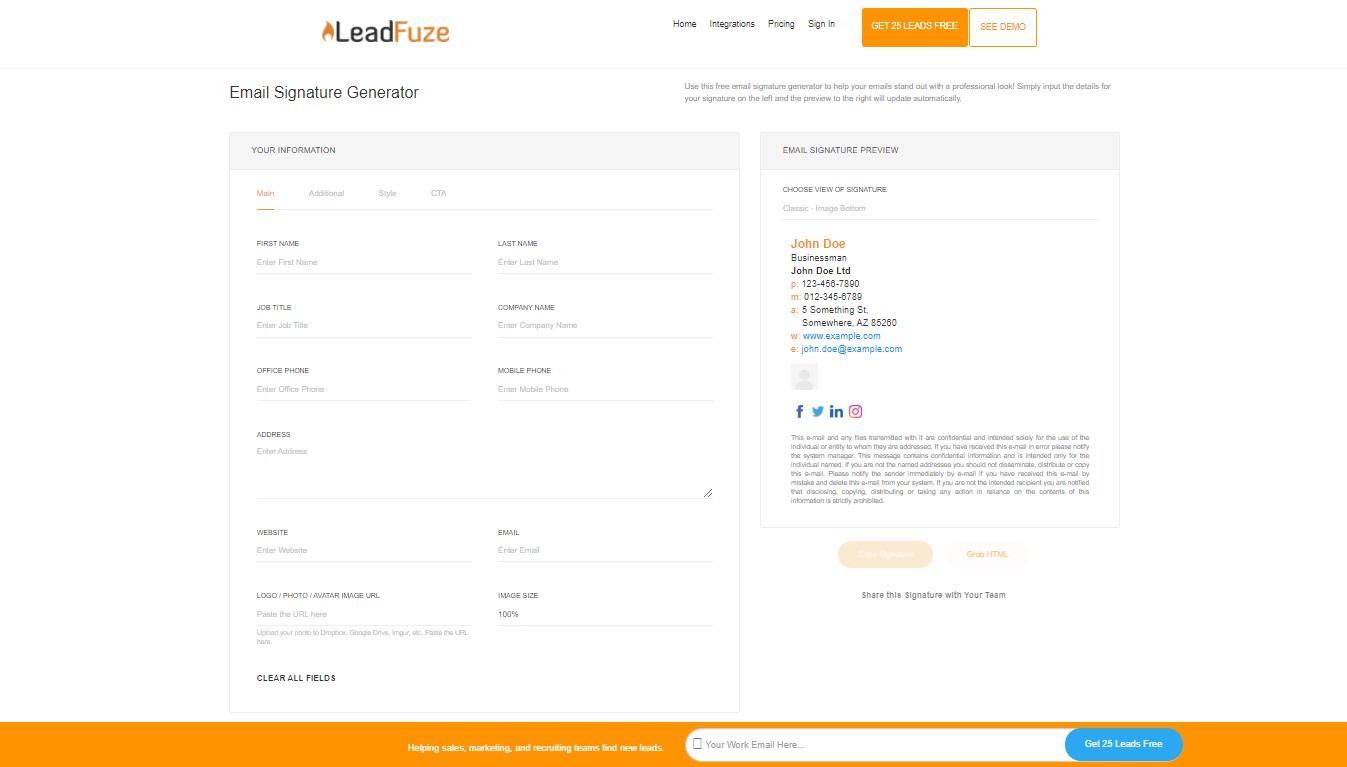 What to Include in Your Professional Email Signature – 7 Elements
There are different details you should include in your professional email signature and I will list them down below.
However, take note that it's not required to include everything from the list as it'll only make your email signature crowded. You should carefully select certain elements to include to ensure they match your goals and branding.
So use this list only as a guide to help figure out which ones are best for your email signature.
Here are the things you can include:
1. Your name
Including your name is necessary for your email signature, and it should usually be the first thing you include. You can type your name in a few different ways, for example, John Smith or JSmith.
What I suggest though is to choose one way of spelling out your full name and use that consistently throughout all correspondence so people know how to pronounce it correctly.
2. Your position
Your position is also an important thing to include in your email signature. This can be either just the words "Name Position" or if you want, you could add keywords such as manager or director after it.
3. Your phone number
Include your phone number in your email signature so that people can easily contact you. Many companies require this as a means of being reachable by employees and clients, and it also helps establish a personal connection with those who are just starting to work for the company or have not yet met you face-to-face.
4. Your website address
Include your website address in the email signature so that people can visit it and find out more information about you.
5. Your social media profiles
If you have a Twitter or Instagram account, include them on your email signature to connect with others who are interested in what you do as well as show off some great work you're proud of.
This can be tricky to do if you don't want your email signature to look cluttered, but there are plenty of templates that make it possible.
6. Your calendar link
Put your calendar link in the email signature so that people can view when you're available to meet or what events are coming up.
By doing it, you'll be more likely to get meetings scheduled and find opportunities for collaboration.
7. Your trial or resource link
If you offer a free trial or demo, include your email signature with info on how to get started.
This will give people the confidence they need to sign up for something and potentially buy from you in the future.
It could also lead them to invite their own friends who may be interested as well!
(Image Source: Newoldstamp)
4 Email Signature Tips to Consider
To make sure you create the best email signature, you can follow these tips:
1. Do More With Less
Cramming everything about yourself into an email signature is one trap too many people fall into.
Don't overload your standard email signature template with too many contact details. Your name, job title, company name, address, and phone number are the basic things that you should include.
If you're sending out emails from a no-reply email address, you should include your email address, but that's usually not necessary if you're sending from an email people can reply to.
Try not to use custom fonts in your signature because your recipient's devices may not have those fonts installed, so a poor default font can be displayed instead. Do your best to keep it basic in this department.
Also, use colors that blend with your top content for the large banner (should you choose to have one) and allow the recipient to unsubscribe in your disclaimer text, this is in line with regulations like the CAN-SPAM Act and GDPR.
2. Get People To Take Action
When you send out emails for your business, you usually want people to take some form of action. This might look like checking out your new blog post, signing up for a service, or making an order.
Pitching without being pushy in the body of your email is hard. Doing it at the end of an email is even harder.
It has a separate section that accepts entries for your call to action (CTA). Certain templates allow you to add certifications to your signature.
A certification shows authority and demonstrates to the readers that you're someone they can trust while they're contemplating clicking on your CTA.
Your certification should be relevant to your offer so don't pitch design services with a content marketing certificate and try to keep those stickers to two or below.
3. Use Hierarchy To Communicate
One of the best things about standing near a skyscraper is seeing just how tall it is compared to you and everything else around it.
But the first thing you do is look up to measure how tall it is compared to you and your environment.
Banner ads on roads are placed on high platforms because the eye will naturally scan from top to bottom in much the same fashion.
Emails can be read the same way. If someone rushes to the bottom of your email, is your signature able to communicate important information immediately?
If your answer is no, using hierarchy can help with that.
You can apply hierarchy in your signature by modifying the font type, size, and even text background color.
There are several rules you should follow when applying visual hierarchy. Firstly, make sure not to highlight every entry.
Decide what parts of your signature you want to put at the forefront and highlight those.
Two very popular scanning patterns are the "F" and "Z" shaped patterns.
F-pattern scanners read horizontally and then vertically while checking lower entries to the first while Z scanners read horizontally, diagonally, and horizontally again.
These patterns prove that most scanners will at least look at your signature email header so use that space wisely.
4. When In Doubt, Use White Space
Your email signature affords you a little space to leave a lasting impression, so it could be tempting to try fitting everything in, giving it a clumsy appearance as a result.
While you're trying to get your signature fit for those scanning email readers, some people are going to read through the email in its entirety and white space in your email content and signature encourages them to take it in bit by bit.
You can use a vertical bar to separate the author's name and position and dividers to keep things from being too close together if you're using more entries.

(Image Source: Interaction Design Foundation)
15 Best Email Signature Templates to Copy
I know it can be confusing to create your first email signature. Fortunately, there are many email signature examples you can copy or get some inspiration from.
1. Minimalist and clean design
A minimalist and clean email signature design can be quite nice. It is a combination of a white background with black text and alignment to keep it easy on the eyes.
The design for this email signature template creates an emphasis that the person's name is at the top and their job title underneath. And below are other details like phone number, website, and social media link.
It is a proper email signature that is clean, easy to read, and offers all the basic details people might want.
(Image Source: Wordstream)
2. HTML signatures
HTML email signature templates are quite popular. To use this type of professional email signature template, you will need to have a basic knowledge of HTML and how it works to create your own personalized email design.
This is a very detailed one with tons of space for links such as Twitter, Facebook, Instagram, or more! It also has spaces for a personal slogan or quote, your interests, and a signature.
This email signature template is very creative in that it transforms a basic email contact to look like an envelope with the sender's name on the front of it. The inside has more space for social media links and adding contact information on top of their own logo.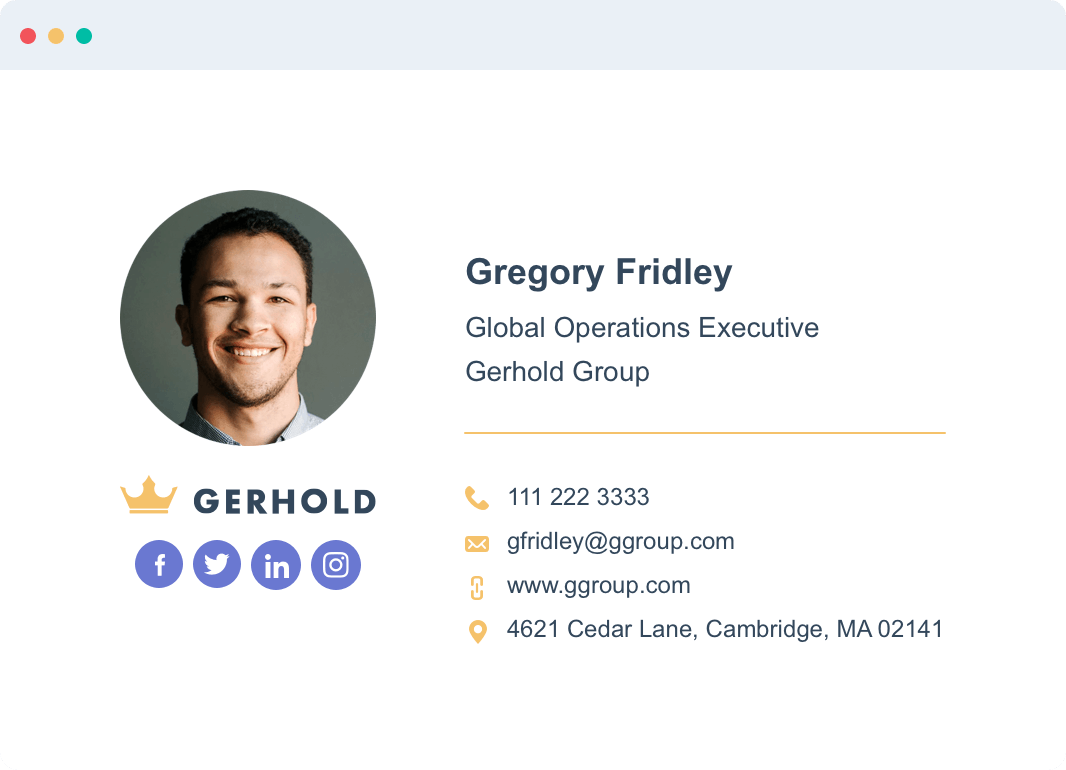 (Image Source: HubSpot)
3. A photo finish
When you use an image for your email signature, you want to make sure the photo is high-resolution and a minimum of 600×600 pixels.
It's not all about what it looks like on email signatures though! You should also make sure that the image doesn't have any broken links or copyright issues when using an image for your email signature.
This template has a lot of potential to include a logo, contact information for the company as well as links and social media profiles.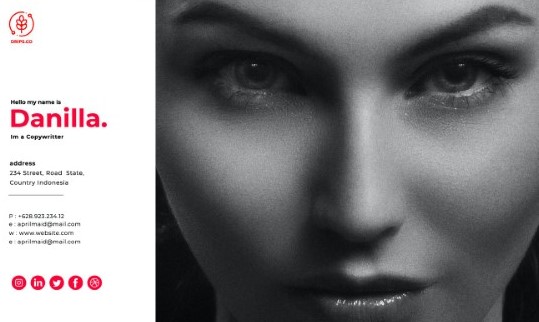 (Image Source: business.tutsplus)
4. Aligned to brand identity
The email signature is a chance to include your logo and the company's colors. This template uses the business' black and yellow color scheme for an easy way of aligning it with their brand identity.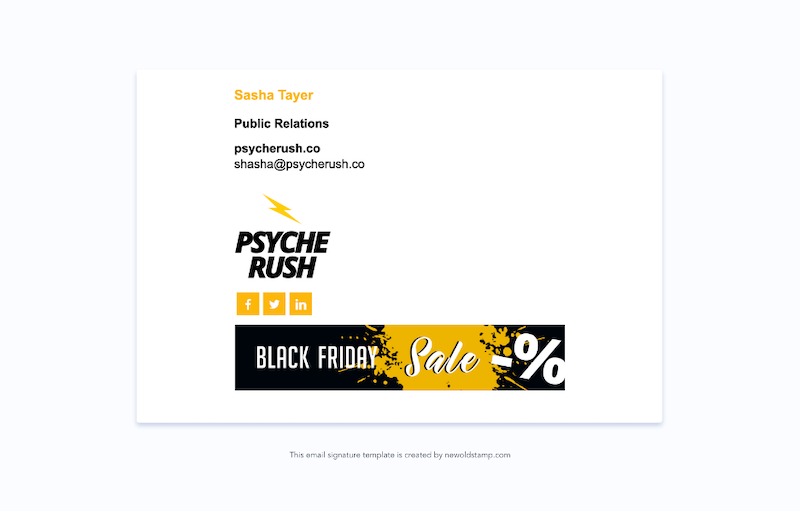 (Image Source: Wordstream)
5. Segmented
A good email signature template is segmented into sections for a clean look. The contact information, links, and logo are all on the left side with social media profiles to the right. It also includes company branding in red at the top of this email signature design to make it recognizable as their company's email sign-off.
This email signature template is perfect for small businesses that want to start including their company's branding on all of their outgoing communications, even if they don't have a lot of room in them. It keeps it clean while still taking advantage of any space provided!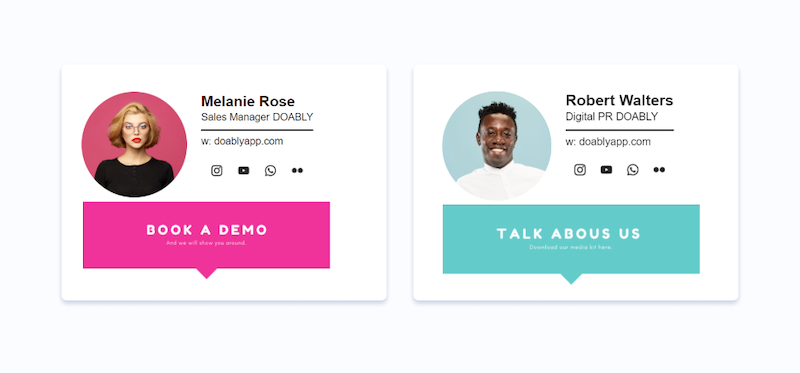 (Image Source: Wordstream)
6. Balanced design
Find your balance with this business email signature template that includes a logo, company branding, and contact information. It's well balanced and will make it easy to remember who you are when they see your email in their inbox next time!
This email signature design is perfect for large companies with lots of room on the right-hand side or smaller businesses looking to include all pertinent information in their email signature.


(Image Source: Canva)
7. Mobile-friendly
35% of business professionals open their emails on their mobile devices, so it's important to make sure your email signature is designed to be readable on these smaller screens.
With a mobile-friendly template, your email signature will be easy to read on any screen, and you'll never have to worry about forgetting which company you work for again!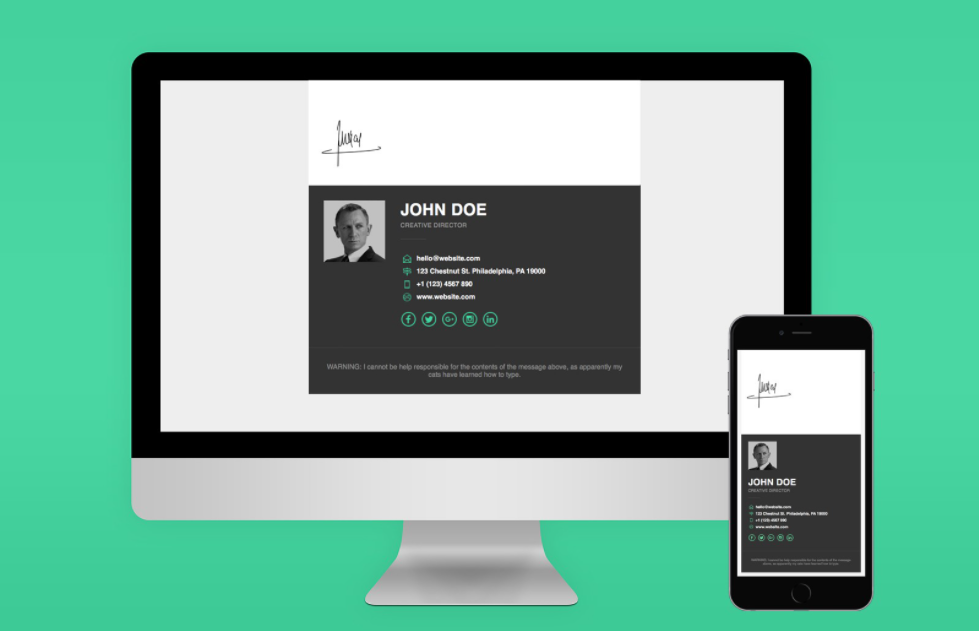 (Image Source: Medialoot)
8. Email signature with dividers
If your company has multiple email accounts, or you want to separate sections of information in your email signature, dividers are a great option.
The divider can be a horizontal rule or another line of information besides the email address.
If your company has many employees using a shared account, dividers might help keep things organized and prevent confusion about who's sending each email.
With a divider in place, it'll be easy to see which emails are from which employee without having to scroll down for each email signature.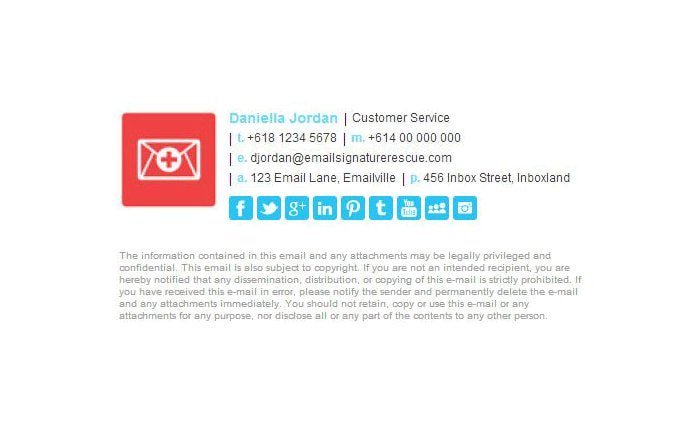 (Image Source: Canva)
9. Simple graphic elements
If you want a simple email signature, but still want to include some graphics for branding purposes, use images instead of text.
A logo in the upper left corner is an easy way to add your company's identity and make it look more professional.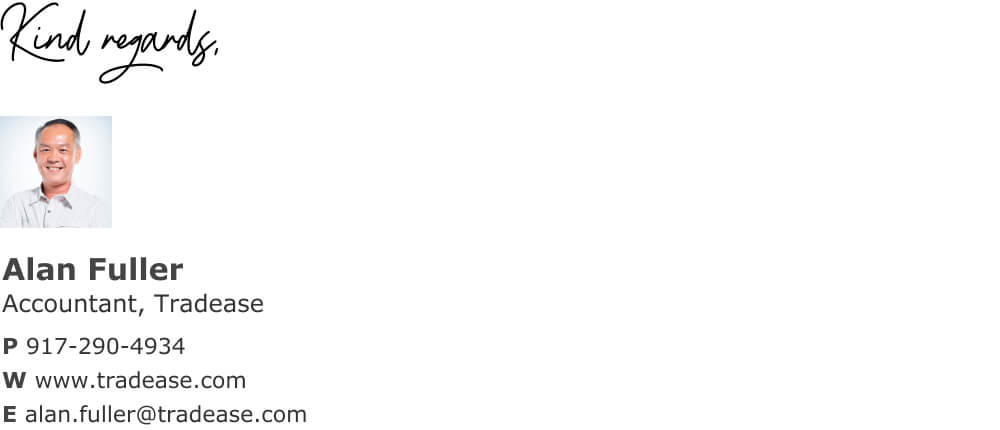 (Image Source: WiseStamp)
10. Hierarchy
It's important to consider the hierarchy of your email signature template when designing it.
The most important information should be at the top, followed by secondary content like contact info and social media links on the bottom.
This way, whoever is reading your email knows right away where they can reach you if necessary or who they can follow for more updates from your company.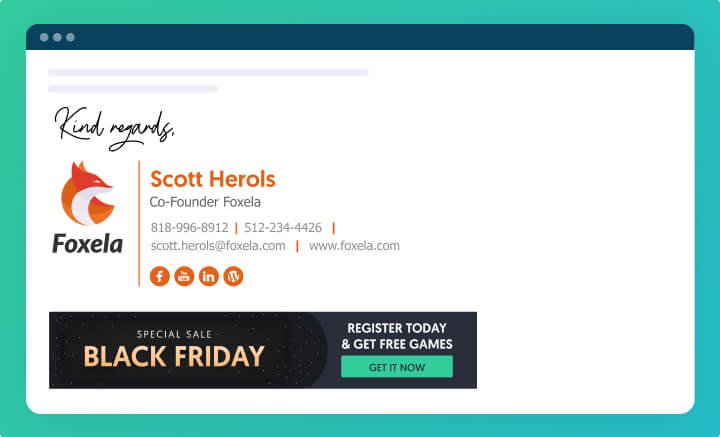 (Image Source: WiseStamp)
11. Responsive design
Your email signature template must look good on mobile devices and computers, so it's best to use a responsive template for your email signature.
If you're using an image in your email signature, make sure it doesn't look pixelated on mobile phones or tablets.
Email signatures are really important because they can be the first impression that someone has of you and your company. It's also the perfect opportunity to show your personality and style.
(Image Source: Pinterest)
12. Small font palette
Keep the font palette to a minimum. The most common fonts that are used in email signatures are Arial, Times New Roman, and Georgia.
By doing this, your email signature template will be easy to read and won't look cluttered.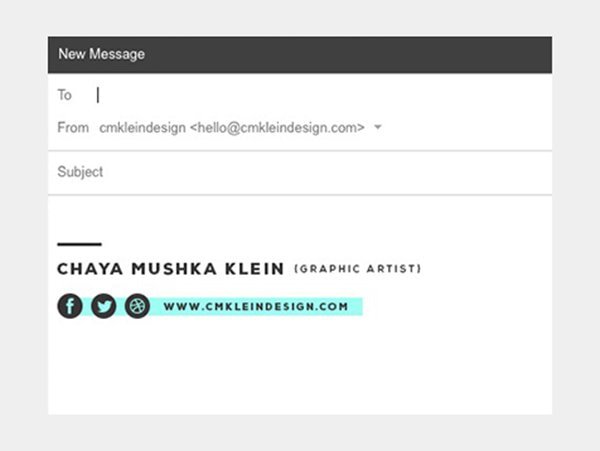 (Image Source: Canva)
13. Small color palette
With email signatures, it's best to stick with a limited color palette. The colors that are most commonly used in email signatures are blue and black.
These dark colors help your signature stand out without being overwhelming for the person reading it.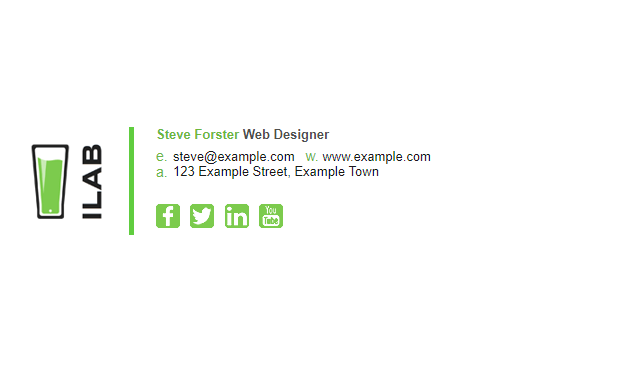 (Image Source: Pinterest)
14. Animated
An animated email signature template is a great way to add your personal touch. They're also fun and can display personality in an email signature, which is something that will be much appreciated by the person on the other end of that email.
Animated GIFs are often preferred over animated versions made with static images for this reason because they look smoother and more professional as well.

(Image Source: Squideo)
15. Text-only email signatures
A text-only email signature template is a great way to cut back on the clutter that can sometimes appear in an email signature, and it also provides more room to write your message instead of being bogged down with graphics or other images.
This option may be best suited for people who are sending emails from work because it will be less distracting to the person on the other end of that email.
Text-only email signatures can also be very personalized, and you have more room to include your contact information, company details, or even a personal slogan if you want.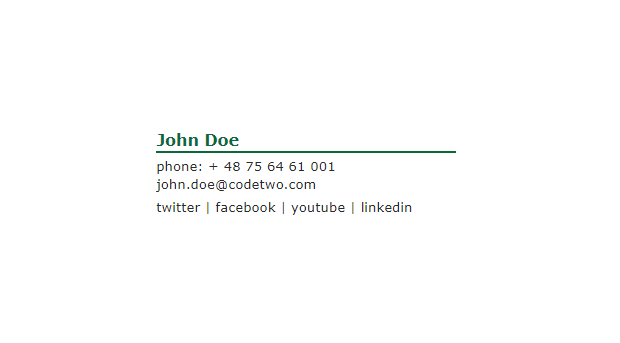 (Image Source: Mail-Signatures)
Conclusion
Overall, an email signature template can be a great way to show off your personality in an email, or it can provide more room and professionalism if you are sending emails from work. The best thing is that there are so many types of templates available that no matter what type of person you are, there's sure to be one template out there for you!
Editors Note:
Want to help contribute to future articles? Have data-backed and tactical advice to share? I'd love to hear from you!
We have over 60,000 monthly readers that would love to see it! Contact us and let's discuss your ideas!